Things to do in Joshua Tree National Park are abundant and diverse. From hiking to rock climbing, and admiring Joshua trees, you find activities for every taste. Visit Joshua Tree National Park and see it for yourself.
Last updated: April 30, 2021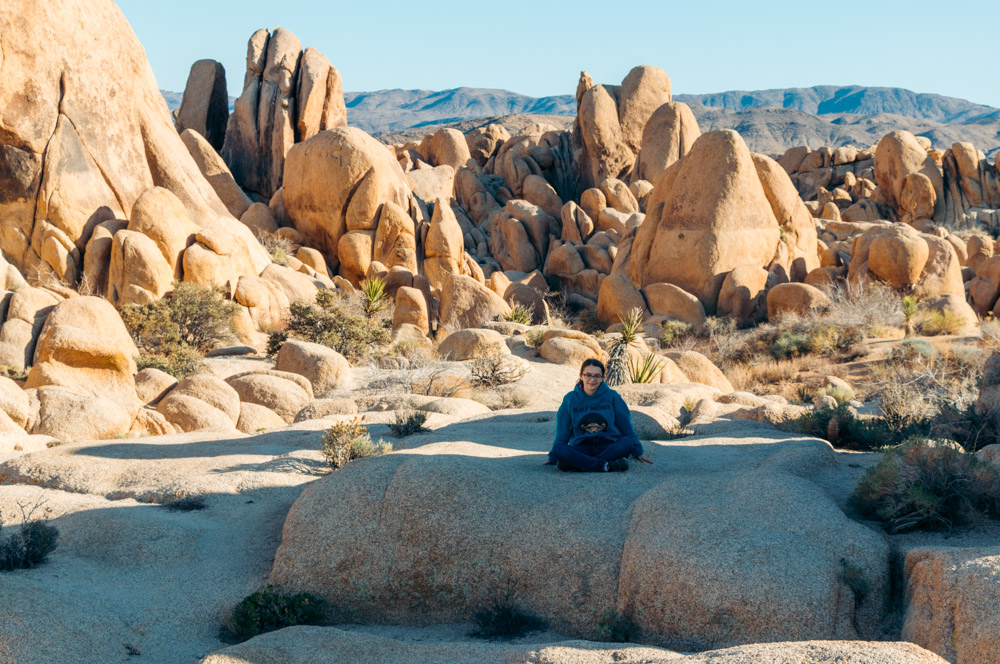 Visit to Joshua Tree National Park: 10 Best Things to Do
Looking for a place for your outdoor adventures? Joshua Tree National Park is a perfect destination for your next escapade. Whether you're longing for some time in wilderness or searching for a camping place, Joshua Tree National Park has ample things to do for all of its visitors. In fact, after spending a day or a weekend in the park, you might want to extend your visit.
Let's find out what makes the area so special and explore 10 incredible things to do in Joshua Tree National Park. They say, a trip to this desert region is a mandatory adventure for every local. I say, a visit to Joshua Tree National Park must be on every California bucket list.
Visit Joshua Tree National Park: Interesting Facts
Home to Two Deserts
Slightly bigger than the State of Rhode Island, Joshua Tree National Park entices with its unique landscapes and distinct ecosystems. Two deserts converge here and, working together, shape the park's flora and fauna. Even one visit to Joshua Tree National Park is enough to fall in love with its prominent residents, Yucca brevifolia or Joshua trees.
Captivating Legends that Become a Part of Every Visit to Joshua Tree
Legends abound in the area. They arouse curiosity and inspire millions of people to visit Joshua Tree National Park. Some legends are short-lived. Others have been around longer than the park itself. If you had to choose just one tale that could persuade you to visit Joshua Tree National Park immediately, then a story behind the name of the Joshua trees would certainly be the one.
The story goes that these oddly-shaped plants own their name to early Mormon settlers. Crossing the Mojave Desert in the mid-19th century, a group of Mormons noticed a bunch of unique trees. The plant's spike-leafed branches were stretching to the sky as if trying to touch it.
Biblical story of Joshua extending his arms up to the heaven in prayer instantly came to the travelers' minds. Without any hesitancy, the settlers named the plants Joshua trees, a name that is widely used to this day.
Joshua Tree is One of the Most Alluring Outdoor Destinations to Visit in California
The etymology of the Joshua tree's name, however, is not the only thing that entices millions of outdoor enthusiasts to visit Joshua Tree National Park. Distinct vegetation, surreal geological features, including giant rocks and boulders, night sky, ample campgrounds, and hiking trails… The list of things to do in Joshua Tree National Park is practically endless. This, in its turn, contributes to park's reputations as one of the favorite outdoor destinations in California.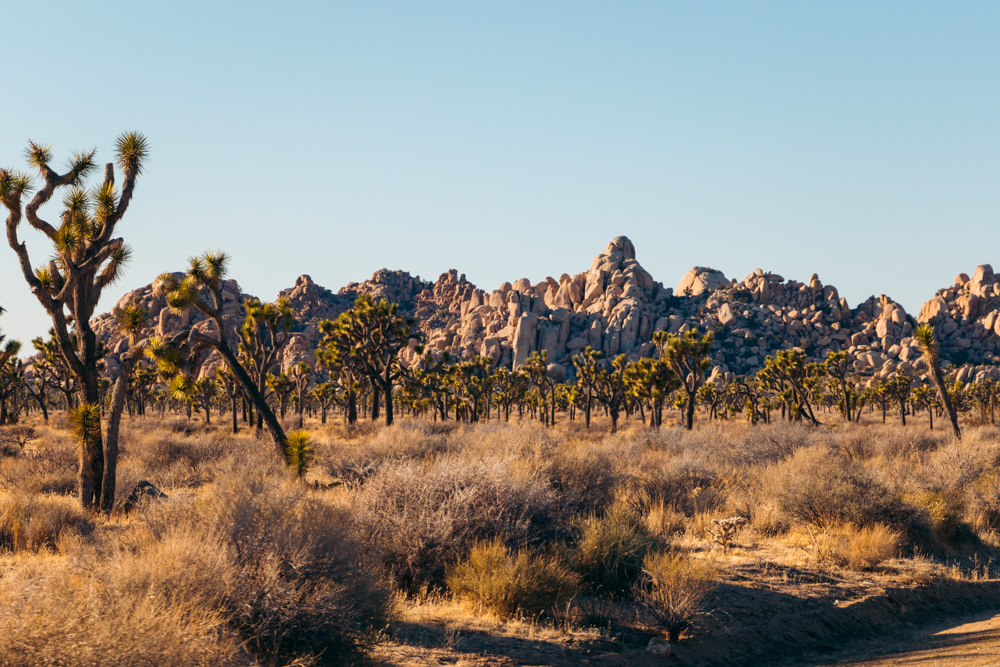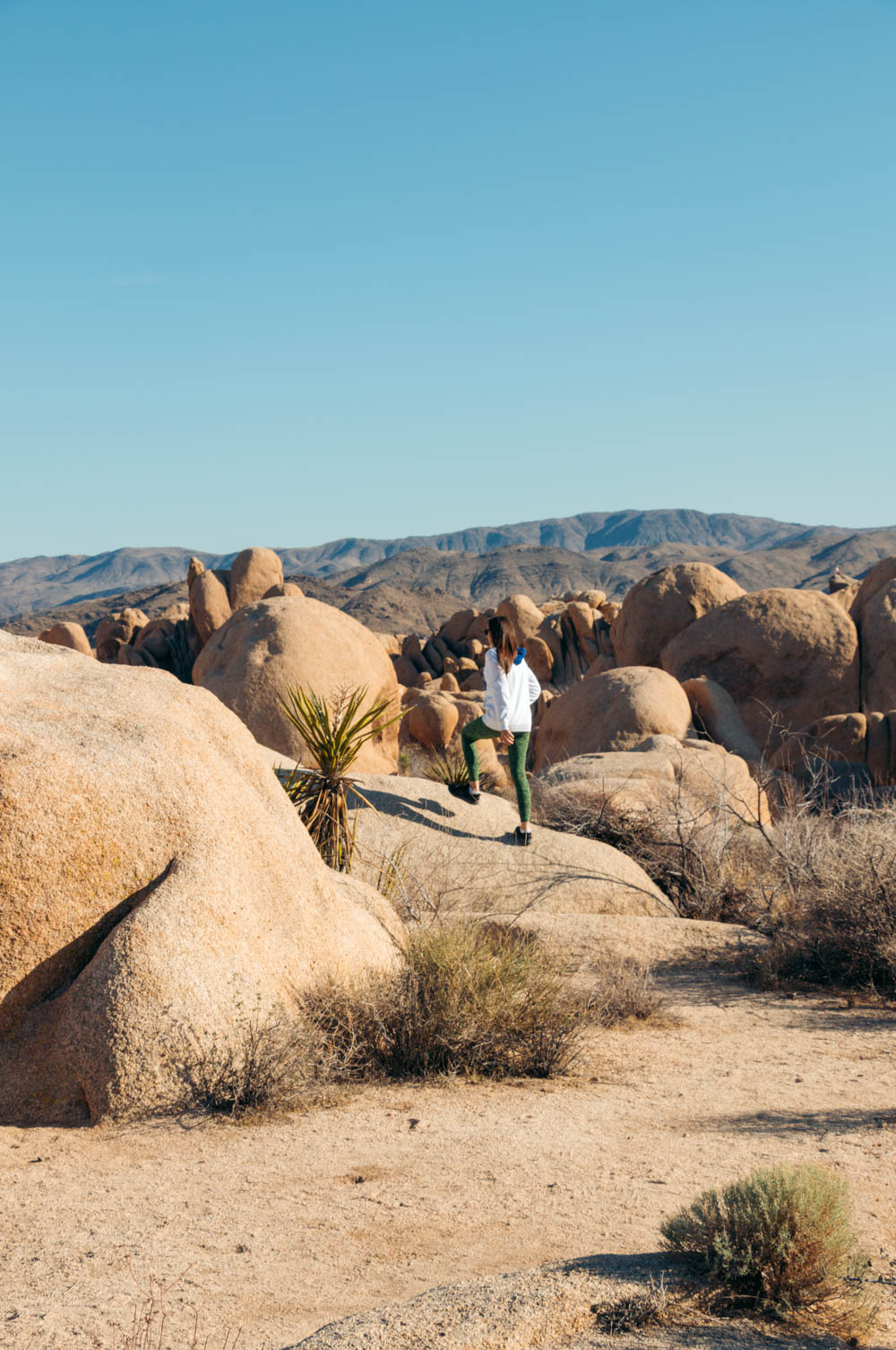 Why You Should Visit Joshua Tree National Park
On top of the unique places to see and abundant things to do, Joshua Tree National Park astounds with its otherworldly environment. From vast arid land to massive boulder-mountains and unique wildlife, the place inspires carefree weekend getaways and outdoor pursuits. For those who need more persuasion, we've outlined 5 main reasons why you should visit Joshua Tree National Park.
Our first visit to Joshua Tree: To be honest, many travelers stick to these whys and skip other lesser-known things to do in Joshua Tree National Park. We definitely joined their ranks during our first visit to Joshua Tree. Without diving deeper into all of the incredible things the region had to offer, we let the area guide us. With that said, we didn't have any clue what to do or see in Joshua Tree prior to that visit.
Our second trip was the opposite. This time we had it all: a detailed itinerary, more time to explore the region, and certainly more reasons to visit Joshua Tree National Park. As they say, repetition was definitely the key to mastery here. Without further ado, here are the main reasons why you should visit Joshua Tree National Park, too.
1. Endless Desert Roads
Endless desert roads crisscross Joshua Tree National Park, taking you from the most popular to remote sections. If you worry that driving around the park makes you a mere observer, think again. Adorned on both sides with the distinct Joshua trees and massive boulders, the paved and sometimes dirty paths allow you to visit the most of Joshua Tree National Park.
Furthermore, such endeavors are often full day road trip adventures. Introducing you to the iconic Southern California deserts way before you reach the park, the roads continue their mission when you finally get to your destination. And here you should definitely be ready for the ride.
So put together a playlist, roll down the windows, and enjoy the views. Feel free and wild as the desert itself. Yet don't forget to stop along the way and visit some of the less popular areas of Joshua Tree National Park and possibly do one or a few things, such as hiking or rock climbing, without the maddening crowds around.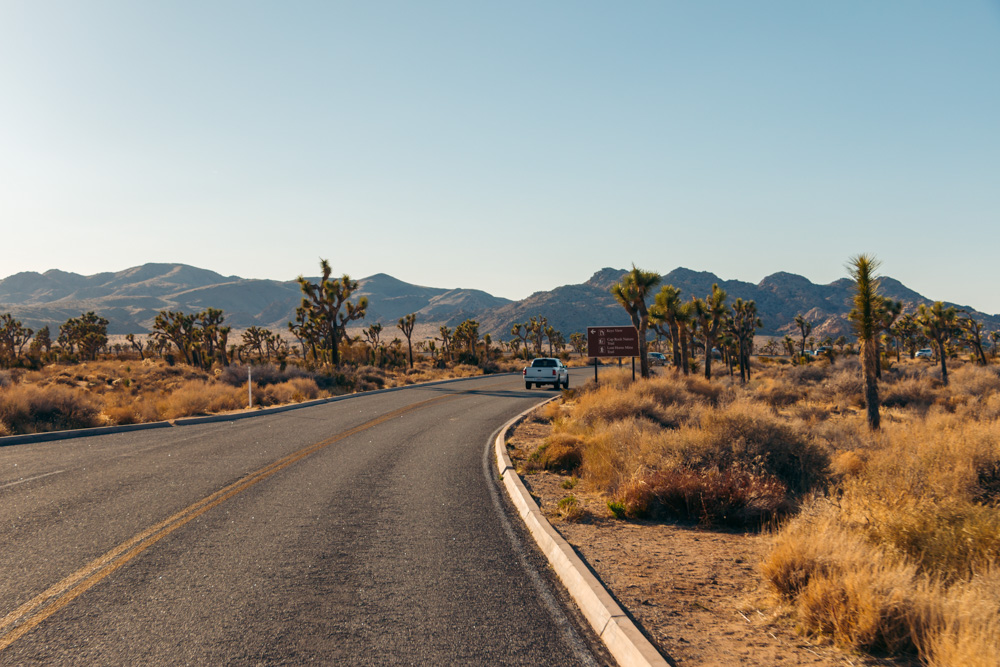 2. Diverse Landscape
As we discussed earlier, Joshua Tree National Park encompasses two distinct desert ecosystems that brim with their own unique flora and fauna. Furthermore, each of this deserts boasts an array of fascinating things one should do when visiting Joshua Tree.
All in all, the favorite national park nestles on the territory of the Colorado Desert and the Mojave Desert. The latter sees the majority of nature lovers who visit Joshua Tree National Park just to photograph and gaze in awe at the iconic Joshua trees. Apart from the signature succulents, the area decorates itself with creosote bushes, ocotillo cactuses, and other semi-succulent plants.
Those who visit Joshua Tree National Park to admire the desert vegetation, inevitably find themselves in the Cholla Cactus Garden. One of the most popular things to do in the area, these lush paradise allures with the cactuses that spreads as far as the eye can see. A winding trail snakes around the garden, allowing to see the plants up-close.
The distance between the wild cactuses and the visitors of Joshua Tree National Park, however, should never be too close. The cholla cactus, also called the jumping cactus, is famous for "jumping" on the passerby. In reality, the plant doesn't really jump (here comes another tale about Joshua Tree National Park). Yet the succulent likes to stick to the visitors that approach it. And it can be quite painful.
Thus, it's essential to follow rules during a visit to Joshua Tree National Park. Do the right things from the moment you enter the area and don't walk off the designated paths. The desert inhabitants dislike intruders and don't hesitate to show it.
3. Joshua Trees
Feasting your eyes on the iconic Joshua trees is indisputably one of the main reasons to visit Joshua Tree National Park, especially if it's your first trip to the area. Some travelers, though, assume that these desert plants are a distinct sort of bushes. They might be right. The famous Joshua trees aren't actually trees, but succulents. These gnarly plants are a special type of Yucca that is indigenous to southwestern United States.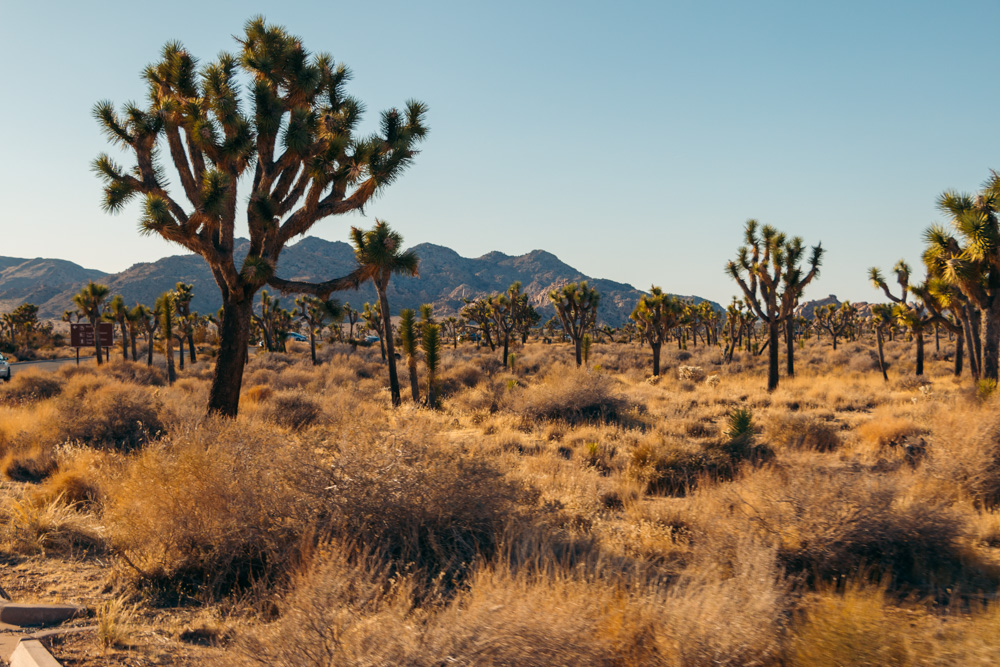 4. Ethereal Sunrises and Sunsets
Visit Joshua Tree National Park at sunrise or sunset and enjoy colors and views that are just out of this world. Transforming the area into a kaleidoscope of red, pink, blue, and purple tints, the sky puts on a show one can't miss. Rocks, plants, and everything around get lost in the dazzling hues, as the sun slowly rolls down behind the mountains. The spiky silhouettes of the Joshua trees complete the picture by adding an almost mysterious feel to the mesmerizing desert.
5. Water Reservoir and Palm Oases
Joshua Tree National Park is an arid area that offers a vast array of incredible things to do for people of all walks of life. Yet hardly any travelers, especially first-time visitors, anticipate to find a lake and oases here. Being a real, stubborn desert, the region indeed doesn't allow extra precipitation to pamper its distinctive flora and fauna.
Surprisingly, a few places in the park manage to hold on to their precious water supplies longer and use them to sustain exotic palm trees. Such lush oases with patches of green vegetation around them are scarce, though. On the other hand, their uniqueness and shortage make them the most irresistible places to visit in Joshua Tree National Park. Among the most popular palm oases here are 49 Palms Oasis, Oasis of Mara, Cottonwood Spring Oasis, and Lost Palms Oasis.
Although the oases don't abound, they are not alien to the deserts. A lake, especially a man-made water reservoir, is a rare attraction, though. In Joshua Tree National Park, such a phenomenon is Barker Dam. Although it remains as dry as the rest of the park most of the time, after rainy season the place is filled with water and congregate many desert inhabitants, including bighorn sheep.
VISIT JOSHUA TREE NATIONAL PARK: TOP 10 THINGS TO DO HERE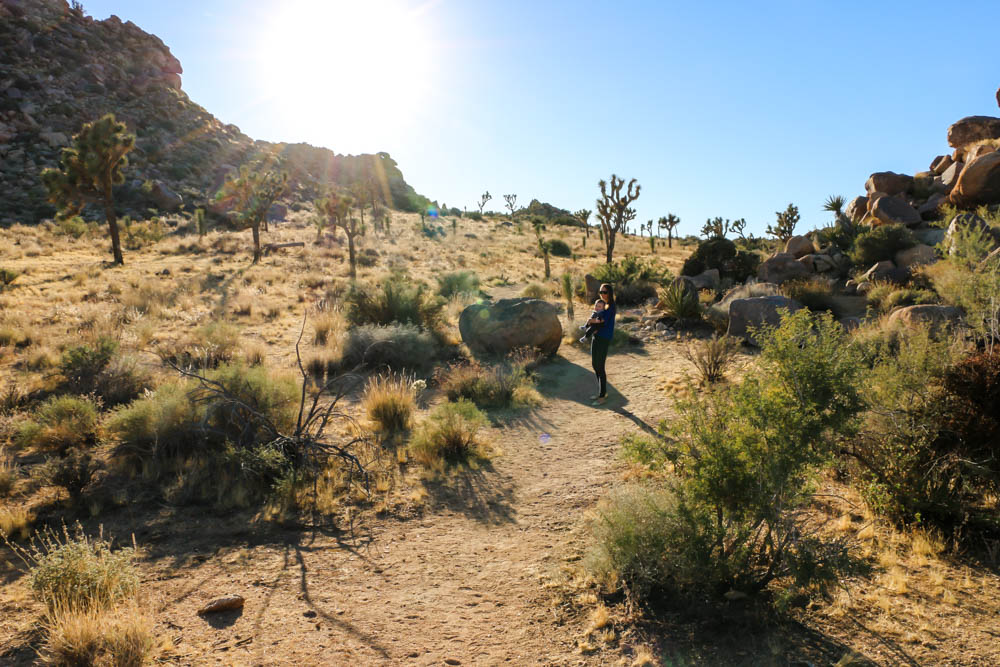 1. Hiking
Planning your visit to Joshua Tree National Park, one of the first things you want to do here is to explore this vast wilderness on foot. Thanks to a myriad of hiking trails, the park provides excellent opportunities to test your stamina and athleticism.
The shortest hikes, one mile or less, enable the visitors to explore the place and admire its natural beauty at a moderate pace. Experienced hikers, however, opt for the longer, up to 35 miles, trails. Although more physically challenging, these paths allow you to visit some of the remote areas of Joshua Tree.
On top of that, if you hike in the southern parts of the park, make sure to stop at Keys View to enjoy panoramic views of the Coachella Valley, the Salton Sea, the Santa Rosa Mountains, and Palm Springs.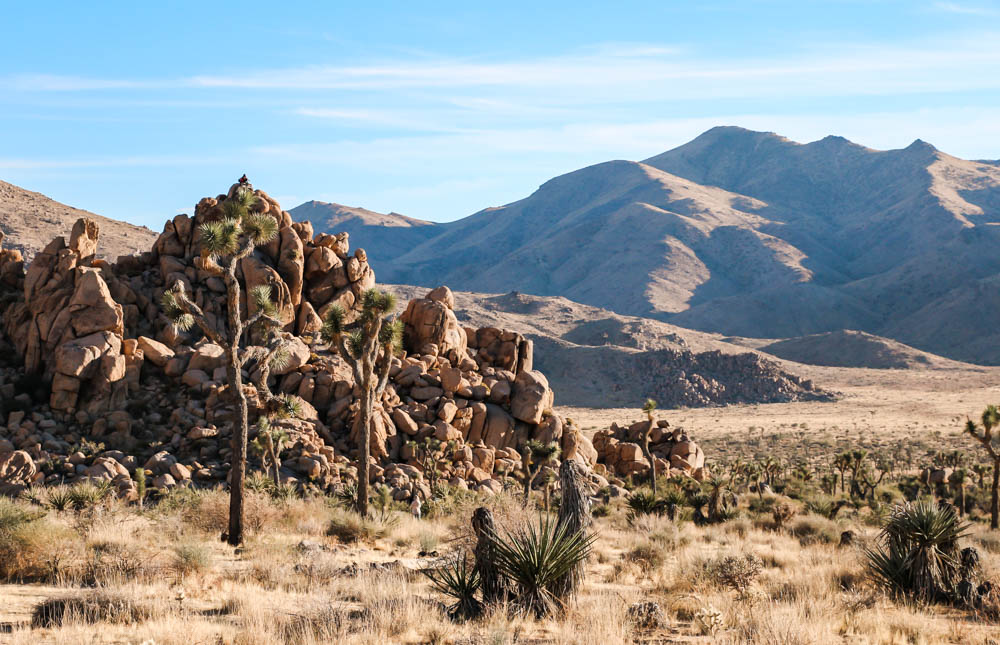 2. Things to Do in Joshua Tree National Park: Rock Climbing
Climbing rocks in a desert? You read it right. Unlike many other deserts, Joshua Tree is famous for its big rocks and boulders piled up on top of each other to create mini mountains. When you visit Joshua Tree National Park for the first time, a question of the origin of these quartz monzonite rock formations arises on its own. Interestingly, the boulders on the surface are actually extensions of the rocks that started piling underground as a result of volcanic activity that took place ages ago.
Only a few visitors of Joshua Tree know these detailed facts. The rest of the outdoor enthusiasts are just thrilled to use these boulders to master their rock-climbing skills. With more than 8,000 climbing routes and 2,000 boulder problems, Joshua Tree indeed offers plenty of things to do for the beginners and experienced rock-climbers alike.
The routes are normally short and easy to access. Moreover, the rocks rarely exceed 230 feet in height, giving you enough time to do a few climbs a day. Giving the accessibility and reliable weather, professional climbers and amateurs visit Joshua Tree National Park all year round and regard it as one of the best climbing destinations in the world.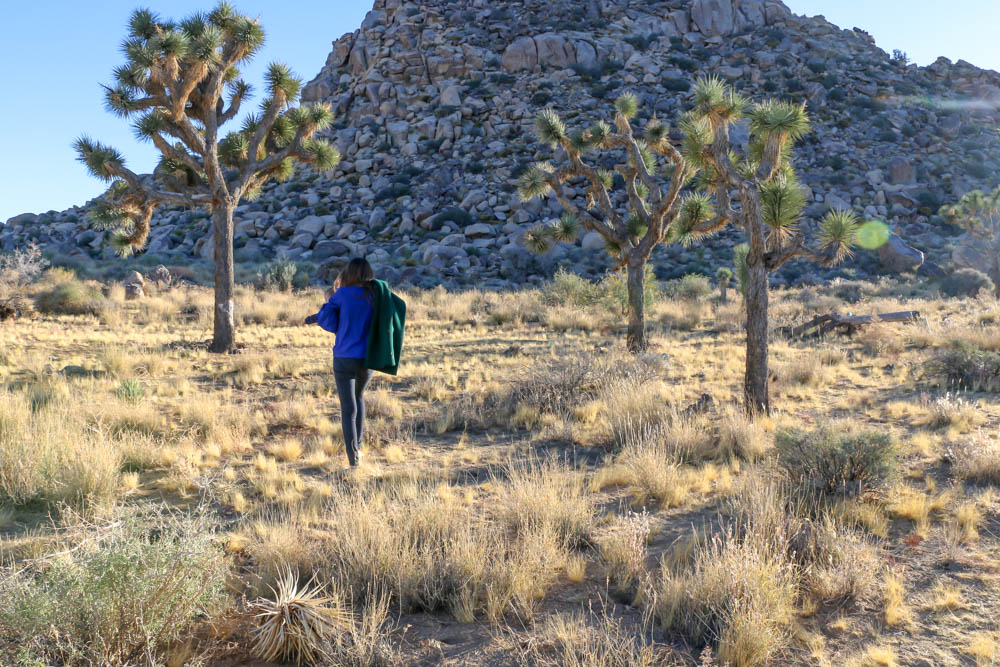 3. Camping in the Wilderness
There is something magical about spending a night in a desert. A visit to Joshua Tree National Parks allows you to put your physical strength and alertness to test. The area enables you to experience compete serenity and tranquility. At the same time, it gives you goosebumps every time a distant howl of coyotes penetrates the silence of the night.
While you might be hesitant to spend a night somewhere else, Joshua Tree National Park is pretty safe for camping. Moreover, it's one of the must-do activities for the most adventurous visitors of the park. The place takes all necessary precautions to keep its campers safe and provide them with the best outdoor experiences possible. Overall, the area has eight popular campgrounds within the park and a handful of established campsites outside the park.
READ MORE: Where to Stay in Joshua Tree National Park: Camping, Glamping, and Nearby Lodgings
4. Glamping During Your Visit to Joshua Tree
Glamping in this arid area is as famous as the park itself. Truly one of the most unprecedented things to do in Joshua Tree, this activity finds thousands of admirers. People from all over the world visit Joshua Tree National Park to spend a night in luxurious yourts, domes, airstreams, and camper vans spread across the area.
Camping in style is what sets the region apart from all other deserts and national parks. Designed mostly with natural materials such as wood and decorated with stones, these bohemian desert homes soothe your soul and body. Some glamping places even come with hot tubs, making a visit to Joshua Tree National Park unforgettable, to say the least.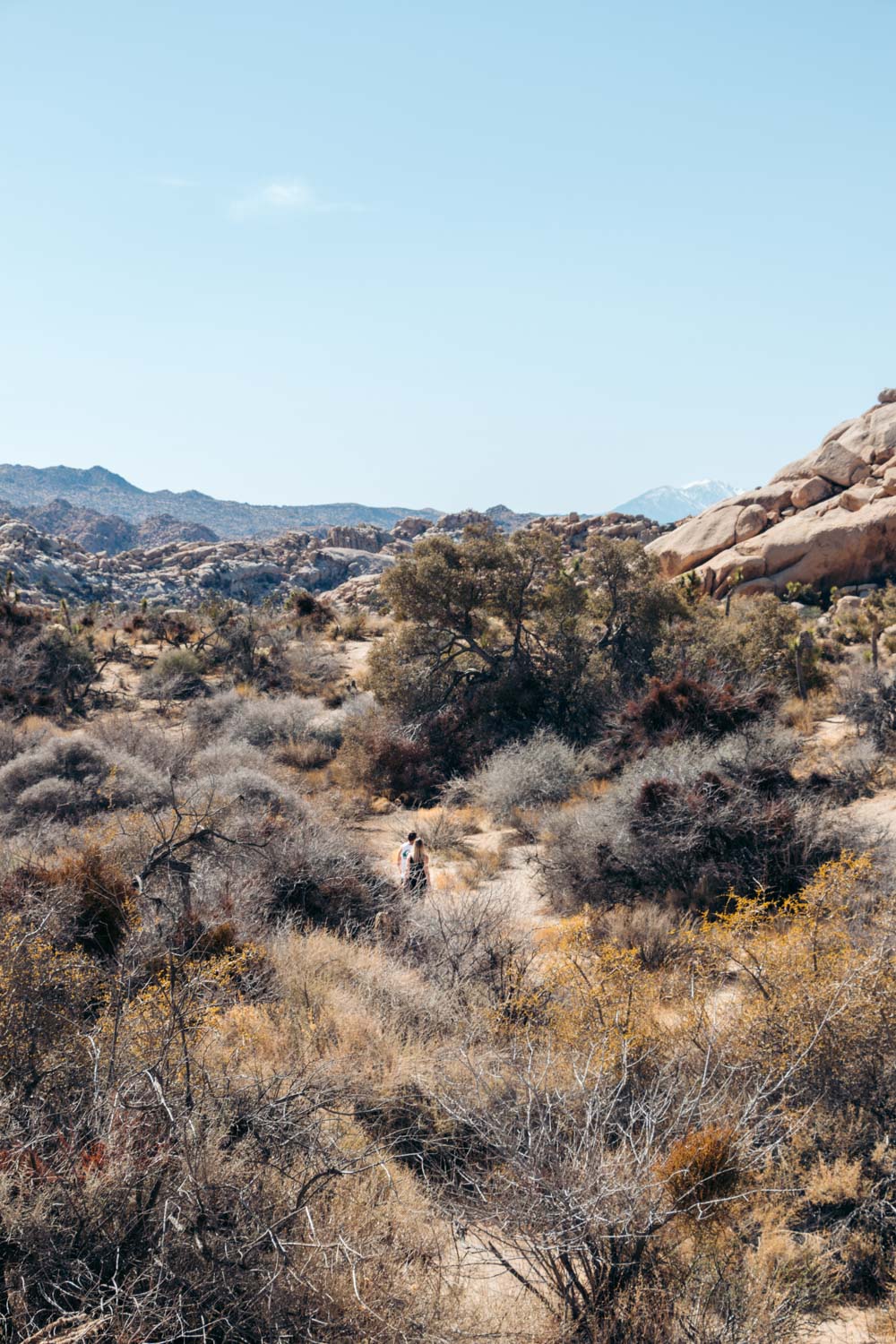 5. Enjoying Spring Wildflowers in Joshua Tree
From March through April, Joshua Tree National Park puts on a flower show and offers a bunch of other astounding things to do in the area. Visit Joshua Tree at this time and relish its vibrant colors that transform the deserts into a mesmerizing flowery ocean.
From blooming Mojave poppies to desert dandelions and Canterbury bells, the area greets the spring visitors with the prettiest shaped and shades. Some of the best places to visit in Joshua Tree National Park at this time are the Lost Palms Oasis, the Cottonwood Visitor Center area, and the region near the Eagle Mountains.
READ MORE: The 15 Most Beautiful Flower Fields in California & Where to See Wildflowers in and near Los Angeles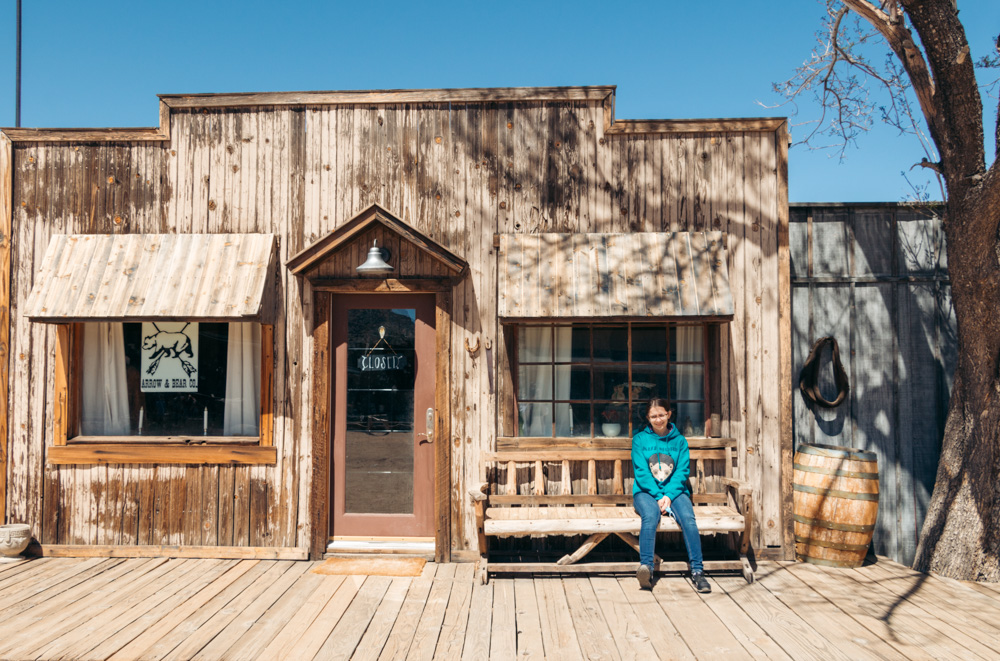 6. Things to Do Near Joshua Tree National Park: Exploring Pioneertown
Pioneertown, an old western town, nestles in the High Desert approximately 30 minute away from Joshua Tree National Park. Embodying a bold dream of Dick Curtis, the place keeps the legacy of the Old West alive.
Still a working movie set, Pioneertown enhances your visit to Joshua Tree National Park with vintage shops, eateries, and occasional live shows. Furthermore, the rustic Pioneertown Motel entices all old souls and inspires to finish your day visit to Joshua Tree National Park surrounded by the best examples of the bygone era.
READ MORE: Visit Pioneertown: Everything You Need to Know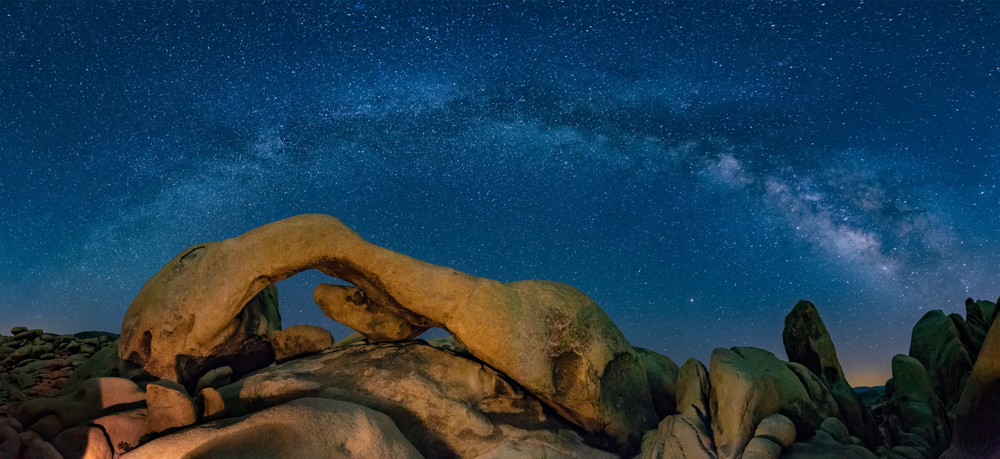 7. Stargazing
Camping in Joshua Tree National Park comes with yet other memorable things to do here. Located in the remote area, far away from artificial lighting and atmospheric pollutants, the park offers the best opportunities for stargazing. In fact, many visit Joshua Tree National Park just to admire the starry sky, which is a rare appearance in other parts of Southern California.
Famous for some of the darkest nights in the region, the place is often packed with night photographers hoping to shoot the Milky Way. These guests time their visit to Joshua Tree precisely, as the galaxy can be seen only between April and September.
Additionally, if you stare at the stunning display above your head for a long time, you can even spot a shooting star. It wasn't our luck, though. Yet after witnessing as the darkest veil envelops the area at lightning speed, any doubt of seeing this phenomenon disappeared.
TIP: Some travelers insist that you should visit the east side of Joshua Tree National Park to catch the most spectacular night sky display. This area rarely experiences any disturbances, as the closest big city, Phoenix, is located about 300 miles away.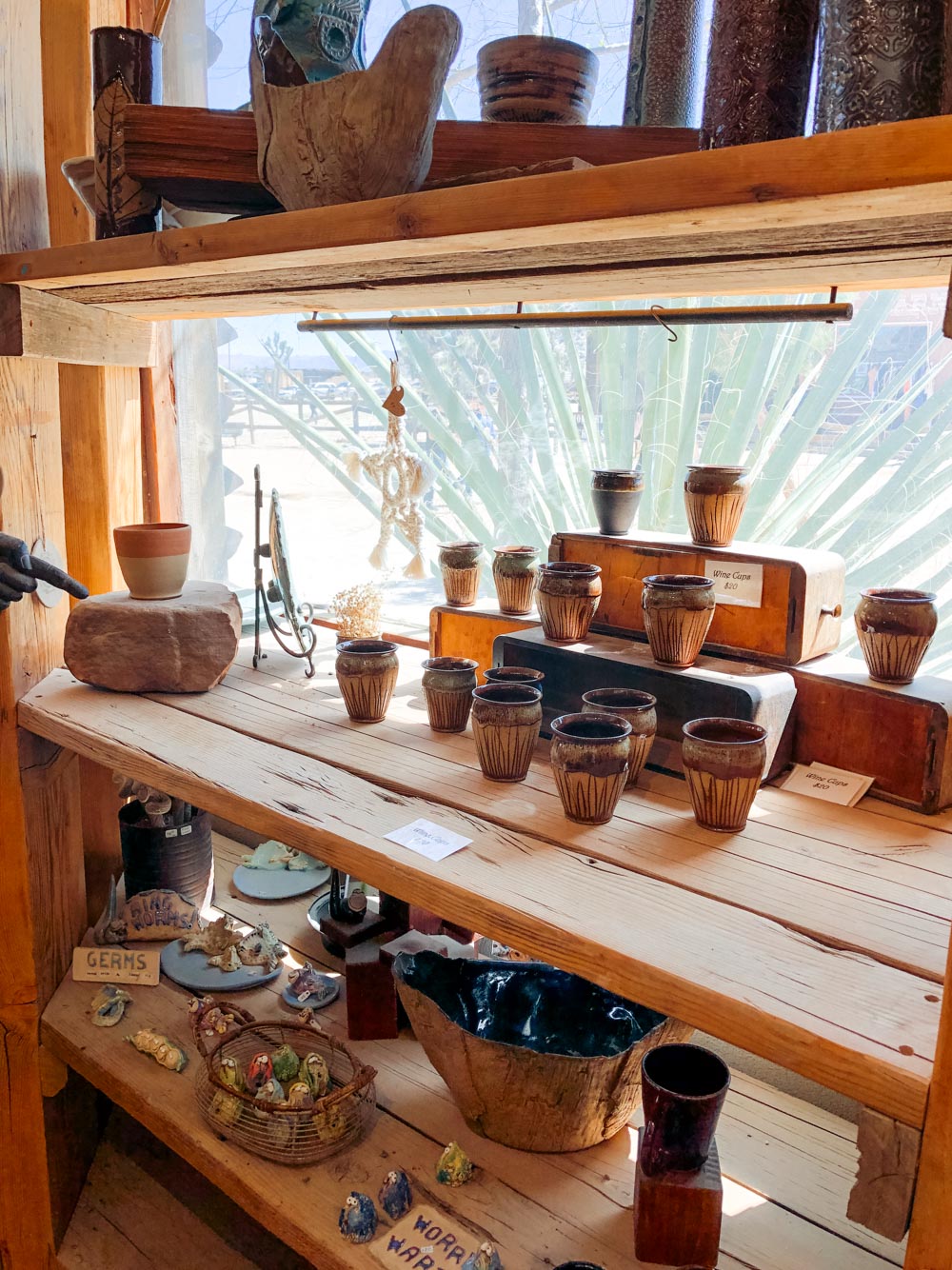 8. Vintage Shopping Near Joshua Tree
The Joshua Tree area is all about vintage shopping. Don't be confused, though. We're talking not about the park here, but the small town of Joshua Tree located in the High Desert. Popular for its quirky corner stores and antique treasures, the place and its surroundings top the list of the best things to do near Joshua Tree National Park.
Everybody finds something for his or her taste in the funky downtown area that still looks like a place stuck in the sixties. For quirky homewares, head straight to Pioneer Crossing Antiques. Want to look vintage from head to toe for your photoshoot in the surrounding area? Then visit Funky and Darn Near New set just 11 miles away from Joshua Tree National Park. For all things bohemian, stop at Hood and the Horn.
9. Visiting Integratron Near Joshua Tree National Park
The Integratron is by far one of the most epic places to visit near Joshua Tree National Park. Set in Landers, about 20 miles north of the park, the place transfers its guests into another realm. The eccentric dome-shaped structure, made entirely of wood, sits isolated, never failing to instill awe and admiration in its visitors. Dive deeper into its peculiar history and mission, and you can't afford to miss this place during your visit to Joshua Tree National Park.
Inspired by the writing of Nikola Tesla, the tabernacle of Moses, and extraterrestrial influences, the Integratron was built in the 1950's. His founder, UFOlogist George Van Tassel, claimed to receive direct instructions for the location and structure of the dome from extraterrestrials.
While the isolated building intrigues random passerby, its popular sound baths has long gained devoted followers. Each sound session lasts 60 minutes. It includes a history lesson, 35-minute session of 20 quartz crystal singing bowls, and relaxation in the sound chamber. The bowls are said to be focused on specific charkas of the body and help with rejuvenation, relaxation, and time travel.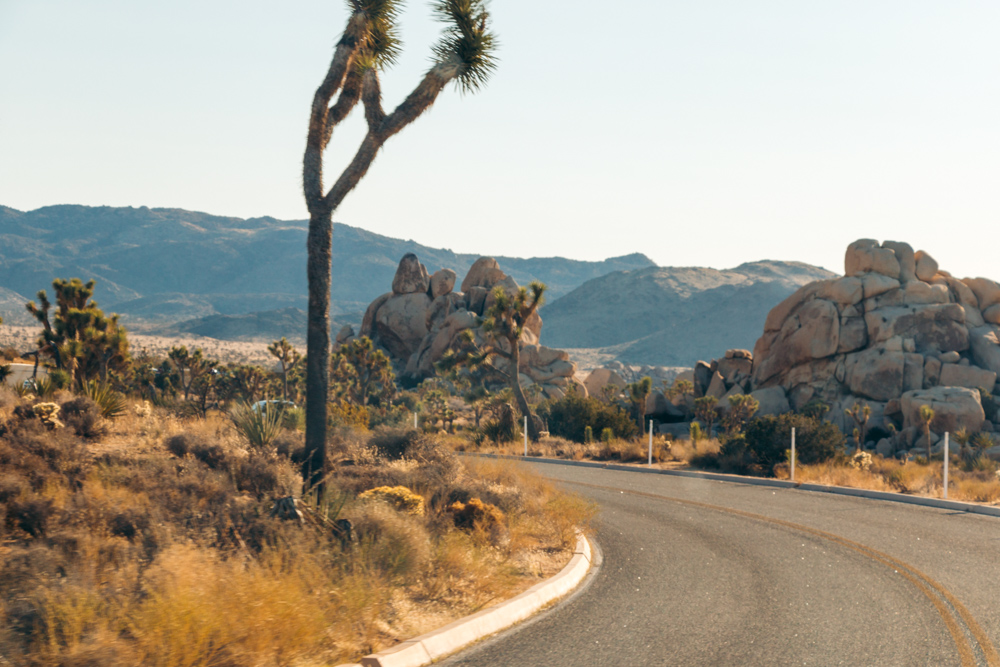 10. Joshua Tree National Park Scenic Drive
Last but not least, visit Joshua Tree National Park to get lost on its scenic desert roads. The park offers a plethora of well-maintained roads and secluded paths that suit best high clearance vehicles and mountain bikes. Whether you stir up dust on Berdoo Canyon Road or are eager to see the largest Joshua trees along dirt roads in Covington Flats, always stay on the established paths.
The area's vegetation is scarce enough to disturb it even more. Furthermore, not all inhabitants of Joshua Tree National Park are thrilled about your visit. Some venomous snakes, scorpions, and black widow spiders hide in the secluded areas and are not pleased when bothered.
The best drive to take during your one-day visit to Joshua Tree National Park, however, is 101.6-mile point-to-point scenic road. Dotted with wildflowers in spring and the epic Joshua trees at all times, the road is good for biking and scenic driving. One of the easiest things to do in Joshua Tree, it welcomes the desert visitors all year round.
Read more
---
If you enjoyed this post, don't forget to pin it for later and share it with your friends.