Yosemite National Park is the ultimate outdoor playground. From hiking to climbing, camping, and waterfalls chasing, Yosemite pleases every adventure seeker.
Chasing Waterfalls in Yosemite National Park
Finally crossing chasing waterfalls in Yosemite National Park off my travel bucket list! After years of dreaming and thinking about this place, we decided to drive to the park on a weekend. No further arrangements – just a few days of road-tripping to hunt for the famous Yosemite's waterfalls. The rest was a journey in making!
On the day of our almost spontaneous adventure, we left Los Angeles before sunrise. It took us a little bit over five hours with just one quick stop to refill tank before we spotted our first waterfall in Yosemite.
Welcome to Yosemite National Park
We reached the park late in the morning. As we drove down winding, gradually ascending road, astounding landscapes undoubtedly indicated that this was the right place. On the right, sheer mountains, almost completely covered with abundantly growing trees, towered over the road. Bubbling river with morning sun glitter reflected in its crystal-clear waters accompanied us on the left. Yes, this was Yosemite, a place famous for its natural beauty, hiking trails, and stunning waterfalls.
Another half hour passed before we reached entrance gate where a few employees were relentlessly accepting payments and giving instructions to new and returning visitors. As soon as we parted with our $35 and drove through a small tunnel-like entrance, our excitement knew no bounds. We were ready for the extraordinary views and dazzling Yosemite's waterfalls.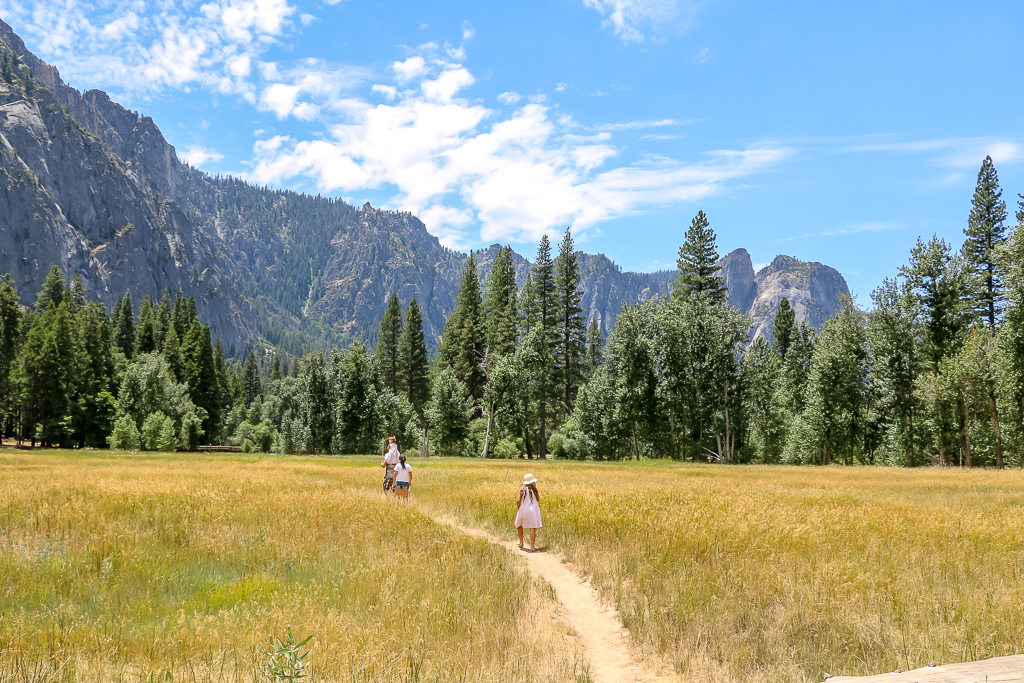 IN SEARCH OF YOSEMITE'S WATERFALLS:
1. Bridalveil Fall
Sure enough, it didn't take us ten minutes before my niece started screaming with exuberance: "Waterfall! Waterfall!" We looked to the right and saw Bridalveil Fall, hiding from annoying glances of the visitors. With loud sound its waters plunged from a height of 617 feet. Upon reaching the ground, the waterfall's "tears" gathered together, creating beautiful streams.
We didn't merely observe the waterfall from the distance. Oh, no, quite the opposite. Without second guesses, our entire group climbed extremely slippery rocks and approached the mighty Bridalveil Fall as close as it was safely possible. Our new location provided us with a clear view of the waterfall and the foggy mountains nearby.
However, you don't need to climb the rocks to see this Yosemite's waterfall. Bridalveil Fall is visible from many locations including the road. Furthermore, its waters flow throughout the year, so it never goes dry.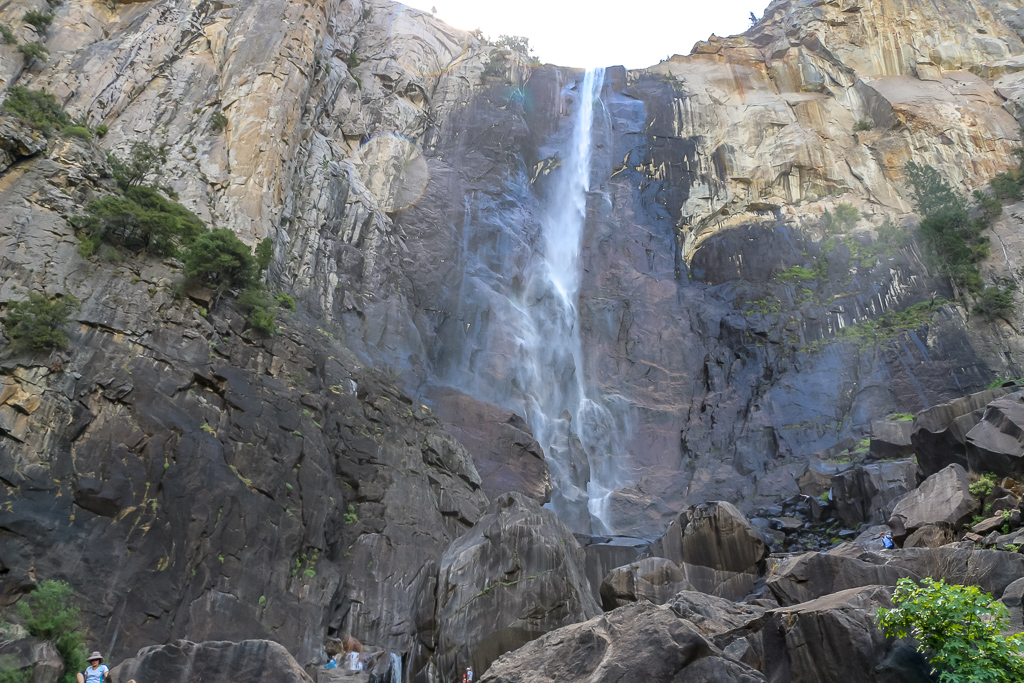 2. Yosemite Falls
Our next destination was Yosemite Falls. With its waters dropping from the height of 2,425 feet from the top of the upper fall to the base of the lower fall, it's considered the highest waterfall and one of the main attractions in Yosemite National Park. Yosemite Falls is a seasonal waterfall. Strong and powerful in spring, it almost dries out by August. In addition to spectacular view during warmer seasons, spring daytime temperature encourages long hiking near the waterfall. Two-mile Yosemite Falls Trail usually asks for three hours to take you to the base of the waterfall and bring back to the valley.
Although we traveled to Yosemite in summer – not the best time for the hiking or waterfalls chasing – we were determined to see Yosemite Falls. At that point, with no Internet connection and no GPS service, we simply followed other cars. This "great" plan worked out pretty well, and within a few minutes we found ourselves parked in front of Yosemite Falls in Yosemite Valley,
What a beautiful view opened in front of us! Sentinel Meadow with green and some patches of yellow grass invited all the visitors to follow its well-trodden paths to the famous waterfall. The Merced River nearby offered great opportunities for boat riding and kayaking. Moreover, the river's crystal-clear waters charmed and kept all random visitors on its banks.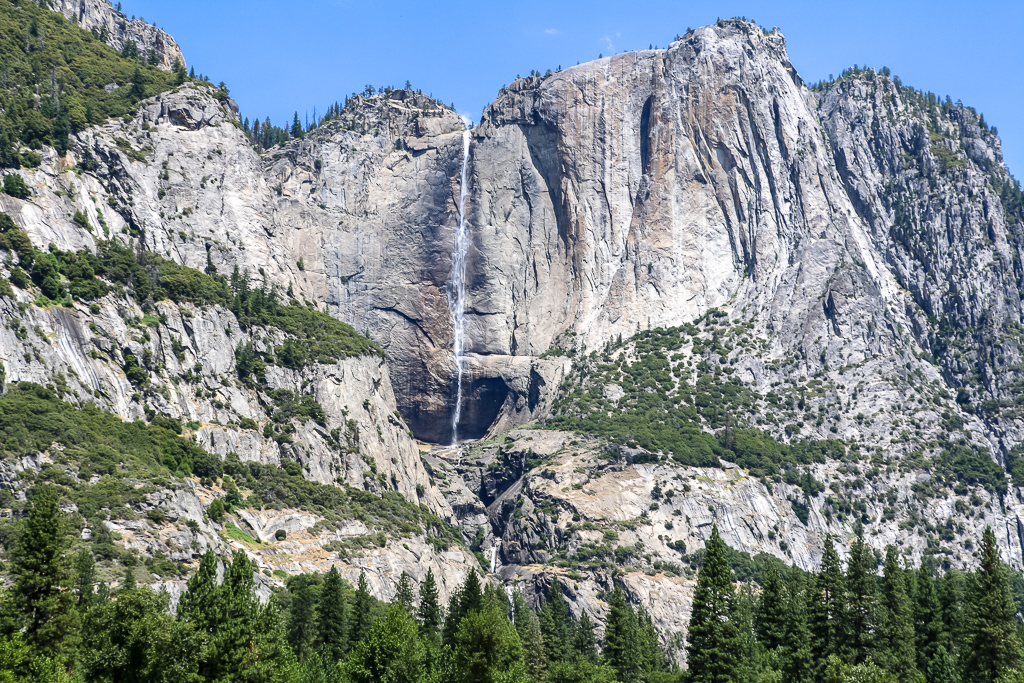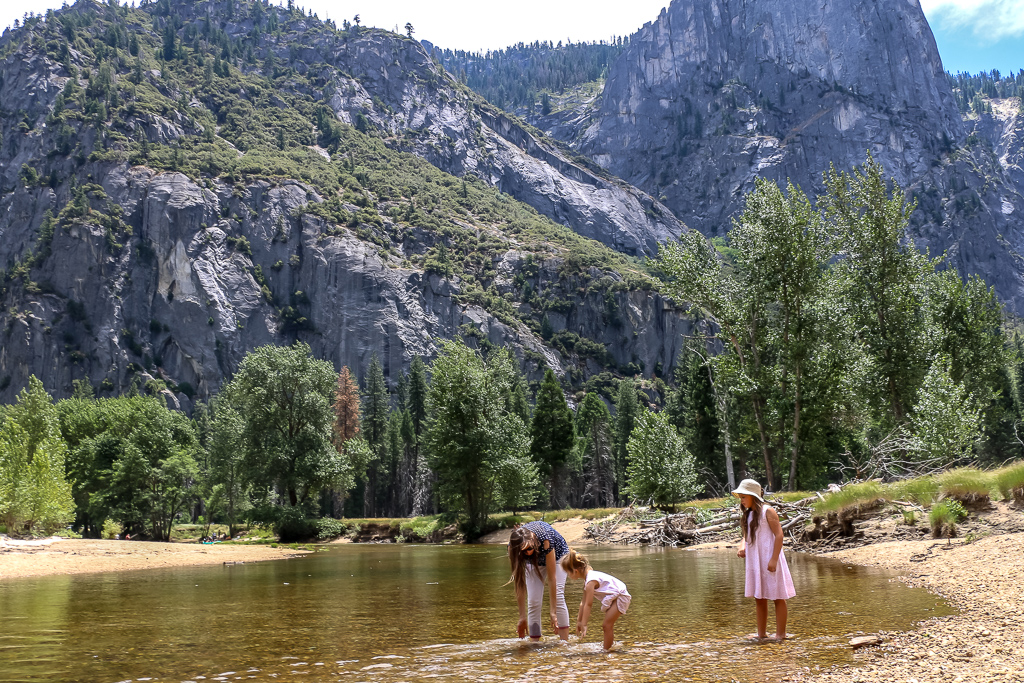 Finding Parking 
Honestly, it was too hot to hike all the way to Yosemite Falls. Therefore, we focused on other waterfalls we planned to see that day in Yosemite National Park. Additionally, as one of the park employees mentioned, our visit fell on the busiest day ever. During her extended career at the park, she couldn't recollect such crowds. And thus, parking was a big issue that day. To be correct, it was next to impossible. After many circles around Yosemite Valley, we were lucky to claim one single spot in a huge parking lot.
 3. Vernal Fall
From the parking lot, we took free shuttle and ventured to Happy Isles  (shuttle stop #16) in eastern Yosemite Valley, a starting location of Vernal Fall hike. The trek was approximately 0.8 mikes long. Relatively flat at the base, the paved pathway slightly twisted around the mountains and was becoming steeper and steeper with elevation. Most visitors followed the trail to wooden footbridge where they could see Vernal Fall, one of the most popular waterfalls in Yosemite National Park.
This 317-foot-high waterfall is indeed a place not to miss. Loud and powerful, it's famous for rainbow mist, created as the water plunges down, and green foliage all year long. Vernal Fall is especially gorgeous at its peak flow, which usually happens in late April and early May. However, the rest of the year doesn't present dramatic changed to this fall unlike Yosemite Falls.
Once on the footbridge, you have can return back or walk about 0.7 miles farther up to the top of the waterfall. Here the most determined visitors get rewarded with the epic, up-close views over Vernal Fall and spectacular vistas of Yosemite Valley.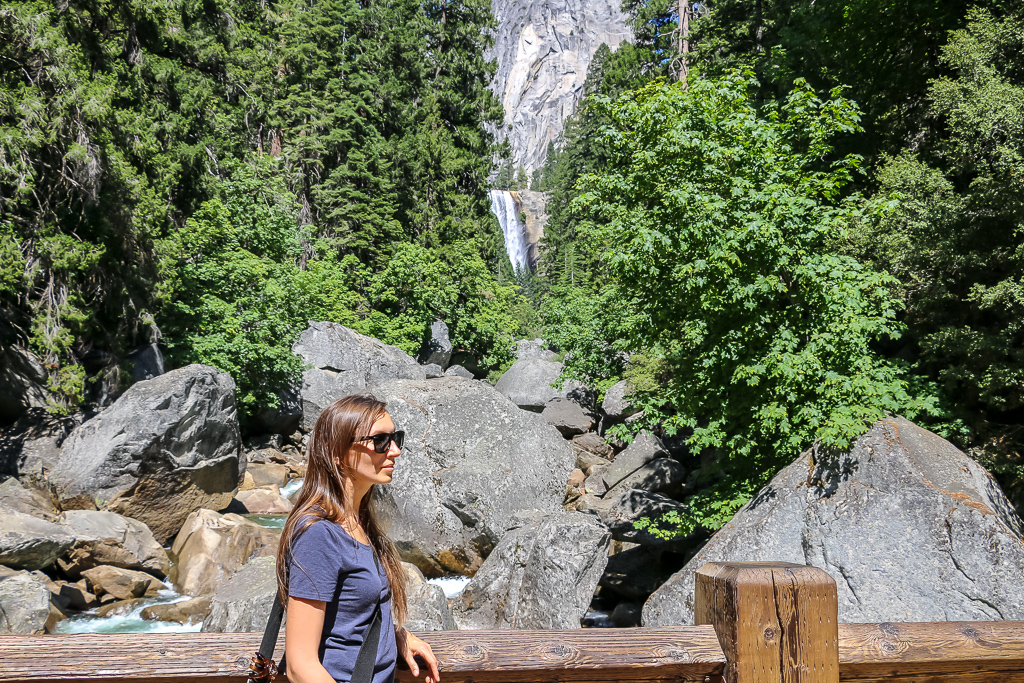 4. Nevada Fall
Your search of the waterfalls in Yosemite doesn't end on it. Walk uphill for another 1.2 miles until you reach Nevada Fall, the forth waterfall of the day. The 454-foot-high waterfall on the Merced River (just like Vernal Fall) is nestled below granite dome at the west end of Little Yosemite Valley. Together Vernal Fall and Nevada Fall create a unique system of the waterfalls that often seems like two parts – downstream and upstream – of one natural phenomenon in Yosemite.
Similar to its downstream sibling, Nevada Fall runs almost the whole year with the exception of late August when the water flow doesn't reach its maximum potential. On the downside, the access to this fall is closed in winter, so make sure to see it during warmer seasons.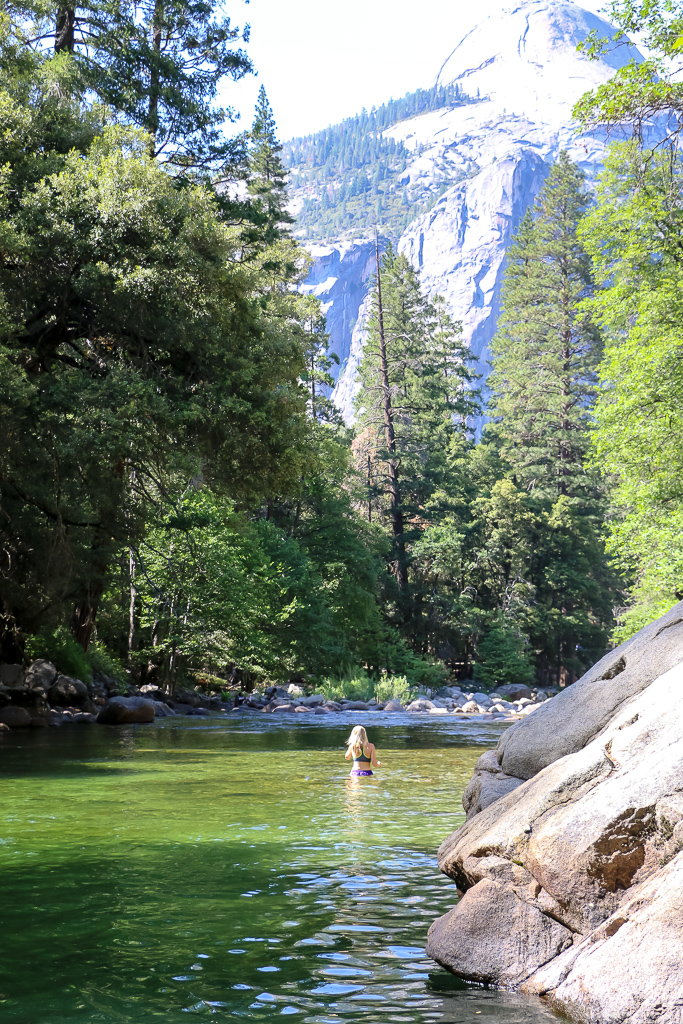 Overall
Yosemite National Park is incredibly big and absolutely gorgeous. One day will enable you to only scratch the surface of what it has to offer. Nevertheless, it's enough time to explore four of the most remarkable Yosemite's waterfalls. Be sure to bring your friends and family members along and share the stunning scenery, dramatic views, and mesmerizing falls with them.
Read Next