Set west of downtown Los Angeles, Santa Monica is one of the most popular and vibrant neighborhoods in the City of Angeles. Technically, this oceanfront town is an incorporated city rather than a part of the capital of Hollywood. Nevertheless, it doesn't prevent Santa Monica from ripping all the laurels that other Los Angeles neighborhoods receive. Moreover, this coastal town is one of the integral parts and must-visit places in Los Angeles. Hardly any other neighborhood of the city can be as perfect for unwinding and living that dreamy Southern California. On top of that, you don't need guided tour to explore this beach paradise of Los Angeles. A little bit of sun and a complete neighborhood guide to Santa Monica is enough to find the best places to play, shop, and eat. So, let's explore this neighborhood jewel of Los Angeles.
HERE IS OUR COMPLETE NEIGHBORHOOD GUIDE TO SANTA MONICA
What to Do in Santa Monica
Santa Monica Pier
Regardless of your travel plans, one thing remains certain. You can't visit Santa Monica without first stopping at Santa Monica Pier. Without any doubt, this is one the most popular places among tourists and locals alike. The pier is a perfect place to meet all kinds of people, eat, and enjoy "shows" organized by street performers. Furthermore, this is where you can get your name engraved on a grain of rice and get funny caricature-drawing of you. For those who dismiss restaurants and stick to more budget-friendly places to eat, the Santa Monica Pier offers some interesting street vendors. Their food choices won't spoil you, but Japadog (hot dog topped with Japanese ingredients) and churros are always at hand.
The Santa Monica Pier is also home to Pacific Park and Santa Monica Pier Aquarium, two undeniable winners of our complete neighborhood guide to Santa Monica. Santa Monica Pier Aquarium always keeps you intrigued with over hundred local species and touch tanks. Pacific Park, on the other hand, brings out your inner child. Roller coasters, eateries, games, and rides on iconic Ferris wheel will make your visit to this oceanfront amusement park unforgettable.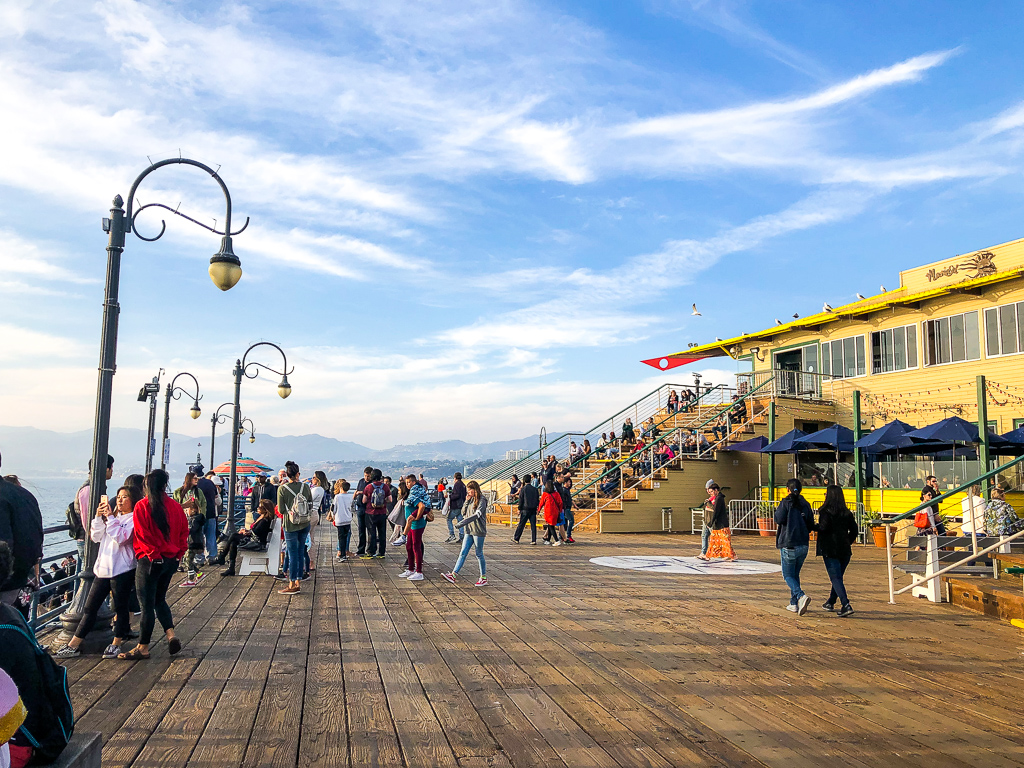 Santa Monica State Beach
As much as we love to explore different areas of the town, our complete neighborhood guide to Santa Monica can't forsake Santa Monica State Beach. And indeed, what can be better than taking a dip in the ocean, surfing, sailing, or catching some needed sun on a beach? All of these and more, you can surely find at Santa Monica Beach, the closest family member of the Santa Monica Pier. However, due to its wild popularity, Santa Monica Beach is one of the busiest and sadly dirtiest beaches in all of the Los Angeles neighborhoods.
Palisades Park
Palisades Park is an extension of Santa Monica culture and one of the main attractions that is ought to be included in this neighborhood guide to Santa Monica. No wonder, this oceanfront park with green grass and palm trees is one of the most beloved places for leisurely walks, yoga sessions, and occasional street performances.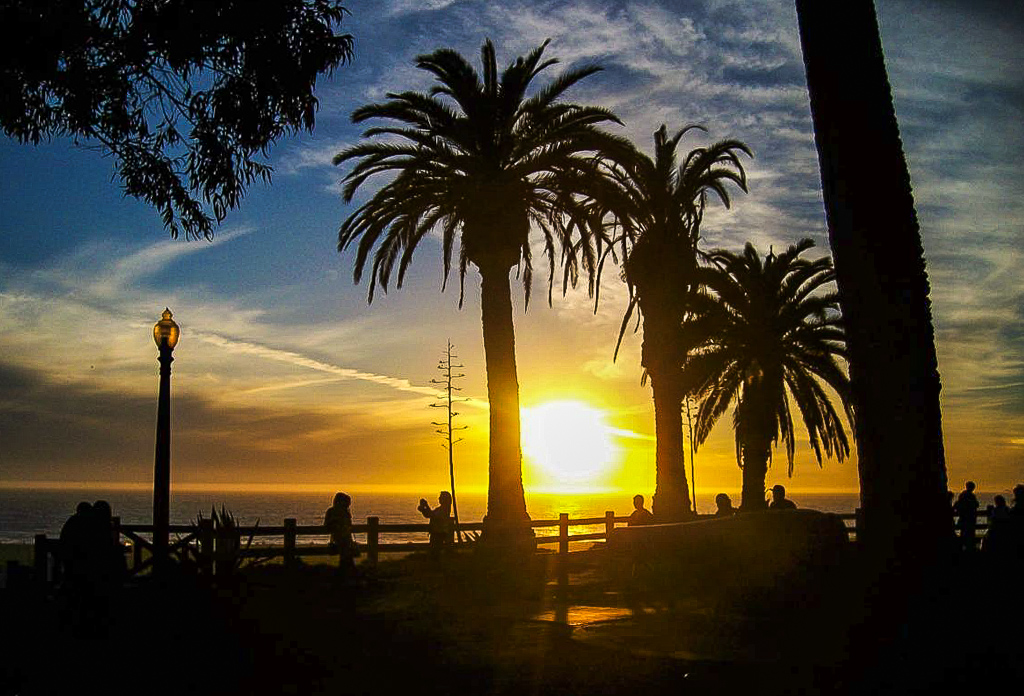 Downtown Santa Monica
Downtown Santa Monica forever belongs to favorite places of every shopping enthusiast. This is one of the best destinations on our neighborhood guide to Santa Monica for posh shopping, dining, and street entertainment.
Route 66: End of the Trail
Who haven't heard about the iconic Route 66, one of the original highways and symbol of changing America? The famous route connecting Illinois and California allowed millions of people migrate to the West in search of jobs and better life. Nothing could stop them. Except for the ocean. And thus the sigh "Route 66: End of the Trail" on the Santa Monica Pier symbolizes the end of the greatest American highway, abruptly stopped by the powerful Pacific Ocean.
Santa Monica Farmers' Markets
Without being biased (although we do like fresh fruits and vegetables), our neighborhood guide to Santa Monica would be incomplete without including four Santa Monica Farmers Markets. Open on Wednesday and Saturday mornings, they are honored to present the fresh organic produce and flowers. Handmade items such as skin care products and crystal jewelry also can be also found here.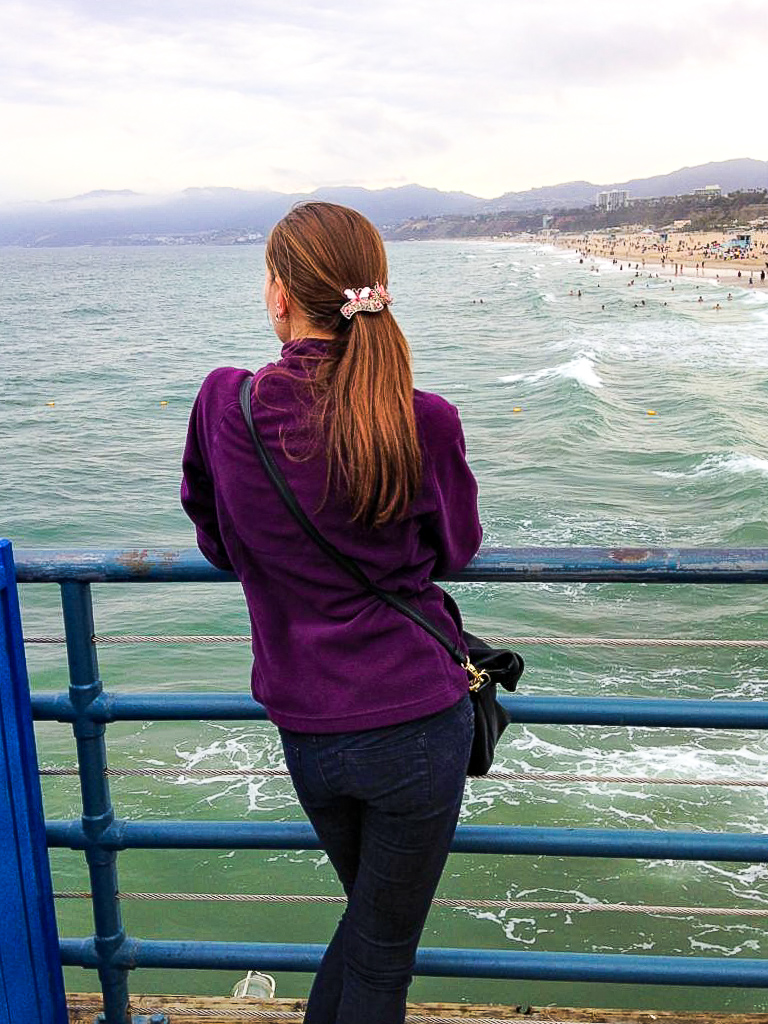 Where to Eat in Santa Monica
As one of the most popular neighborhoods in Los Angeles, Santa Monica makes sure to keep its visitors happy and well fed. What's the point of spending the whole day at the town without having good dining options suitable for almost all preferences and tastes? Santa Monica doesn't have any restrictions when it comes to food. The place is loaded to ample restaurant and cafés serving different kind of cuisines. This neighborhood guide to Santa Monica would never be finished if we had to list all of the dining options here. And thus, for the sake of time and space, this guide includes only some of the most popular eateries.
While shopping and people watching in Santa Monica, make sure to take a break and taste different cuisines at the following locations.
Go to Barney's Beanery to have breakfast, which includes American and Mexican dishes, all day long.
Bay Cities Italian Deli & Bakery boasts overstuffed sandwiches in Italian style.
An amazing desert consisting of gourmet ice cream in unusual flavor waits for you at Beach City Creamery.
Visit Monsieur Marcel for a slice of Paris in Santa Monica.
Locanda Del Lago offers rich northern Italian cuisine with very impressive wine list.
Chipotle is all you need for a heartier and healthier version of Mexican burrito or bowl.
Big Dean's Ocean Front Café is a kitschy beach-view bar with affordable drinks and excellent burgers.
Bubba Gump Shrimp Co. is located on the Santa Monica Pier and famous for delicious seafood and family-friendly atmosphere.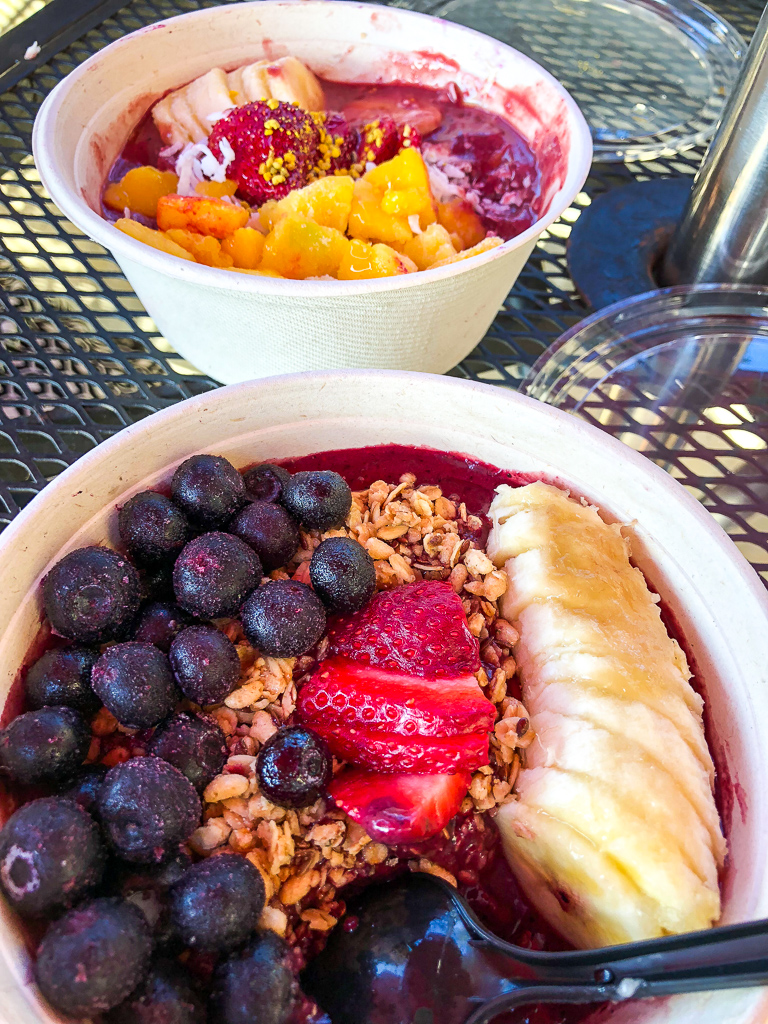 Vegan and Vegetarian Food
If you're are a vegan or vegetarian, there is no need to pack your lunch or snack when visiting Santa Monica (unless you want it). This neighborhood of Los Angeles is one of a few places in the city that takes healthy lifestyle and wellbeing very seriously. You don't need to spend hours and hours looking for a place to eat. Vegan and vegetarian restaurants are readily available. Some of the best restaurant that have made their way to our neighborhood guide to Santa Monica include the following names:
The Hive specializes in organic juice blends, kombucha tea, honey shots, and daily panini.
For a taste of faux meat, head over to Veggie Grill.
As the name suggests, Thai Vegan is your place for Asian food without a trace of animal products.
What's a day like without some indulgent? Frozen Fruit Co has your back. Their plant-based ice cream with natural sweeteners will make you come back over and over again.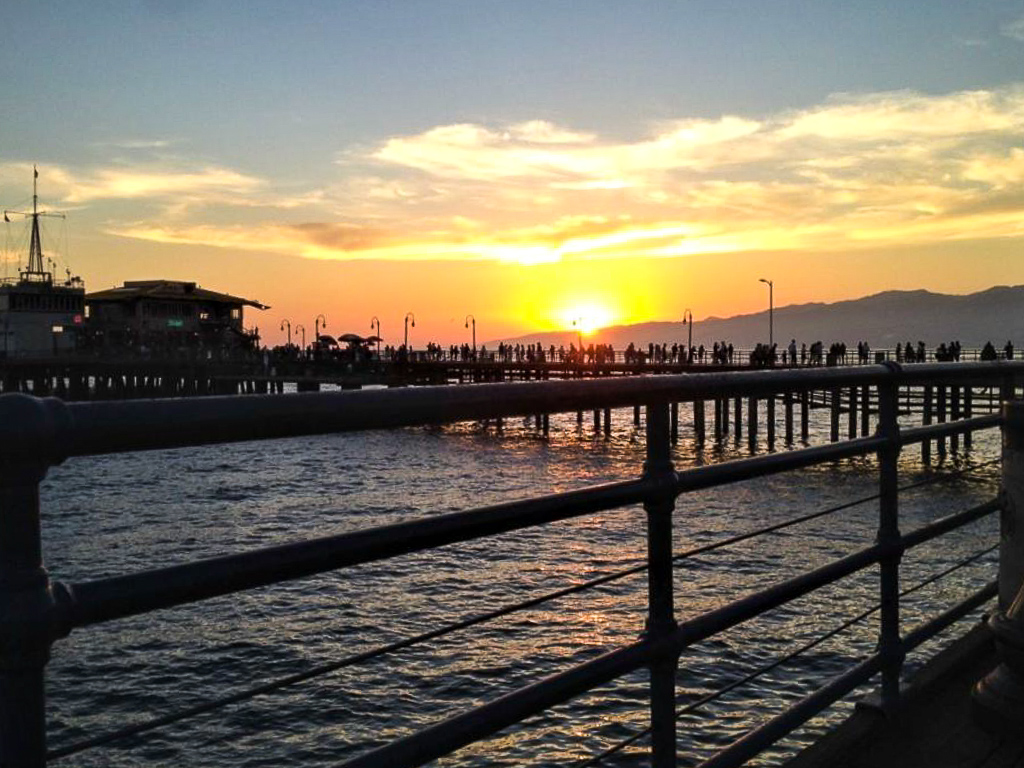 Where to Shop in Santa Monica
You can literally spend the whole day or a couple of days in Santa Monica doing nothing but shopping. The amount of stores raging from small gift and souvenirs places to fancy boutiques astounds. However, in order not to overwhelm you with endless names and addresses, in this neighborhood guide to Santa Monica we focus only on the most popular places.
Third Street Promenade
As we mentioned before, the famous Third Street Promenade (aka Downtown Santa Monica) is by far one of the first stops on your shopping list. Running from Wilshire Boulevard to Broadway Street, it's home to such chain stores as Gap, Adidas, H&M, Forever 21, Sephora, Apple, Barnes and Nobles, and many more.
Santa Monica Place
Santa Monica Place is an open-air shopping center presenting such big names as Bloomingdale's, Nordstrom, Nike, Tiffany & Co., and Lois Vuitton. Shopping here is one of the most relaxed experiences ever. Their same-day delivery service allows you to go full shopping-spree without carrying all your "discoveries" from one store to the other.
Second and Forth Streets
The Second and Forth Streets of Santa Monica don't possess any big stores. But these are your best spots for unique gifts, good amount of which are handmade.