We might be not a perfect family with lots differences and misunderstandings. But one thing is common for all of us. We love to travel. Who doesn't? From short to long flights, anything that we can do mostly on weekends works perfectly for us. However, when airplane tickets get too expensive, we hit the road and reconnect with nature in national parks nearby. A little bit over a year ago when exploring Santa Barbara, our family came across the Santa Barbara Botanic Garden. Trying to find a piece of nature to enjoy even in a big city is very typical for us. This place, however, was nothing we could dream of. I'm not afraid to say that the Santa Barbara Botanic Garden is nothing short of a national park. It makes you easily forget that you are still in a city.
Visit the Santa Barbara Botanic Garden
In all honesty, it's quite understandable considering the location of the garden. Like many national parks, the Santa Barbara Botanic Garden is located up in the mountains. A narrow road takes you about a mile north of  Santa Barbara Mission. However, this distance intermixed with not typical for a city landscapes is more than enough to questions your direction. We asked ourselves if we were still on the right road probably hundred times before reaching garden's parking lot.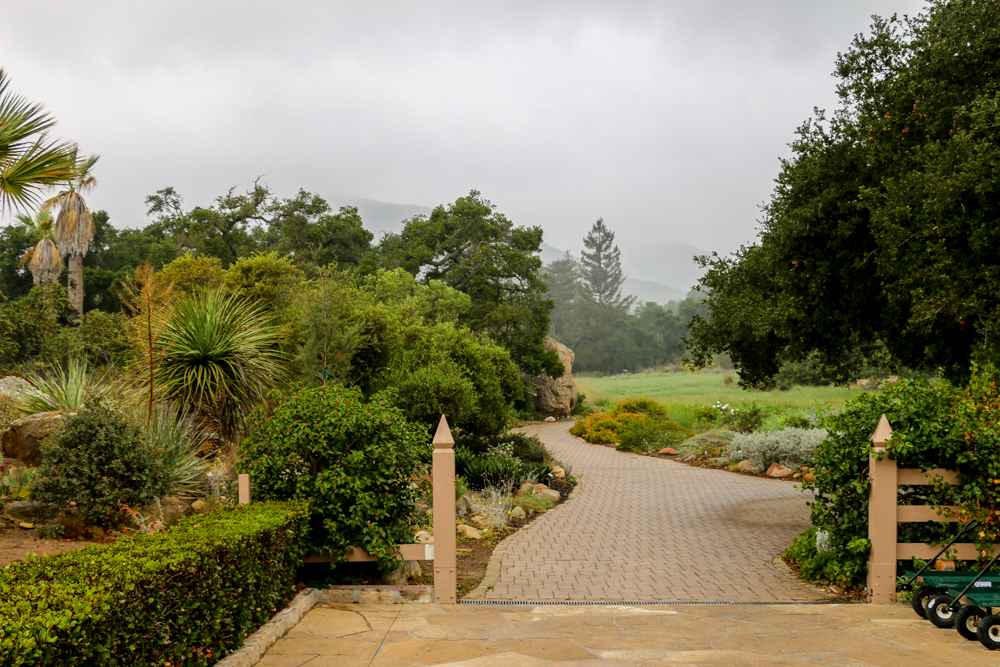 Once you park a car, head straight to a small booth on your right. This is Santa Barbara Botanic Garden's visitor center. It looks very simply, a little bit bigger than a hut. Nevertheless, this is a place you don't want to miss. On top of getting your tickets here (if you didn't purchase them online), helpful staff provides you with map and tons of information. You can honestly get by without them. But following map instructions makes it easier to navigate in the garden. Moreover, it'll help you not to miss those parts of the Santa Barbara Botanic Garden that look nothing short of a national park.
The Santa Barbara Botanic Garden is open seven days a week with the exceptions of major national holiday. An adult ticket costs $14. However, there are discounts for seniors, students, and children. Kids under two enter the Santa Barbara Botanic Garden for free.
The Santa Barbara Botanic Garden is Nothing Short of a National Park
Your Santa Barbara Botanic Garden journey usually starts at intersection of two paths. One of them leads to the Garden Shop and the Garden Growers Nursery behind the shop. The second trail goes to the rights to the Meadow Display, the heart of the Santa Barbara Botanic Garden. With splendid views of the mountains and spring flowers, this part of the Santa Barbara Botanic Garden reminds you of Yosemite National Park. A few other things to enjoy near the Meadow Display include the Meadow Oaks and the Bessie Bullard Pond and Brook. Many visitors of the Santa Barbara Botanic Garden also take time to explore the Dudleya Display and the Groundcover Display.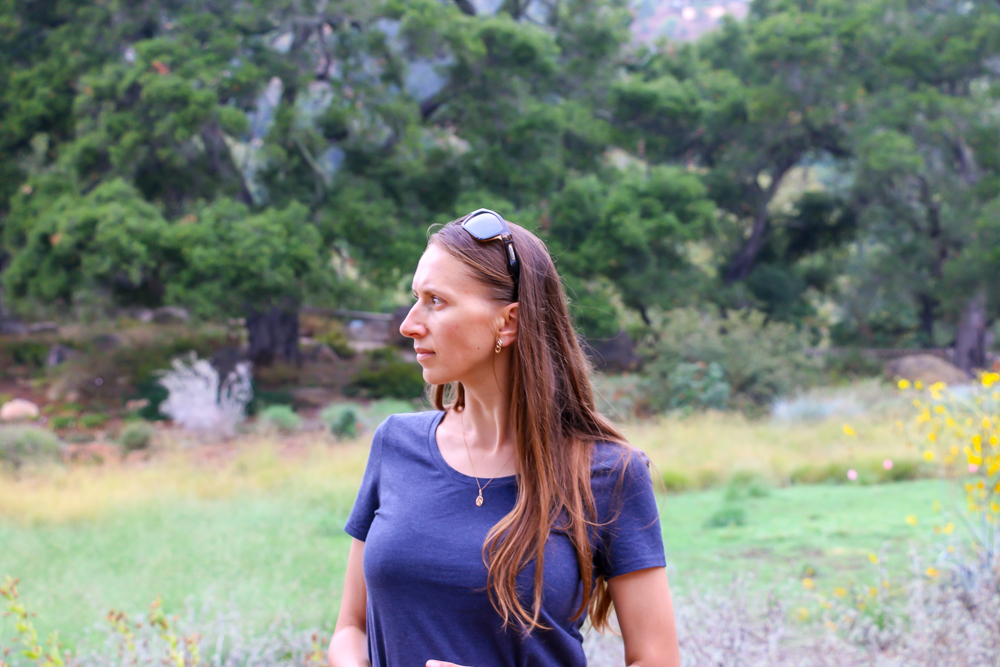 Hiking in the  Botanic Garden
If you anything like us, by this time you'd probably be eager to hit the trails of the Garden that spread over 5.5 miles. Similar to any national park, the Santa Barbara Botanic Garden offers a few trails to choose from. Since at that time we still used stroller, our choices were quite limited. (Some paths at the Santa Barbara Botanic Garden present some difficulties and are unsuitable for wheelchairs or strollers.)
Thus, we took Woodland Trail and continued walking to the right of the Meadow Section. Within a few minutes, a blooming field turned into a forest with tall redwood trees, rocky stairs, and big boulders. The Redwood Forest (we learned its name later) was like no other places in the Santa Barbara Botanic Garden. On top of beautiful vegetation, it radiated peace and serenity. Moreover, it stayed cool even though it was getting pretty warm in other section of the garden. At this point, the Redwood Forest of the Santa Barbara Botanic Garden looked nothing short of Sequoia National Park.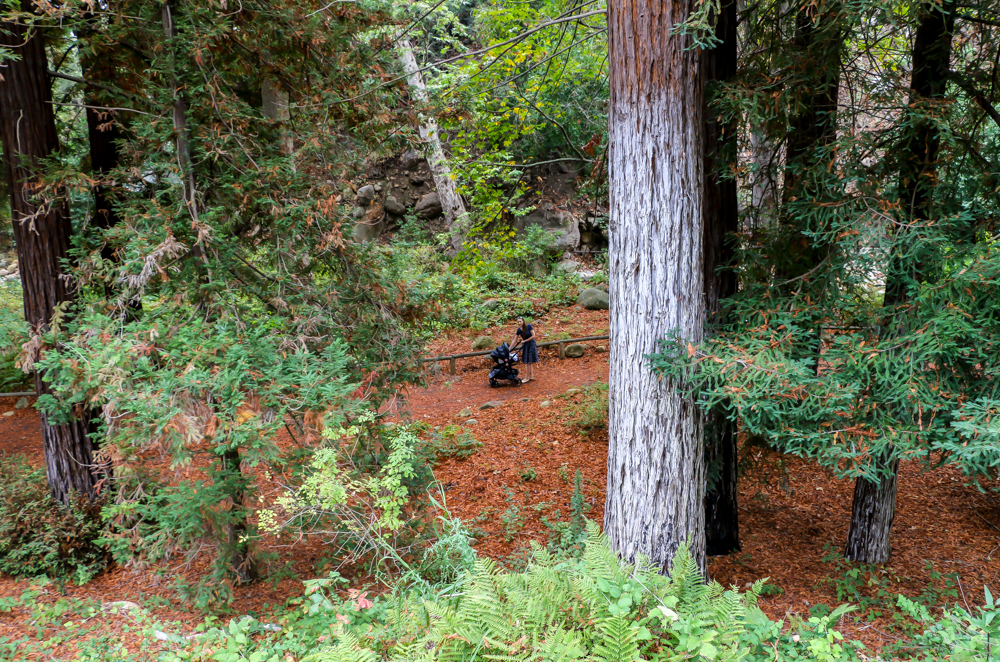 We spend about half an hours in the Forest and moved forward. Honestly, following the map was not a big issue for us anymore. Since we couldn't explore the narrower paths of the Santa Barbara Botanic Garden, staying on this trail was our only option. Eventually, we made a big round and came back to the information booth from the opposite direction.
Had we had a carrier, we'd probably have taken a few more trails. Nevertheless, our half-day trip to the Garden tuned out to be an unexpected adventure. Who would've though that some sections of the Santa Barbara Botanic Garden could look so much like a national park? That was definitely a big surprise for us.