The second and third days of our 3-day road trip through Central and Northern California were slower compared with the day 1. Yet they still offered more than enough road adventures and surprises.
Last updated: January 13, 2022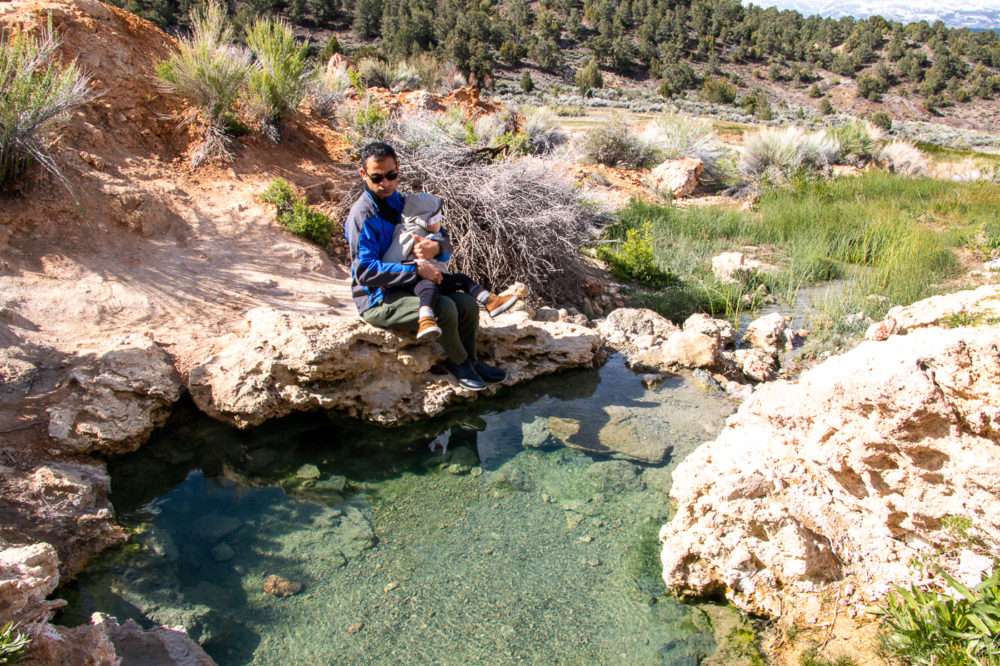 3-DAY ROAD TRIP THROUGH CENTRAL AND NORTHERN CALIFORNIA: DAY 2 AND 3 ITINERARIES
CENTRAL AND NORTHERN CALIFORNIA ROAD TRIP: DAY 2
As I mentioned in a previous blog post, we spent a night in Bridgeport. Our original plan included returning to Mammoth Lakes for another half a day. After that we were supposed to head farther northeast. But the beauty of any road trip, especially the one through such a diverse state as California, is that you can always change your plan. And we did it eagerly.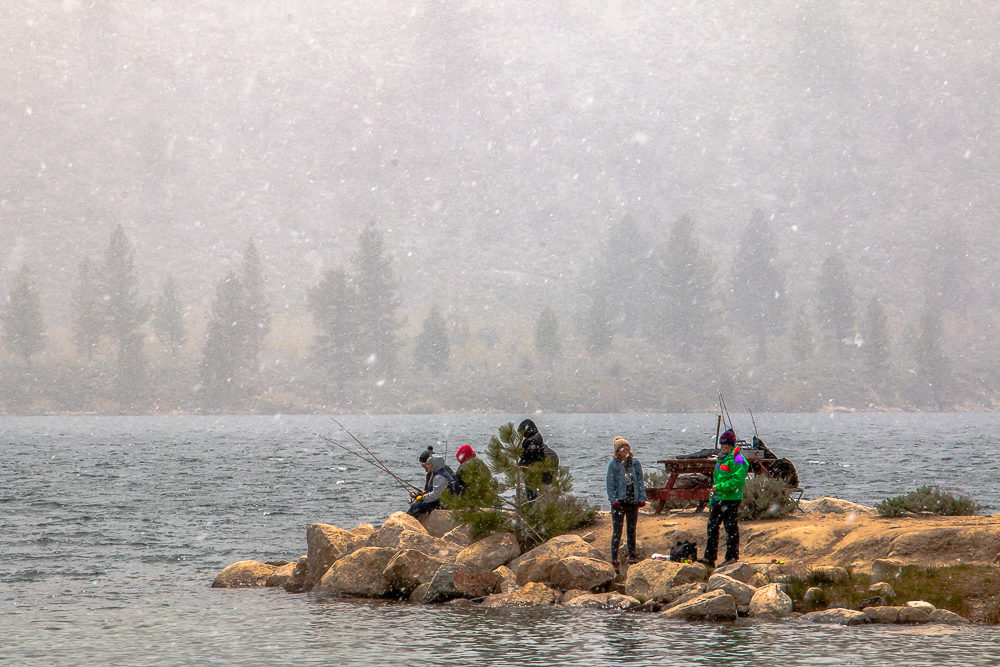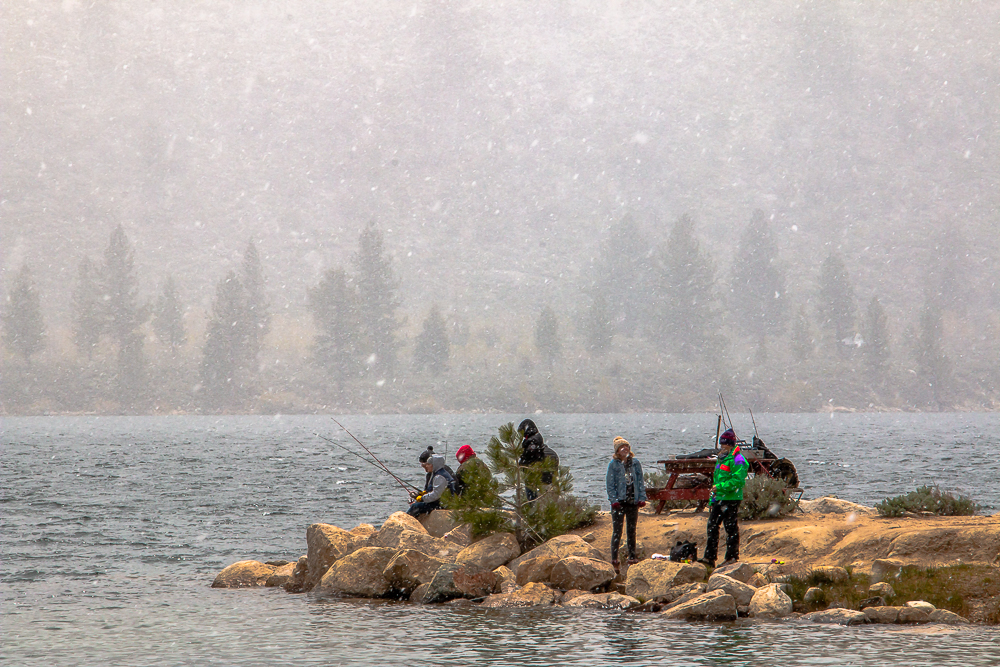 Road Trip through Bridgeport, Central California
We left our room in Bridgeport at 8:00 a.m. with an intention to spend a few more hours in the town. A map, conveniently provided by the hotel, showed that the area had a few interesting places. And we were ready to hit the California roads once again and explore them all.
First thing first, I couldn't leave Bridgeport without soaking in its hot springs. Again, this was not something new for Roshan. Despite this, our 3-day Central – Northern California road trip took us to our first hot spring, just 2 miles away from the hotel.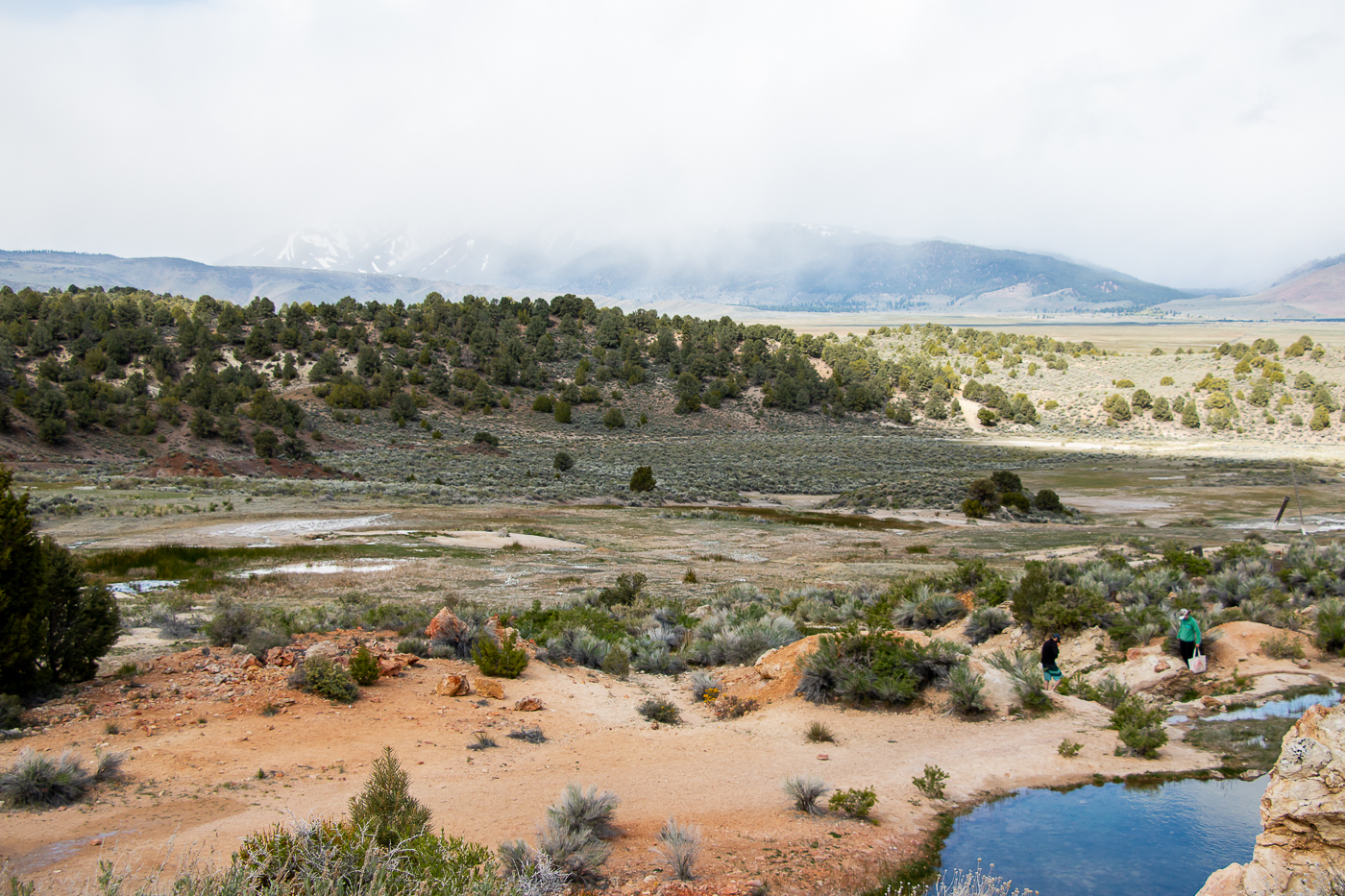 From Road Trip to Soaking in Hot Springs in Bridgeport, California
The dirt road was bumpy, which slowed us down significantly. Yet we still didn't expect to see hordes of travelers here. It was a cold Sunday morning. Who wanted to freeze here so early? By the time of our arrival, however, the closest to the road hot springs were already occupied.
We parked and went in the opposite direction hoping to find some empty pools. Roshan spotted one after just a few minutes of walking. While we were testing the water of this hot spring, a couple with a dog approached it from the opposite side. These hot springs seemed to have many admirers in this part of California.
Hot Spring Experience
Roshan and Dylan stayed at the hot spring while I raced back to the car to grab towels and put on a swimsuit. One lonely restroom near the parking lot worked perfectly for a quick change. Wired by adrenaline rush in anticipation of the warm water of the hot spring, I put on my swimsuit so fast that I even surprised me. Despite the wind and cold weather, I threw on only my jacket on top of the bathing suit and ran back to the hot spring.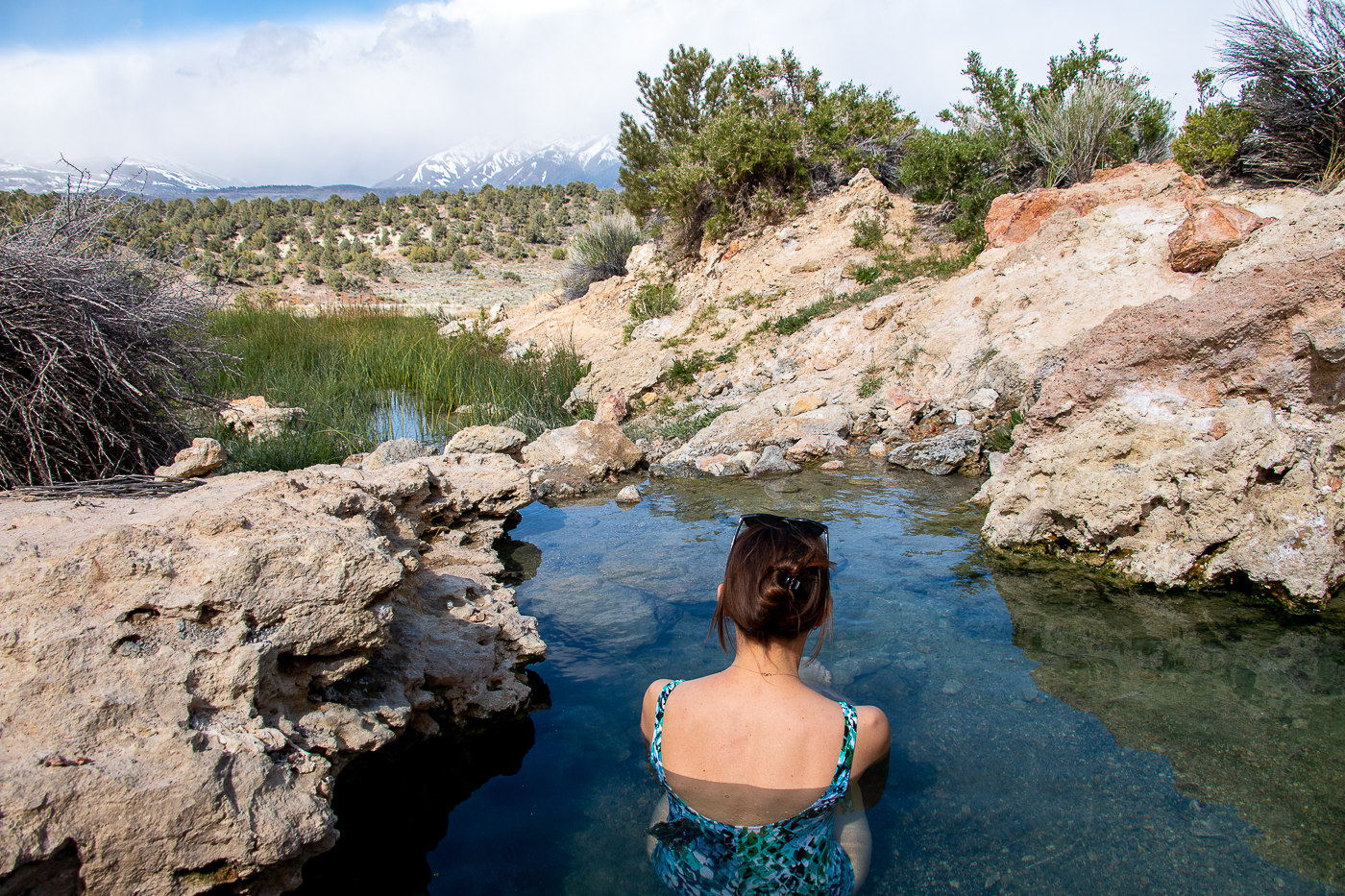 Dylan didn't feel comfortable in such a strange environment. He was ok during the whole road trip through Central California, but this place didn't inspire confidence in him. And as Dylan usually does in such situations, he misbehaved and constantly repeated the word "car". It was his way of saying that he wanted to go back to his car seat and kids tunes on the phone.
Roshan managed to pacify Dylan, allowing me to soak in the hot spring. He was supposed to go next, while I would have been taken care of the baby, but changed his mind. Dylan didn't want to stay at this place any longer.
From Central to Northern California: Road Trip Continued
We explored a few more places in Bridgeport before hitting the road again. The highlight, though, was a short, 5-mile road trip into a forested area up in the mountains. The road was steep and the forest was getting denser the farther we drove. On top of that, the wind started blowing even stronger than before.
But the views of the valley down at the bottom of the mountains were worth all the effort. As a nice surprise, it began to snow. But this time big snowflakes not snowy balls that looked like hail (from the day 1 of our 3-day road trip through Central and Northern California) were descending on the ground.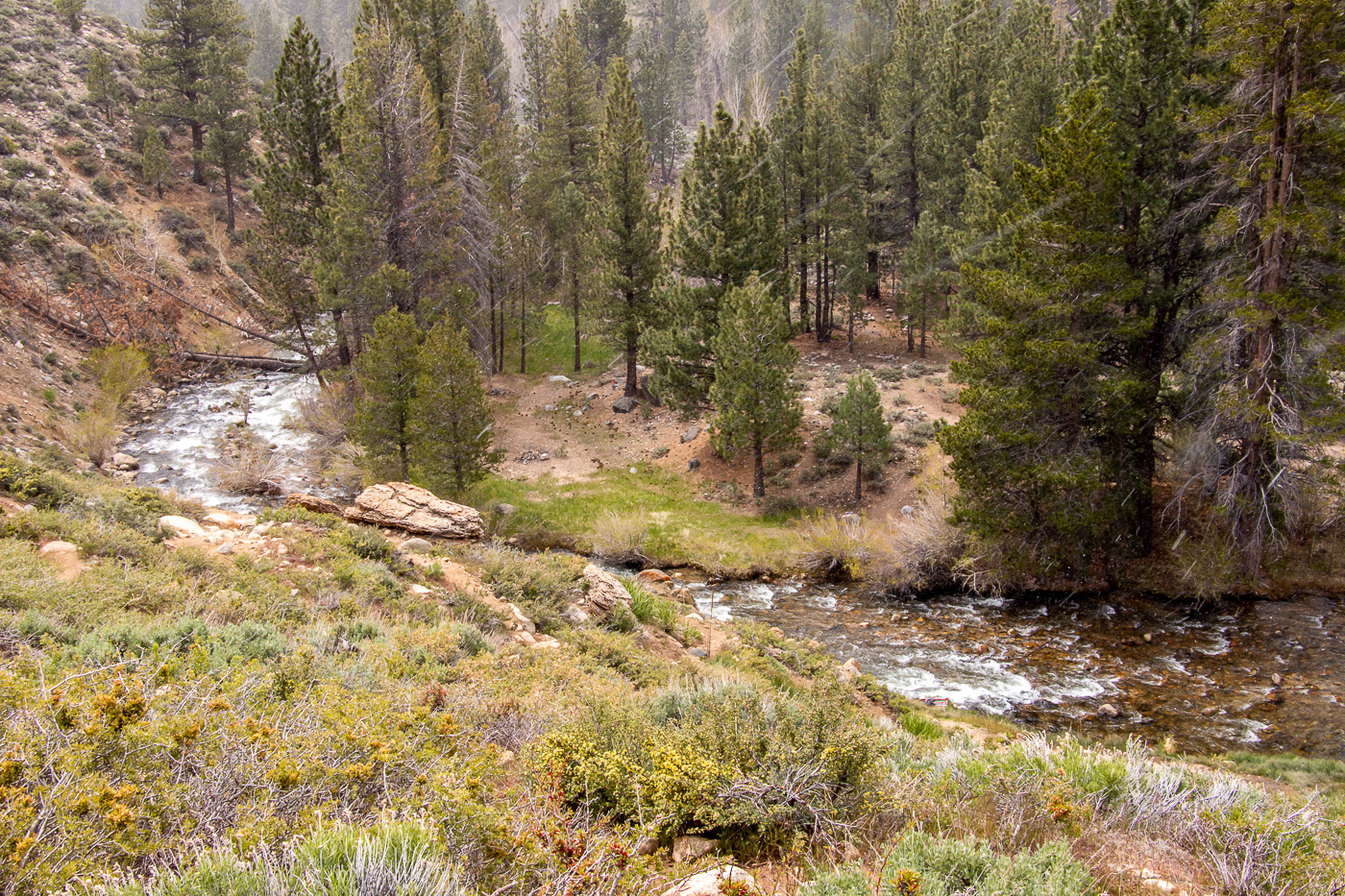 South Lake Tahoe
It was almost noon when we left Bridgeport and drove to South Lake Tahoe. 2 hours passed before our road trip through California and Nevada, following US-395 N, took us to the city. Upon arrival, Roshan quickly checked in at our lodge and we were ready to explore. Not quite sure where to go, we started at a beach 5 minutes from our home away from home.
Weather in South Lake Tahoe, however, didn't have any intention to pamper us with any beach activities. It was the coldest place of all the destinations on this 3-day California road trip. I read that during this time last year, Lake Tahoe was ready for all the spring and summer activities. It wasn't even close to it this year.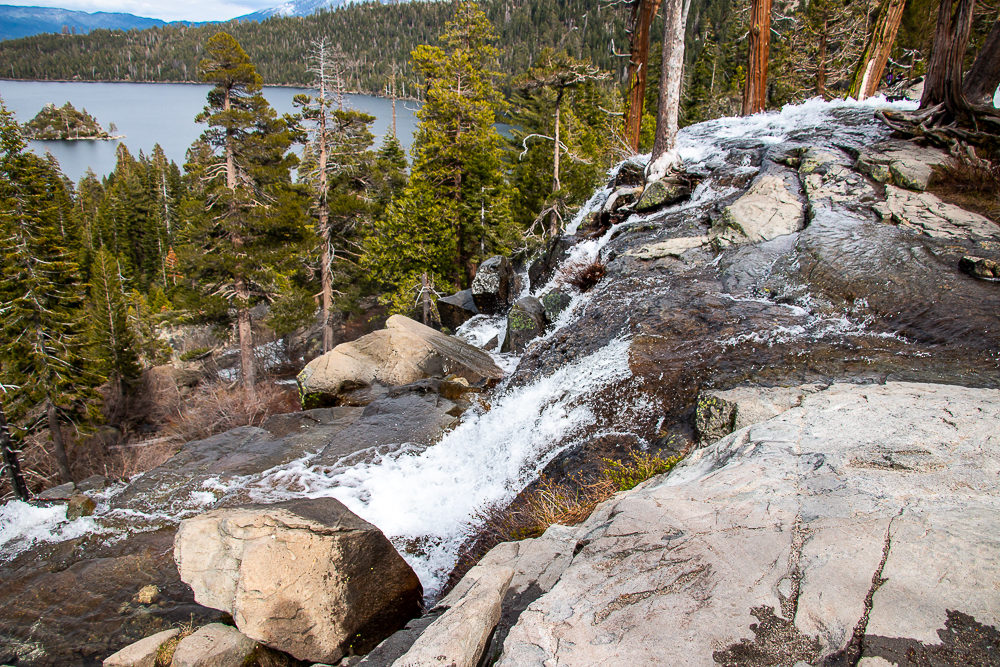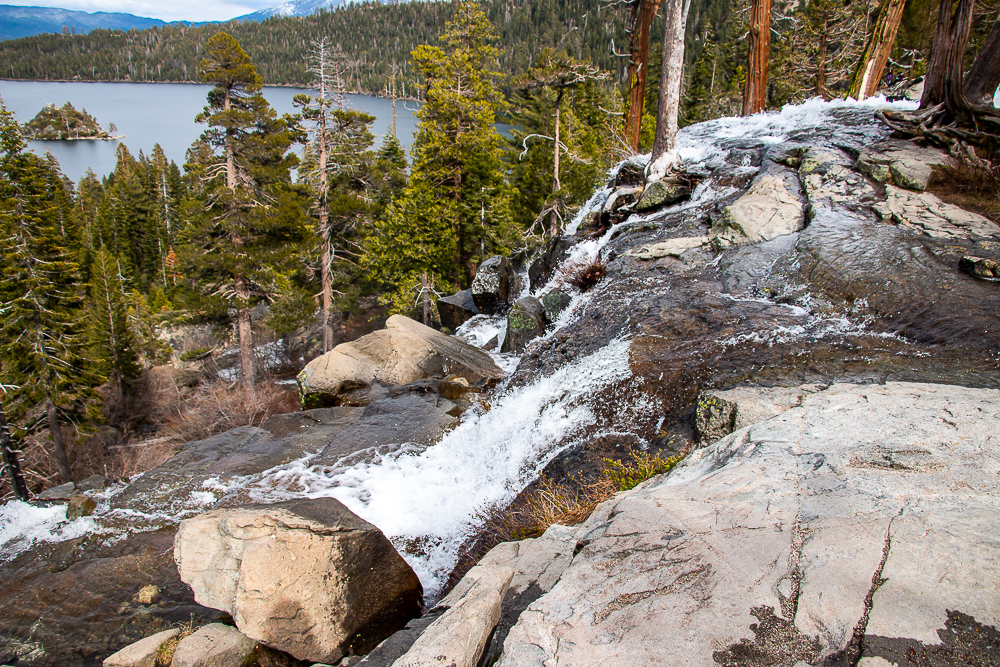 Emerald Bay State Park
A few more locations and city beaches later, and we were on our way to explore the outskirts of South Lake Tahoe. The farther we drove, the more we liked what we saw outside. Even looking through the car window, you could see how clear the water was here.
All of a sudden, I spotted a small island, Fannette Island, in the lake. It was definitely one of the most beautiful places we saw during this California road trip. We drove a little bit farther and stopped at the nearest viewing platform to get a better look of it.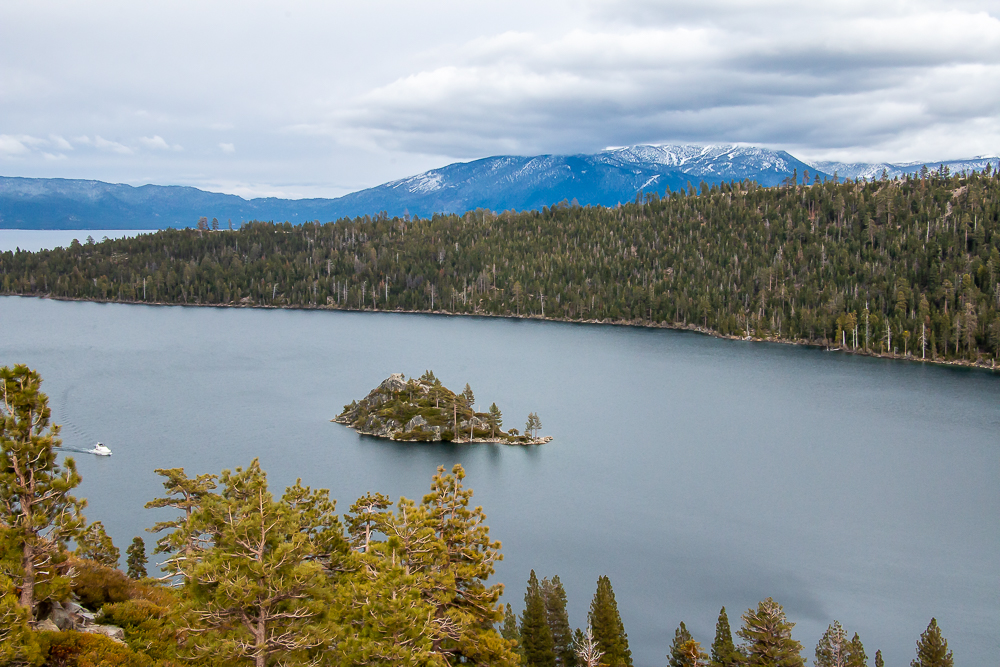 As we learned later, this was Emerald Bay State Park, the crown jewel of Lake Tahoe. The place boasted a few other observation decks that looked less crowded. Due to the unseasonably cold weather, going down to the shore, especially with the baby, was out of the question. Therefore, we spent the rest of the day exploring the place and enjoying its natural wonders from the top of the cliff.
ROAD TRIP THROUGH CENTRAL AND NORTHERN CALIFORNIA: DAY 3
Our 3-day road trip through Central and Northern California was coming to an end. We had one more destination on our list before heading back to Los Angeles.
Road Trip to Sacramento, California
Located just 2 hours from South Lake Tahoe, Sacramento was our final destination. We didn't have too many expectations from the city. They said you had to see the capital of California at least once. And since none of us had been to Sacramento before, we used this 3-day California road trip to accomplish this goal.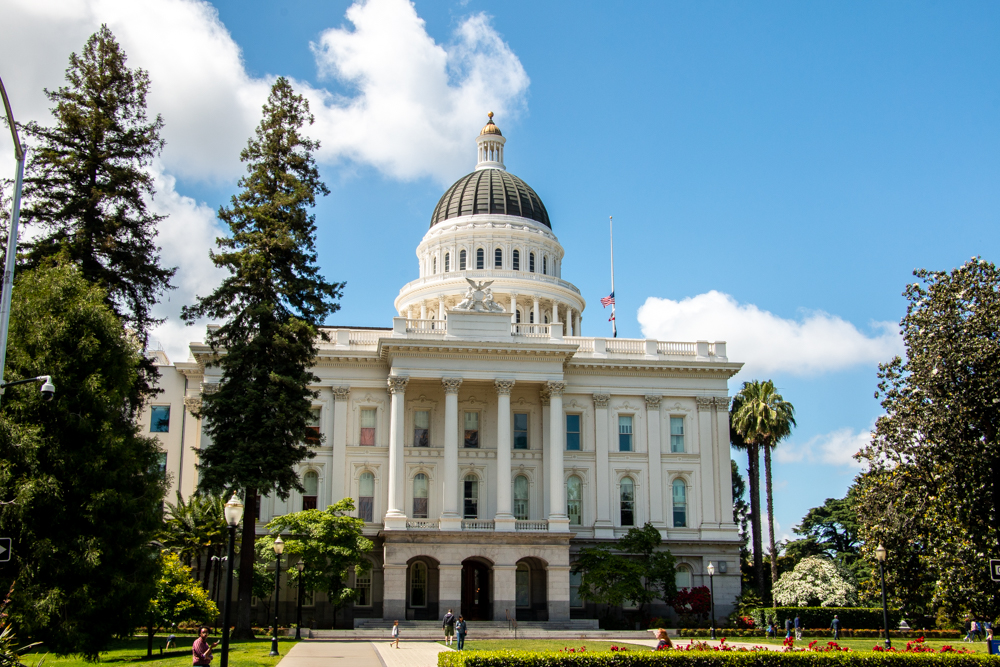 While the city deserved its own praise and laurels, the 2-hour road trip to the capital of California left us in awe. During these couple of hours we experienced all four seasons. Four seasons in the matter of just 2 hours and about 100 miles, was it even possible? It was.
We left South Lake Tahoe in, what it looked and felt like, late fall. About 40 minutes later, the winter wonderland unexpectedly greeted us with a heavy snowfall. It was so beautiful that nothing could stop us from pulling over and playing in that fresh snow.
Winter, however, didn't last long. In about 30 minutes (while we were driving), spring with its warm rain took over. By the time we reached Sacramento, summer was ruling outside. I loved every season of this short California road trip. Roshan, however, still talks about that gorgeous winter wonderland.