I've been baking Russian apple cake every day, and it's not even apple season. 
Travel Inspired Recipes: Vegan Russian Apple Cake
Russian apple cake, also called sharlotka, is a staple of fall diet in Russia and most of Eastern Europe. My love affair with this dessert started with a simple recipe my school friend shared with me after I tried Russian apple cake at her place. It was many years ago, and I lost the original recipe. But since then I've been making my own version of the cake. Moreover, I adopted my friend's Russian apple cake recipe to a healthier version, substituting honey for sugar and omitting eggs.
Sharlotka is often described as an apple sponge cake. Many bakers also call it Russian apple pie. But since this recipe doesn't ask for a typical pie crust, making it even easier than you would think. Most people make Russian apple cake without milk and use eggs to keep batter stick together. I do the opposite: leave the eggs behind and add plant-based milk and coconut oil.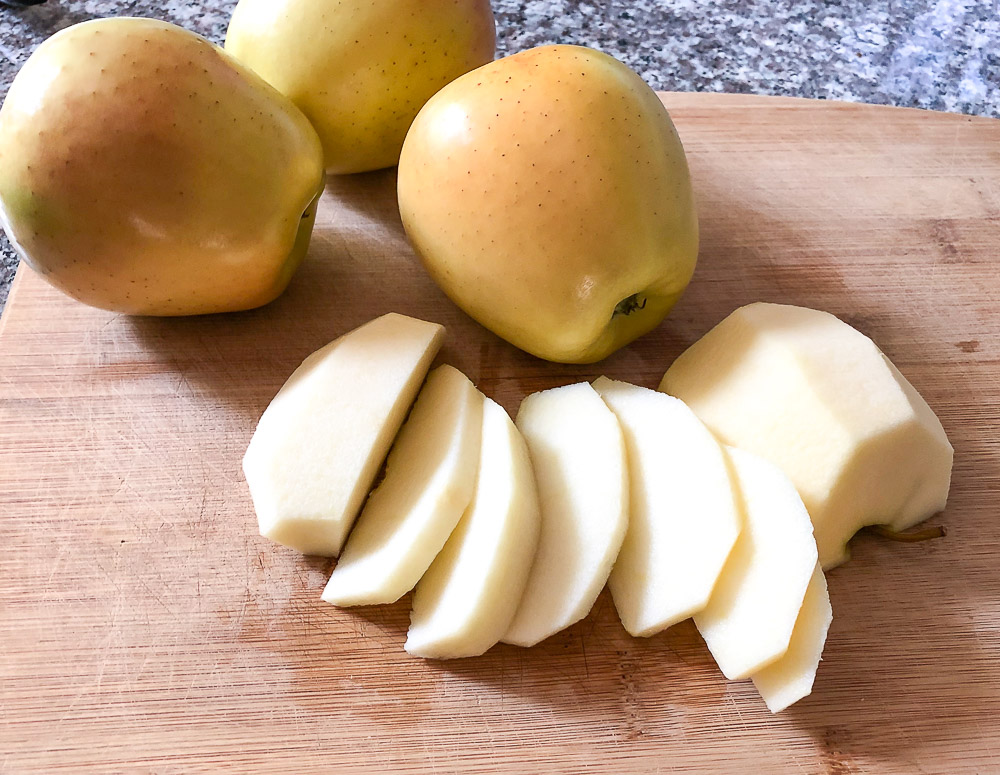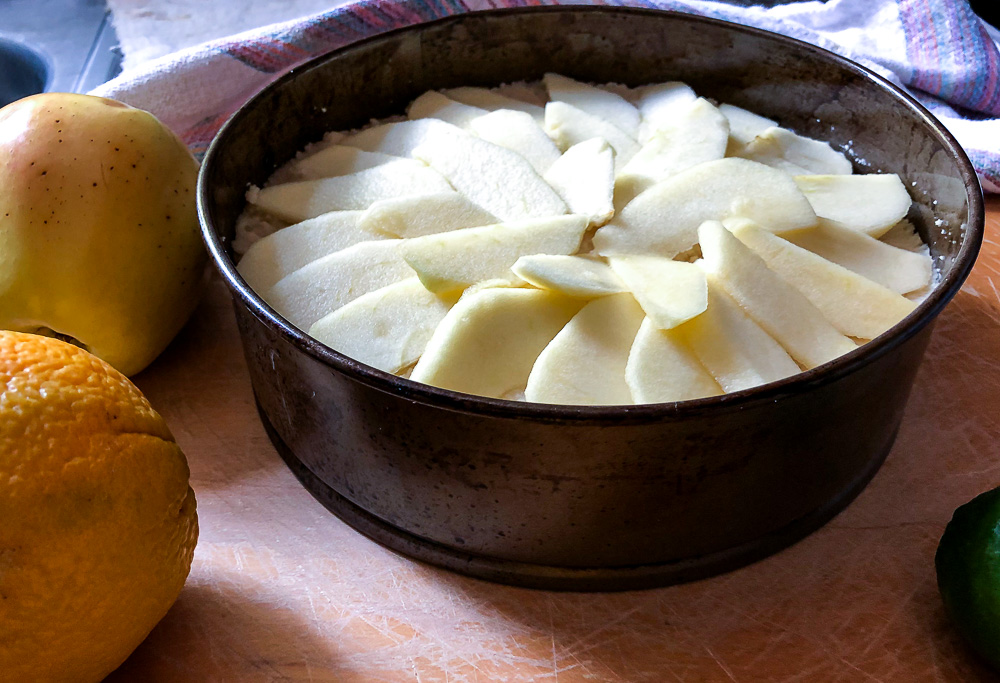 How Russian Apple Cake Was Invented
This simple Russian apple cake has not a simple story. It's believed that Russian sharlotka was first invented in London in the 19th century. Its father, French Cook Marie Antoine Careme, used savoyard cookies instead of bread and added whipped cream. Accordingly, back then Russian apple cake was called Charlotte à la Parisienne (Parisian Sharlotka). When Russian tsar Alexander I entered Paris as a winner, the French chef served him this delicious apple cake. This was the turning point in the history of the dessert, and soon it became known as Charlotte Russe or Russian sharlotka.
Another legend connects Russian sharlotka with German bakers who lived in Russian at the end of the 19th – beginning of the 20th centuries. German wives, whom the Russians nicknamed Charlotte, prepared the cake from the leftovers of bread and other products. The locals often made fun of such frugality and called German cakes Charlotte as well. Eventually, the recipe was adopted to Russian taste and became known as Russian apple cake.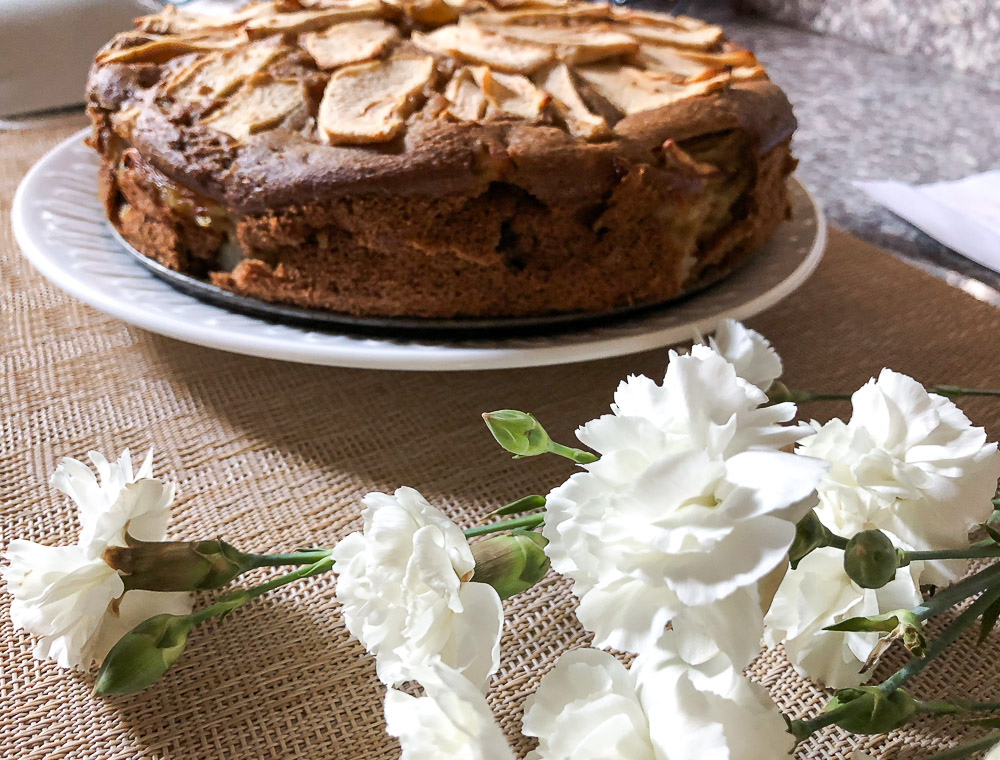 VEGAN RUSSIAN APPLE CAKE:
Prep time: 30 minutes

Cook time: 1 hour

Yield: 8 servings
Ingredients
Cake Layer:
2 cups all-purpose flour (you can substitute it for any gluten-free flour)

1/2 cup honey

1 teaspoon baking soda

2 teaspoons apple cider vinegar

2 teaspoon vanilla extract

1 teaspoon ground cinnamon

1/4 teaspoon salt

2 cups plant-based milk

4 tablespoons coconut oil, melted

1 tablespoon cacao powder (optional)
Apple Layer:
4-5 medium apples, peeled, cored, and thinly slices

Juice of half a lemon

1 tablespoon honey
Directions
Peel, core, and slice the apples. Place them in a large bowl. Add the lemon juice and 1 tablespoon of honey, mix, and let it aside for about 10 minutes.

In another large bowl mix or blend together the flour, honey, coconut oil, milk, ground cinnamon, cacao powder, salt, and vanilla extract.

Place the baking soda in a cup and pour over it 2 teaspoons of the apple cider vinegar; stir until the soda dissolves and add to the batter. Mix together, but make sure not to overmix.

Preheat oven to 350 degrees Fahrenheit. Grease pan with the coconut oil.

Divide the batter into two parts. Pour one part in the pan. Layer 2/3 of the apples on top of it. Cover the apple with the remaining batter. Layer the rest of the apples.

Bake for approximately 1 hour. You can start checkin if sharlotka is ready after 45 minutes of baking by inserting a wooden toothpick in the middle to the cake. If it comes out mostly dry, the cake is ready. Turn off the oven and let it cool in the oven for another 30 minutes.
Tips
You can use sugar instead of honey. But since the honey is sweeter and moister, you need to use more sugar. Generally 1 cup of sugar is equivalent to 3/4 cup of honey.

The original recipe of the cake asks for firm, sour apples such as Antonovka. You can use any apples. Keep in mind, though, that the juicier varieties make sharlotka moister and juicier.
Check out other travel inspired recipes here.