When it gets cold outside, keep yourself warm with oven-roasted fall vegetables. Easy to make and always delicious and satisfying! Sweet potato, Brussel sprouts, reddish, carrot – you can never go wrong with these oven-roasted fall vegetables. 
Last updated: November 23, 2021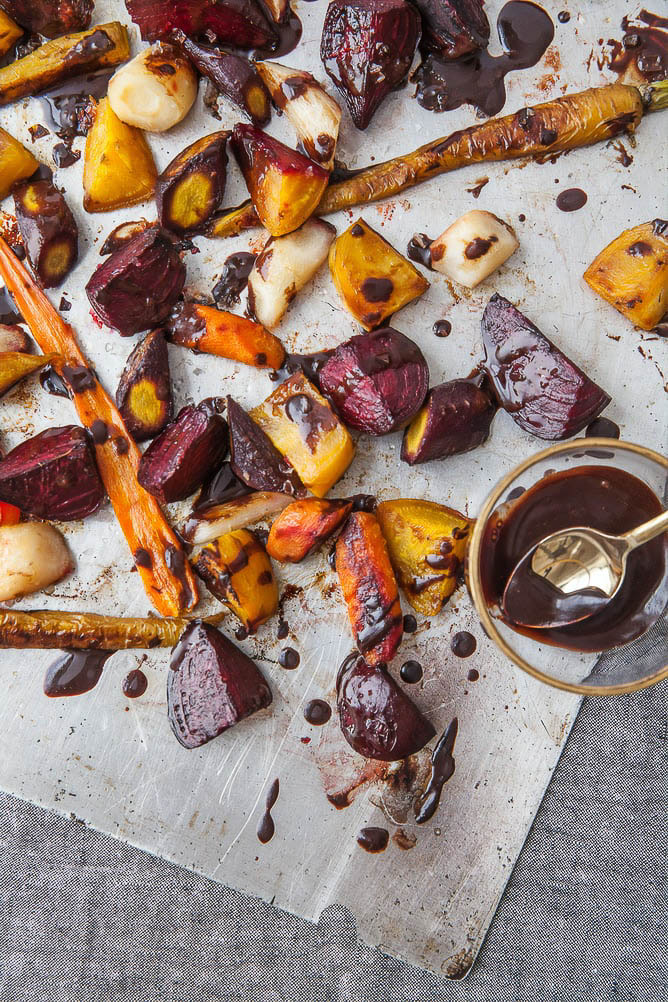 Easy Oven-Roasted Fall Vegetables
It might sound strange to title the post on how to make the oven-roasted fall vegetables as a travel inspired dish. I would think so too if I didn't grow up in Eastern Europe. This part of the world doesn't grow such popular fall vegetables as sweet potatoes and Brussel sprouts. 
Although as the name reveals, the Brussel sprouts are native to northern Europe, they made it into my kitchen only after I had moved to California. At this point, it's not hard to guess that the sweet potatoes followed the same fate. In my defense, once I tried the oven-roasted autumn vegetables, I couldn't stop making them at home. Delicious, nourishing, satisfying, and oh, so good-looking – what not to like here!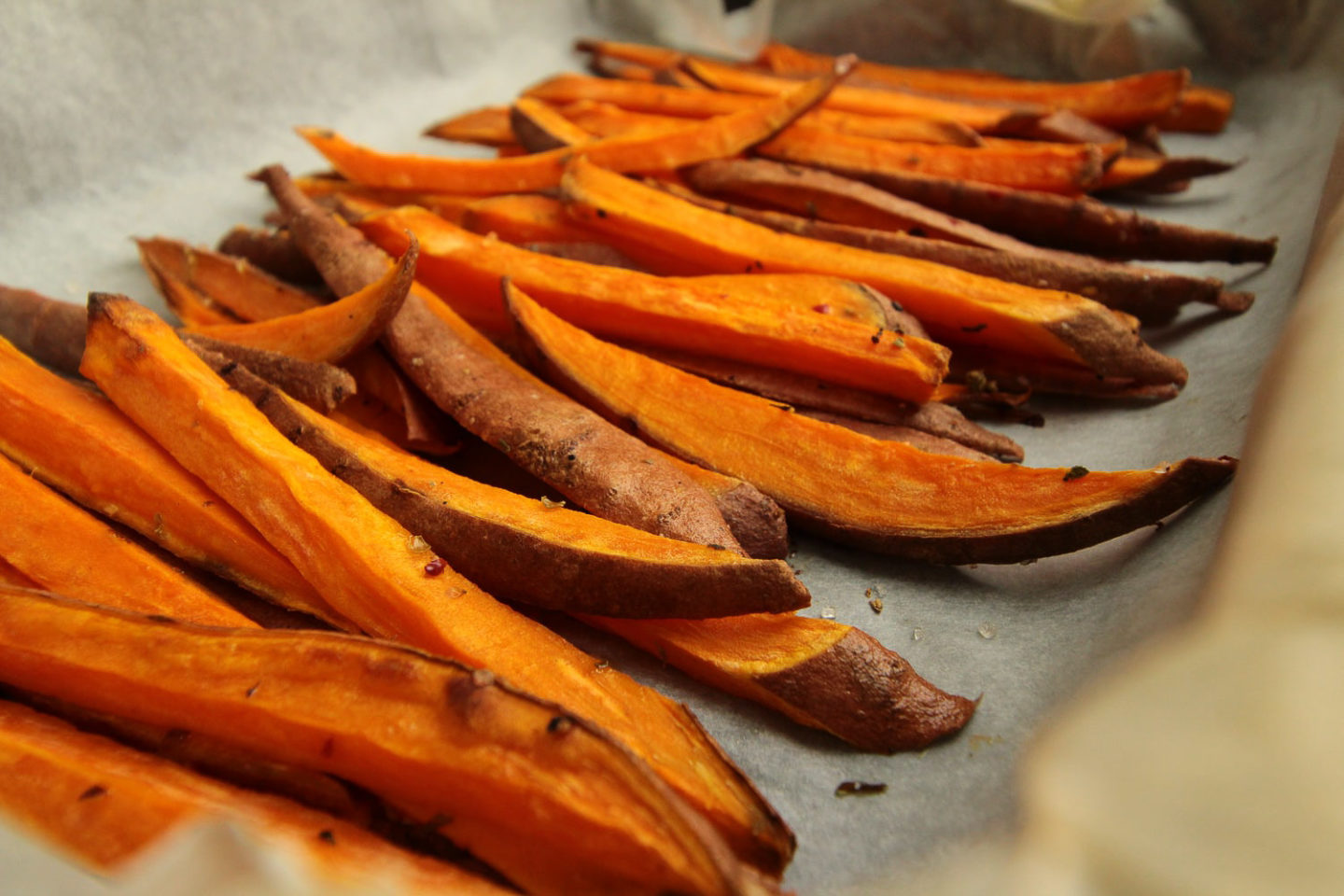 I must admit, though, I use all kinds of plants for my oven-roasted vegetables. Mixing the fall veggies with some summer plants such as tomato is a key to rich taste and color saturation. I also like how cauliflower intermix with the denser root vegetables, adding lightness and crunchiness to the dish. 
Oven-Roasted Fall Vegetables – The Easiest and Most Colorful Dish Ever
How to make these oven-roasted fall vegetables? Peel them, cut them, coat with some spices, and put in the oven for about 40 minutes. Can it be easier than that? You can prep this dish in minutes and serve it almost every day. And since the colors of these oven-roasted fall vegetables are so bright and vibrant, you can also decorate your holiday table with a platter of festive autumn tones. 
These oven-roasted fall vegetables work well as a whole meal or a side dish. Additionally, you can use any leftovers for your salads, omelettes, and even homemade burritos.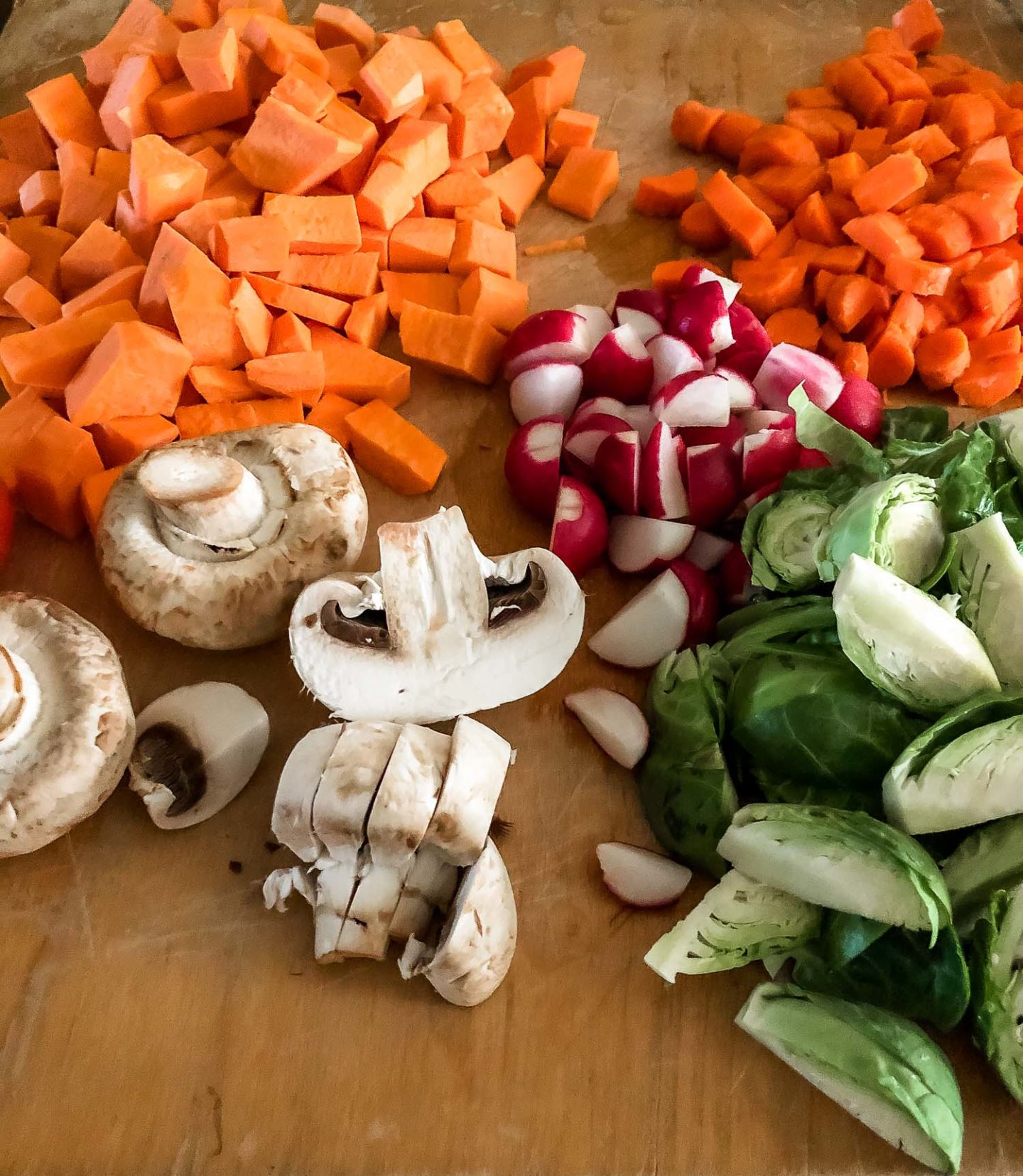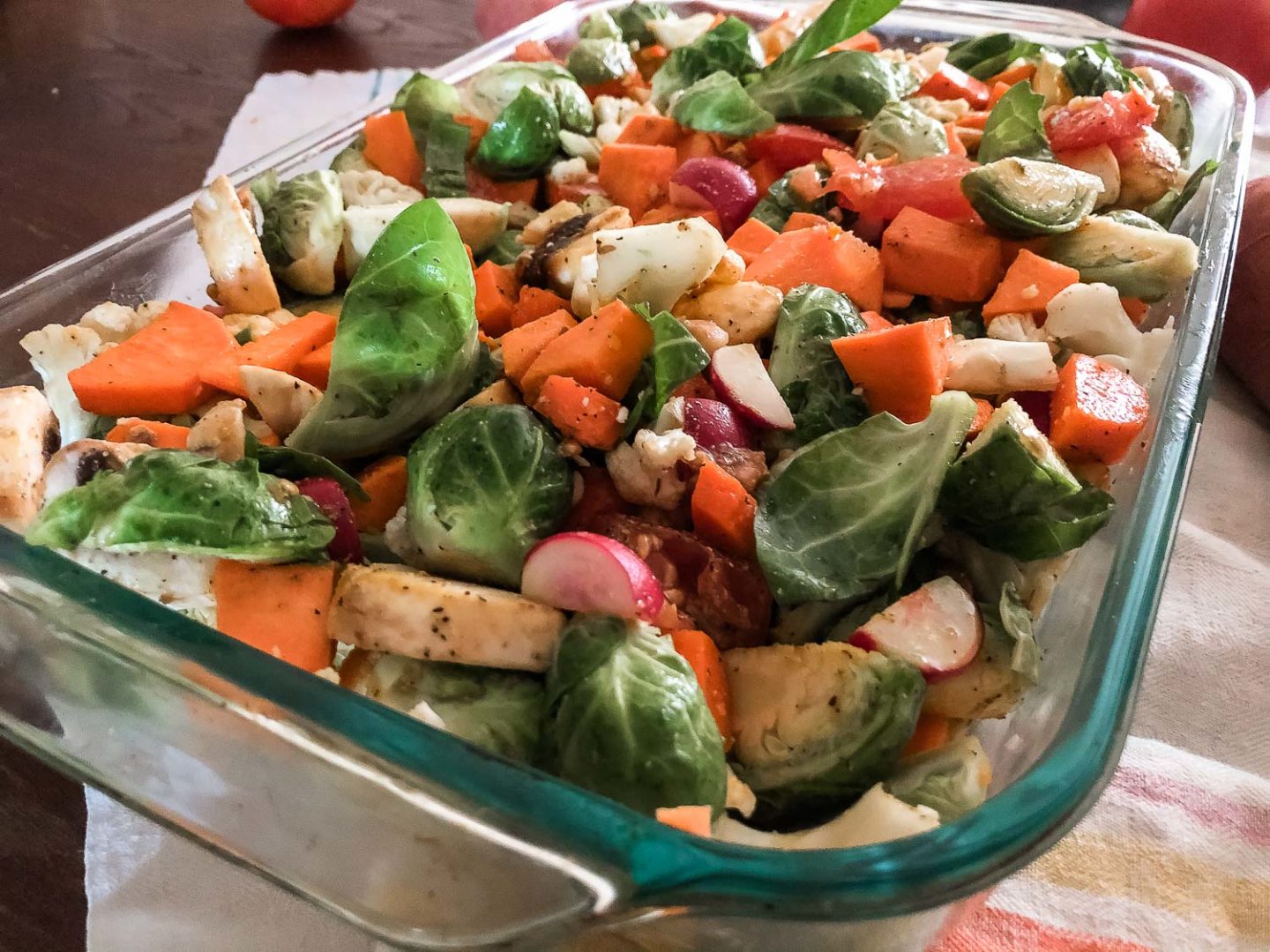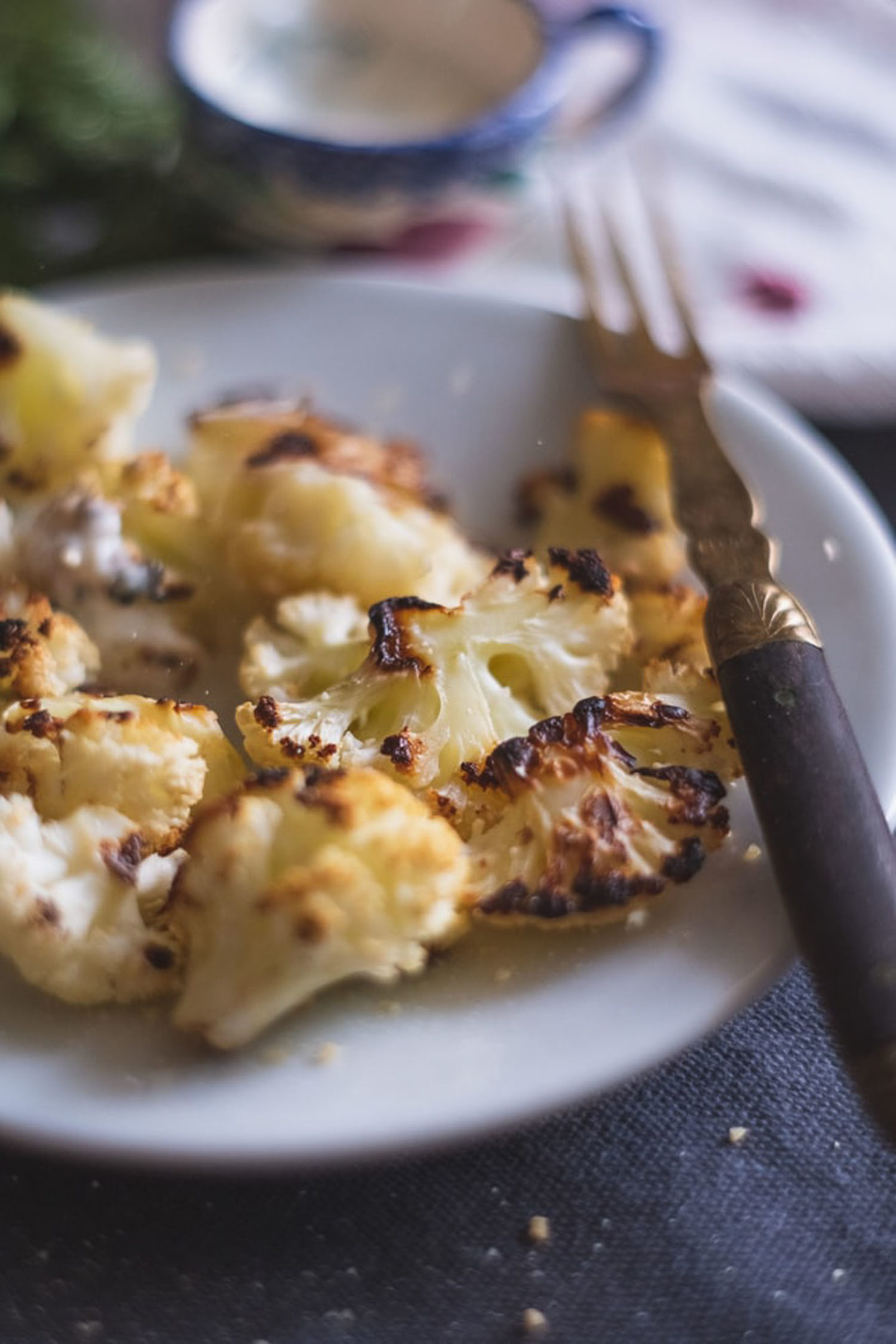 Oven-Roasted Fall Vegetables
Prep time: 10 minutes
Cook time: 40-45 minutes
Ingredients
3 medium sweet potatoes, peeled and diced into 1 1/2-inch thick slices
1 1/2 cups Brussels sprouts, trimmed and halved
3 medium carrots, peeled and cut into 1 1/2-inch thick circles
1/2 cup reddish, halves
2 medium tomatoes, cut
2 cups cauliflower, cut
3 medium mushrooms, cut
2-3 tablespoons coconut oil
1 teaspoon ground black pepper
1/2 teaspoon sea salt (adjust to your taste)
1/4 teaspoon turmeric powder
1 teaspoon onion powder
1/2 teaspoon coriander
Method
Preheat the oven to 400 degrees F.
Grease baking sheet or pan with the coconut oil. Place all the vegetables in the pan and add the salt, black pepper, turmeric powder, onion powder, and coriander. Toss well, evenly coating the vegetables with the spices and coconut oil. You can add more oil if the vegetable seem dry. 
Spread the vegetables evenly on the baking sheet or pan. (It might defeat the purpose of roasting, but I don't use multiple baking sheets for my oven-roasted vegetables. Instead, I layer them on each other in the baking pan and stir the vegetables a few times while they roast to ensure that they all bake well and don't burn on the top.)  
Bake for 40-45 minutes or until all the vegetables are tender and lightly browned. 
Serve warm.
Want to make more travel inspired dishes? Check out these recipes.
Read Next