Traveling to Barcelona? Here is everything you need to know, including what to do, where to stay and eat in Barcelona.
Last updated: August 29, 2023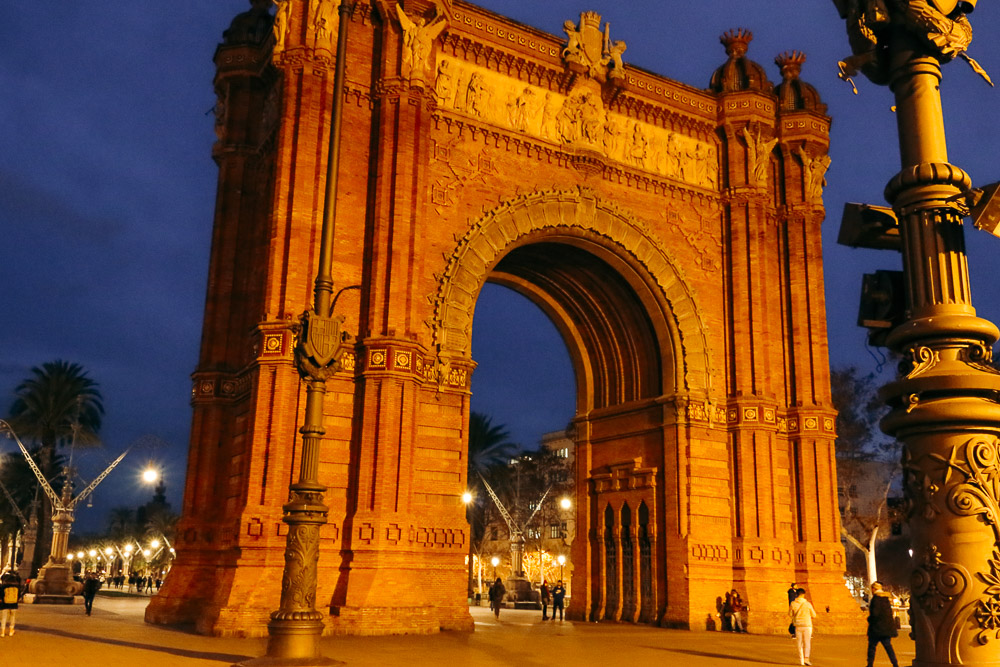 Home to several Gaudi's masterpieces, Barcelona is a perfect travel destination for people of all walks of life. Remarkable architecture, beaches near city center, and delicious Catalan cuisine make this multicultural city irresistible. Once you visit Barcelona, the second largest city in Spain, you want to come back again and again. No exceptions here! And if it comes from a person who just a few days ago didn't have any expectations from Barcelona whatsoever, you know it must be true.
The city, however, is large to say the least and can be overwhelming at first. To make things easier for you, we have prepared this ultimate Barcelona travel guide with the best places to stay, eat, and play. Read on, use this Barcelona travel guide, and you'll feel like a local in no time.
THE ULTIMATE BARCELONA TRAVEL GUIDE:
Travel to Barcelona: What to Know
Language
Vibrant and colorful, Barcelona is a capital of the Catalonia region of Spain. A few significant characteristics set this area apart from other Spanish regions. First, Catalonia has enriched the world with some of the finest examples of its impeccable art and architecture. (Just travel to Barcelona and feast your eyes on Gaudi's buildings.)
Second, it added an additional language to a vast number of foreign languages existing in the world nowadays. Yes, the alluring region of Catalonia has two official languages: Spanish and Catalan. While both of them are widely spoken, Catalan dominates in offices and schools.
Currency
The official currency in Spain, including Barcelona, is the euro, which makes travel across Europe convenient.
Safety
Barcelona is a safe city to travel to and live in. Common sense and precaution, however, should be exercised, especially if you ache to explore nightlife of Barcelona. The crime rate in the capital of Catalonia is nearly the same as you'd find in any other big modern cities.
At the same time travel to Barcelona can be troublesome due to ongoing pickpocketing problems. Therefore, it's recommended to leave you valuable items locked in a hotel room before venturing to the streets. On that note, carrying a purse or backpack in front of you can eliminate any possibilities of the potential crime when traveling to Barcelona.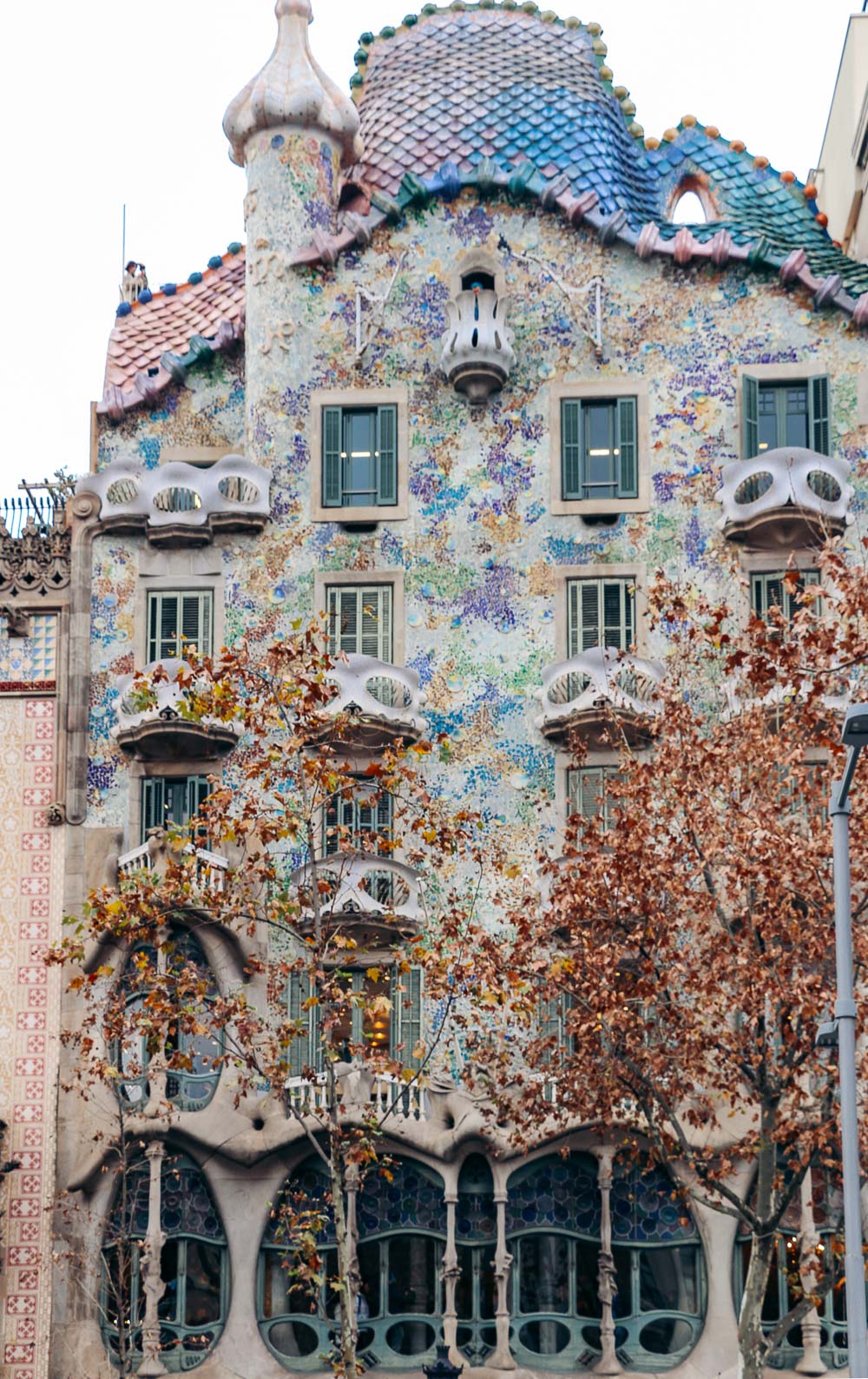 The Best Time to Travel to Barcelona
Thanks to its Mediterranean climate, you can travel to Barcelona all year round. While you can't swim in the sea in winter, the temperatures are high enough to stroll around the city and visit Barcelona's architectural masterpieces and exclusive eateries.
The best time to travel to Barcelona is from May to June. The temperatures linger in the low to mid-70s, and the streets transform in anticipation of annual festivals. Although these two months offer the best weather, they, along with July, are the busiest time to travel to Barcelona. Thus, expect higher prices for about everything when visiting the capital of Catalonia at this time.
Summers in Barcelona are hot and humid. Even the locals leave the city and search for a breath of fresh air in some other places.
Fewer people travel to Barcelona in March, April, and mid-September through October. The prices for accommodation and some attractions go down. The weather also seem to collaborate with the visitors and locals alike, keeping it neither cold nor hot.
The cheapest month to travel to Barcelona is January. Although gusty winds try to keep the visitors inside, the temperatures are never too low to stop you from exploring the city. For those who do travel to Barcelona in January, be sure to bundle up and pack extra layers.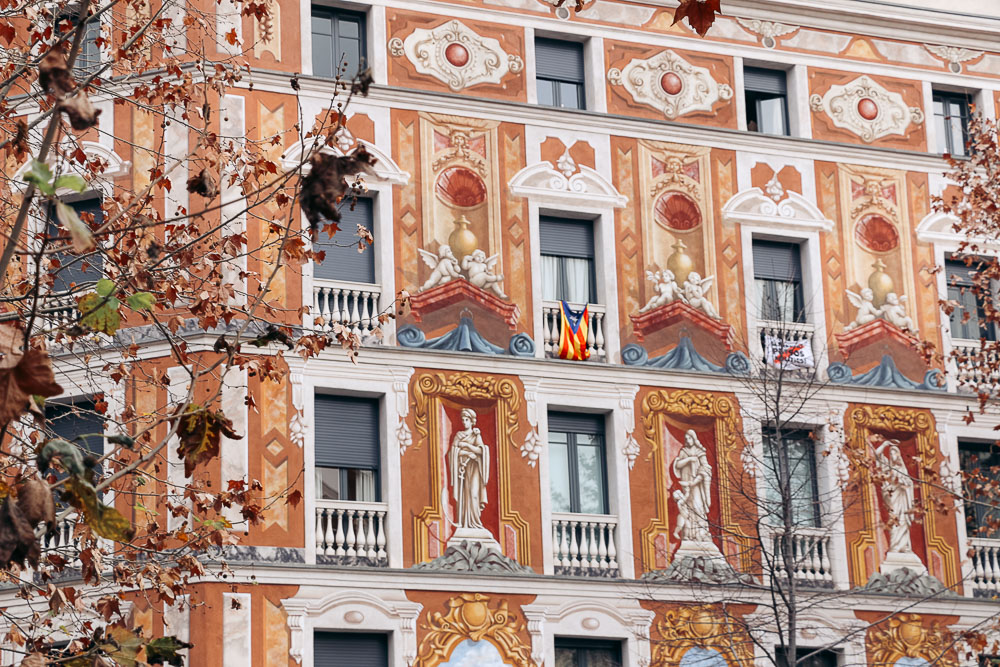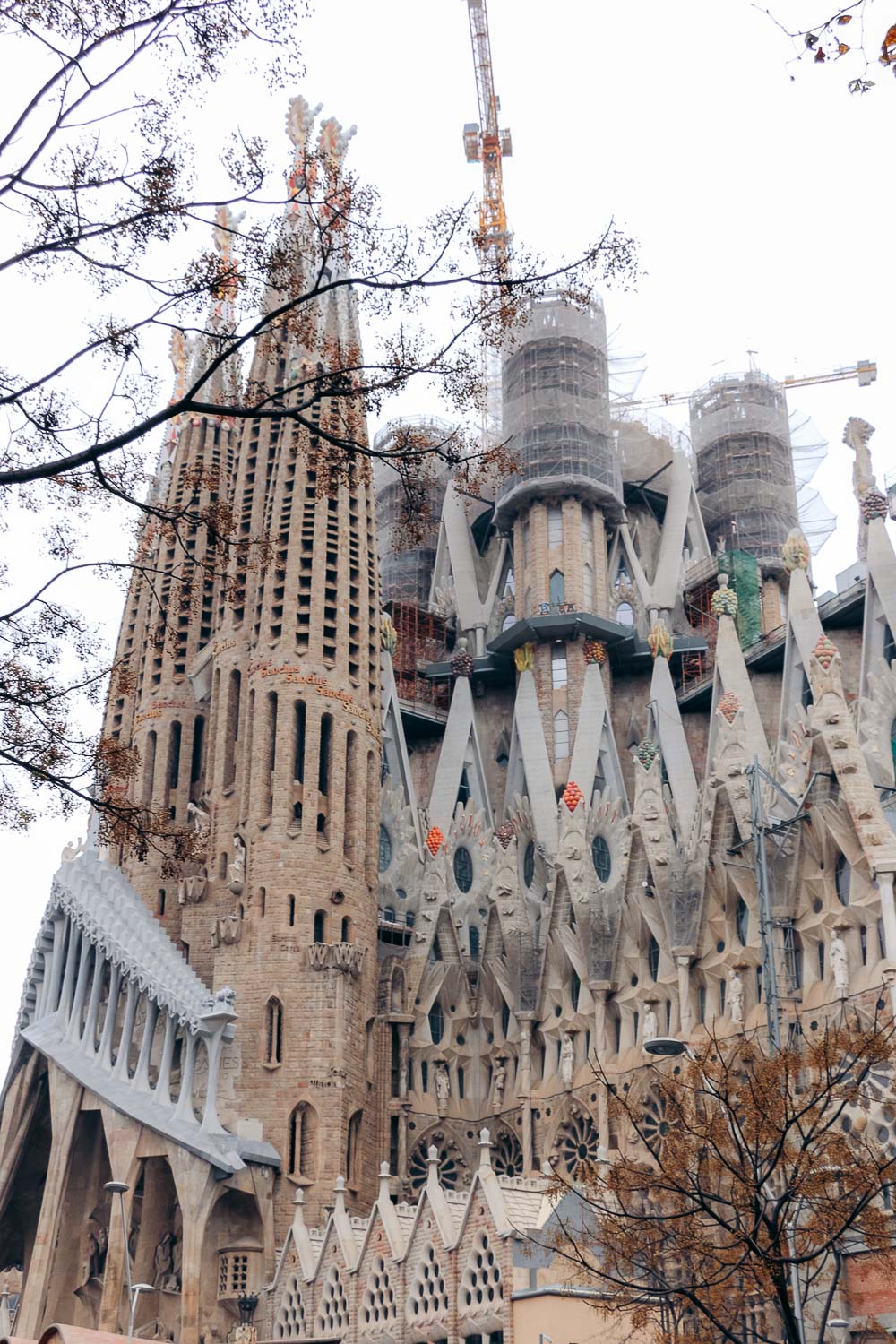 How Much Time Do You Need to Travel to Barcelona
Barcelona is a remarkable city that asks for quite some time to show its diverse cultures and sites and introduce the visitors to its rich cuisine. Frankly, you can never see everything Barcelona has to offer even if you have a lifetime to spend in the city. Nevertheless, while it can be extremely rushy, it's not impossible to visit Barcelona and explore some of its landmarks in one day.
To be able to see and do more than just scratching the surface, set aside at least 3 to 4 days for a visit to Barcelona. Spend the first two days exploring the cultural and historic treasures of the city. Then change your travel plans and devote the rest of your time to dining and shopping in Barcelona.
Travel to Barcelona: Arriving
The most popular way to travel to Barcelona is by air, arriving at Barcelona El-Prat Airport. The drive from the airport to the city takes approximately 50 minutes.
If you arrive at the daytime and don't carry too many suitcases, you are probably better off taking public transportation. The Aerobus, Barcelona Airport express shuttle bus, running from and to terminal 1 and 2, will take you to various locations in the center of the city. Ticket prices range from 8 to 15 euros. Other options to get to the city include taking a train or navigating your way through Barcelona metro. Each of these rides is under 5 euros.
For those who arrive late in the evening and aren't willing to explore Barcelona at night so soon, taxi comes in handy. It's by far the fastest way to travel to Barcelona center from the airport. It takes approximately 25 to 30 minutes. The prices, however, are higher, ranging from 30 to 45 euros.
Uber has an ongoing love-hate relationship with Barcelona. It thrived in the city when we last visited Barcelona. As of March 2019, Uber suspended its operations in the capital of Catalonia.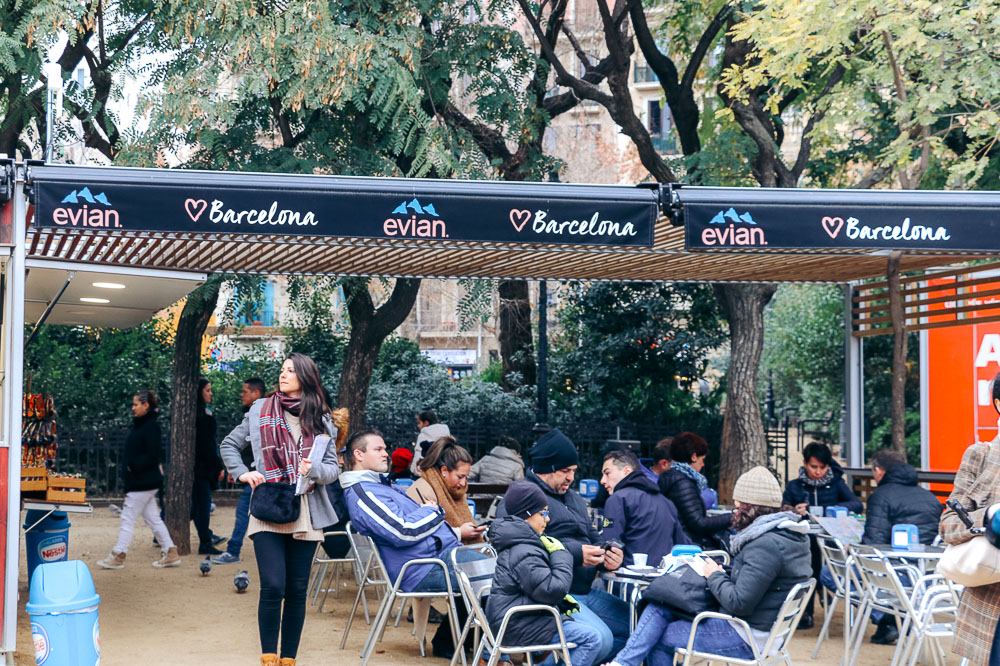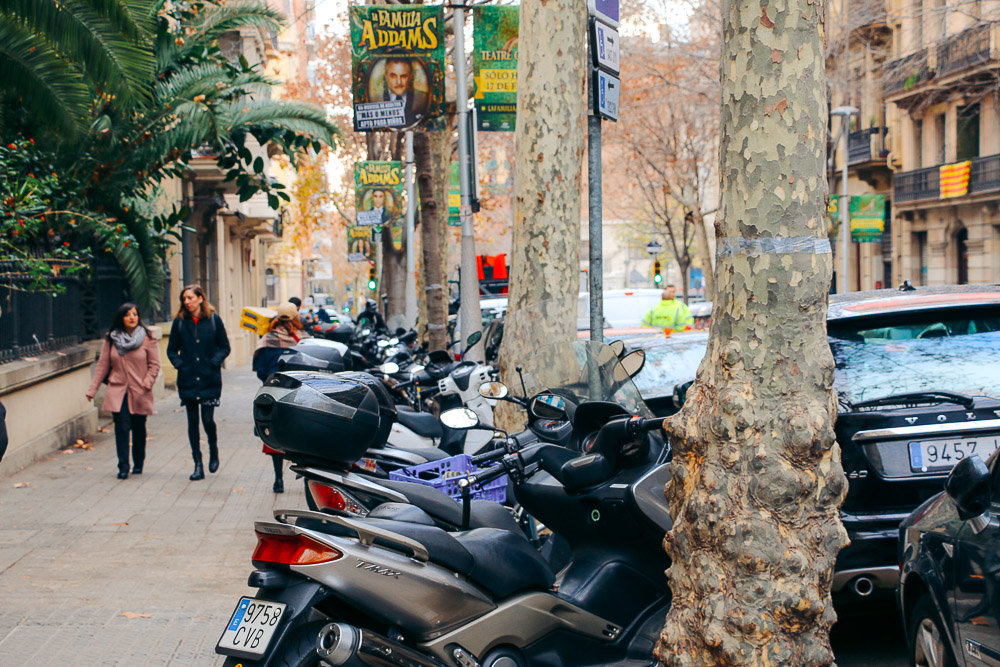 Travel to Barcelona: Getting Around
Barcelona is a walkable city. You can tick off your bucket list destinations without resorting to public transportation. Furthermore, exploring the city on foot has additional benefits. You can find some of the hidden gems that are not so uncommon in Barcelona.
If walking is not your cup of tea, public transport helps you travel in Barcelona fast and easy. Besides being reliable and frequent, the city's buses and metro trains are the cheapest way to get around. One-way ride costs 2.60 euros. For those who plan to use the public transport a lot, a day pass with unlimited rides for 10 euros is a way to go. And, of course, you can always flag down a taxi when traveling in Barcelona.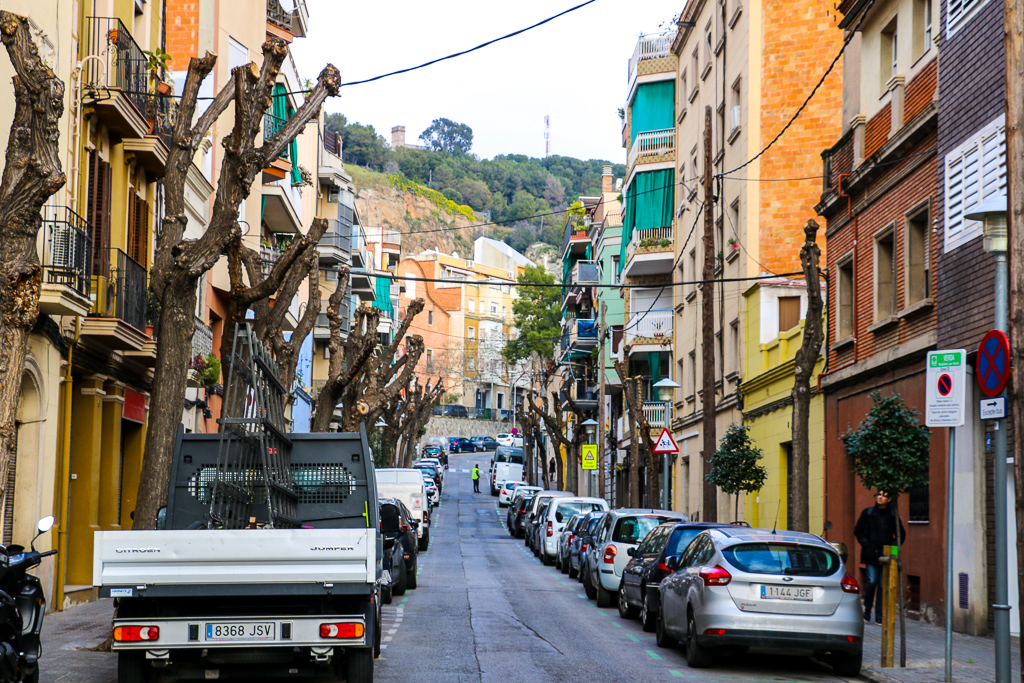 Barcelona is a walkable city.
Districts and Neighborhoods: What to See and Where to Stay When You Travel to Barcelona
Understanding and orienting in Barcelona's extensive districts was by far the biggest issue I had when planning our trip. Every potential hotel emphasized the district it's located in. At some point, it felt like we were about to travel to a handful of small towns under a huge umbrella of Barcelona.
Interesting fact: Since 1984, Barcelona has been divided into 10 specific districts, which are further broken down into 73 smaller neighborhoods. Each district is unique and shows different sides of the city.
Knowing the location of the districts can save you big money and improve your overall Barcelona travel experience. While some districts boast the major attractions of the city, others let you travel and stay in Barcelona on a very acceptable budget. Check out this complete guide to the 10 districts of Barcelona and pick the area that fits your budget and interests.
Ciutat Vella
Ciutat Vella, better known as the Gothic Quarter, is the oldest district of Barcelona and one of the most popular travel destinations. Nestled in the heart of the city, the place is busy, chaotic, and especially lovely to observe Barcelona's lifestyle.
The Ciutat Vella district is regarded as the most valuable historical center of the city. The place is home to such cultural and architectural highlights as Plaza Real, Barcelona Cathedral, and famous La Rambla. The most popular neighborhoods to travel to in the district include El Raval, Barri Gotic, and Barceloneta.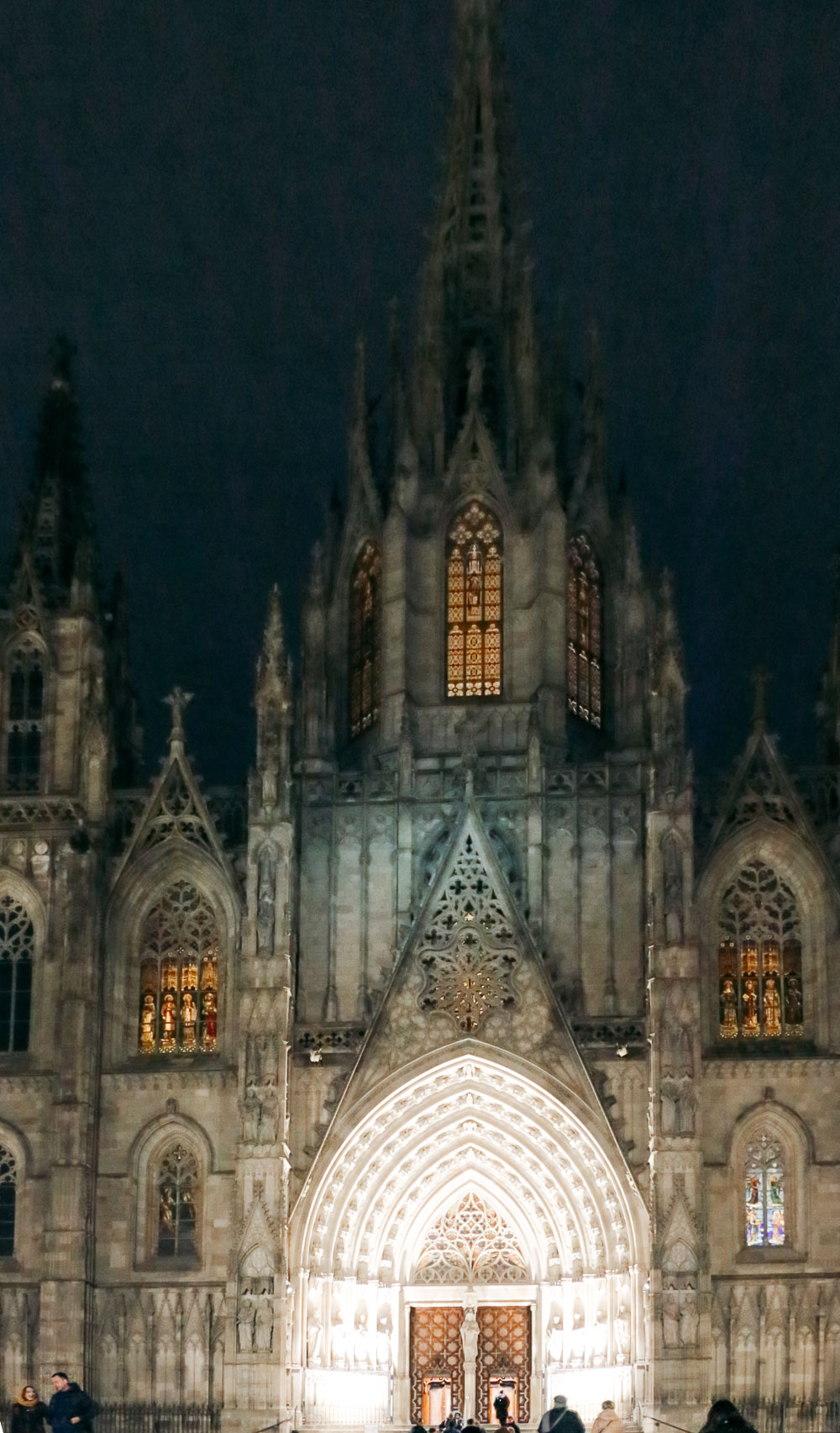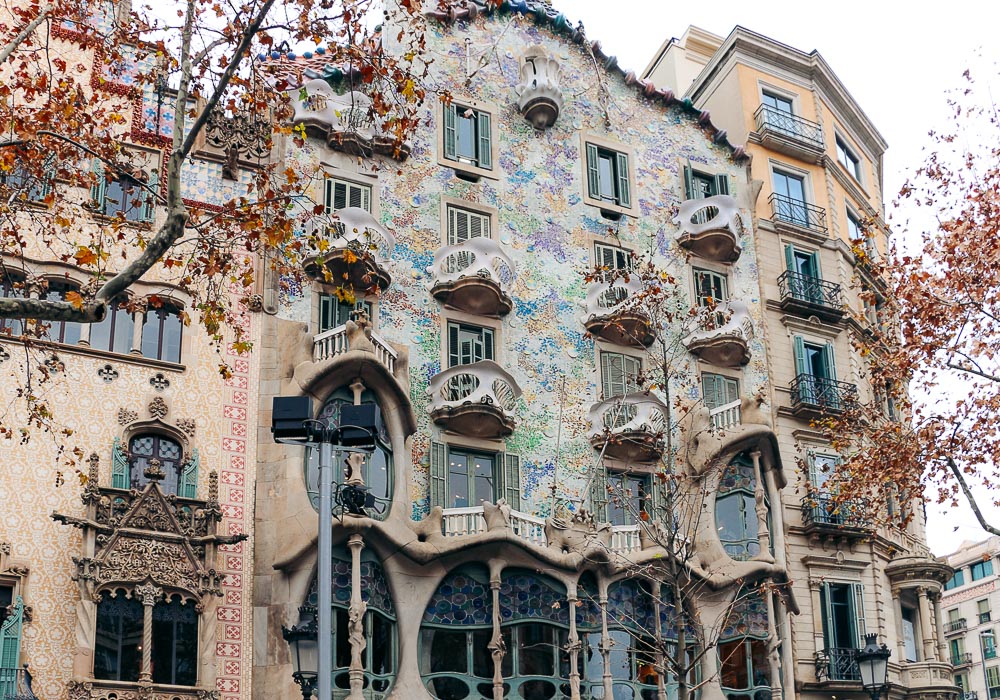 Eixample
The central districts of Barcelona such as Eixample collect the biggest number of the landmarks and improve your travel with their exceptional shopping experiences. So, one of the busiest areas in the city, the Eixample district houses a collection of Gaudi's masterpieces. Travel to this part of Barcelona and enjoy its remarkable Casa Batlló, Casa Milà, and famous La Sagrada Família, all set within a walking distance from each other. Other popular attractions to explore in the Eixample district are Casa de les Punxes.
After the tour through the prominent architectural masterpieces, redirect your travel to the luxurious and authentic side of Barcelona. The district is dotted with stylish boutiques and authentic bars and restaurants. The majority of them line up around iconic Plaça de Catalunya, Passeig de Gràcia, and Diagonal Avenue.
Gràcia
Once a separate Catalan town near the limits of Barcelona, Gràcia is one of the most popular districts in the city nowadays. The area owes this fame to the sunning Gaudi's architecture in the Park Güell. Another biggest attraction of the district is the Festa Major de Gràcia, a street festival that goes on for a week in mid-August. Travel to Barcelona during this time and see how the streets compete with each other to become the best-decorated area in the city.
When looking for hidden gems in the Gràcia district of Barcelona, visit Casa Vicens. Built in the late 19th century as a family's summer home, this earliest masterpiece by Antoni Gaudí is all about playful architectural style the great artist is famous for. The place rightfully deserves its recognition as a UNESCO Wold Heritage Site.
Despite this exquisite landmarks, fewer tourists travel to this part of Barcelona. You certainly need to use public transport or hire a cab to visit the Gràcia district unless you choose to stay here.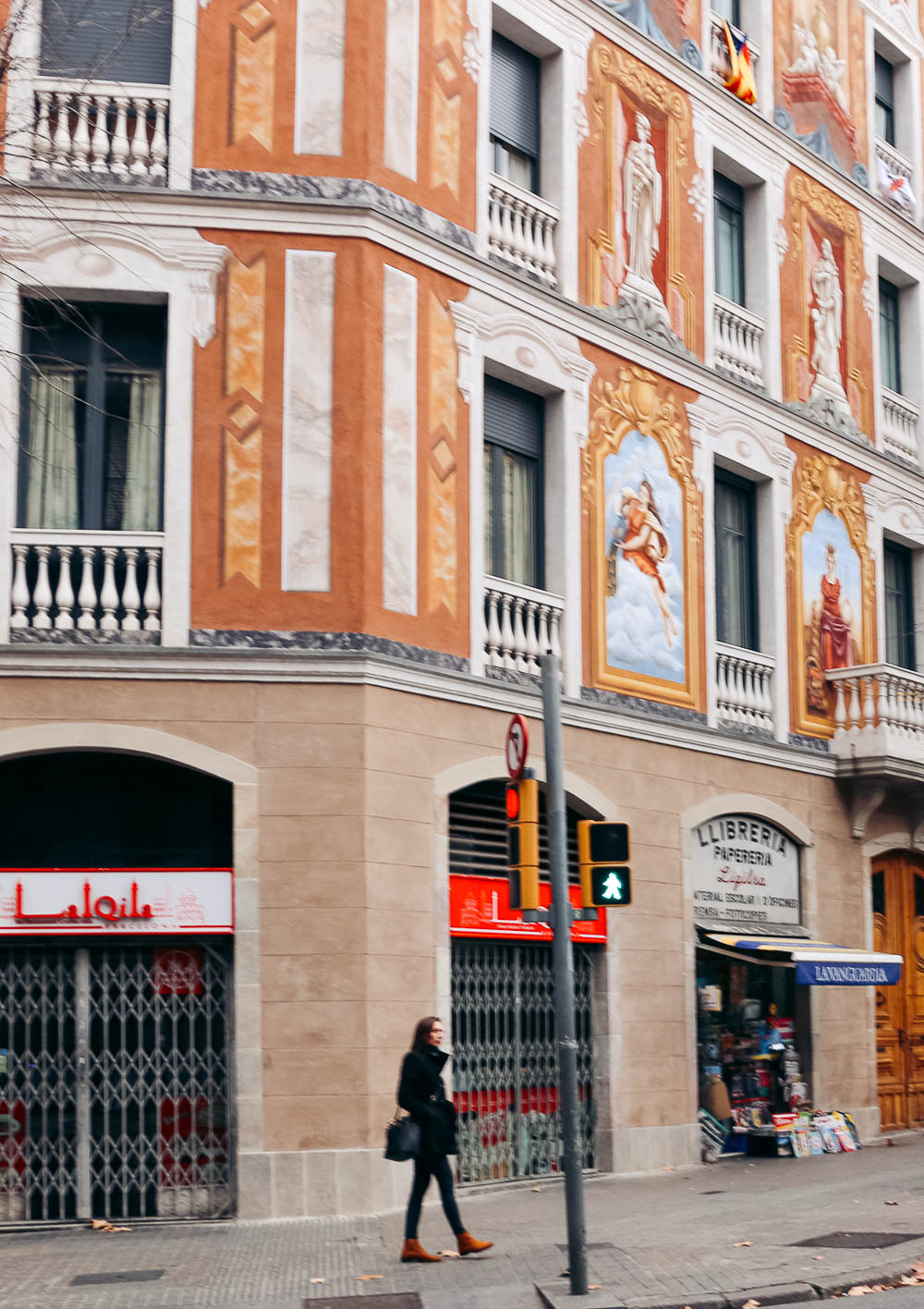 Sants-Montjuïc
Located on the southwestern border of Barcelona, Sants-Montjuïc allures travelers with its scenic city and sea views. If the city vistas are part of your Barcelona itinerary, be sure to visit the Olympic Stadium and feast your eyes on Barcelona's buildings from above. Montjuïc Mountain, a beautiful hill overlooking Barcelona, also helps you get the best views of the city.
For the panoramic sea views, there is no better place to travel to in Barcelona than Montjuïc Castle, a military fortress that dates back to 1640. The highlight of the Sants-Montjuïc district, however, the stunning Magic Fountain of Montjuïc.
Les Corts
Home to the famous Camp Nou, a football stadium, Les Corts is one of the smallest districts in Barcelona. The place entices with secluded parks and lesser-known landmarks such as Pedralbes Park and Monastery of Pedralbes.
Horta-Guinardó
Set between Gràcia and Nou Barris, Horta-Guinardó enjoys the company of city's hills and mountains. Even fewer tourists travel to this gem of Barcelona, making it one of the most peaceful districts. The distant location along with less fuss about the area can't escape the attention of budget travelers visiting Barcelona. Indeed, the district provides cheaper accommodation and reliable public transport to get to the center of the city.
The highlights of the Horta-Guinardó district are Collserola Park and Hospital de Sant Pau. The latter was declared as an Artistic Patrimony of Humanity by UNESCO in 1984.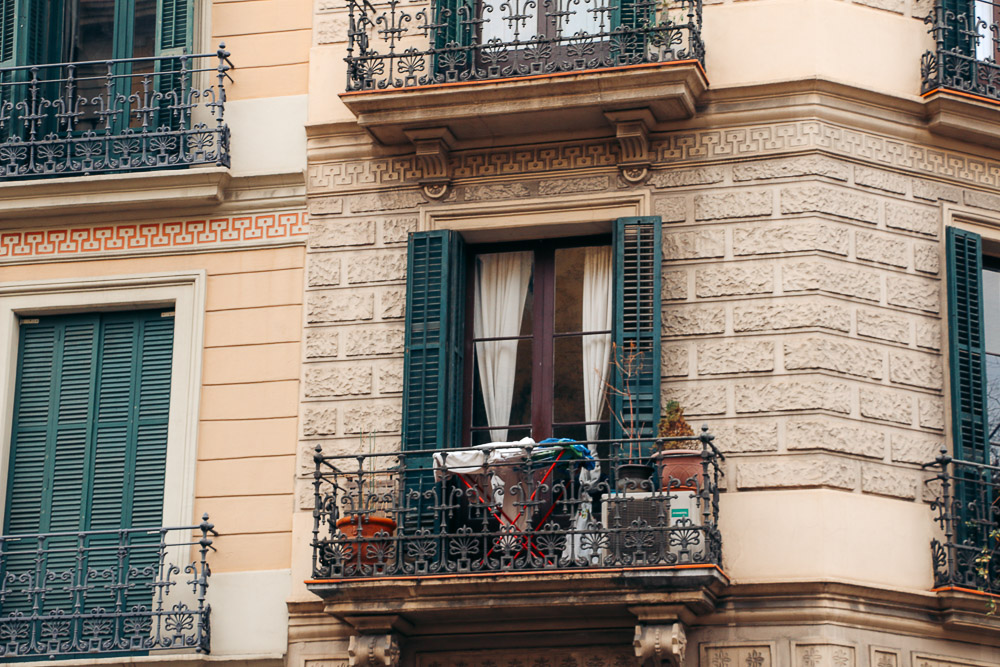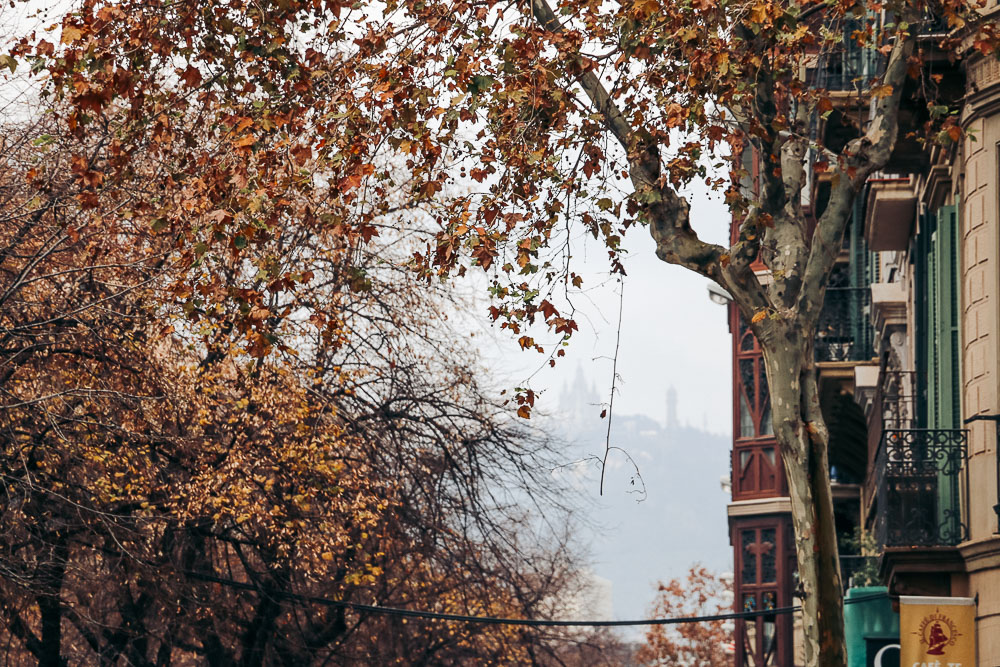 Nou Barris
Populated by immigrants, Nou Barris is the best district to travel to and stay in Barcelona to indulge in different ethnic cuisines. Don't make any other plans for the day, just check out numerous restaurant and food stalls of the area.
For a break from the international food scene of Barcelona, swing by the epic park around Plaça de ca N'Enseya. The second largest park in Barcelona impresses with the abundance of green spaces and some of the important buildings in the city. You will surely find Santa Creu Mental Institution (now a Library) and Nou Barris Council Headquarters pleasing to the eye.
Sarrià-Sant Gervasi
One of the most exclusive and expensive districts in Barcelona, Sarrià-Sant Gervasi sits in the northwest corner of the city. The area offers a blend of urban tapas bars and boutiques. Pair them with hillside walks at Vallvidrera Reservoir and you set yourself for a unique travel experience.
Once in the Sarrià-Sant Gervasi district, be sure to visit CosmoCaixa Science Museum and Torre Bellesguard. The Torre Bellesguard is one of Gaudí's works that opened its doors to the public relatively recently.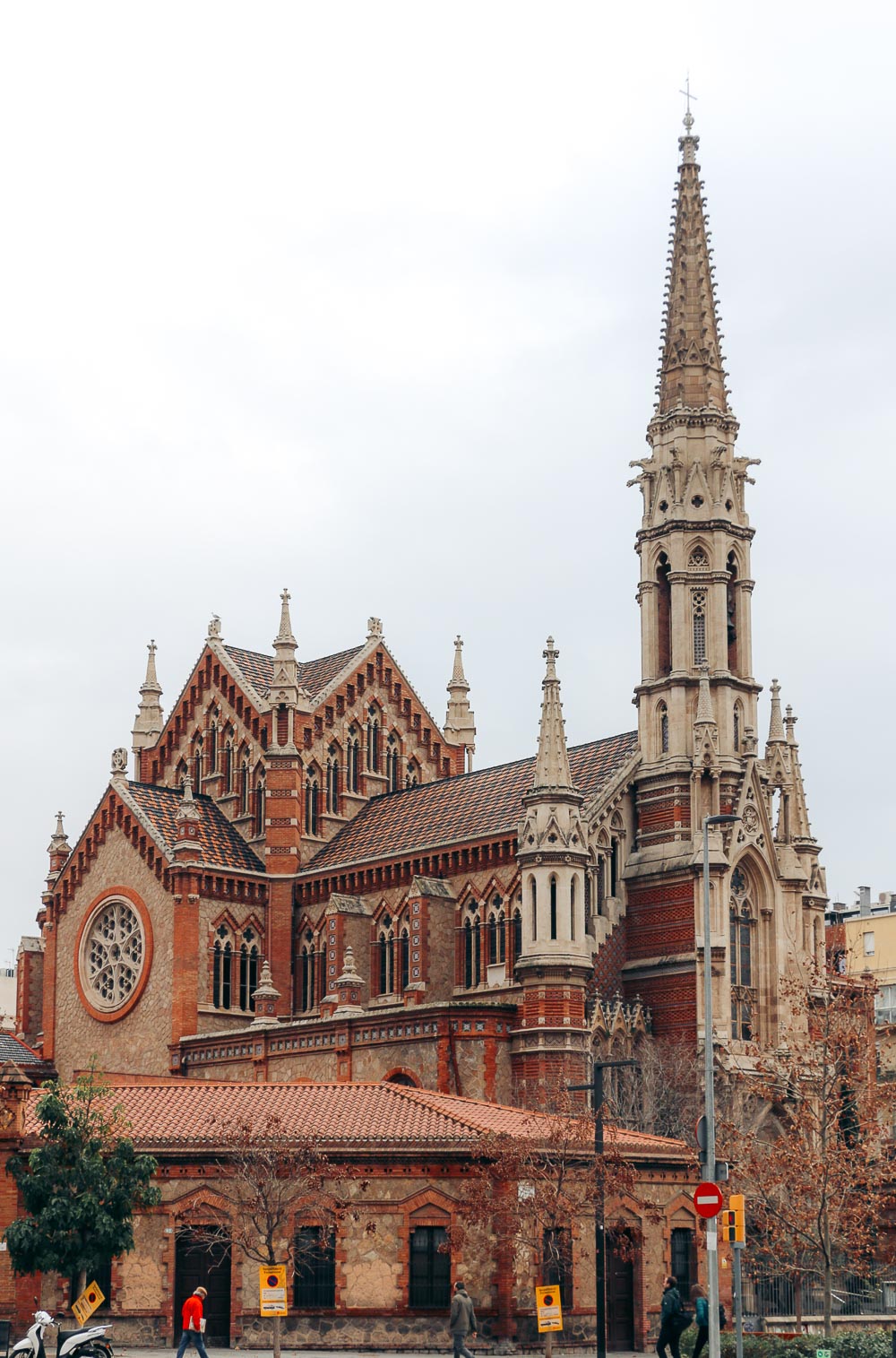 Sant Martí
Named after an old town that belongs to Barcelona now, Sant Martí sits to the east of the downtown. The district is popular with the locals and visitors favoring beach culture of the city. Home to some of the most popular beaches, the Sant Martí district ensures a rather busy and chaotic Barcelona travel experience. Apart from days filled with sun and sand, the area presents Sant Martí Church and Design Museum for all architecture and art enthusiasts of Barcelona.
Sant Andreu
The last district on our travel guide to the district and neighborhoods of Barcelona is Sant Andreu. Centered around the old town of Sant Andreu in the northwest of Barcelona, it sees mostly the locals. The occasional tourists visit the district to take pictures of Sant Andreu Church, one of the most significant architectural buildings in the area.
Travel to Barcelona: The Best Things to Do
Whether you spend a couple of weeks, a few days, or are quickly passing through Barcelona, you will find plenty of activities to keep you busy and entertained. From its famous parks and squares to unique, colorful architecture, Barcelona redefines the term "travel" forever.
Admire Barcelona's Architecture
Barcelona is a place with a hint of fiesta in it. City's easy-going spirit is depicted in its every area and corner. Even Barcelona's architecture with its brightly-colored, unorthodoxly-shaped structures shows the same fun-loving nature. Wandering the streets of Barcelona, you will be amazed by its tall buildings with cute balconies, the majority of which are loaded with beautiful flowers in colorful pots.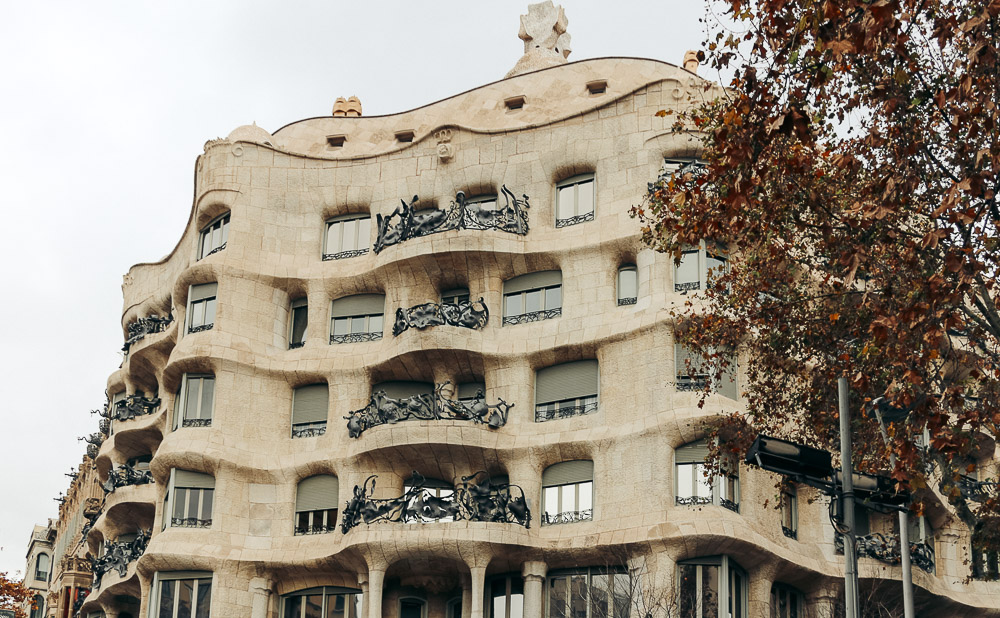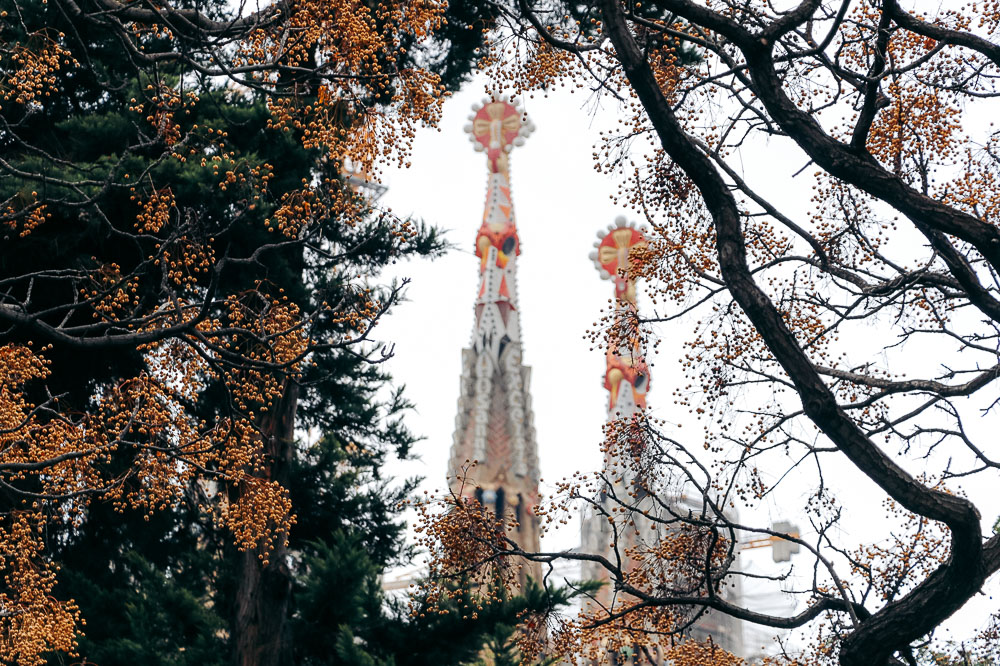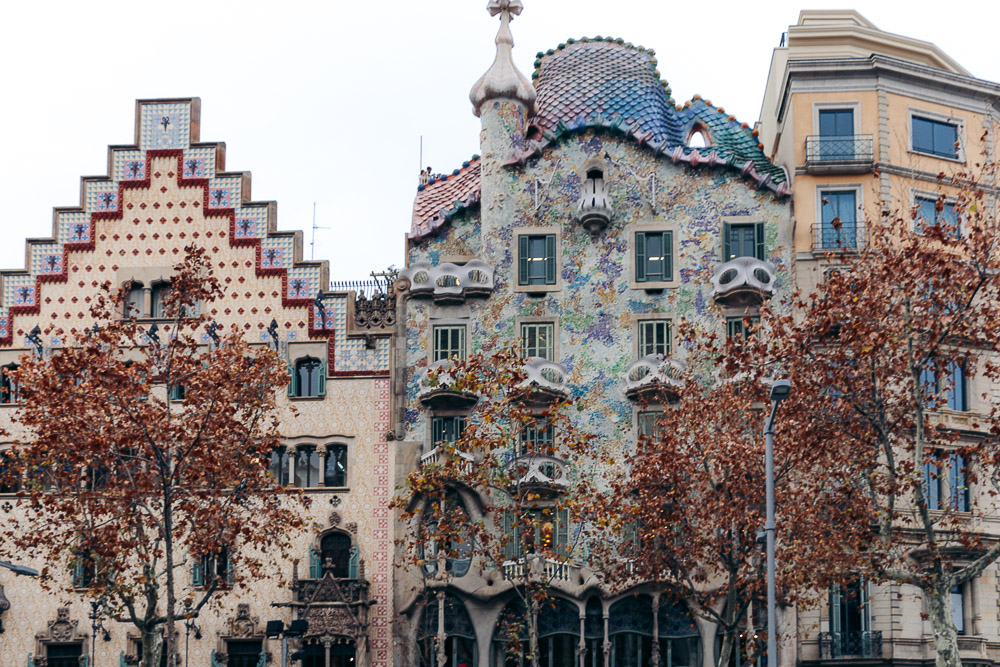 These architectural artworks remind of Paris. However, in additional to the perfectly lined-up buildings with green roll-up blinds hanging above the windows, the architecture in Barcelona adopts its unique, playful style.
You can see it in different colors, shapes, and architectural techniques. The best examples of Barcelona's architecture are Casa Batlló, Casa Milà, and La Sagrada Família. All of these buildings depict the vision and architectural style of their creator, Spanish-Catalan architect Antoni Gaudí.
After enjoying these famous sites, let yourself get lost in the streets of the city. There is no doubt, your self-guided architectural tour will take you to some other impressive gems, such as Casa Vicens Gaudí, Gaudí House Museum, Casa Amatller, and Casa de les Punxes, just to name a few.
Visit Park Güell
Park Güell is your ultimate travel destination in Barcelona. The place is filled with incredible Gaudí's creations and street performances, unveiling the true nature of Barcelona. Nowhere else in the city, you will find so many things to do and see in one place.
Start with wandering along charming path, El Viaducto dels Enamorats, while listening to Spanish tunes and enjoying flamenco dance masterfully delivered by street performers. Then venture to Passeig de las Palmeras and Austria Gardens for a nice walk among big trees and unusual columns. But above all, make sure to enjoy stunning views of Barcelona from a beautiful main terrace in the heart of Park Güell.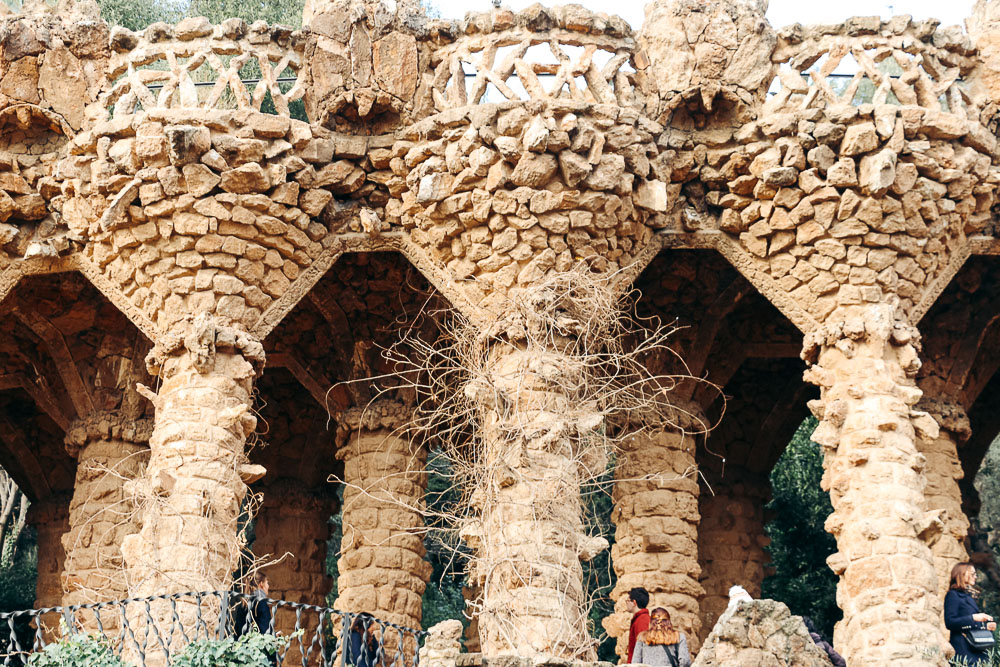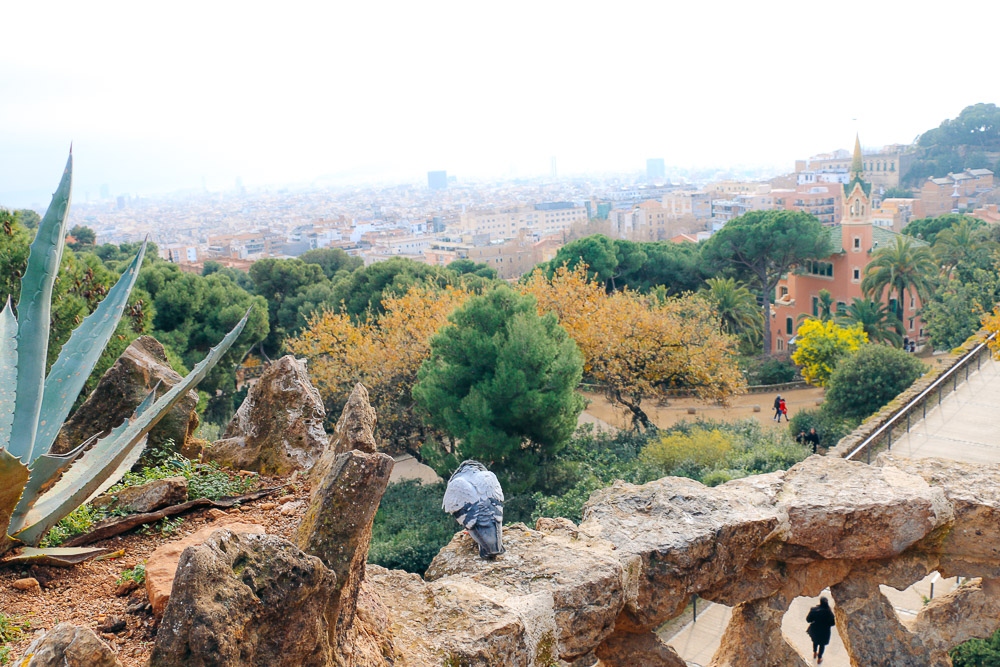 Enjoy Beach Life
If you travel to Barcelona in winter, then you can surely skip this part. A summer visit, however, is all about beaches and beach activities on the shore of the Balearic Sea. With the most popular summer destinations just 15 minutes away from the center of Barcelona, a perfect summer vacation is guaranteed. Some of the best beaches to soak up the sun and swim in the sea include Barceloneta Beach, Sant Miquel, Sant Sebastià, Somorrostro, Nova Icària, and Mar Bella.
Explore La Rambla
As one of the biggest and busiest streets in the capital of the Catalonia region, La Rambla is a must on every Barcelona travel itinerary. Filled with numerous shops, markets, and restaurants, it's a great place to spend a couple of hours before swirling to the nearby areas and squares of the city.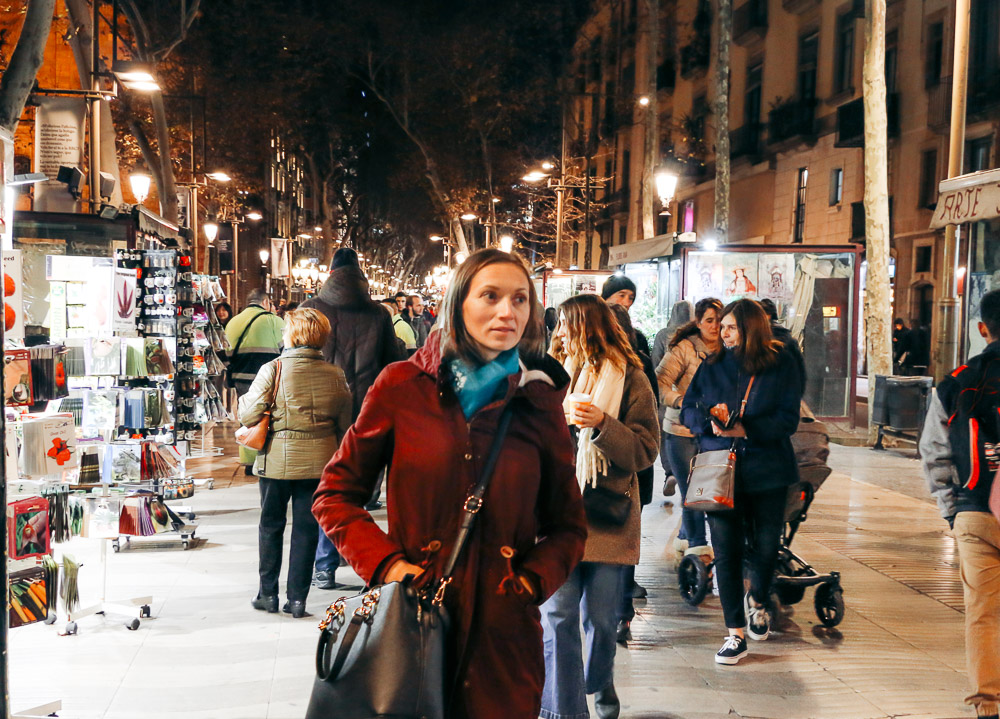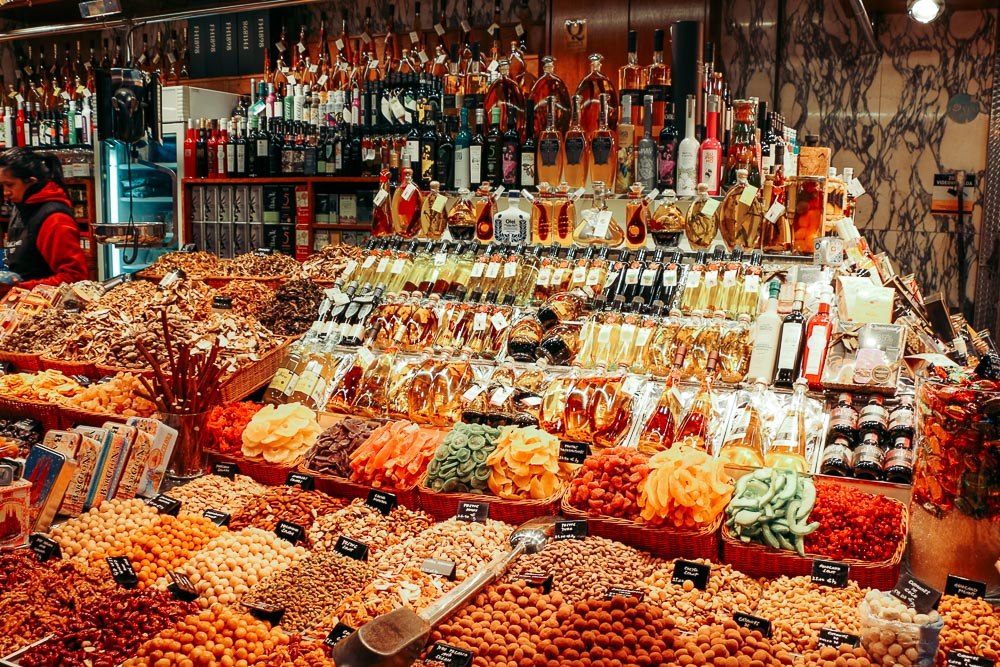 See Authentic Barcelona at Gothic Quarters
Located just east of La Rambla, the Gothic Quarters surprise with ample narrow medieval streets. Wandering this area is the best way to see authentic Barcelona and buy some memorable souvenirs from small gift shops. Needless to say, the Gothic Quarters can easily win your heart as one of the most photogenic places in Barcelona. Beware of pickpocketing, though.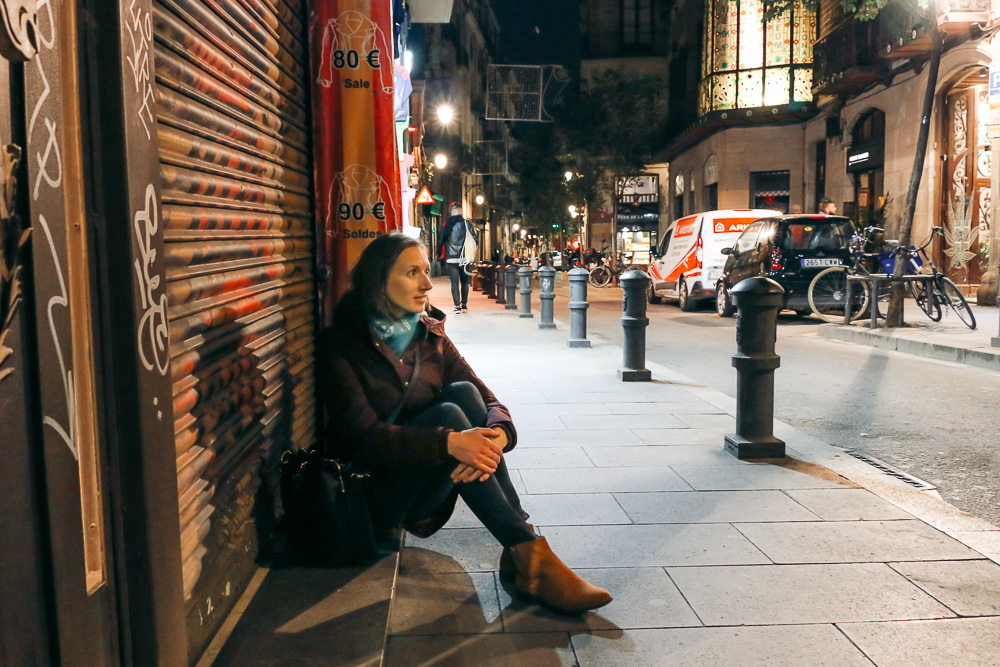 Indulge in Tapas
Tapas are an essential part of unforgettable Barcelona travel experience. These various small dishes are at the heart of Spanish cuisine. Special bars and restaurants compete with each other, making sure to serve the best tapas in the city. Tapas food tours promise to unveil culinary secrets of Barcelona. Tapas are everywhere, and there are all kinds of them.
You can find different toppings, drinks, and side dishes that go with tapas in Barcelona. Just give this specialty a try and let Barcelona forever change your culinary travel experiences.
Visit Museum Picasso
With the Museum Picasso, Barcelona plays tribute to one of its most famous countryman, Pablo Picasso. Not letting the legacy of the world-known Spanish artist fade, the city houses one of the most extensive collections of Picasso's artworks. The Museum Picasso boasts more than 4,200 masterpieces, which makes it one of the richest permanent collections.
The museum opens its doors for the visitors all week long. If you happen to travel to Barcelona on weekends, you are in luck. Admission fee is waived on the first Sunday of the month. Moreover, the Museum Picasso is free to visit on Thursday afternoon, from 4 p.m.
Enjoy Magical Show at Fountain of Montjuïc
The Magic Fountain of Montjuïc (Font màgica de Montjuïc in Catalan) continues to enhance your travel experiences with the impeccable street architecture of Barcelona.
Built in less than one year, the fountain is nothing short of a masterpiece. It consists of a number of fountains and ponds adorned with colorful displays and accompanied by music and water acrobatics. The Magic Fountain of Montjuïc was first opened in 1929 and has been amusing the locals and visitors ever since.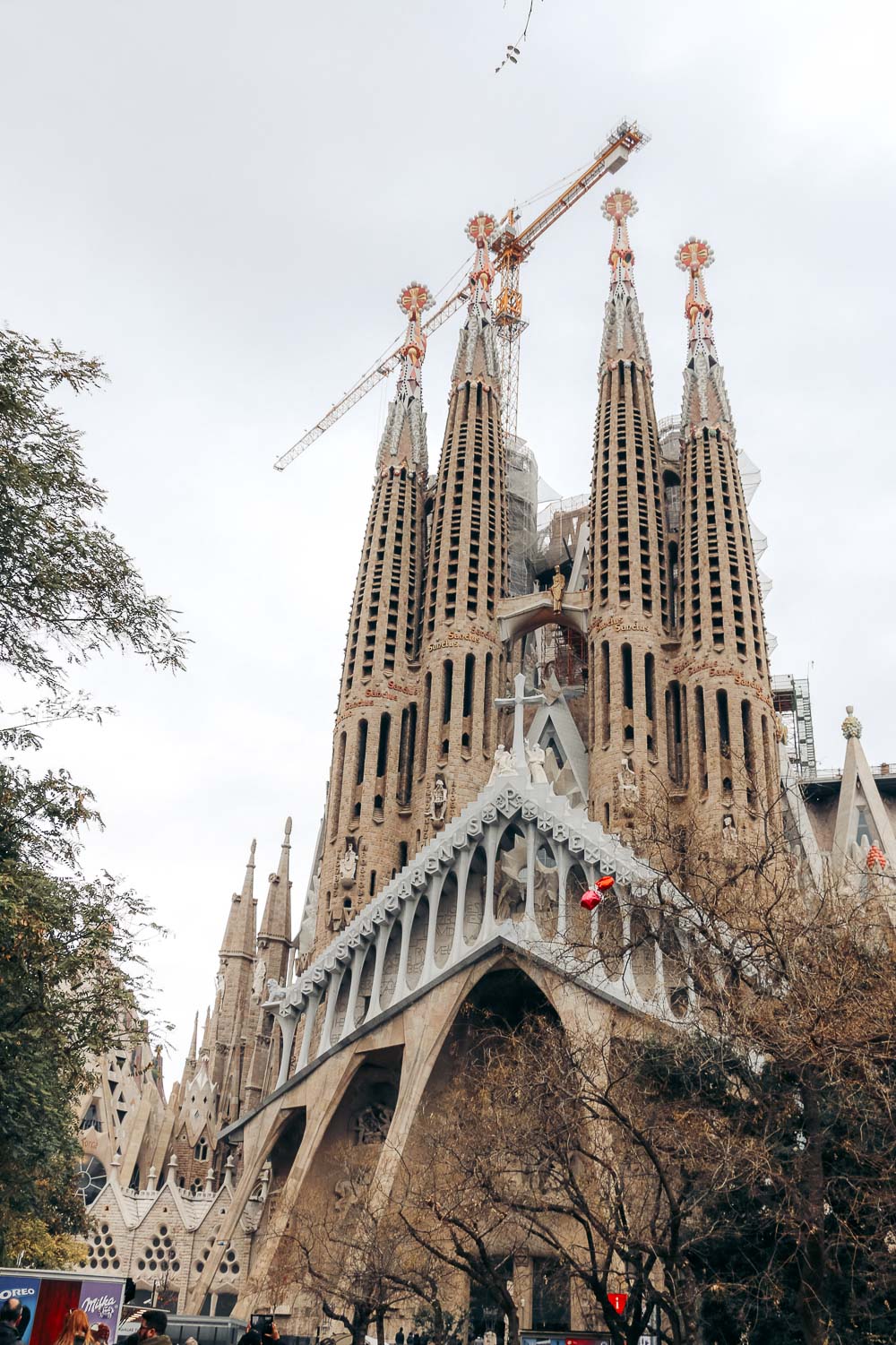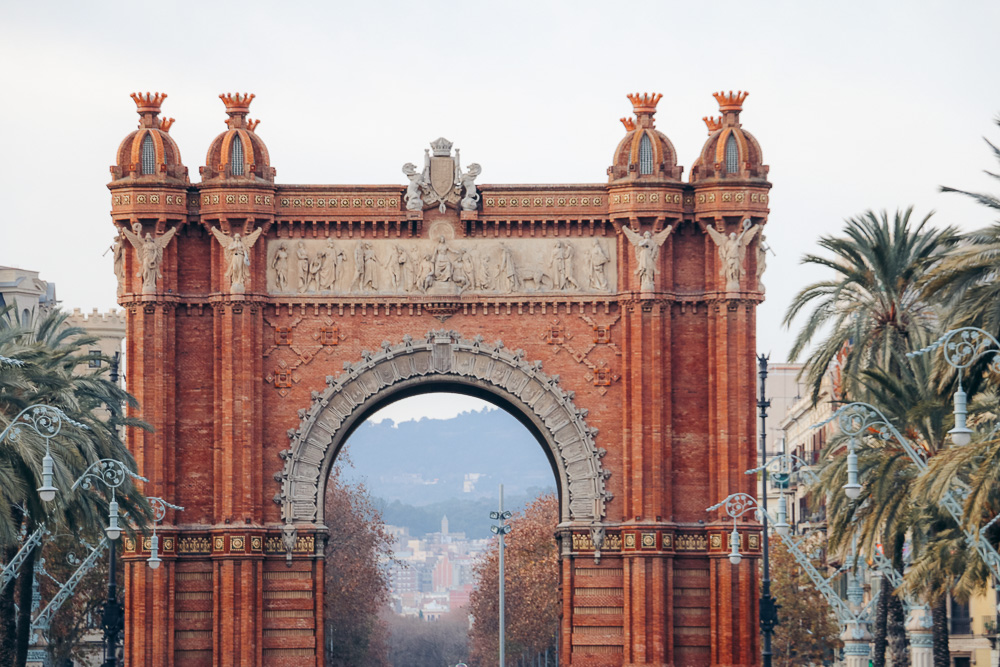 Join Free Walking Tours
Get to know Barcelona through the eyes of the locals via free walking tours. These city excursions last from one to a few hours and let you see some of the highlights along with hidden gems of Barcelona. Meeting the locals, learning about the history of the city – you can't ask for a better and more productive activity.
Tips at the end of the walking tours are not required. However, it's a proper way to show your gratitude for this impactful Barcelona experience.
Travel Guide to Barcelona Food Scenes
Barcelona is a place of leisure and gastronomical delight. This diverse city has united tastes buds of many nations and cuisines. From exclusive restaurants to locals' favorite eateries in the famous Boqueria market, Barcelona sets its mind on changing your travel and food preferences forever. Here is a guide to some of the top sit-down restaurants and casual diners in Barcelona.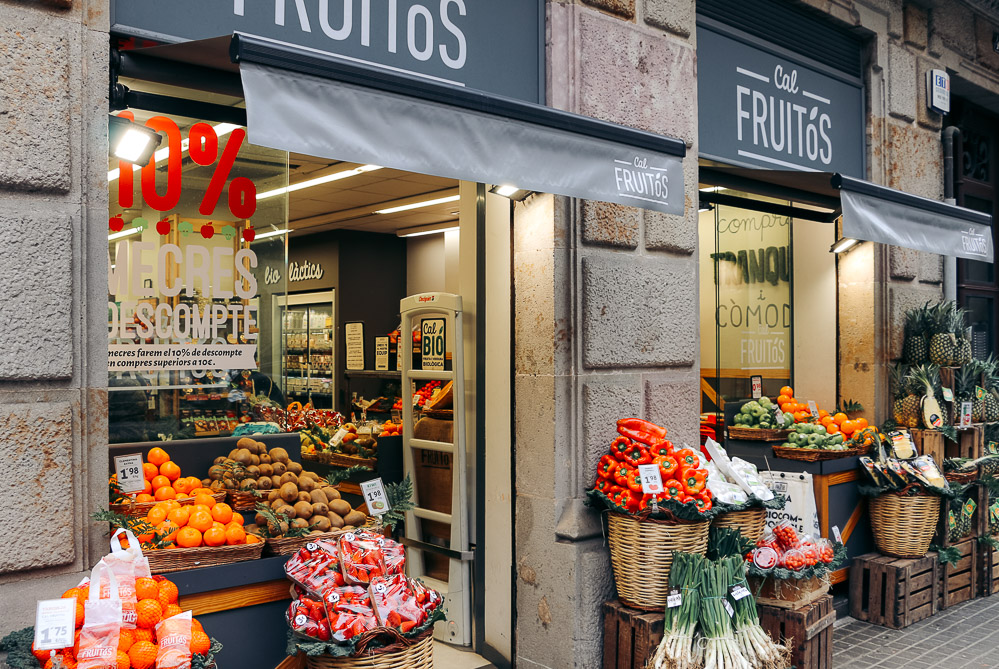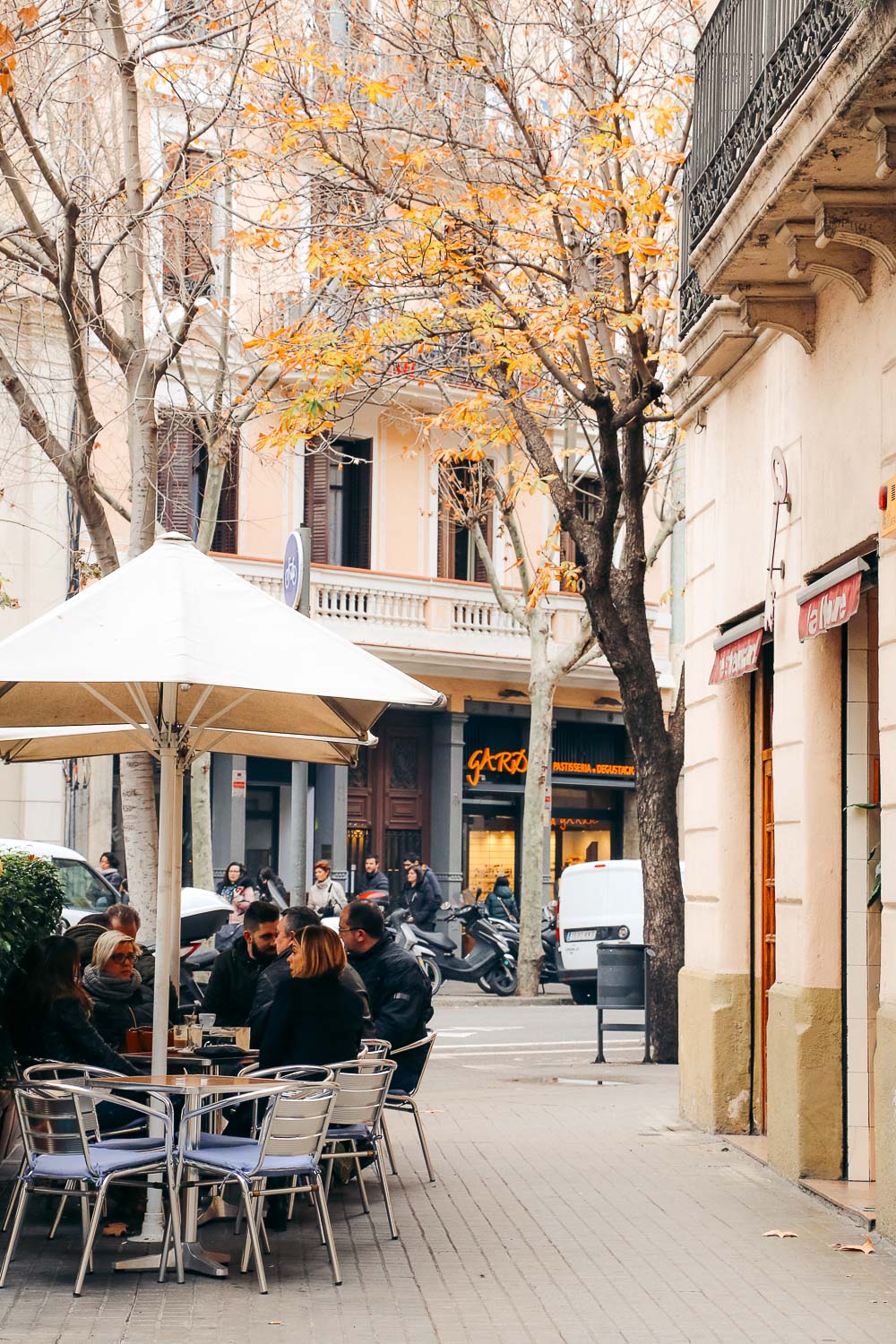 El Quim de la Boqueria. Hidden in the Boqueria market, El Quim de la Boqueria invites you to try mouthwatering Catalan-style dishes that even the locals approve of.
Pinotxo Bar. Pinotxo Bar, El Quim de la Boqueria's neighbor, is famous for its esmorzar de forquilla, a big Catalan-style breakfast.
Can Boneta. Can Boneta is all you need when looking for the best Catalan tapas. And just give a try to its signature pasta with bacon and mushrooms. It might be your best Barcelona travel experience ever.
Dos Palillos. This restaurant in the neighborhood of El Raval is on the expensive side of the dining experience in Barcelona. Nevertheless, its remarkable fusion of Japanese ingredients with Spanish interpretation and cooking style is worth a visit at least once.
For inexpensive local tapas in the Park Güell area, swing by El Mirador del Carmelo.
Veggie Garden, Arc Iris, and Armonia accommodate vegan and vegetarian travelers exploring the streets in the heart of Barcelona.
Neighborhood Food Tours. When in doubt what and where to eat in Barcelona, join a neighborhood food tour and check out some of the best, including hidden, eateries. With authentic, local dishes piling on your plate, you can't ask for a better travel experience in Barcelona.
Travel Guide to Hotels in Barcelona
Type and price of accommodations in Barcelona vary based on the district. Barcelona is not a particularly budget-friendly city, but you can still travel here on a shoestring. On the other hand, luxurious and glamorous hotels of Barcelona treat you as a king or queen. Here is a quick guide to hotels in Barcelona if you need some suggestions.
Monument Hotel. A five-star hotel sits just outside Gràcia in downtown Barcelona, within a walking distance of some of the major landmarks of the city. Staying at this hotel, you can visit Plaça de Catalunya, La Rambla, Passeig de Gràcia, and Casa Batlló at ease, preferably by walking.
Hotel Arts Barcelona. Located in the neighborhood of La Barceloneta, the place is ideal for your first visit to Barcelona. The hotel boasts gorgeous views of both the city and the sea. The Hotel Arts Barcelona is rather pricey, but its amenities and close proximity to the beaches and some of Barcelona's nightclubs justify a hefty price tag.
Hotel Aranea. This budget hotel is located within a walking distance of the majority of Barcelona's landmarks. The place offers affordable prices, welcoming staff, and small rooms with great street views.
Travel to Barcelona: Helpful Tips
Barcelona Card. If you travel to Barcelona for more than a day, get

Barcelona Card

. For 45 to 66 euros, you can enjoy unlimited public transport rides, including the airport train, free entry to Barcelona's museums, and some other discounts and deals.
Free Attractions on specific days. Most of the museums in Barcelona are free on the first Sunday of each month, making your travel experiences here even more enjoyable and affordable.
Culture of Barcelona. Barcelona's locals call themselves Catalans, never Spaniards. Although the city is a part of Spain, its residents are proud of their heritage and feel stronger connections to Catalonia. To be on the safe side and make friends with the locals, avoid mentioning complicated relationship between Catalonia and Spain altogether.
Pickpocketing. Be aware of pickpocketing and wear your purse of bag in front of you. We didn't experiences any issues with it but heard about many people who did.
---
And there you have it. Here is our ultimate Barcelona travel guide with the the best places to explore, stay, and eat.
TIP: If you are looking for more information about Barcelona, please check out the following guides.
If you found this post useful, don't forget to pin it for later and share it with your friends.