Powerful, mesmerizing, awe-inspiring – Shoshone Falls is one of the best places to visit in Idaho. Nestled on the outskirts of Twin Falls, it might appear as a hidden gem at first. But once you feast your eyes on Shoshone Falls, you know that such a driving force of nature can't be secreted. 
Last updated: October 6, 2023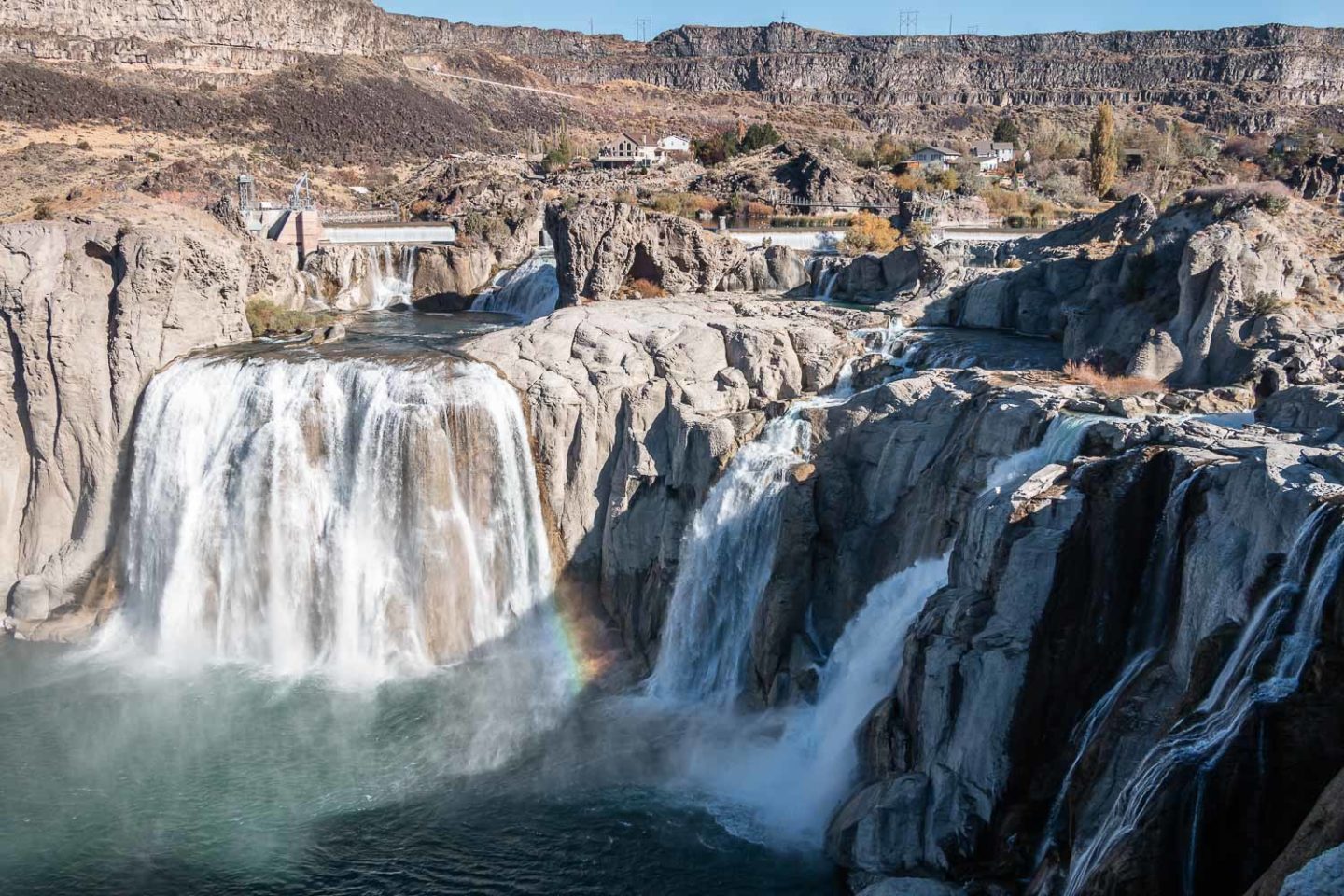 Visit Shoshone Falls, Idaho: A Complete Guide
Shoshone Falls is a natural phenomenon on the Snake River near the small town of Twin Falls. Remarkable in its size and appearance, the waterfall is often referred to as the "Niagara of the West". At 212 feet, however, Shoshone Falls is higher than the American-Canadian natural wonder.
The width of Idaho's crown jewel also instills a feeling of deep admiration. Spread over 900 feet, this astounding site is one of the largest natural waterfalls in the country.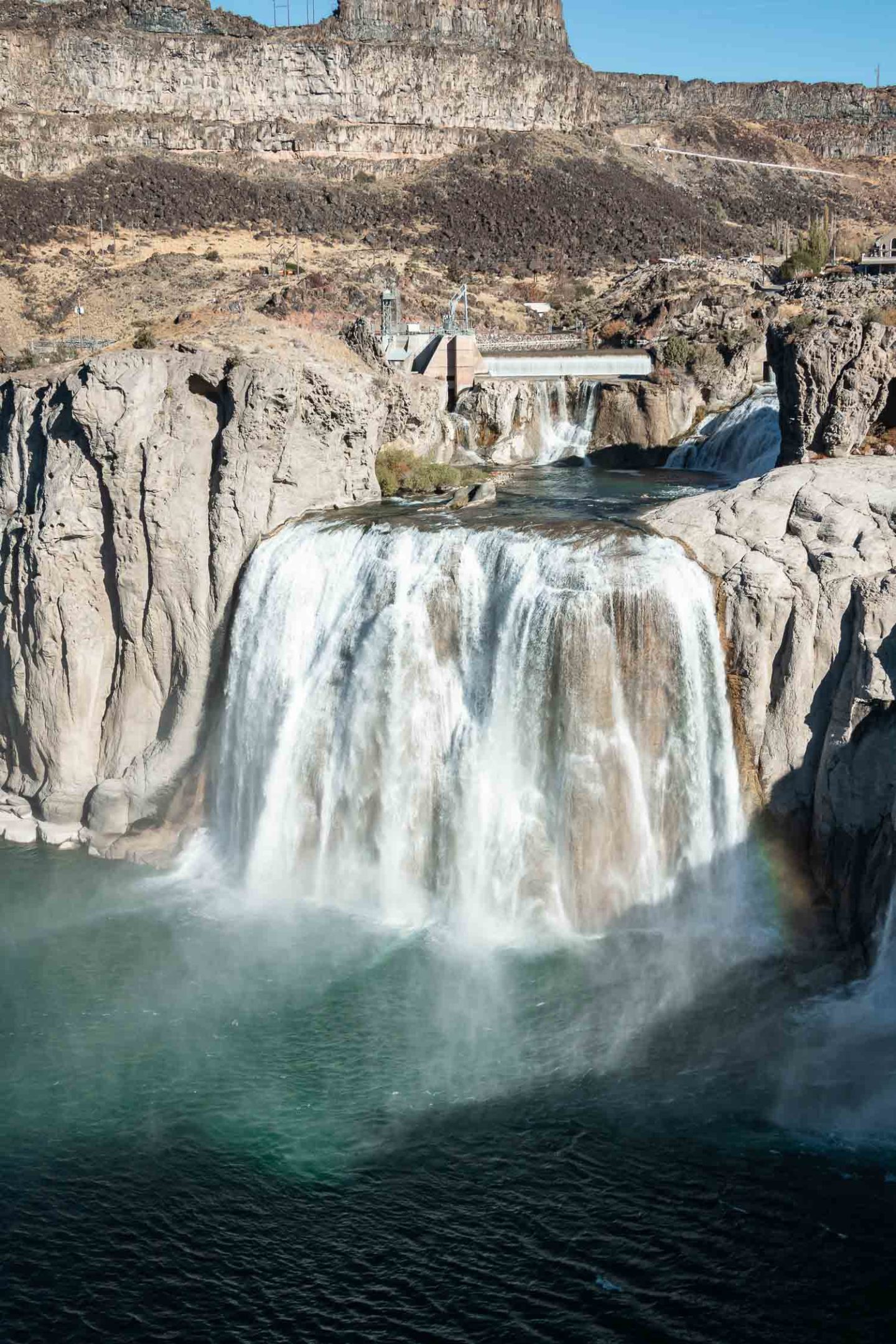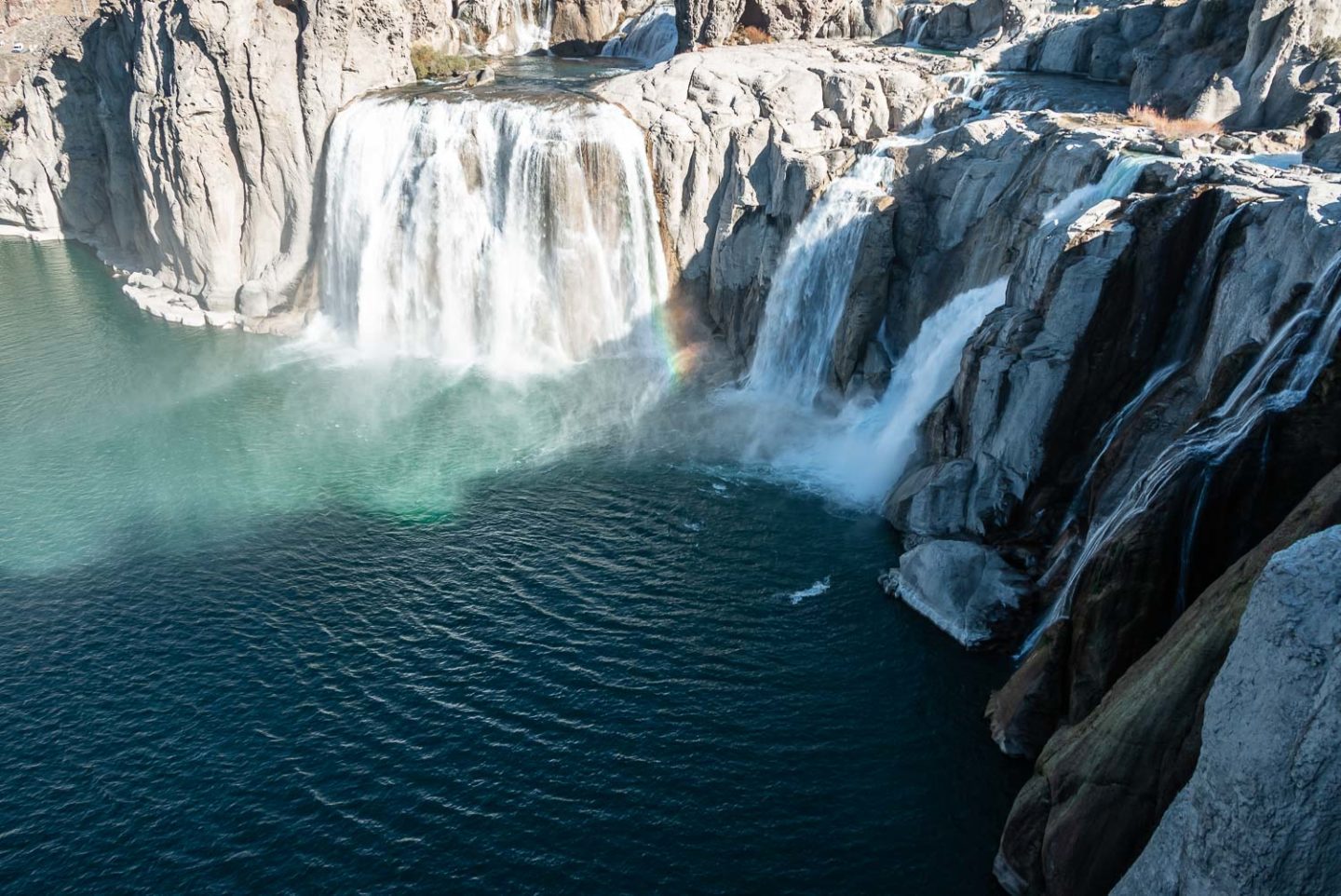 Visit Shoshone Falls: History in a Nutshell
Shoshone Falls was named for the Lemhi Shoshone. For a long time, the Native Americans inhabited the area, depending on the Snake River as their primary food source. Although a few expeditions explored this southern Idaho's region in the early 19th century, none of them seem to come across the site. American and British-Canadian fur trappers are believed to be the first parties to visit Shoshone Falls.
Shoshone Falls has been a popular site to explore since the 19th century. While some of Idaho's famous destinations set near main roads, this massive waterfall was rather isolated. Pioneers traveling along the Oregon Trail would often detour from their path to admire the natural splendor of Shoshone Fall. 
Locals, in their turn, strived to protect their crown jewel and demanded the creation of a national park in the early 1900s. Congress never approved their proposal. In 1919, the Shoshone Falls Memorial Park Association tried to create a memorial park at the waterfall for World War I veterans. This plan also failed mostly due to the difficulties of obtaining the land.
Finally, Frederick and Martha Adams purchased the property from Senator Clark and donated it to the City of Twin Falls in 1932. The land was to be used as a public park. A year later, the State of Idaho donated additional parcel of land to the west of the original park to the City of Twin Falls.
Today, the park encompasses the south bank of the Snake River, including the waterfall. Nearly 300,000 vehicles stop at Shoshone Falls Park every year. This number doesn't include locals and tourists accessing the place by water or on foot. 
The Best Time to Visit Shoshone Falls
You can visit Shoshone Falls all year round. Easy access and well-maintained paved roads certainly inspire you to do so. Yet, similar to any other waterfalls, Shoshone Falls is a rather seasonal attraction. Its flows vary drastically throughout the year. 
To see the waterfall in its full glory, you should plan your trip in spring. During this time, melted snow feeds the falls, transforming it into a mighty titan that relentlessly throws its waters into the Snake River. 
Summer is the second best season to visit Shoshone Falls. Although the dam-controlled waterfall reduces the strength of its flows as the river is used for irrigation purposes, it's still a spectacular sight. June usually witnesses the heaviest flows while August brings the lowest flows.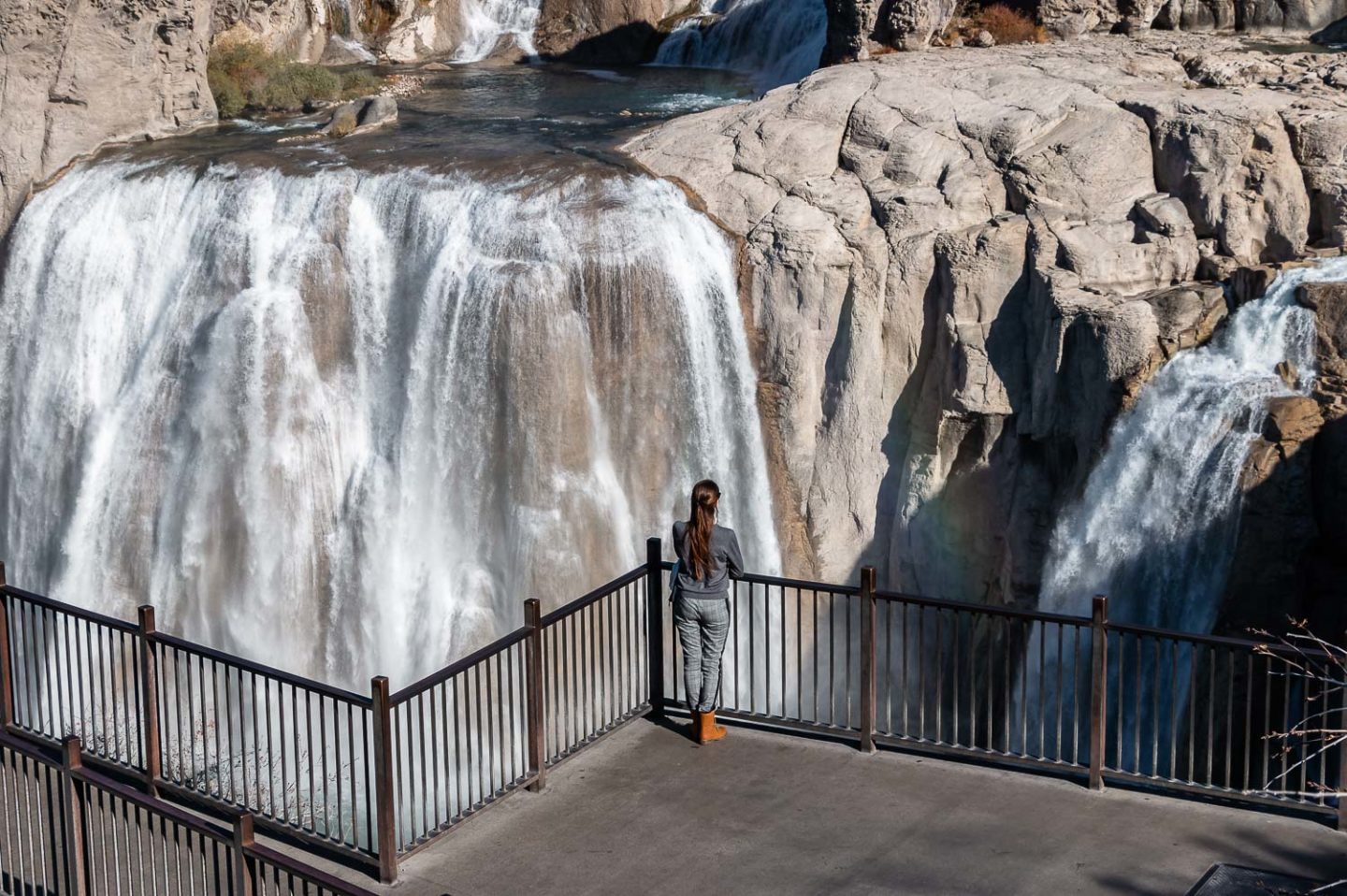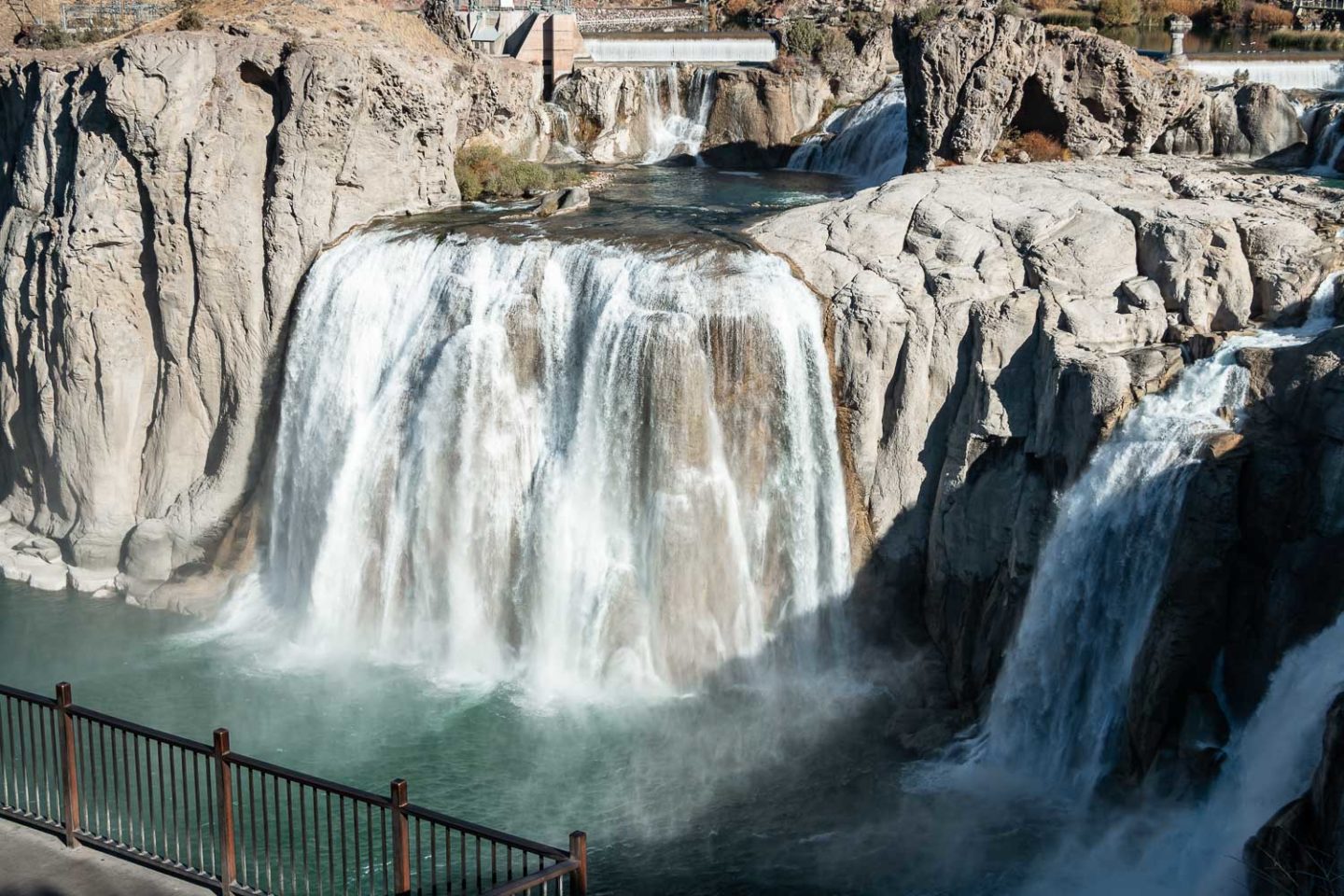 If you long for solitude, though, visit Shoshone Falls in fall or winter. Despite the minimal flows at this time, the waterfall never ceases to impress with its grandeur and forceful nature. On top of that, early birds can have the whole place to themselves. After postponing our trip to Shoshone Falls a few times, we finally went to see it at the end of October. As you can see, Shoshone Falls was still a sight to behold.
How to Get to Shoshone Falls
Address: 4155 Shoshone Falls Grade, Twin Falls, ID 83301
The popular waterfall is located in southern Idaho about seven miles from the city of Twin Falls. The best way to visit Shoshone Falls is by driving here.
Visit Shoshone Falls by Car
From Twin Falls, drive along Addison Avenue E or Falls Avenue E until you hit Champlin Road. Follow the latter for half a mile. At this point, Champin Road turns into Shoshone Falls Grade. Shoshone Falls Park with its remarkable Shoshone Falls awaits you about a mile down this steep, winding road.
Fly to Idaho
Shoshone Falls is a must-visit destination in Idaho. For those who travel to the Gem State only to lay their eyes on this remarkable natural wonder, here is the list of places you can fly into. Rent a car at the airport upon your arrival and follow the direction above to get to the biggest waterfall in Idaho.
Magic Valley Regional Airport. Located in Twin Falls, this airport is the closest to Shoshone Falls. Limited number of flights, however, makes it the least appealing and flexible option.
Boise Airport. Boise Airport is an international airport with variety of connecting and direct flights. It's located about 2 hours from Twin Falls.
Salt Lake City International Airport. Set 3 hours 20 minutes away from Twin Falls, this airport lets you visit Shoshone Falls during your road trip across Utah and Idaho.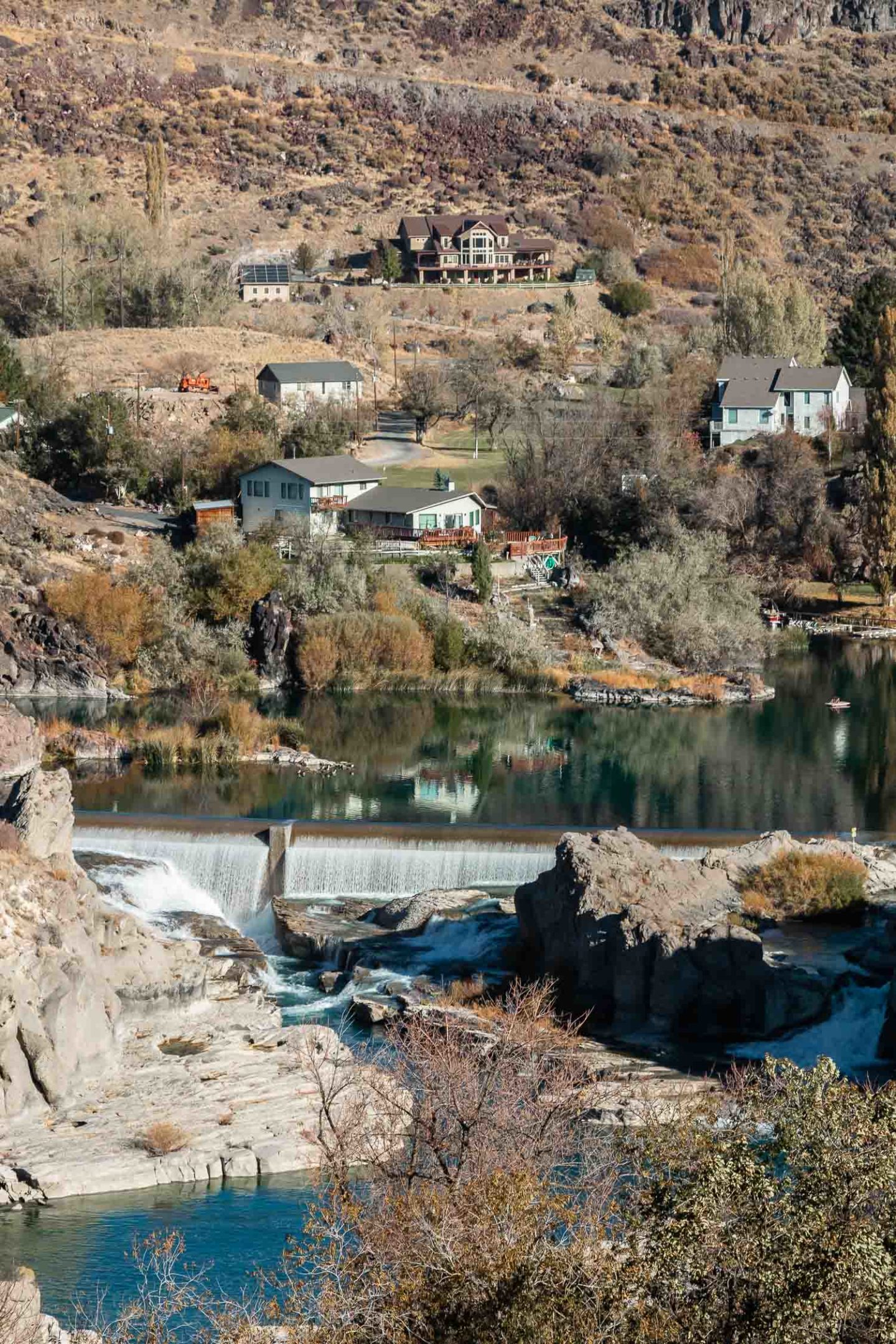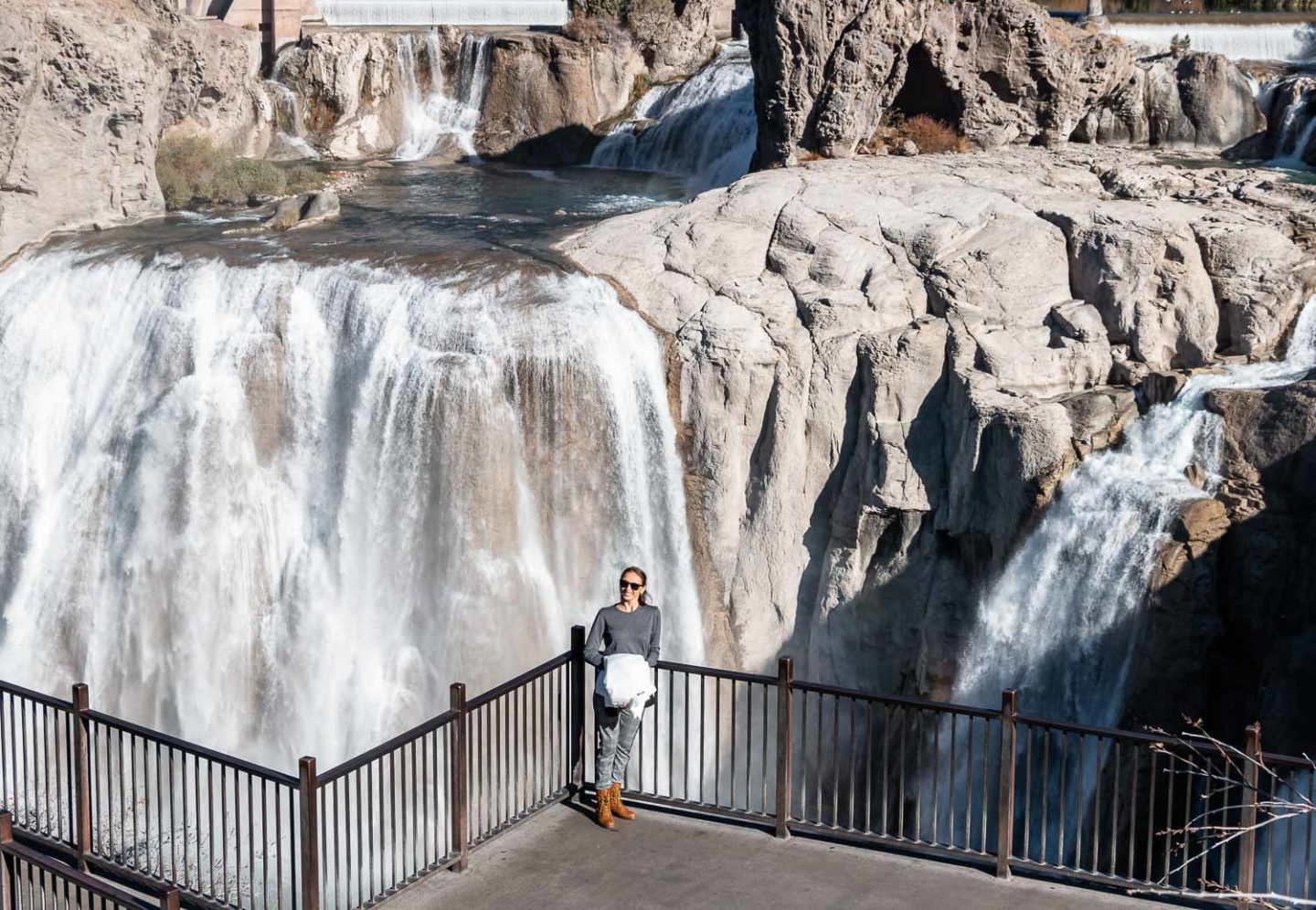 Visit Shoshone Falls: Two Overlooks
Two observation decks allow you to feast your eyes on Shoshone Falls. The first viewpoint sits right at the entrance to the park. Shoshone Falls is about a mile from here. Giving a bird's-eye view of the surrounding area, this viewing platform, however, doesn't do justice to the spectacular waterfall. To fully comprehend the power and size of Shoshone Falls, you should visit the second viewpoint.
The closest to the waterfall observation deck is set right near the main parking lot. You can admire the stunning site from here or walk down a sturdy set of stairs to a viewing platform that offers the best views of the waterfall.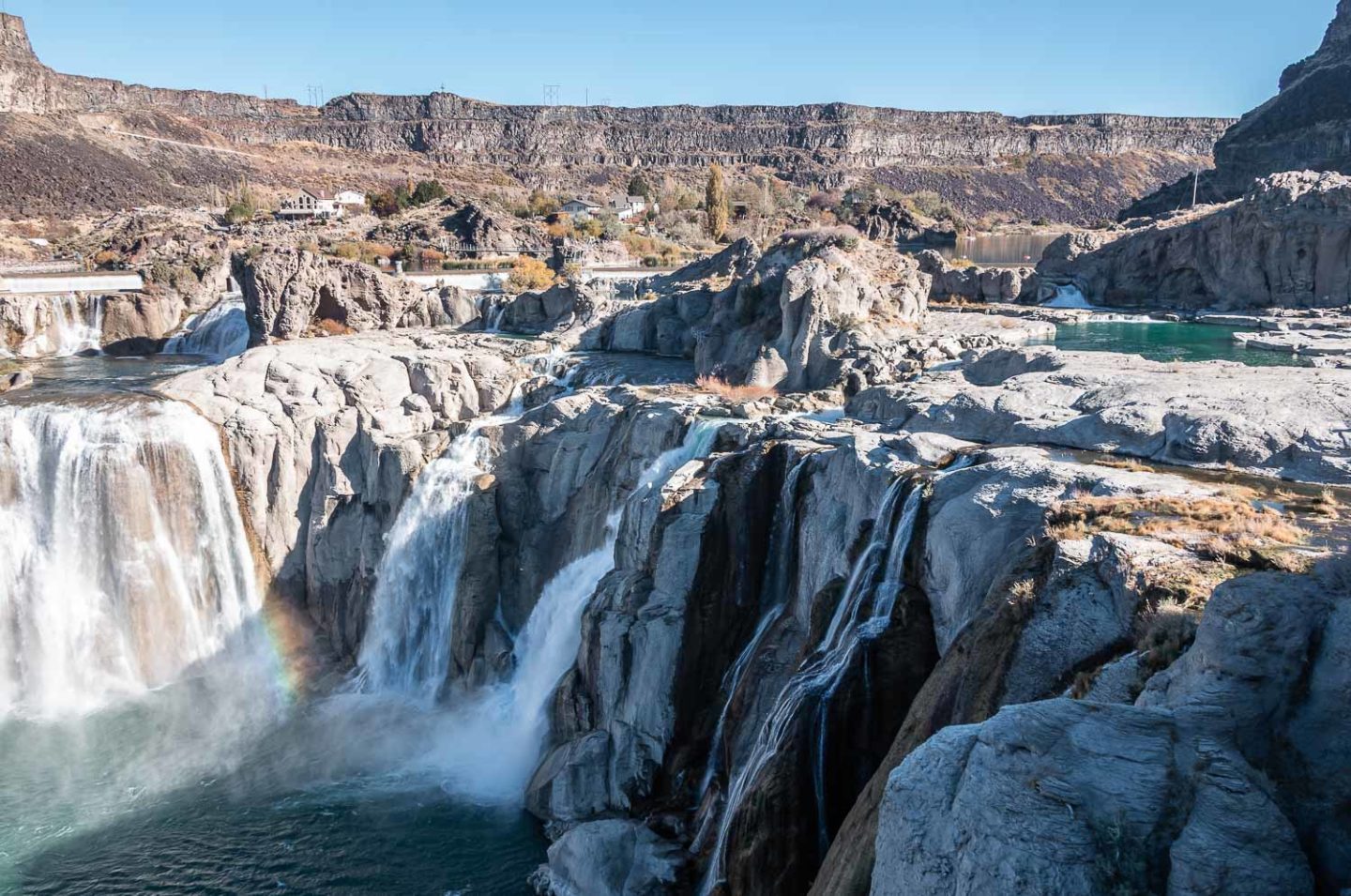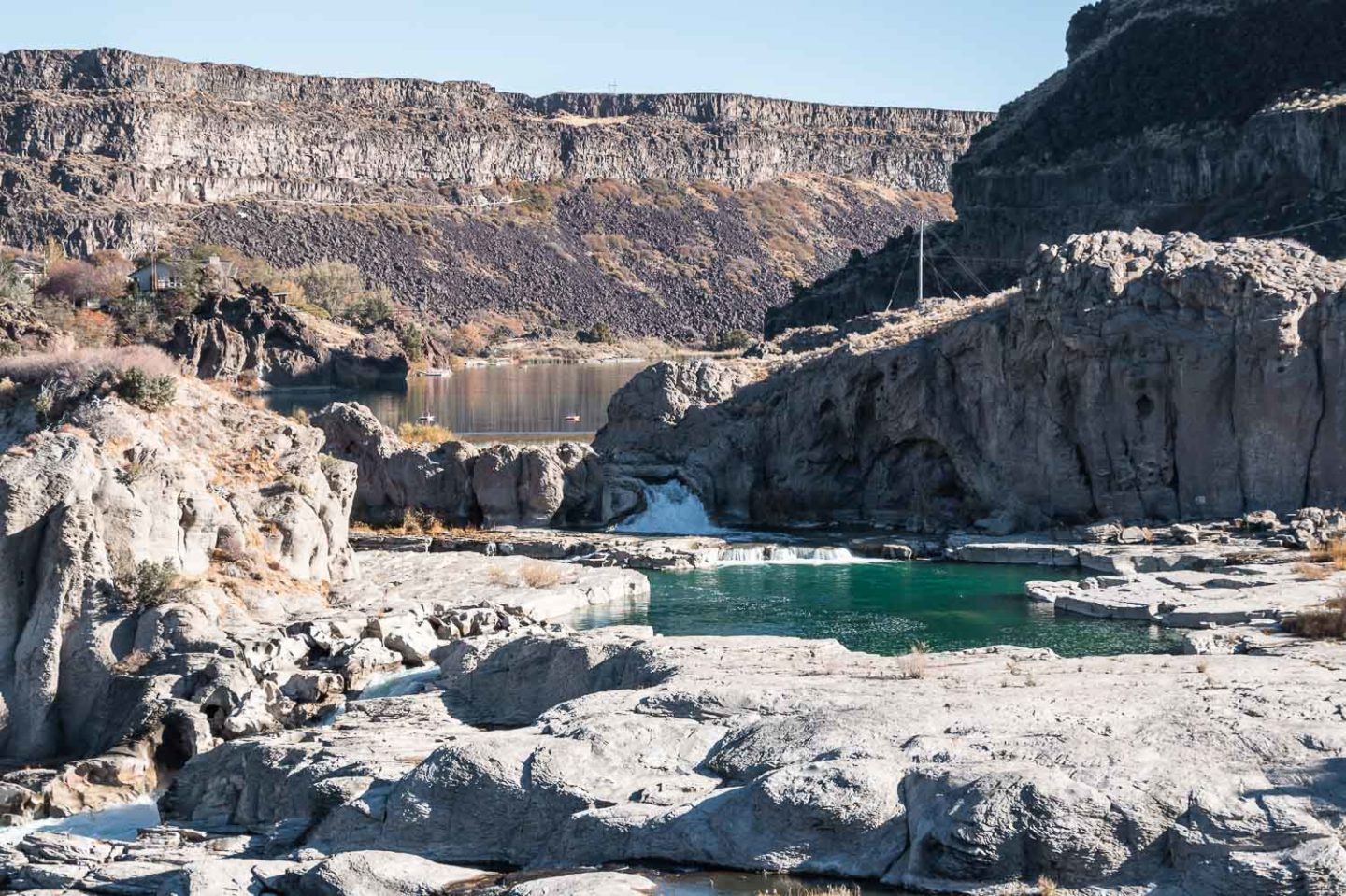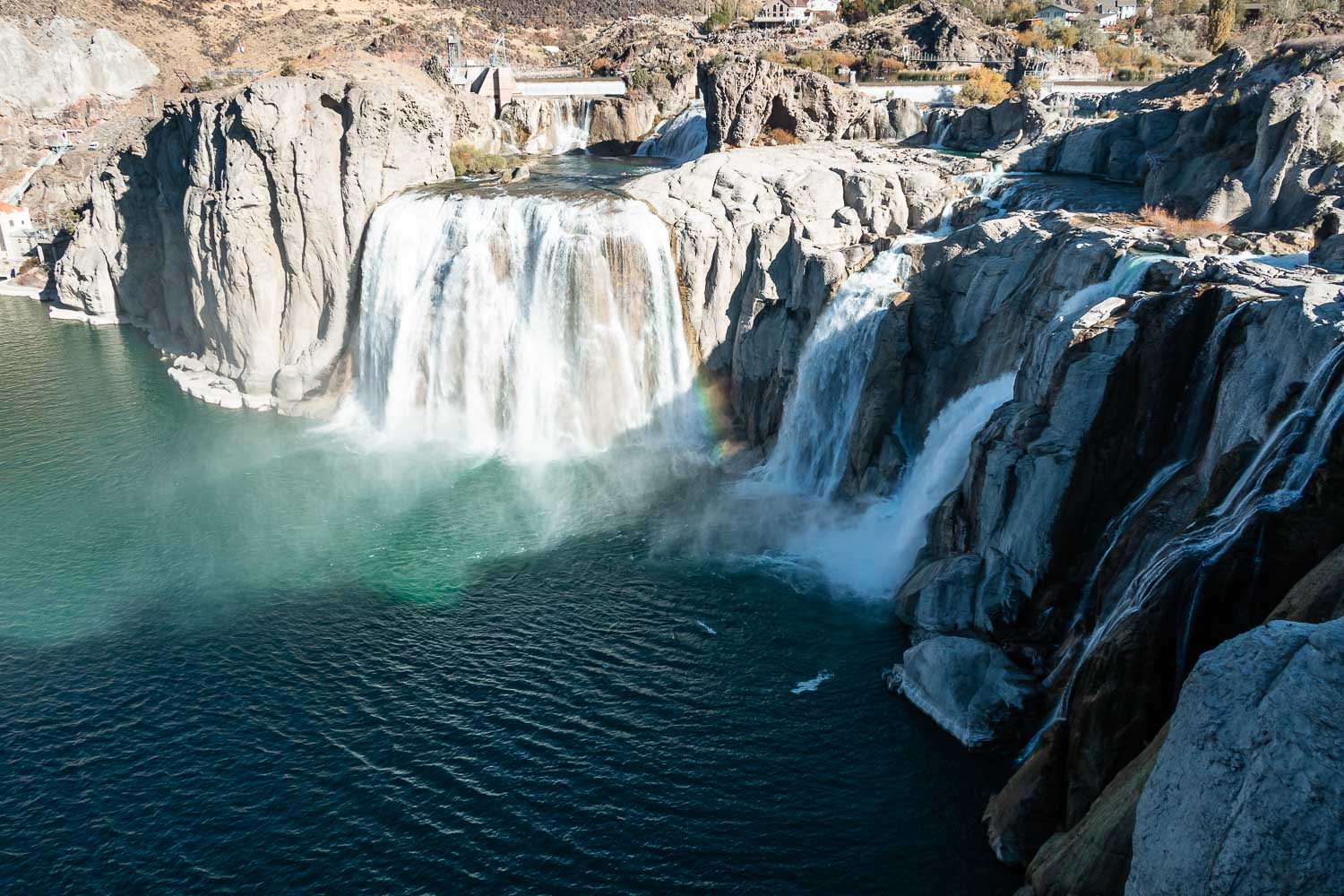 Things to Do and Not to Do Near Shoshone Falls
Visit Shoshone Falls Park
Don't be quick to leave Shoshone Falls after you admire the beauty around you and take enough photos to remind you of this astounding place. Instead, explore some of the well-trodden hiking trails at Shoshone Falls Park. For short walks and scenic views, stick to the Shoshone Falls Observation Deck Trail and Dierkes Lake Trail.
Explore Dierkes Lake
Nestled about one mile away from Shoshone Falls, Dierkes Lake is another beautiful place you should visit when in Twin Falls. The secluded lake surrounded by a tidy park is mostly popular with the locals.
Dierkes Lake not always looked the way it does today. Discovered by John Dierke, a German immigrant, it originally served as an orchard. The owner of the land planted apple, cherry, and peach trees with the intention to sell the fruits. Irrigation of upper fields that started at the beginning of the 20th century, however, forever changed this low area.
The water level at today's Dierkes Lake rose, making the area unsuitable for agriculture. When you visit Shoshone Falls and Dierkes Lake Park today, you hardly see any fruit trees. People say, Dierke picked his last produce from a rowboat.
The City of Twin Falls purchased the property in 1969 and has used it as a public park ever since. Located so close to Shoshone Falls and sharing the same entrance, Dierkes Lake owes its reputation as one of the best places to visit in the area to the famous waterfall. While the majority of the tourists still skip the lake when visiting Shoshone Falls, the locals are fond of this secluded place.
On top of its pristine location and convenient picnic areas, Dierkes Lake offers a plethora of outdoor activities. You can visit Dierkes Lake in summer and plunge into its pleasant water. Diving is another activity that allures local scuba divers. Filled with underwater treasures such as sunken rowboats, a metal shark cutout, and a treasure chest, the bottom of Dierkes Lake is yet a place to explore.
Swimming Near Shoshone Falls is Not Allowed
You can admire the massive waterfall from the viewing platforms for hours at a stretch. Swimming, however, is not allowed near Shoshone Falls. The forceful streams of the waterfall don't like trespassers. The best place to swim in the nearby area is Dierkes Lake.
Hike Canyon Rim Trail
The 12.6-mile paved Canyon Rim Trail spreads from Twin Falls all the way to Shoshone Falls. Several gaps divide the path in a few sections, giving a chance to explore the city and surrounding area while you hike to Shoshone Falls.
The trail starts near the Twin Falls Visitor Center and runs in both directions. To visit Shoshone Falls, you should hike to the west of the Center. The trail winds past shopping area and into a residential neighborhood where it comes to a halt.
After the first gap, the Canyon Rim Trail resumes in Shoshone Falls Park. The second gap follows shortly after. Those to visit Shoshone Falls as part of their walking endeavor can continue their hike to Dierkes Lake. Similarly, you can explore Shoshone Falls Park first and hike to downtown Twin Falls from here. 
Kayak to Shoshone Falls
Daring travelers and locals alike can't miss a change to visit Shoshone Falls by water. While swimming is out of the question here, you can rent kayak and see the stunning waterfall up-close. Kayak rental, operated by AWOL Adventure Sports, is located in Centennial Waterfront Park.
The fun water journey can last from two hours to half day, adding addition stops such as Pillar Falls to your Shoshone Falls' adventure. Kayaking is, however, a seasonal activity. Thus, plan your visit accordingly.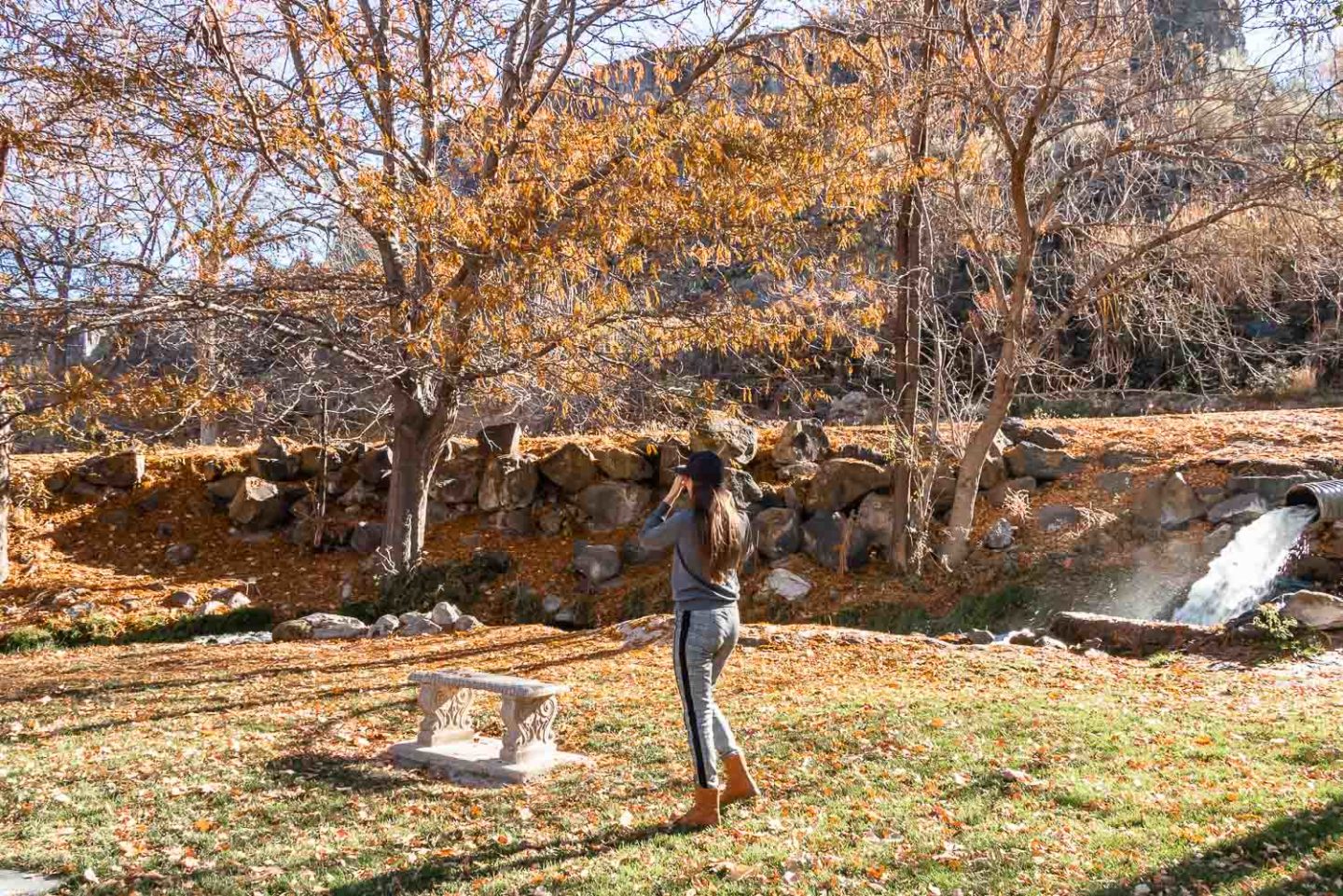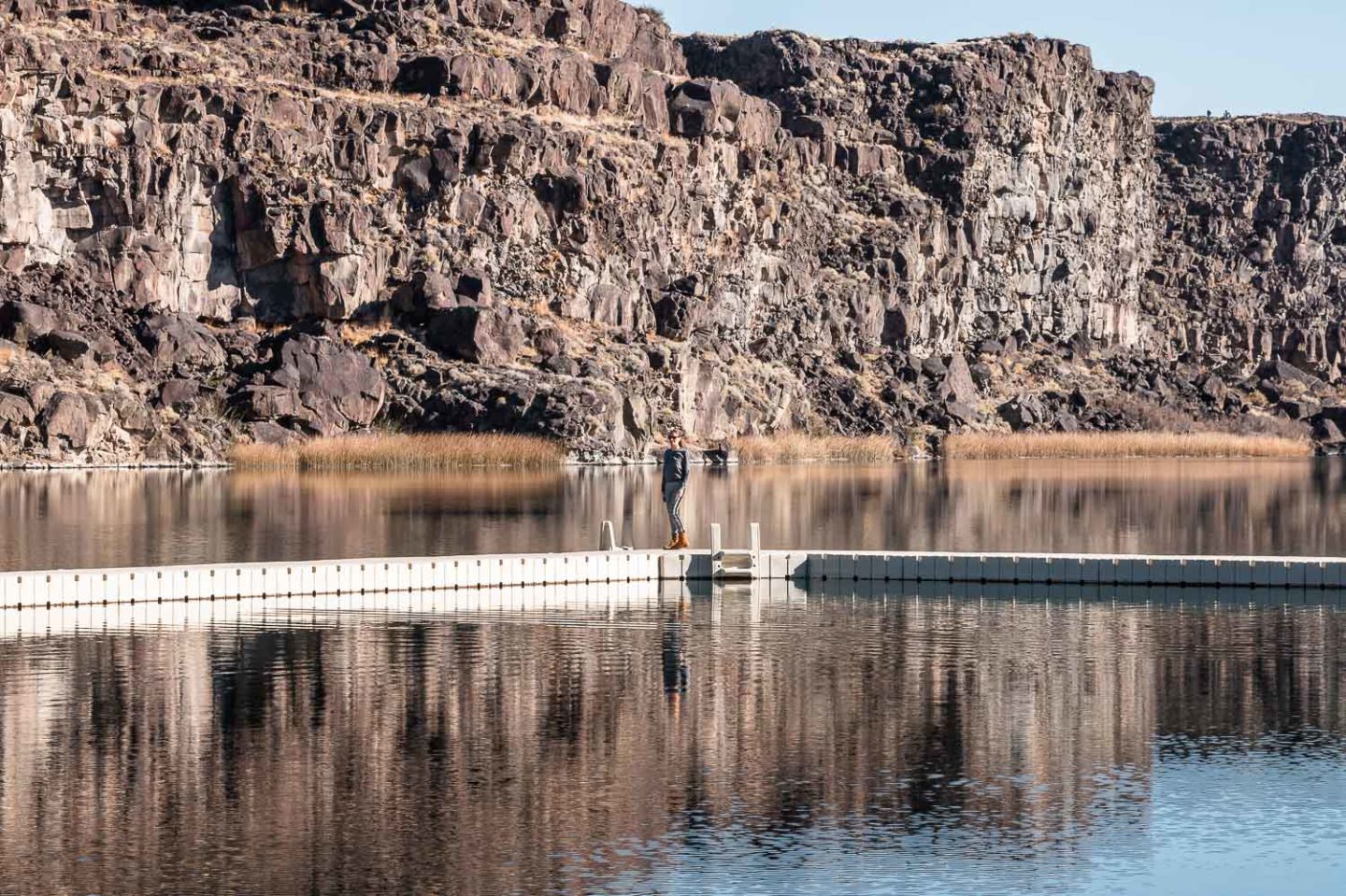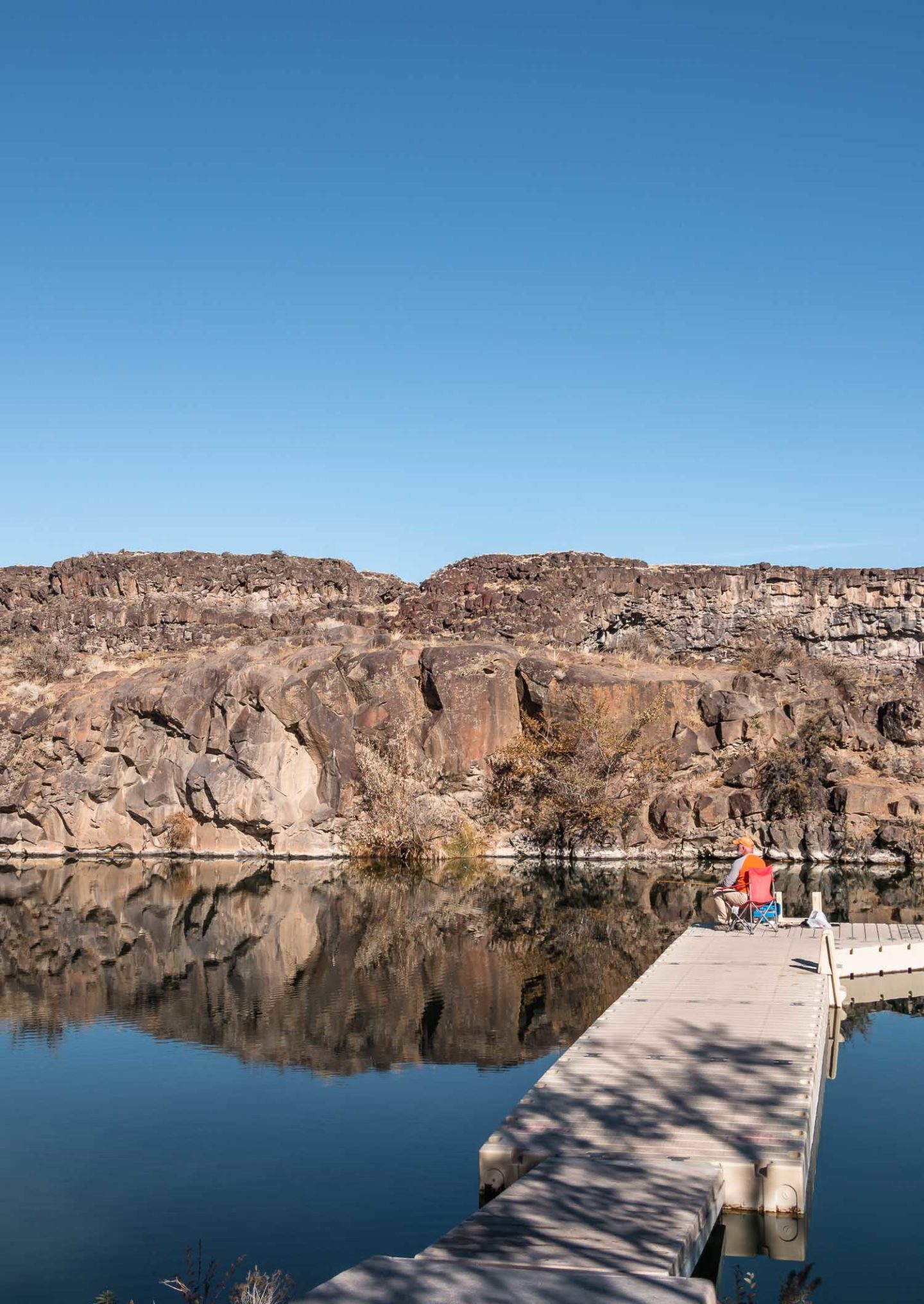 Admission and Fees
Shoshone Falls Park, including Dierkes Lake Park, is open daily from 8:00 am until 10:00 pm. The hours may vary.
If you visit Shoshone Falls between March and September, there is a fee of $5 per vehicle. A season pass costs $25 and is available at the Parks and Recreation Office in Twin Falls or at the entrance to the park. You don't have to pay anything when you visit Shoshone Falls during the off-season. 
TIP: For more places to visit in Twin Falls and Idaho, please check out the following guides.
If you found this post useful, don't forget to pin it for later and share it with your friends.