Bohemian, explosively intriguing – Pioneertown is a living reminder of a bygone era in the U.S. state of California. No other places bring back to life the forgotten past as easily and naturally as this small town. There is simply no excuses to not visit Pioneertown and learn everything you need to know about its past and present in person.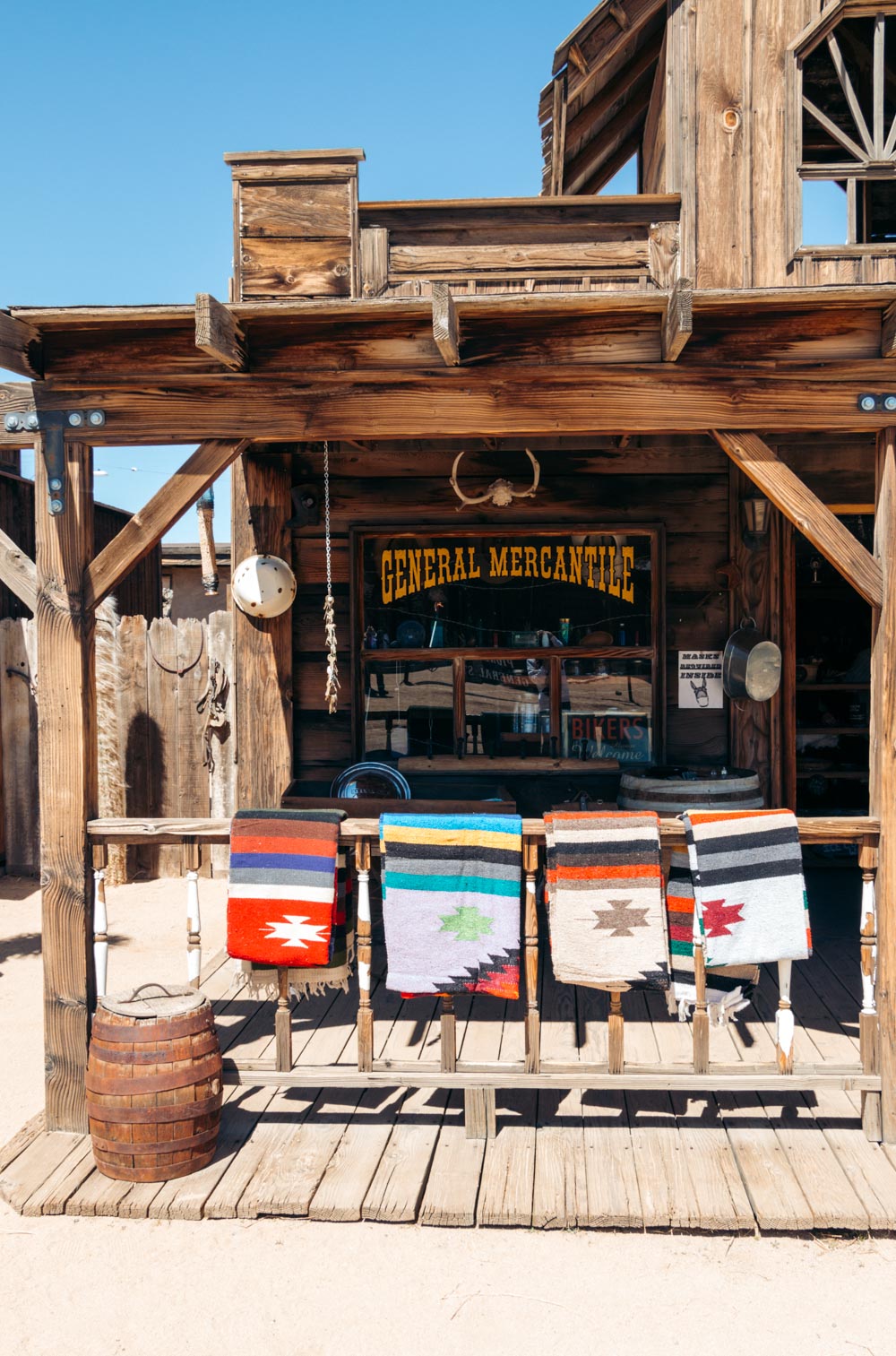 Visit Pioneertown: Introduction
For many people, this Western town is a small movie set located almost on the outskirts of Joshua Tree National Park. Others visit Pioneertown to get a taste of life as cowboys even if only for a few minutes. The majority of the visitors yet flock to the impeccable town that intrigues with its main street to learn everything about movie industry, in particularly once popular Westerns.
Regardless of the motives that drive people to visit Pioneertown, the old movie set introduces its guests to a mysterious world of brave cowboys and not so timid ladies. Once in the area, you hardly even remember that Pioneertown is in essence a fake town. Created solely as a dream to keep the fading era alive, it still entices thousands of cowboy fans and film productions.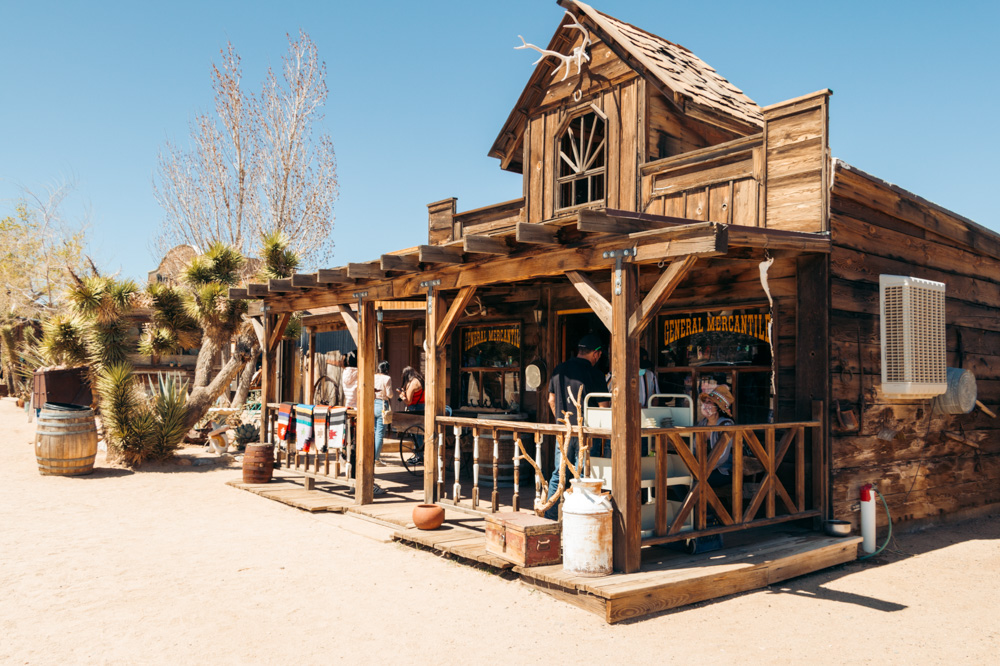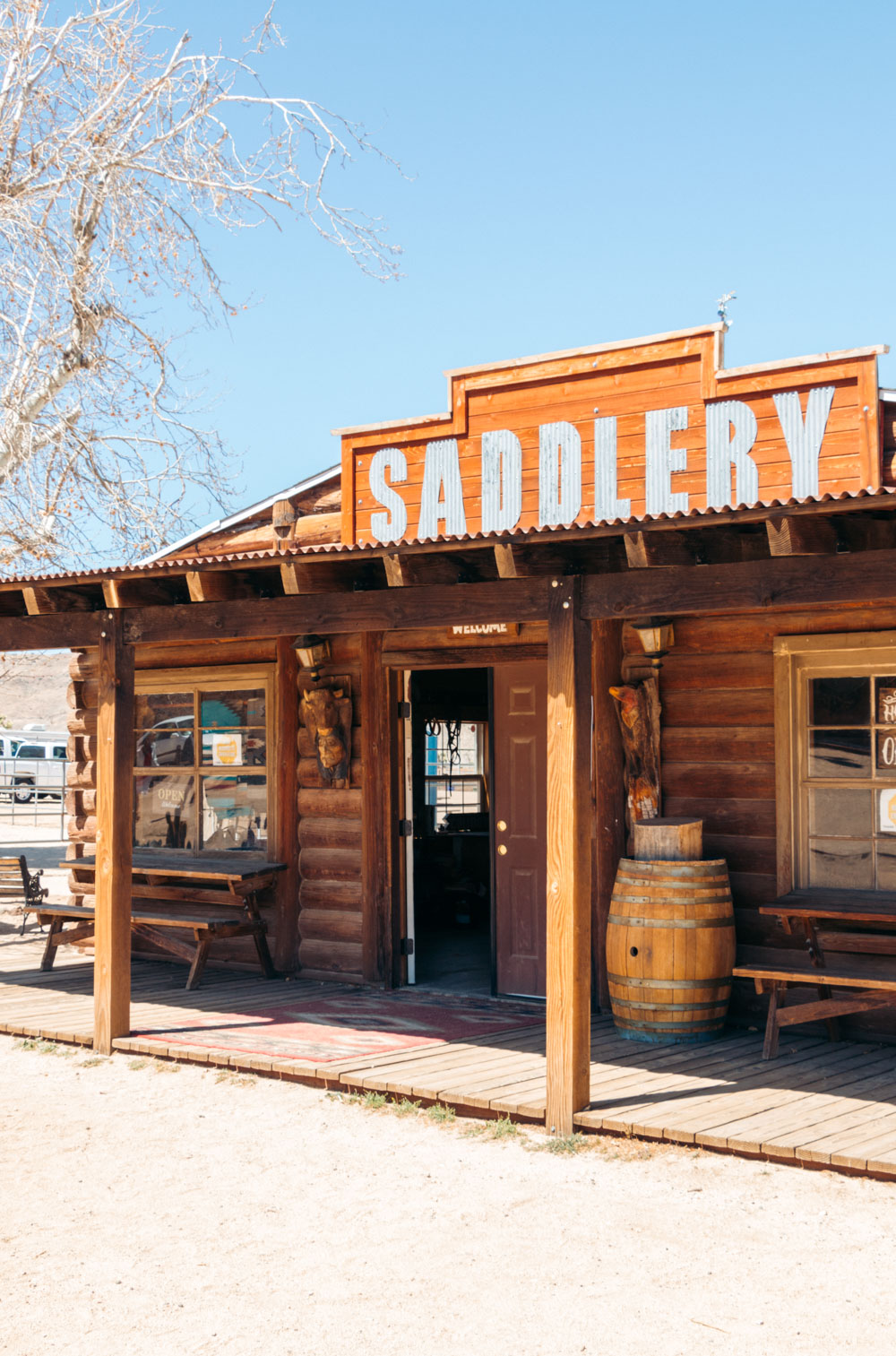 How to Visit Pioneertown: Location and Directions
A visit to Pioneertown takes you to the Morongo Basin in San Bernardino's High Desert. The old, but never forgotten town comfortably sits near some of the popular destinations in the area. Interestingly enough, hardly any visit to Pioneertown is planned. On the contrary, the enticing place often sneaks into bigger road trips or outdoor adventures near Joshua Tree National Park or Palm Springs.
Founders of the western town, inspired by idea of developing the area and attracting more visitors, made sure to establish the settlement between large cities. Thus, despite its somewhat turbulent past, Pioneertown is still one of the convenient destinations to visit from Los Angeles or Palm Springs.
Set just 2 hours to the east from the Hollywood Capital (via I-10 W), the town has welcomed many production teams and hosted a bunch of independent film and photo shootings. Palm Springs is also a short drive away. So locals and their guests frequently hit CA-62 W and N Indian Canyon Dr to visit Pioneertown, nestled just 40 minutes from the city.
While oblivious and first-time visitors dwell on the idea of visiting an expansive western town, Pioneertown is in essence just one long street. Its major points of interest, including old buildings that you might have seen in numerous movies and music videos, reside on Mane Street. This makes a visit to Pioneertown a quick stop on your way to other exciting destinations in Southern California.
Address: 53626 Mane St, Pioneertown, CA 92268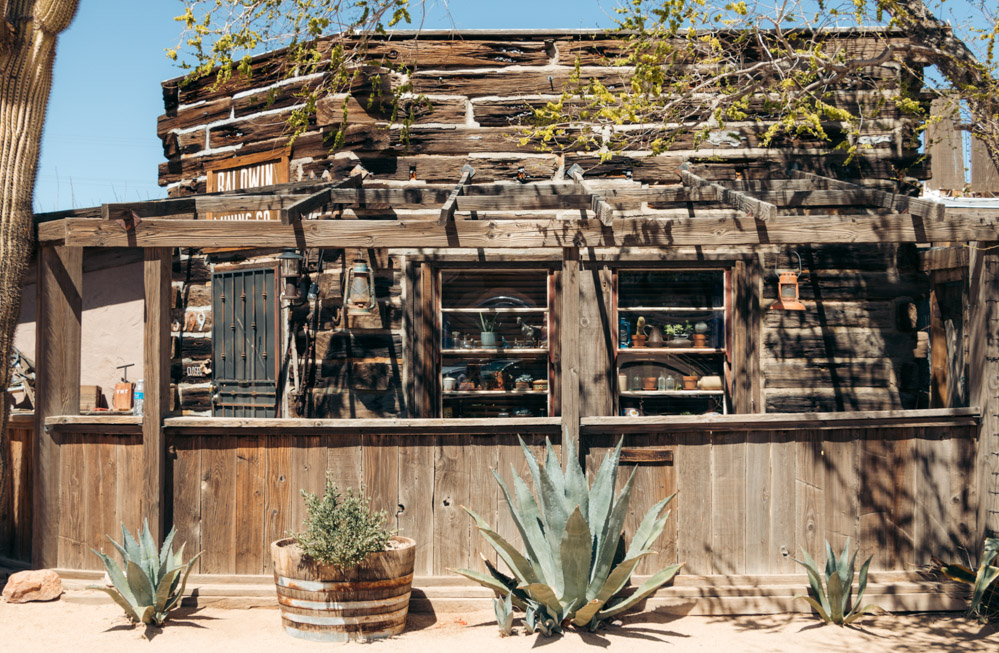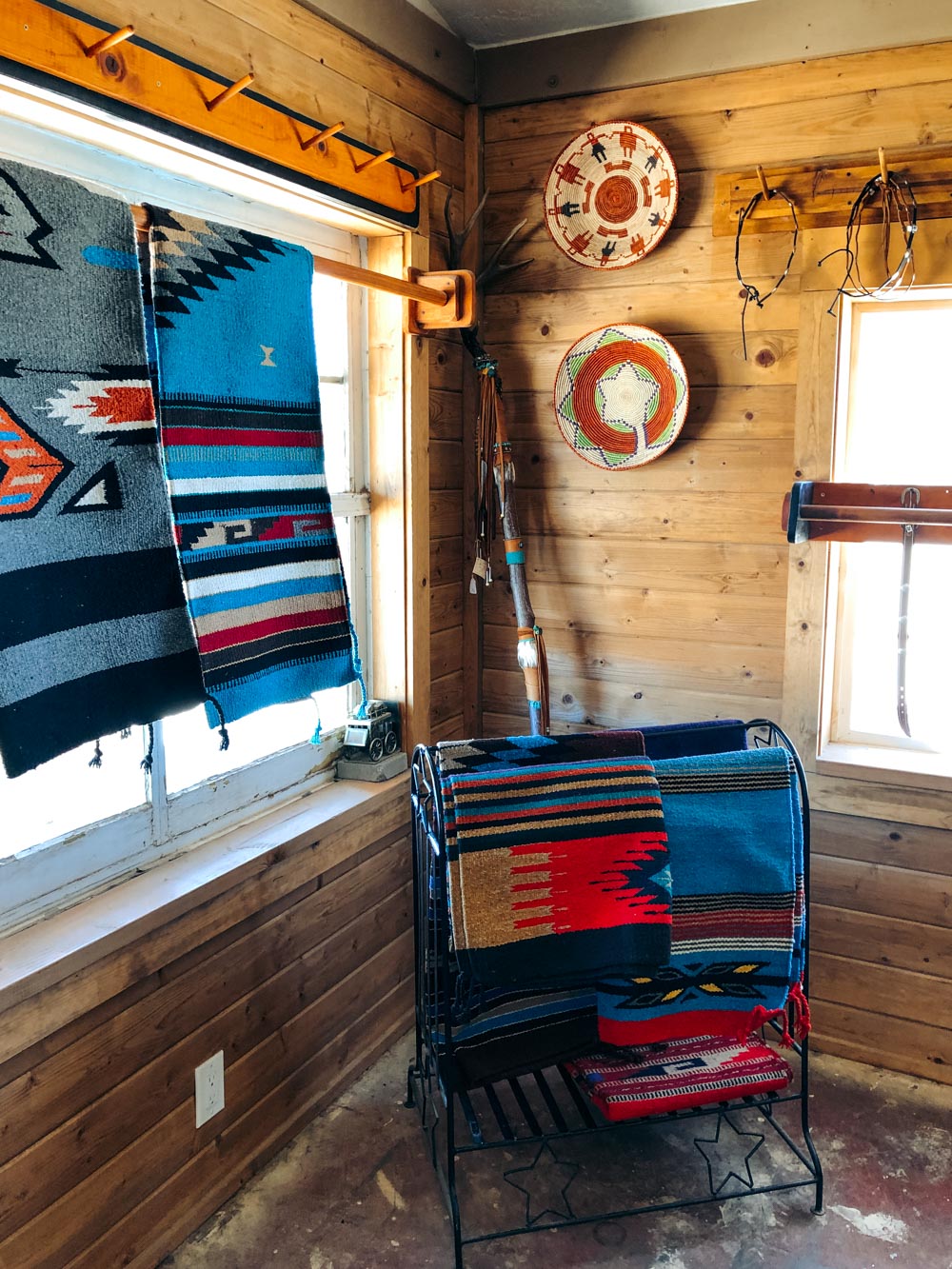 Why Visit Pioneertown
The narrow street, infused with the structures from the bygone era, seems to never loose its charm. Many things has change. Hollywood has found different, more profitable topics, forsaking the production of the once popular Westerns. Yet the old movie shooting location still stays strong.
Seemingly oblivious to the passage of time, Pioneertown inspires and stirs up interest up to this day. A visit to Pioneertown continues to top any High Desert itineraries. What exactly inspires so many people from all corners of the world to visit Pioneertown, an enchanting place like no other?
1. History of the American West
Although Pioneertown has never experienced the real world, the place represents the Old West like no other places. After carefully studying the bygone era, including the California Gold Rush, the founders of the movie set strived to create the most realistic town possible. American Natives might have never lived in this area. Yet the opposite doesn't even occur to the majority of people who visit Pioneertown for the first time and inevitably fall under its deceptive spell.
2. One of the Most Popular "Old Towns" in the USA
Pioneertown is not the only reminder of the bygone days. Numerous small towns carry the imprint of the Gold Rush and the period of fearless cowboys. Handful of U.S. ghost towns attest to sad reality of the short-lived glory of that time. Yet Pioneertown, this remarkable old town, thrives up to this day. Moreover, crowds of curious travelers visit Pioneertown every day, never objecting to its not entirely authentic roots.
3. "Living Breathing Movie Set"
The popular place has been maintained and cherished first as a "living breathing movie set" and then as a tourist attraction. While the big productions and lesser-known filmmakers still frequent the area, many bloggers and YouTubers visit Pioneertown to create their own masterpieces. With such an epic place in your own backyard, you don't need Hollywood to be a star.
4. Shooting Location for Video Clips and Independent Films
Furthermore, independent companies often visit Pioneertown to create their controversial films or promotional campaigns. The irresistible setting inspires a myriad of non-traditional videos or films that still find their audiences.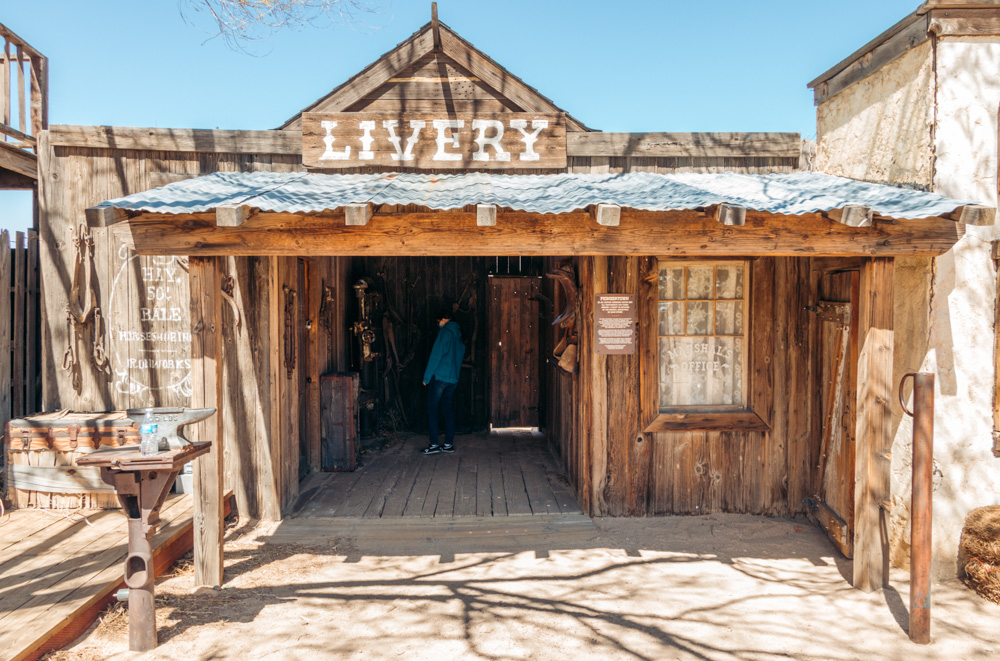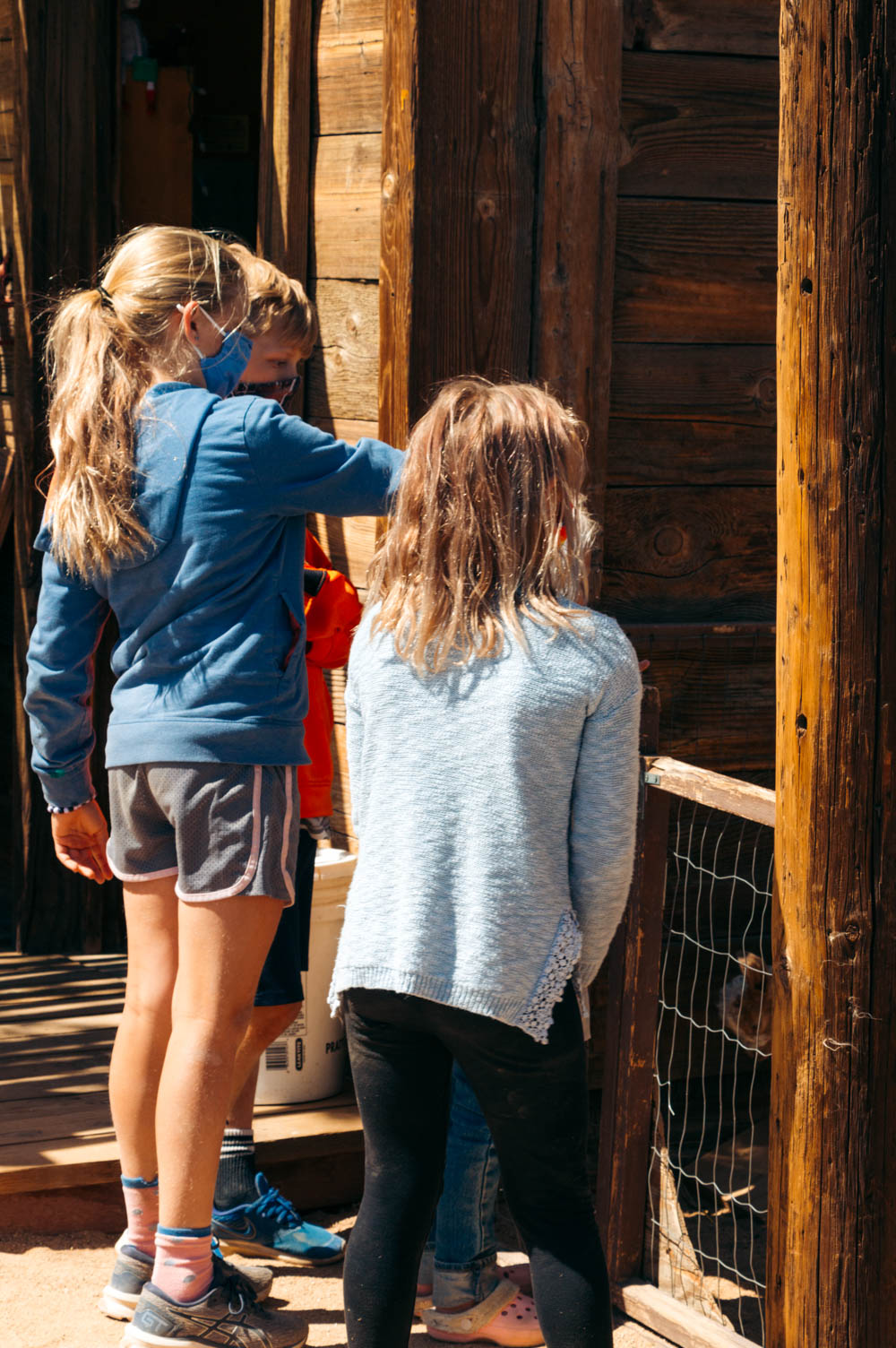 When Should You Visit Pioneertown?
Luckily, you can ignite your curiosity and visit Pioneertown any time of the year. The place is open to the public 365 days a year. Furthermore, pampered by famous Southern California weather, the area can be easily reached in summer and in winter.
Strong winds and lower temperatures might cause some inconveniences in the colder months. Yet they are never too great an obstacle to postpone your visit to Pioneertown. On the other hand, the high temperatures often disturb the travelers in summer. Thus, spring and fall are by far the best times to visit Pioneertown and enjoy its rustic vibes.
While the place is open seven days a week, weekends fill the eccentric street with commotion and never-ending crowds. During these days, the old glory of the town is restored. Not willing to miss business opportunities, all stores also open their doors, inspiring even more tourists to visit Pioneertown.
What to See and Do during Your Visit to Pioneertown
Mane Street
Pioneertown is centered around its main street, Mane Street. After so many years, the area still remains the main attraction, keeping its old west image intact. The majority of the Westerns-inspired structures, including still fully-functional shops nestle on Mane Street.
Thousands of visitors regularly flock to the area to dive into vivid history of the Westerns and escape hustle and bustle of everyday life. Shutterbugs, photographer, and film productions visit Pioneertown to inspire and get inspired by its impeccable surroundings.
Indeed, the area hasn't lost its charms and still promises an unforgettable journey back in time. Such an unbeatable attention to details and desire to preserve the past resulted in national recognition. In May 2020, Pioneertown's Mane Street Historic District has been added to the National Register of Historic Places.
To get the most of your visit to Pioneertown, however, you should look beyond Mane Street and explore the old and not so ancient structures one by one. With that said, let's visit some of the highlights of Pioneertown.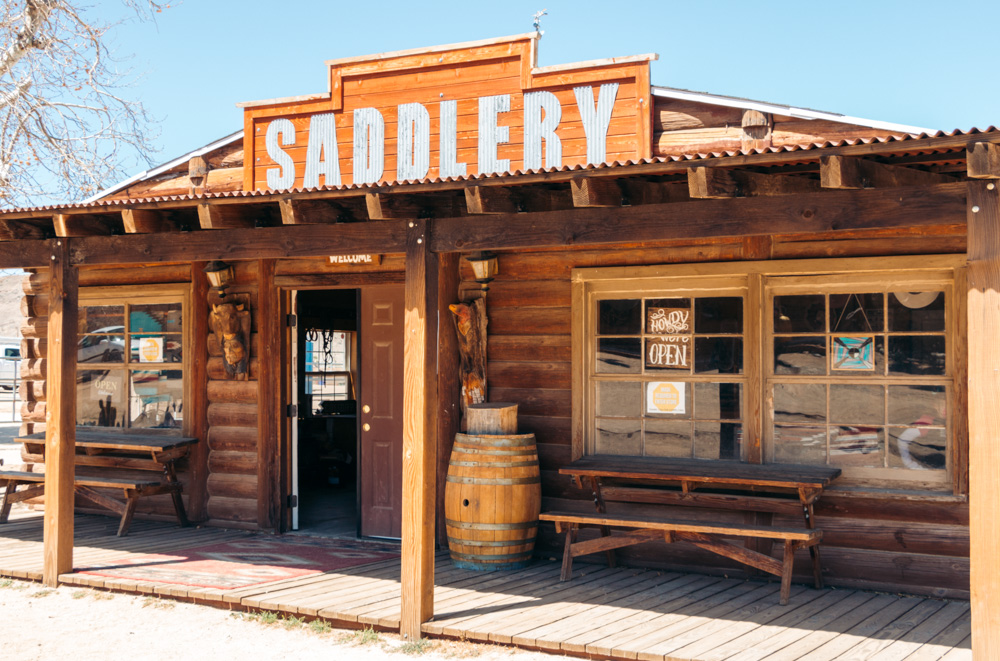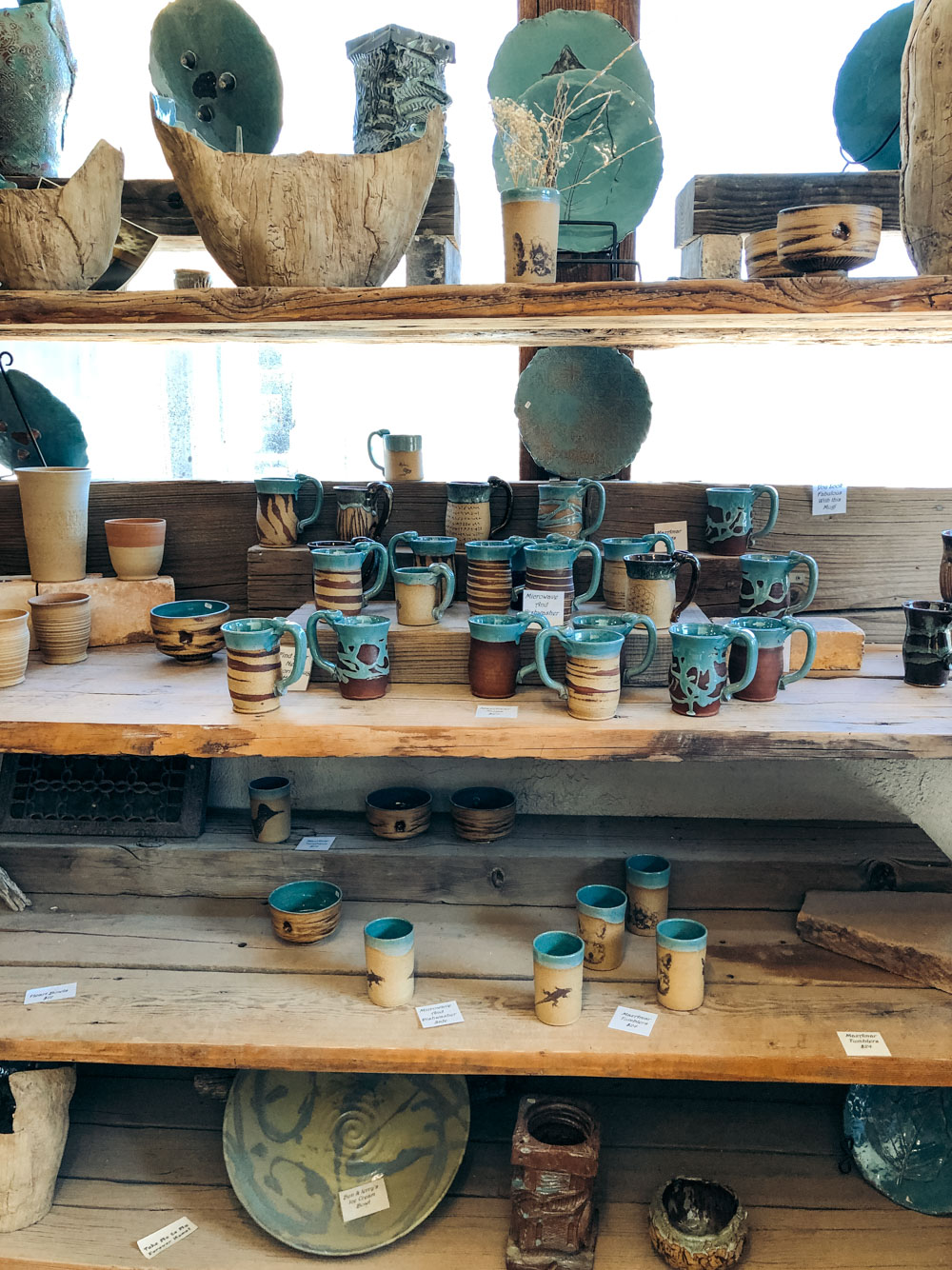 Stores
General Mercantile Shop
Surprisingly, you can not only enjoy the well-preserve western movie set but only shop at a number of local stores when visiting Pioneertown. The General Mercantile Shop, an art studio and gift shop, is a good place to start. Aligning with the overall western theme, the shop offers a wide range of crystals and minerals, handmade jewelry, and vintage clothes.
Hours: The General Mercantile Shop is usually open from Thursday through Sunday, from midday to sunset.
Pioneertown General Store
Claiming its residency in the historic Likker Barn, the Pioneertown General Store keeps itself distant from the other popular places to visit in Pioneertown. The store sits on the east side of Mane Street, seducing the town's guests with handmade art and jewelry, vintage and antique treasures.
Hours: Visit the Pioneertown General Store from Thursday through Monday, from 10:30 am until 5:30 pm.
Pottery Shop and MazAmar Art Pottery
Blending in with fake and fully-functional fronts, the Pottery Shop has been alluring the visitors of Pioneertown since 2000. The small place sells by-products of Thomas Alban's vision and creativity and focuses on handmade art. Most of the pottery comes to life right inside Pioneertown's old Nickelodeon studio. A few local artists work alongside Alban to create epic Joshua Tree Mugs, Heart Bowls, Wine Cups, and Tiles and Wood Pots.
If you still don't feel committed to your decision to visit Pioneertown one day, let the Pottery Shop persuade you. Visit the store and pick the pottery that will fill your kitchen with unique vintage style and a rustic vibe.
Hours: The Pottery Shop is open daily from 12:00 am until 5:00 pm. The hours might vary, though. So be sure to check official website prior to your visit to Pioneertown.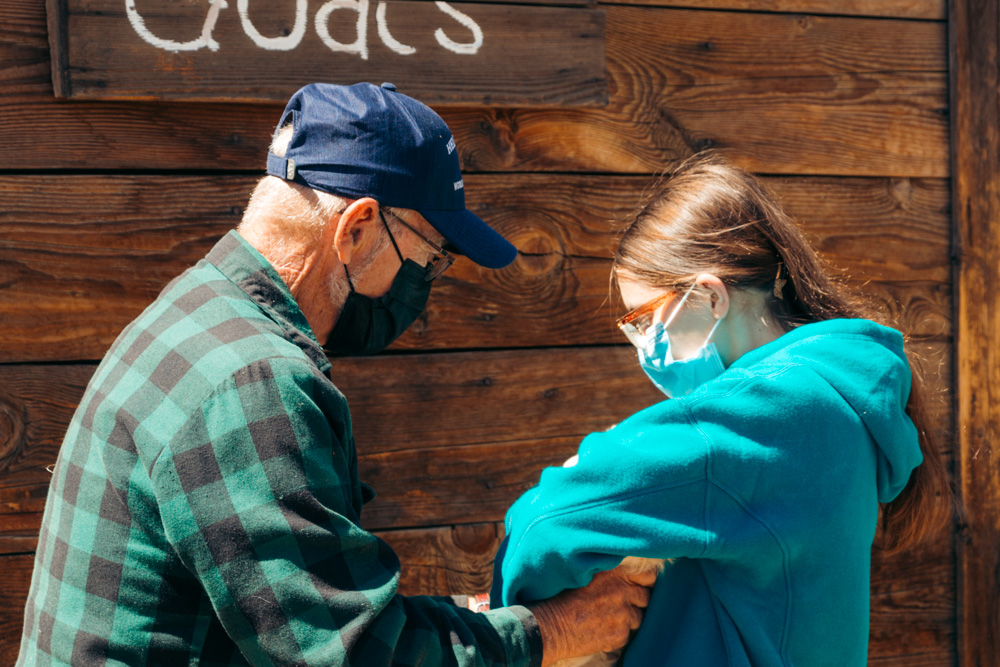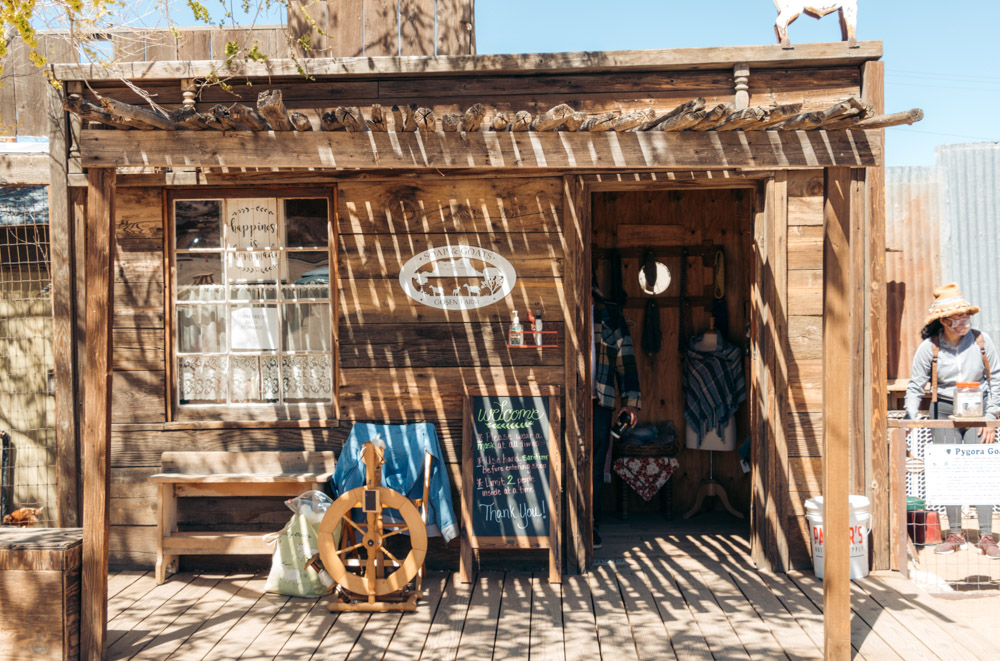 Soap Goats Shop
The Soap Goats Shop is yet another stunning store to visit in Pioneertown, especially for baby goats lovers. Technically consisting of two businesses, JoAnne's Simple Soap and Bill & JoAnne's Pipes Canyon Pygoras, it steals attention of every passerby. Crowds of guests gather in front of the shop, patiently waiting for their turn to pet the friendly goats.
Hours: The soap shop and petting zoo usually invite the visitors of Pioneertown on Saturday and Sunday afternoons. The place, however, can remain closed when the weather is less than favorable for the precious baby goats.
The Custom Leather & Saddle Shop
Near the west side of Mane Street, the Custom Leather & Saddle Shop keeps its doors open for true cowboys and cowgirls. Offering everything from belts to valets, this humble shop is another must-visit attraction in Pioneertown.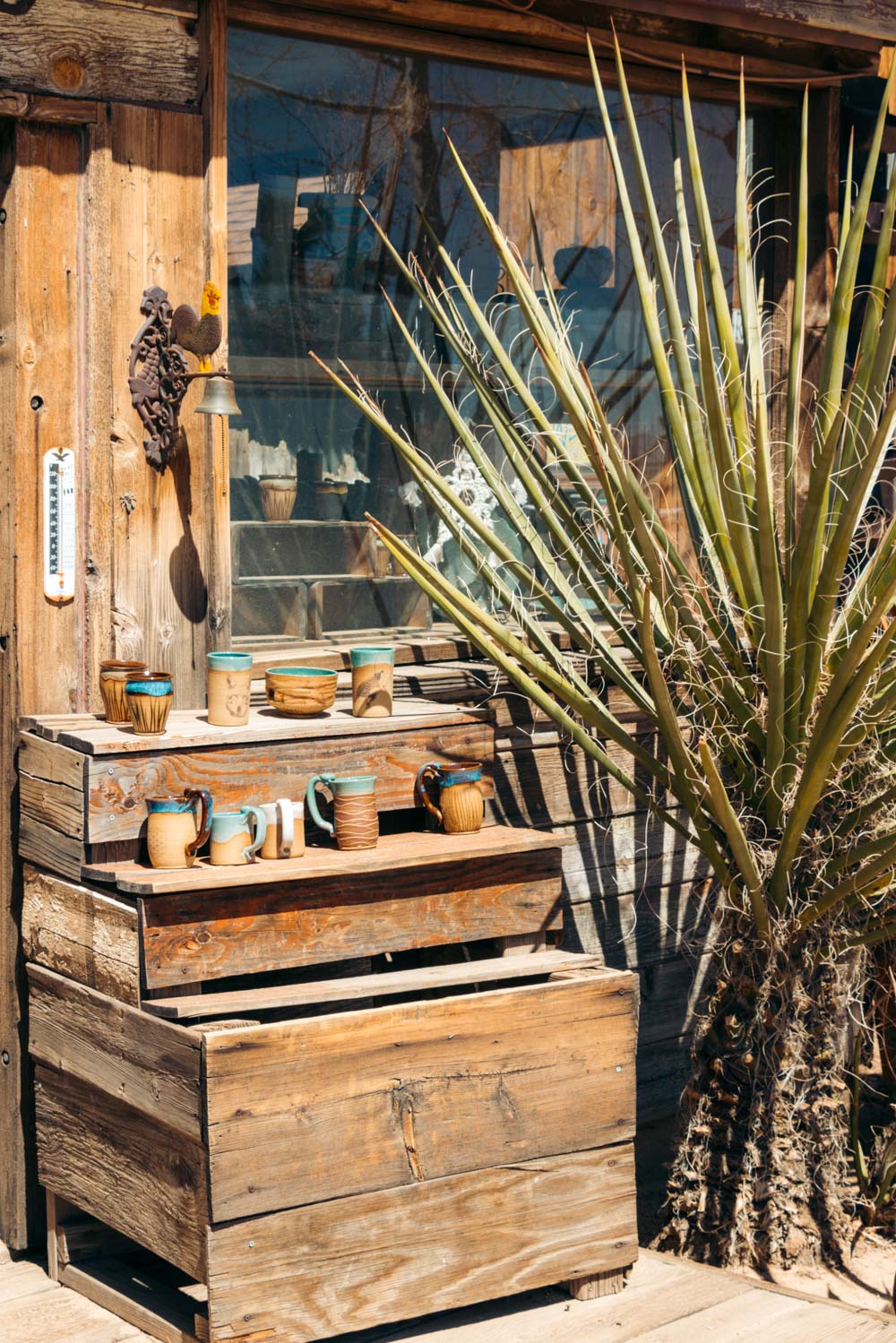 Places to Eat
Pappy & Harriet's Pioneertown Palace
If fear of starving to death (like in all those Westerns that were shot here) stays in your way to a visit to Pioneertown, get rid of it once and forever. When the hunger kicks in, go to Pappy & Harriet's. Famous for its outstanding Barbecue, the place gathers both occasional gourmands as well as some of the world famous musicians. From time to time, the restaurant surprises the visitors of Pioneertown with live shows performed by local musicians and bands from all corners of the world.
Hours: You can visit Pappy & Harriet's Pioneertown Palace from Thursday to Sunday, from 11:00 am until 9:30 pm. On Monday, the place welcomes its hungry guests from 4:00 pm until 9:30 pm.
Red Dog Saloon
One of the first places to be established in Pioneertown, the Red Dog Saloon reopened in 2020. Today, it serves Mexican dishes such as tacos, quesadillas, dips and chips, and drinks. Vegan travelers are also not forgotten. While their choices are rather limited, the guests who try vegan Mushroom Rajas tacos come back for more again and again. The Red Dog Saloon accepts online orders now, making sure that all its guests get yummy food upon their visit to Pioneertown.
Hours: The Mexican eatery is open from Thursday through Monday, from 11:00 am until 8:00 pm. The working hours, however, may change. So be sure to check Red Dog Saloon's website before your visit to Pioneertown.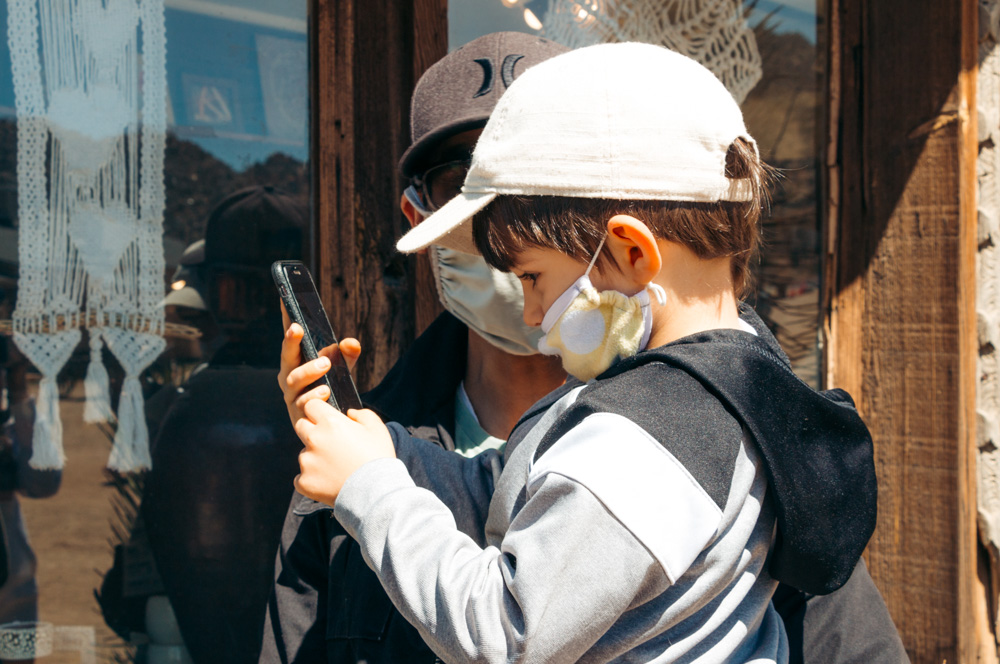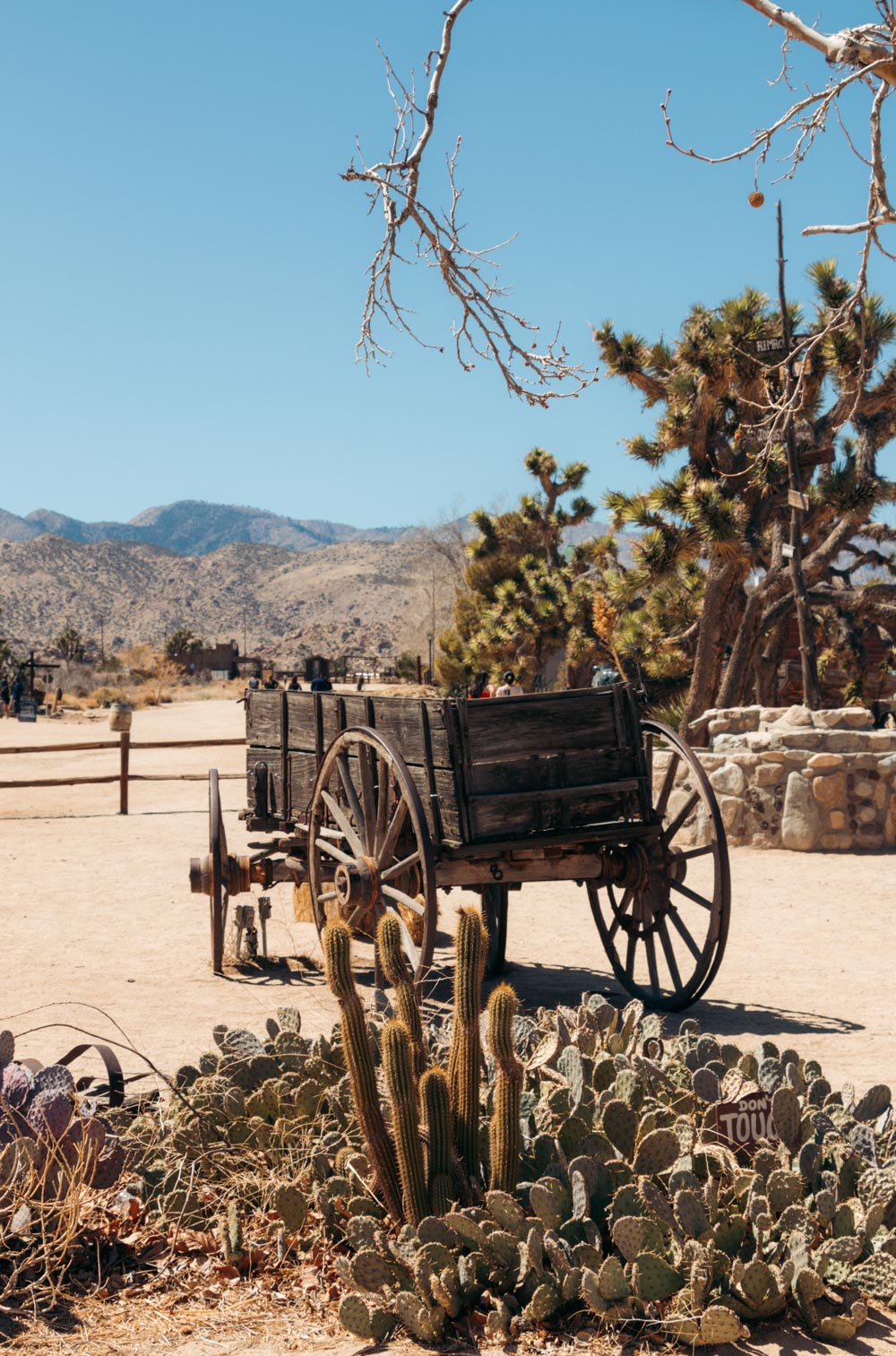 Other Places to Visit in Pioneertown
Pioneertown Film Museum
Added to the area only in 1999, the Film Museum enhances every visit to Pioneertown with interesting and fun facts from the past to present. The place sits in the east corner of Mane Street. Consequently, it's one of the first places to walk into upon arrival. Filled with posters, film props, old billboards in classic western style, the museum presents the best scenes of the Old West.
Hours: The museum is free to visit and enjoy as long as the General Mercantile Shop is open.
The Church in Pioneertown
Originally served as Althoof's Furniture Store, the Church in Pioneertown invites Sunday visitors for a weekly service at 10:00 am.
Pioneertown Motel
Surprisingly, the old town hasn't lost its magnetism when the Westerns' era ended. On the contrarily, home to the Pioneertown Motel, the place ensures not only a pleasant short visit, but only an extended stay.
The Motel has been around since 1946 as a place where curious travelers can pretend to be cowboys and cowgirls. 19 guest rooms along with a 24-hour lounge or "The Canteen" guarantee a unique experience full of long evenings by a fire, stargazing, hiking, or horse-riding in the Pioneertown Mountains Preserve.
False Fronts
Not all places in Pioneertown invite the visitors to walk inside and explore their interior. Similar to the "fake" town itself, some fronts are false, serving only as "extras" in the movies. Among such imposters are Bank and Jail that joined Mane Street around 1998-1999.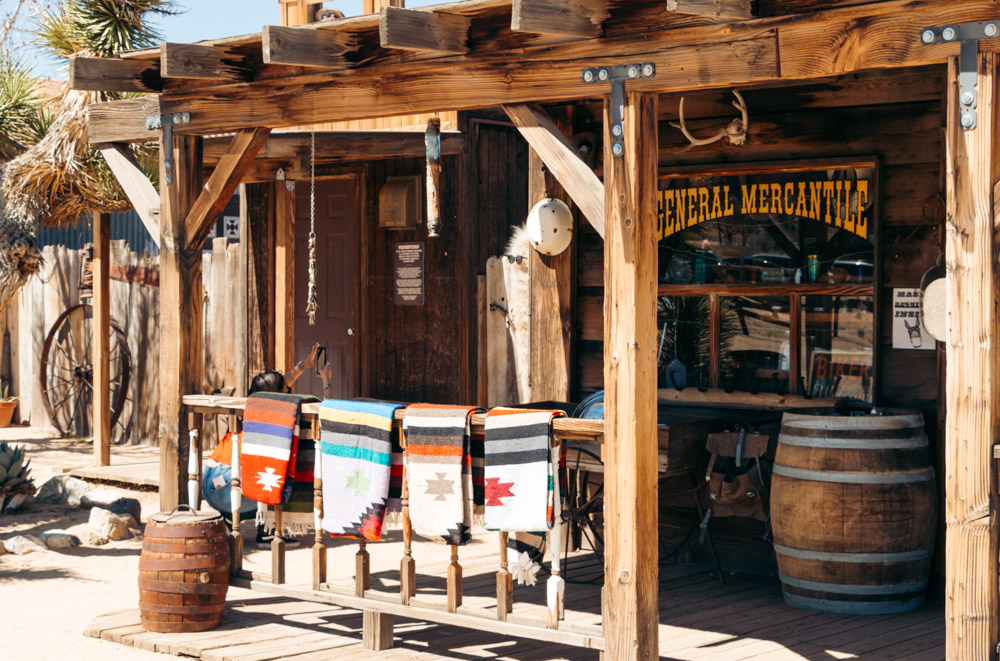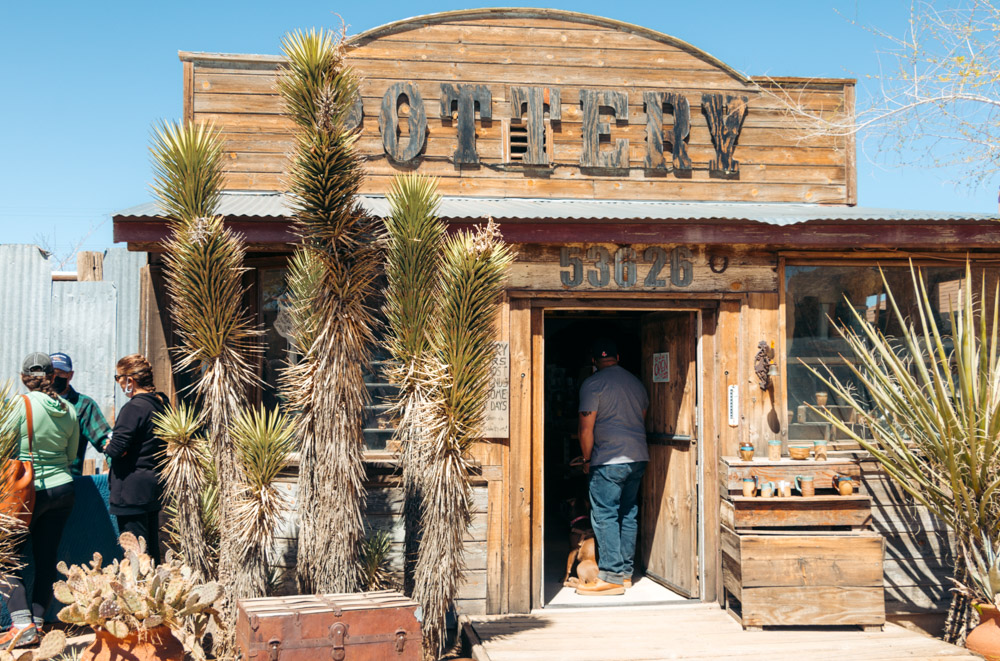 Visit Pioneertown: History in a Nutshell
The grand idea of creating a "Living Breathing Movie Set" came to Dick Curtis in 1946. According to an old tale, the actor received the land in exchange of payment by an old lady who didn't have money to return a loan. The validity of this rumor, however, has never been established.
The most popular story, though, connects 17 investors such as Roy Rogers, Frank McDonald, Terry Frost, The Sons of The Pioneers, and Bud Abbott who got inspired by Curtis's dream. Each future owner of the Pioneertown invested $500.
The raised funds were enough to purchase 32,000 acres of land, that eventually became known as Pioneertown. The idea was to create a 1880's themed town accessible from big cities such as Los Angeles and Palm Springs where friends, families, and co-workers would get together to play and work.
Pioneertown, a place that would come to life only during the owners' visit, didn't fit Curtis's grand plan, though. The father of the town dreamed of an inspiring filming location as well as permanent residence for people working in the entertainment industry and local ranchers. The idea seemed to align with the interests of the other investors, at least in the beginning.
Turbulent Past of Pioneertown
Pioneertown's construction was due to start on September 1, 1946. Initially, the owners planned to name it "Rogersville" in honor of Roy Roger's singing group The Sons of the Pioneers. In attempt to stir up interest and inspire more people to visit future Pioneertown, Tim Spencer wrote a catchy song, "Out in Pioneertown". The recognizable tune changed the fate of the town while also giving it its current name.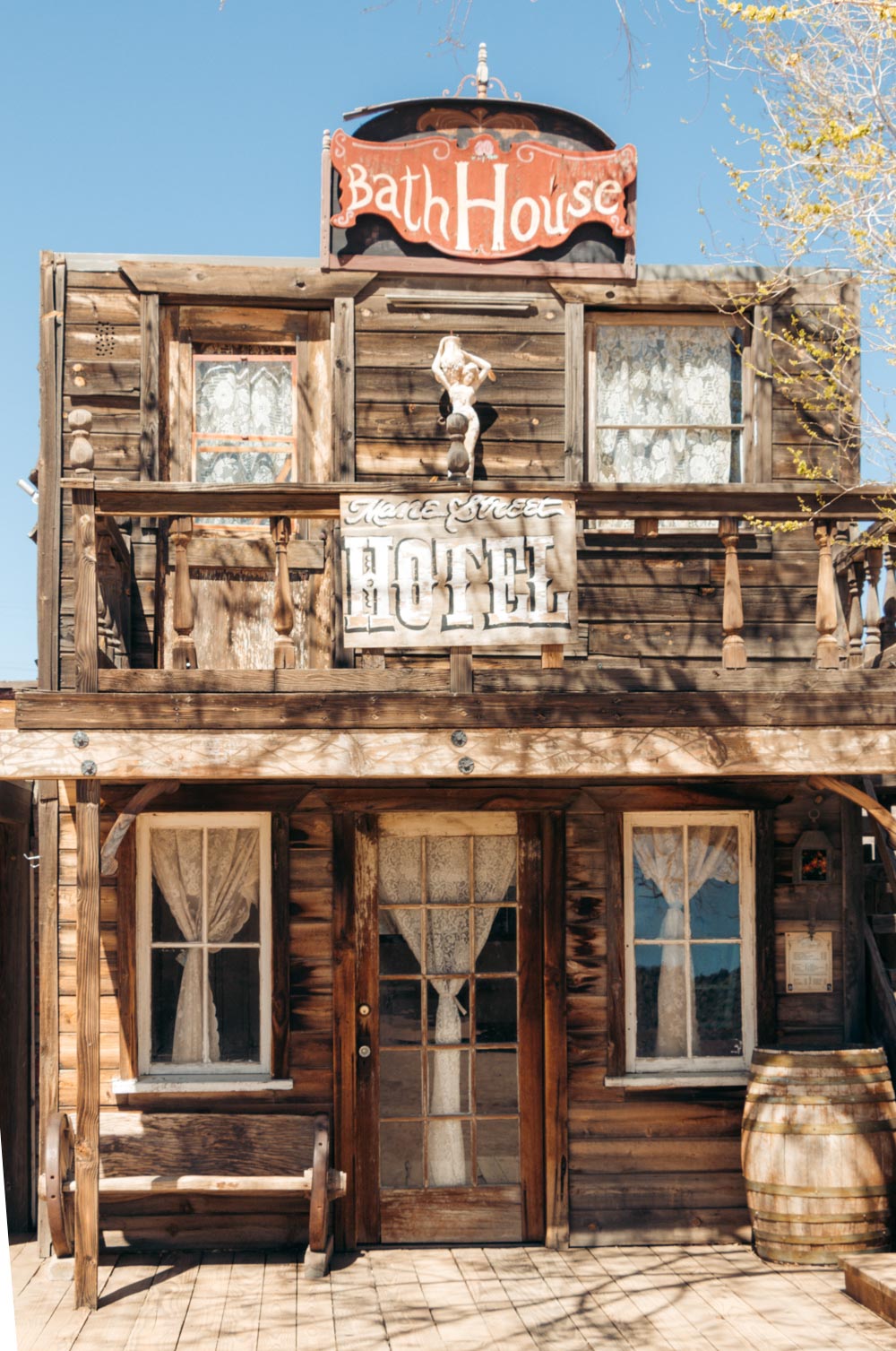 The first structures one could visit in Pioneertown were fully functional business that included the Red Dog Saloon, Pioneer Bowl, the Townhouse Motel, and other enterprises. After the initial construction, more people could visit Pioneertown and even invest in it. Ranch sites near the western film set were offered for sale for as low as $900 for about an acre of land. More investors flocked to the area, contributing to the rapid growth of the town.
The initial popularity of Pioneertown , however, didn't last long. After Dick Curtis resigned as president of the town in 1948, the land sales plummeted. The number of people wishing to visit Pioneertown also decreased. You didn't have to have a crystal ball to predict the future of the recently thriving filming location.
Yet miraculously, the artificial town got the second chance when Philip N. Krasne happened to visit Pioneertown. The producer of "The Cisco Kid" loved the place so much that he signed a 25-year lease. Following this accidental trip, the popularity of the place started to grow. More and more people were eager to finally visit Pioneertown again.
Visit Pioneertown Today
The initial dream of Dick Curtis, however, wasn't mean to come to life. Even nature seemed to oppose the actor's ambitious plans. A lack of drinking water nearby prevented from the further development of Pioneertown. On top of that, fewer curious travelers continued to visit Pioneertown when the Golden Age of Westerns came to its abrupt end.
Yet despite all the obstacles, the quintessential town has survived. Still a fully functioning production set, the area allures new kinds of the travelers. Thousands of people visit Pioneertown to soak up its rustic vibe and enjoy the almost forgotten era.
Overall, more than 50 movies and serials, including "The Cisco Kid", "The Range Rider", "Buffalo Bill Jr.", and "The Annie Oakley Show", were filmed in the old western town. Pioneertown, however, has never retired, adding new films and videos to its expansive collection.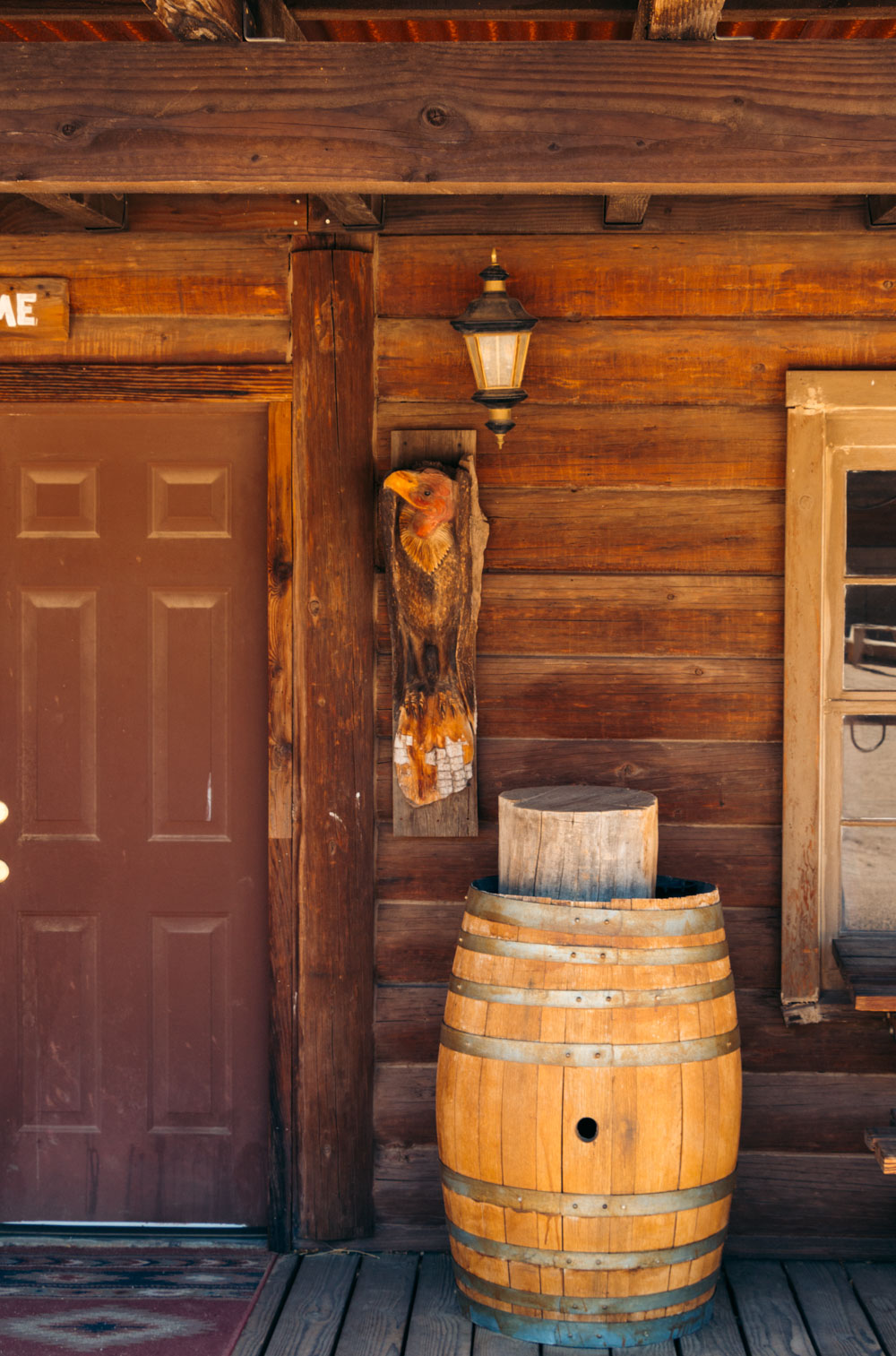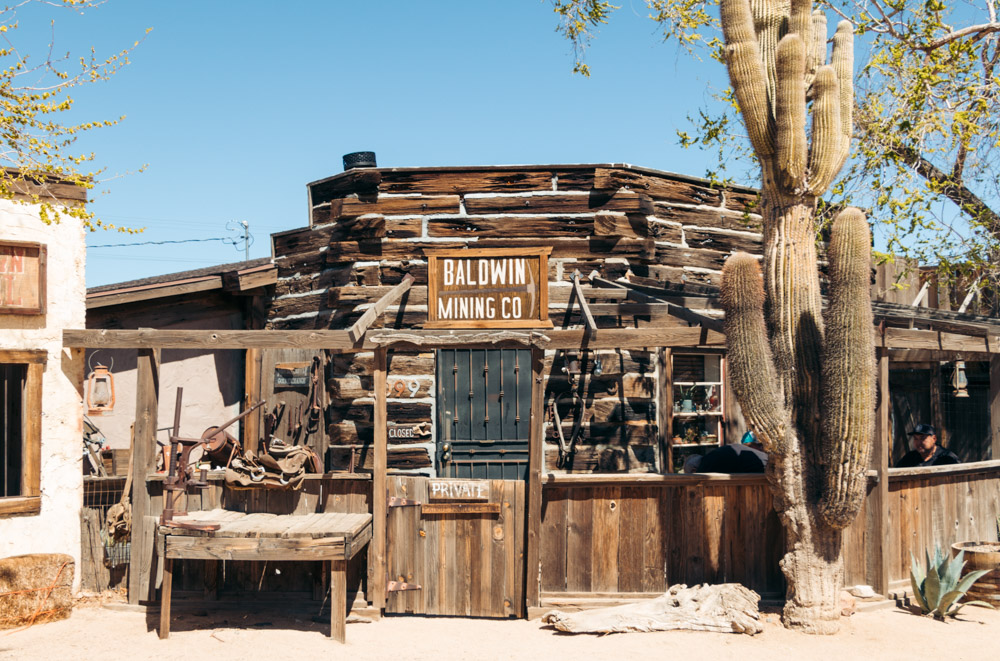 How to Visit Pioneertown
The best thing about your visit to Pioneertown is that you can do it at any times and on your own terms. Whether you stop by for a quick glance or decide to spend a night at the Pioneertown Motel, here is what you should know before your arrival.
Visit Pioneertown by Car
Driving is by far the best way to visit Pioneertown. Its secluded location and the relatively small attractions stay outside popular routes of travel agencies that offer an increasing amount of guided tours in the American Southwest. Apart from it, you can hardly if ever rely on public transport in this area.
Parking in Pioneertown
Upon your arrival, park on either end of Mane Street and visit Pioneertown on foot. Parking is free. Plenty of parking spaces can be found near Pappy & Harriet's. The Pioneertown Motel also has its own parking lot, which makes every visit even more convenient.
Parking on Mane Street is no allowed. Moreover, the majority of the houses near the popular street are private residences. Thus, avoid blocking or parking in private driveways.
Only Horse and Foot Traffic
Just as it was in old times, only horse and foot traffic is permitted on Mane Street. No biking, no parking, and certainly no driving when visiting downtown Pioneertown. On the other hand, you won't have inconveniences as everything is located within a short walking distance.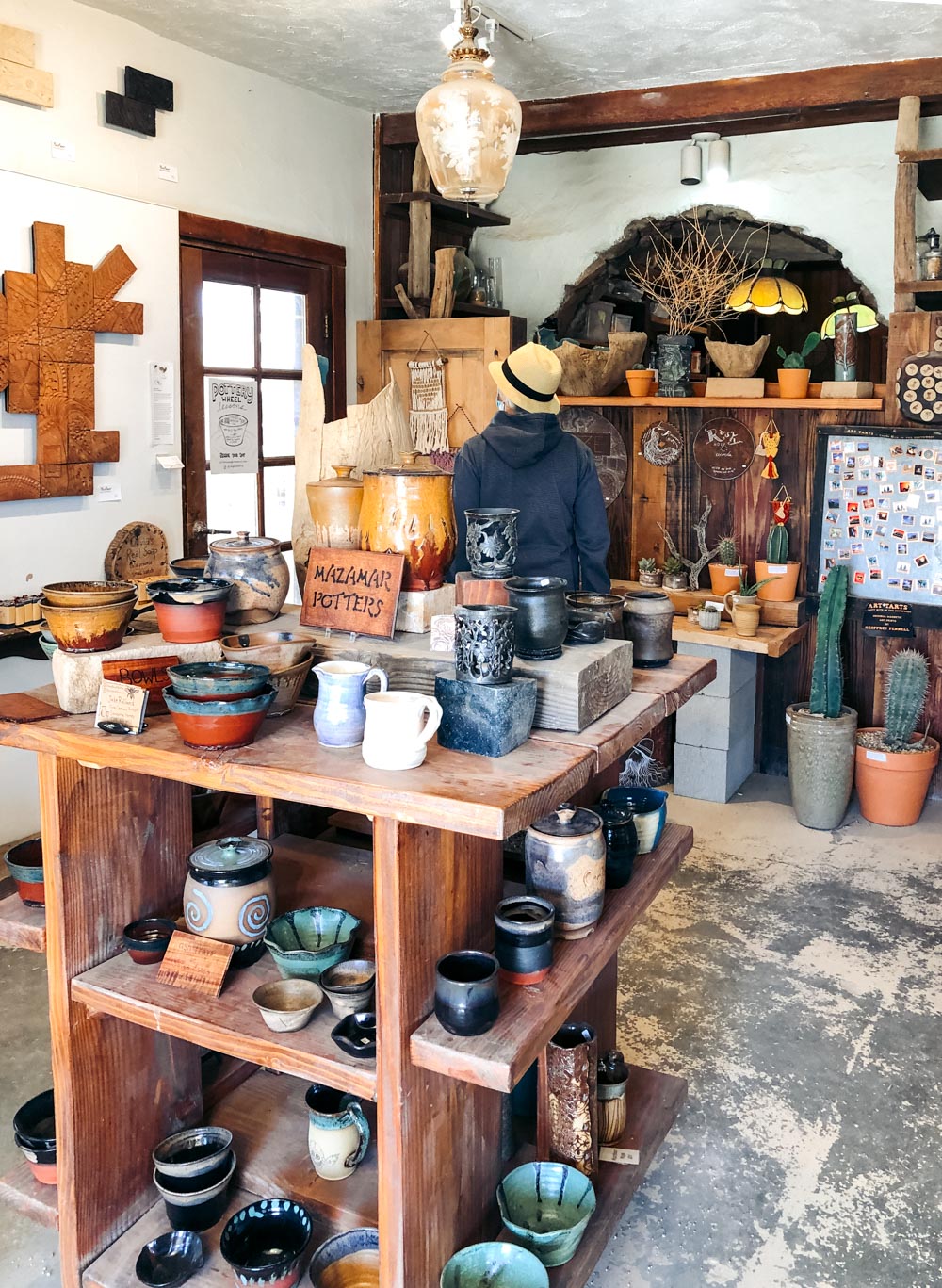 Visit Pioneertown: Helpful Tips
Safety
Rattlesnakes are common in the High Desert. So be alert and keep a watchful eye. When you hear some subtle movements or sounds in untrodden areas, don't rush to see what you can find there. Furthermore, wear appropriate clothes and shoes during your visit to Pioneertown. And certainly, stick to designated trails when hiking in the Pioneertown Mountains Preserve.
Leave no Trace
Preserve the uniqueness of Pioneertown for other travelers. During your visit to Pioneertown, toss your trash only in designated barrels located up and down Mane Street. If you can't find any of them, take your trash with you and throw it away later.
Pets on Leash
Good news for travelers with pets. You can visit Pioneertown with your four-legged friends. The pets are welcome in the old filming location as well as inside almost every business. A strict leash policy for all animals is, however, imposed.
Photography and Filming Permits
Many people visit Pioneertown to photograph or film its unique structures. While photography for personal use is allowed, any commercial photoshoots require permits. Furthermore, since Pioneertown has more than one owner, you might need to obtain multiple permits, each for the property you want to shoot at.
No Drone Zone
The western town is a no drone zone. Yet in rare occasion, you can visit Pioneertown and film its sites with a drone. A permit, however, is required to do so.
Admission
Pioneertown is free to visit. Whether you explore the place on weekdays or join the weekend crowds, there is no admission fee whatsoever. Save your money to spend it on souvenirs and gifts from the Pioneertown's stores.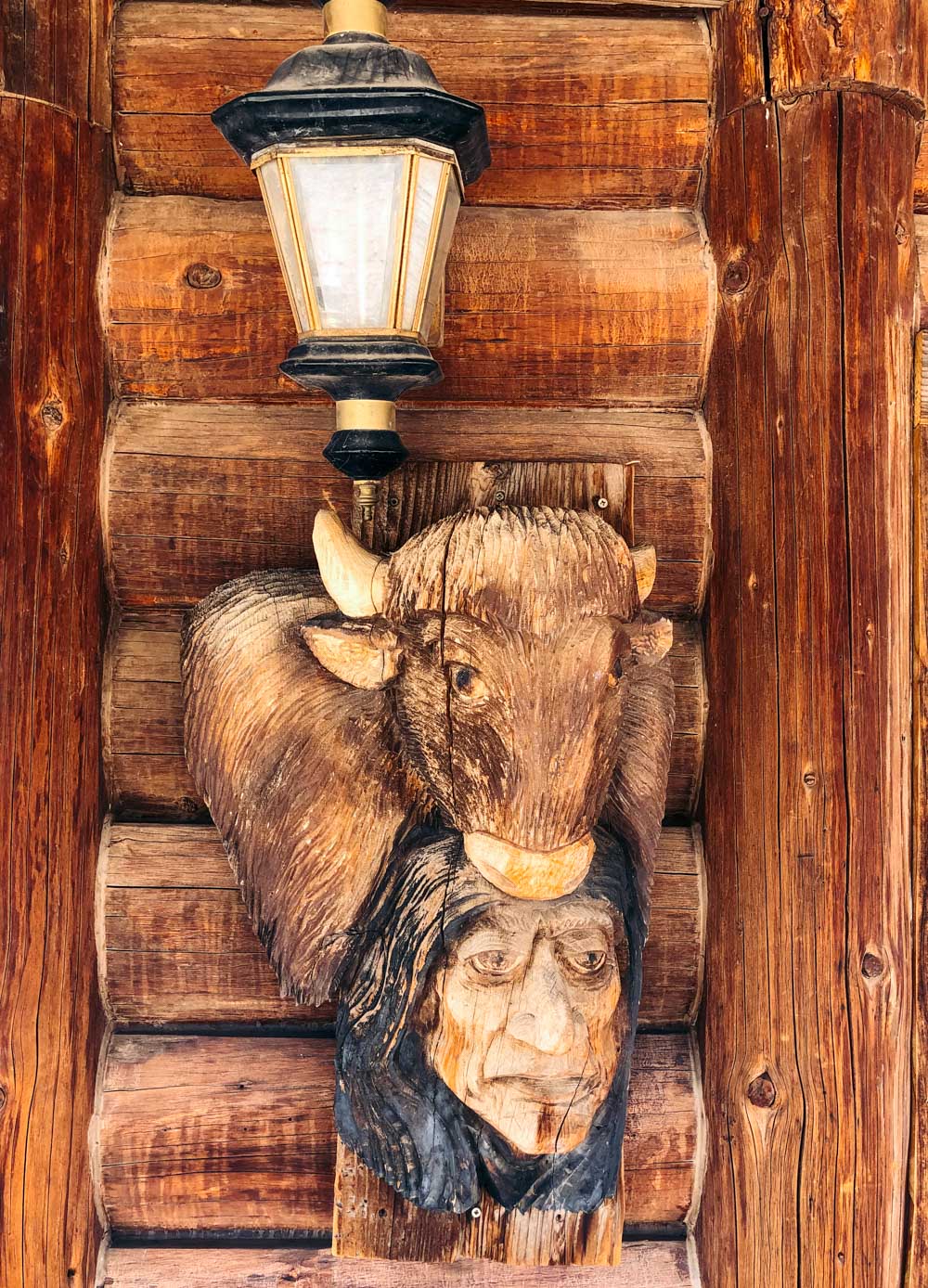 How Much Time You Need to Visit Pioneertown
You can visit Pioneertown and see all it has to offer in as little as 15 – 30 minutes or as long as one or several days. The place is relatively small with all major attractions located on Mane Street. Those who long for a longer adventure can book their stay at the Pioneertown Motel and explore the area and its surroundings to the fullest.
Places to Visit Near Pioneertown
Palm Springs (40 minutes)
Joshua Tree National Park (30 minutes)
Big Bear Lake (1 hour 22 minutes)
Los Angeles (2 hours)
Lake Arrowhead (1 hour 40 minutes)
San Bernardino (1 hour 15 minutes)
Riverside (1 hour 20 minutes)
Desert Hot Springs (30 minutes)
Frequently Asked Questions
Is Pioneertown worth a visit?
Pioneertown is a unique western town and production set that is certainly worth a visit, especially if you live nearby. It's also a beautiful spot to add to you itinerary when road-tripping through the American Southwest. On its own, Pioneertown might be too small and insignificant to visit and spend hours upon hours exploring it.
Where can you eat while visiting Pioneertown?
For a hot meal, visit Pappy & Harriet's, one of the veterans of Pioneertown. The newly reopened Red Dog Saloon adds Mexican taste to the western atmosphere of the place.
Read Next
---
If you enjoyed this post, don't forget to pin it for later and share it with your friends.