Soft, rich in flavor, moderately sweet – medovik complements any Russian feast. No occasion? No problem. Just make a cup of herbal tea and sweeten your afternoon (any afternoon for that reason) with a slice of this eggless, dairy-free Russian honey cake.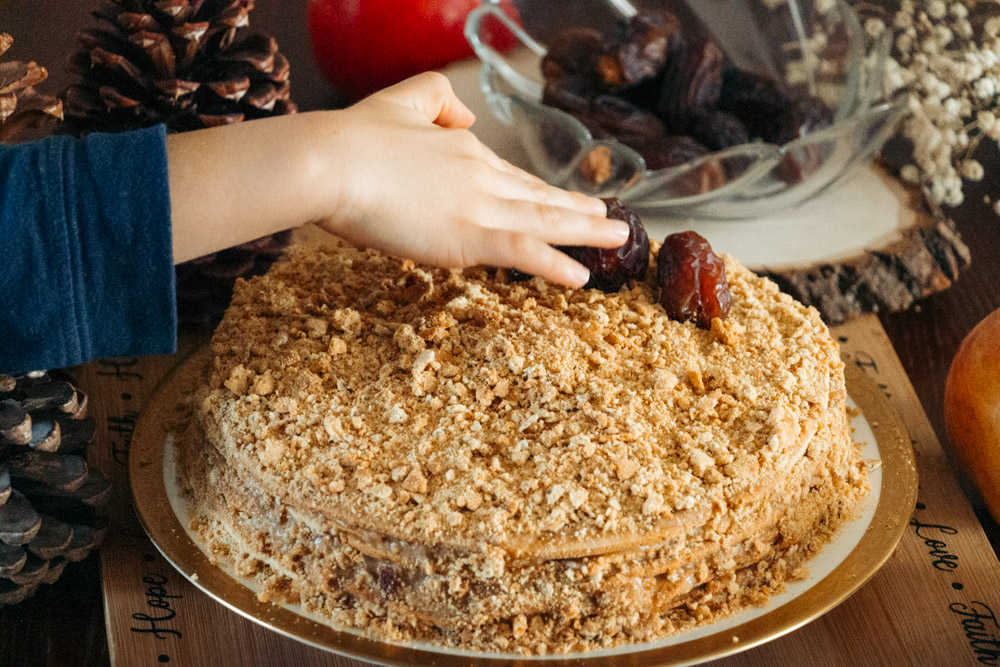 How to Make Eggless, Dairy-Free Medovik (Russian Honey Cake) at Home
Olivier salad, herring under a fur coat, mushed potatoes, vinaigrette salad, some meat dishes, and medovik… Although I grew up in Eastern Europe, Russian culinary traditions were close to us. These dishes were typical for almost every holiday celebration in our house.
While the gastronomic abundance on the celebratory table could make anybody hungry in an instant, we as kids couldn't wait for dessert. Not rarely, we would retreat to our kitchen and munch on medovik, known as Russian honey cake in the West, starting the final part of the feast almost as soon as it began.
What is Medovik (Russian Honey Cake)
Medovik that derives from the Russian word "myod", which means honey, is one of the popular cakes in Russia and the post-Soviet region. The second favorite sweet dish is Napoleon cake. While the latter symbolized triumph over the Napoleonic army, medovik was introduced into Russian cuisine unintentionally.
The most popular (and the only one I've heard) story relates the Russian honey cake to Empress Elizabeth Alexeievna. As the tale goes, the empress disliked honey and any dishes made with it. Elizabeth's subjects respected her dietary preferences and left the honey out of the kitchen walls. (One would argue whether the cooks loved or loathed the empress, but they certainly didn't want to test her temperament.)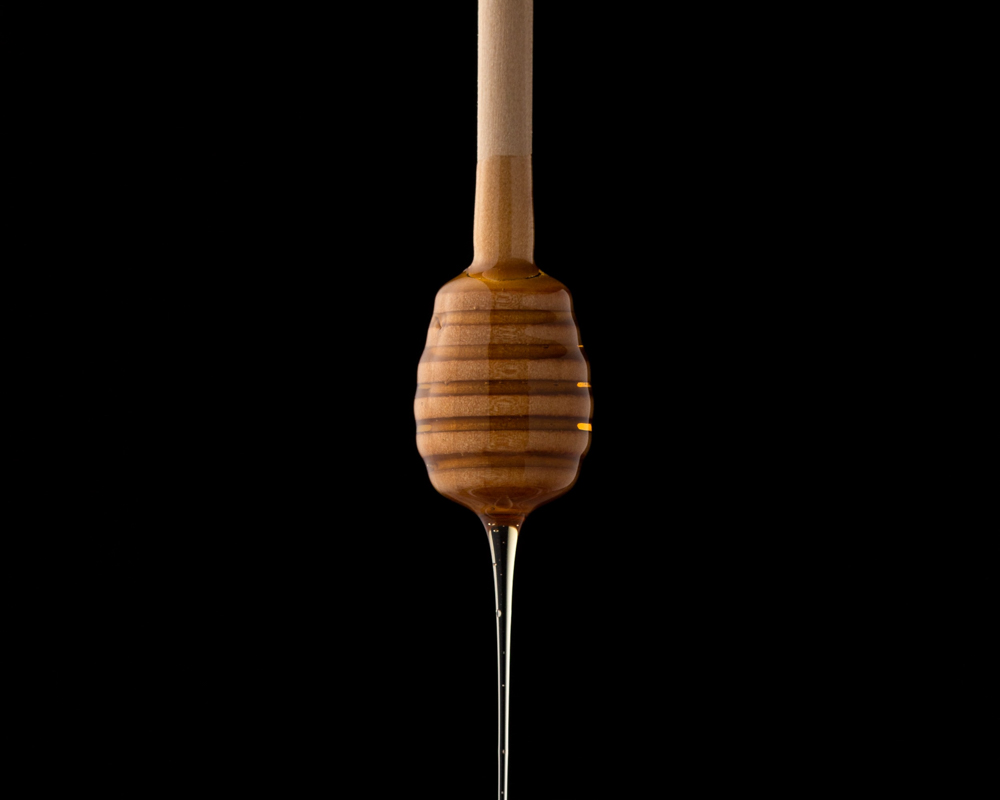 One day, however, a new confectioner walked into the royal kitchen. To please the empress, the pasty chef baked a sweet cake – that later became known as medovik or Russian honey cake – adding a generous amount of honey in it. To the surprise of the whole royal court, Elizabeth loved the cake.
The story of the Russian honey cake normally ends here. So it makes us only guess that the recipe spread across the country and medovik became an integral part of any Russian celebrations.
Where to Find and how to Make Medovik (Russian Honey Cake)
Different variations of Russian medovik can be found in various parts of the former Soviet Union. Some recipes of this honey cake request sour cream. Others rely on condensed milk to glue medovik layers together.
With that said, practically every restaurant and cafe in the region offers slightly different styles of Russian honey cake. But a few things never change. The multilayered medovik (usually it has 8 layers) is soft and well-soaked in sweet cream.
This cream or frosting – if you prefer to call it this way – is by far the main part of Russian medovik that changes frequently. Some sophisticated recipes ask for caramelized condensed milk. You can get it by simmering a can of the store-bought condensed milk (in the USA, it's often labeled as Dulce de Leche) for hours until the milk obtains brownish color and a distinct taste.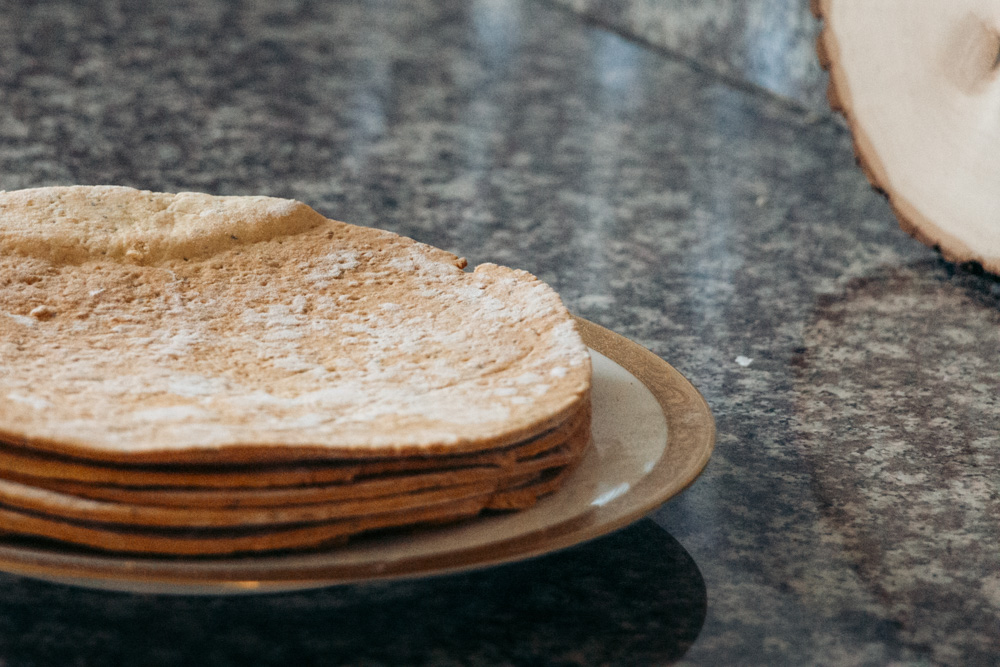 Many Russian housewives use sugary sour-cream frosting, the more the better. As the pasty chefs in our house, my sister and I used both of these creams for a while. Eventually, we settled for sour cream medovik – a Russian honey cake slathered generously with homemade frosting made mostly of sour cream and sugar. (There was a lot of dairy products consumed back then for sure.)
Why do Many still Buy Russian Honey Cake aka Medovik then?
Despite the abundance of the Russian honey cake recipes, which can be easily adjusted to one's preferences, many still prefer to buy medovik. For them, making the 8-layered honey cake at home is a nightmare.
These people might be right in their way. My sister and I would spend hours rolling out thin dough sheets and baking them one by one when we first started making medovik at home. But once you get the hang of it, Russian honey cake can be made in less than one hour.
The other issue with medovik is that the thin layers get crispy and hard as soon as they cool down. If you try to cut them now to get that perfect round shape, they break right away. Yet the layers regain soft texture after being "soaked" in the cream for a few hours.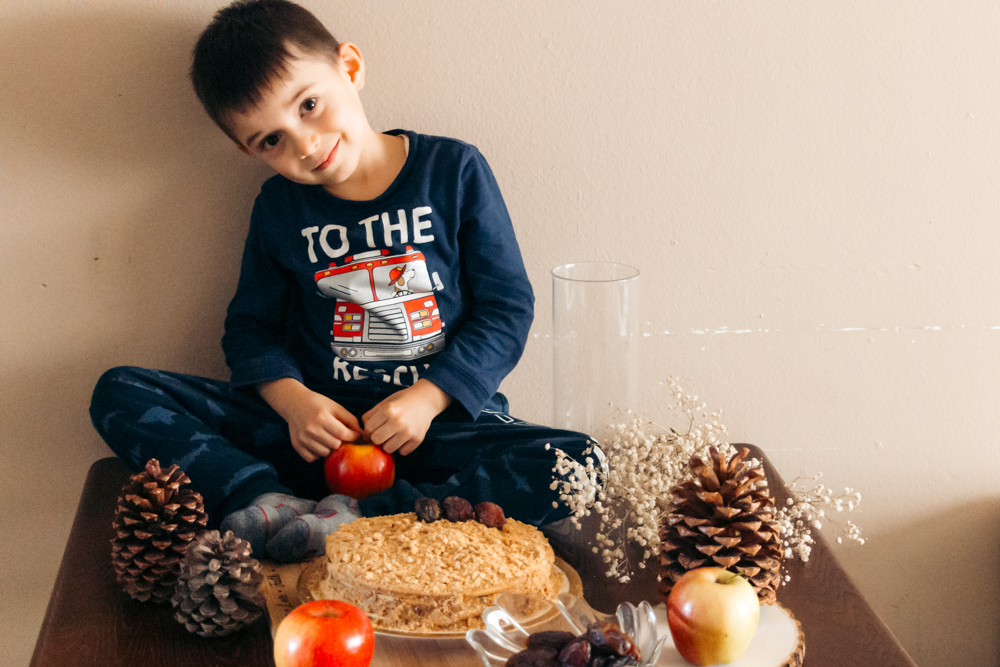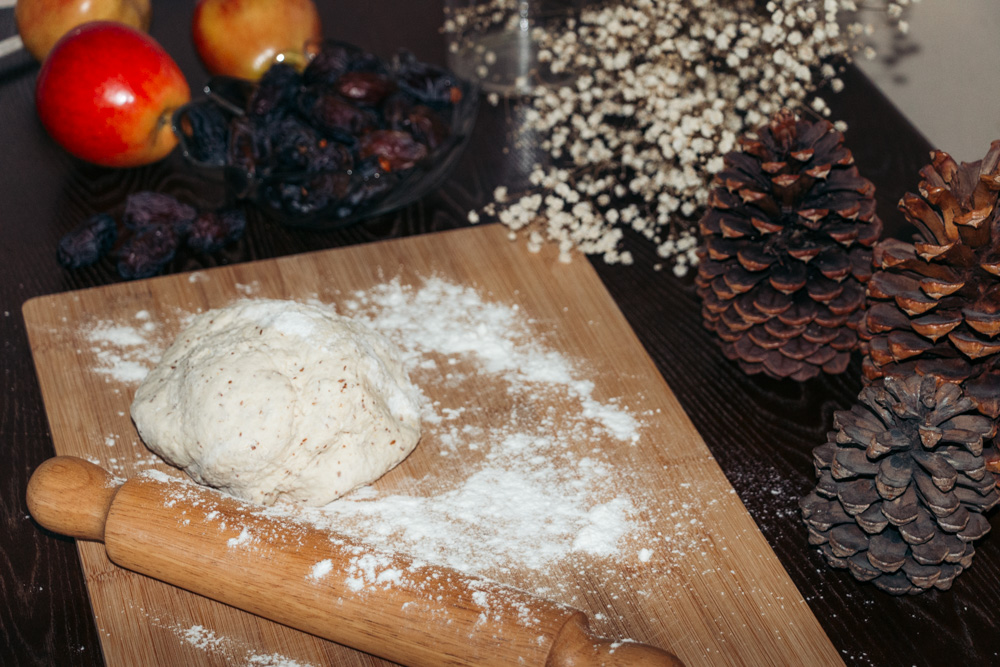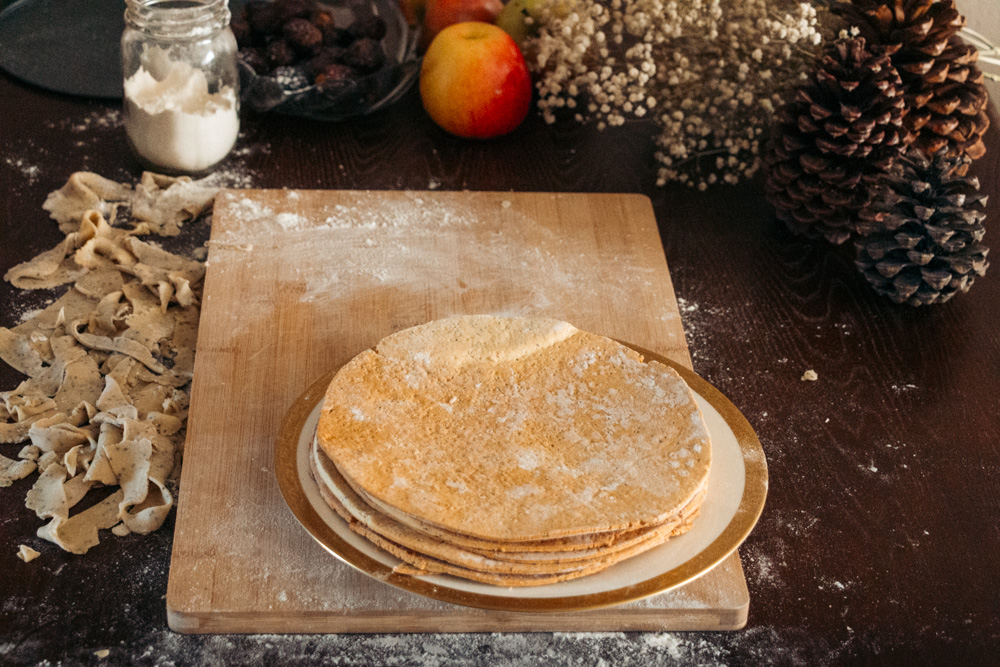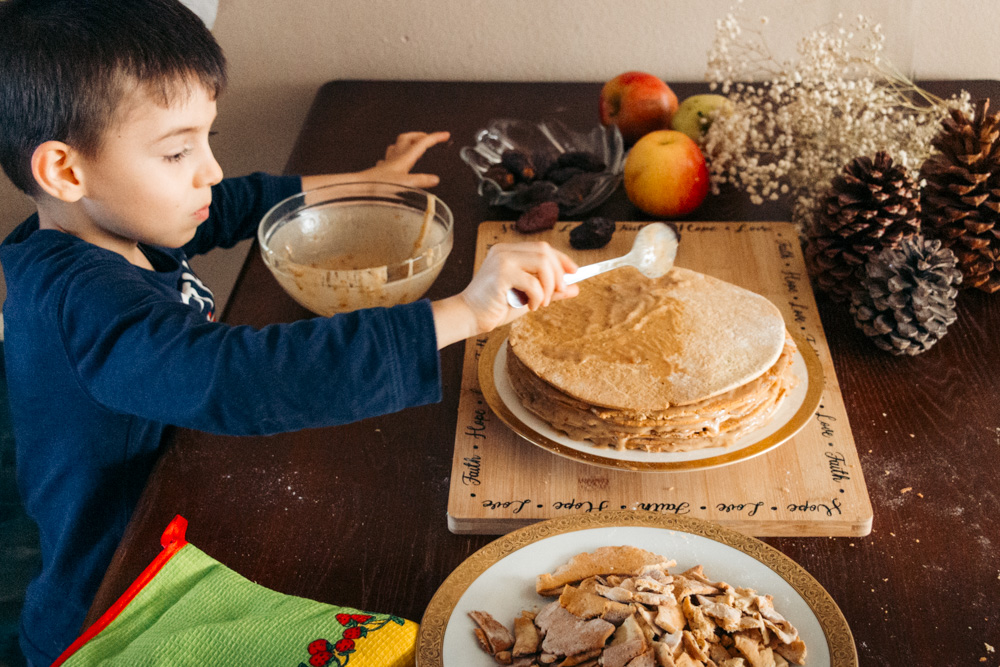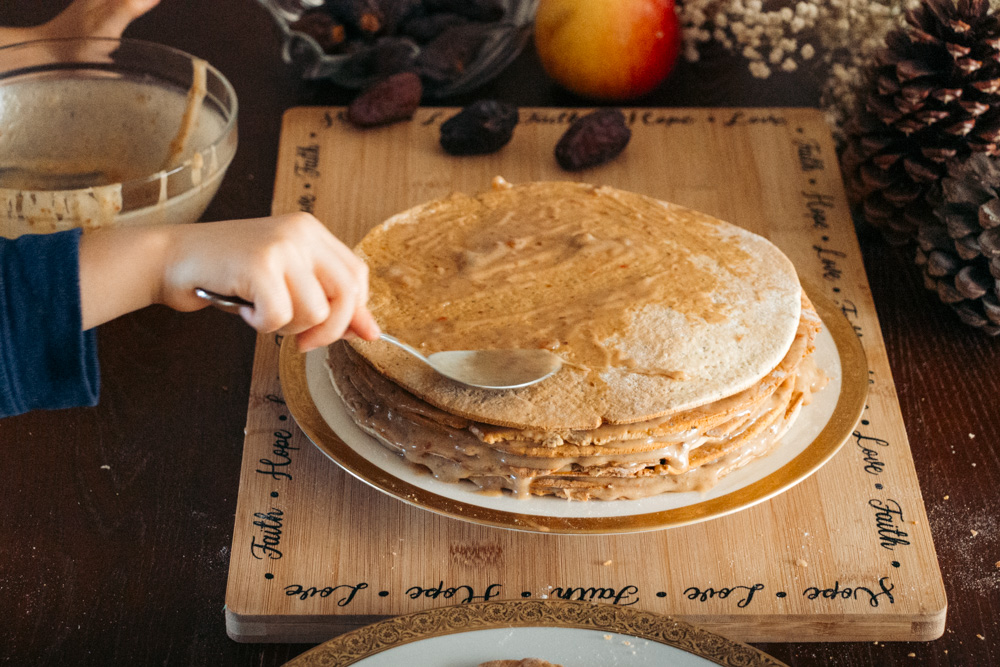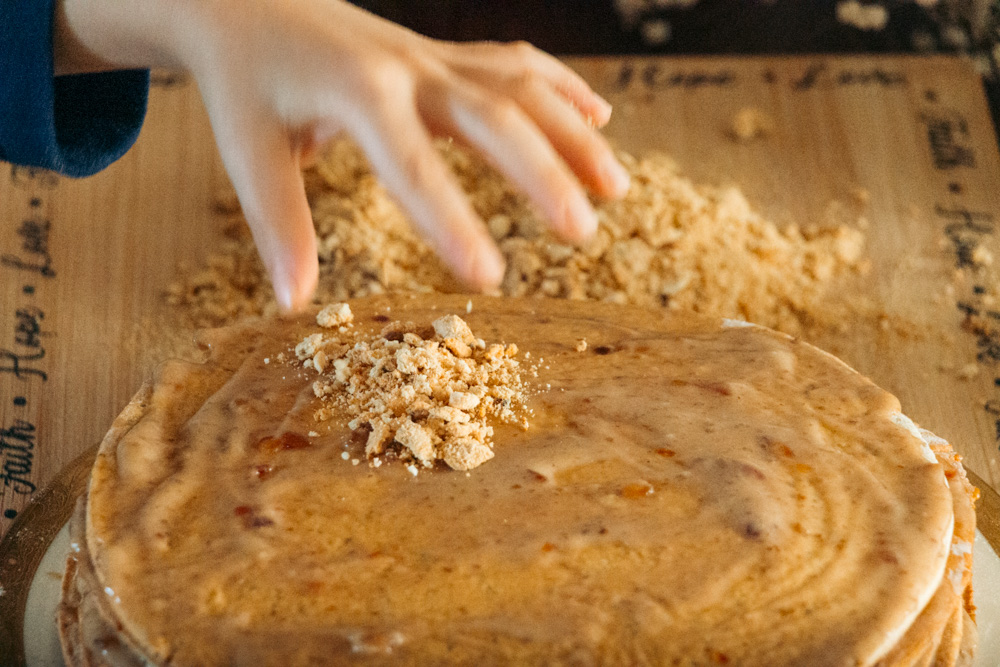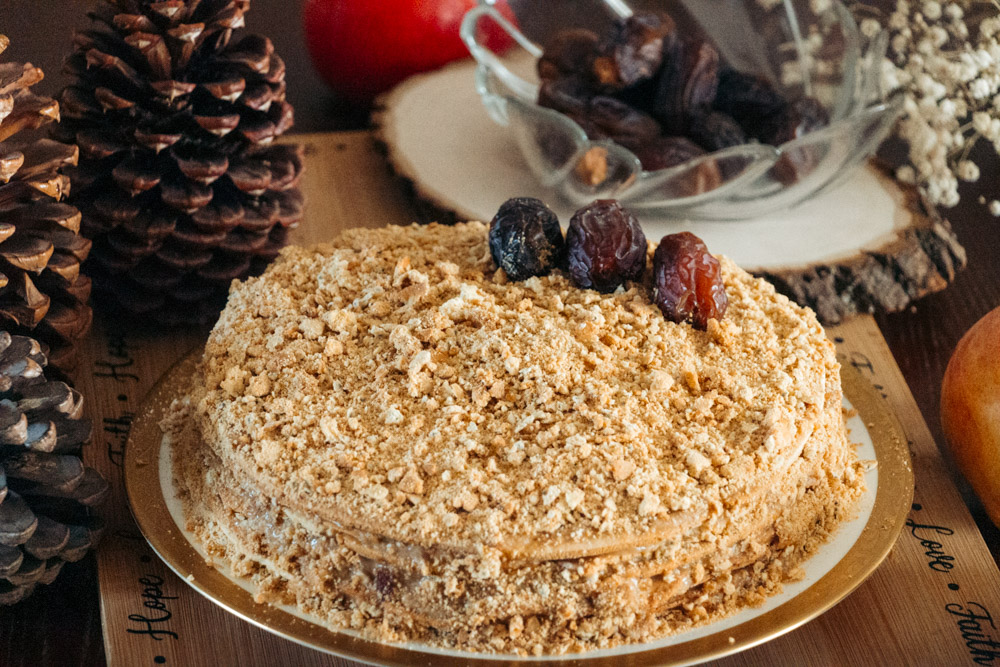 How to Make Eggless, Dairy-Free Medovik
I've been playing with the original recipe of medovik or Russian honey cake – whatever you prefer to call it – for years. Not a fan of dairy and meat products any longer, I substitute eggs for flax eggs or chia eggs. Instead of sugar, I use date paste.
Coconut cream replaces the condensed milk. Its subtle flavor gives medovik a slightly exotic taste. On top of that, this recipe is healthier and still reminds of Russian honey cake I used to make years ago.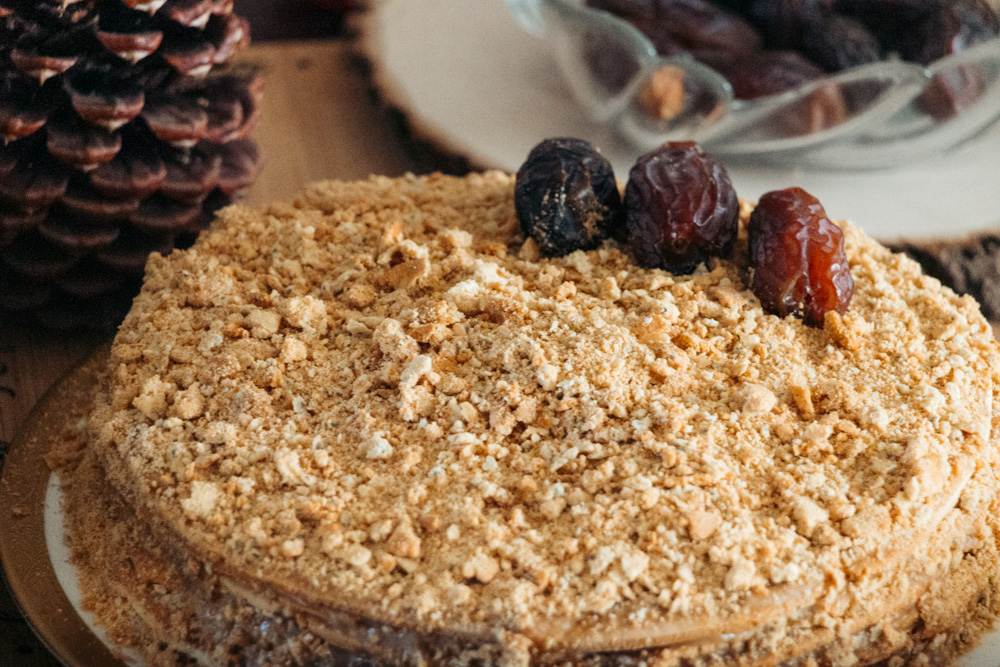 EGGLESS, DAIRY-FREE MEDOVIK (RUSSIAN HONEY CAKE) RECIPE
Ingredients
1/2 cup honey
2 tbsp coconut oil (you can use vegan unsalted butter)
2 chia eggs or flax eggs (each egg substitute adds a specific taste to your medovik) 
1 1/2 tsp baking soda (I normally quench it with 2 tbsp apple cider vinegar)
3 cups all-purpose flour (use gluten-free if you prefer)
Frosting/Cream
20 oz (1 1/2 cans) coconut cream/milk
1 cup date paste
Method
Place the flour in a large mixing bowl. Add the honey, coconut oil, and chia or flax eggs, baking soda quenched in the apple cider vinegar. Mix well.
Knead the dough on a well-floured surface for a few minutes to make sure the ingredients are well mixed. Divide into 8 pieces.
Preheat the oven to 350 degrees Fahrenheit.
Roll out the dough ball into a thin circle, 1/8 inch thick. Place a round, about 9 inch, plate or base of a springform mold over the rolled dough and cut out uneven, sticking out parts to get a perfect circle. Keep the scraps for later.
Bake one layer of your medovik for 4-5 minutes or until golden brown. Let it cool down. Repeat the same with the remaining 7 pieces.
Last but not least, bake the scraps.
Blend the coconut cream with the date paste.
Slather a generous amount of the cream/frosting on one layer. Place the next one on top of the first and add just as much cream as for the previous. Repeat until all of your medovik layers are nicely placed on top of each other and generously "stitched" with the coconut-date cream.
Crash the baked scraps with a rolling pin or blend them in a food processor. Sprinkle on top of the cake
Let your medovik sit in the refrigeration for 3-5 hours.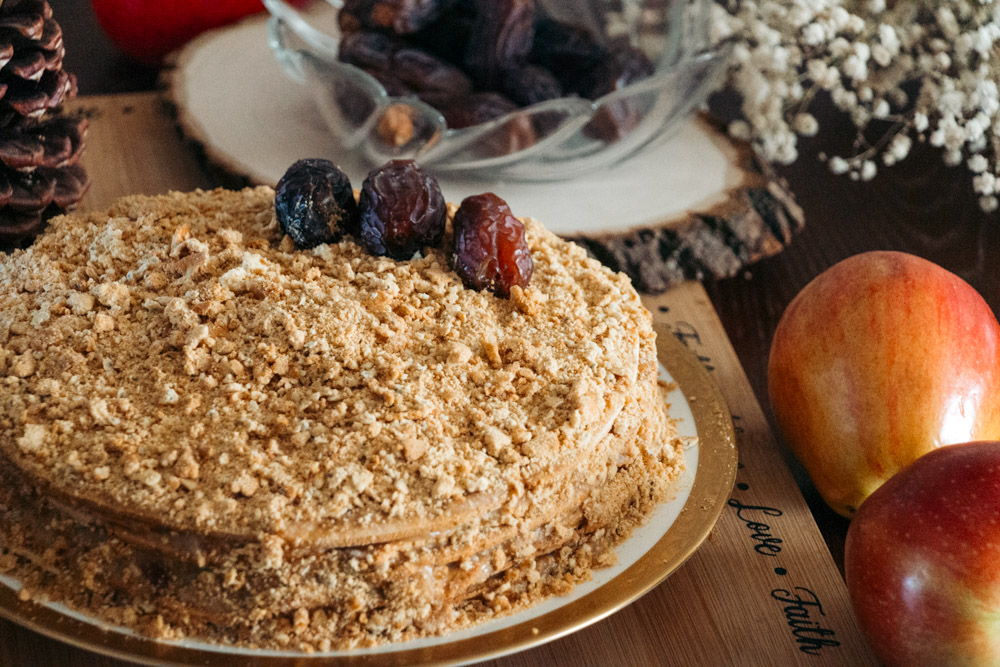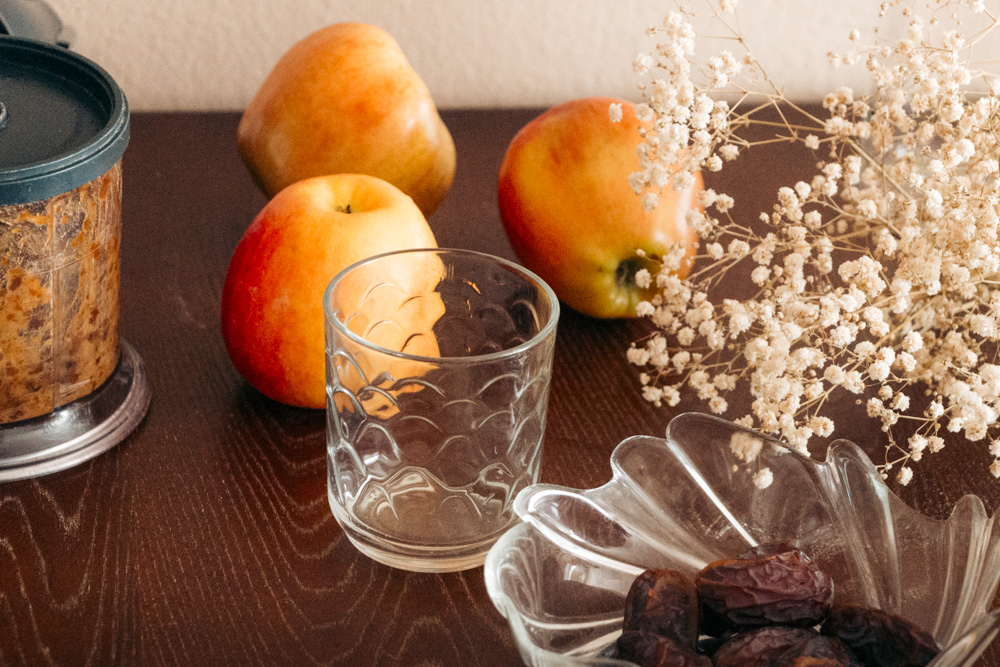 Notes
For one flax egg, mixed 1 tbsp flaxseed meal with 2 tbsp water. Let it soak in the refrigerator for 15 minutes.
For medovik with the chia eggs, mix 1 tbsp chia seed with 2.5 tbsp water. Double these amounts to get 2 chia eggs. Let the mixture stay in the refrigerator for 10-15 minutes.
To make the date paste, in a blender, blend 1 cup of pitted dates with a little bit of water. (You can use any varieties. I prefer Medjool dates as they are sweeter and juicier.) Occasionally, scrape the dates off the sides of the blender. Blend until you get a homogeneous mass.
Baking the 8 layers of this egg-free, dairy-free medovik can take time. To expedite the process, roll out the next layer while the first is still sitting in the oven. Once you get the hang of it, you can get all the layers ready for baking in 7-10 minutes. Then use the time in between baking for making the date paste and coconut-date cream.
To save time, you can use a large baking tray and bake two layers at a time. Flour the baking pan so the dough doesn't stick to it.
If you're interested in more travel-inspired dishes, check out these recipes.