Indeed, you can have a great time in Yosemite National Park with kids, exploring different sites and doing various things without hiking along the most arduous trails or climbing the highest granite rocks.
Last updated: October 21, 2023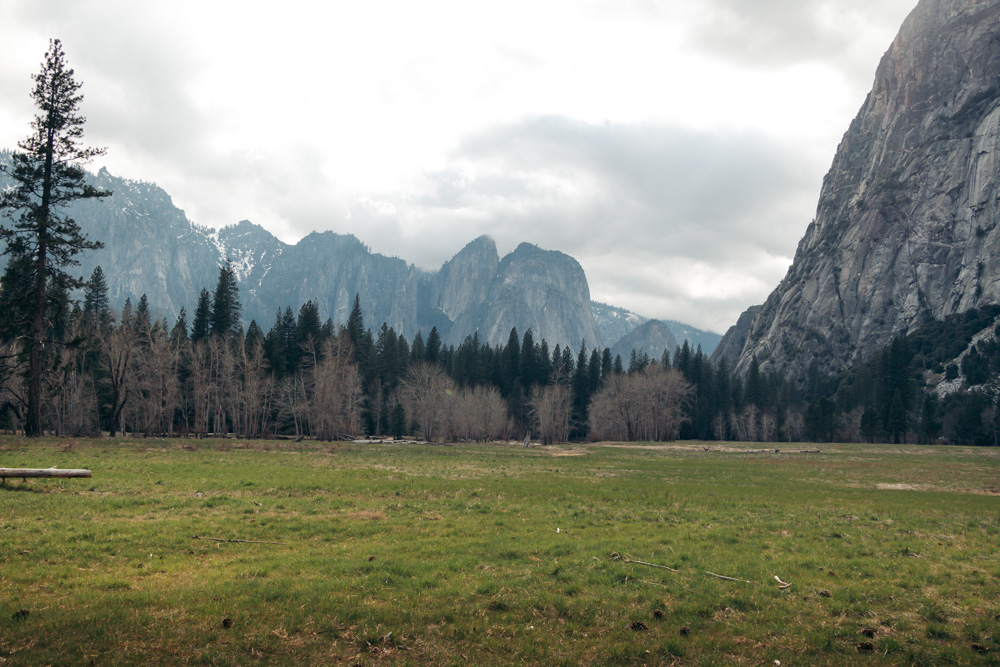 Top 11 Things to Do and Places to Visit in Yosemite with Kids
One of the finest national parks in California, Yosemite is rightfully considered an outdoor adventurer's playground. With its prominent natural attractions such as massive Half Dome and granite El Capitan, the area entices experienced hikers and climbers from all around the world. The things to do here for these experts are endless, the places to test their athleticism are unmatched.
We are neither long-distance hikers nor climbers. Moreover, every time we travel to Yosemite, small children whether it's Dylan or our nieces come along. So climbing or ascending the world-famous peaks have to elude our list of kids-friendly to-do things in Yosemite. And yet during every trip we somehow run out of time, leaving various hikes and overlooks for the next visit. 
So it's true to say Yosemite is far more diverse. While the national park always caters for more experienced outdoor enthusiasts, it also never ceases to allure families with kids of all ages. Whether you travel with a baby, toddler, or teenager, you can count on the park to entertain each of you without fail. 
Without further ado, here are the 11 best things to do in Yosemite with kids. No excessive hiking, furthermore, climbing is required. Yet some more demanding activities can also be added to your Yosemite itinerary, if you and your children are up to the challenge.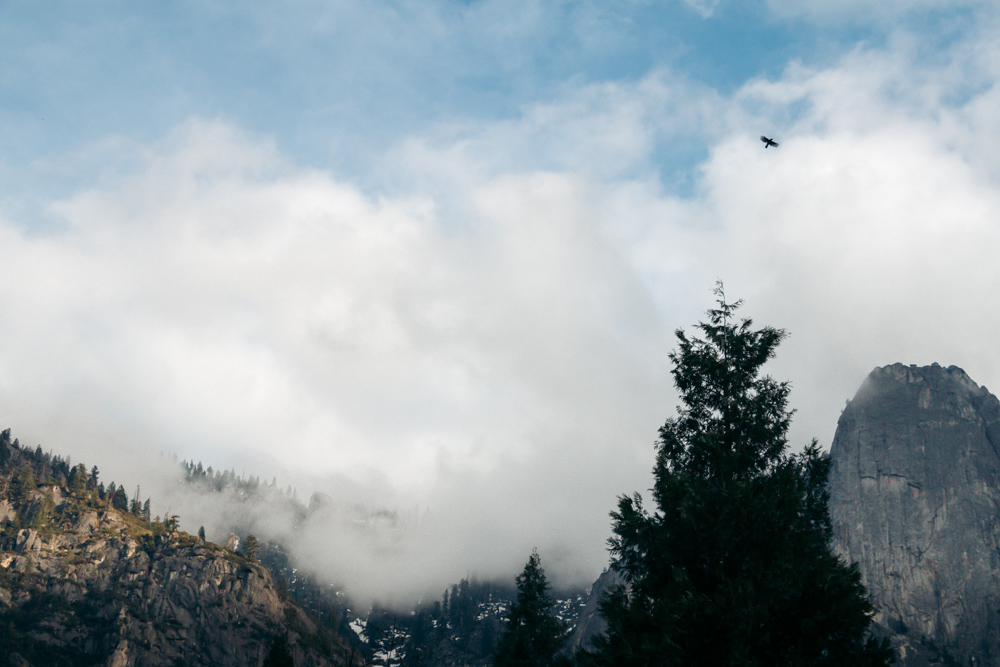 HOW TO EXPERIENCE YOSEMITE WITH KIDS: THE BEST THINGS TO DO AND PLACES TO VISIT
1. Get a "Cold Shower" at Bridalveil Falls
Bridalveil Falls was one of the first landmarks to fascinate me the first time I traveled to Yosemite with my brother's and his two daughters. The towering waterfall didn't fail to impress us years later when Dylan came along with us. 
Plunging 620 feet, the gigantic waterfall introduces most of the families with kids to Yosemite's kingdom, jam-packed with falls and cascades of different sizes. Bridalveil Falls nestles a short walk from a designated parking lot. This easy hike is especially appreciated by kids, exploring the wonders of Yosemite for the first time. 
As you get closer to a granite wall, almost at the bottom of the waterfall, large rocks barricade the trail. Feel free to climb some of these boulders to get a better view and a "cold shower" generously provided by mist and splashing water. 
TIP: The rocks are normally slippery, though. So keep a watchful eye on your kids.
READ MORE: Chasing Waterfalls in Yosemite National Park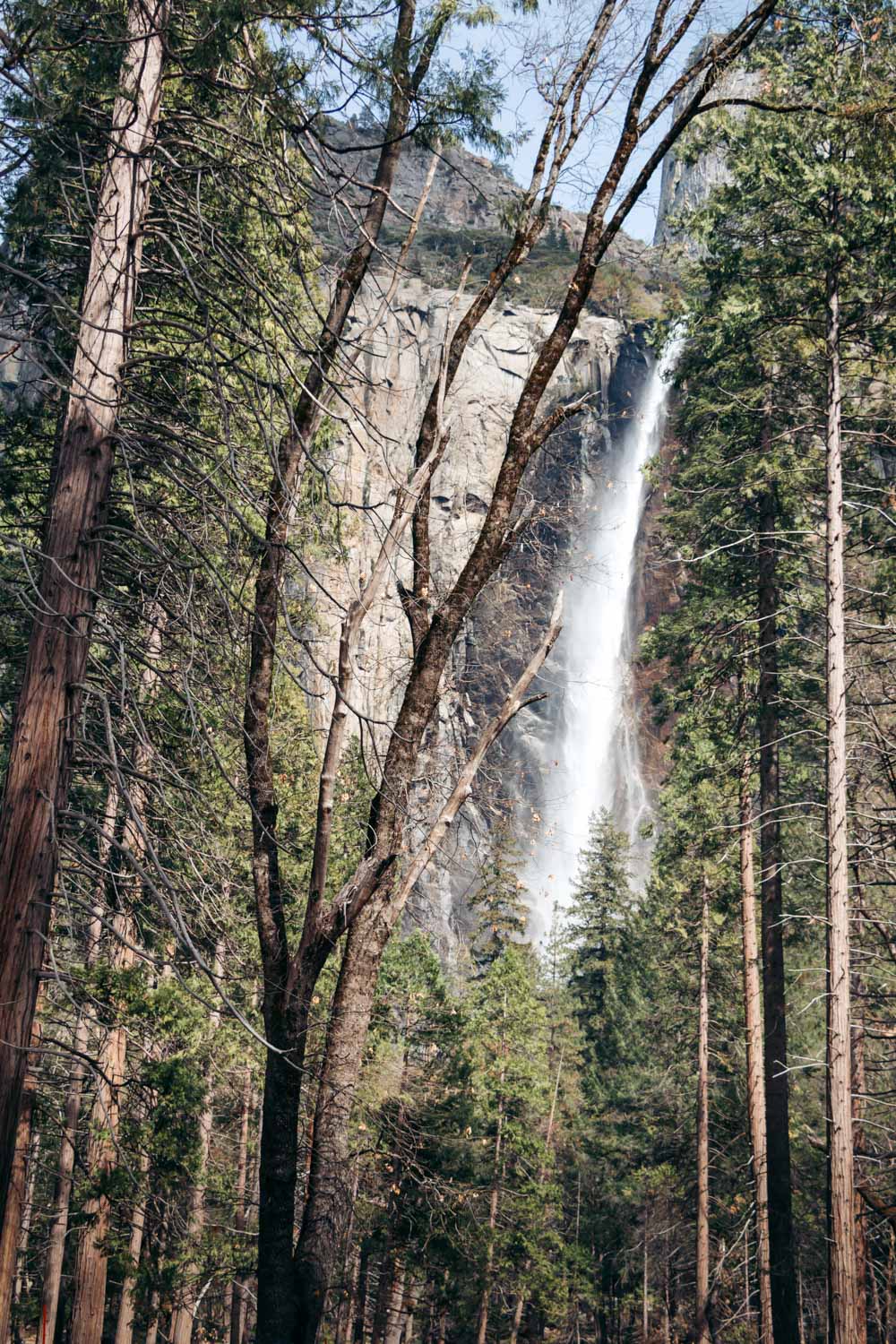 2. Take it All in at Tunnel View
Some places are better to be seen once than heard about hundreds times. Tunnel View indisputably falls into this category. Opening up classic views of the Yosemite Valley, Bridalveil Falls, Half Dome, and El Capitan, the overlook enchants adults and kids alike. 
While there are not much the children can do here to release their irrepressible energy, posing for a picture with the dramatic background will keep them occupied at least for a short while.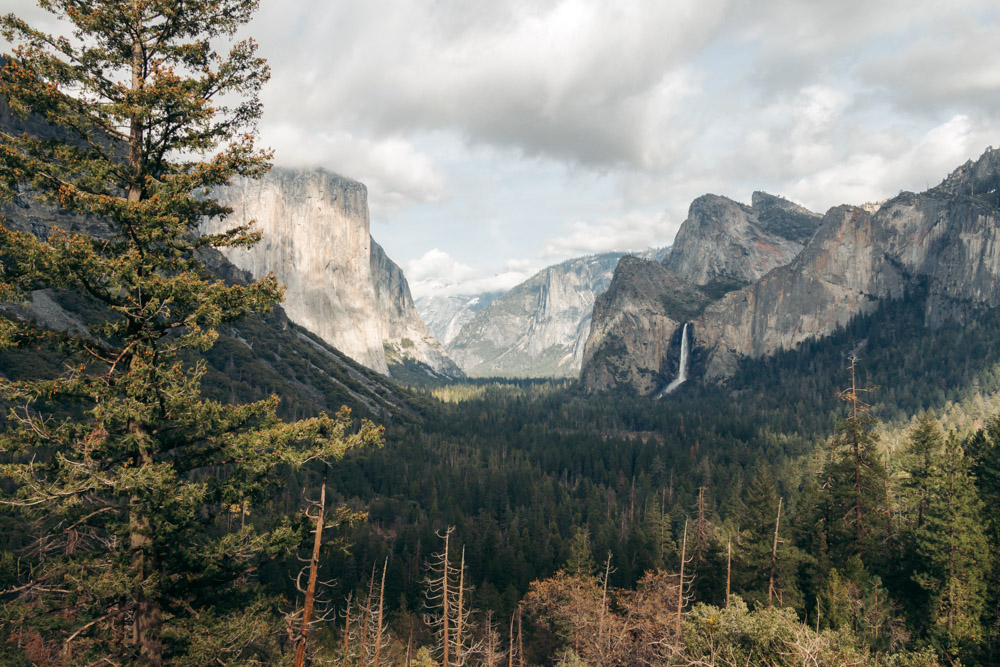 3. Let the Kids Explore while You Enjoy Yosemite Valley View
Another classic overlook sits a short drive away. Nowhere as crowded as the Tunnel View overlook, it has another advantage. The lookout, to be exact its parking lot, sits in front of the Merced River, which the kids like to explore.
The water looks appealing to dip a hand or even a foot on a hot day. Fallen trees' trunks nearby provide a unique playground to climb and disperse their boundless energy. Often gathering small rocks and throwing them into the water is all your kids can dream of while exploring Yosemite in their own simple way.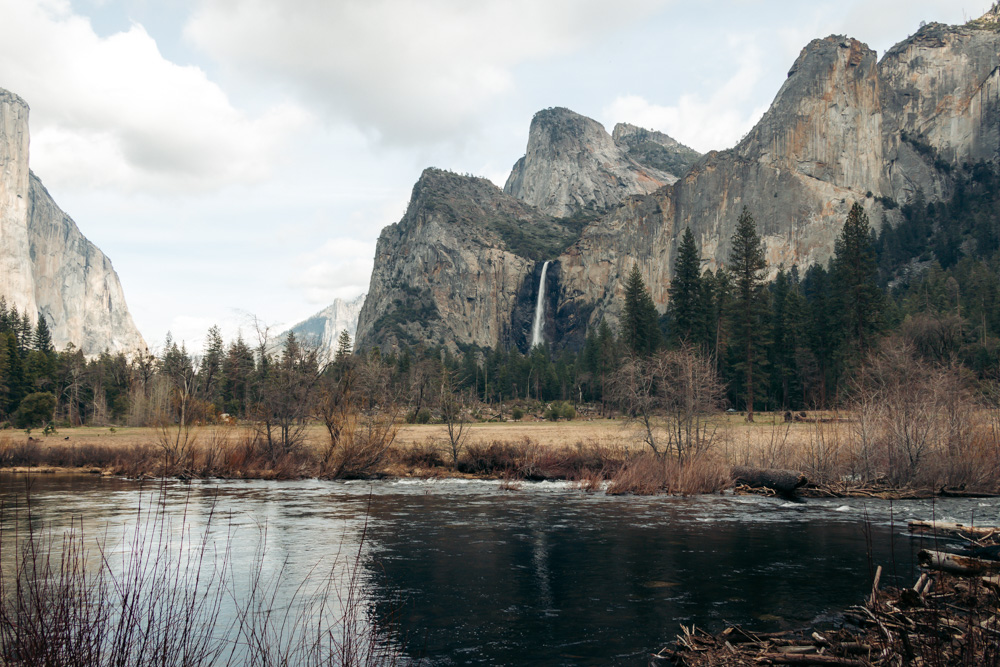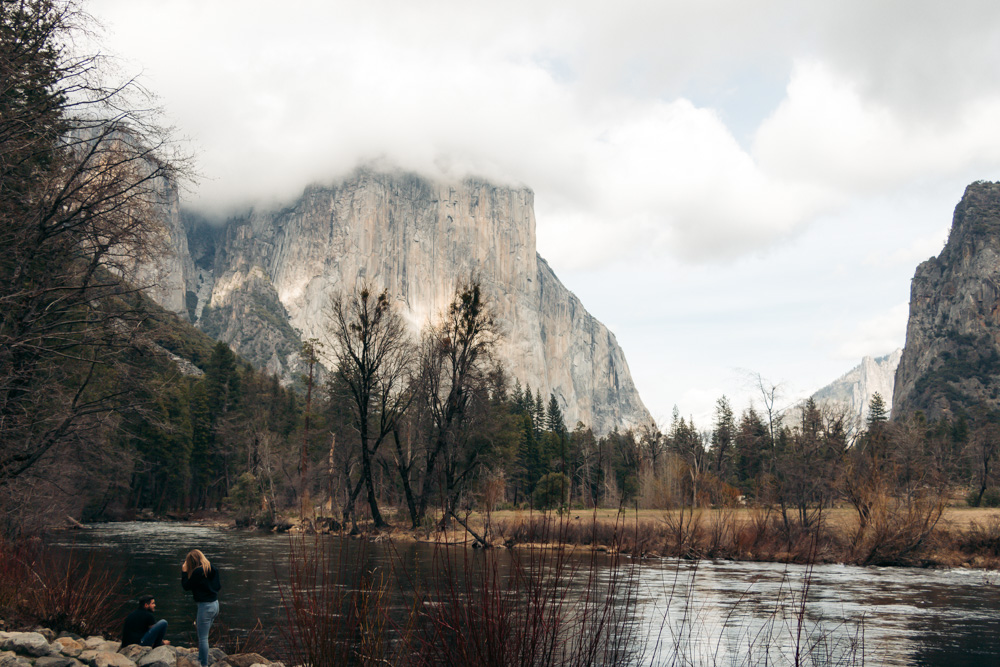 4. Walk over Swinging Bridge
Throwing the rocks into the water feels even more fun from the Swinging Bridge. The wooden structure sits on the Merced River, ensuring a profusion of impeccable views for the adults. The little visitors of Yosemite, though, can't wait to get down to a bank where more rocks throwing and water testing await them.
Yosemite's Swinging Bridge also works wonders for your bird-loving kids. The tiny feathered creatures gather on the river banks and are quite a delightful sight to watch. 
No matter how appealing lingering near the bridge can be for your children, by this time you may want to stretch your legs. So promise the kids plenty of splashing water and larger boulder to climb on and hike to Lower Yosemite Falls. 
Hike: A well-trodden, mostly paved trail runs past Yosemite Cedar Lodge and a few cabins and takes you all the way to a footbridge at the bottom of the waterfall. Splendid views of both Upper and Lower Yosemite Falls accompany you during this easy hiking journey.
And while you may have your eyes on the coveted waterfall by this time, take time and allow the young travelers to gather pinecones along the way. This will surely keep the kids distracted and eager to unveil the smallest of the smallest secrets of Yosemite. Trust me, the youngsters will feel more compelled to see more and walk farther without any complains uttered after this short pinecone-gathering break.
Note: Be sure to toss away everything you gathered before leaving Yosemite. Collecting things, including pinecones, to take home is not allowed.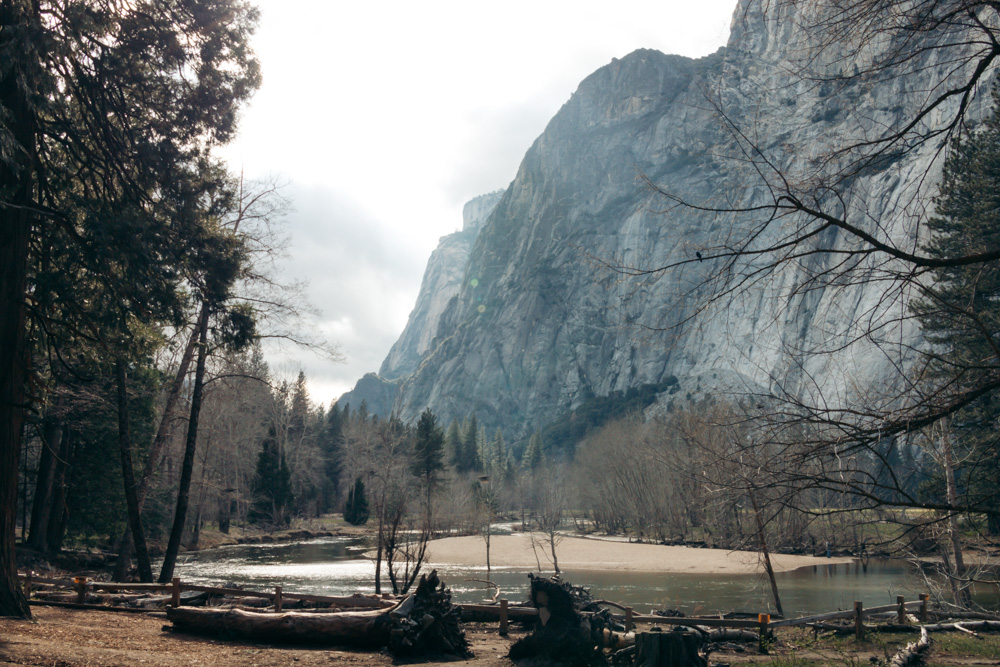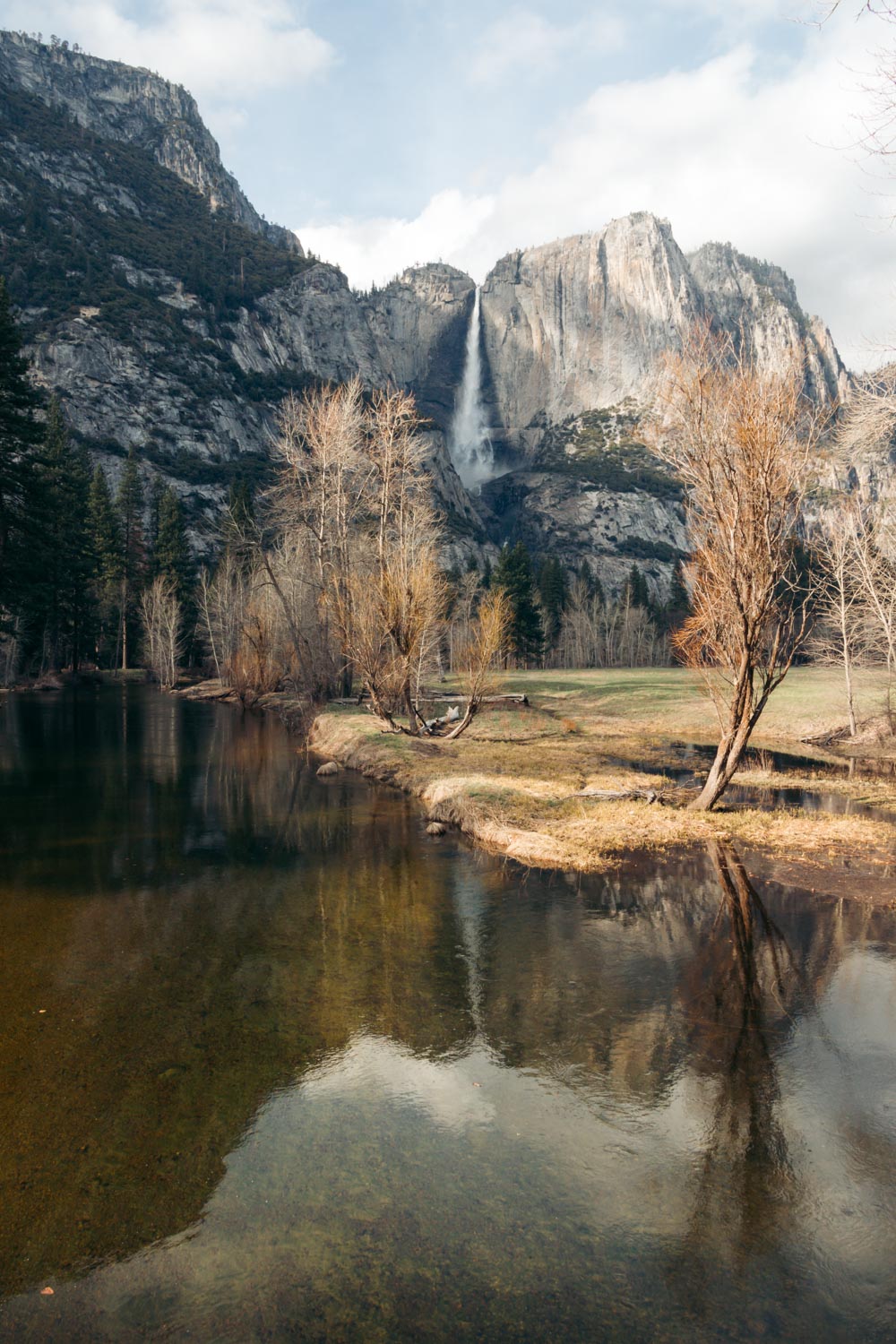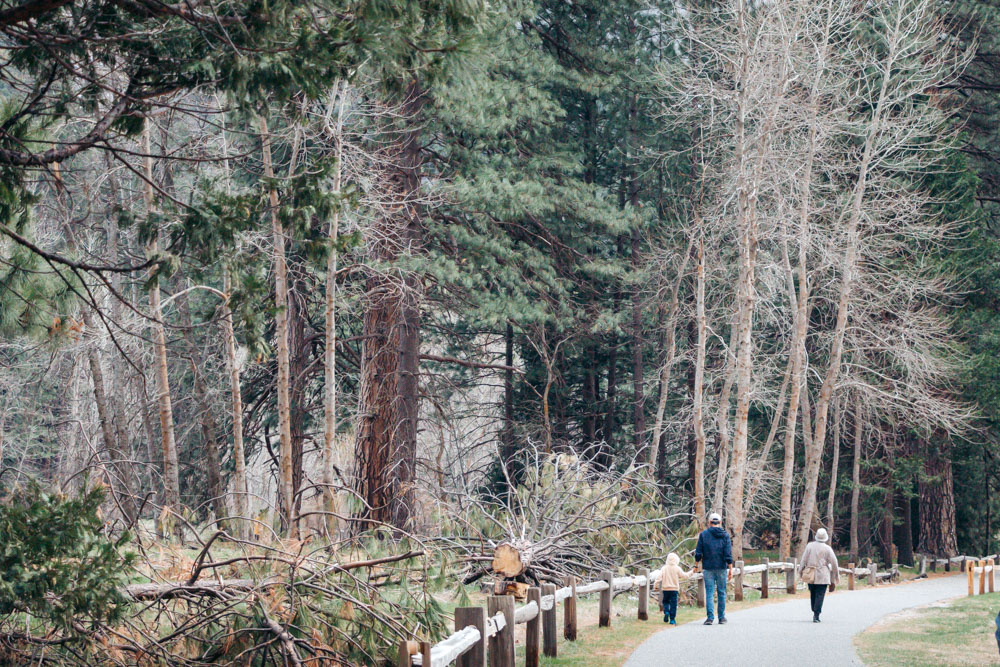 5. Stop at Yosemite Valley Chapel
Don't expect your kids to jump with excitement when you offer them to stop by the Yosemite Valley Chapel (unless your young explorers are real history buffs, of course.)
Built in 1879, the oldest structure in the park interests mostly adults. The chapel is still being used for worship and wedding ceremonies and enjoys a rather envious location. Surrounded by the famous granite cliffs and enchanting meadows, it'a a beautiful place to snap a few pictures before moving to the next place on your Yosemite itinerary. 
All in all, the historic structure is a quick stop. So the kids shouldn't mind lingering a few minutes here and gathering more pinecones in the immediate Yosemite Valley Chapel's surroundings. Meanwhile, you can even sneak inside, given somebody stays outside with the children.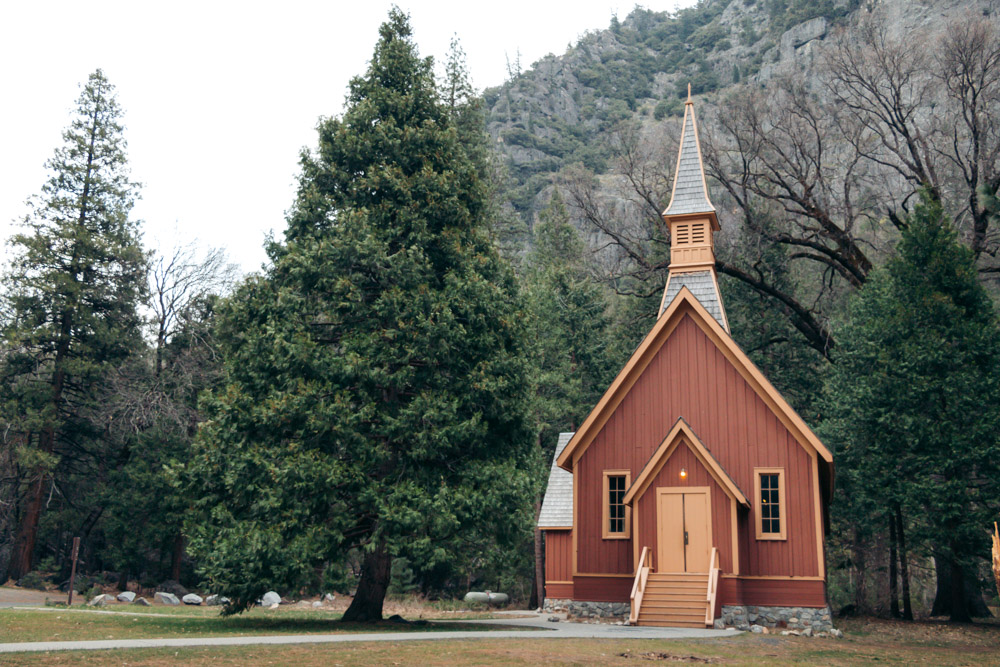 6. Unwind at the Merced River
If you bring your kids to Yosemite in summer, let them feel the coolness of the Merced River after a hike to a waterfall. Nothing can beat a pleasant feeling when the cold water embrases your feet and reaches higher to your ankles and knees. 
For small kids, it's another opportunity to compete in rock throwing contest. So find a secluded spot and let your kids have fun.
For a visit to Yosemite with the older kids, rent a raft at Curry Village and drift down the Merced River. If your kids are avid swimmers, you can haggle with them. Ask them to push themselves a bit harder and hike to Vernal or Nevada Falls first. 
On the way back, allow the young hikers to relieve their tiredness on the river bank near the Mist Trailhead. Keep in mind, though, water that run from the waterfalls above remains ice-cold even in mid-summer.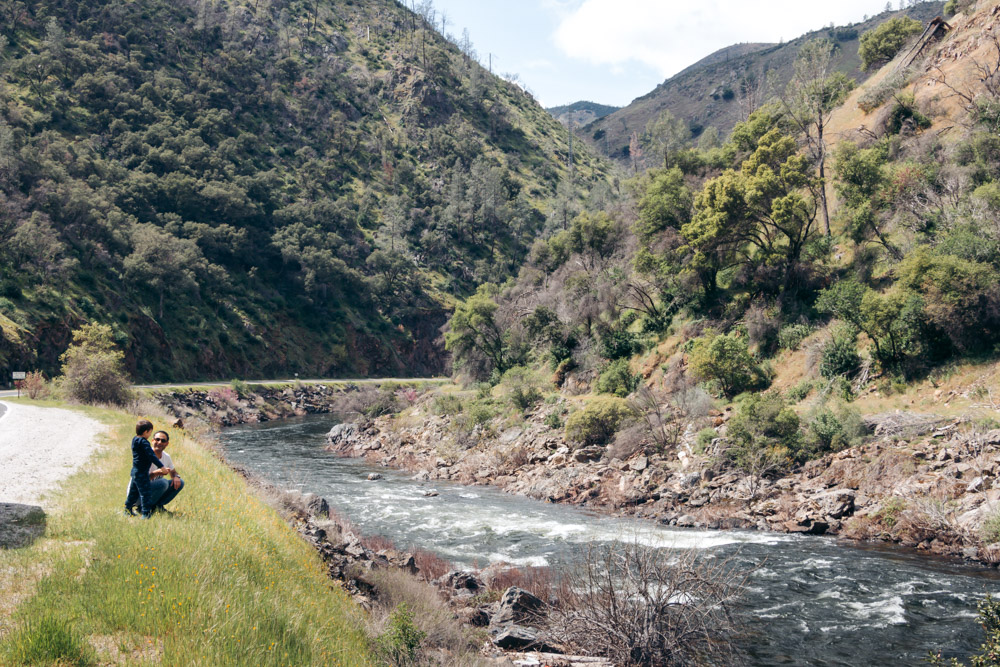 7. Hike along Mist Trail to Vernal and/or Nevada Falls
Since we've touched on hiking to the waterfall, it's about time for your kids to explore farther landmarks of Yosemite. The Mist Trail is by far the hardest of all things to do on this list. The hike starts near Happy Isles in the eastern Yosemite Valley and consists of a few sections. 
The first – 1.6-mile, round-trip journey – takes the hikers to Vernal Falls footbridge. A moderate hike with elevation gain of approximately 400 feet can be challenging for the younger kids. You might need to carry them from time to time. My youngest niece attempted this hike two times. And both times, she asked for a ride on her father's back. 
If your older kids are up to the challenge, continue hiking from the Vernal Falls footbridge to the top of Vernal Falls. The hike becomes strenuous at this point. The gain in elevation reaches 1,000 feet. Yet the trip is doable and rather short. You need anywhere from 2 to 3 hours to cover this 2.4-mile, round-trip Yosemite's trail with your kids alongside you. 
If your young hikers are still full of energy, then challenge them to hike all the way to the top of Nevada Falls. This part of the Mist Trail summons the strongest and most determined outdoor adventurers. The path runs for 2.7 miles one way. Elevation gain increases to 2,000 feet. You need at least 5 hours to complete the hike and get back to the Mist Trailhead.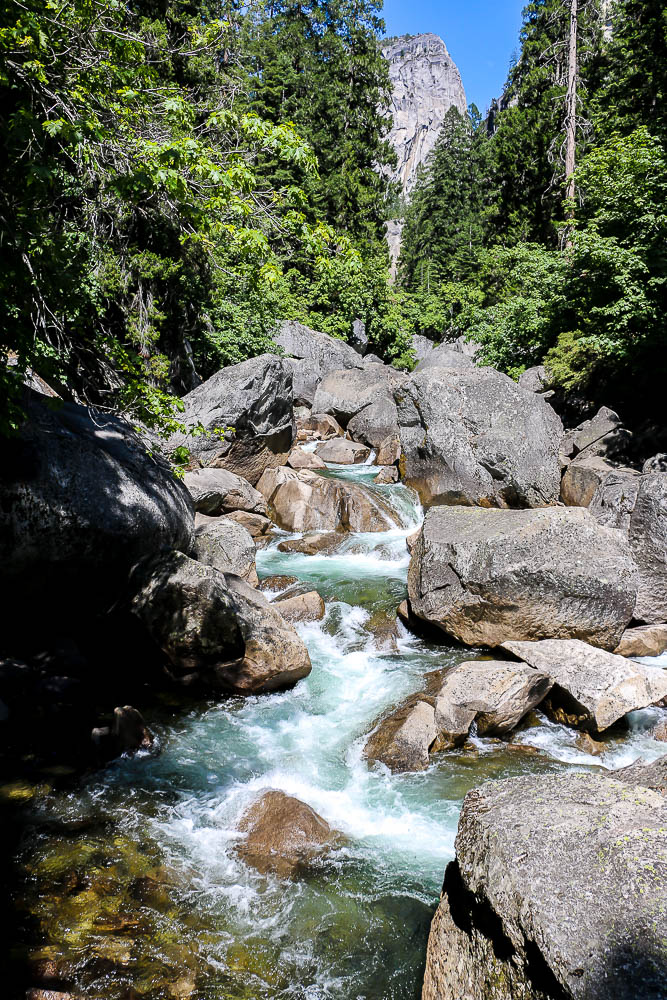 8. Admire Yosemite Valley from Glacier Point
Admiring Yosemite from Glacier Point is unlike anything else you and your kids have done up to this point. The panoramic vistas of Yosemite Valley, Half Dome, and Yosemite Falls look anew. Needless to say, this views can be the culmination of your trip to the national park. 
The best part, you don't need neither hike nor climb to this vantage point. Accessible by car from late May through late October or early November, a short, paved trail takes you to the overlook nestled 3,214 feet above the floor of the Yosemite Valley.
Note: In 2022 was the road to Glacier Point was closed for reconstruction. You could still reach the overlook via the Four Mile, Panorama, and Pohono Trails. All of them are rather long and strenuous hikes. 
Sadly, we had to skip this activity during our recent trip to Yosemite National Park, as anything over 2-3 miles looked like an insurmountable challenge for a 4-year-old kid.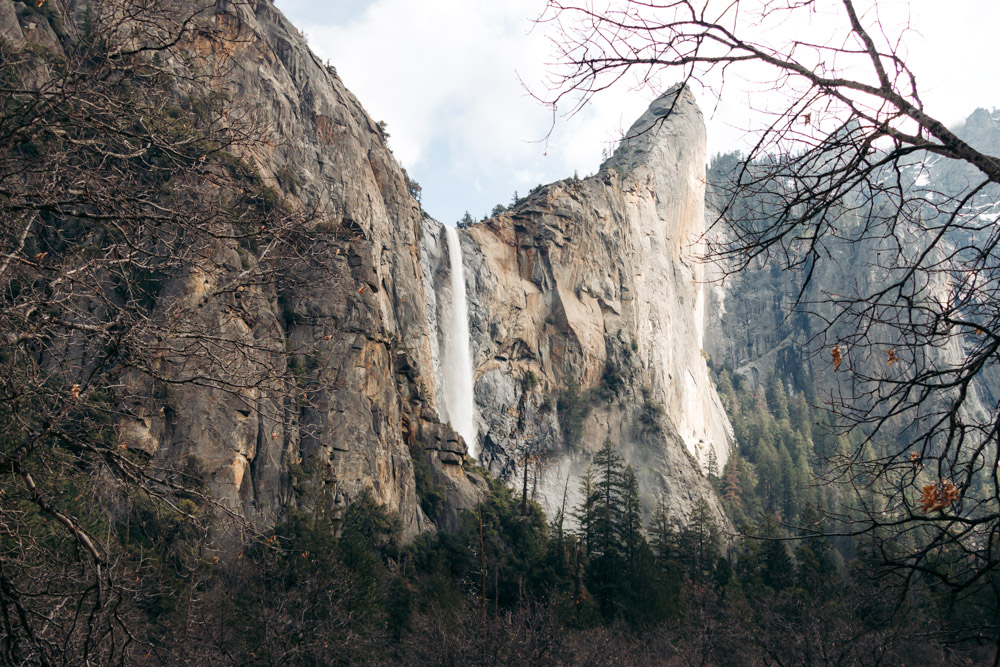 9. Trudge along Cook's Meadow Loop
Consider it's a done thing if you and your kids have hiked to Lower Yosemite Falls from the Swinging Bridge. Ok, it's not necessary the same thing, as you miss the whole meadow, but it's very similar. 
The 1-mile Cook's Meadow Loop is easy, well-trodden, and ask for only 30 minutes of your time. The views are somewhat similar to the ones from the hike you did earlier. Yet there are plenty of different angles and photographic perspective for you and more pinecones to play with for your little ones.
The trail begins at the Yosemite Valley Visitor Center. But you can also jump on it from the shuttle stop near the Sentinel Bridge or Lower Yosemite Falls shuttle stop.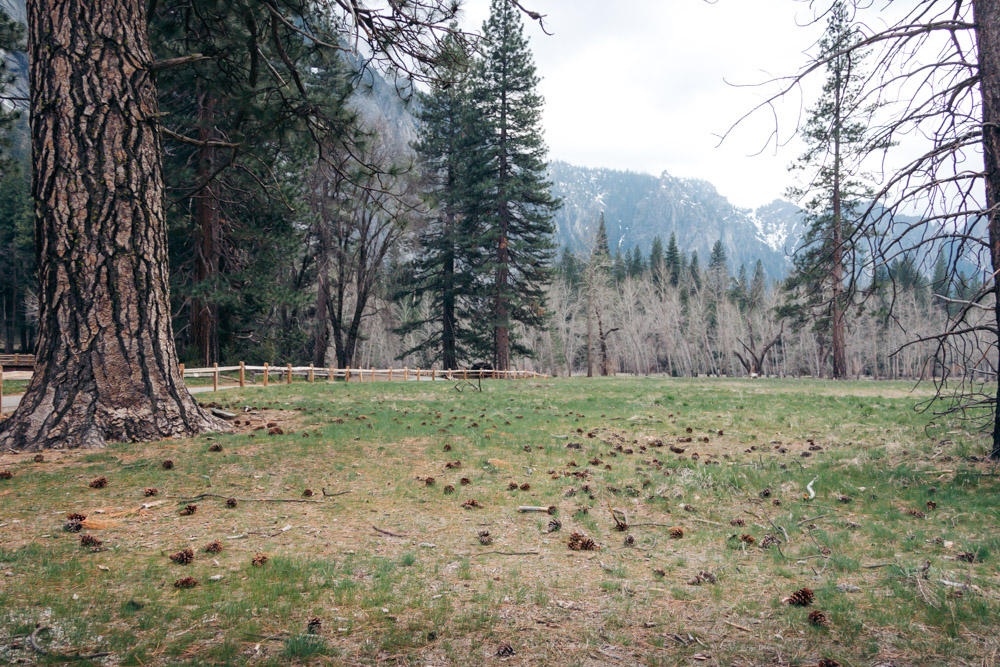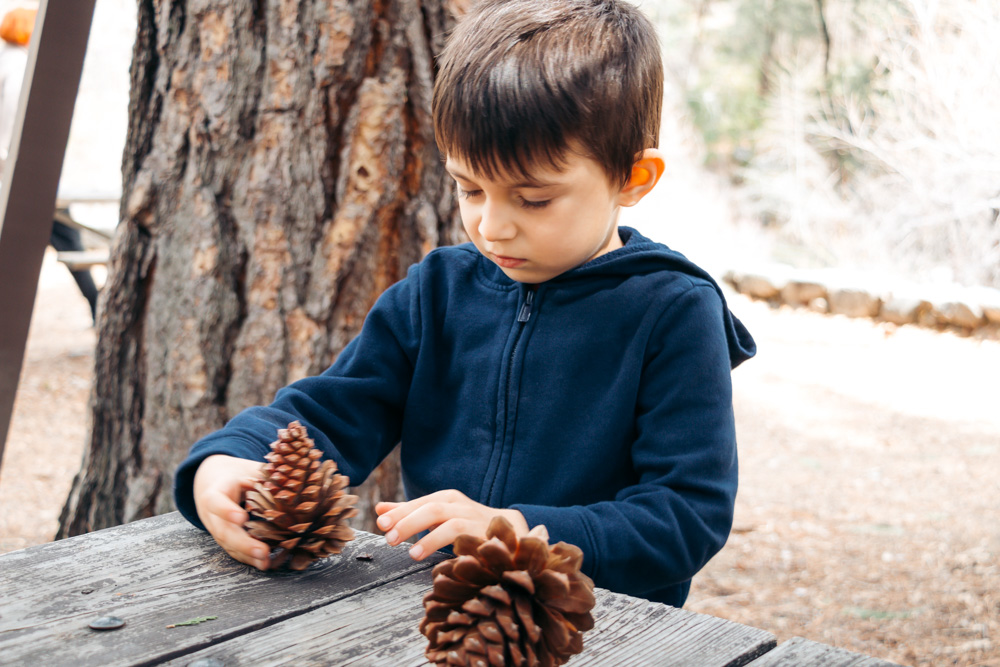 10. Explore Lower Yosemite Falls Trail
The Lower Yosemite Falls Trail is arguable the most popular hike for families with kids. It's short – just 1-mile loop – easy, and virtually flat. The culmination of the hike is the lower leg of the highest waterfall in the park. 
Here, the water drops from the height of 320 feet, splashing onlookers standing on a wooden footbridge in front of it. (Yosemite Falls plunges 2,425 feet from he top of the upper fall to the base of the lower fall.)
Some older kids and young adults don't just stop on the paved ground at Lower Yosemite Falls. Tempted by the great drop in front of them, they climb the rocks in attempt to get as close as possible to the gushing waterfall.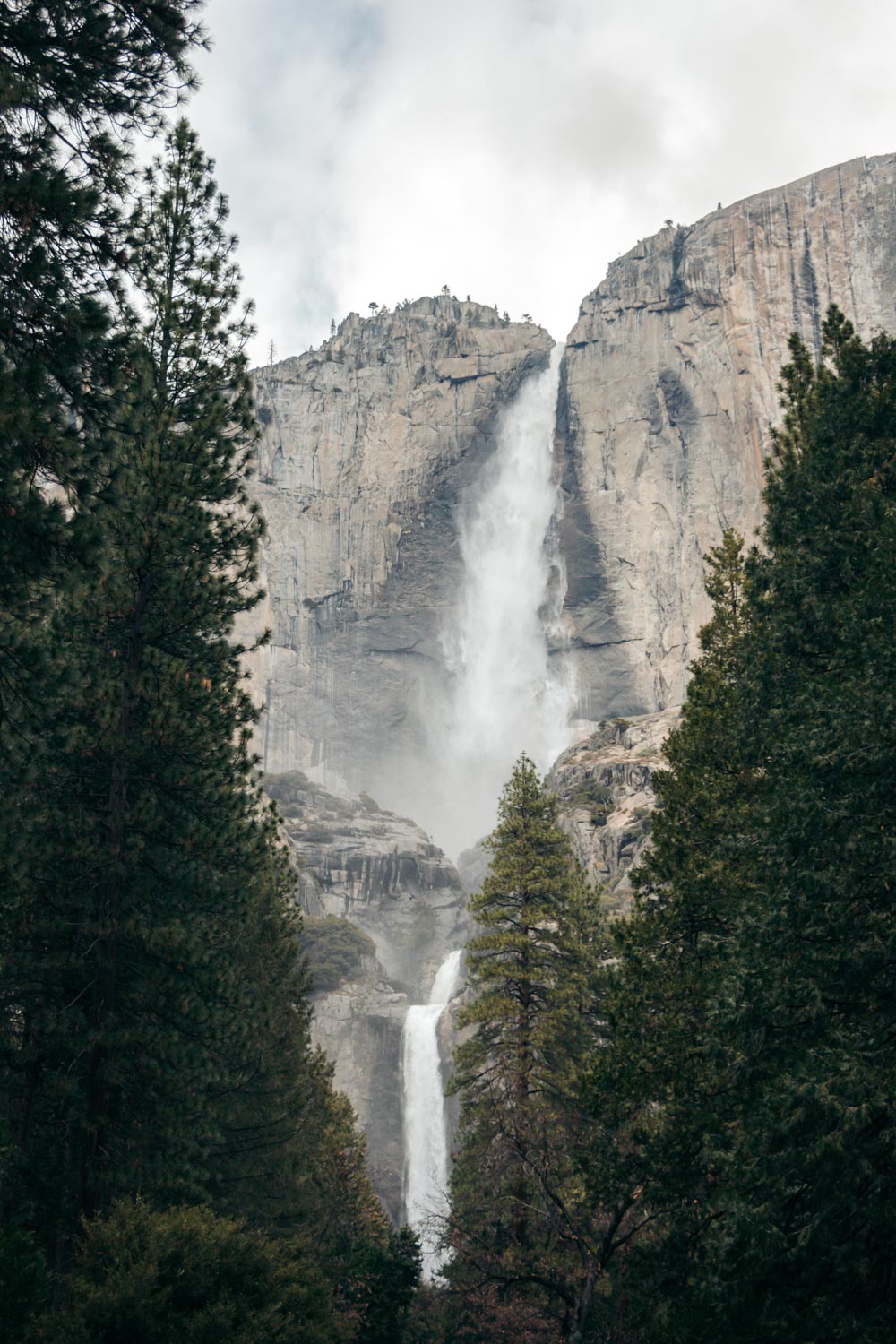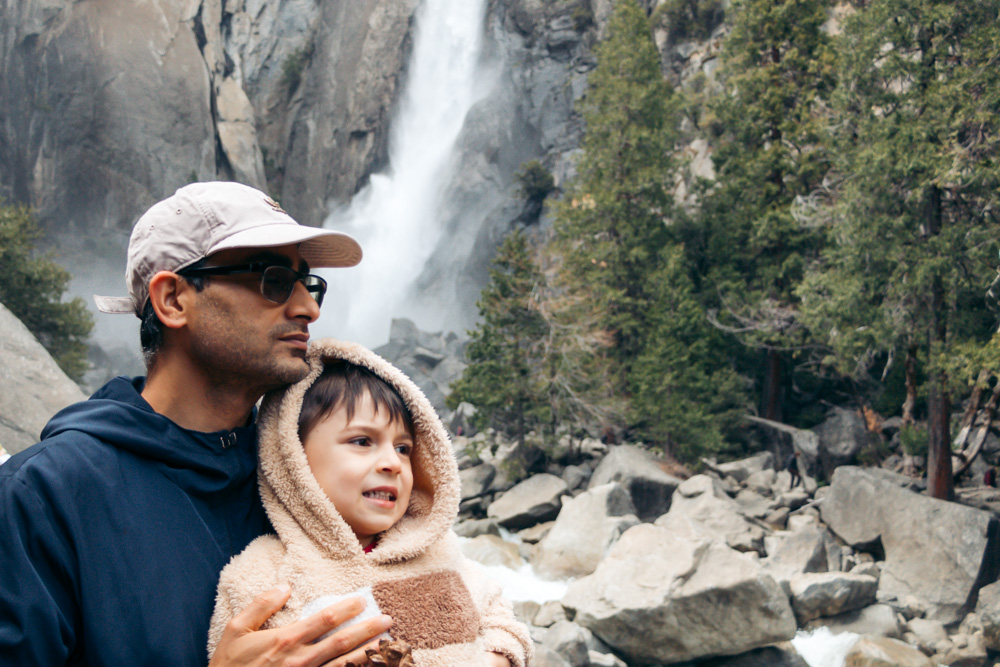 11. Stroll around Yosemite Valley
Last but not least, succumb to the tranquility of the Yosemite Valley beyond its popular trails. Find a lesser-known path and let your kids roam freely, surrounded by the granite cliffs of Yosemite. 
The classic views look drastically different depending on the season. White tones prevail in winter. In spring and early summer, green veil unfolds above the area. Yellow shades penetrate the Yosemite Valley in fall to the great delight of young explorers and their parents alike.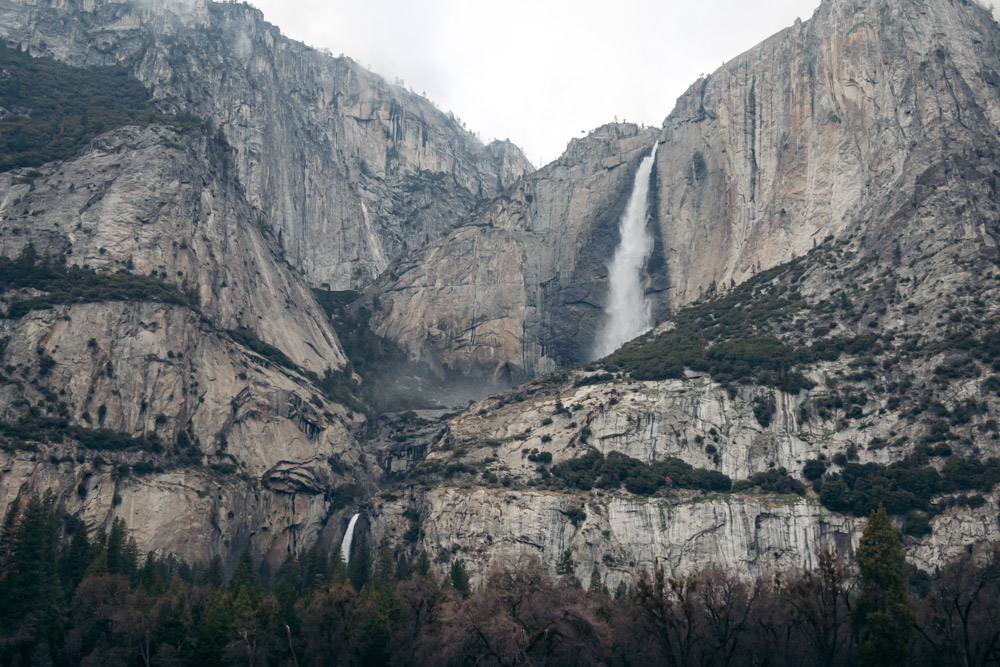 The Best Things to Do and Places to Visit in Yosemite with Kids: Map
Where to Stay when Visiting Yosemite National Park with Kids
Accommodation options are great both inside and outside the park. There is something to choose from for campers, budget travelers, and families that can afford to splurge a little bit.
The closest budget hotel we stayed at, the Yosemite Sierra Inn, is located in Oakhurst, 16 miles from the park entrance. The place is unpretentious, but offers everything you need for a comfortable stay right on the outskirts of Yosemite.  
Read Next