Homemade vegan pizza from scratch with 3 different toppings? Easy! 
Last updated: September 29, 2023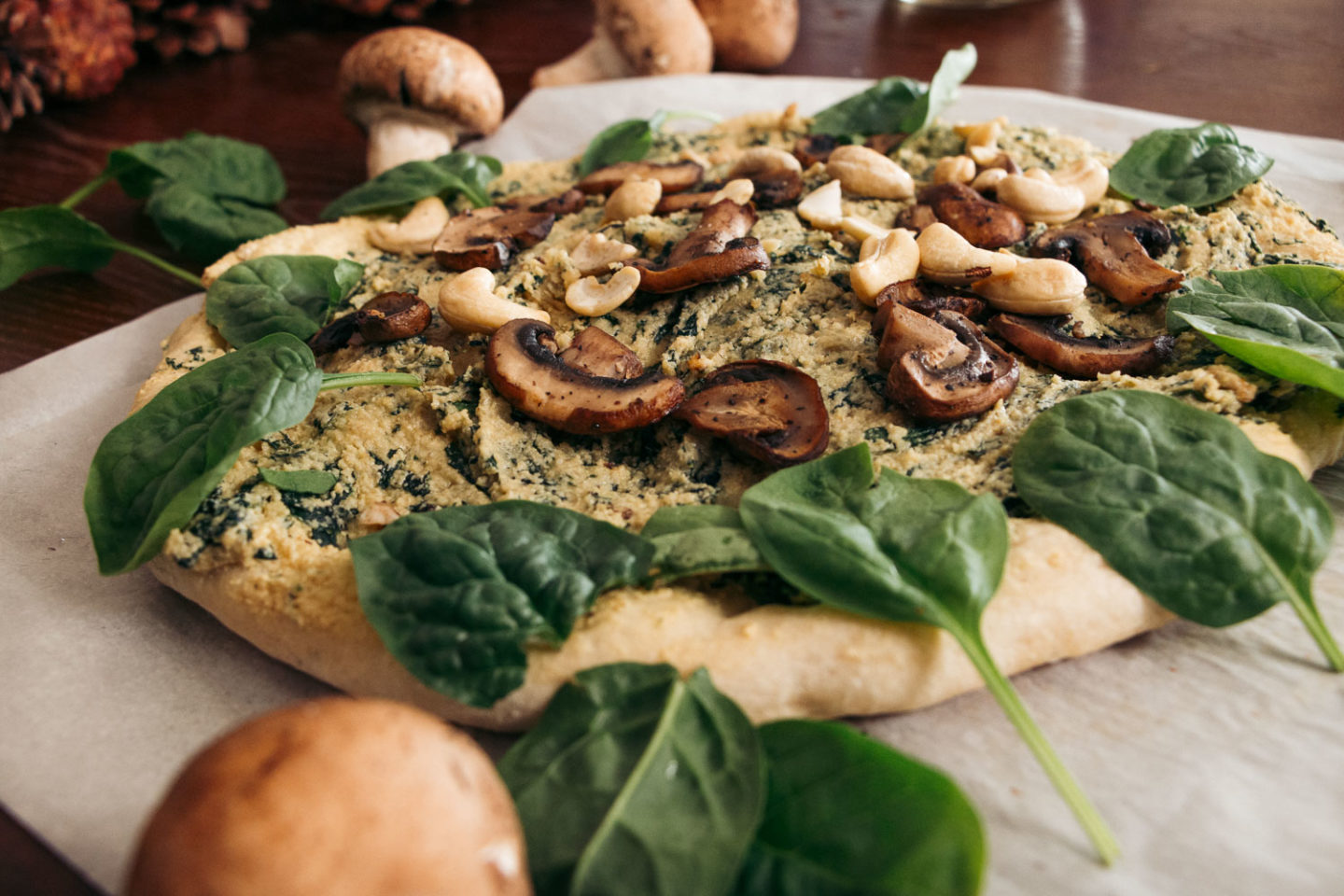 How to Make Vegan Pizza from Scratch with 3 Easy and Healthy Toppings
"We're ordering pizza", my picky-eater niece couldn't conceal her excitement. Rounding her eyes, her younger sister started whispering dramatically, "Pizza, pizza, pizza."
Both girls have their preferences when it comes to this originally Italian dish (vegan or fully vegetarian pizza has yet to grow on them, though). The first, the oldest of them, developed an aversion to any baked goods, including cakes and muffins, about a year ago. Pizza, however, "is not a bread or some sort of it". The round flatbread loaded with cheese is always an exception. "It's pizza, after all", is her usual reply. 
The youngest girl doesn't like pepperoni, chili peppers, and pineapples on her always non-vegan pizza. Or maybe it's her older sister… I always get confused by their orders. All in all, my nieces love pizza.
I've never shared their enthusiasm about this dish. Not even before I eliminated dairy and animal products from my diet. Although I could eat a pound of cheese in one sitting at one point, the melted cheesy texture on top of pizza looked… to say it simply, unappealing to me.
Explaining my indifference to pizza, I would always say something like this, "Pizza and chips… They don't work quite well with my stomach. I can stuff myself with either of them, but still feel hungry."
"You haven't tried real pizza yet", a wise friend remarked one day. Oh boy, he was right. All I needed was a trip to Italy and a slice of vegan pizza to change my mind.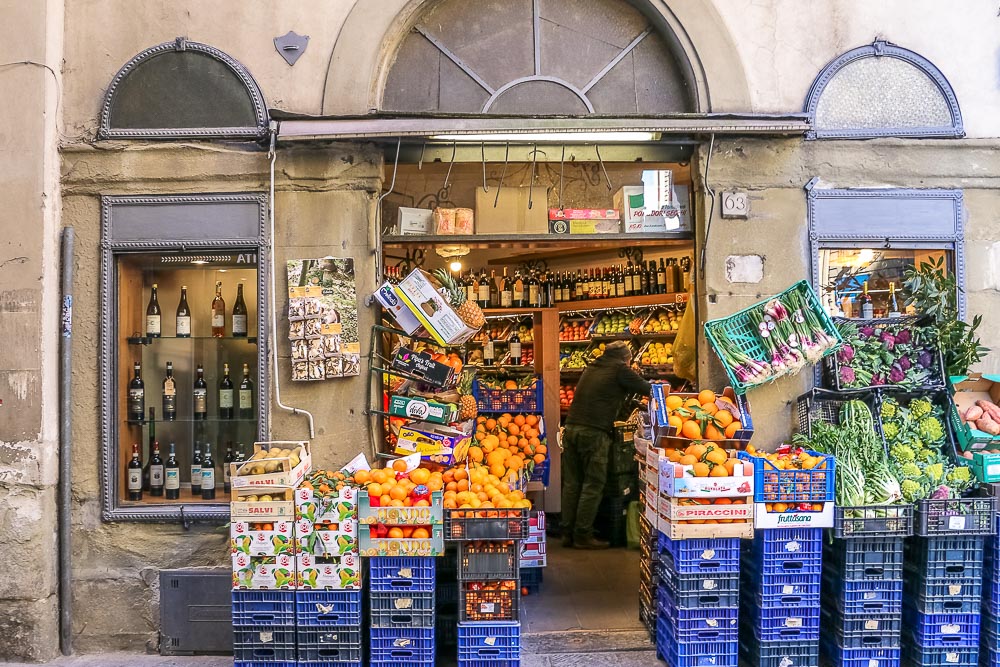 Falling in Love with Vegan Pizza in Rome
As a plant-based eater, I avoided any products loaded with cheese or places that served primarily non-vegan dishes. But it was a chilly January evening in Rome. The darkness descended upon the city in a speedy manner. We wandered down the same streets we had taken earlier that day back to our hotel.
I craved some dates that we had brought with us from California and hot chocolate. Roshan needed a proper dinner. Without hesitation he suggested that we check out a local pizzeria.
A family-owned restaurant didn't look too different from all other eateries nearby. Yet somehow it drew us inside. 
If it looked rather ordinary from outside, inside it reminded of a pizza paradise. Flatbreads generously topped with vegetables, meat, and cheese could seduce anybody at once. There were large, traditionally shaped pizzas, rectangular pizzas, pizzas that could be bought by weight, and mini pizzas.
All these Italian culinary masterpieces looked homemade, which was actually true. Each of these pizzas were made from scratch in a kitchen at the back of the pizzeria. 
The small, round pizzas with different veggies on top surprised me the most. While the crust looked crunchy and tomatoes, eggplants, and some other vegetables I don't recall now provided enough juiciness for the entire base, a typical yellow cheesy layer was absent. Non-dairy vegan pizzas in Italy? Sure they had them. In an instant, three of these mini creations landed on my plate. And oh, they were divine. 
READ MORE: A Budget Traveler's Guide to Local Foods in Rome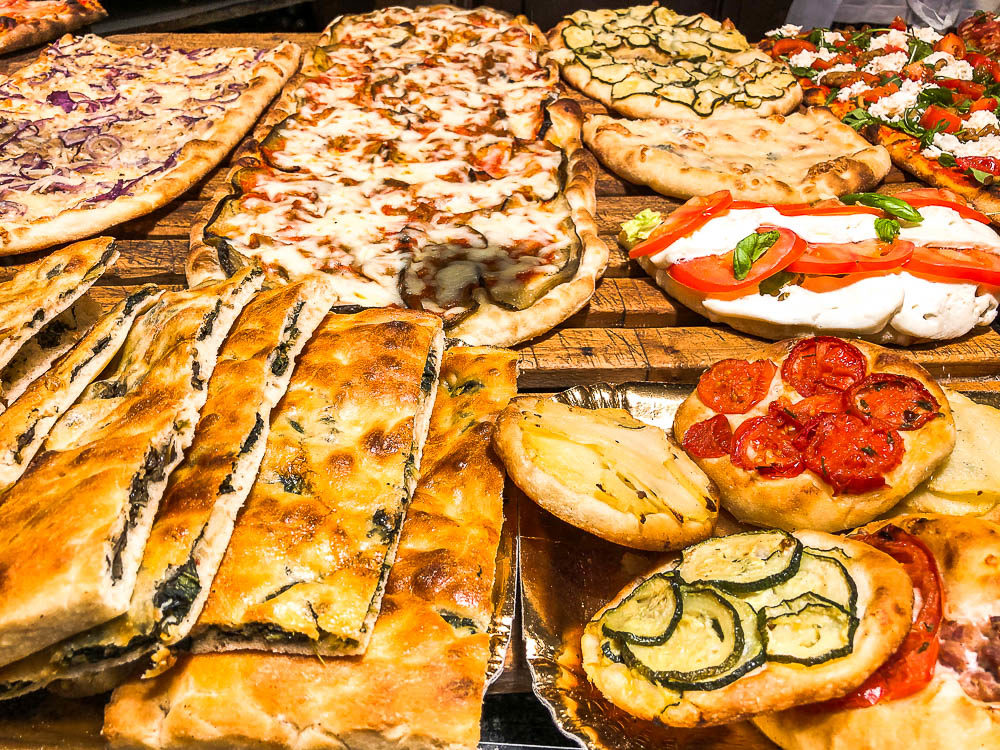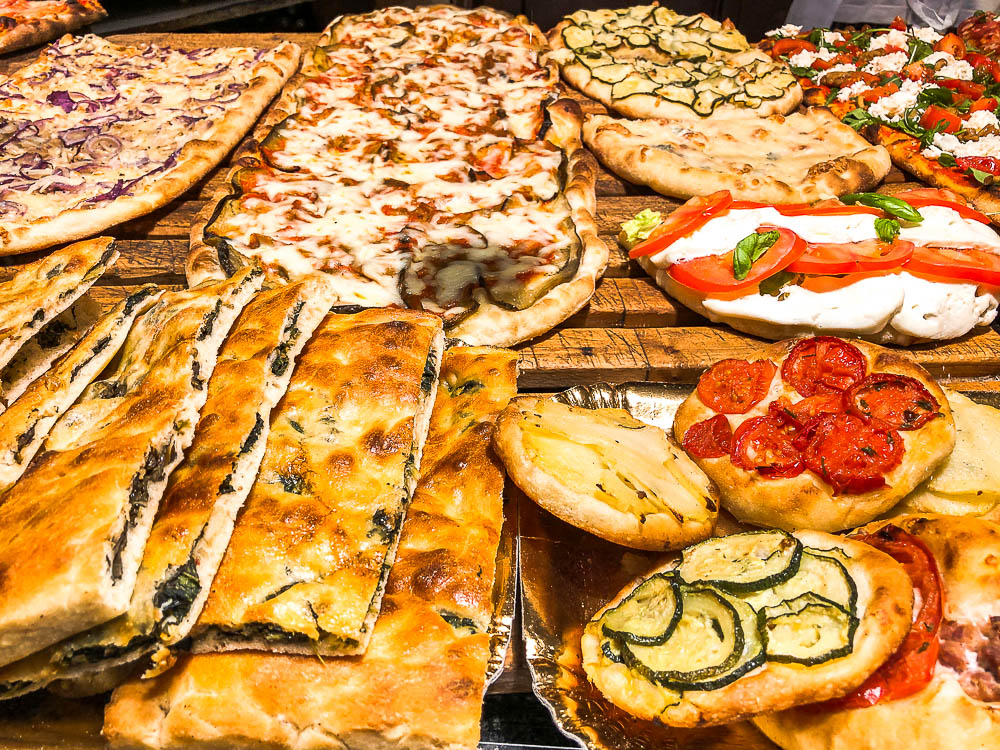 History of Pizza
Flatbread topped with savories has been an integral part of different cuisines for centuries. But pizza as we know it today, including first vegan options, was born in Naples. In the late 18th century, this Italian city was one of the largest in Europe and was growing rapidly.
While the exponential growth made some of its residents rich, many others fell into poverty. Doing any odd jobs, the lower class or lazzaroni, how they were known, needed cheap and easy to grab on the go food. Pizza worked perfectly.
It was affordable, offered on street corners by street vendors, and could be cut and sold by pieces. With nothing but garlic, lard, and salt on top, first pizzas met a great demand of the poor population. Occasionally, the vendors would sell some sort of homemade vegan and vegetarian pizzas with tomatoes that were recently imported from the Americas.
Yet despite its popularity with the lazzaroni, the dish didn't make it into any prominent Italian cookbooks until the late 19th century. During a visit to Naples in 1889, though, King Umberto I and Queen Margherita requested some local delicacies. Three kinds of pizza quickly appeared on the queen's table. Margherita loved it.
Approved by the royalty, pizza quickly went through a significant transformation from a local to a national dish. But it wasn't until the 1940s when pizza, transported to the United States by Italian immigrants, gained its world acceptance.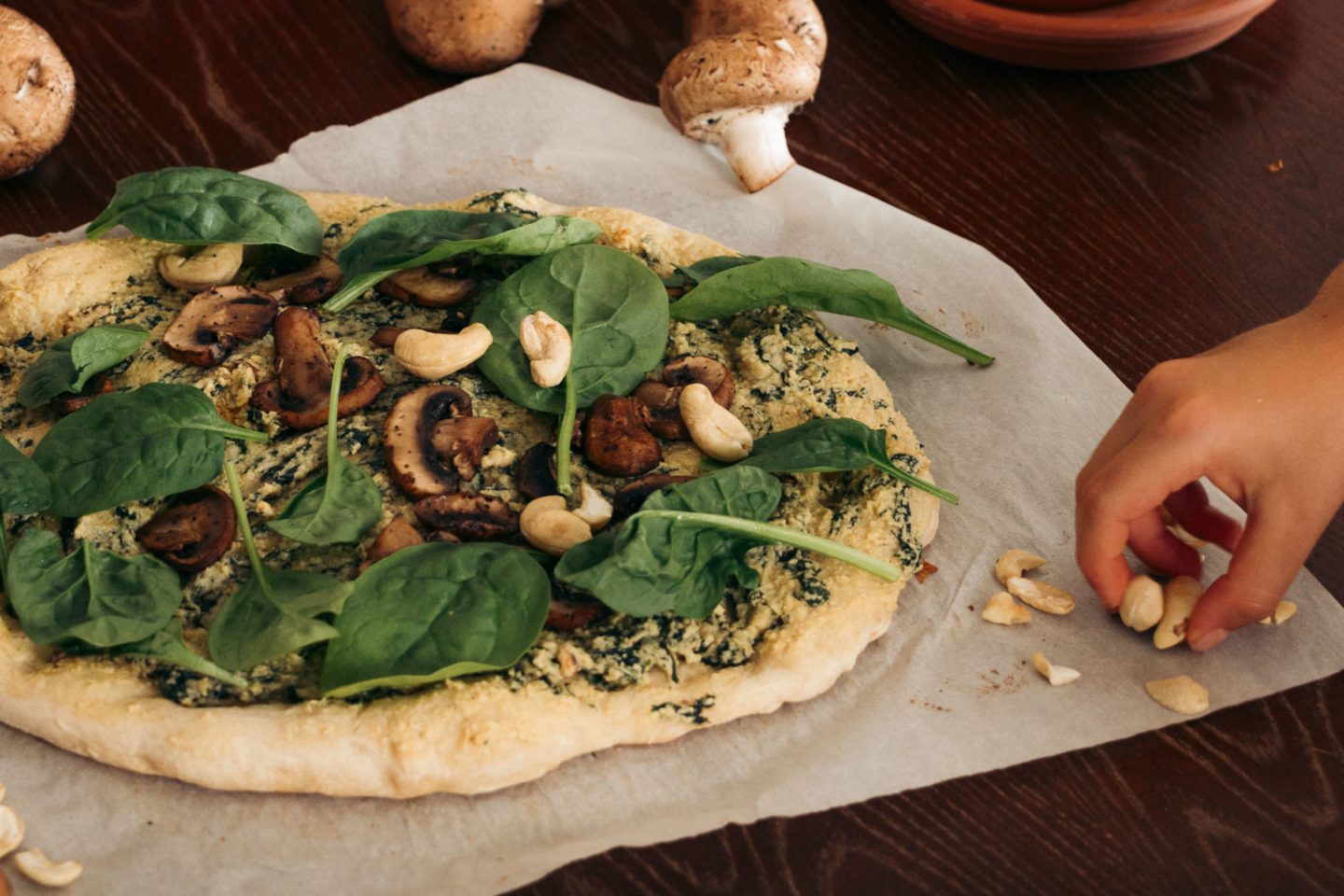 How to Make Vegan Pizza at Home
It took me a few years to get pizza similar in taste to that that I had eaten in Italy. The hardest part was to make the dough just right. Through trials and errors, I managed to accomplish this task. As for the toppings, I do as the Italians do and experiment with different veggies and sauces every single time.
HOMEMADE VEGAN PIZZA WITH 3 EASY AND HEALTHY TOPPINGS RECIPE
Time: 3-4 hours
Yields: 3-4 small to medium size pizzas
Ingredients for Dough
1 1/2 cup warm water
1 packet (7 g) instant yeast
4 cups flour
1 1/2 tsp salt
1/4 cup coconut oil
Instructions for Dough
Mix the yeast in 1/2 cup warm water and let it rest until fluffy for 5-7 minutes.
In a large bowl, mix the flour and salt. Add the coconut oil, yeast mixture, and the remaining water. Knead the dough for about 4-5 minutes.
Cover the dough with a clean towel and let it rest for 15-20 minutes.
Then punch down the dough and knead it a little bit to release the air. Repeat this process 2-3 times. This is the secret to the soft and fluffy dough.
Cut the dough into 3-4 equal pieces and shape them into balls. Place in a bowl and cover with a towel. Let them rest for 1-2 hours at room temperature. 
Preheat the oven to 450 degrees Fahrenheit.
On a floured surface, with your fingers, shape the dough into a thin (1/2 inch or 1.3 cm) circle.
Slather on the pesto sauce and top it off with the vegetables of your choice.
Bake in the oven for 10-15 minutes or until the crust is golden brown.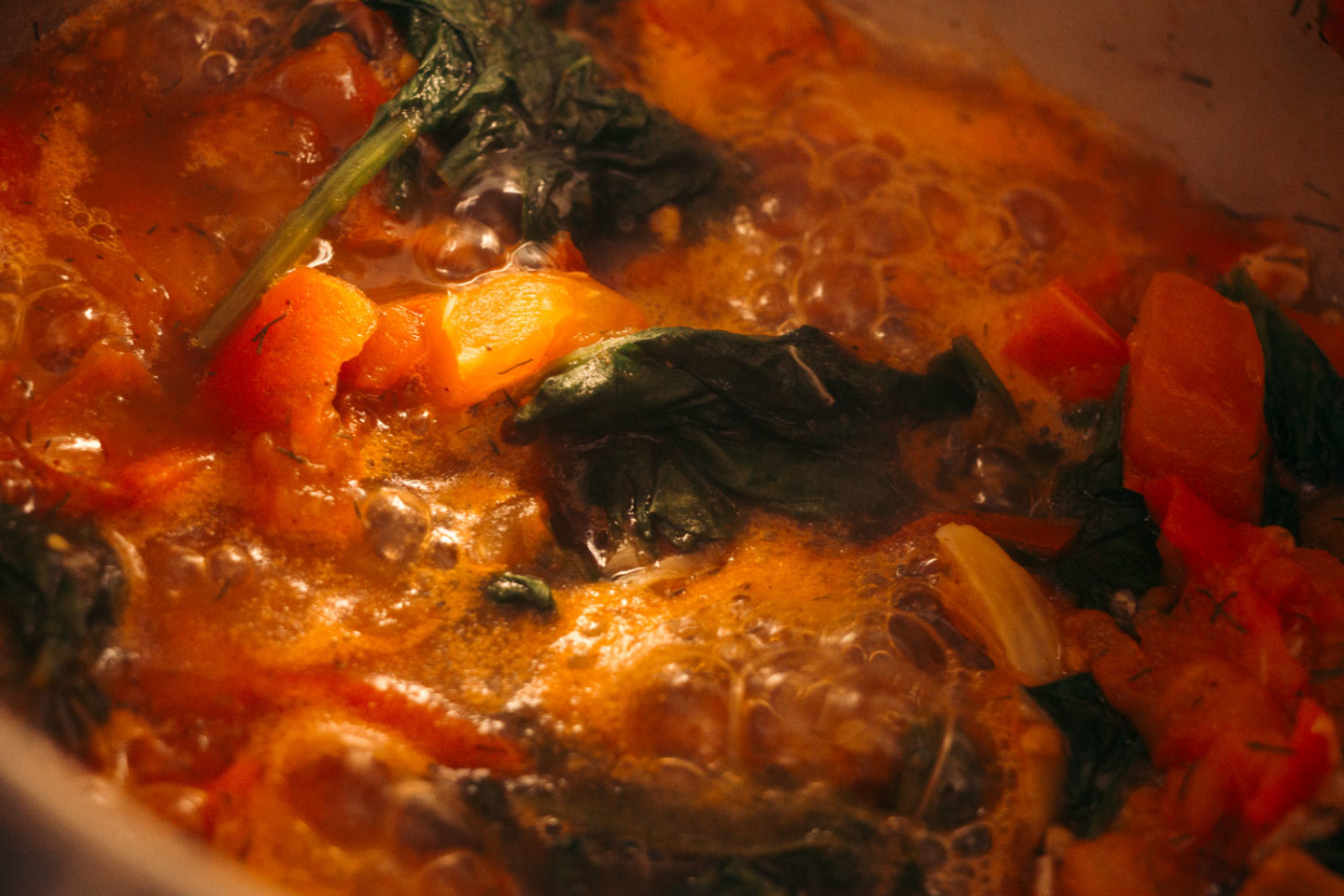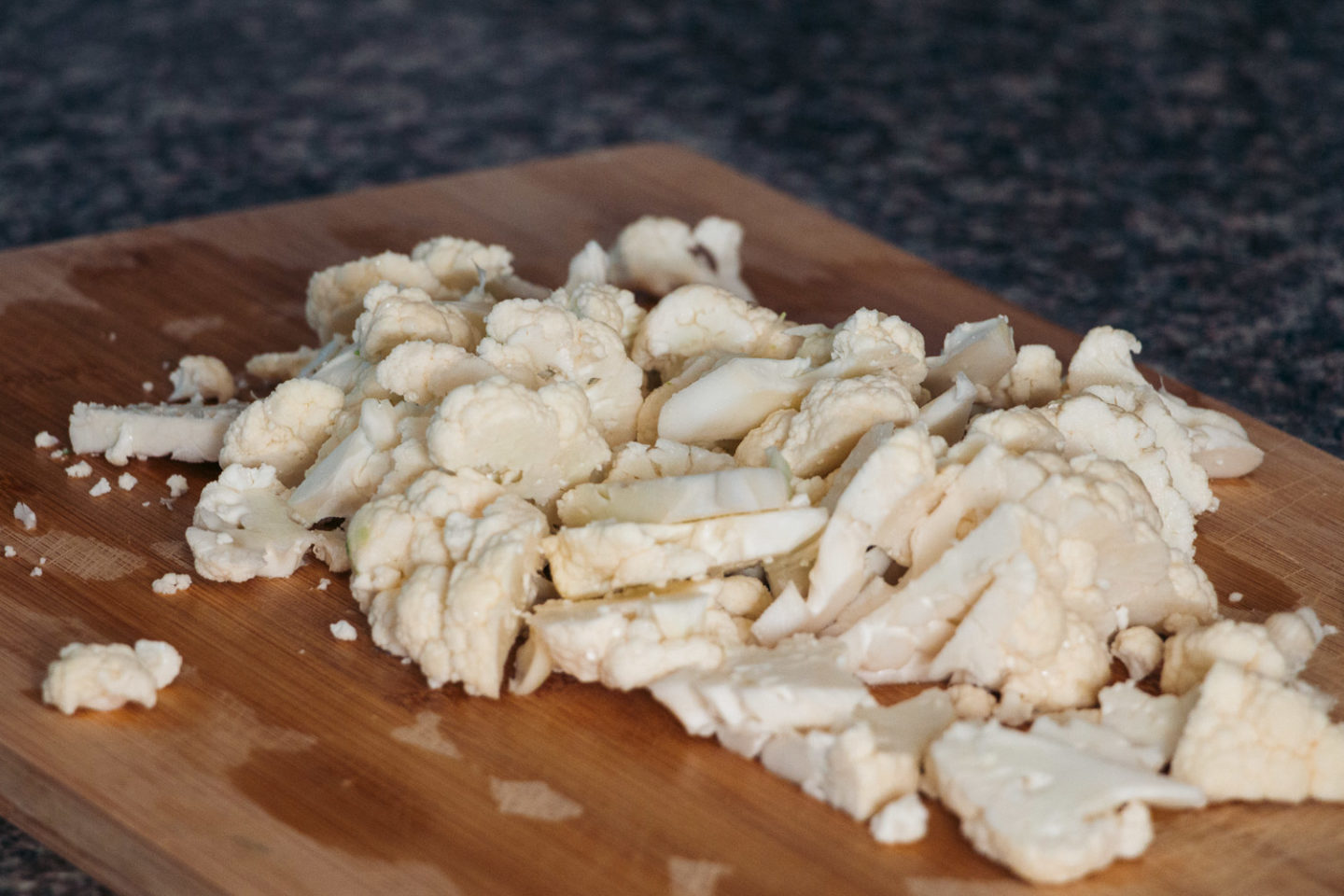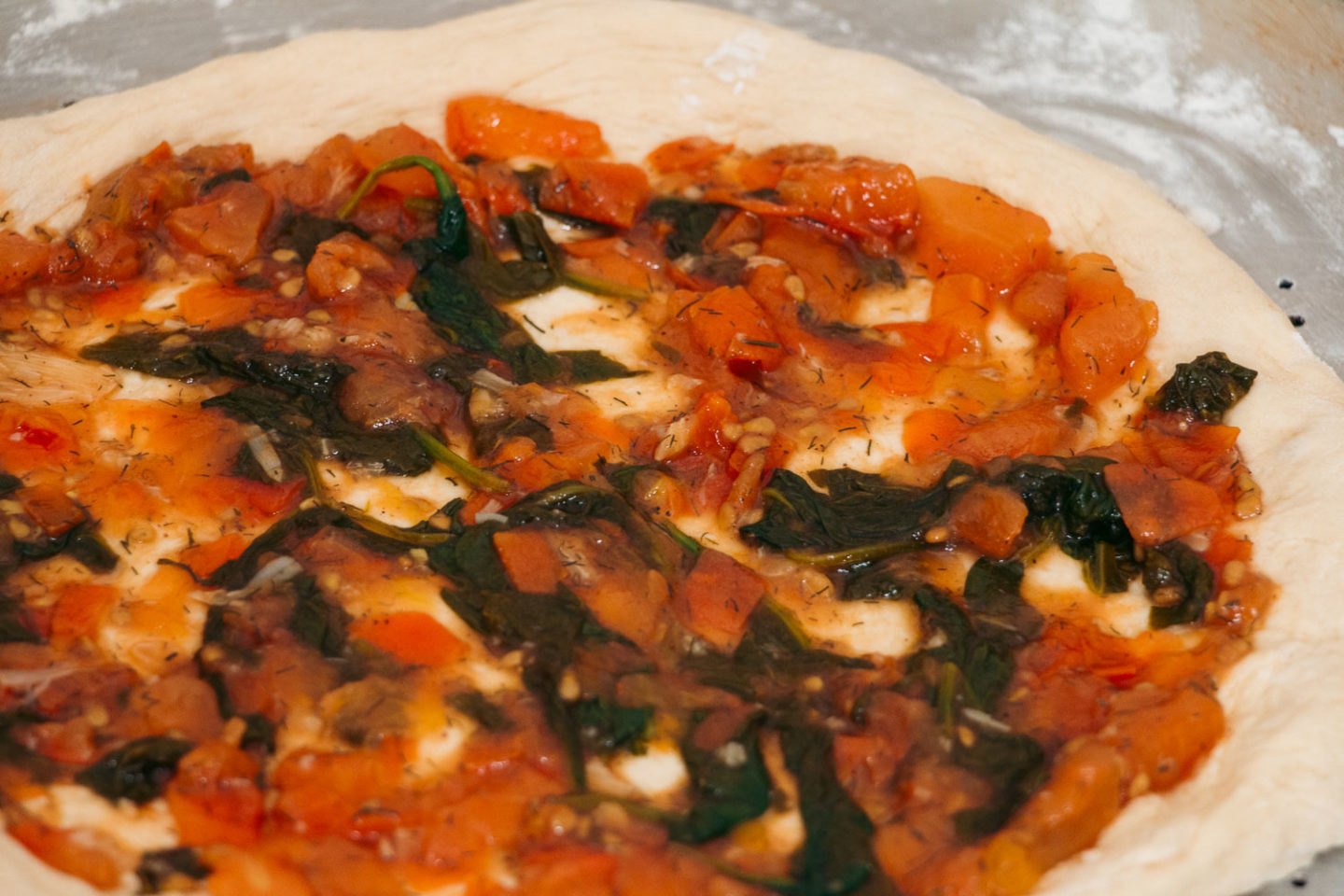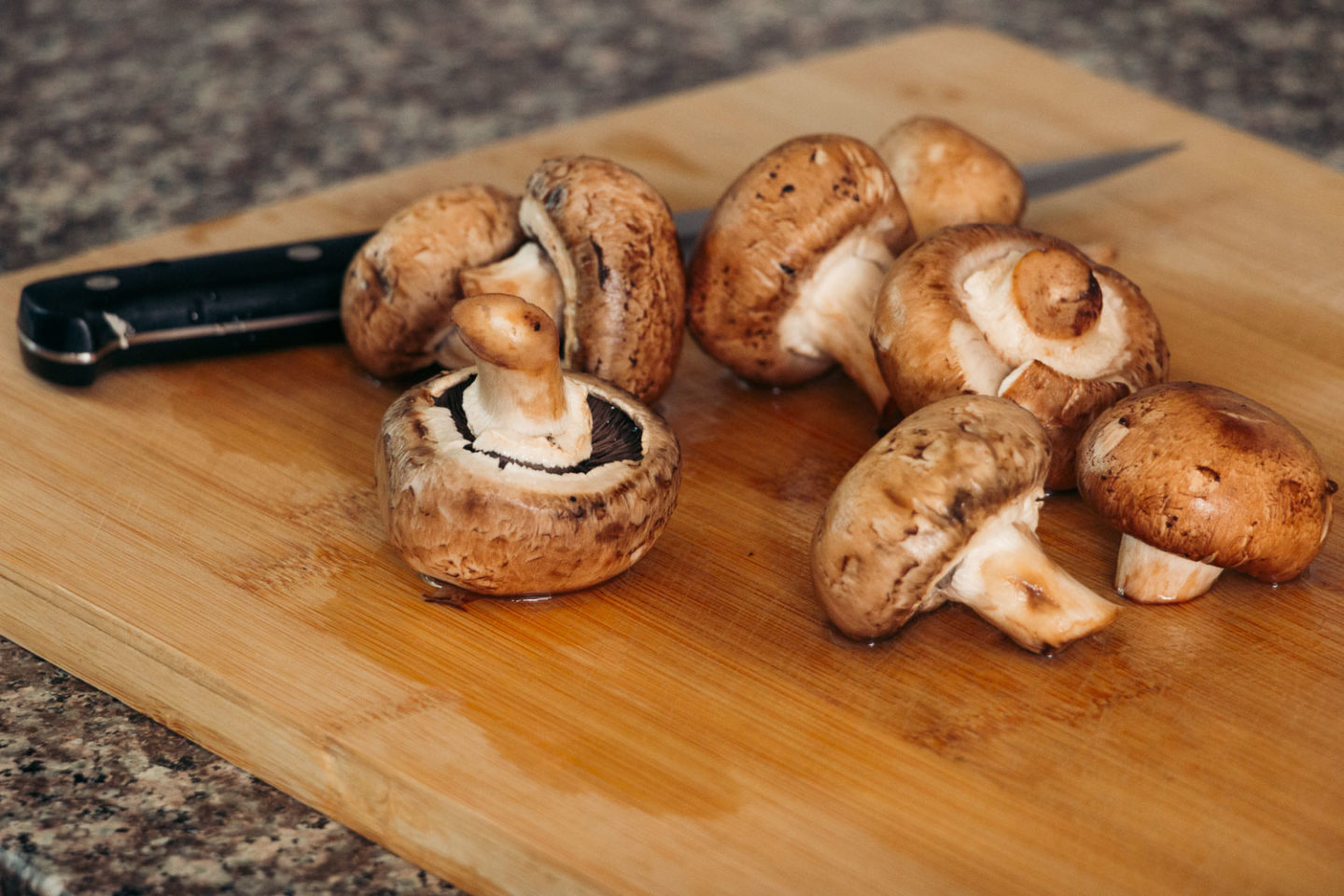 Homemade Vegan Pizza Recipe: Topping 1
Ingredients for Vegan Spinach Pesto Sauce 
2 medium tomatoes
3 cloves garlic
1/2 cup loosely packed spinach
1/4 tsp salt
1/2 tsp ground pepper
Ingredients for Sweet Potato Topping 
1 pound sweet potatoes or yams
1 tbsp coconut oil
Salt and pepper to taste
Instructions for Vegan Spinach Pesto
Mince the garlic and spinach and dice the tomatoes.
Place the garlic and tomatoes in a pan. Cook over medium heat for 5-7 minutes, stirring occasionally.
Reduce heat to low and add the spinach, salt, and pepper. Simmer for about 7-10 minutes until the mixture gets thicker.
Spread the spinach sauce over your vegan pizza, omitting the very edge.
Pile on the vegetables on top.
Instruction for Sweet Potato Topping:
Slice the sweet potatoes thinly.
Place on a baking sheet. Sprinkle with the coconut oil, salt, and pepper.
Roast in the oven at 400 degrees Fahrenheit for about 30 minutes.
Place the roasted sweet potatoes on your homemade vegan pizza.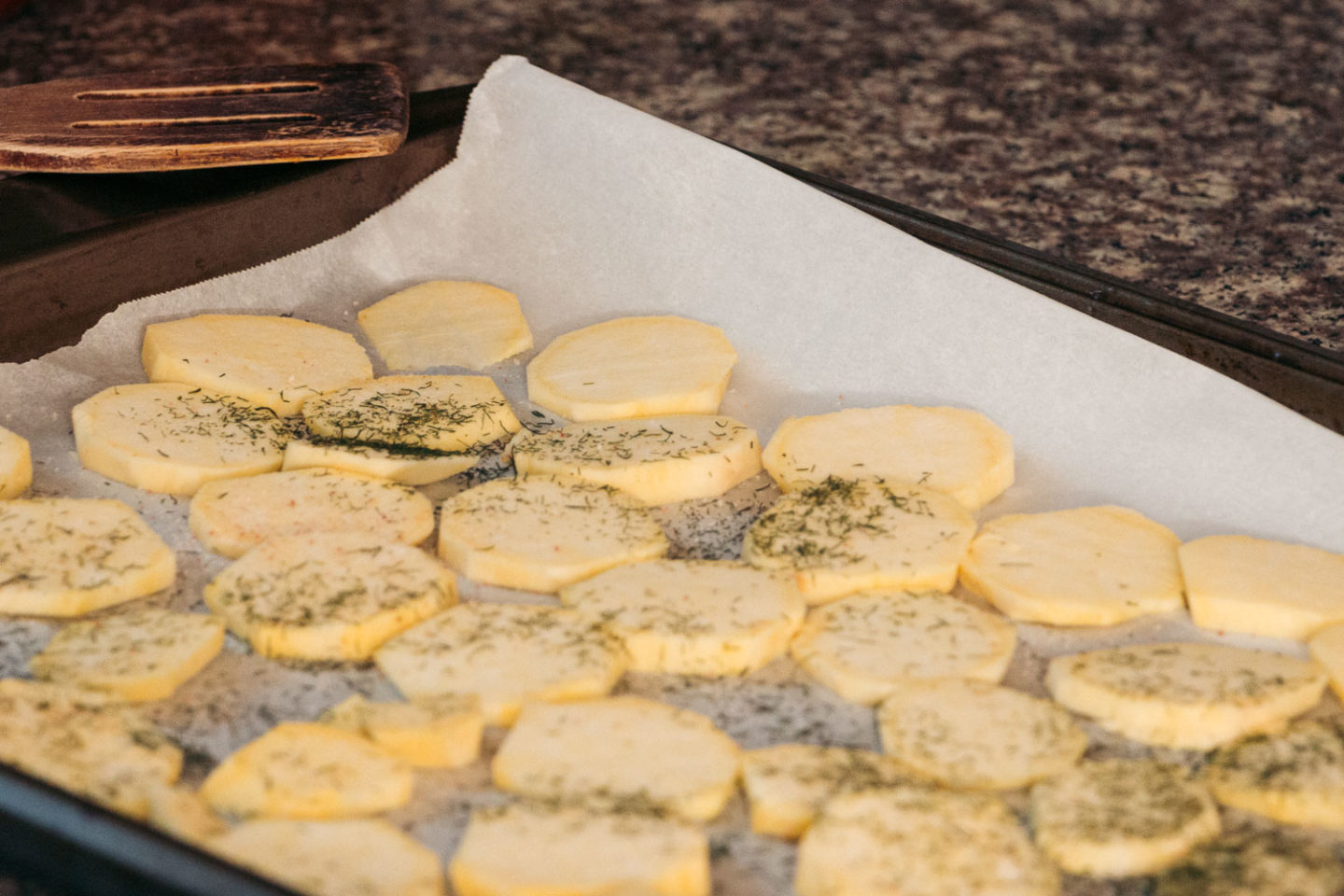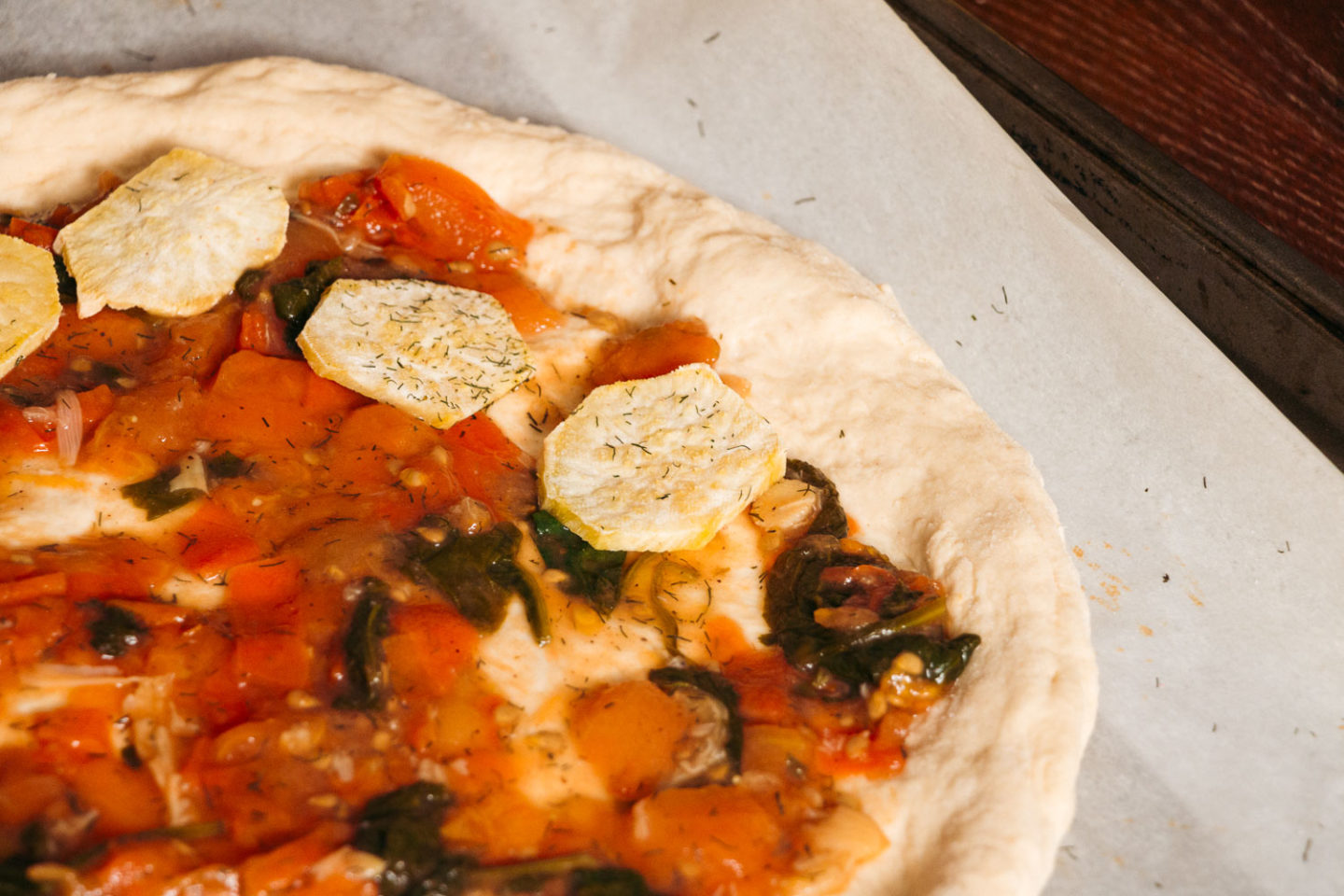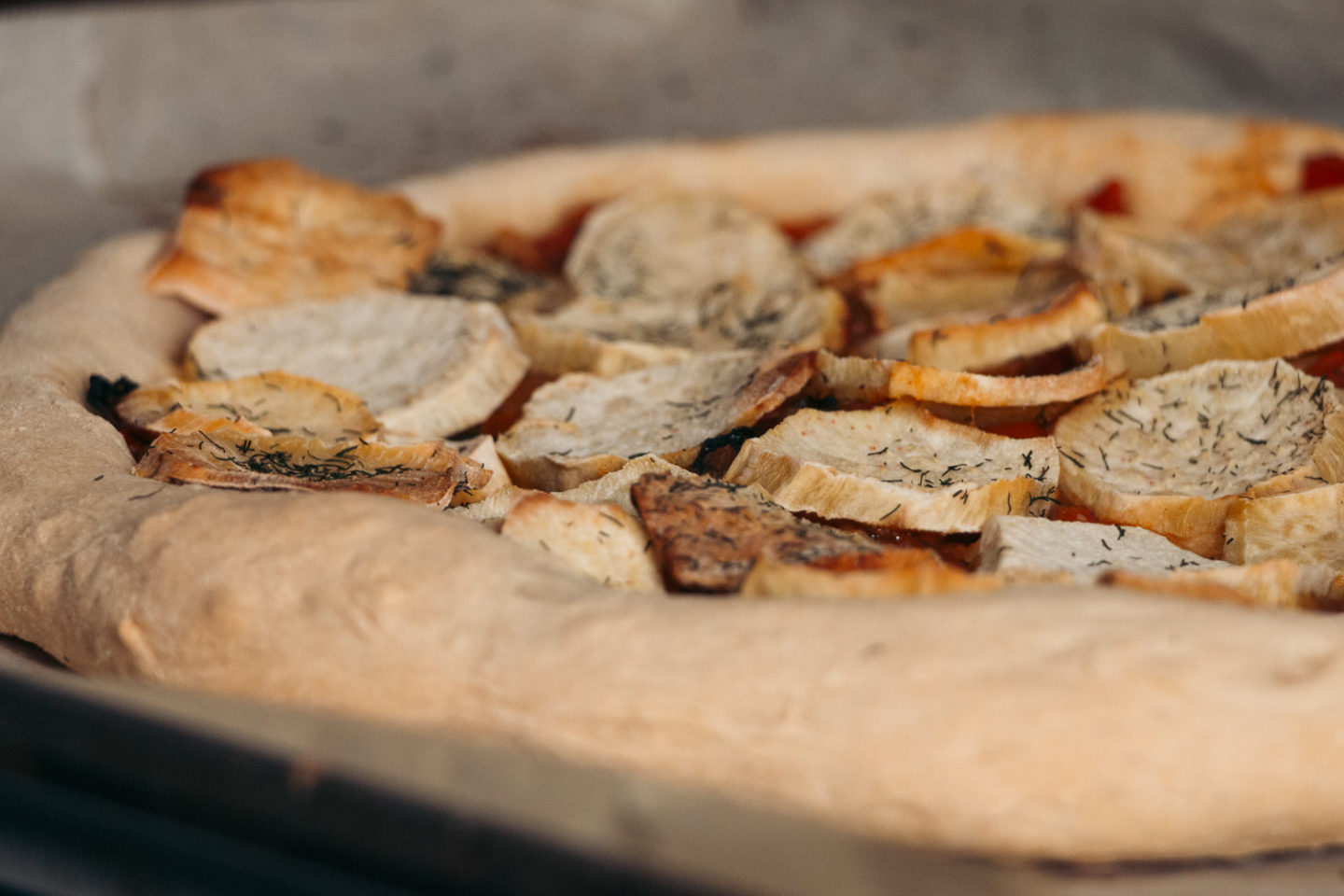 Homemade Vegan Pizza Recipe: Topping 2
Make the vegan spinach pesto sauce as instructed in the topping 1. Instead of the sweet potatoes, use any other vegetables to place on top of your vegan pizza. Tomatoes, cauliflower, bell pepper, and zucchini are some of my favorite.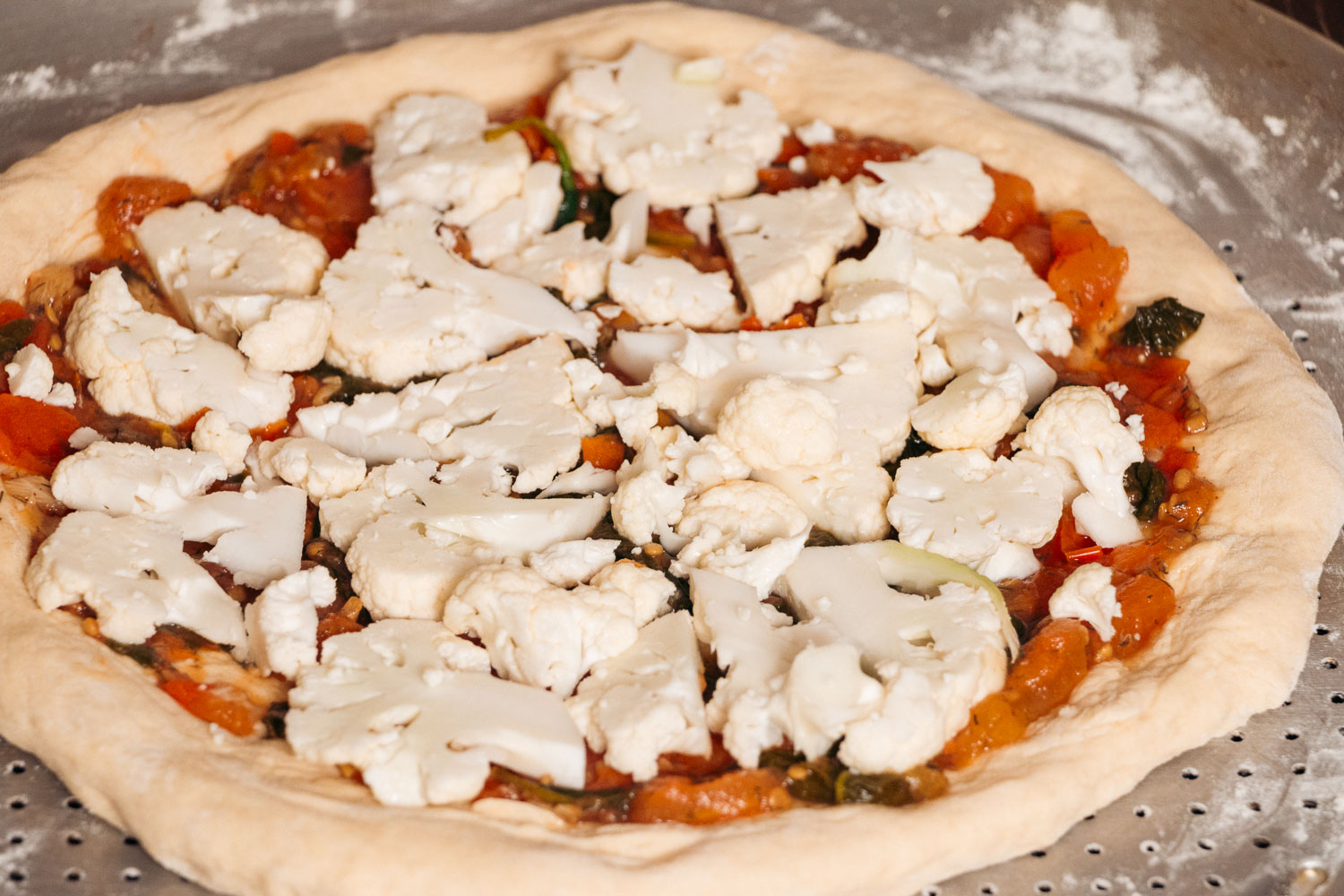 Homemade Vegan Pizza Recipe: Topping 3
Ingredients for Vegan Spinach Cheese Mushroom Topping
1 1/2 cup (200 g) fresh spinach
3-4 garlic cloves
Salt and pepper to taste
1 cup vegan Parmesan cheese
1 tbsp coconut oil
2/3 cup (150 g) mushrooms
Ingredients for Vegan Parmesan Cheese
1 cup raw unsalted cashew
4 tbsp nutritional yeast
1 tsp garlic powder
1 tsp salt
1/4 tsp pepper
about 1/3 cup water
Instructions for Vegan Spinach Cheese Mushroom Topping
Bring water to a boil in a pot. Add the spinach and cook for 1-2 minutes until it starts to wilt. Remove from the water and squeeze well to get rid of excess liquid. Chop roughly.
In a small pan, put the coconut oil and roast the garlic for 30 seconds, stirring all the time.
Remove the pan from the stove. Add the spinach, homemade vegan parmesan cheese, salt, and pepper and stir to combine.
Spread the spinach cheese topping over your vegan pizza dough.
Bake pizza for 10-15 minutes or until the crust is golden brown.
In the meanwhile, cut the mushrooms and fry them in a pan with the coconut oil for about 7 minutes or until they are golden brown. Add a little bit of salt and pepper.
When the pizza is ready, top it with the mushrooms. 
Instructions for Vegan Parmesan Cheese
Add all ingredients to a food processor and mix until a fine meal is formed.
Use 1 cup of this homemade cheese for your vegan pizza. Store the rest in the refrigerator to keep it fresh.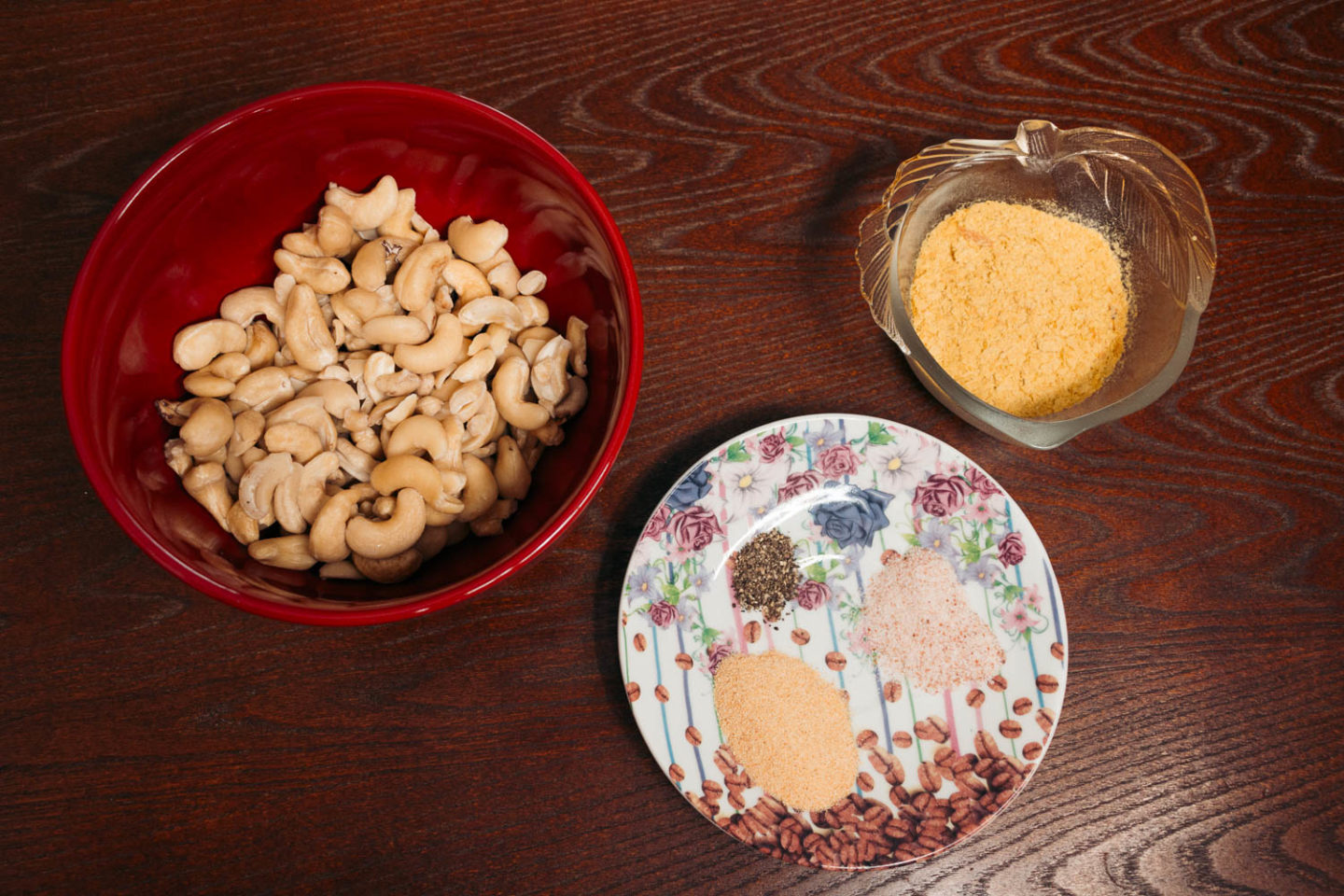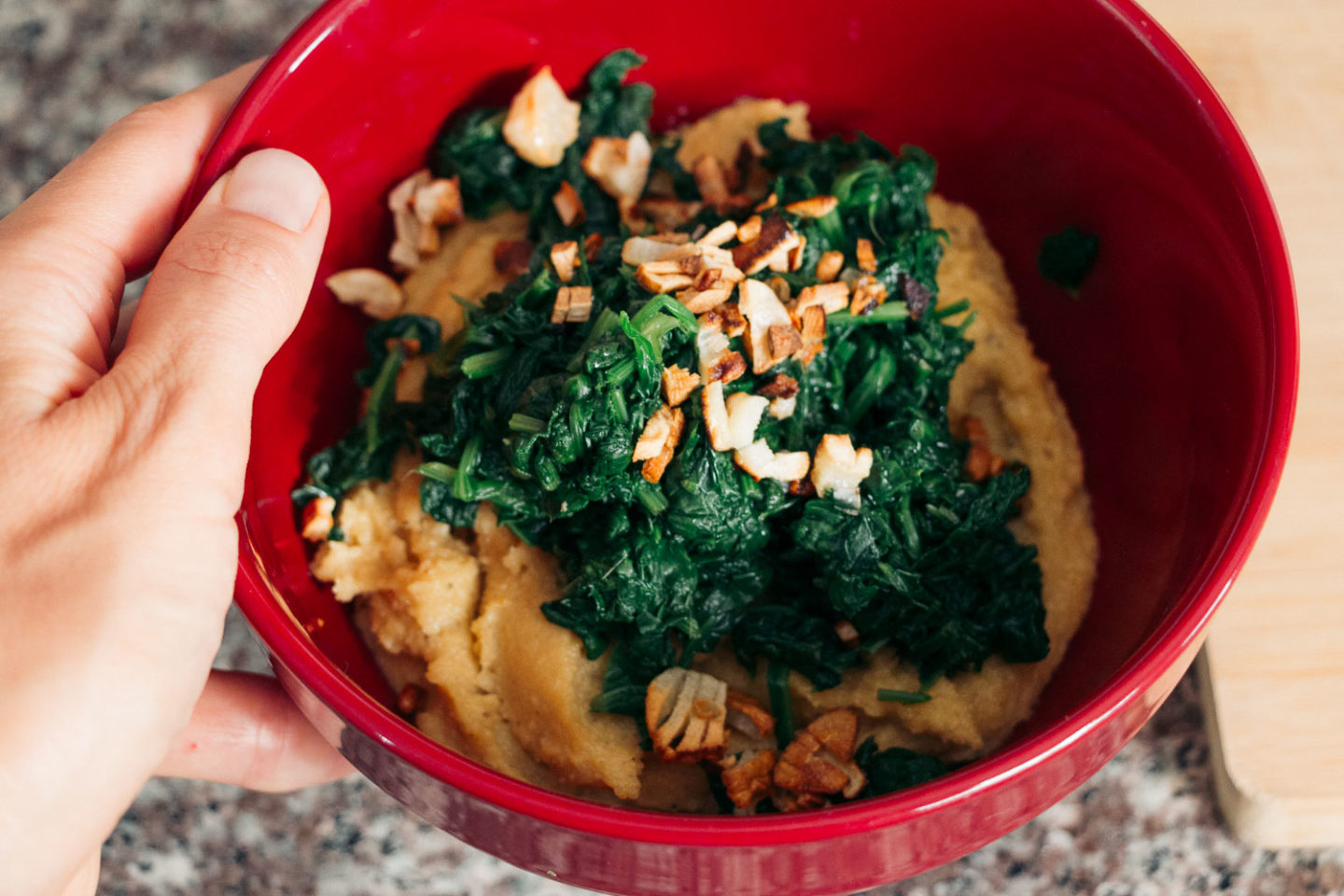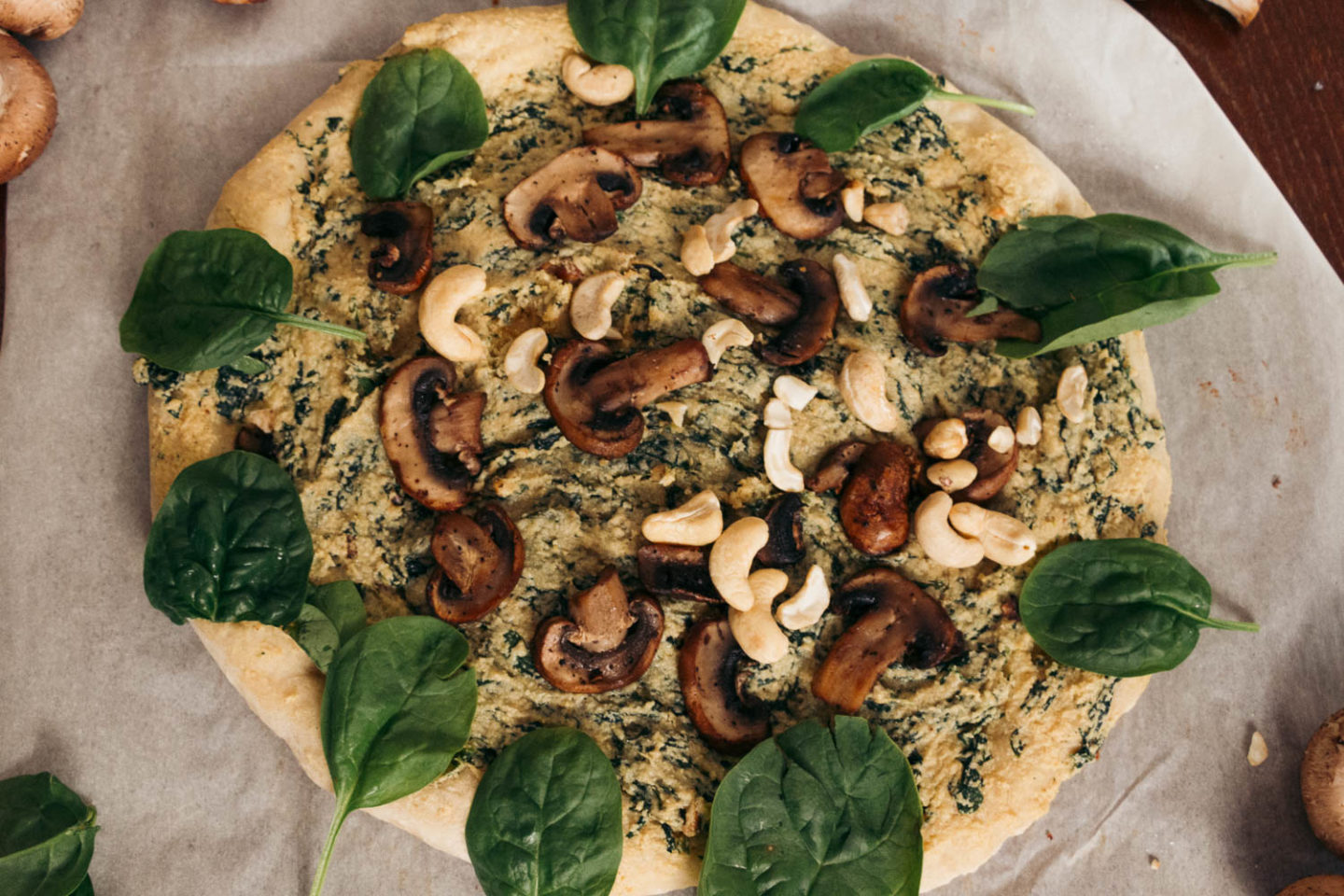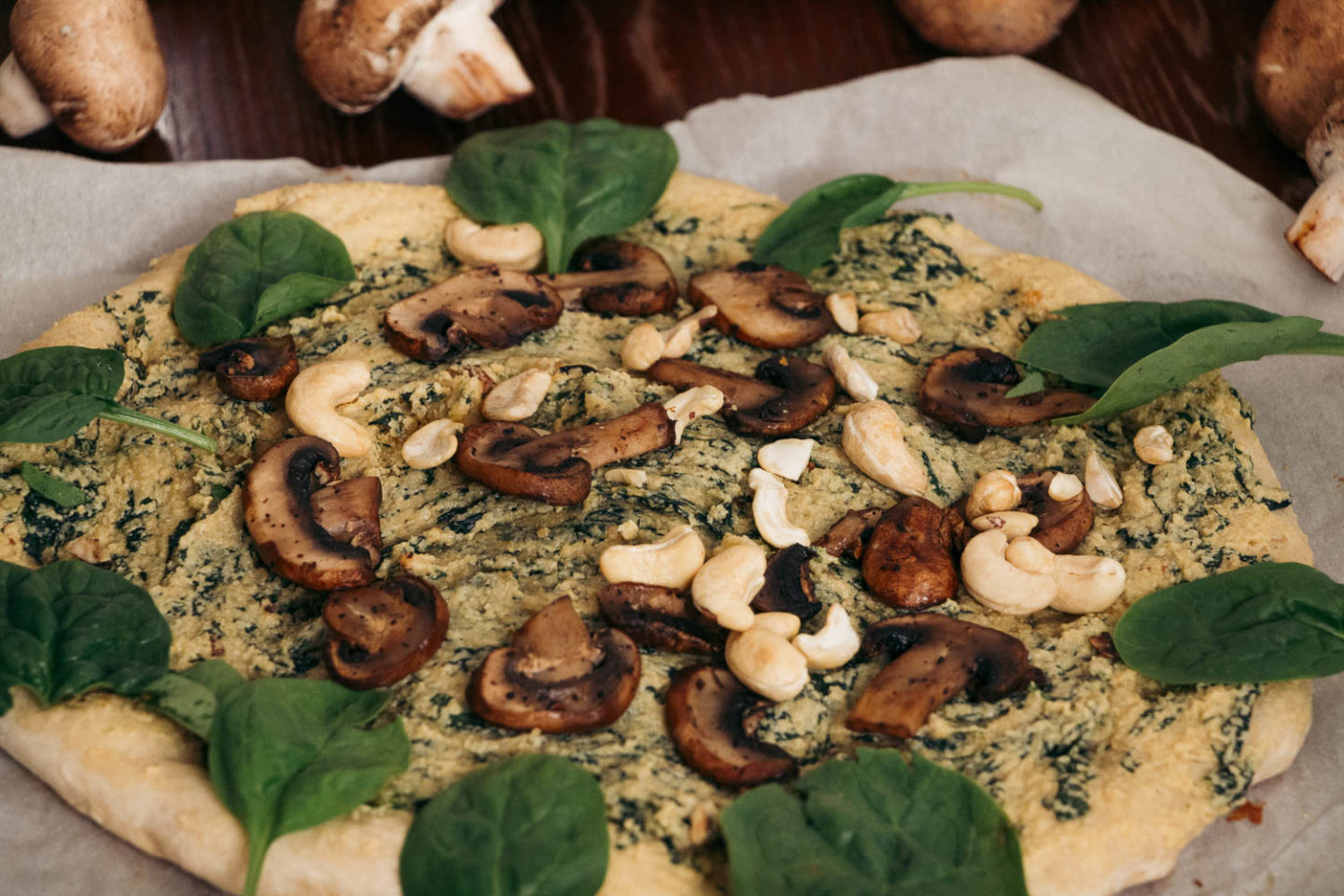 If you want to experiment with more dishes from around the world, check out these recipes.
Read Next