A road trip opens doors to places you didn't know existed. This time our 5-day family road-trip adventure took us across Northern California, Southern Oregon, and all the way to the central part of the Beaver State.
Last updated: September 24, 2023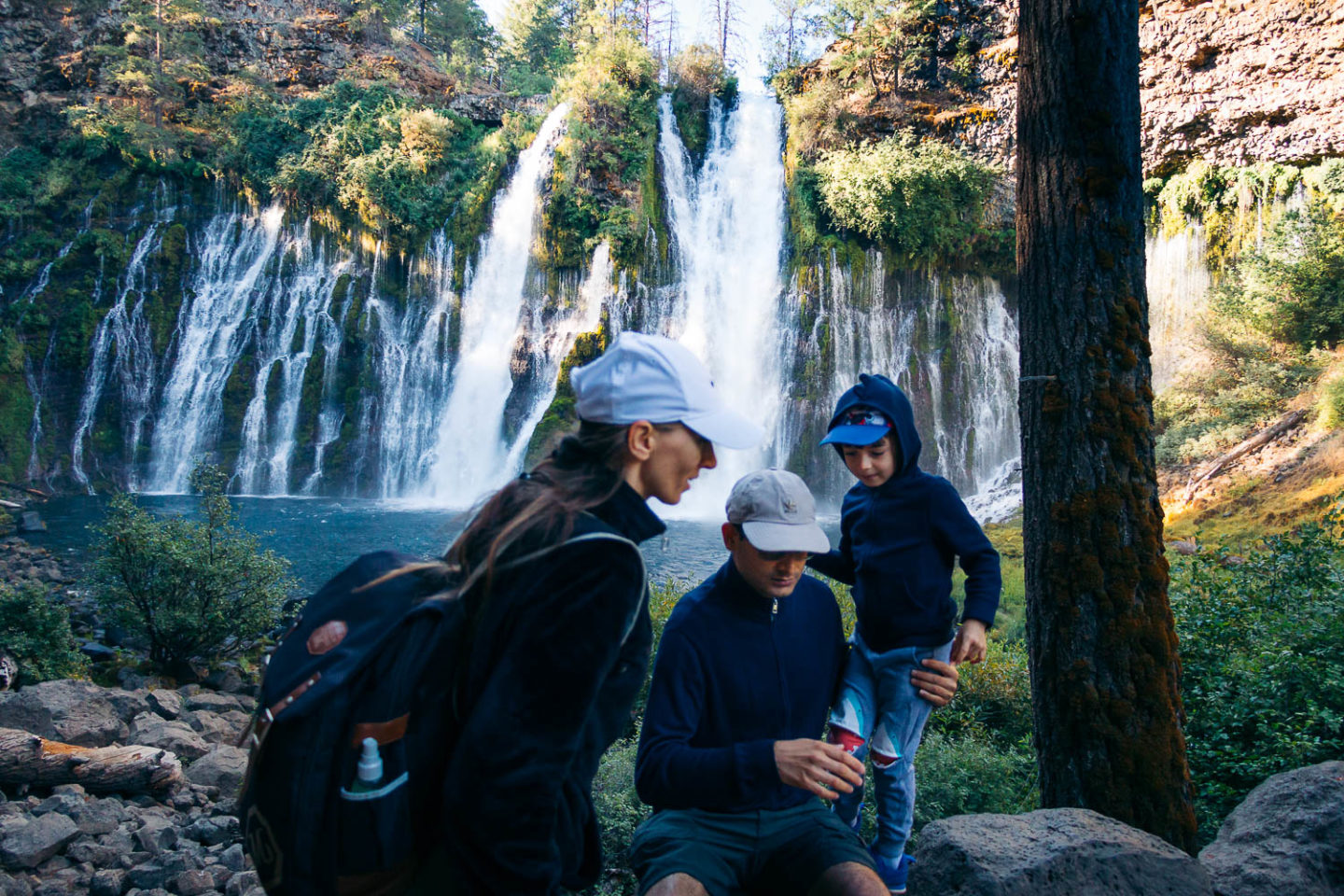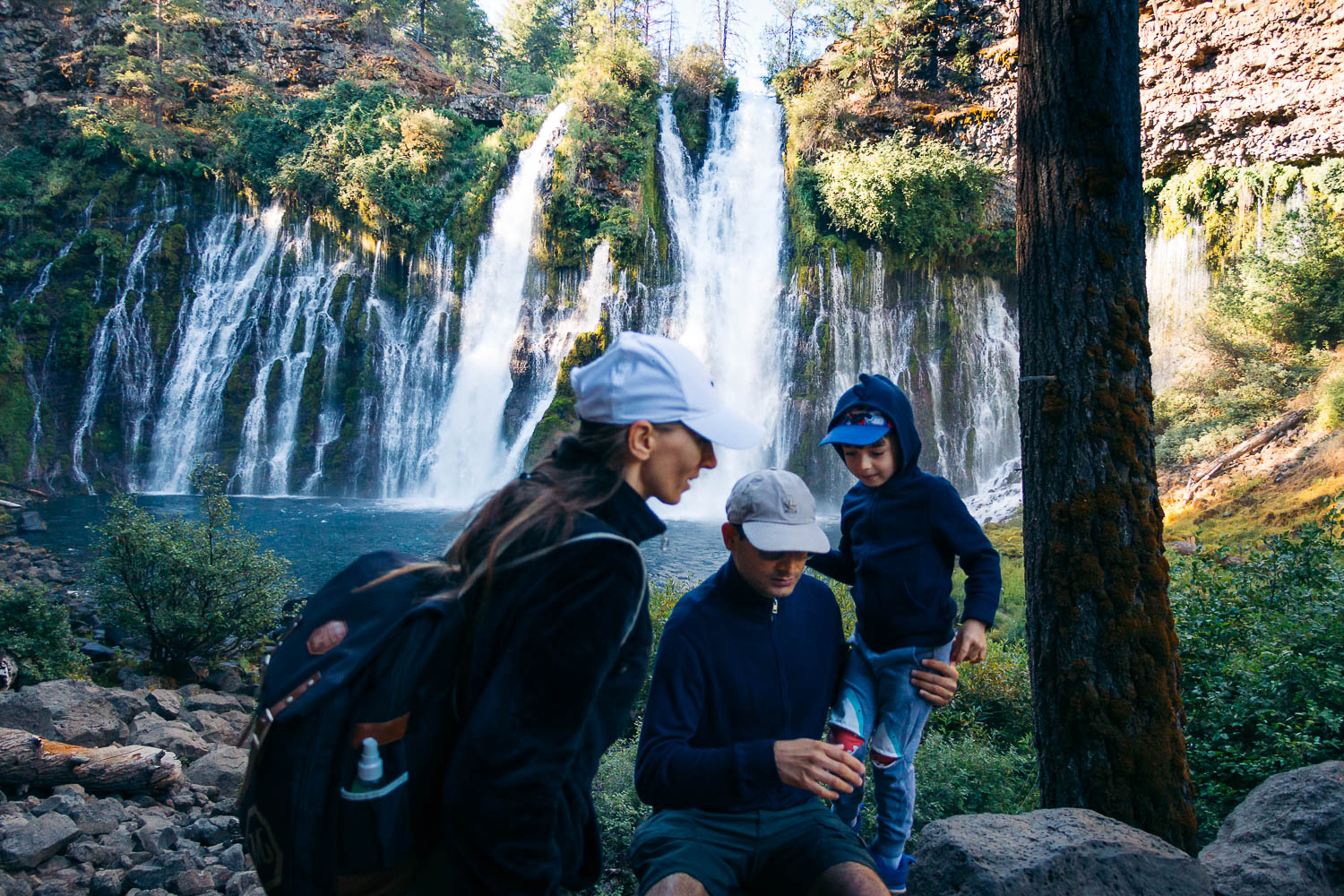 On the Road Again: The Ultimate 5-Day Northern California – Oregon Road Trip Itinerary
Every road trip has a hidden agenda. Whether it's hydrothermal features of Yellowstone National Park or pointed hoodoos of Bryce Canyon, there is always a place or thing that inspires that particular adventure. 
Our latest road trip across Northern California and Southern and Central Oregon centered around waterfalls. I can't imagine any better place to see the cascading and plunge falls in the Pacific Northwest than Oregon. Northern California got on this road-trip wagon for its very own splashing reason: Burney Falls in McArthur-Burney Falls Memorial State Park.
Logistics and Things to Take into Consideration while Planning a 5-Day Northern California – Oregon Road Trip
If you live on the West Coast like we do, the easiest thing would be to jump into your car (rented or owned) and drive all the way to Northern California and Oregon (or the other way around if you drive from the north).
The distance from Los Angeles to Eugene, our final destination in Oregon, is approximately 856 miles (roughly 13 hours 30 minutes without stopping). This road trip is doable if you have a few extra days to spare on just the road itself. We didn't have this time.
So instead, we adhered to services of two budget airlines to help us spend more time exploring epic places in Northern California and Oregon and less time road-tripping from one destination to another. 
TIP: For the first time ever, we landed in one state and departed from the other. This saved us tons of time. On the other hand, renting a car in one city and dropping it in a different state was a little bit expensive. This small luxury on the road costed us additional $150. But it was worth it.
I'll leave a few other tips for the last section of this itinerary and jump straight to our Northern California – Oregon adventure, including all the places we stopped along the way.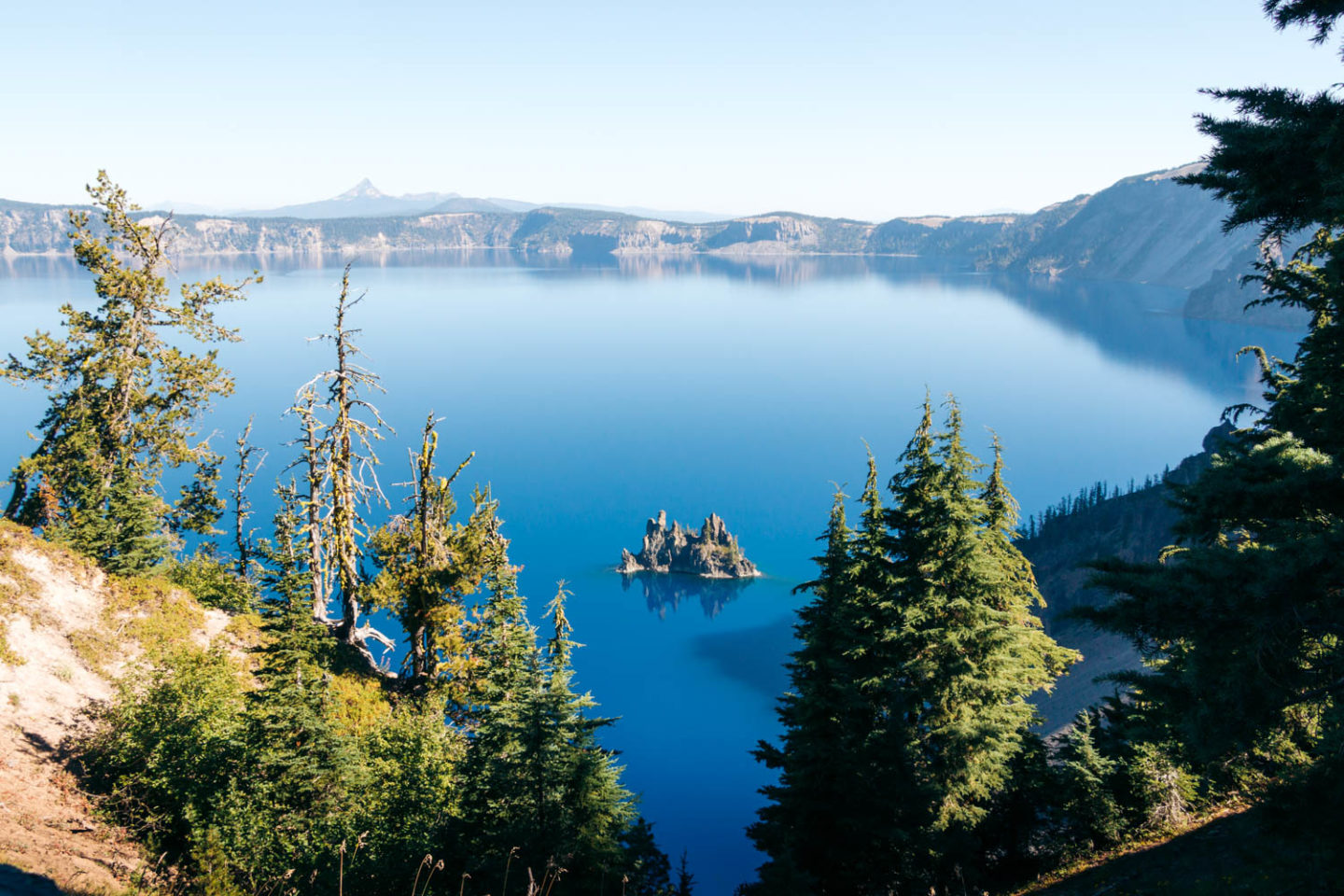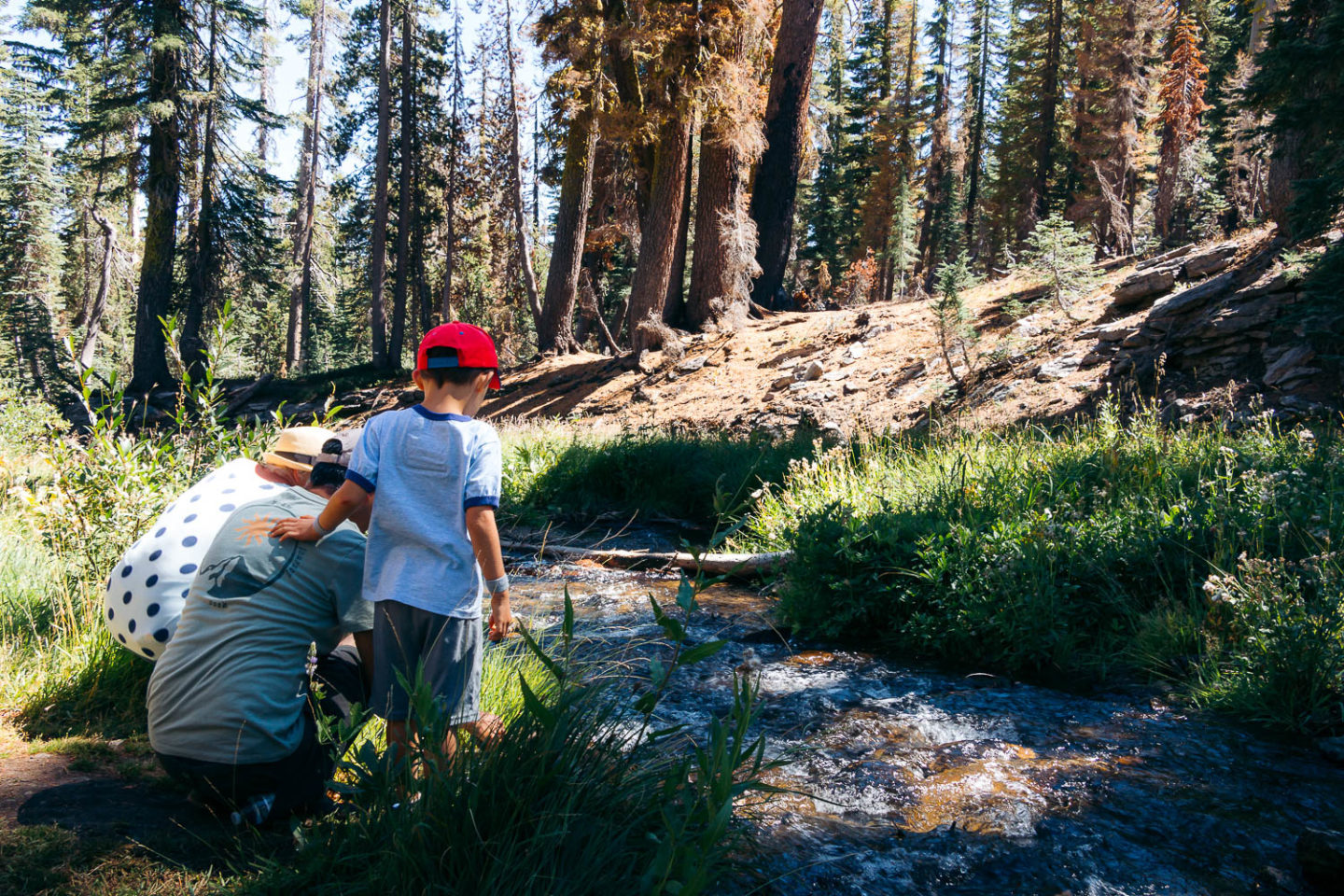 THE ULTIMATE 5-DAY NORTHERN CALIFORNIA-OREGON ROAD TRIP ITINERARY
Day 1: Flying into Reno, Nevada, and Driving to Fall River Mills, Northern California
Drive time: 2 hours 55 minutes
The first day of this Northern California – Oregon road trip didn't even start in California. Not exactly as we flew to Reno, Nevada, from Los Angeles (Hollywood-Burbank Airport). Yes, it was a detour… 
At the end of summer, a similar flight to Redding with the nearest airport to Lassen Volcanic National Park would cost a family of four a small fortune. We paid just a fraction of this price for the flight to Reno where we rented a car and started our road trip. 
About 3 hours later, we arrived in Fall River Mills, a small town in Northern California, sandwiched between Mount Shasta and Mount Lassen. 
Since we expected quite eventful trips in both Northern California and Oregon in the next 4 days, no further plans for the first day of the trip were made. Instead, we stayed at the Mott's Cottage, which offered a beautiful prelude to the area we were about to explore. 
Day 2: Burney Falls and Lassen Volcanic National Park
The day 2 of our 5-day Northern California – Oregon road trip was the busiest. With so many incredible places to see in the northern part of the Golden State and a few-hour drive to our next home away from home, we spent the entire day on the road.
Stop 1: Burney Falls
Drive time from Fall River Mills to Burney Falls: 20 minutes
The most popular attraction in McArthur-Burney Falls Memorial State Park, the 129-foot waterfall sits about 16 miles southwest of Fall River Mills. The park opens at 8:00 a.m., and this is the time you want to get here. The area allures way too many road-trippers later in the day to enjoy it at your own pace. 
The towering waterfall is a sight to behold throughout the year. While some other waterfalls we would see later on this road trip reduced their flows to trickles, Burney Falls was a splashing, roaring giant even during the last days of summer.
The most popular overlook sits at the bottom of the waterfall, separated from the trail by a large pool. The hike to this vintage point is short, only 0.3 mile. If you want to explore the park a little bit more, hike the entire 1.2-mile Burney Falls Loop Trail. This forest adventure can take up to an hour.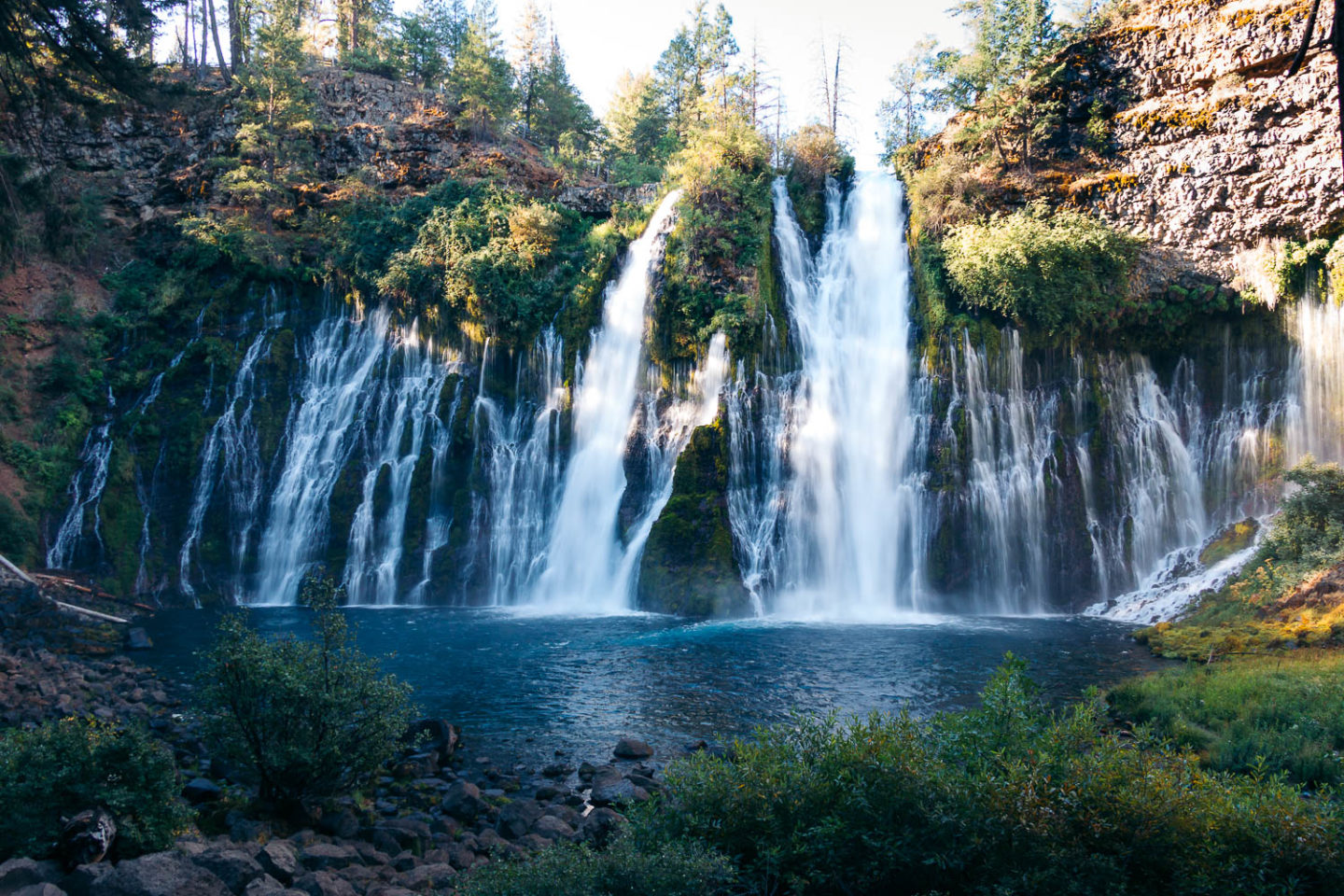 Stop 2: Subway Cave
Drive time from Burney Falls to Subway Cave: 28 minutes
After hiking in McArthur-Burney Falls State Park, we headed south, still in Northern California, but farther away from Oregon. Our next destination was the unmatched Subway Cave.
The Subway Cave is one of the largest lava tubes in the Lassen National Forest. The 0.3-mile tunnel was created by a flowing lava about 30,000 years ago.
It was cold and pitch-dark inside, an ideal environment for local population of bats. We didn't see any of them in the cave, though. But a mysterious vibe, a feeling that you trespassed on the territory where the time had frozen was in the air.
Stop 3: Lassen Volcanic National Park
Drive time from the Subway Cave to Lassen Volcanic National Park: 16 minutes
The grandest adventure of the day 1 of this Northern California – Oregon road trip awaited us less than 20 minutes later. Lassen Volcanic National Park is one of the most overlooked national parks in California. The area is home to numerous hydrothermal features, such as fumaroles and mudpots, several picturesque lakes, and scenic valleys. 
Following our preplanned road-trip itinerary to a T, we spent more time than it was needed hiking to Kings Creek Falls. Trekking through the forest with a small kid turned into a rather slow activity. So plan you day itinerary accordingly. 
Athletic travelers can easily fit a few hikes and see most of the roadside attractions while spending a day in Lassen Volcanic National Park.
Where to Stay
At around 5-6 p.m., we turned back and headed toward the Oregon's borden, leaving California for 3 days. It takes approximately one hour to drive along the 30-mile Lassen Volcanic National Park Highway back to the Northwest Entrance.
From here, it was almost 3 more hours before we reached Klamath Falls, Oregon. We crashed on our beds at A-1 Budget Motel around 11 p.m. The next day of our Northern California – Oregon road trip was the one we had anticipated for more than a year.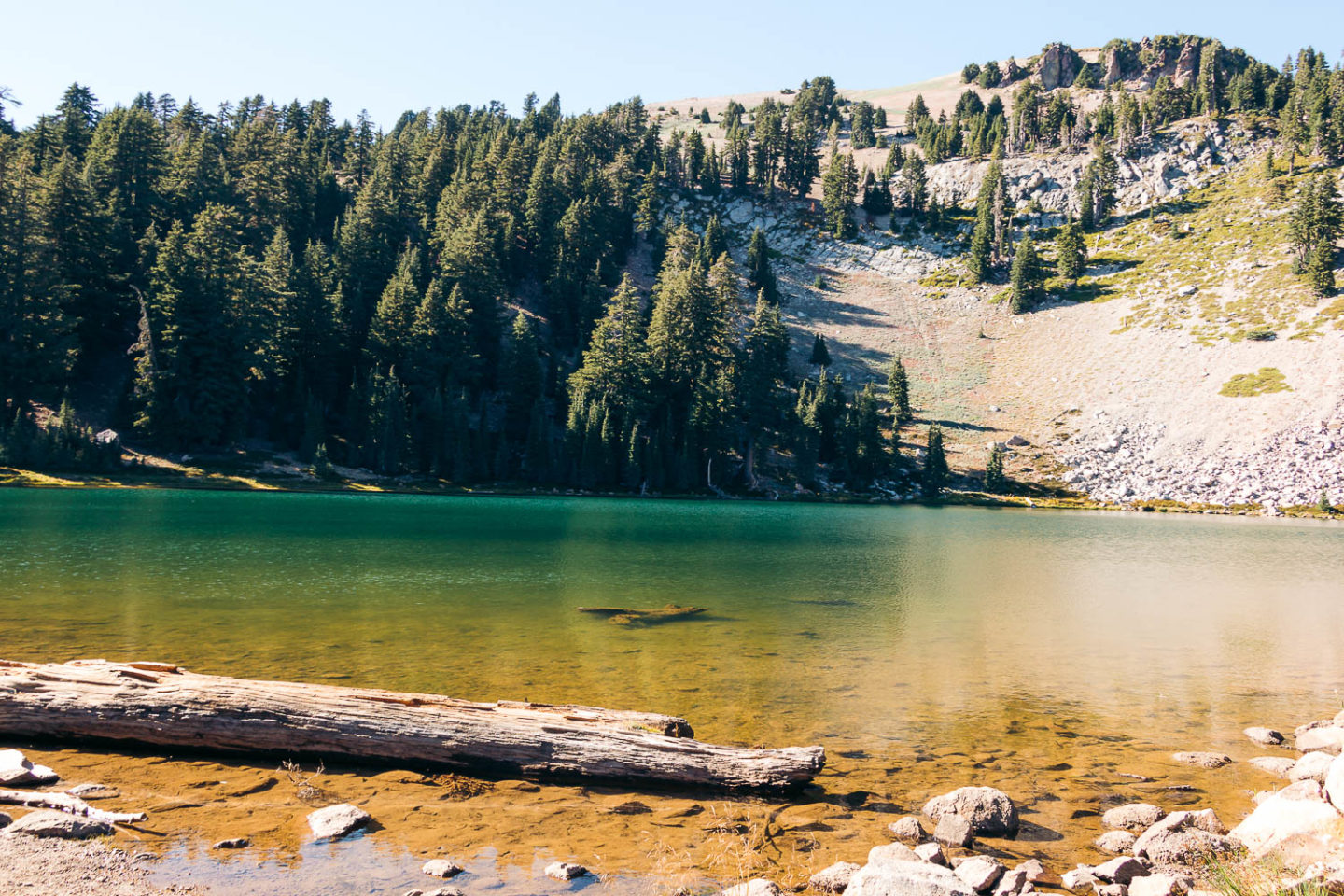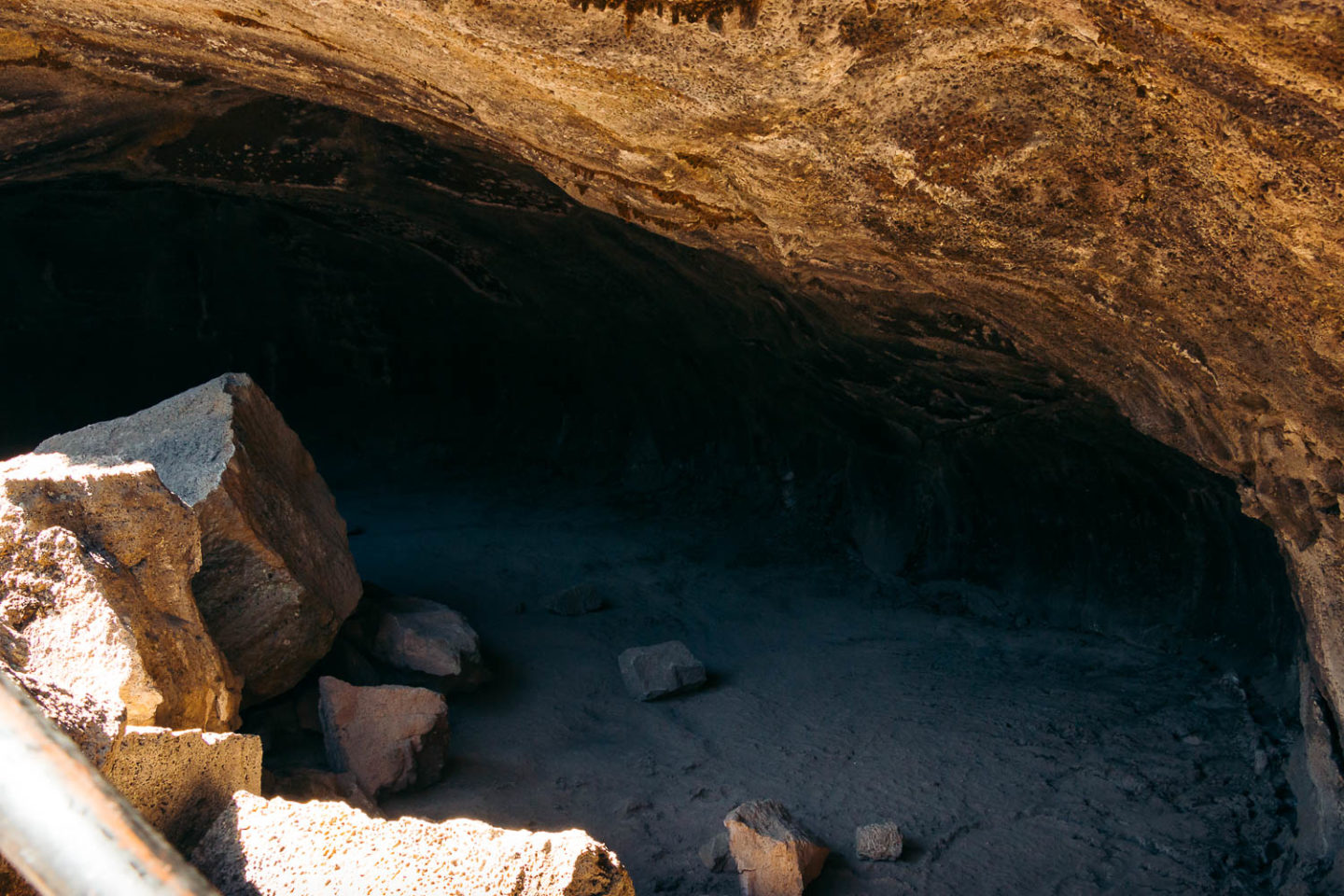 Day 3: Crater Lake National Park
Drive time from Klamath Falls to Crater Lake National Park: 1 hour 10 minutes
Located in Southern Oregon, Crater Lake National Park was one of the highlights of our road trip. The deepest lake in the USA was created in a crater of an erupted volcano about 7,700 years ago. Over the next centuries, rain and snow have filled the abyss. No other water sources flow into the lake, which partially explains its intense blue color.
A day trip is a perfect way to explore this Southern Oregon's jewel. The 33-mile historic Rim Drive runs along the caldera edge, opening up different views of Crater Lake and ensuring easy access to hiking trails along it. 
We opted for an easy, virtually flat hike along the Sun Notch Trail with incredible views of Crater Lake and mysterious Phantom Ship. Other popular trails in the park include the Cleetwood Cove Trail, Watchman Peak Trail, Discovery Point Trail, and Garfield Peak Trail. 
Where to Stay
The fourth day of this Northern California – Oregon road trip was all about waterfalls. So we made sure to get as close as possible to our next destination. And so, for the next two nights we stayed in Eugene. One of the biggest cities in Oregon, it offers many accommodation options for different budgets. 
The more we road-trip, the more I agree that a little bit of convenience goes a long way. Airbnb rentals come in handy. And at least on this road trip, they successfully competed with some budget hotels in Eugene. 
On top of that, Airbnb's services far exceed basic services offered by hotels of motels. We had such a pleasant stay at the Cozy Casa (Juan's Place) on Adams Street, and can't recommend this place enough.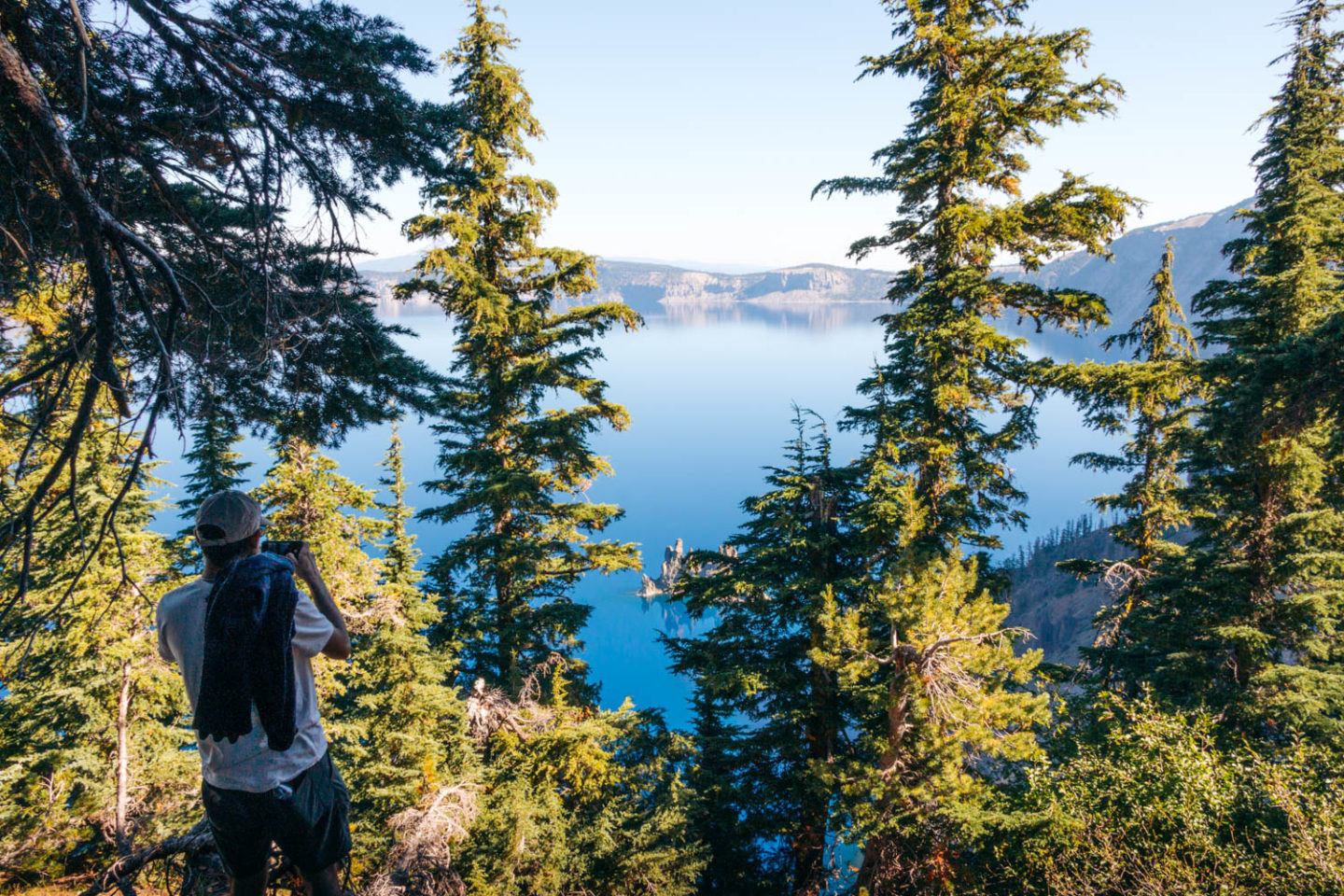 Day 4: Silver Falls State Park
Drive time from Eugene to Silver Falls State Park: 1 hour 25 minutes
The last full day of the road trip spoiled us with the best waterfall hike in both Northern California and Oregon. Home to the picturesque Trail of Ten Falls, Silver Falls State Park sits a little bit over an hour north of Eugene. 
Hiking along the 7.2-mile trail is a full-day activity for a family with small kids. The trail runs along a canyon and is fairly easy. Several stairs are installed along the route to help hikers conquer the steepest sections.
The biggest attractions of this road-trip destination are ten waterfalls. None of them is the same. Some plunge from the towering cliffs, from the height of more than 170 feet. Others cascade down a creek, hardly dropping more than 30 feet. 
I admit, although long, the Trail of Ten Falls was the most relaxing destination on our Northern California – Oregon road-trip itinerary. We just parked near South Falls and spent the whole day in one place. No driving around, no consulting with a map or itinerary. Easy, enjoyable, and stress-free.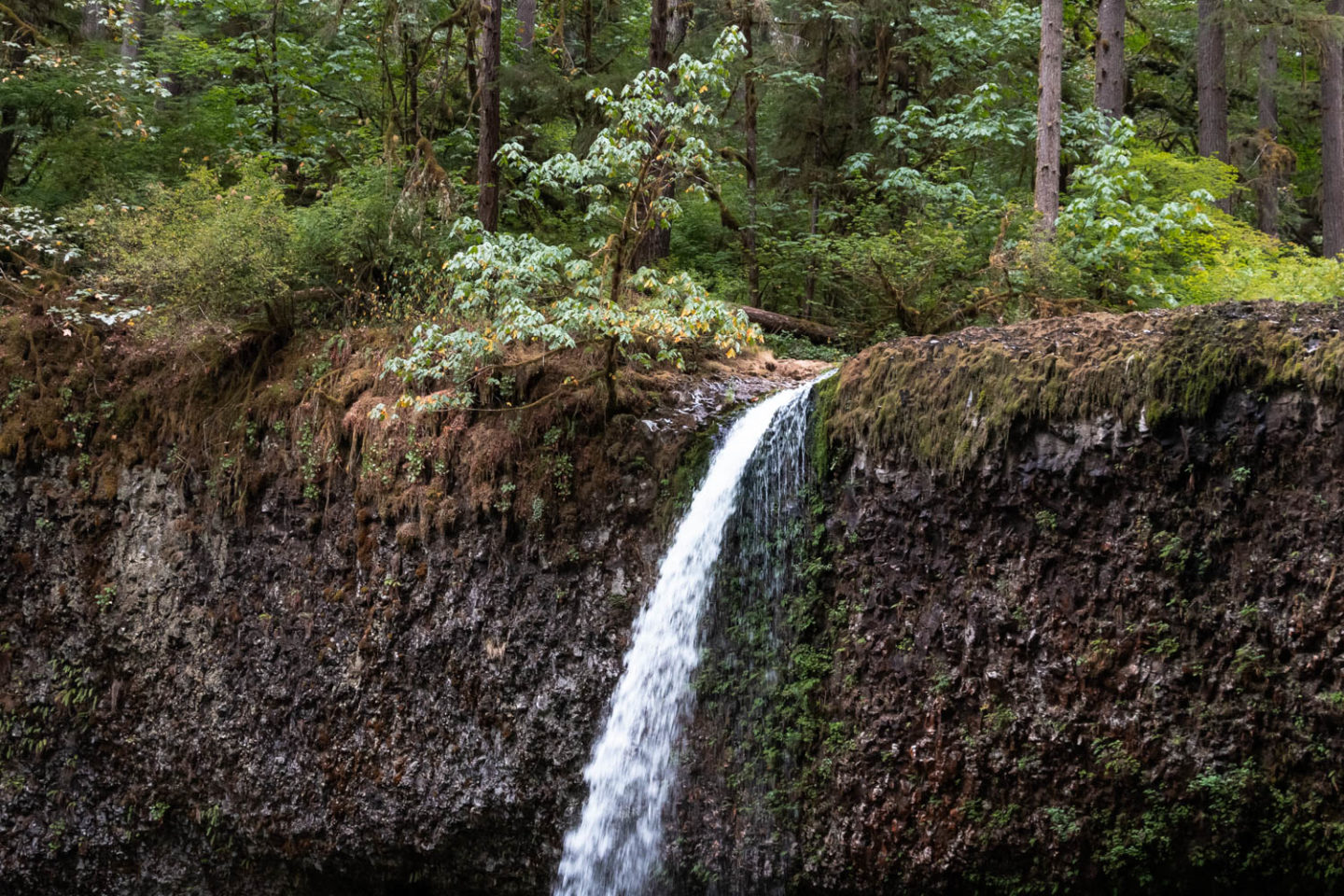 Day 5: Eugene
We had almost an entire day before returning to Los Angeles. Initially, our itinerary included a few more waterfall seeings and several hot-spring exploring a few hours away from Eugene. But after the 4 days on the road, driving from Nevada to Northern California and finally Oregon, staying in the city sounded just fine. 
A thirst for road-trip adventures didn't die so easily, though. After changing our plans early in the morning, we still drove to the Willamette National Forest, home to popular Terwilliger (Cougar) Hot Springs.
The rest of the day was spent in and near the city, getting acquainted with Eugene's city life and visiting such remarkable places as Hendricks Park and the Cascades Raptor Center.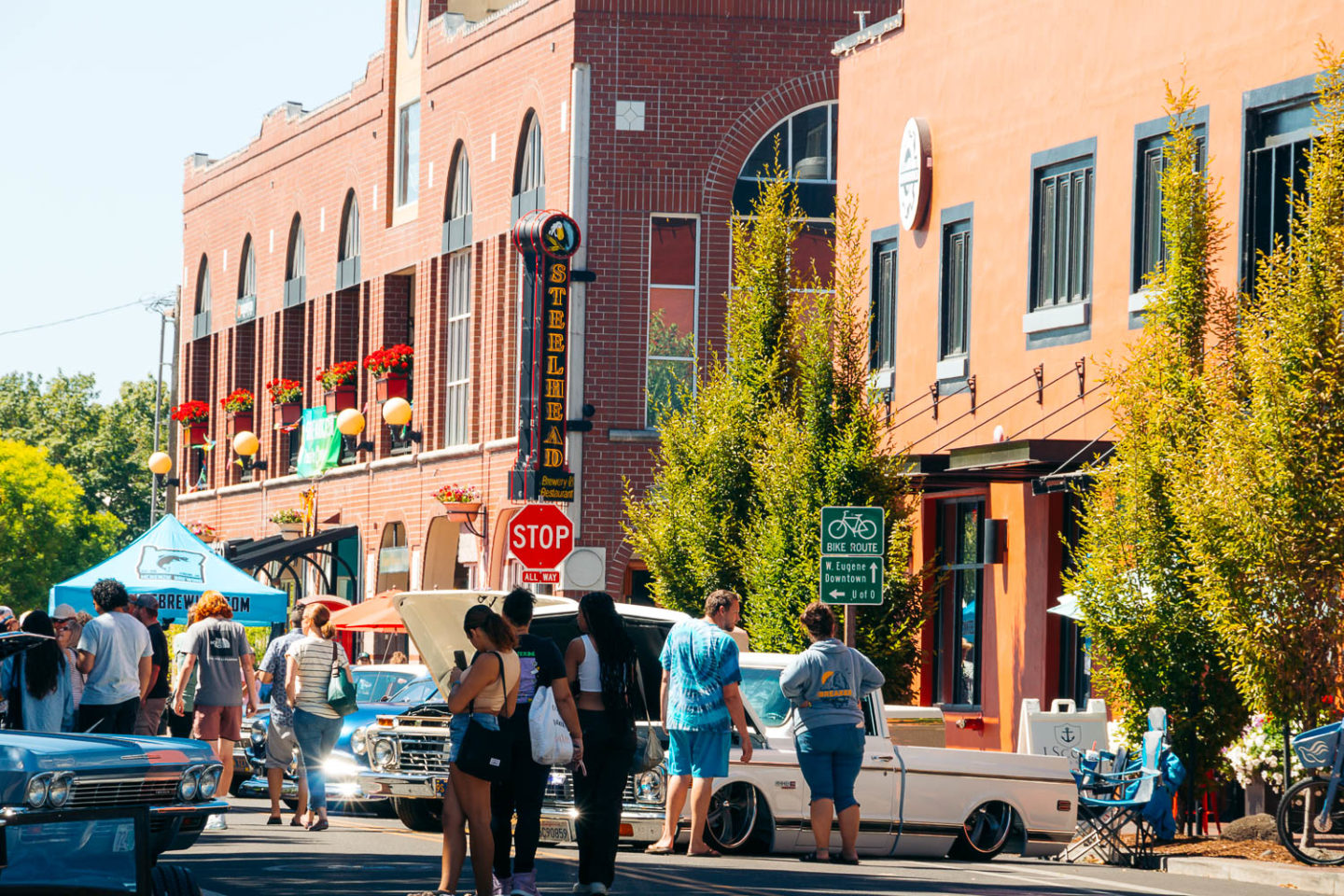 5-Day Northern California – Oregon Road Trip Adventure: Map
Things to Know before Setting off on a Northern California – Oregon Road-trip Journey
Seasonal Road Closures
Both Lassen Volcanic National Park and Crater Lake National Park are perfect road-trip destinations all year long. But with the arrival of a snowy winter wonderland, the scenic routes in the parks are unable to accommodate vehicles.
Sledding, snowshoeing, and skiing are the best options to reach most of the trails and overlooks in these areas from November through late May-April. 
Furthermore, if you plan your Northern California – Oregon road trip during the winter season, make sure to check road conditions beforehand and have plan B, C, and even D.
Annual National Pass
Instead of paying $30-35 for entering a national park, get the America the Beautiful Pass. It costs $80 and allows access to all national parks and national recreation areas for a year. 
State parks, such as McArthur-Burney Falls Memorial State Park and Silver Falls State Park, are not covered by the annual national pass.
The Best Time to See Waterfalls in Northern California and Oregon
Plan your road trip across Northern California and Oregon in late winter and spring when the waterfalls are at their optimum flow. By the end of summer when we road-trip across the region, some of the falls were not bigger than a trickle.