On a hot day nothing can beat the heat better than acai bowls in Los Angeles.
5 Best Acai Bowls in Los Angeles
Unfortunately, the summer is officially over. But when it comes to the acai bowls in Los Angeles, I have to admit that old habits die hard. Luckily, the weather in Los Angeles still asks for cool ice-cream-like desert or breakfast that the acai bowls are perfect for.
That's right, breakfast! According to majority of nutritionists, the acai berries, the main ingredient of the acai bowls, are powerful superfoods that support immune system, boost energy, facilitate sleep and fight dreadful aging, and inflammatory processes. Not bad at all!
This tropical fruit is not just another healthy food trend. It has been staple diet of Brazilian population for centuries. Even today in many Amazonian villages, the acai berries make up almost half of the daily caloric intake.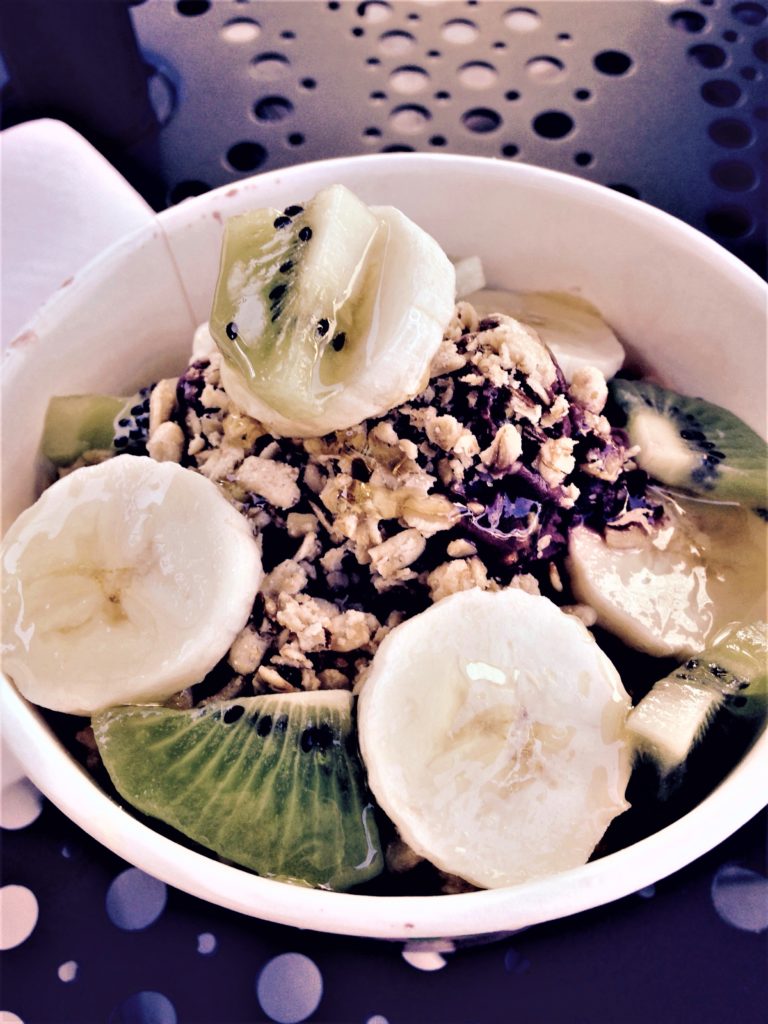 There are many different ways to prepare the acai berries such as exotic hot chocolates, energy-packed drinks, cocktails, and acai jams made with figs, ginger, chocolate, honey, and vanilla. And there is definitely not shortage of places to get your favorite acai bowls in Los Angeles.
Surprisingly, the original recipe is actually savory and contains shrimp or dried fish, tapioca, and guarana. People in the northern regions of Brazil still prefer this dish over countless sweet variations aka the yummy acai bowls so popular in Los Angeles.
But my favorite at the moment are the acai bowls served with fruits, granola, honey, and other tasty toppings. I was indulging in these super delicious and nutritious bowls all summer long, and I'm definitely not slowing down yet. Here are my favorite places in Los Angeles to get the delicious acai bowls and satisfy your sweet tooth without any guilt.
THE BEST ACAI BOWLS IN LOS ANGELES: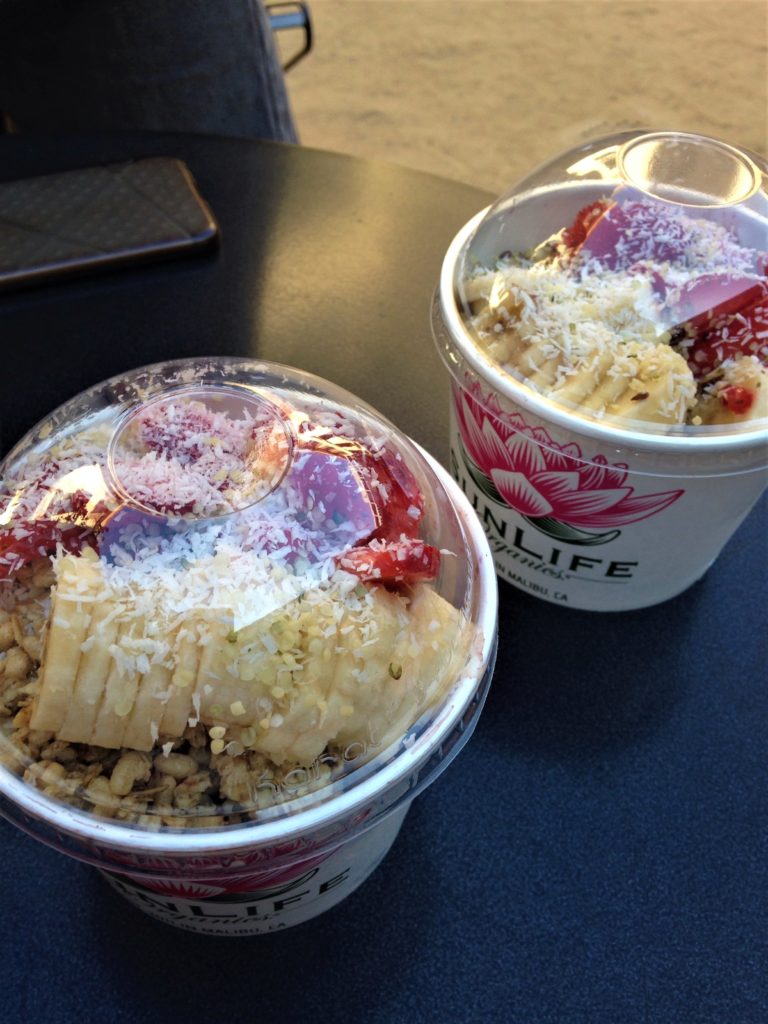 SunLife Organics
Address: 146 S Lake Ave #103, Pasadena, CA 91101
SunLife Organics was started by a former Skid Row drug addict who became obsessed with health and opened a few stores in LA with a mission to love, heal and inspire. We stumbled upon Pasadena's SunLife Organics by accident and were glad to find out that all ingredients used there are 100% certified organic, wildcrafted, pesticide and gluten free. The store is popular with its organic juices, smoothies, shakes and different kinds of bowls.
We opted for Hawaiian Bowls. Made out of acai sorbet topped with banana, granola, strawberries, and coconut shreds, these simple bowls are absolutely delicious. When in Los Angeles, give these acai bowls a try, and without any doubt they will become your favorite.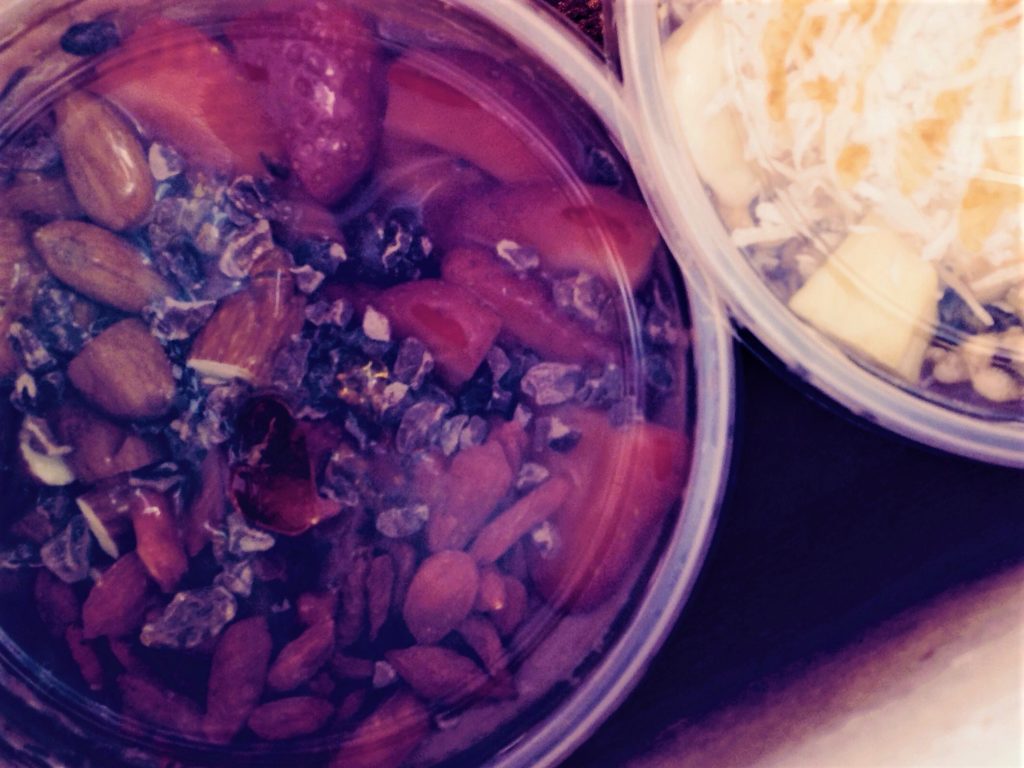 Rock'n Juice
Address: 2470 S. Western Ave, Space C, San Pedro, CA 90732
Staying true to their philosophy, "Let food be thy medicine and medicine be thy food", Greek cousins, Voula and Efthemios Tsiboukas, opened Rock'n Juice that became a success among health conscious residents of Los Angeles. With a main focus on juices, smoothies, shots, cleanses, and acai bowls, this place in Los Angeles is a true heaven of health. Rock'n Juice will amaze you with their variety of acai bowls' blends and toppings from the classic versions of the acai, granola, banana, and honey to quiet interesting combinations of fruits and greens. You can find the complete list of ingredients of these Los Angeles' acai bowls can on www.rocknjuice.com.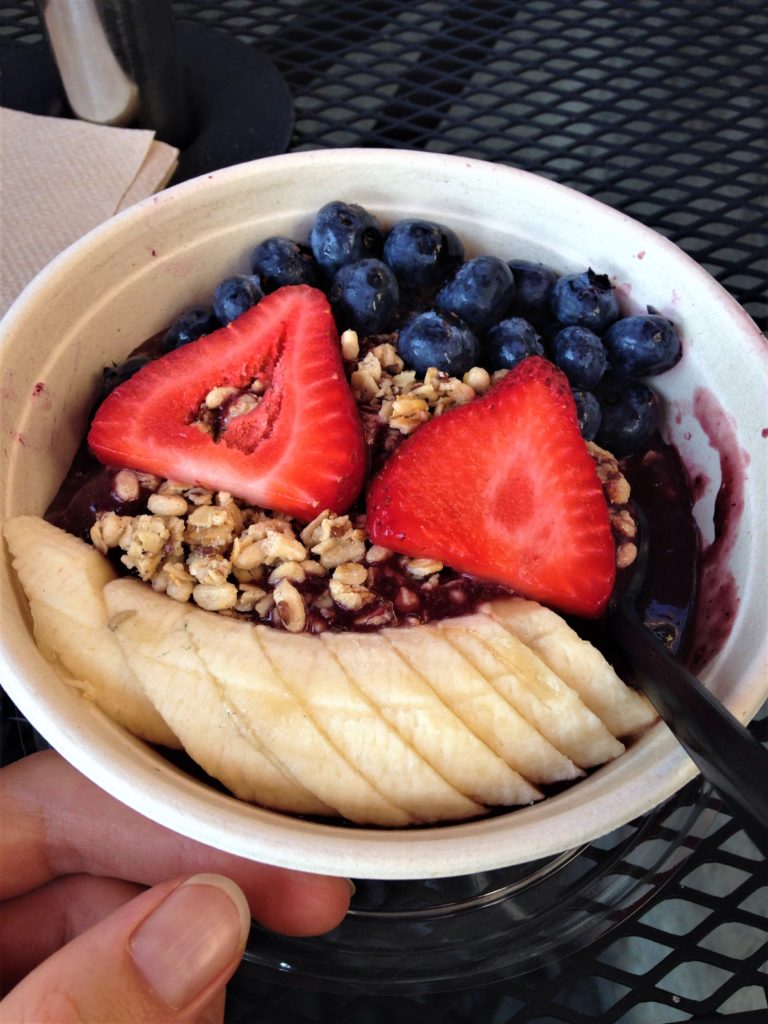 Robeks Fresh Juices & Smoothies
Address: 1001 N San Fernando Blvd, Burbank, Ca 91504
Are you craving anything simple? Stop by at Robeks Fresh Juices & Smoothies and get their Acai Especial. Simple blend of the acai, blueberries, and banana topped with fresh banana, strawberries, blueberries, and granola is like a combination of black and white. You can never go wrong with it.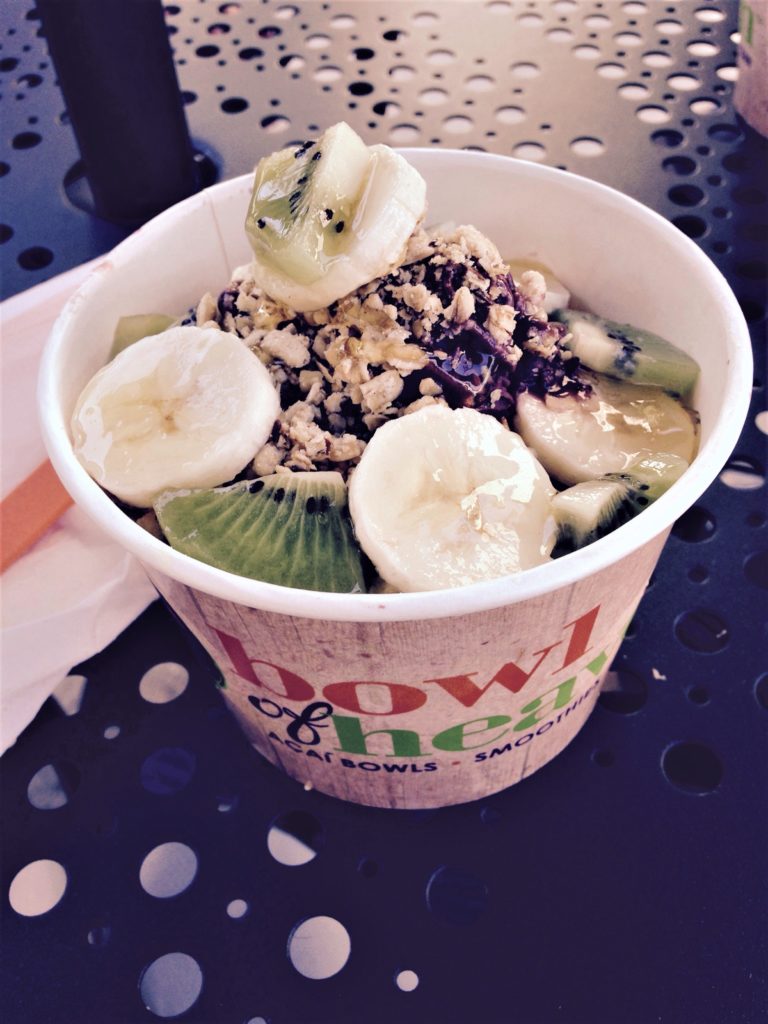 Bowl of Heaven
Address: 30768 Russell Ranch Rd., Building G Suite D, Westlake Village, CA 91362
When you say "Bowl of Heaven", most likely the first thing that comes to your mind is a yummy acai bowl. You are not alone! The wonderful acai berries are that powerful force that attracts people to a small, yet cute superfood stop in Westlake Village called Bowl of Heaven. The café's guests can choose from a variety of super-fruit blends and any number of add-ons such as fresh fruits, nuts, and granola to create their perfect bowls. I personally can't get over their Brazilian Bowl. This acai sorbet topped with hemp and flax seeds, granola, kiwis, banana, and honey is out of this world.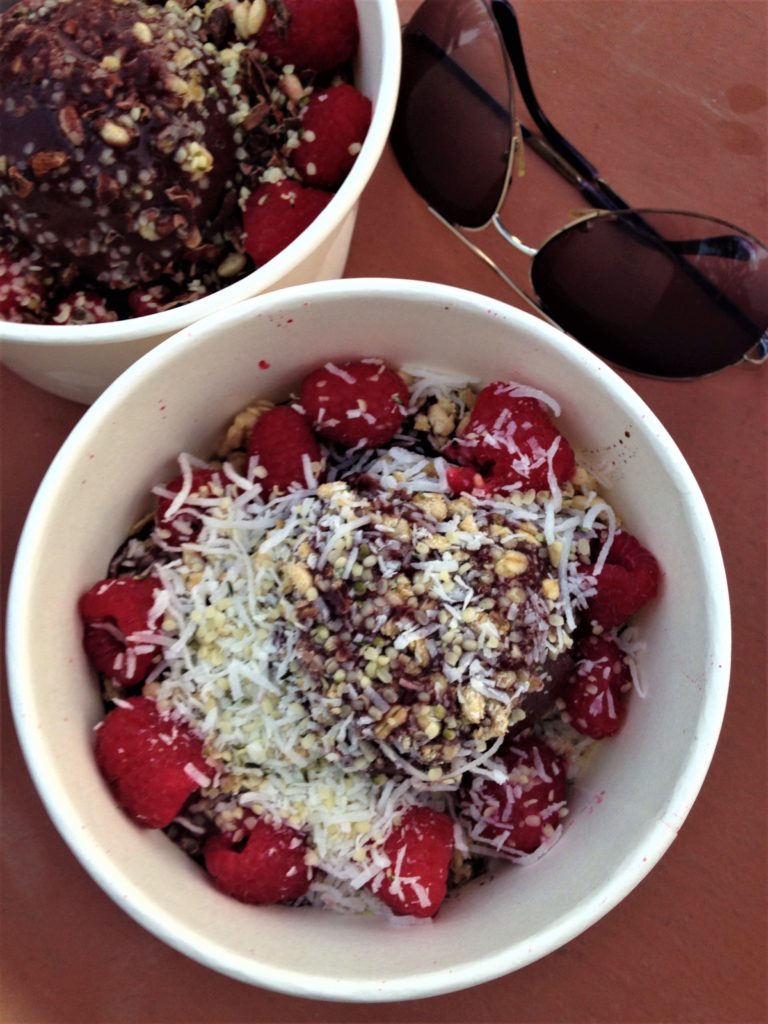 RioZonas Acai
Address: 12215 Ventura Blvd, Ste. 104, Studio City, CA 91604
Do you want to get a piece of Brazil in Los Angeles? Then go straight to RioZonas Acai in Studio City. Upbeat music, artwork in Brazilian motive, and of course Brazil-native super healthy acai… Wouldn't you feel like you are somewhere in Rio de Janeiro?
Before getting my acai bowls from RioZonas Acai in Los Angeles, I read dozens of reviews. Many people rank it number one for the distinguishing taste of their acai bowls, which is very similar to those served in Brazil. I am not sure about number one, but I have definitely included it in top five places to eat the acai bowls in Los Angeles. When you decide to stop by at RioZonas Acai, take my advice and build your own acai bowl using the ingredients that speak to your heart. Oh, well… tongue in this case. And don't forget to add dark chocolate and almond butter for a creamy consistency with a bit of crunchiness.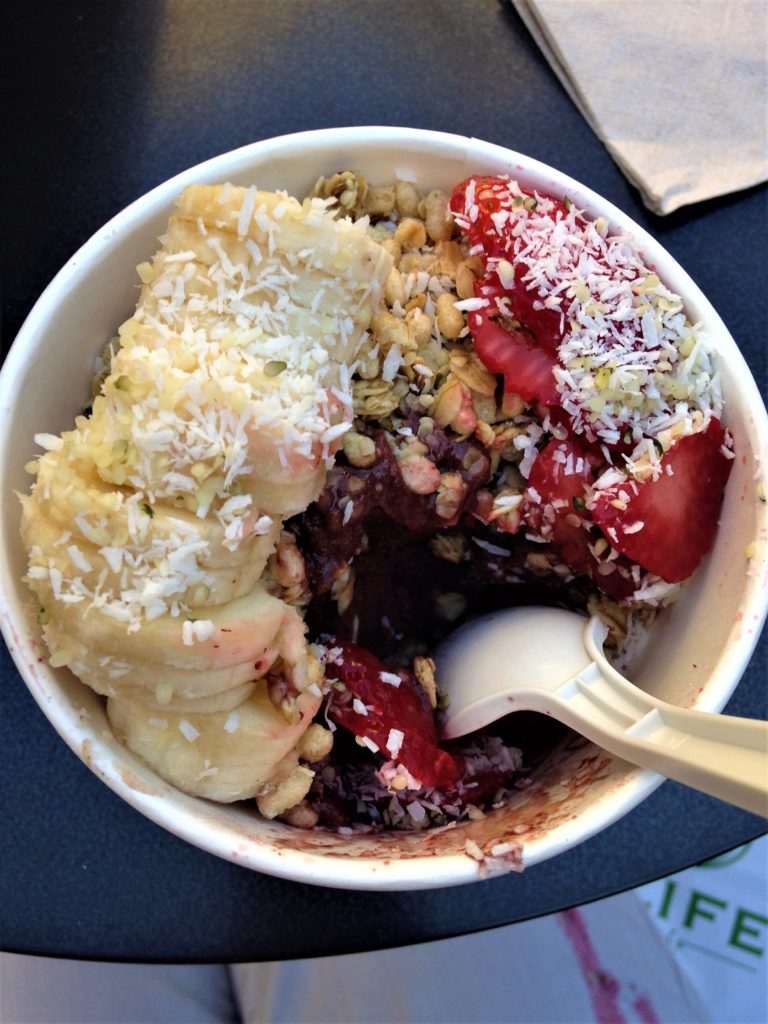 With increasing number of cafes and restaurants switching to healthier options and new health-oriented places opening every year, this list can go on and on. As of this moment I wouldn't venture beyond these five spots, as they are incredible at serving you the best acai bowls in Los Angeles.