Spanish patatas bravas are one of the first dishes I tried in Spain and couldn't resist making it at home.
Travel Inspired Recipes: Patatas Bravas
Long before traveling to Barcelona I took a note of Spanish tapas. Small open-faced sandwiches with different toppings looked back at me as I scrolled from one blog to another, looking for any details about these Spanish appetizers. Thus, you can imagine my surprise when a waiter at El Mirador del Carmelo placed a plate with potatoes, patatas bravas, on our table.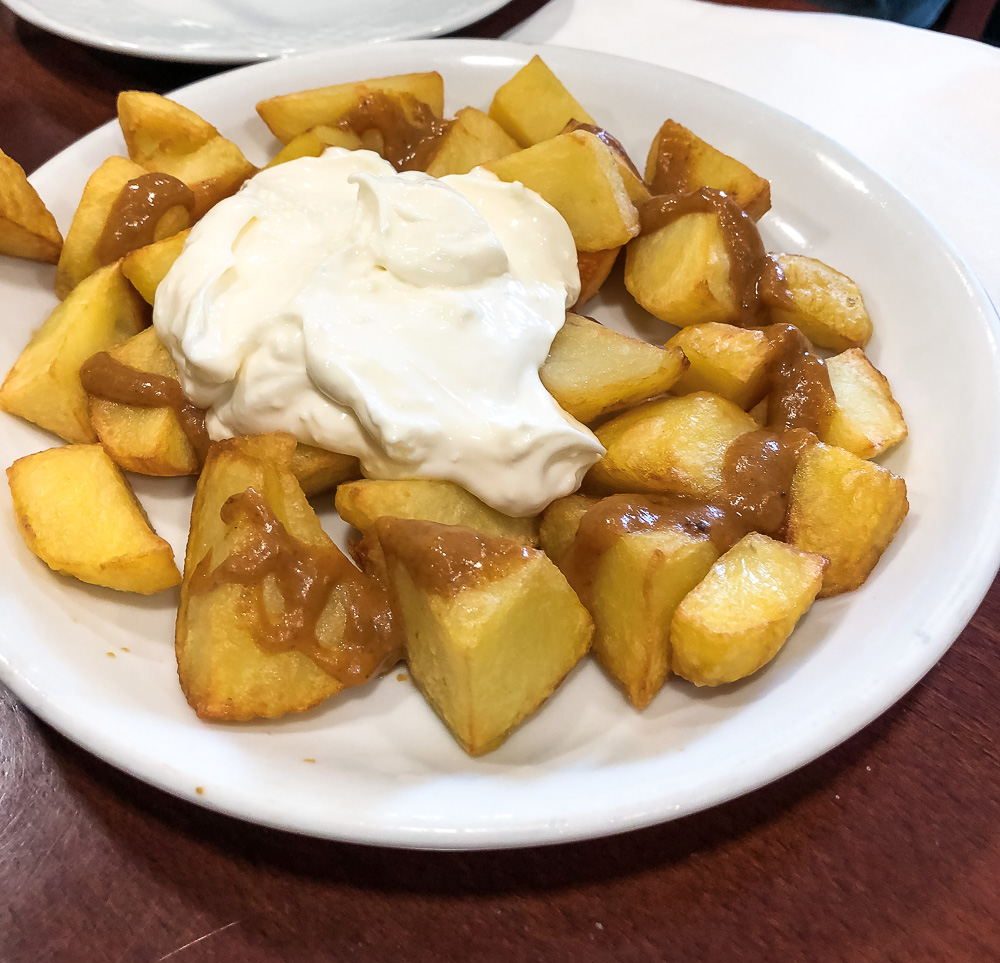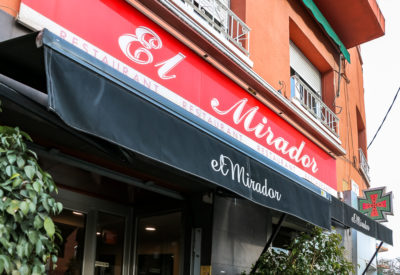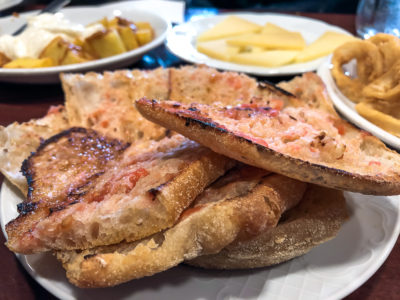 Tapas
In our attempt to try traditional Spanish dishes, we ordered different kinds of tapas, as they were listed on a menu. When in Spain, you must try these authentic dishes, and so we did. Digging deeper into definition and essence of Spanish tapas after my initial surprise, I was astound at their simplicity and variety. To say it shortly, tapas are various appetizers or snacks prevailing in Spanish cuisine. They can be served cold such as ensaladilla rusa or hot, as is the case with Spanish patatas bravas. You can find tapas on the menus of every bar and restaurant in Spain. Even while visiting a house of your Spanish friend, the first dish you will be served is tapa.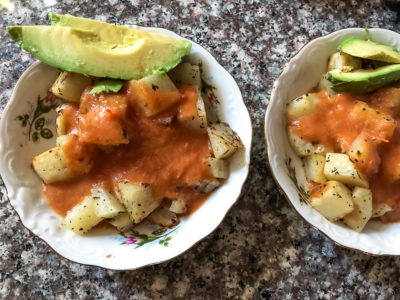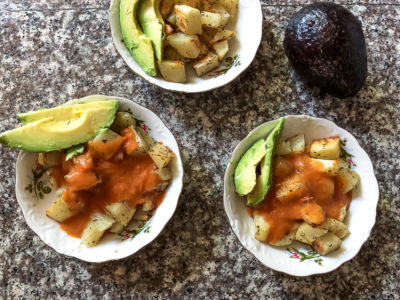 What are Patatas Bravas?
Patatas bravas is one of the favorite tapas in Spain. The dish was originated and patented in Madrid. It's believed that La Casa Perico and La Casona (none of them exist today) were the first places to serve this Spanish delicacy. According to other theories, Madrid's Las Bravas, a small bar opened in La Latina district in 1933, is responsible for the creation of patatas bravas.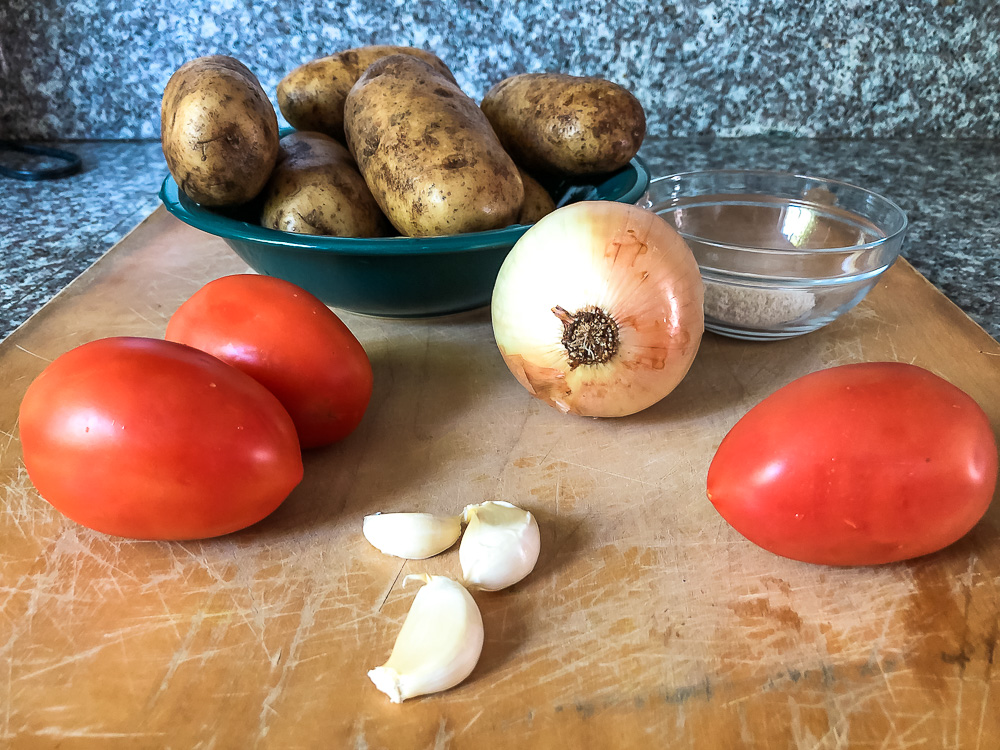 The method of cooking this dish is very simple: peel and cut potatoes in irregular chunks, fry and dress them in spicy tomato sauce. Some people insist that the name "patatas bravas" comes from cayenne pepper, an essential ingredients of the sauce. Beer or wine, frequent companions of this Spanish classic, help calm the spice. This might be one of the reasons why every bar in the country offers you patatas bravas as a favorite appetizer to go with your drink.
Even though the original recipe asks for fried potatoes, I prefer to add a healthy twist to it and bake my patatas bravas. Additionally, coconut oil with its higher resistance to heat almost always replace olive oil when cooking or frying in my kitchen. Let's jump to patatas bravas recipe.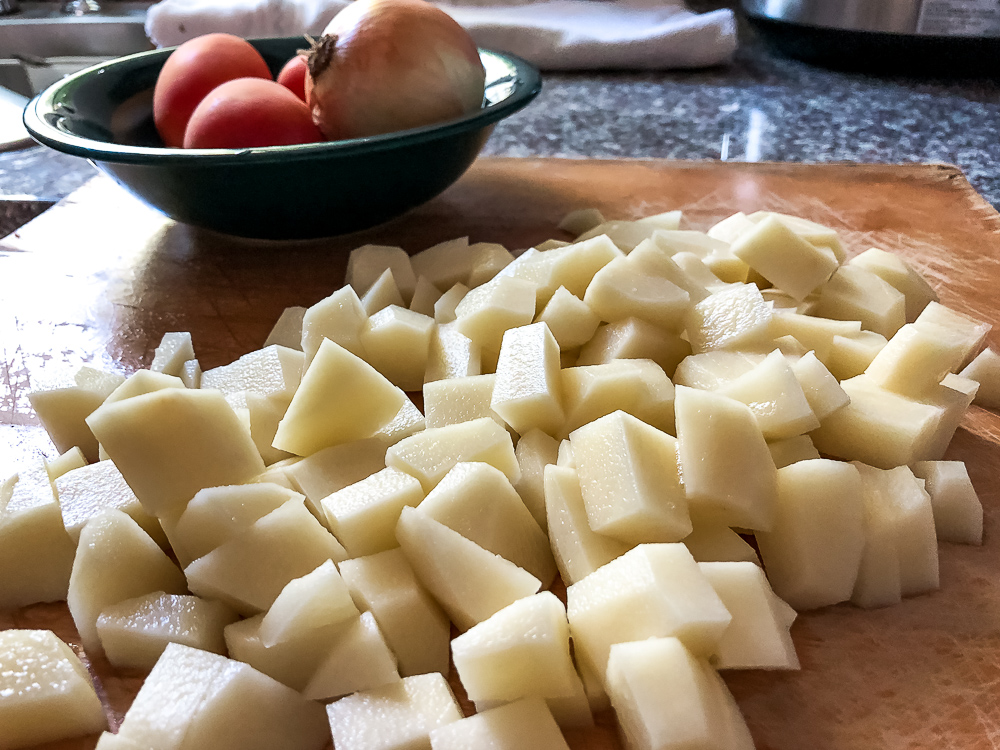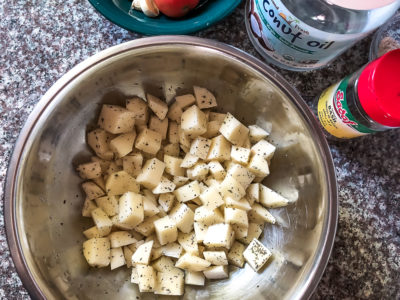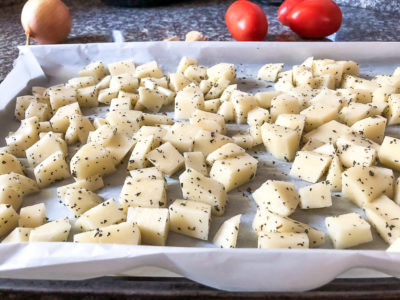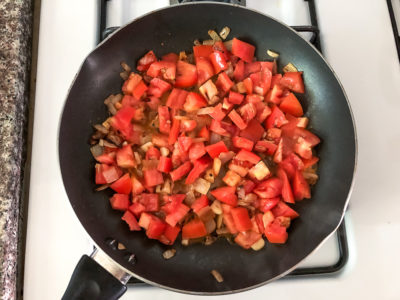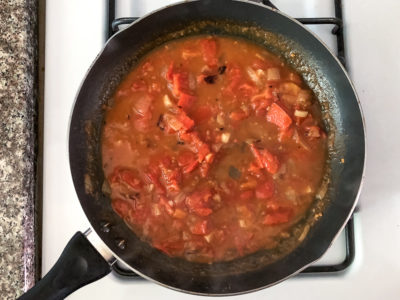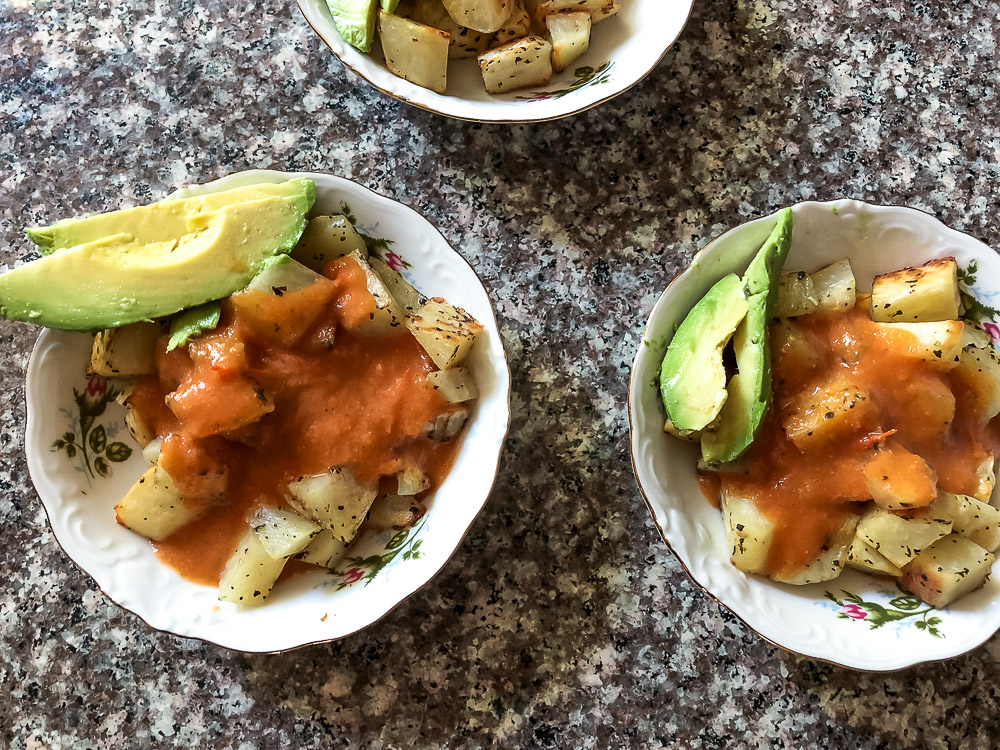 PATATAS BRAVAS RECIPE:
Prep time: 15 minutes

Cook time: 40 minutes

Yield: 4 servings
Ingredients
5-6 large potatoes, peeled and cut in chunks

1/2 onion

3 garlic cloves

1 cayenne pepper or 1/8 teaspoon cayenne powder

1 teaspoon paprika

3 tomatoes, cut

1.5 tablespoon flour

2 tablespoons coconut oil

1 teaspoon dry basil

Salt to taste

1/2 cup water

1 tablespoon apple cider vinegar
Garnish (Optional)
Directions
Preheat the oven at 430ºF. Coat the potatoes in a little bit of coconut oil, dry basil, and salt to taste and place them on a baking sheet. Bake for 40 minutes. Give the potatoes a stir a couple of times, so they don't stick to the paper.

Dice the onion and chop the garlic and cayenne pepper.

Heat coconut oil in a pan and sauté the onion until transparent. Add the garlic and cayenne pepper. When the garlic has browned, add the paprika and stir well.

Put the tomatoes in the pan and cook for 5 minutes, stirring frequently.

Add in the flour on top of the mixture, stir slowly to mix well.

Slowly add water, mixing it in well, so there are no lumps. Bring to boil, then simmer for 15 minutes. Add the salt to taste.

Add the vinegar.

Blend the sauce in a blender.

Serve your patatas bravas with the sauce on top. Garnish with dry basil or flesh cilantro.
Check out more travel inspired recipes here.