When it comes to chasing peacocks in Los Angeles, no other place is as good as Los Angeles County Arboretum and Botanic Garden.
Chasing Peacocks in Los Angeles
"Why do you like the peacocks?" this question popped up in my mind when we were driving to Los Angeles County Arboretum and Botanic Garden to see these resplendent birds from the pheasant family. "What makes them so special?" Depicted in many children's stories, the peacocks are viewed as integral parts of paradise-like gardens of rich masters and kings. For ages these birds with multi-layered, brightly-colored tails and slow gaits have been epitome of grace and elegance. To this day, the peacocks stop almost every passerby in his or her tracks.
Listening to these thoughts inside my head, I was not sure if I was excited or indifferent about our little adventure. But chasing the peacocks in one of the gardens of Los Angeles sounded like a really good idea.
Where to Find Peacocks in Los Angeles
Approximately half an hour later, this awesome plan of finally seeing the peacocks in Los Angeles came to life. Set near the San Gabriel Mountains, east of Pasadena, across the street from Santa Anita Park, a small arboretum is mostly popular among locals. Hardly any tourists know about the existence of this place and the peacocks in Los Angeles. Embarrassingly enough, after living in Los Angeles for over 10 years, we didn't hear about this hidden gem until just recently. To make things right, we grasped the opportunity to discover another unique place in the city. However, I must admit, chasing the peacocks in Los Angeles was the main reason for this little adventure.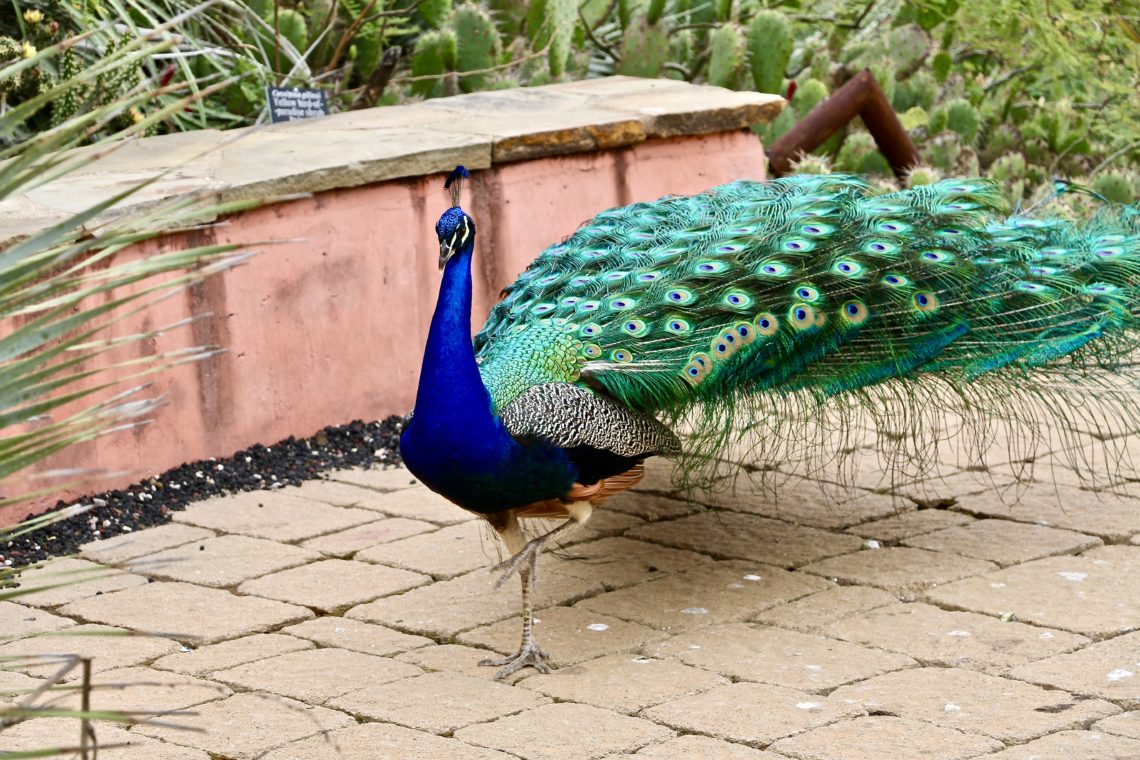 Los Angeles County Arboretum and Botanic Garden
Los Angeles County Arboretum and Botanic Garden has worn many hats. Its story started as Rancho Santa Anita, an agricultural outpost of Mission San Gabriel. Later it belonged to Yankee capitalist, Elias Jackson Baldwin. Thanks to its lavish location, the arboretum has also been used as film set for many Hollywood movies. But above all, it's one of the favorite places of many locals and random visitors alike, looking forward to meeting the peacocks in Los Angeles.
The place, however, doesn't limit itself to showcasing the famous pheasants. Other features include botanical collections such as Africa, Australia, Madagascar, and Canary Islands. Additionally, Queen Anne Cottage nestled by horseshoe-shaped Baldwin Lake, Rose Garden, and Meyberg Waterfall belong to the prominent exhibits of the arboretum.
Serenity, peace, and natural beauty of the place embrace and shower you with a feeling of complete appreciation the moment you park your car. However, the parking situation might be a bit complicated especially on weekends. So, plan your trip early in the morning to beat the crowds and have not only the arboretum but also all the beautiful peacocks in Los Angeles to yourself.
Peacocks in Los Angeles
Approaching visitor center that also serves as entrance to the garden, who do you think greet you right outside the gate? A few of the most curious peacocks in this part of Los Angeles! Gracefully paced in front of the arboretum, the birds cast indifferent glances at you. These peacocks, some of the most beautiful residents of Los Angeles, neither shy away from the visitors, nor show any discomfort in their presence. They just stands here, soaking up all "Oohs" and "Wows" that come from the ecstatic crowds.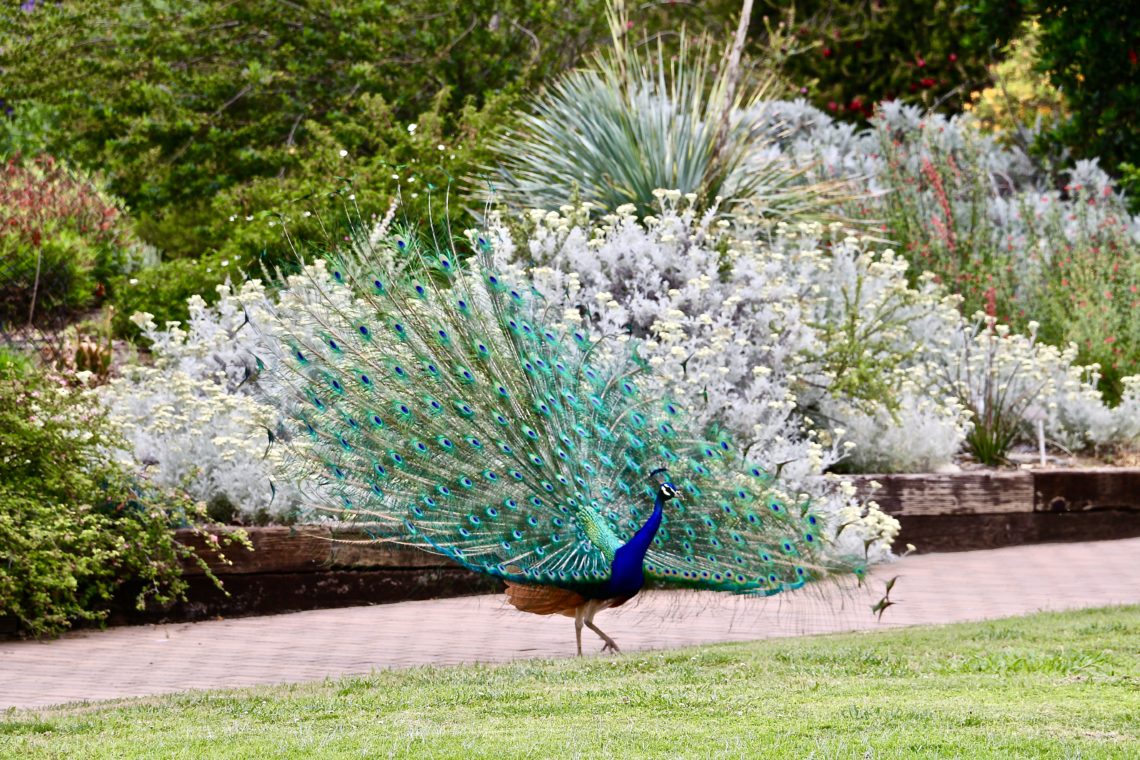 On the other side of the gate, more peacocks show themselves to the exuberant visitors that can't stop staring at and trying to pat the birds. The peacocks in Los Angeles seem to be aware of their splendid looks and entertain their admirers to the best of their "birdy" abilities. Grandly and leisurely, they turn around, showing all their sides to their ever-growing audiences.
A few moments later loud shrill sound notifies the crowd that the peacocks are ready to open their gorgeous fan-tails. (Apparently the mighty birds don't want their grand show go unnoticed.) Delighted by the numerous clicks of the cameras that start working almost instantly, the smart creatures, like professional runway models, once again start turning around, proudly displaying their luxurious tails.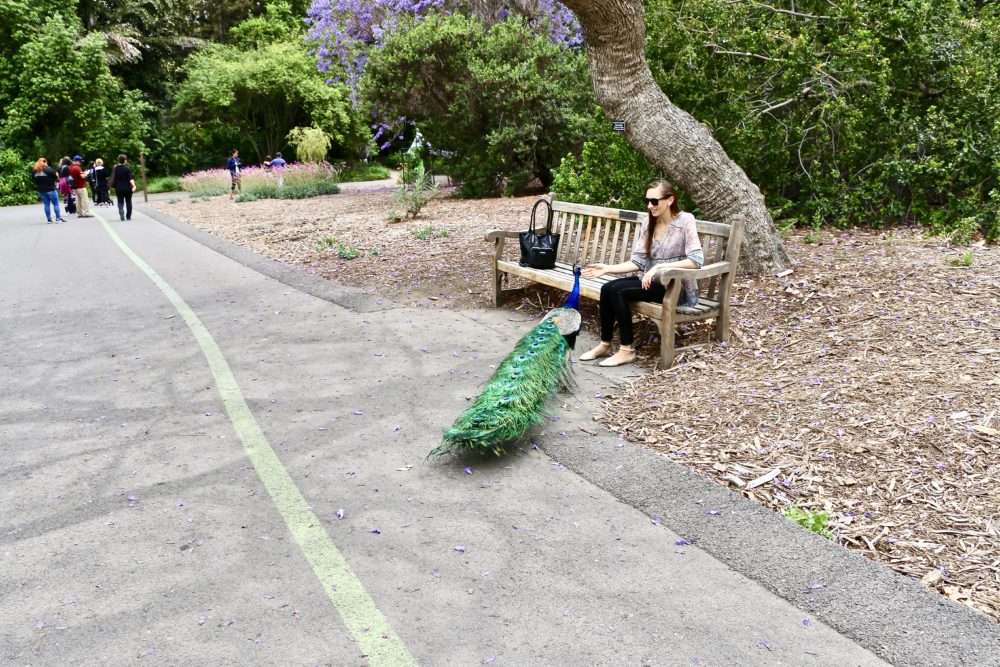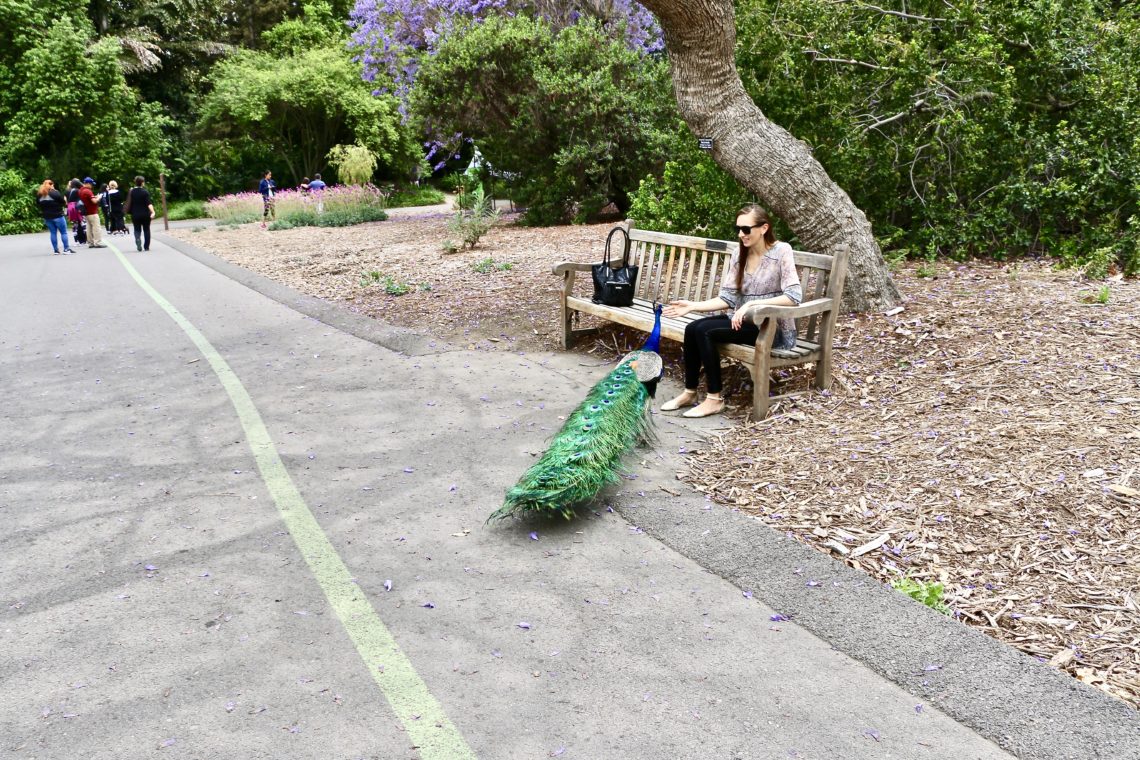 The show doesn't end on it, at least not yet. If you happen to have some nuts or seeds, place them on your hand and extend it in the directions of the nearby peacock. The next moment you know, the grateful bird approaches your "feasty" hand and reluctantly, without loosing its dignity, picks one piece after another. So, chasing the peacocks in Los Angeles is not that difficult, after all.
More than just Peacocks at Los Angeles County Arboretum and Botanic Garden
War Memorial Fountain
The Los Angeles County Arboretum wouldn't be an epitome of beauty and peace without its other components. Start with a remarkable fountain, a place of interest of many children who try hard to slip away from their parents and dip their little hand in cold water.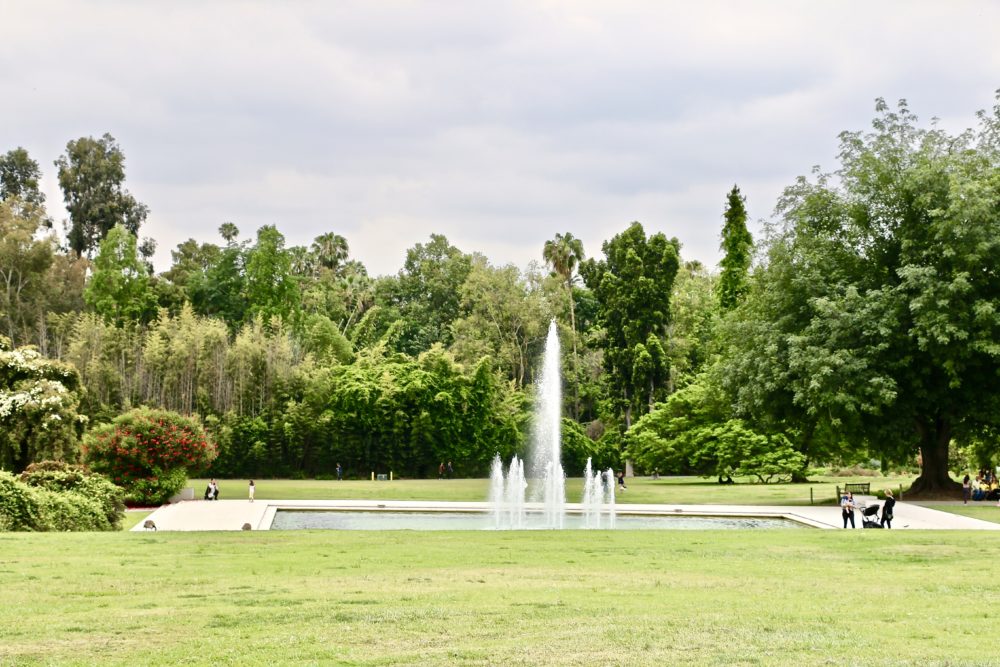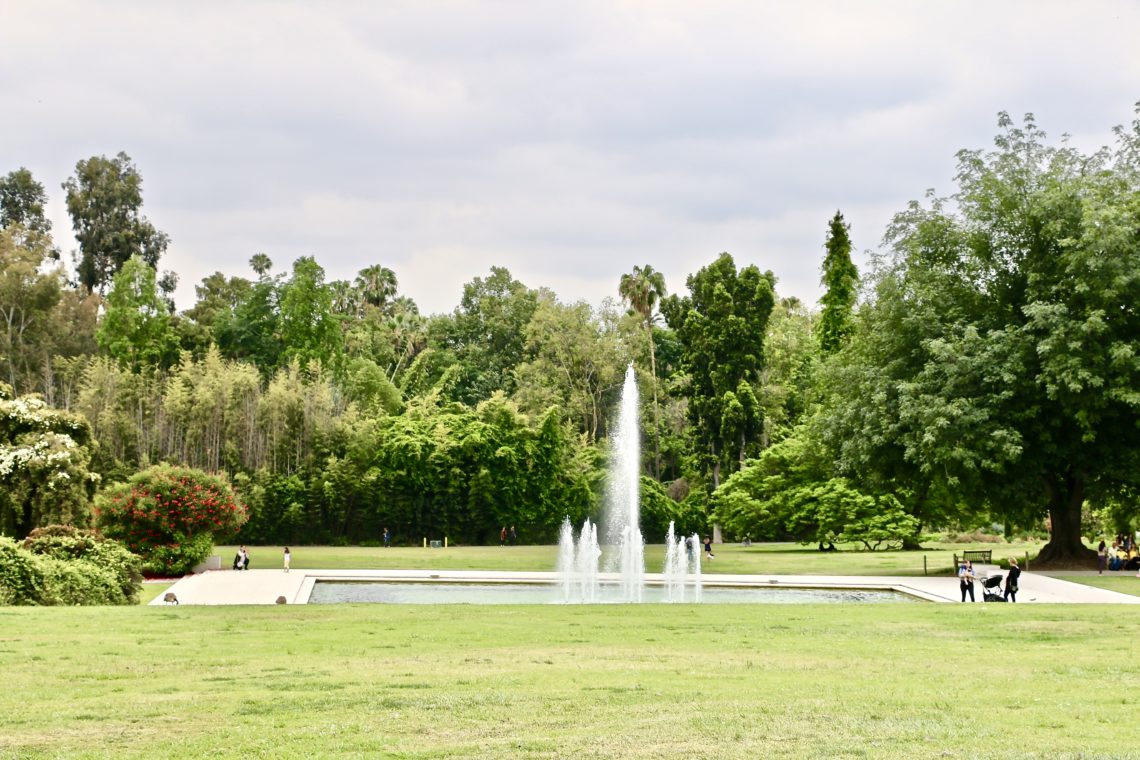 Botanical Gardens
To the left of the fountain, picturesque world of neatly cut green lawns, summer houses built in Greek style, and plentiful mini gardens opens up to your view. Aligning with the paradise-like environment, the charming flowers and trees accompany all your walks. Before long you find yourself in mini palm grove, followed by cactus and other exotic gardens.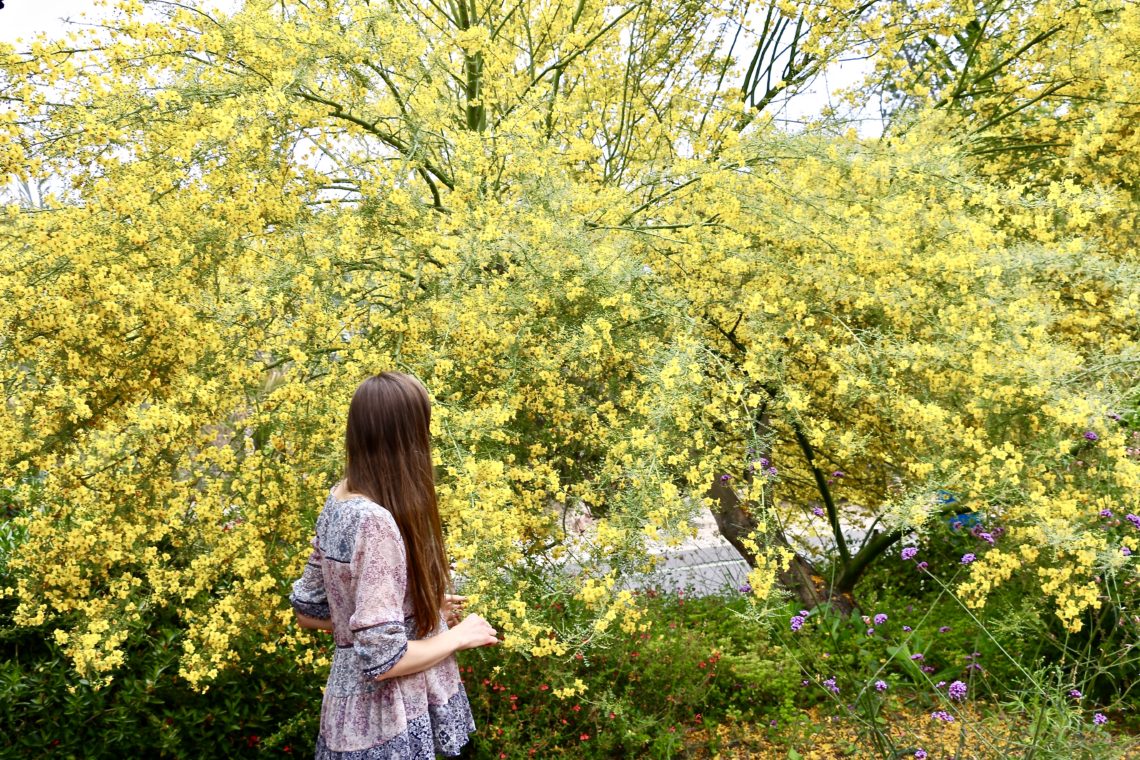 Queen Anne Cottage
After leaving the palm garden and heading back toward the fountain, turn to your right and follow a paved pathway that leads to the Queen Anne Cottage. Build in 1885, the white cottage with red touches and gorgeous details looks like a bigger version of fairytale house, where Snow White lived.
Surrounded by the picturesque lake, the cottage served as "place of refugee" for many of its previous owners, searching for "calm harbor" in the world of constant movements and changes. Later the white house lost it popularity among the rich and famous. Eventually, it was turned into a museum that welcomes the peacocks-chasing visitors of Los Angeles twice a year.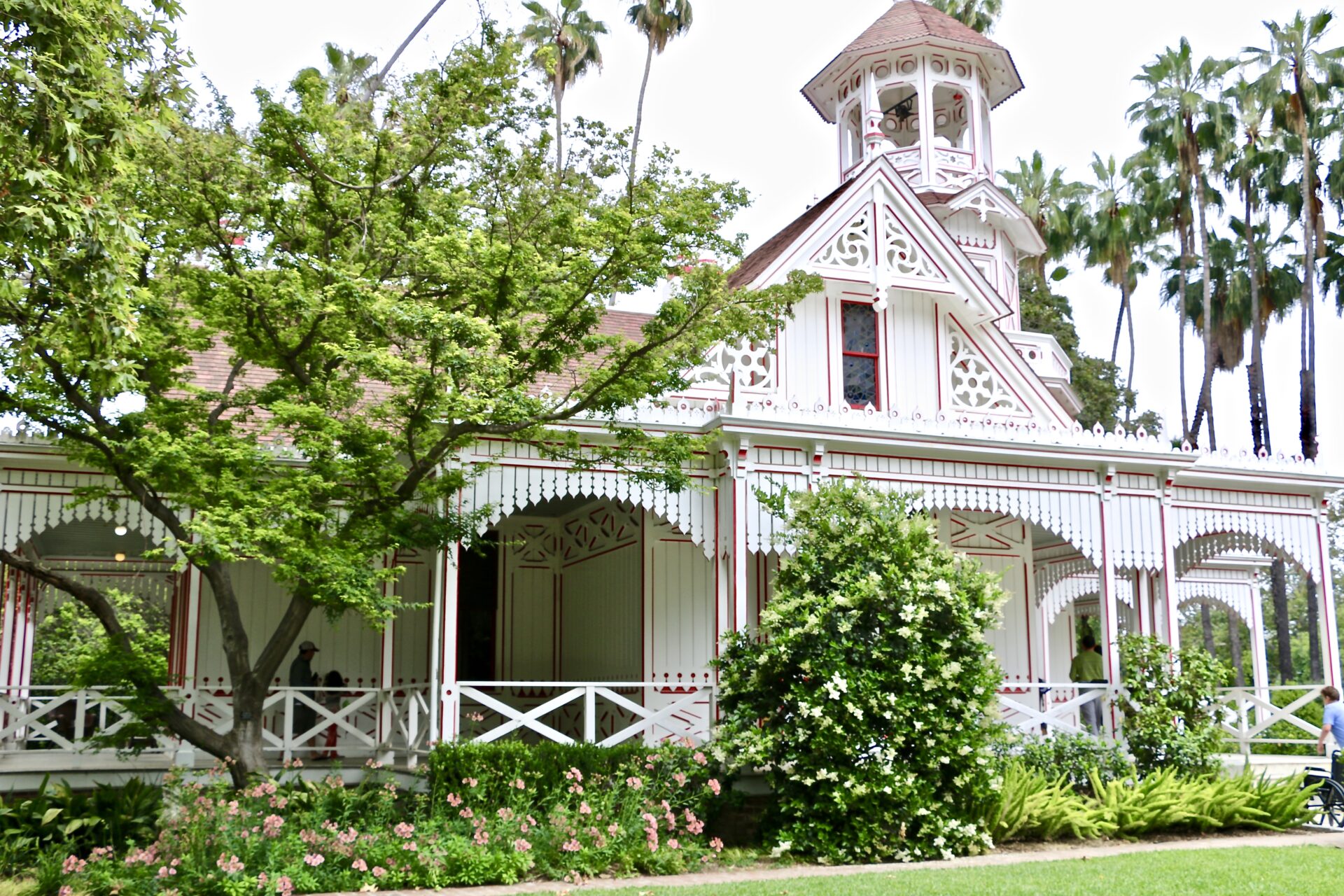 We were lucky to visit the garden on one of those rare days. Ironically, we still managed to miss the guided tour of the house. By accident or by fate, we approached the cottage at the exact time when the last visitors were leaving it. A few minutes later museum employees locked the house doors, letting the cottage resume its lonely existence until Christmas.
Baldwin Lake
A few feet away from the Queen Anne Cottage, Baldwin Lake fully compensates for the lost opportunity to visit the house. Resembling enormous horseshoe, the lake, filled with swimming ducks, instantly charms and attracts. Following the overall mood at the lake, you find yourself sitting down on a bench, facing green water. The next thing, imitating the aristocrats of the old days, you take out your book and start reading. Occasionally, you interrupt this activity to jot down your thoughts and feelings.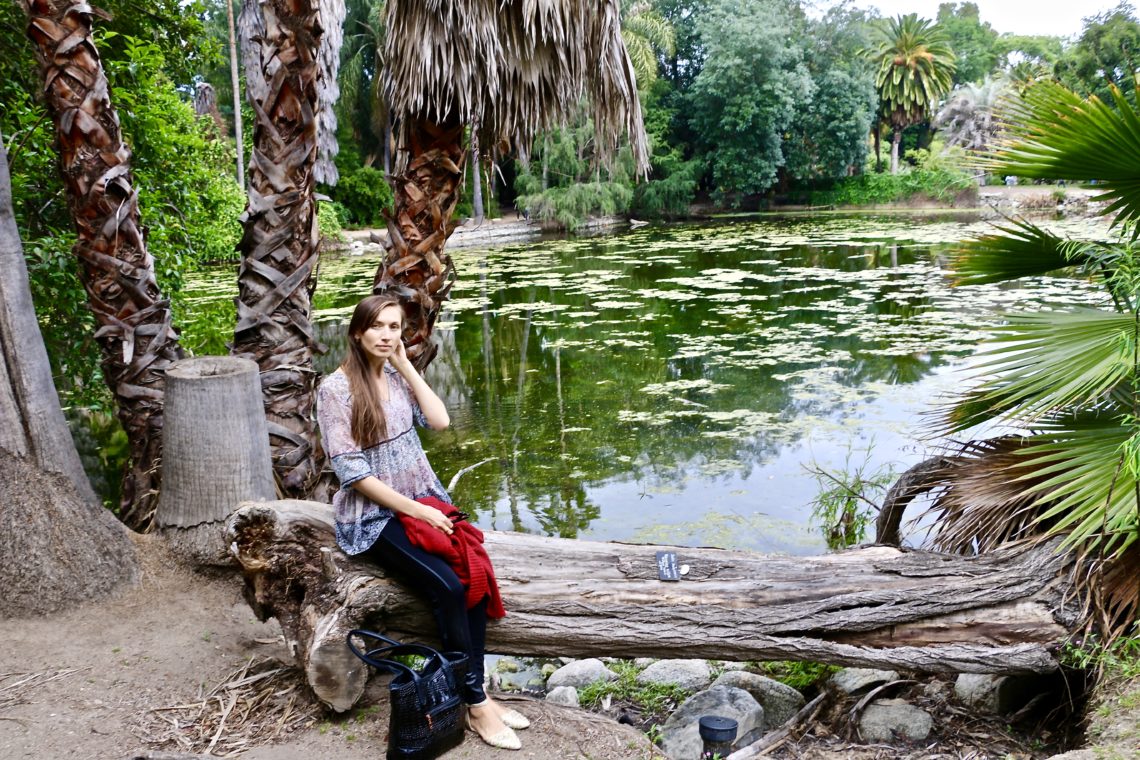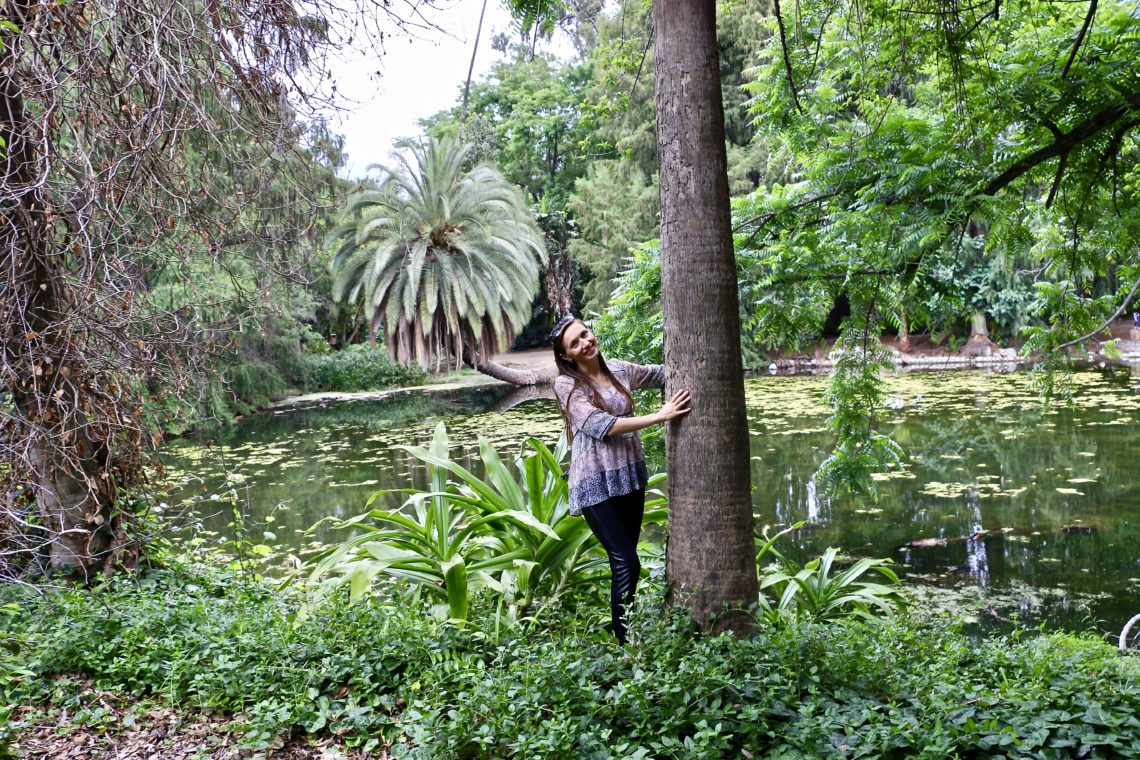 Rose Garden
As the day proceeds, kids' laughter, coming from nearby, arouses your curiosity. It leads you to a small rose garden with a big white summer house to your right. Here, while adults smell the flowers, their youngsters can't get enough of playing on the lawns between the rose bushes.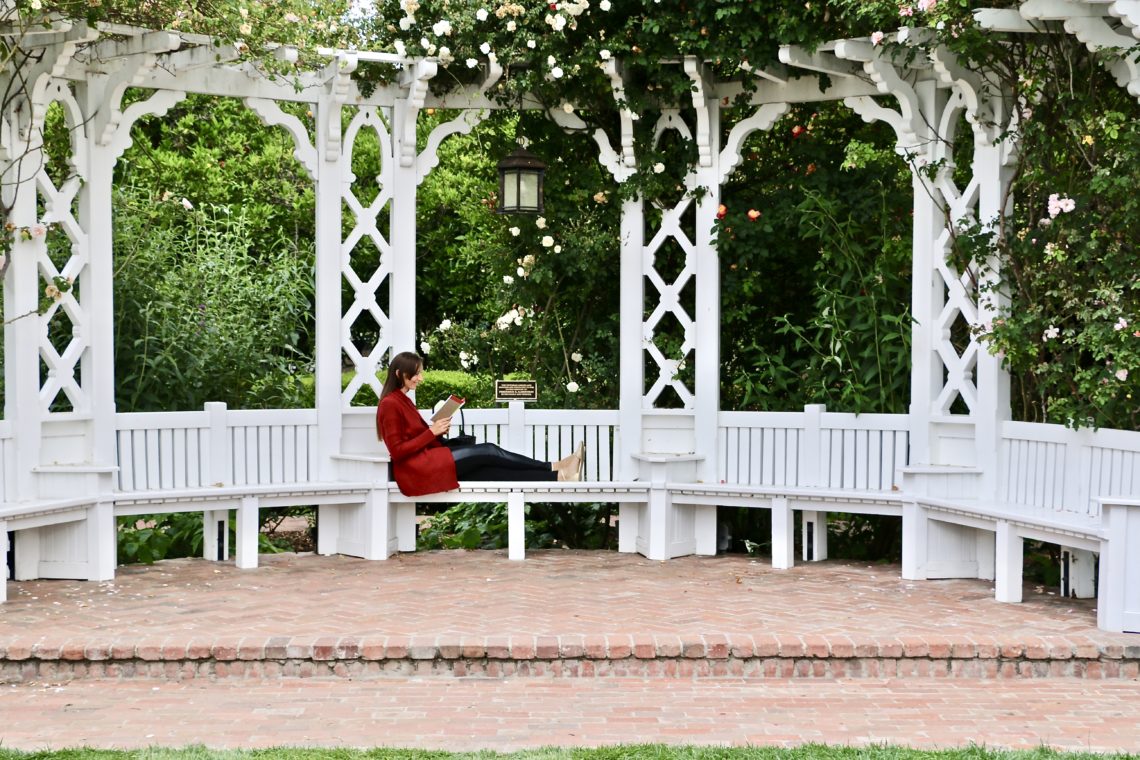 Meyberg Waterfall
A short walk farther down the paved pathway takes you a small waterfall, cozily hidden at the far end of the garden. This charming waterfall attracts many young couples, looking for exotic places for their professional engagement or wedding photoshoots.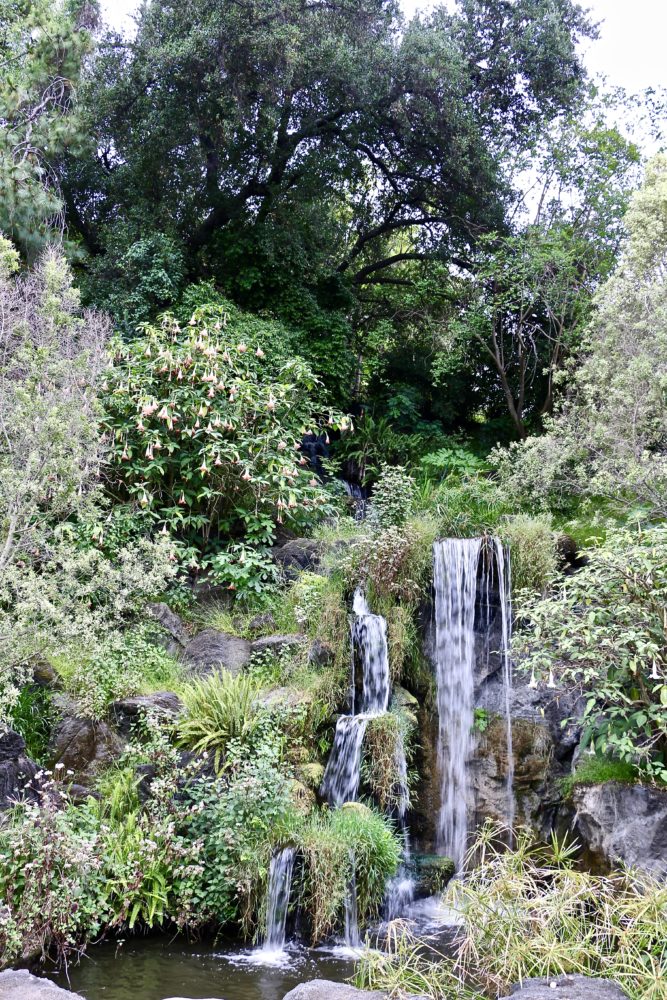 Overall
Everybody, small and big, young and old, find something interesting at the Los Angeles County Arboretum and Botanic Garden. The place is big, yet small enough to explore in a matter of a few hours. However, if time is not an issue, take it slowly and explore every corner of the garden. But above all, don't forget to chase the beautiful peacocks in this hidden gem of Los Angeles.