Of all places in Marrakech, the Majorelle Garden, this colorful gem of the city, surprises you with its magnificence and pop of color. 
We arrived at the Majorelle Garden, colorful gem of Marrakech, in late afternoon. Even though the garden was open for just a few more hours, a huge crowd had lined up at its entrance. Just looking at all these people made us want to skip the Majorelle Garden and move on to our next destination. On top of that, Yomnes, our travel guide, reluctantly announced that we had only 1.5 hours to spend at the garden. That was absolutely impossible, and we didn't hesitate to share our frustration. In realty, it'd take us 1.5 hours to just get to admission window and buy tickets to the Majorelle Garden, this beautiful, colorful gem of Marrakech.
Popularity of the Majorelle Garden – Colorful Gem of Marrakech
Such big amount of visitors is not new to the Majorelle Garden or Jardin Majorelle. Arguably, one of the most beautiful places in Morocco, the garden welcomes almost million of guests yearly. And thus, the Majorelle Garden can compete with world-famous Jemaa El Fna in the category of the most visited places in Marrakech. Moreover, there is not a day when this unique gem of Marrekech stays closed or has fewer visitors.
And there are more than enough reasons of such popularity. Furthermore, the idea of calling the Majorelle Garden the colorful gem of Marrakech didn't appear from nowhere. On the contrary, the Majorelle Garden is famous for combination of bright colors along with exotic lush greenery. Moreover, the garden's colorful features stand out against salmon pink, the predominant color of Marrakech.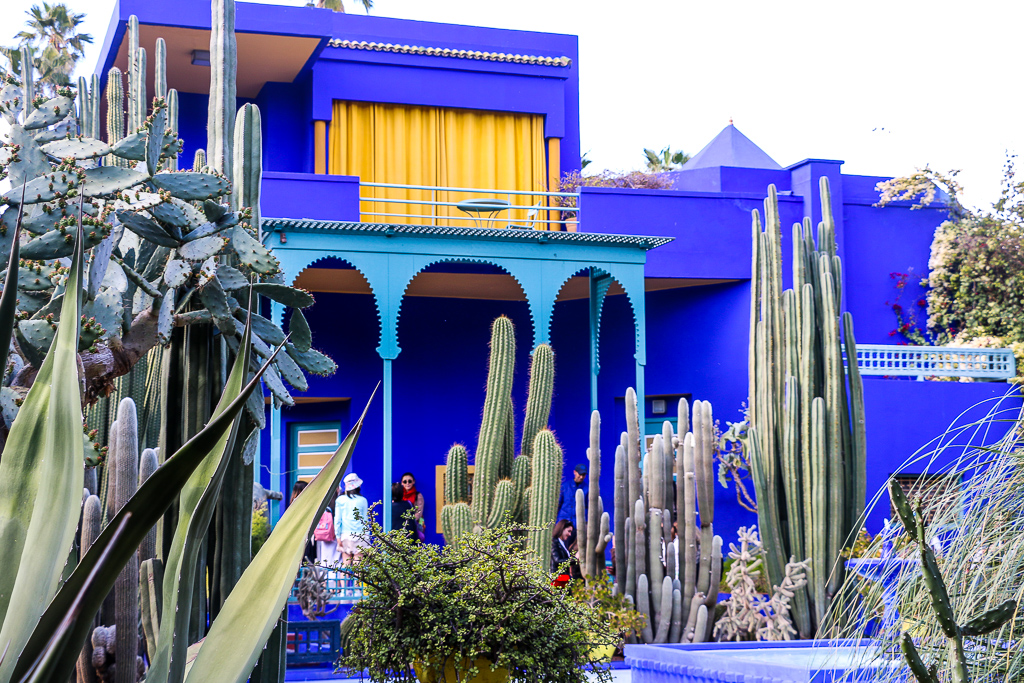 Getting into the Garden
So, looking at the huge crowd in front of the Majorelle Garden, we didn't even bothered to get out of the car. Yomness, however, insisted on us visiting this colorful gem of Marrakech. He left the car and went straight to ticket taker of the Majorelle Garden. A couple of minutes later, he returned with good news. Since we traveled with a baby, we could skip the line and head straight to the admission window. Yay, now we're talking about perks of traveling with kids!
But here comes another thing. In the US, you'd call it discrimination. I see it as an additional way to earn money for maintain the Majorelle Garden. Regardless of your opinion, ticket prices to Jardin Majorelle are not the same for foreigners and Moroccan citizens. While the Moroccans pay 40 Dhs for an adult ticket, the price the foreigners rises to 70 Dhs.
Additionally, those who want to visit museum at the Majorelle Garden have to purchase separate tickets. For tourists from different countries it's 30Dhs. The Moroccans pay 10 Dhs for an adult ticket to the museum. On top of that, there are discounts for students and groups.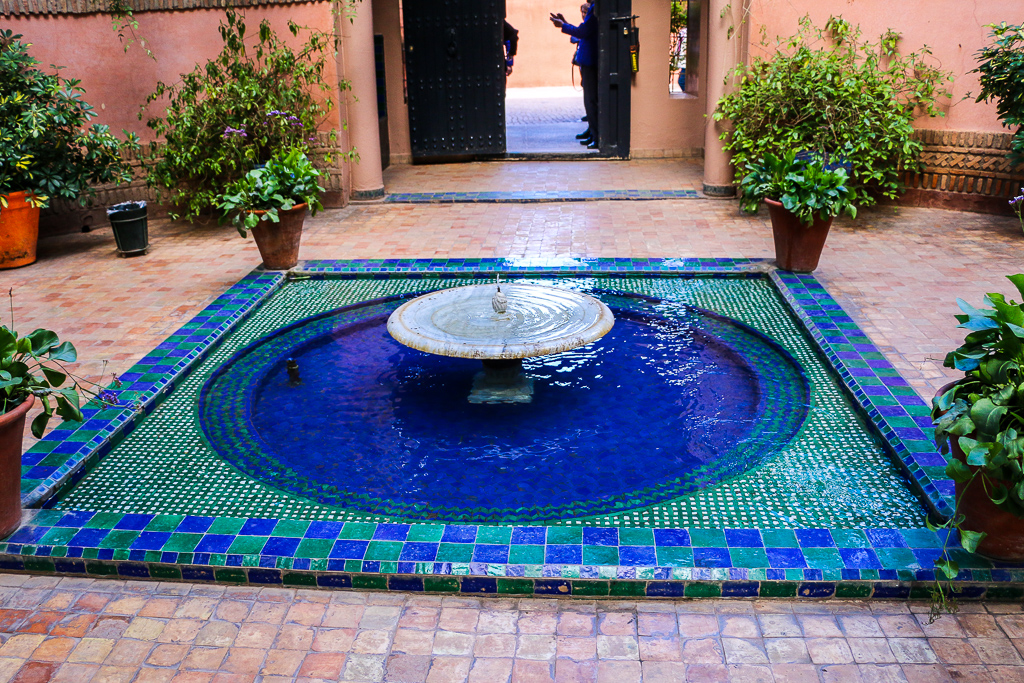 History of the Majorelle Garden – Marrakech's Colorful Gem
Despite its popularity as colorful treasure of Marrakech, the Majorelle Garden is of French origin. In 1923 a young aspiring French painter Jacques Majorelle purchased a four-acre plot and built a house in the Moroccan style. Majorelle who traveled in Morocco for a few years prior fell in love with its vibrant colors and authenticity. After settling in Marrakech, the young artist threw all his creativity into his new home. Eventually, he commissioned French architect Paul Sinoir to design a Cubist villa and added additional 10 acres to the property.
The maintenance of this colorful gem in Marrakech was not cheap. Additionally, divorce from his wife and health complications after a serious car accident took a heavy toll on Majorelle's financial situation. And thus, after 40 years of owning the property, the French sold his Majorelle Garden in 1961.
From this time until 1980, the Majorelle Garden lost its fame of the colorful gem of Marrakech. Moreover, it almost fell victim to a real estate project and became a hotel complex.
In 1980 Yves Saint Laurent and Pierre Berge bought the Majorelle Garden and saved its legacy as the most beautiful gem of Marrakech. Both of them worked hard to preserve and enhance the uniqueness of the garden. After Yves Saint Laurent's death in 2008, Pierre Berge donated the Majorelle Garden to the Foundation Pierre Berge – Yves Saint Laurent.

The Majorelle Garden, Precious Gem of Marrakech
We didn't know a lot about the Majorelle Garden before our visit. However, this didn't prevent us from enjoying this special place full of colors and cultural treasures of Marrakech. From cobalt blue villa-museum to green benches, beautiful tiles, big colorful jars, and plant pots, the Majorelle Garden astounds you with unprecedented charm.
Moreover, as soon as you walk into the garden, you feel like you just entered a completely new place. All of a sudden, the busyness of Marrakech disappears. And all you can see is pure beauty of the fine architecture and the abundance of colors ranging from signature blue, yellow, green, orange, and red. But despite this opulence, none of the colors overwhelms you. On the contrary, they create a beautiful harmony with lush greenery in the Majorelle Garden.
Apart from the vibrant colors, this little gem of Marrakech boasts splendid collections of cacti, exotic plants and trees. Additionally, small fountains, pools, and streams not only complete the colorful picture of the Majorelle Garden, but also fill it with soothing sound of trickling water.
You really won't find anything apart from big amount of visitors that can spoil your experience at the Majorelle Garden. It's one of the finest places in the city. Furthermore, the Majorelle Garden is a place that truly deserves to be called a colorful gem of Marrakech. You need to visit it to understand what Yves Saint Laurent meant when he said: "We were seduced by this oasis where colors used by Matissee were mixed with those of nature."