I could never imagine being able to show my husband a place in Malibu that he had never seen before. First of all, Roshan has lived in the Greater Los Angeles Area for over decade now. Second, he resided in Santa Monica, a close neighbor of Malibu, for pretty long time. And yet, he hadn't been to El Matador State Beach, a valuable treasure in Malibu, until last weekend.
Getting to the Beach
Honestly, it didn't surprise me a lot. El Matador Beach is regarded as one of the most valuable treasures in Malibu not without a reason. The place is not hugely advertised. In fact, you won't even notice it when driving down the Pacific Coast Highway. Your chances to spot humble sign to the beach are greater when you already know about its existence. However, even after that you might want to slow down a bit after passing the City of Malibu. At this point, El Matador State Beach comes into sight within about ten minutes.
Despite the fact that not all locals know about El Matador State Beach, this place is fully equipped with all necessary amenities. The beach has its own paid parking space (although it's very small) and portable toilets. You can also park along the Pacific Coast Highway. Pay attention to the road signs though. There are some places where parking is not allowed.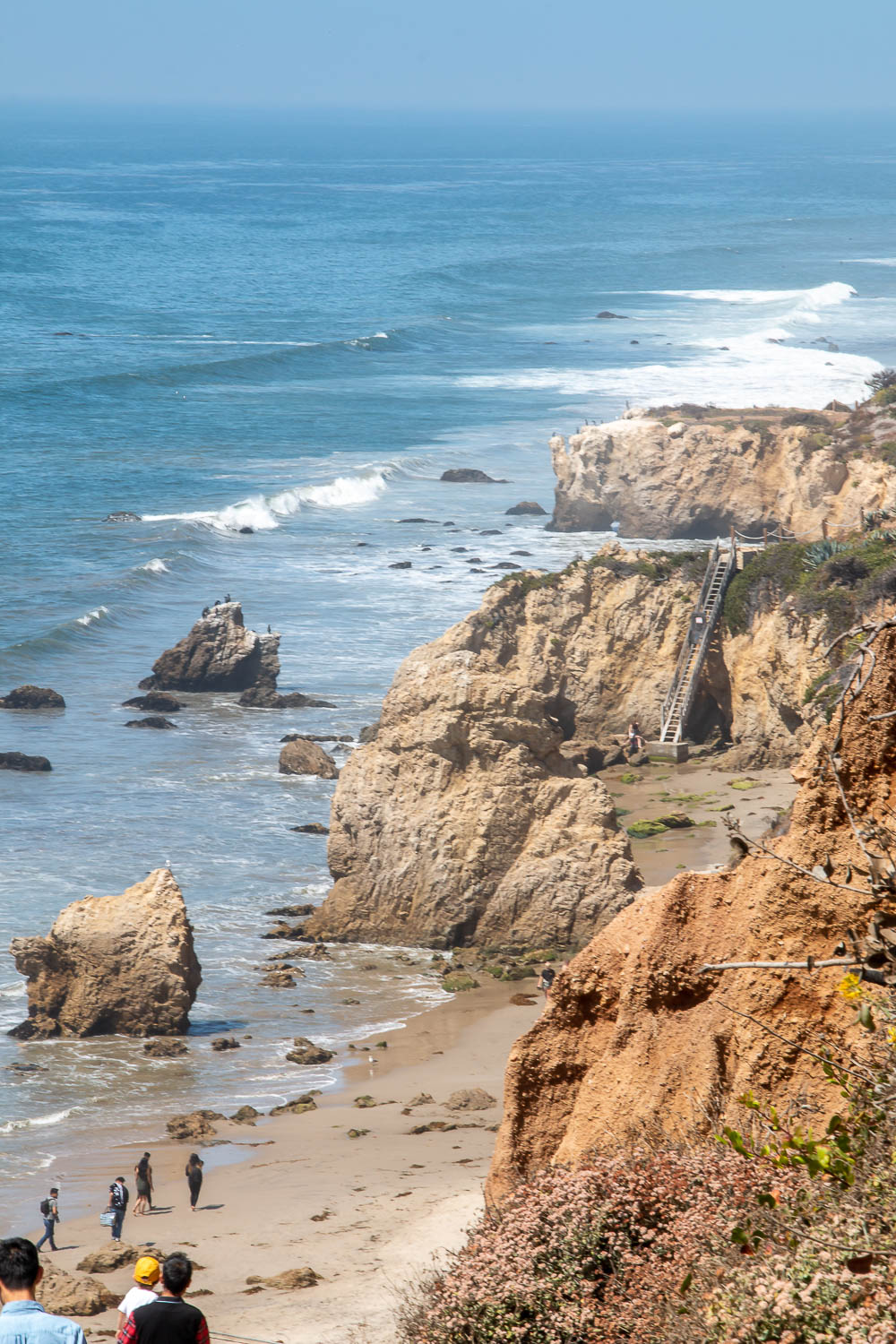 El Matador State Beach – a Valuable Treasure in Malibu
From the parking lot, head straight to a steep trail that eventually hits an abrupt staircase to the beach. This route can easily unnerve people who are afraid of heights. But the beach and view are worth every second of that descent. Even my mom who tries to stay away from anything above floor level absolutely loved the place.
Unlike majority of other beaches in Malibu, El Matador State Beach has a lot more to offer than usual sand and ocean waves. Big rocks, boulders and seagulls proudly call it their home. The main feature though is a massive rock with small arches, big enough to walk through. Not hard to realize, this rock draws attention of many visitors and photographers.
With sufficient amount of shade from the rock formations and cliffs, El Matador State Beach welcomes its guests all day long. Sunrises and sunsets though are the preferred time for photographers of any level. During this time you can meet all kinds of models, lensmen and anybody who like subtle colors and lights reflecting in the water.
Things to Know Before your Visit
Address: 32350 Pacific Coast Hwy, Malibu, CA 90265
Open from 8:00 am until sunset
Paid parking is available
Read more: Top 5 Hidden Gems in and near Malibu