"Never take pictures of people without their permission." I try hard to follow this unspoken rule especially when traveling. And certainly, it's always at the back of my mind when I take a stroll down the streets of my bucket list places. I must confess though, it's somehow difficult not to take pictures of everything and everybody on your way. Once you fall in love with a new place, you can't help but admire its cuisine, landscapes and of course people. While it can be relatively easy to at least try to avoid random people in some of my travel photo diaries, Rome completely vetoed this rule. I either had to be blind or absolutely impartial to not notice interesting faces of Rome that eventually ended up in this Faces of Rome photo diary.
How Faces of Rome Photo Diary Came to Life
It was our third and last day in Rome. I wanted to cover as much as it was only possible and see all the historic places in the city we had missed. I pushed myself to the limits. Roshan, on the other hand, was taking it easy and preferred to sleep in. Rome is a huge city. You need more than just a few days to get to know it. We had worked out our disagreements and compromised before. This day, however, nothing worked. And after arguing for about half hour I slammed the door and ran outside. It was time to explore Rome and meet its people by myself.
I'm an observer. Roshan often jokes that I need to take this quality of mine under control. The last day in Rome intensified my observing skills. Like a sponge I wanted to soak up all smells and vibes of Rome. I aimed to see many faces of Rome and store them in my mental photo diary. "Never take photos of people without their permission" was ringing strongly in my head. Until I saw these guys…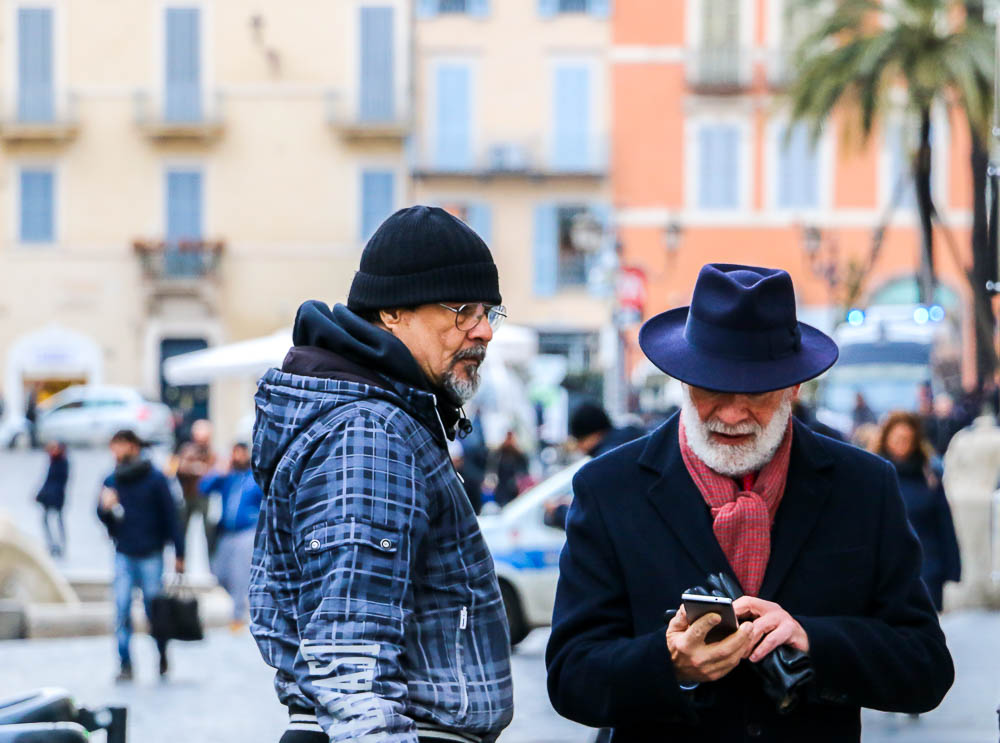 …Especially that gentleman in a coat. He looked Italian from head to toe. I loved the way he was dressed, talked and moved. His whole demeanor unveiled his Italian spirit. I paused for a few minutes and observed these men from afar. And then without even thinking, my hands raised my Canon to my eye, and the finger started pressing shutter button. I had to have more than just a mental image of these incredibly charismatic faces of Rome.
A few more Remarkable Faces
This picture marked the start of my official, not just mental Faces of Rome photo diary. Further exploring the streets of the capital of Italy, I started paying more attention not only to its incredible landmarks, but also people. Most of these Romans, however, never made to my camera memory card. Nevertheless, I couldn't resist temptation and take at least a few shots of other remarkable faces of Rome presented in this photo diary.
In my defense, I have to admit that pictures of most of these people were taken unintentionally. It's almost impossible to take photos in such a big city like Rome without capturing random passers-by. On top of that, I'm not that good at Photoshop to remove these people and make pictures look flawless. So I made a wise decision (some self irony never hurts) and let all these faces of Rome stay in this photo diary in exactly same way they ended up on my camera. With that being said, here is my small Faces of Rome photo diary.
FACES OF ROME PHOTO DIARY: