Ireland is a remarkable country that asks for at least 4 days to provide you with the best views, landscapes, and cities, including Dublin. Apart from its natural beauty, the Emerald Isle impresses with its cultural traditions and everlasting superstitions. The main question to ask, though, "Is 4 days enough for an unforgettable Ireland trip?"
Last updated: January 6, 2023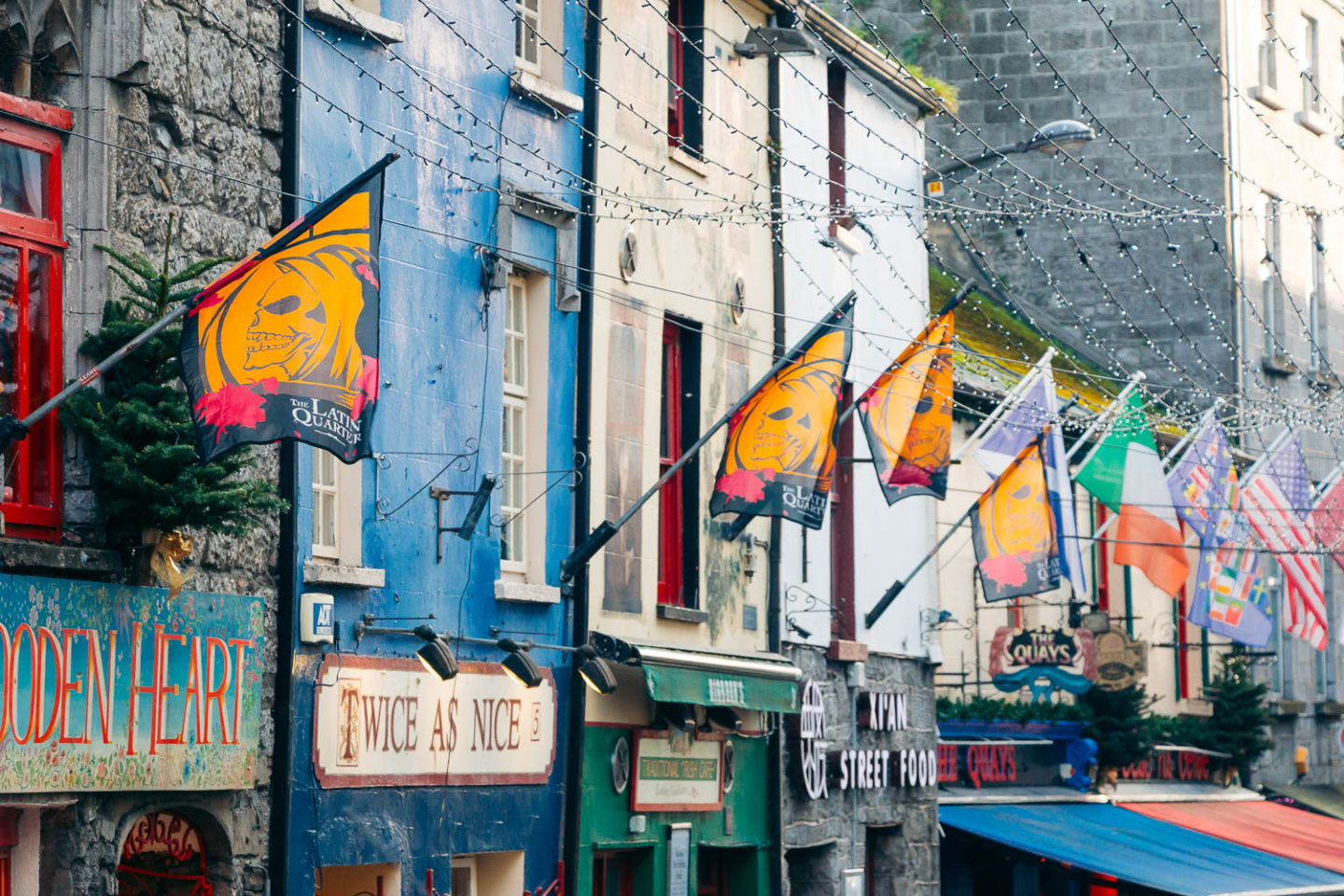 The Ultimate 4 Days in Ireland Itinerary for Those who Stay in Dublin
When I first started planning my trip to Ireland, there was no question of exploring the country beyond Dublin. With my intention to travel slower and immerse deeper in a new culture, this 4 Days in Ireland itinerary didn't seem possible at first.
Dublin was surely going to be the main and, as I thought, only focus of the trip. However, when I learned how small the city was, a glimmer of hope for seeing Irish places beyond the capital was born. The ease of moving around the island contributed to this decision, finalizing my travel plans.
And here I am sharing my ultimate 4 Days in Ireland Itinerary for Those who Stay in Dublin and hoping to inspire your own adventures. You can use this itinerary as it is or modify it according to your interests and preferences. And above all, have fun exploring the beautiful island of Ireland.
4 DAYS IN IRELAND: A PERFECT ITINERARY IF YOU STAY IN DUBLIN
The Best Time to Spend 4 Days in Ireland
Irish weather is pretty naughty. You can expect gusty winds and heavy rains all year round. Therefore, regardless of the time you plan to make this 4 Days in Ireland itinerary a part of your own adventures, pack a lot of layers.
On the other hand, the mild climate enables you to visit the island all year round. Summer is the warmest and driest season when the average daytime temperature reaches approximately 18°C (64°F). Moreover, with almost 18 hours of daylight, 4 days in summer allow you to see a lot and explore more than you can imagine while first planning this Ireland itinerary.
With the beginning of fall, it rains more frequently. Yet this season adds a beautiful pop of color to the famous 40 shades of green Ireland is proud of. On top of that, the temperatures don't drop drastically until the end of the season, when they stays below 10 °C (50°F).
Your Ireland itinerary should include more indoor places, such as pubs, cafes, and museums, in winter. This situation slowly changes with the arrival of spring and the warmer weather.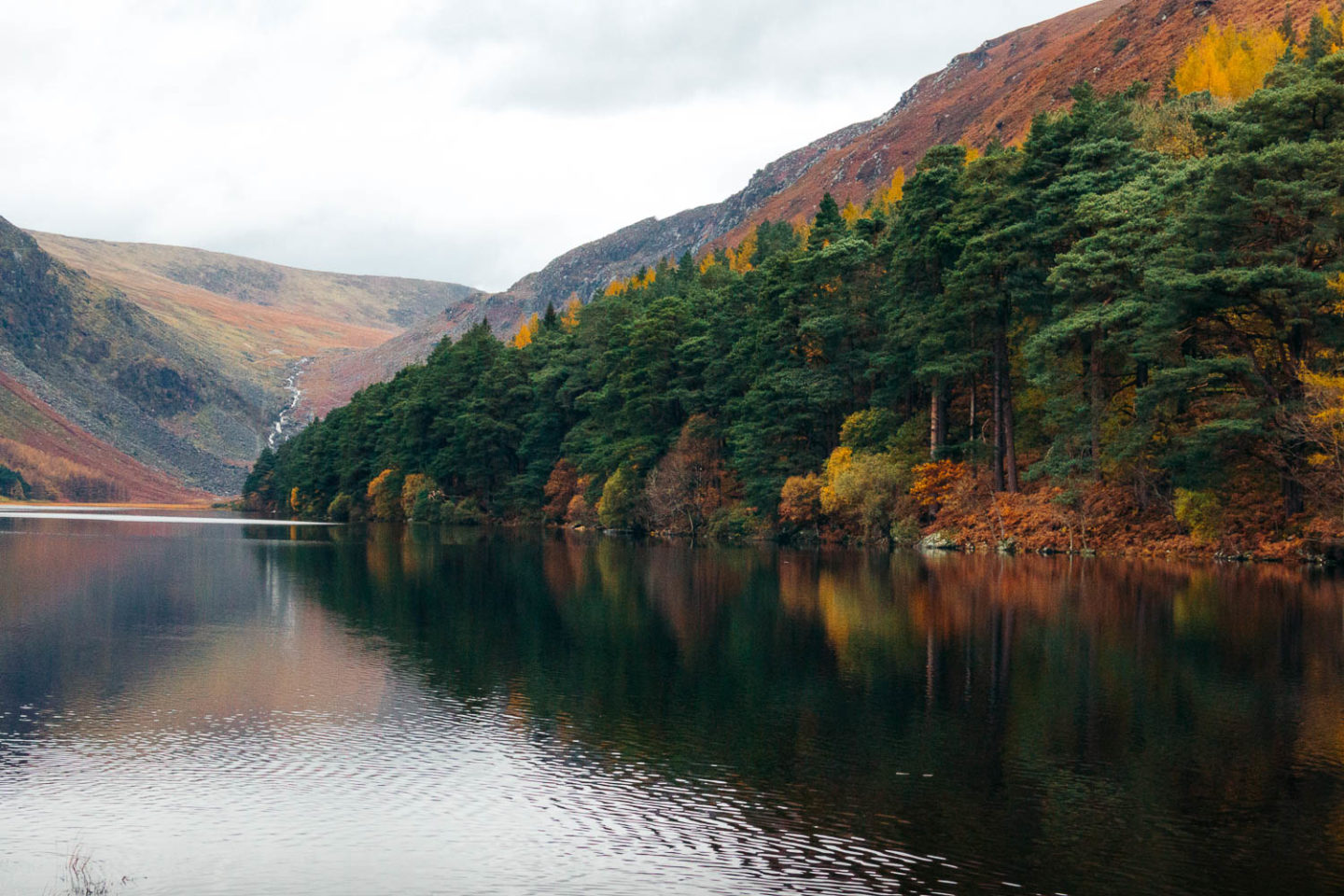 Where to Stay

in Dublin, Ireland
I stayed in Dublin for the duration of these 4 days and explored Ireland by taking a few day trips to see different parts of the island. This may not work for everybody. I found it surprisingly relieving to be able to come home, away from home, at the end of the day. There were even a few short moments when I longed for the familiarity of my hotel room, a place where this Ireland itinerary was slightly modified every day.
Booking a hotel room, I had a few things in mind. First, I needed something to let me stay on a budget. Second, it had to be within a walking distance from the city center. Finally, I picked Maples House Hotel. Located within a 30-minute walk from the major attractions in Dublin, it worked perfectly. And the price was reasonable, considering that Ireland is the fourth most expensive country in the EU.
Your First Night
On arrival, I'd recommend that you relax and get familiar with your hotel. There is a good chance that it will be raining on your first day in Ireland. It does rain a lot here. So use this time to unpack and go over your itinerary one more time. Additionally, you might want to add some other interesting places to your travel list based on recommendations given to you by the hotel staff.
Day 1 of the 4 Days in Ireland Itinerary: Explore Dublin
Dublin is an ultimate destination during any visit to Ireland. As the capital and the largest city in the country, it gives you an Irish traditional vibe with a modern twist. The city is very compact and walkable. One day is a reasonable amount of time to explore the main highlights of Dublin.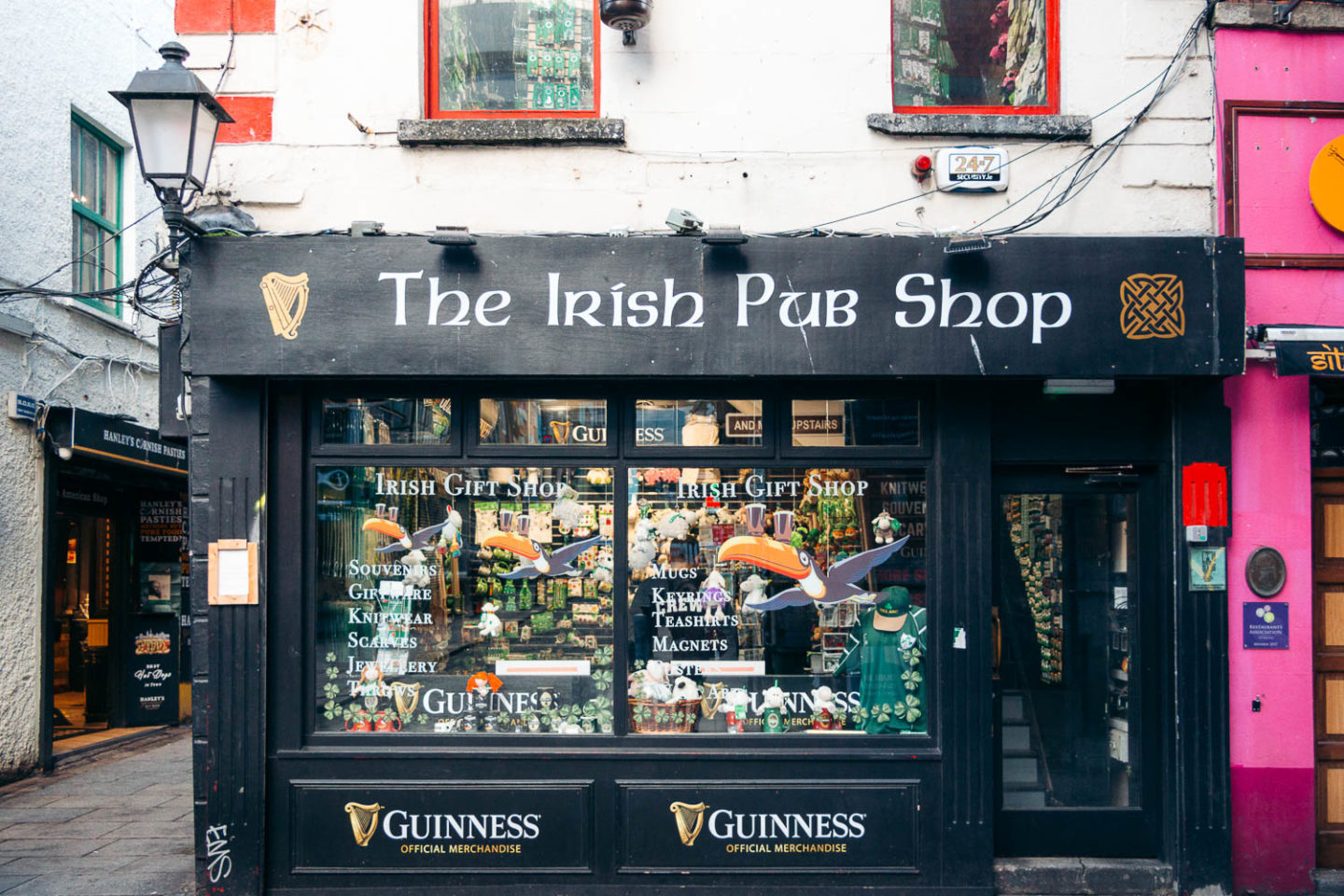 Early Morning
The best way to get to know a new place, including Dublin, is to explore early. You can never underestimate this tip when trying to beat the crowds.
As my hotel wasn't located in the city center, I started my 4-day Ireland adventures with a morning walk to the 150-meter tall Spire of Dublin on O'Connell Street. I had to pick up a ticket for next day trip from Dublin at one of the local tourist offices here. Thus, this short trip set up the mood and flow for the day.
After admiring beautiful monuments on O'Connell Street, it was time to walk across the historical Ha'penny Bridge and head to Temple Bar. This popular neighborhood is one of the most iconic places in Dublin. It's known for traditional Irish pubs, restaurants, and shops. If you drink beer, you should certainly get a pint of traditional Irish brew here.
Soon you learn that Dublin is a very relaxing city. Even if it's not in your nature, you automatically follow the flow and find yourself taking a slow walk and admiring old-style buildings. Without even planning it, you end up walking past the Molly Malone Statue and listening to buskers on Grafton Street. And since you are so close to Trinity College from here, make it your next stop before immersing deeper in history of the city.
TIP: Once you made it to Trinity College, aim to see its Old Library and the ancient Book of Kells. Yet if your visit happens on Friday or weekend, don't waste your time waiting in line. Come back another time, considering that you have more than one day to spend in Dublin.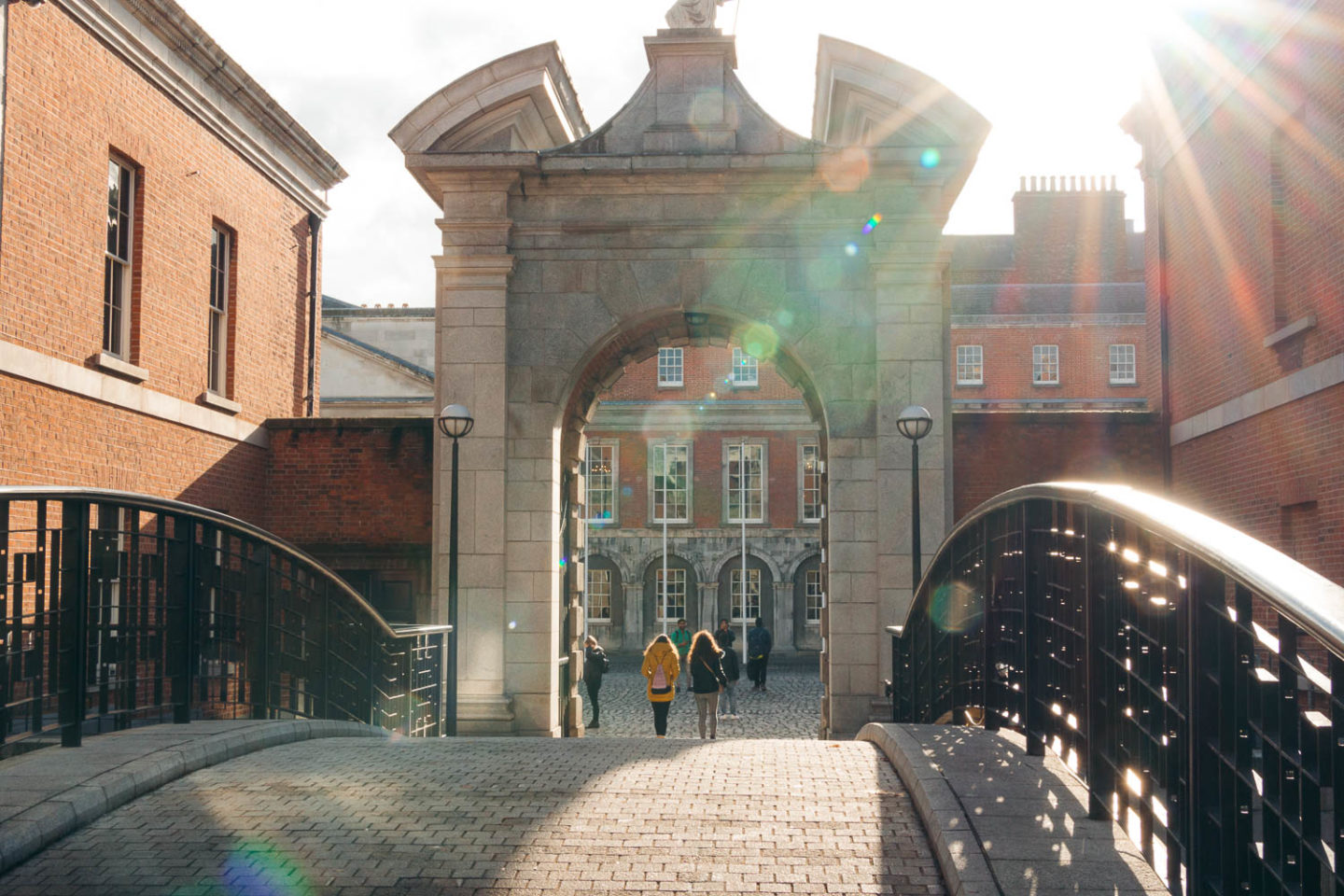 Lunch and Afternoon Adventures
I usually eat my lunch late when exploring a new place. I exhaust all my energy and only then grab something to eat to replenish it. Thus, before looking for a place to eat, I made a quick stop at Dublin Castle and took some pictures of the exterior of Christ Church Cathedral. The visit to the cathedral was planned for the last day I stayed in Ireland.
Finally, after soaking up the sun in a park behind St. Patrick's Cathedral, I had a vegan feast at Blazing Salads. Never being a part of my initial Ireland itinerary, this place became an essential part of it later. I would return here a few more times before leaving the county.
Two more stops in the heart of the city. First, you can't visit the capital of Ireland without seeing its St. Stephen's Green Park and Iveagh Gardens.
Then there was another quick stop at Butlers Chocolate Café to grab a vegan hot chocolate. Finally, a visit to the Guinness Storehouse ended the first day of my ultimate 4 Days in Ireland itinerary for those who stay in Dublin. Since I don't drink beer, I limited this visit to just exploring the outside of the store along with its neighborhood.
Read More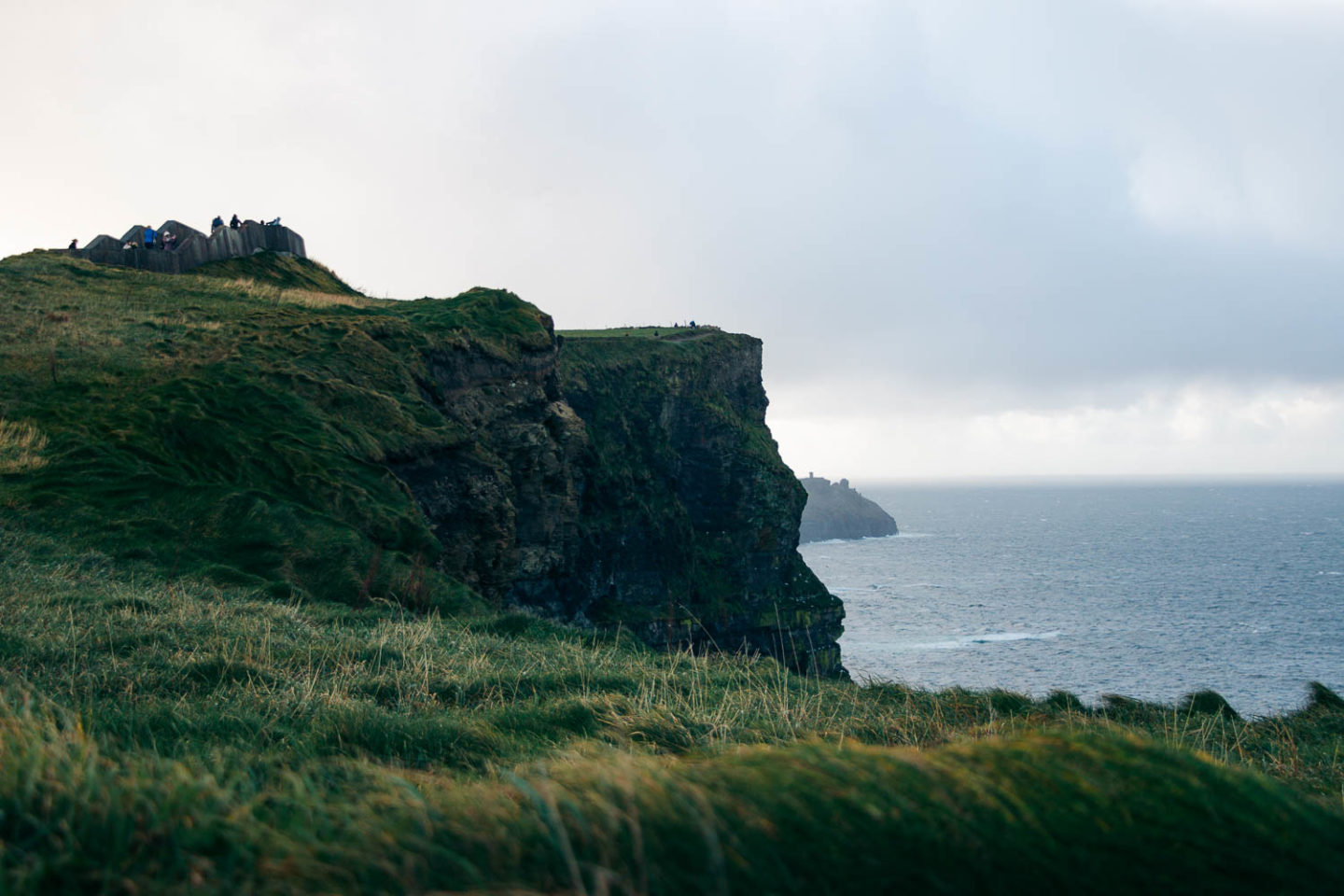 Day 2 of the 4 Days in Ireland Itinerary

: The Cliffs of Moher
Early Start
The second day of my 4-day Ireland trip started with a taxi ride to the Molly Malone Statue on Suffolk Street. ( I prefer to walk rather than take a taxi, but try to avoid doing it in the dark as much as I can even in one of the safest countries in the world.)
From here a tour bus would take me along with other fifty people across the island to the Cliffs of Moher. Exploring a new place as a member of a large group is not my cup of tea. But renting a car in Ireland intimidated me quite a bit (driving on the left side of the road is something I still need to try). Taking a tour to see Irish landmarks and countryside was definitely better than spending the entire 4-day trip in Dublin.
The bus left the city around 7:00 a.m. By noon, we arrived at the Cliffs of Moher, the second most visited attraction in Ireland.
TIP: Although not the highest point in the country, the place surprises with incredible views and the strongest winds you've ever experienced. So make sure to bring along extra layers. If your visit to the Cliffs of Moher is part of your late fall or winter Ireland itinerary, warm jackets, scarfs, hats, and gloves are mandatory.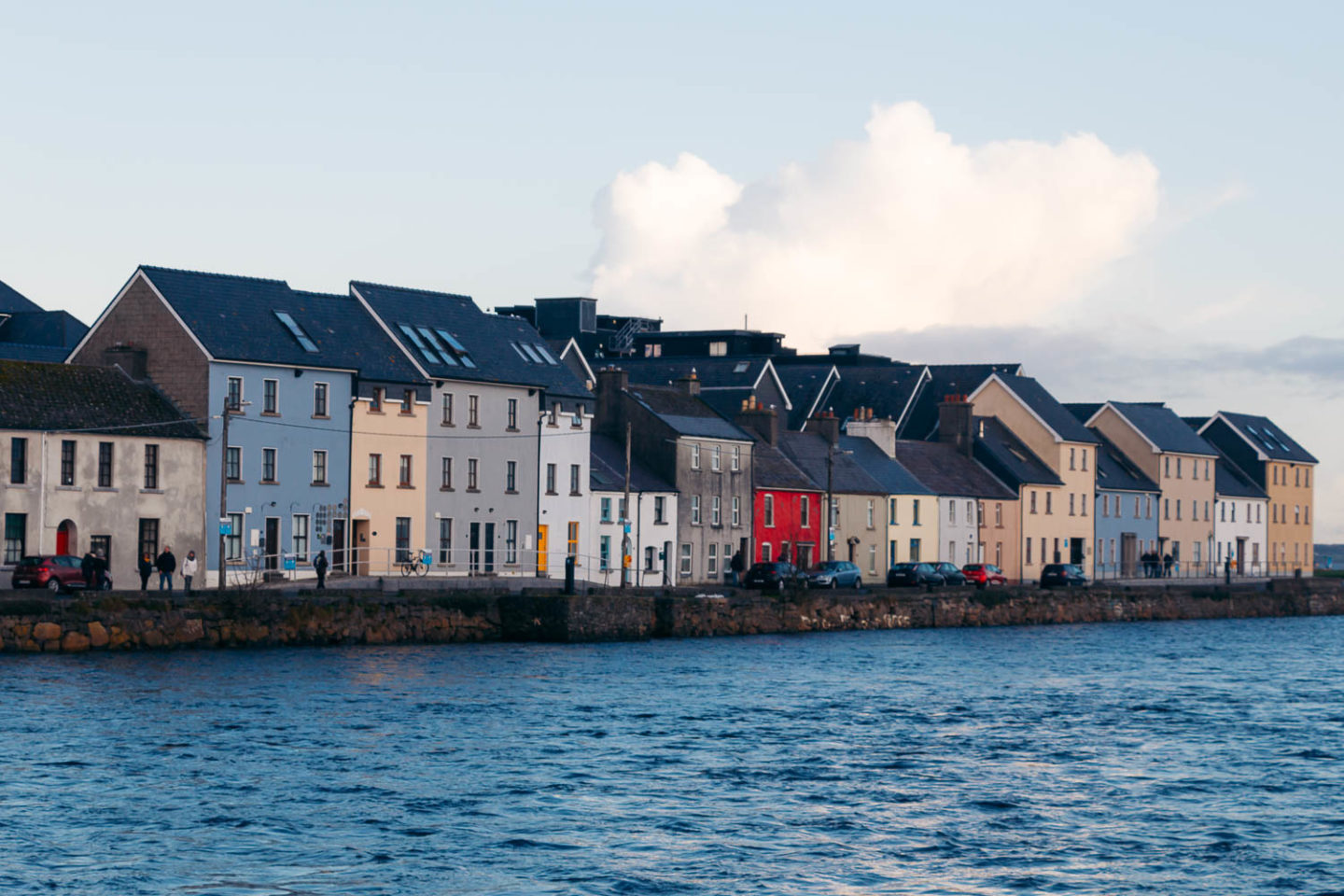 Lunch and Afternoon Trip
For lunch we stops in Doolin Village. A small Irish village is located a short drive from the Cliffs of Moher. It's known for its traditional Irish music and is a gateway to the Aran Islands.
The tour was resumed around 2:00 p.m. The next stop of this short one-day Ireland adventure was the Burren. One of 6 national parks, the place is like nothing else in Ireland. It's famous as one of the largest exposed limestone regions in the country. Indeed, its unique landscape, resembling the surface of the Moon, is hard not to notice.
The final stop of the day was Galway City, famous for its arty vibe, brightly painted pubs, and live music. I was back in Dublin around 8:00 p.m. and ready for day 3 of the 4-day Ireland adventure.
Here are some of the tours I took and was considering as day trips from Dublin, Ireland.
Day 3 of the 4 Days in Ireland Itinerary: Wicklow and Glendalough
Morning
Just like the previous day, make sure to grab something to eat in the morning the night before. It saves time and avoids frustration when you look for a place to grab breakfast while the majority of them are still closed.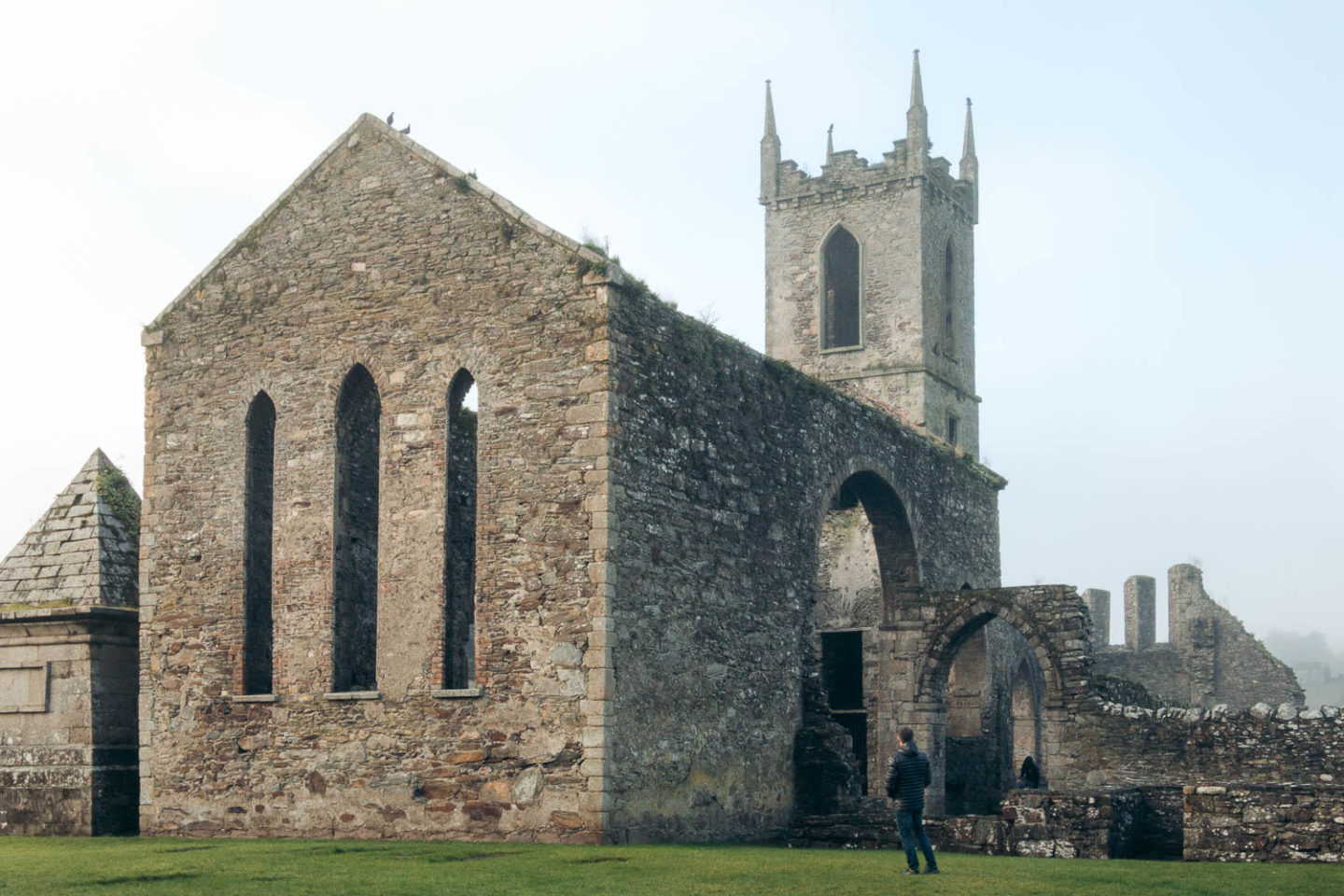 Unable to drive on the left side of the road yet, I took another guided tour to explore County Wicklow. Since the place is located nor far from Dublin, the day started much later. The departure time was 8:30 a.m. Accompanied by bus driver's narration, we traveled past Blessington Lakes and made our first stop in Baltinglass. Here we spent some time exploring the 12th-century Baltinglass Abbey and the center of the town.
The next stop was less glamorous (because of its smell), but very inspiring and interesting. In attempt to support local farmers in Ireland, the tour company added a visit to Keadeen Mountain Farm to their itinerary.
I personally believe that raising animals for meat doesn't benefit anybody. Moreover, according to the farm owner, Ed, it's getting harder and harder to keep this type of farms afloat. However, this quick stop shows you a different and integral part of the Irish culture and heritage.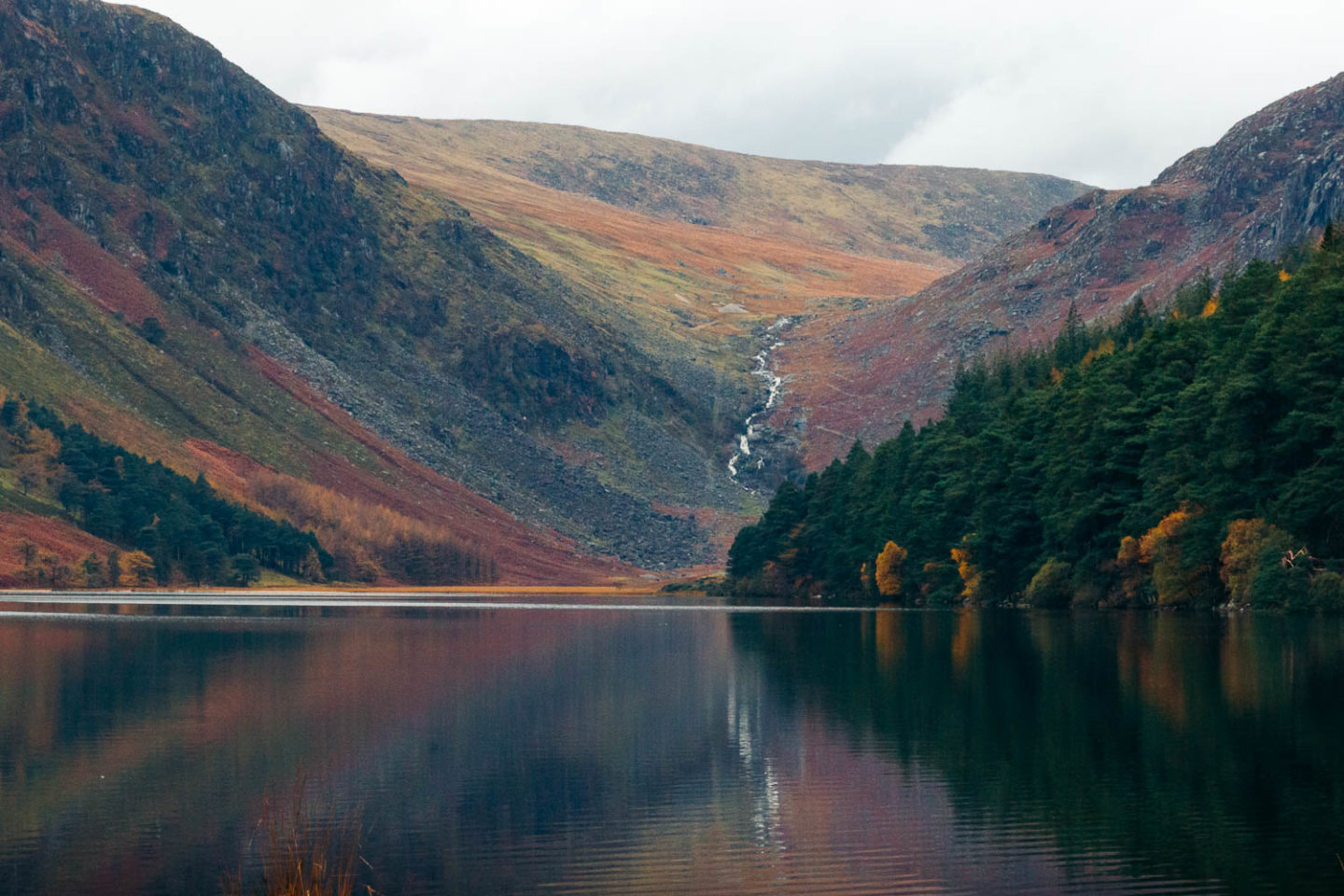 Lunch and Afternoon Hike
At noon we had lunch in Laragh. Whether it was because of the cold weather or chef's outstanding cooking skills, but I had never eaten tastier pumpkin soup before.
The rest of the day we spent in Glendalough. Our itinerary included exploring Glendalough monastic site, hiking to Glendalough Upper Lake and Poulanass Waterfall, all of which showed the incredible beauty of Ireland. The highlight of the day were spectacular views of Lough Tay, better known as Lake Guinness.
Read More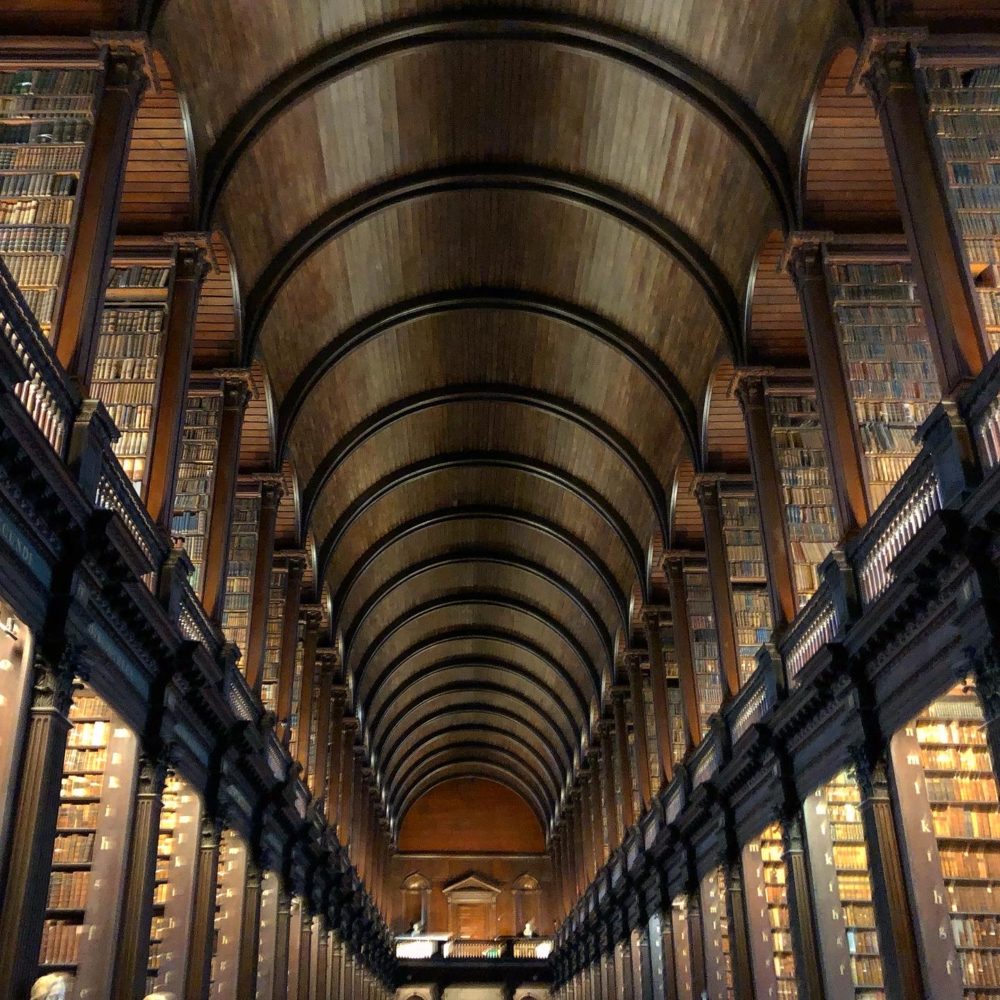 Day 4 of the 4 Days in Ireland Itinerary: Back in Dublin
Morning in the Old Library
I skipped stepping inside the Old Library of Trinity College on my first day in Dublin. However, the middle of the week worked perfectly to add this stop to your Ireland itinerary. Not many people visited the library at this time. Yet don't expect to have the place all to yourself even on a slow morning.
Lunch at Blazing Salads
I couldn't leave Dublin without having another meal at Blazing Salads. The places is located on Drury Street and offers some of the best vegan and vegetarian dishes in the city.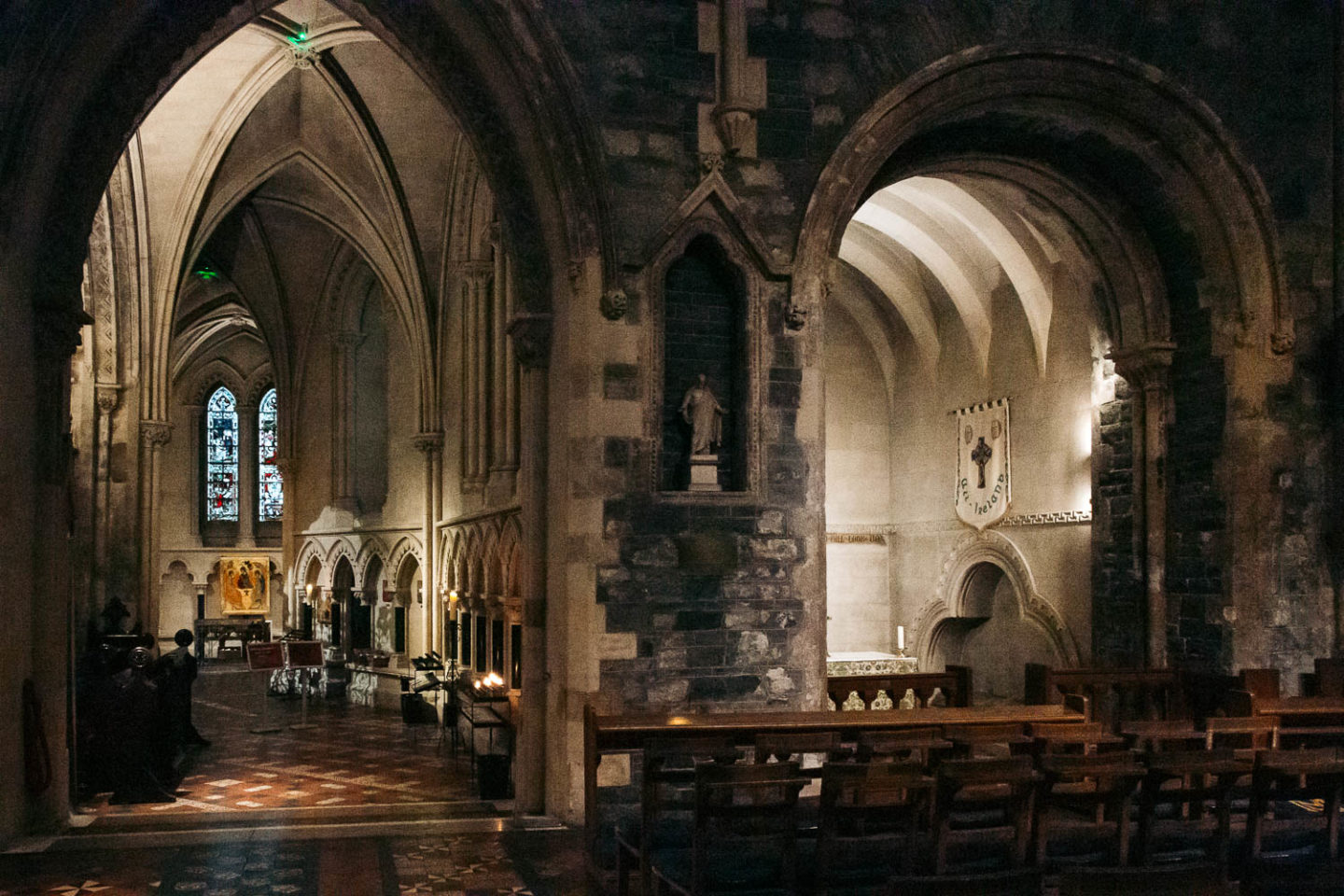 Afternoon inside Christ Church Cathedral
A rainy day asks for places that keep you indoors. I was lucky to almost avoid any rainy obstacles during my visit to Ireland except for the last day. The truth is, it wasn't even raining, more like drizzling. But I used this weather as an excuse to spend the rest of the day exploring a crypt of Christ Church Cathedral.
To end the day, grab dinner at Umi Falafel. Now it's about time to put your itinerary aside, head back to your hotel, pack your stuff, and say goodbye to Ireland.
After spending 4 days in Ireland, you definitely feel that you need to plan another adventure with an itinerary that includes no less than 7 days.  
I used some of these tours to explore Dublin during my first and last day in Ireland and can't recommend them enough.
Read Next