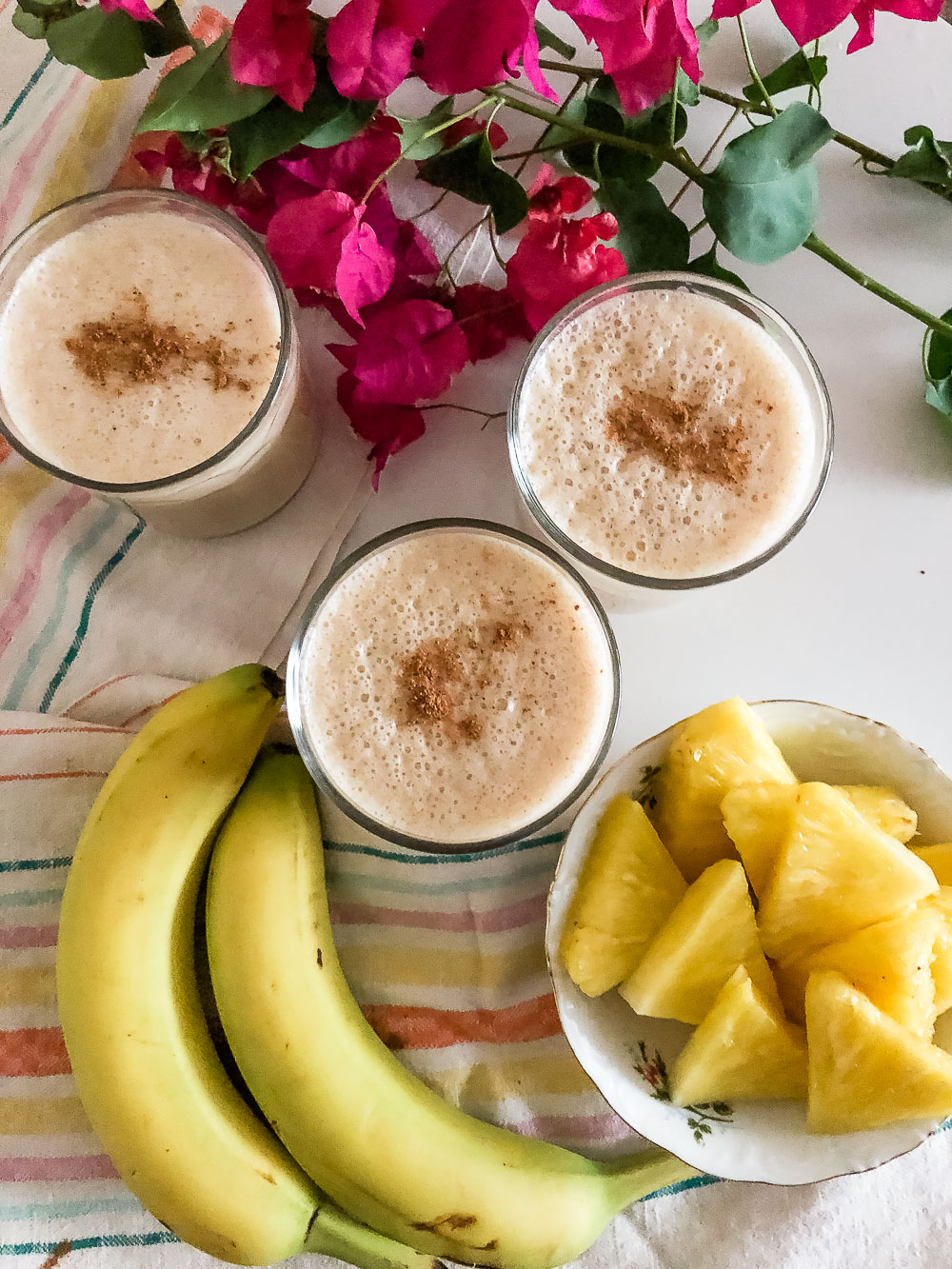 Delicious, creamy, sweet, and healthy – vegan banana and pineapple licuado or Latin American shake is all you need to cool yourself down on a hot day.
Recipes Around the World: Vegan Banana and Pineapple Licuado
It might be November outside, but Southern California is still as hot as ever. It is true that the days are getting shorter and the mornings and evenings are cooler. The scorching day heat, however, forces you to reach for refreshing vegan banana and pineapple licuado even at the end of fall. Luckily, easy to make, satisfying and nourishing Latin American banana and pineapple shake is ready to satisfy your thirst in just a few minutes.
A Little Bit About Licuado
Licuado (pronounced lee-kwaw-doh) is a signature Latin American drink. It is made by blending fruits, milk, and ice. Some variations of licuado also include spices such as nutmeg, cinnamon, and cardamom. The popular nutritious Latin American shake often substitutes breakfast. Busy city residents also use licuado as a healthy alternative to a snack or light meal on the go.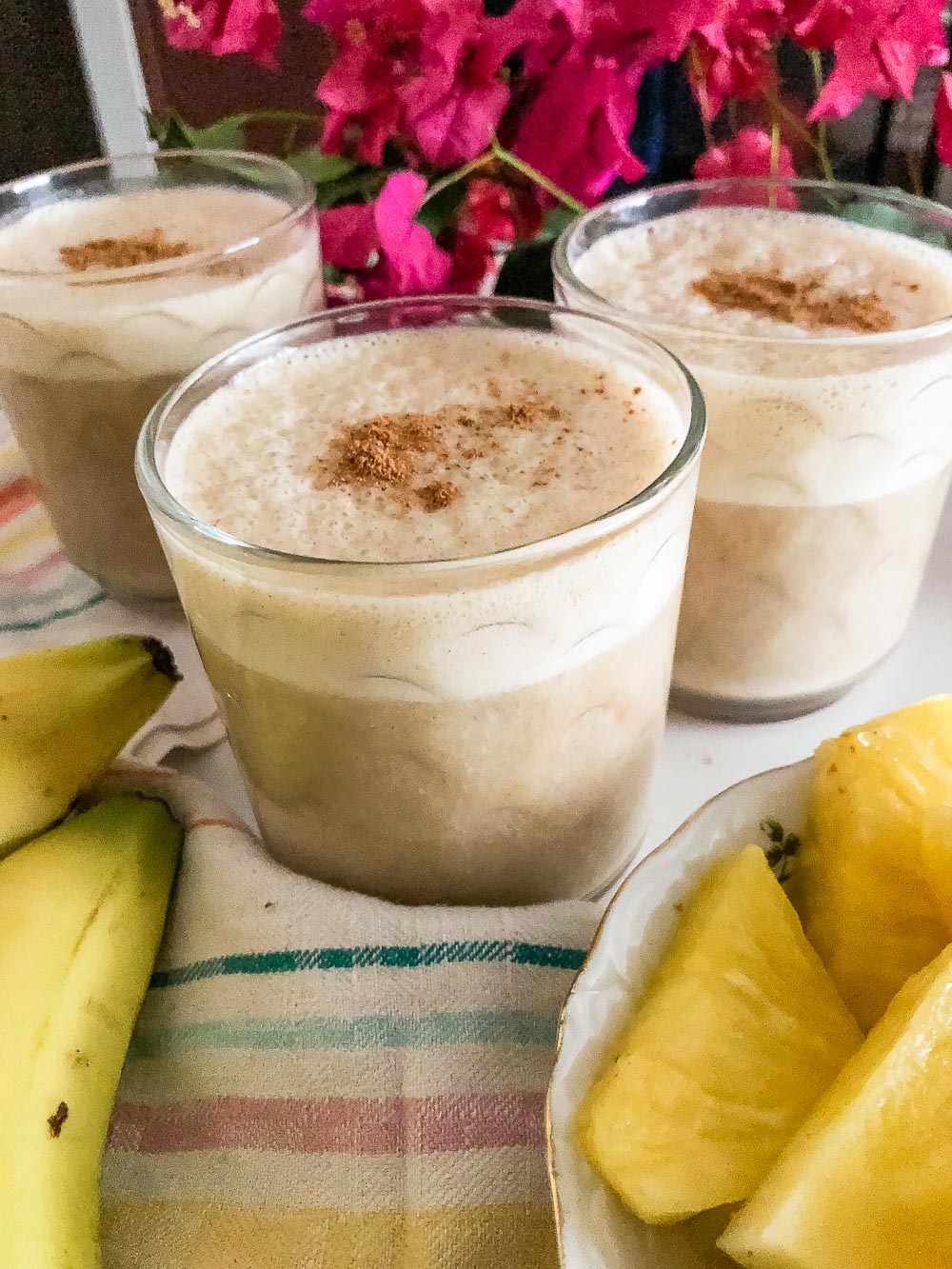 To the delight of those who are unable to make their banana and pineapple licuados at home, the refreshing drink is in abundance at street stands. Unlike agua fresca, another popular Latin American beverage that is sold pre-made, licuado is made freshly upon your order.
Although banana and pineapple are the most common components of licuado, you can use mango, strawberries, peaches, or any other fruits. As the latter enhance the taste of the drink, it is recommended to choose the sweetest and ripest varieties.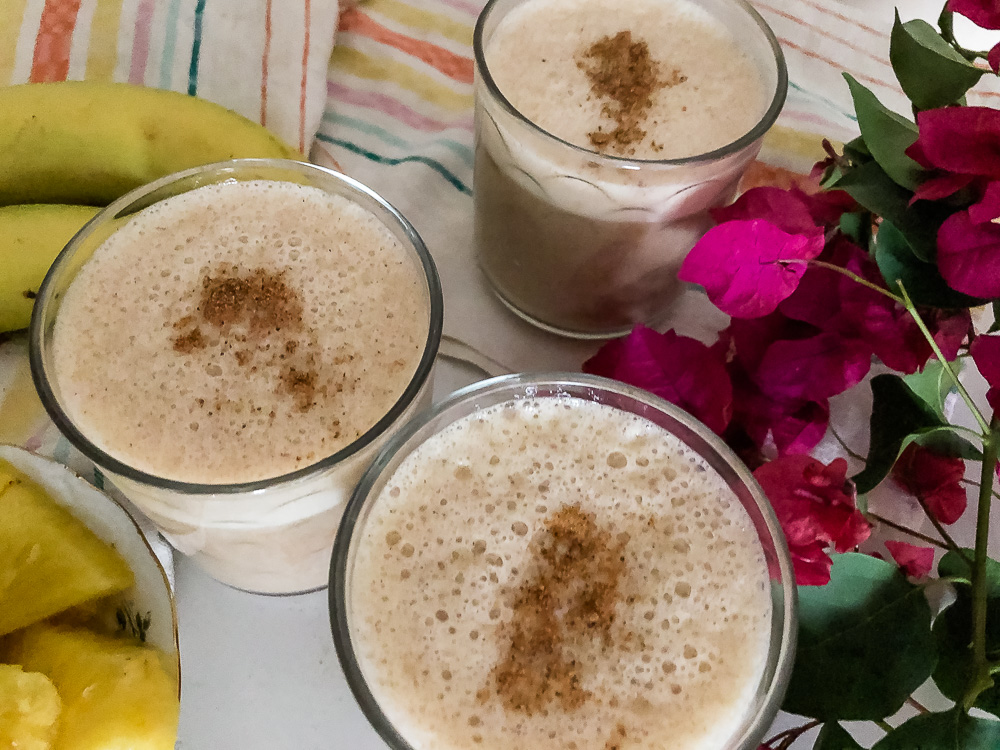 Let Us Make Vegan Banana and Pineapple Licuado
Traditionally, the recipe asks for dairy milk. I prefer non-dairy milk. You can use soy, almond, oat, coconut, or hemp milk. Any kind of the plant-based beverage will work well for your vegan licuado, additionally enriching it with nutty flavor.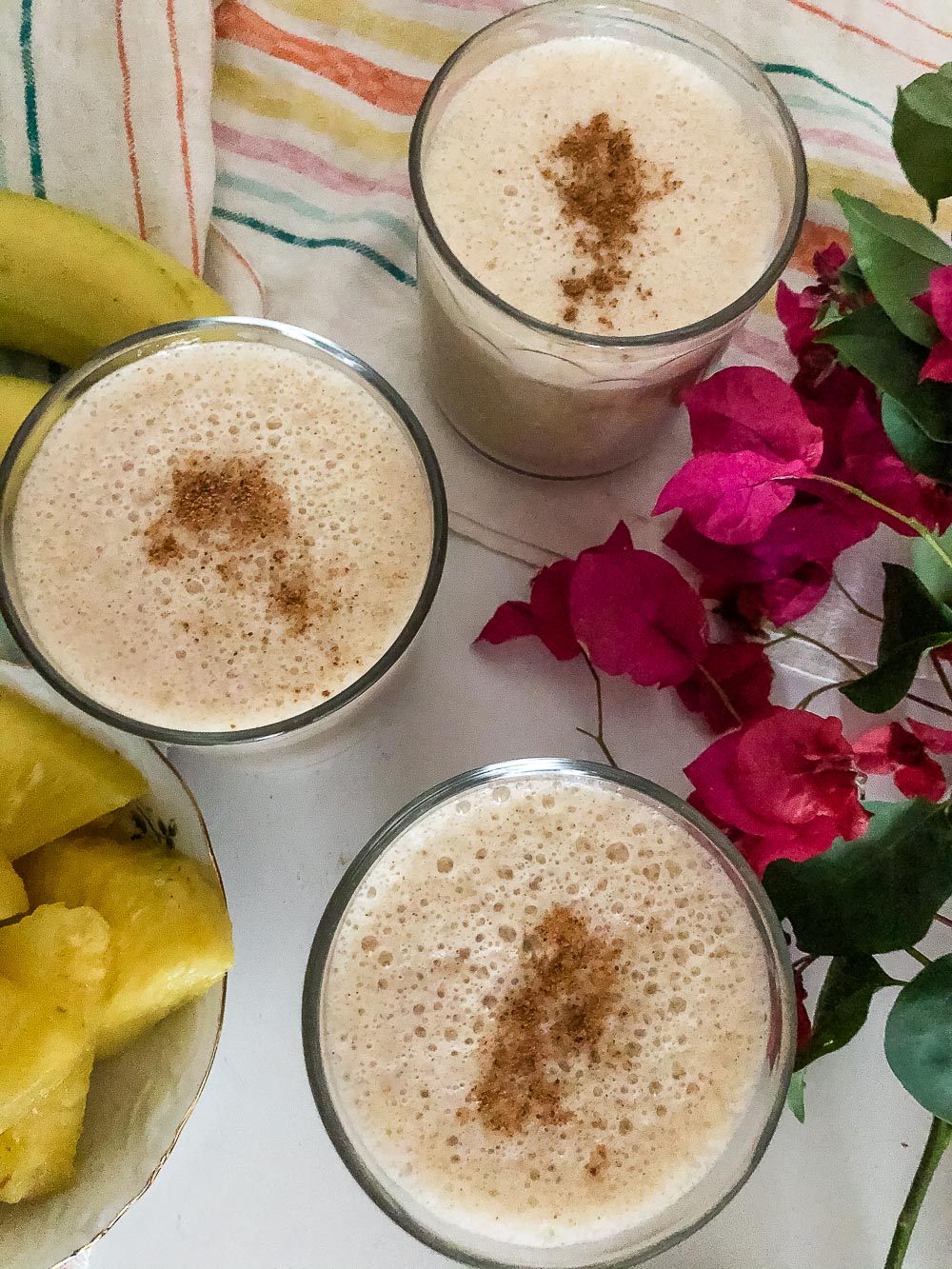 Vegan Banana and Pineapple Licuado
Yield: 3-4 servings
Time: 5 minutes
Ingredients
2 1/2 cup plant-based milk
1 ripe banana
1 cup pineapple, cubed
2 tablespoons coconut sugar
1 teaspoon vanilla extract
1 teaspoon ground cinnamon
a pinch of nutmeg for a garnish (optional)
1/2 cup ice (optional)
Method
Place the plant-based milk, banana, pineapple, coconut sugar, vanilla extract, cinnamon, and ice in a blender and process until smooth and frothy.
Once it is done, pour the drink in serving glasses and sprinkles with nutmeg. Enjoy your refreshing and nourishing vegan licuado!
Tips
Use more ice for a thicker constancy of your vegan banana and pineapple licuado.
Also, adjust sweetness of the beverage by adding or subtracting the sugar. Additionally, you can use honey or brown sugar instead of the coconut sugar.
Substitute the banana and pineapple for any other fruits to suit your taste.