Denver is not entire Colorado, although it has a lot to offer to locals and visitors alike. To see other sides of the state, plan exciting weekend getaways and go on nature-infused road trips from Denver to different destinations just a few hours away.
Last updated: February 6, 2023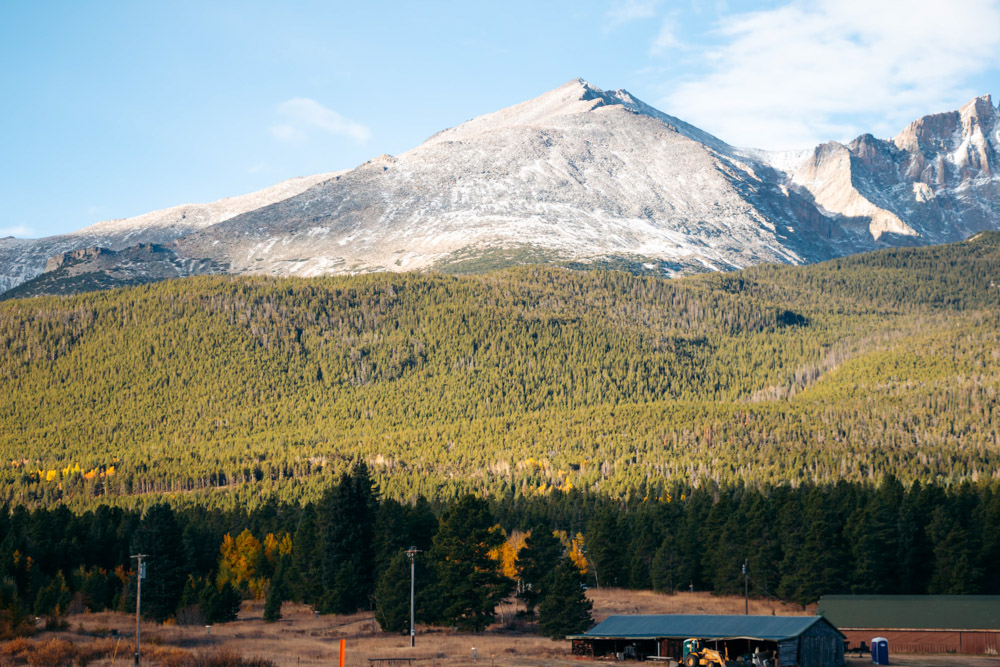 The Best Road Trips and Weekend Getaways from Denver, Colorado
Denver is a starting point of endless road trips and weekend getaways for a reason. First, located 26 miles from Denver International Airport, the city welcomes the majority of visitors coming to Colorado from all over the world.
Second, one of the largest cities in the state, it has gathered more than 700,000 residents. While Denver surely treats them right, even the most devoted city dwellers need some relaxing weekend getaways to escape the hustle and bustle of the big city.
Finally, Colorado's capital boasts outstanding scenery just outside of its limits. You don't need to drive far to soak up an almost homey vibe of smaller towns surrounding the city. Remarkable Colorado's parks, alpine lakes, and majestic mountains are also just a stone's throw away.
Thus, the exciting road trips and weekend getaways from Denver are not something you have to plan for months in advance. The new adventures await you right on the outskirts of the city. Ready to start? Here are some of the best day trips, road trips, and weekend getaways from Denver.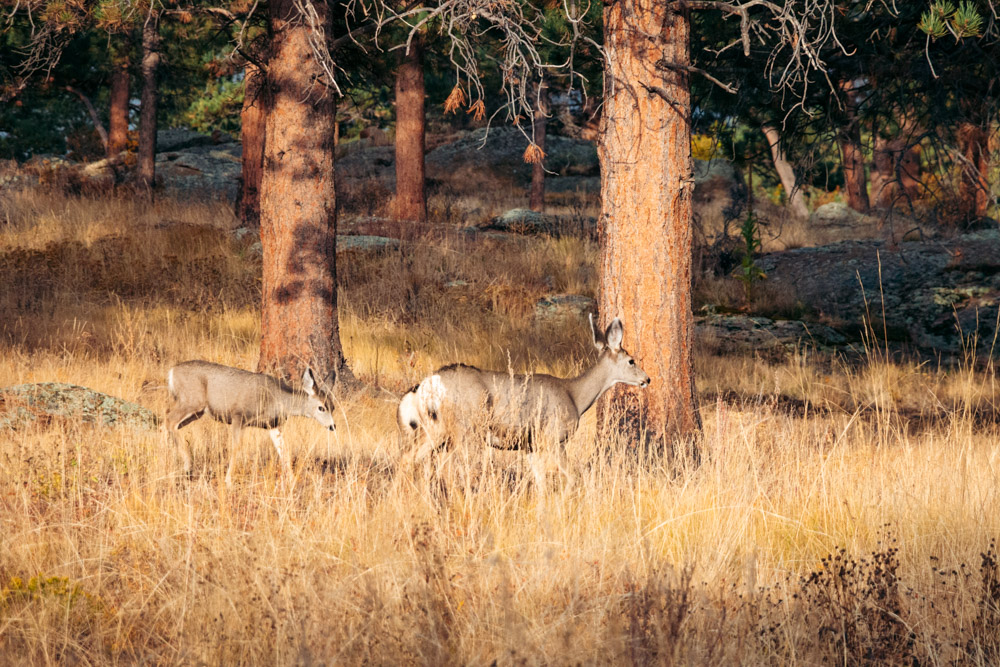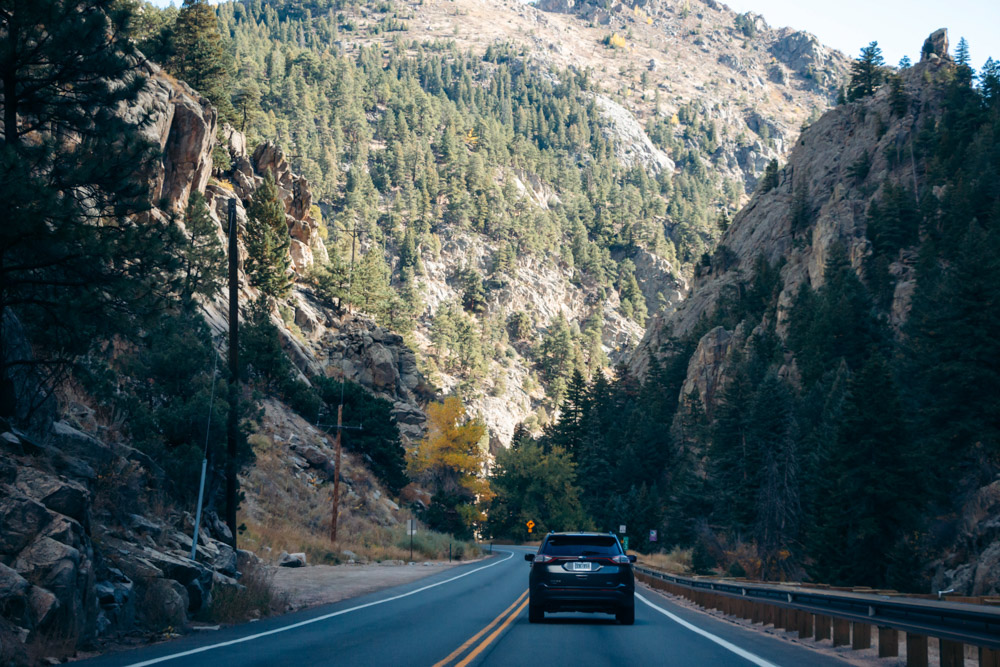 9 EXCITING ROAD TRIPS AND WEEKEND GETAWAYS FROM DENVER, COLORADO
Day Trips and Weekend Getaways from Denver: Up to 30 Minutes Away
1. Buffalo Overlook, Golden
25 minutes from Denver
More of a day trip than a weekend getaway, the Buffalo Overlook nestles less than 18 miles from Denver. Home to a large herd of buffalo owned by the City of Denver, the place allows you to watch Colorado's wild oxen in a natural setting.
This road trip takes usually a few hours, but can last the whole weekend if you decide to check out nearby places, such as Genesee and Clear Creek Canyon Park, before returning to Denver.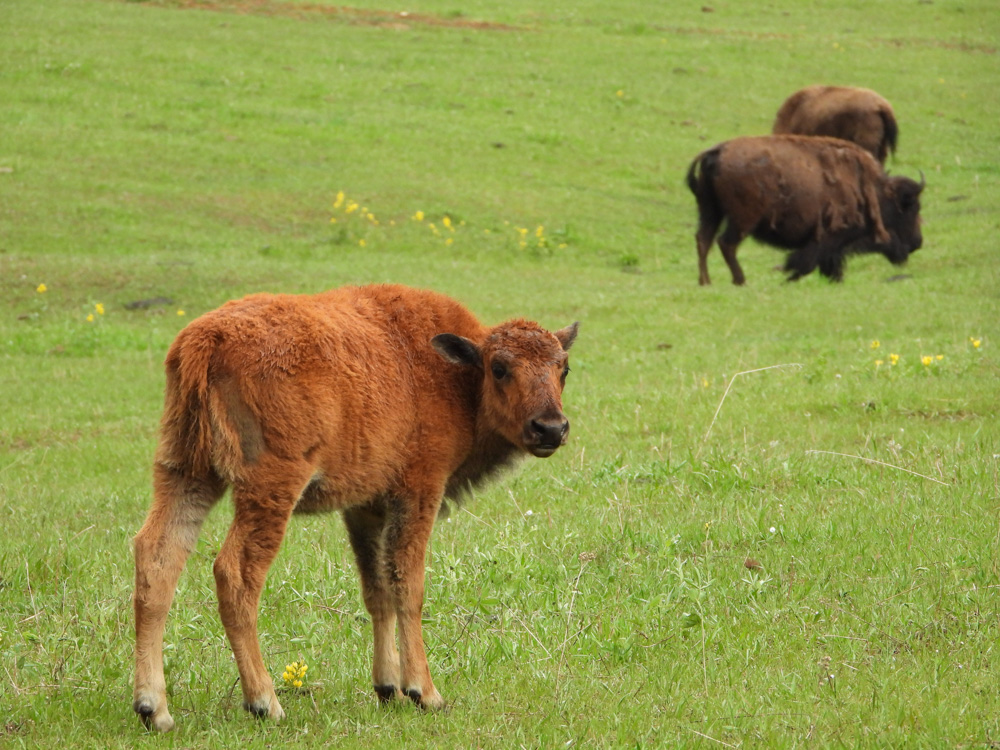 2. Boulder
30 minutes from Denver
Located mere 28 miles from Denver, Boulder is one of the closest road trips and weekend getaways popular with locals and visitors alike. It's still a rather big city. Yet it differs from the capital in so many ways.
From the bustling Pearl Street Mall with a homey twist to the opulent Boulder Dushanbe Teahouse and hidden murals scattered throughout the city, Boulder has proved to be one of the irresistible weekend getaways, what if feels like, right on the outskirts of Denver.
Nature lovers also don't hesitate to call Boulder a home for a weekend. Surrounded by Colorado's towering mountains, the place prepares a myriad of exciting excursions, hikes, and leisurely walks in nature.
Start your road trip from Denver early, experience Boulder's hospitality by noon, and hit the Wonderland Lake Loop Trail or the Flatirons Vista Trail to find some solitude and serenity before returning to your daily routine in the capital of Colorado.
Often, you don't even need the whole weekend. One day in Boulder may be sufficient to recharge your battery and feel like a new person.
READ MORE: Highlights of Denver and Boulder in One Day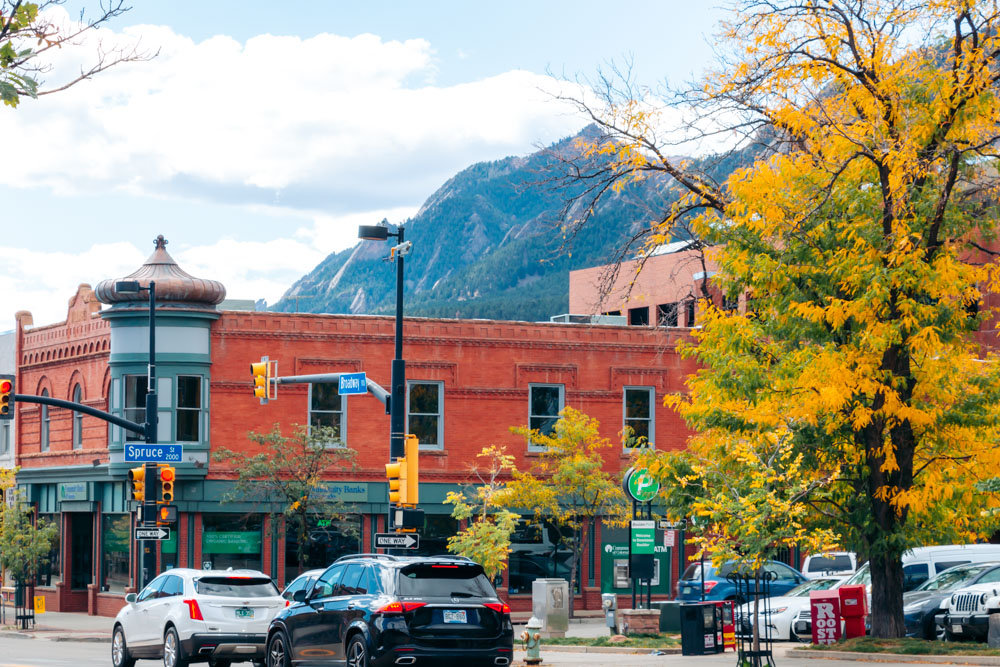 Road Trips and Weekend Getaways from Denver: 30 – 60 Minutes Away
3. Mt. Evans Scenic Byway, Idaho Springs
40 minutes from Denver
Indeed, Colorado abounds with the exciting road trips and weekend getaways that starts on the outskirts of Denver. The Mt. Evans Scenic Byway, located near Idaho Springs, is just one of them.
The 28-mile highest paved road in North America rises over 7,000 feet, taking you to an altitude of more than 14,000 feet. The most adventurous Denver's roadtrippers feel in their realm at this elevation. Often they ditch their cars and continue on on foot toward 14,264-foot Summit of Mount Evans.
The famous "fourteener" can even entice hardcore city enthusiasts. These may skip hiking altogether. Instead, they base in Idaho Springs, enjoy this little town's hospitality, and adventure along the scenic byway in a more relaxed manner, admiring the panoramic views from the car.
While the Peak to Peak Scenic Byway entertains the drivers all year round, always stealing the show during the fall season (more about it later), the Mt. Evans Scenic Byway restrains its "services" to the warmer months. Normally, the route stays open from Memorial Day (late May) until Labor Day (early September).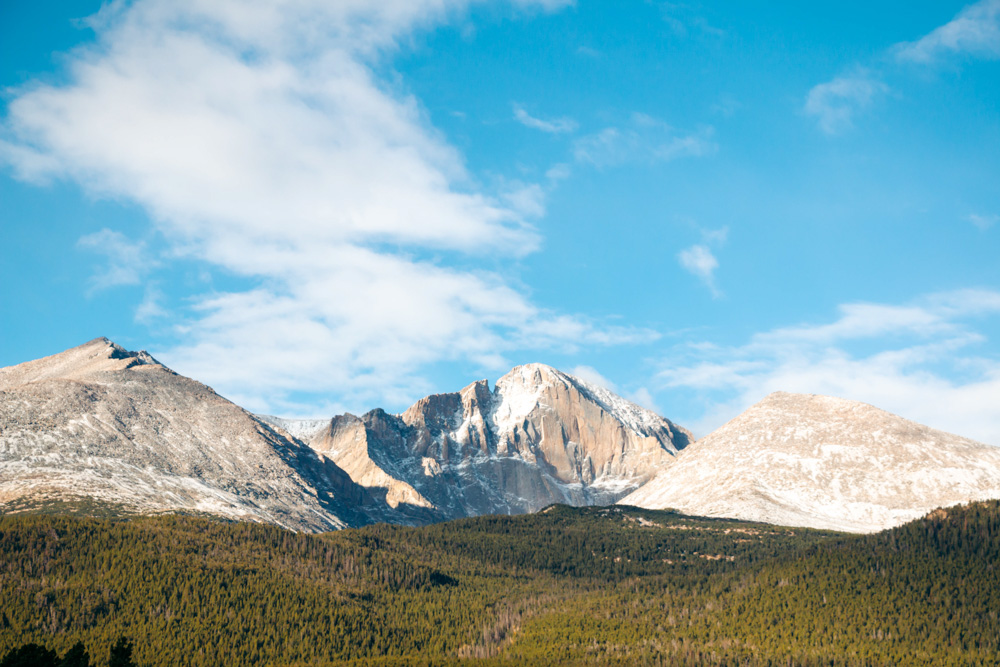 4. Golden Gate Canyon State Park
45 minutes from Denver
Another favorite fall road trip and weekend getaway, Golden Gate Canyon State Park infuses your escapes from Denver with a pop of vibrant colors. Your road adventures have never looked so bright.
If this is not enough to persuade you, Golden Gate Canyon State Park sits mere 20 miles west of Denver. Not a long drive indeed. Given this, the area often serves as a relaxing day-trip destination to recharge your battery before a new busy week in Denver.
The park boasts more than a dozen scenic hiking trails, as short as 0.10 mile, such as the Visitor Center Nature Trail, and as long as 7.4 miles, a distance you'd tread along the Mule Deer Trail. For longer weekend getaways from Denver, embark on a hiking journey along the 2.5-mile (loop) Raccoon Trail or 1.8-mile (one way) Horseshoe Trail.
And don't let me start on panoramic views of the Rocky Mountains towering in the distance. It's too beautiful to express in words anyway. So jump in the car and let your short one-day road trips or weekend-long escapes from Denver start right now.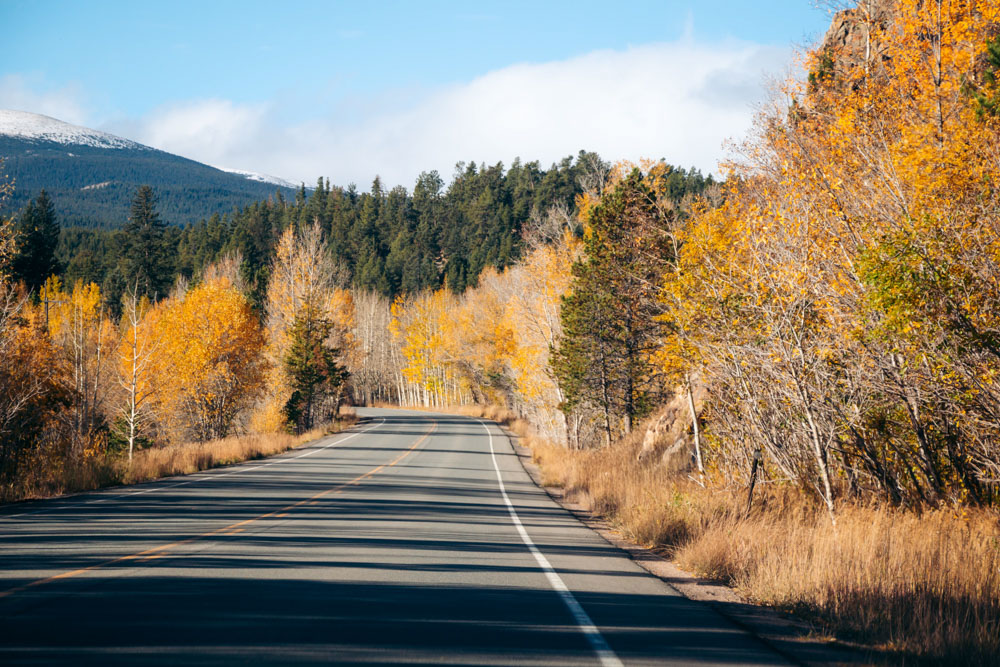 5. Peak to Peak Scenic Byway, Central City
50 minutes from Denver
One of the most beautiful drives in Colorado, the Peak to Peak Scenic Byway certainly has a lot to impress you with during your weekend escape from Denver. Established in 1918, the route is considered the oldest scenic byway in Colorado. The 55-mile drive begins as CO Highway 7 in Estes Park and ends in Central City. (Switch the direction if you are driving from Denver and not Rocky Mountain National Park like we did.)
It takes approximately 3 hours to drive along the entire byway, which makes it a perfect one-day road-trip adventure. With a little bit more time on your hands, though, you can turn this scenic journey into a memorable weekend getaway from Denver or any other city nearby.
Start with getting off the main route frequently and exploring high country lakes along the way. For the most surreal experiences on the road, drive into ghost towns such as Hesse, Apex, and Caribou.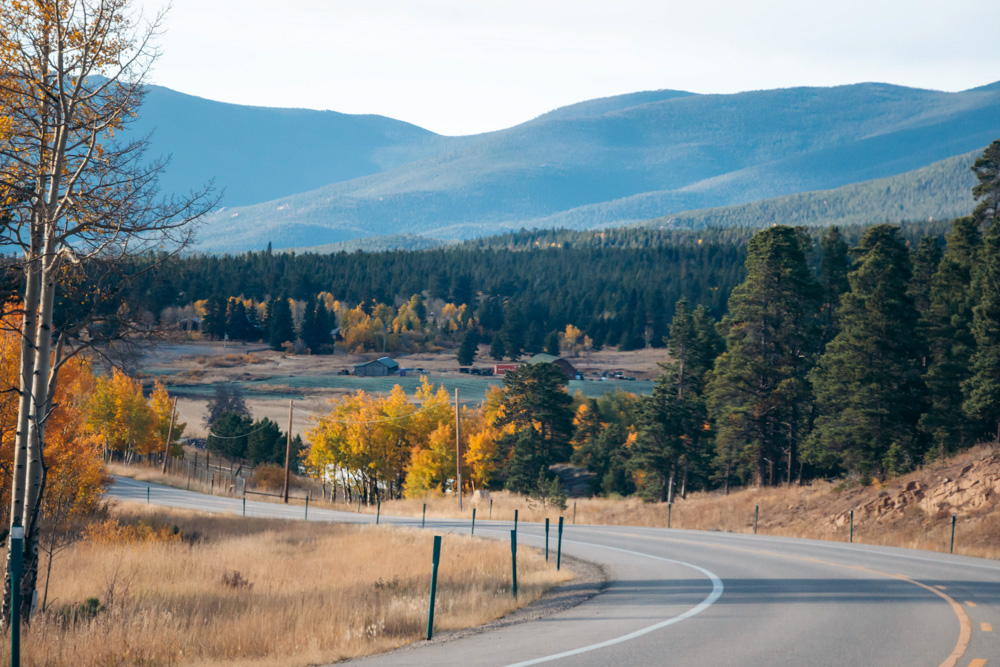 6. Georgetown and Silver Plume
55 minutes from Denver
If fall foliage inspires you to leave Denver for a few color-infused road trips, make sure to add Georgetown and Silver Plume to your itinerary. Surrounded by aspen groves, both towns burst into yellow, orange, and red hues from mid-September through mid-October.
The biggest attraction here, however, is the Georgetown Loop Railroad. Paving the way for a vintage stream locomotive that pulls its guests up a steep slope between Georgetown and Silver Plume, it offers the best vistas of the fall brilliance visitors from Denver can only wish for.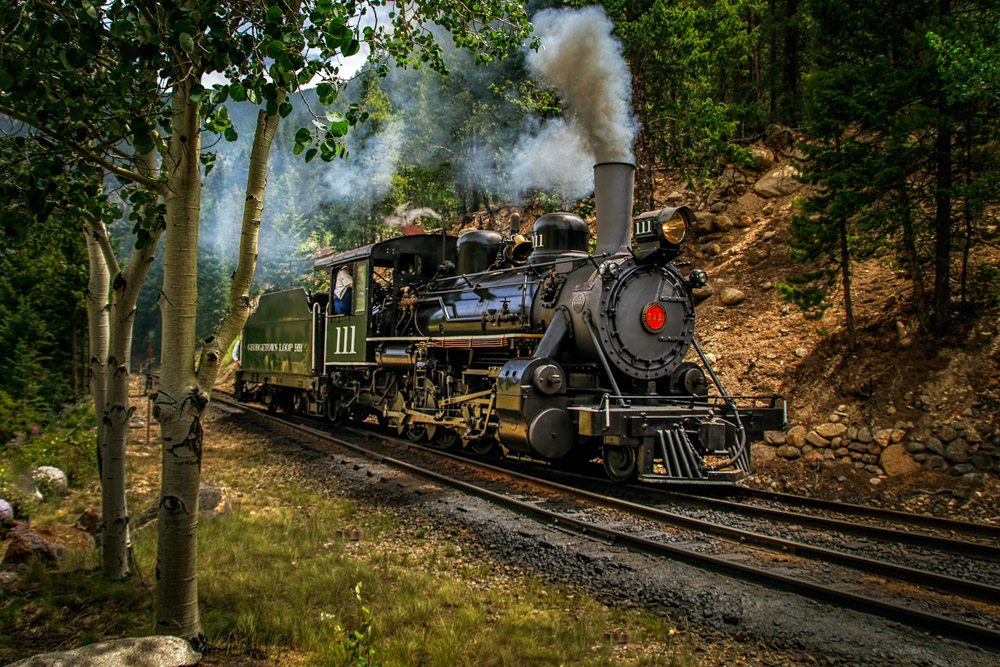 Road Trips and Weekend Getaways from Denver: 1-2 Hours Away
7. Nederland
1 hour 5 minutes from Denver
Set approximately 46 miles from Denver, Nederland fills your road trips and weekend getaways with a hipster vibe and rural splendor.
The place feels quieter, bohemian, and has some of the perkiest places to enhance your weekend adventures with. Start with crystal shopping at Nature's Own. Then be sure to check out historic train cars at the Train Cars Coffee and Yogurt Company.
For the serene road-trip adventures and weekend getaways from the normally bustling Denver, venture outside the town and hike along the easy Rainbow Lakes Trail, the moderate Diamond Lake Trail, or the tedious Isabelle Glacier Trail.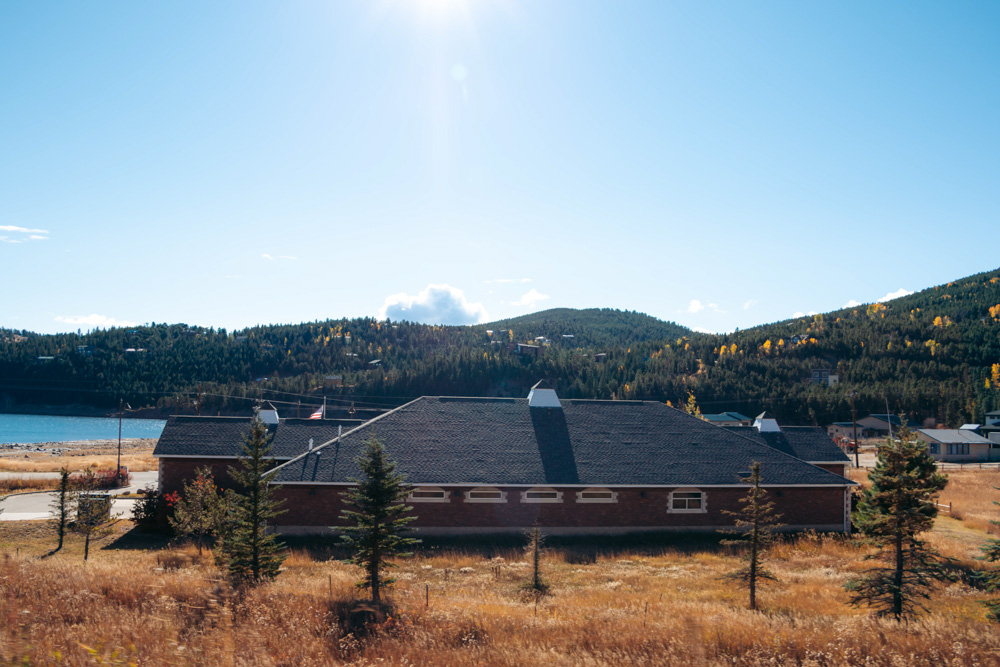 8. Summit Lake Park, Evergreen
1 hour 20 minutes from Denver
Located along the Mt. Evans Scenic Byway, 160-acre Summit Lake Park is one of the most thrilling road trips and weekend getaways from Denver. Home to impeccable Arctic tundra, the place takes you one step closer to the diverse terrain of Colorado.
Whether you long for the panoramic views from the 14,264-foot summit or some of the best hikes between Evergreen and Idaho Springs, the park is eager to grant all your wishes in the most aestethic way.
But before you hit the Chicago Lakes Overlook Trail and the Summit Lake Loop, be sure to grab a camera and a telephoto lens. Bighorn sheep and mountain goats roam freely in the area. This alone is enough to add Summit Lake Park to your favorite road trips and weekend getaways from Denver.
9. Rocky Mountain National Park
1 hour 35 minutes from Denver
Rocky Mountain National Park falls into the category of the most popular road trips and weekend getaways from Denver. The favorite mountainous area boasts a profusion of easy and strenuous hikes, ample alpine lakes tucked in lodgepole pine forest, and some of the best panoramas in Colorado. With such diverse resources, your short weekend trips from Denver may turn into week-long excursions and expanded road-trip adventures.
The shortest escapes from Denver are usually built around such popular areas as Bear Lake, Alberta Falls, and the favorite lake trio, Nymph, Dream, and Emerald Lakes.
For those city visitors that prefer to enjoy the expansive landscapes from their cars, Trail Ridge Road and Old Fall River Road offer the best vistas and some of the shortest trails in the park. The Tundra Communities Trail and the Alpine Ridge Trail are some of the must-see places here.
TIP: These roads, however, are seasonal. Usually you should leave Denver for the nature-fueled road trips and weekends getaways during the summer season to be able to feast your eyes on this remarkable alpine wilderness.
READ MORE: Denver to Rocky Mountain Road Trip: 5-Day Colorado Adventure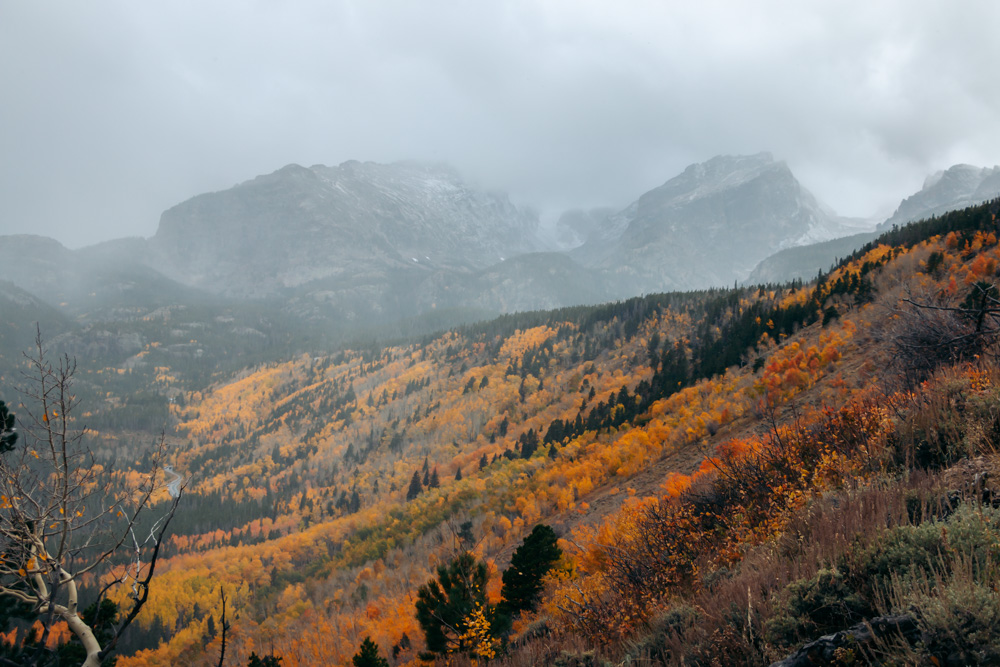 Read Next