For the past few years, we have explored more of Arizona and Nevada than California. It was time to revisit some of the California's classic destinations and road-trip through Yosemite, Pinnacles, and the king of the scenic coastal vistas – Big Sur.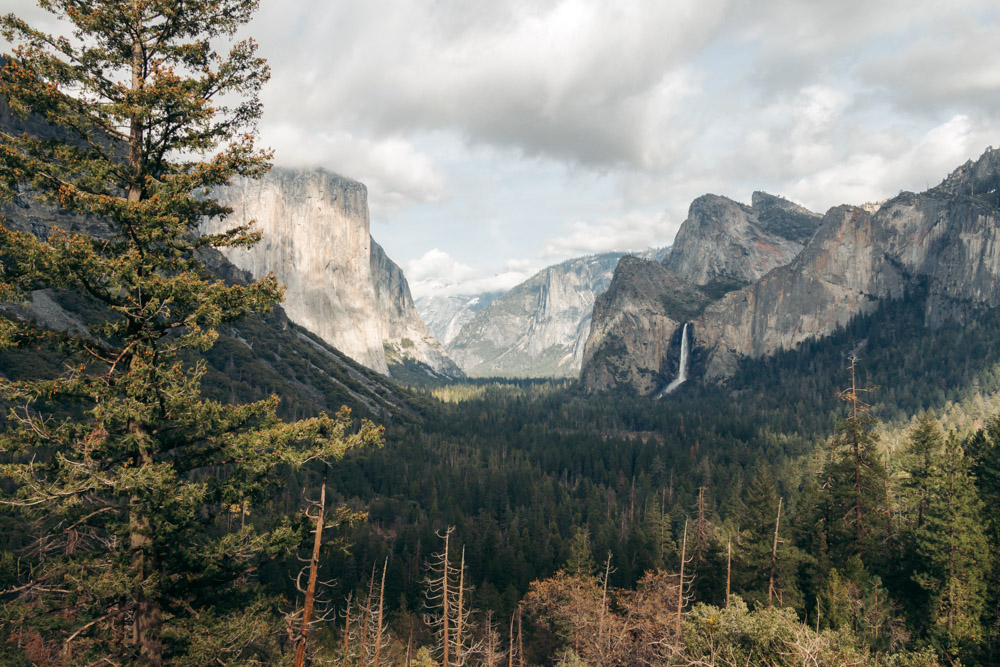 4-Day California Road Trip Itinerary: Yosemite, Pinnacles, and Big Sur
The time was perfect. While snow abandoned most of the Central and Northern California, the sun was only testing a newly reclaimed territory. So scorching hot days in the Golden State were yet to come. For now, though, the weather felt astonishingly pleasant for our 4-day California road trip.
The weather forecast that I go to for "consultations" before every trip predicted a few overcast days. Even drizzling rain was supposed to accompany us on our last day of the road trip through Central and Northern California. But since at least 4 hours of that day we were planning to spend in the car while driving back to almost always sunny Los Angeles, no rain could spoil our road adventures.
And so, on one particularly sunny Thursday morning, off we went. Our epic 4-day California road trip started and ended in Los Angeles, which made planning a bit easier. We didn't need to look for affordable airfares and all other "exciting" stuff you need to know before getting to your first destination.
The greatest advantage, however, was time. We used each and every day of this 4-day California road trip to explore new trails in Yosemite National Park, finally visit and hike in Pinnacles National Park, and see more than just panoramic views in Big Sur.
A lot of driving was expected, especially on the first day. The drive time from Los Angeles to Yosemite was about 5 hours. But if you jump in the car at dawn, which we failed to do, you still have plenty of time to explore the first destination of your 4-day California road trip in the afternoon.
Without further ado, here is our detailed 4-day California road trip through Yosemite, Pinnacles, Big Sur, and a bit of San Simeon.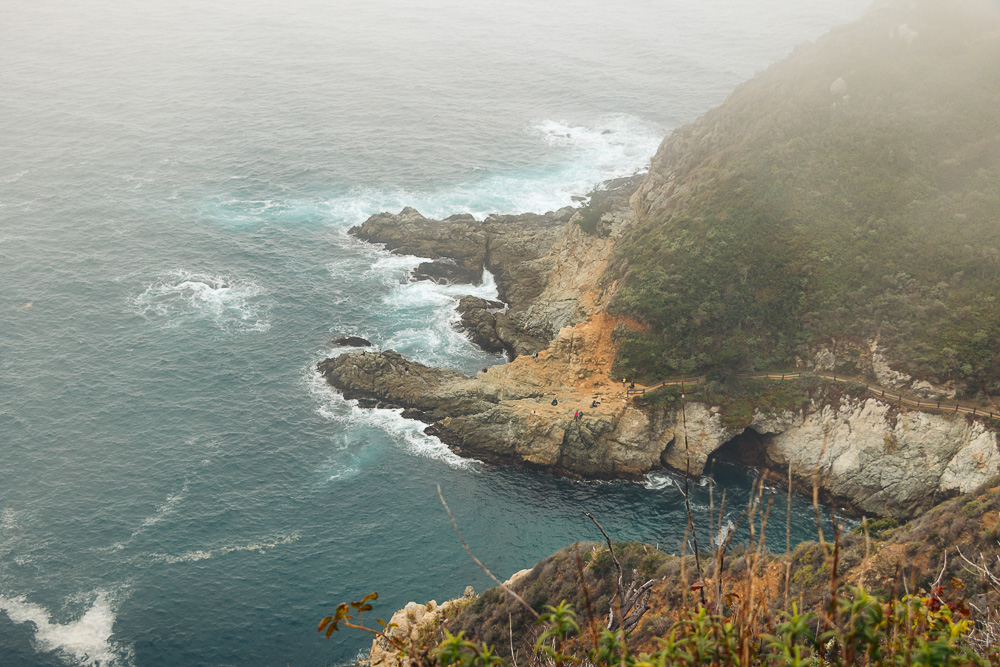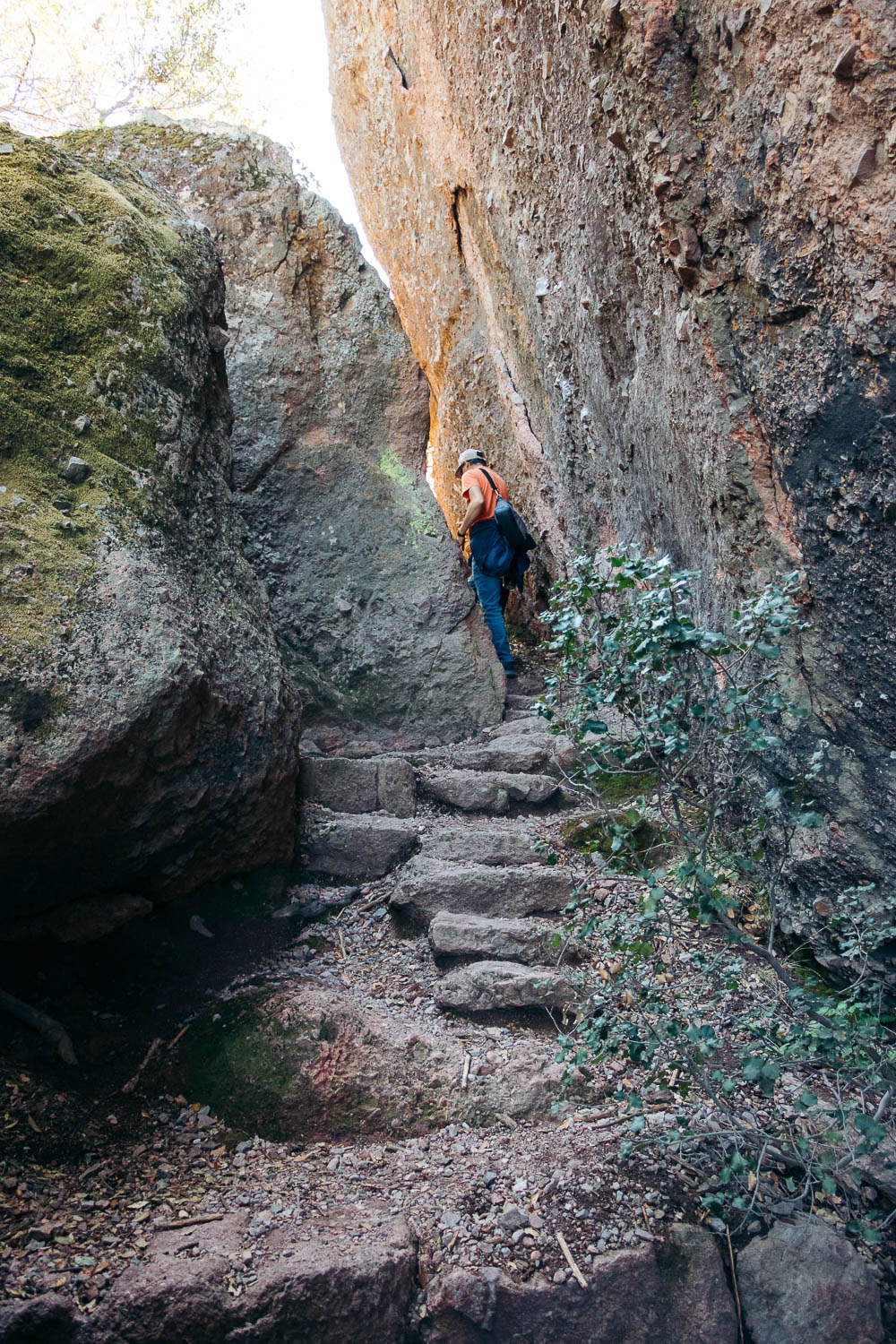 THE COMPLETE 4-DAY CALIFORNIA ROAD TRIP ITINERARY: ADVENTURES IN YOSEMITE, PINNACLED, AND BIG SUR
California Road Trip Day 1: Yosemite National Park
Drive time from Los Angeles to Yosemite: 4 hours 45 minutes
Yosemite National Park is one of the most popular parks in California. Thousands of nature lovers flock to the astounding realm of granite cliffs, waterfalls, and picturesque meadows, rain or shine.
We had had a pleasure to feast our eyes on the awe-inspiring Yosemite Valley, surrounded by fortified mountains and chase several waterfalls before. While we still intended to see some of the classics of Yosemite, this section of our California road trip included slightly easier hikes. They were just fine for exploring Yosemite National Park with a small kid.
Stop 1: Bridalveil Fall
But even a kid can successfully conquer a short, 0.5-mile trail to Bridalveil Fall. The first waterfall you are likely to see in Yosemite, the site plunges 620 feet. Its abundant splashes disperse in different direction.
Even a rather large pool at the bottom of the waterfall protected by massive boulders doesn't stand in the way of the untamed sprays that generously drop on the hikers. As least those that get too close to Bridalveil Fall.
The signature waterfall towers over a large parking lot nearby and is an essential part of the classic Yosemite's views. So even if you decide to skip the hike, you can rest assured that the waterfall will catch up with you in many other places. From a distance this time, though.
The most predictable part of any California road trip is that your adventures can be very unpredictable. Like an A-student, our 4-day California journey followed this instruction to a T.
The first misfortune awaited us at the Bridalveil Fall's parking lot. It was closed. Consequently, the trail to the waterfall also didn't expect any visitors, except for a road fixing crew. While the temporarily trail closure didn't bother many other California roadtrippers that had paved a side trail, we opted for enjoying the roaring waterfall from a distance.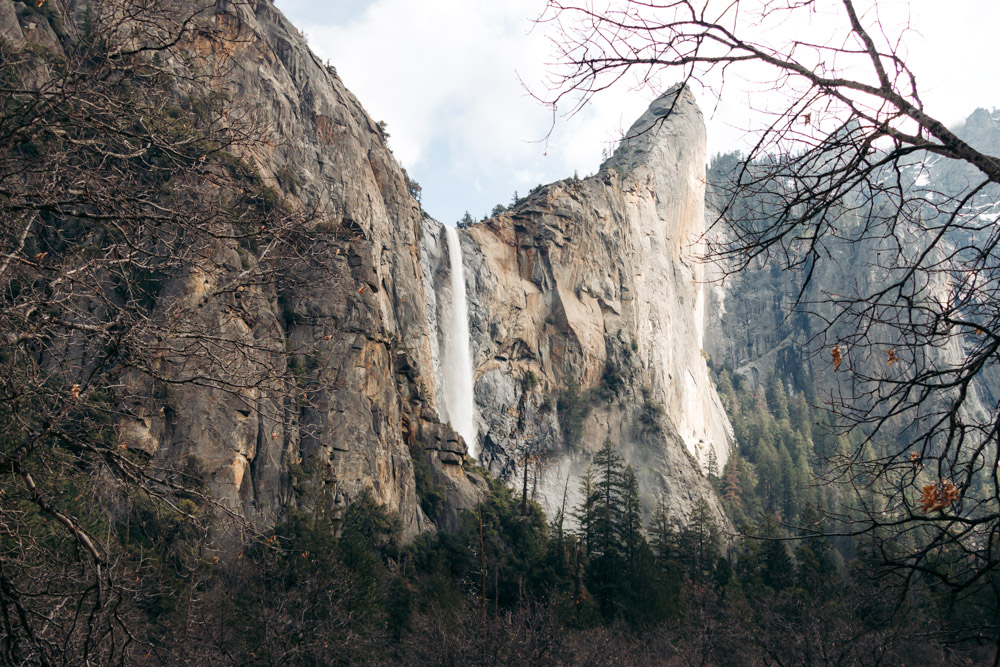 Stop 2: Tunnel View
And those distant Bridalveil Fall's views were incredible indeed. The waterfall cascading down a sheer granite cliff looked even more dramatic from the iconic Tunnel View.
A prime photography spot, the overlook opens up incredible vistas of the entire Yosemite Valley area and such California's classics as Half Dome and El Capitan.
Stop 3: Yosemite Valley View
If you've been pleased with Tunnel View, try to see the region from a slightly different angle. Located a short drive from the higher elevation overlook, Yosemite Valley View showcases Yosemite Valley, including roaring Bridalveil Fall, from the ground level.
The majestic Merced River separates the viewing platform from the tranquil valley surrounded by the granite cliffs. This lower location allows more room for exploration near the river bank. In winter, the visitors can even have a snowball fight.
What's more interesting, despite its easy accessibility, far fewer California roadtrippers make it to the stunning Yosemite Valley View area.
Stop 4: Taft Point
If you long for the impeccable views of Yosemite Valley with a twist, look no further than Taft Point. Sitting just one mile from a parking lot, it allows you to befriend your fear of heights, edge up to the cliff, and peer into the astounding valley below.
Stop 5: Swinging Bridge
The Swinging Bridge is a perfect stop to take a break from all the exploration you intend to do during the first day of your California road trip. Several picnic tables near the river bank indicate that maybe it's time to devour your lunch before walking across the bridge.
A wide meadow with the towering California's giants in the background meets the roadtrippers on the other side of the swinging structure. A narrow, paved path takes them farther down.
As the trail leaves the Swinging Bridge and the picturesque meadow, it passes several cabins and Yosemite Cedar Lodge. Eventually, the well-trodden path merges with the Lower Yosemite Fall Trail. From here the highest waterfall in the park is just a stone's throw away.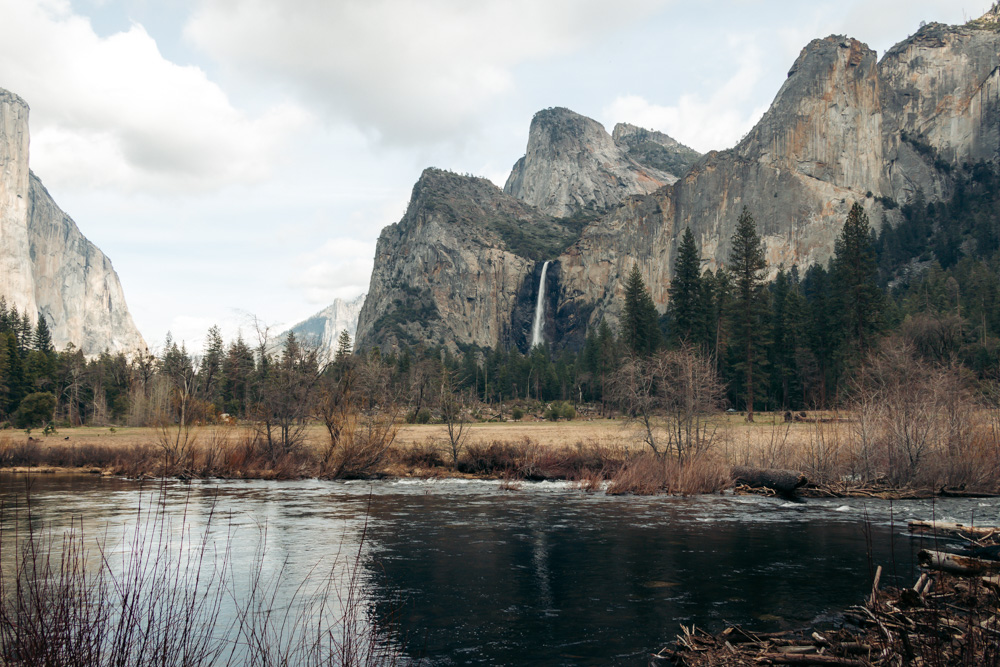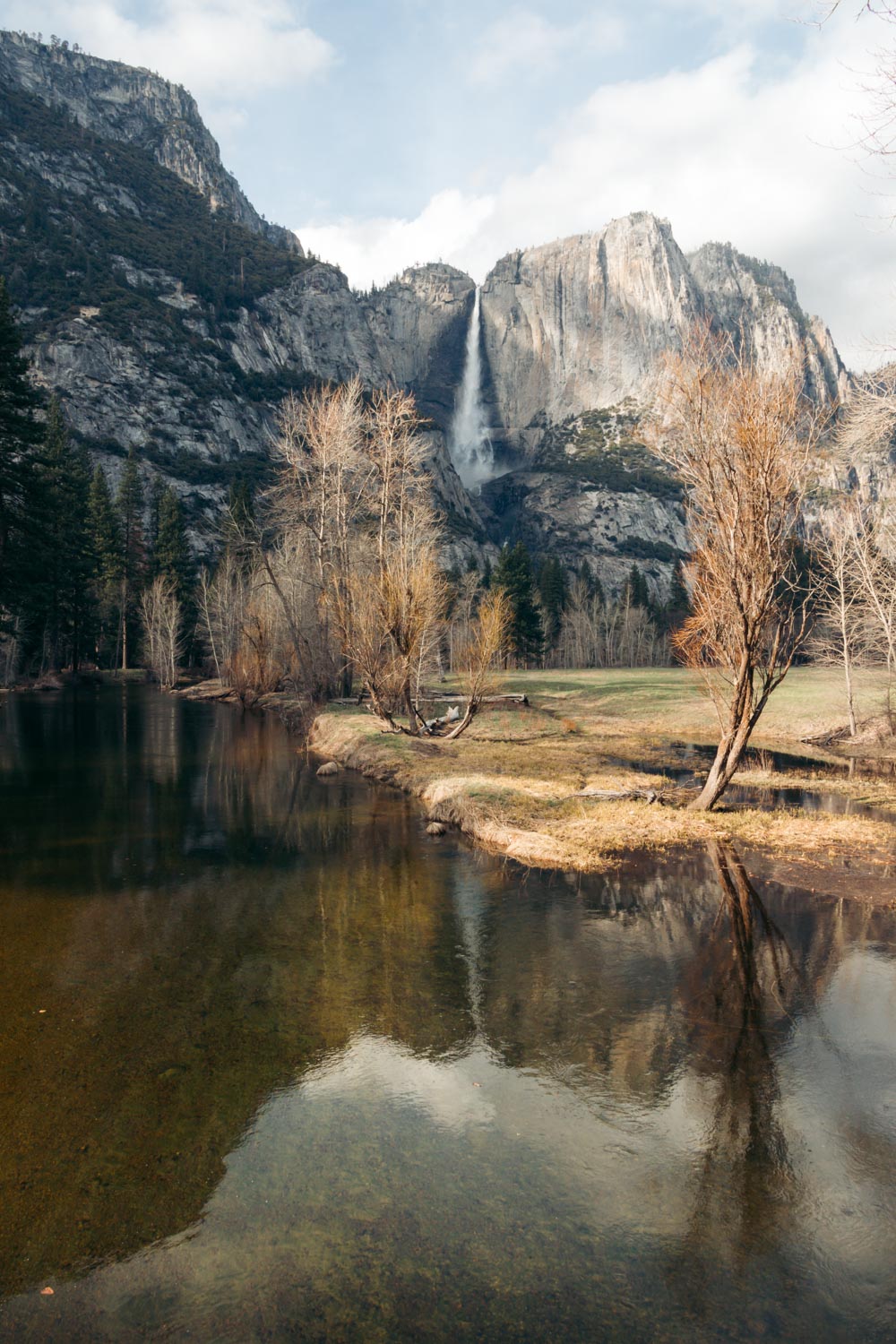 Stop 6: Yosemite Valley Chapel
Your nature-infused 4-day California road trip itinerary might not have room for a chapel. But a small wooden structure with its pointed tower is hard to consider a regular church. Erected in 1879, the chapel is the oldest standing structure in Yosemite National Park.
While it still serves as a place for worship and wedding ceremonies, its dramatic surroundings make it look alluring even for those roadtrippers that have never stepped inside a church.
Stop 7: Sentinel Bridge
The views from the Sentinel Bridge are the sights to behold. Half Dome rises above a green meadow so close to the bridge that you feel like you can run toward it. Swift currents of the Merced River fill the air with their melodic sounds.
If seems that not only the roadtrippers and hikers, but the entire world has stopped to admire the natural splendor of one of the California's finest national parks.
Stop 8: Glacier Point
Glacier Point is considered a must-do stop in Yosemite. The overlook with its own parking lot displays Yosemite Valley and Half Dome in their full glory. The views of Yosemite Falls finally join this jaw-dropping duo.
Needless to say, Glacier Point was at the top of our California road trip itinerary. But the luck wasn't on our side. Glacier Point Road was closed. An alternative overlook access via strenuous hikes along the Four Mile, Panorama, and Pohono Trails simply didn't have room on our road trip agenda.
Stop 9: Cook's Meadow Loop
The 1-mile Cook's Meadow Loop got a break when the famous photographer Ansel Adams took some of its iconic photos here. Snaking through the heart of Yosemite, the virtually flat path presents the dreamy views of Yosemite Falls, Half Dome, Sentinel Road, and Royal Arches.
Stop 10: Lower Yosemite Fall Trail
If you haven't hiked to Yosemite's roaring giant from the Swinging Bridge yet, it's time to do it now. No road trip to Yosemite can be complete without feasting your eyes on this stunning landmark of California.
Let's give you more confidence in setting off on this mini adventure. The Lower Yosemite Fall Trail is short. It's only a 1-mile loop. There is practically no elevation gain. But the views. Oh, they are certainly worth every effort.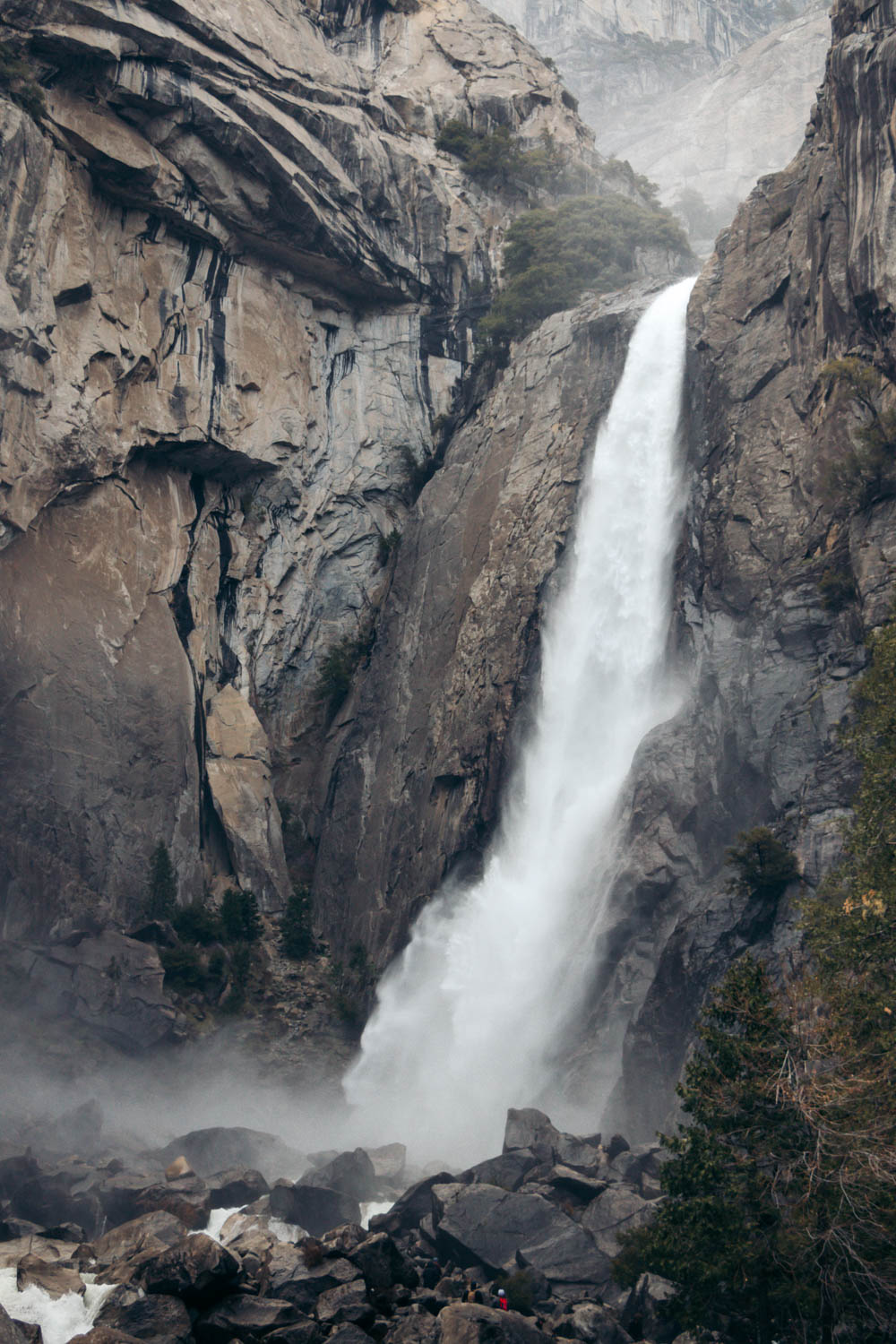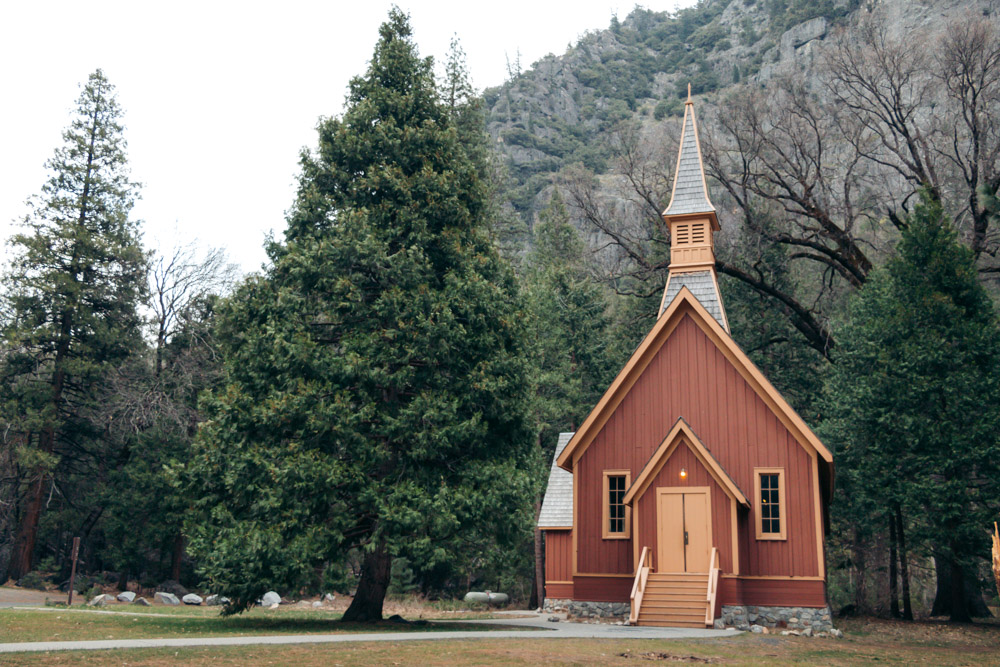 Where to Stay near Yosemite National Park
Finish the first day of your 4-day road trip through California in Oakhurst. Known as a gateway to Yosemite National Park, the place sits mere 50 miles from Yosemite Valley.
The town greatly benefits from an influx of the nature lovers. Therefore, a wide range of accommodations is guaranteed. For a budget-friendly home away from home, check out Yosemite Sierra Inn. The place offers some basic rooms. But the staff is welcoming and friendly.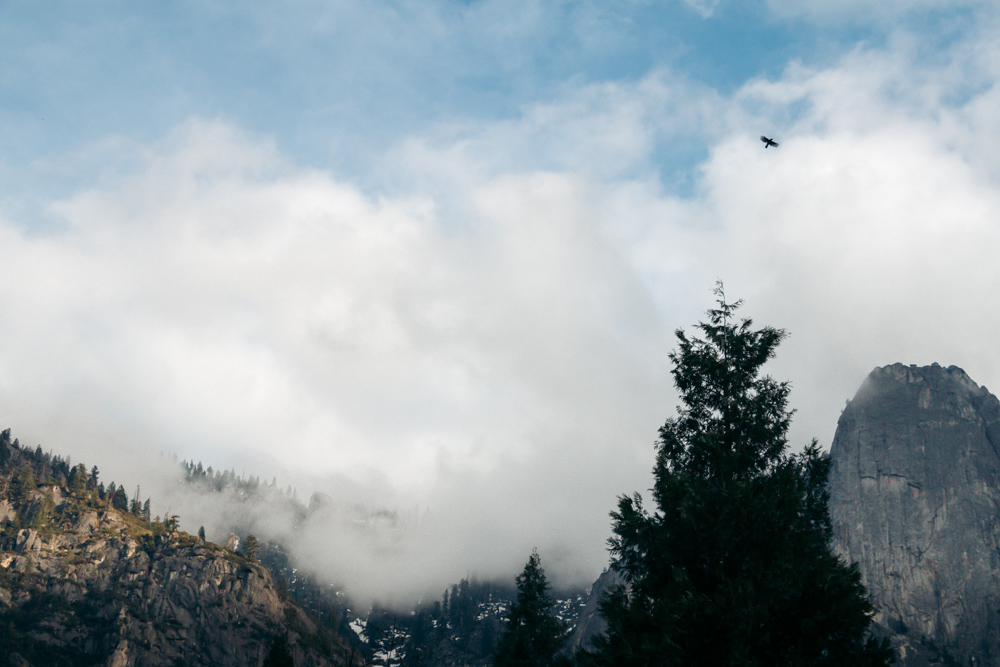 California Road Trip Day 2: Pinnacles National Park
Drive time from Oakhurst to Pinnacles: 3 hours
The smallest and newest national park in California, Pinnacles National Park had never made it on our road trip itinerary until now. Famous for its peculiar rock formations rising above the Central California's ground, the place boasts a series of astonishing hiking trails you can't find anywhere else.
Another characteristic that sets Pinnacles apart is an abundance of endangered California condor. The massive, black birds glide above the park, inspiring to make at least a quick stop here during your road trip across California.
We went a little bit further and spent the whole day in this mountainous kingdom, packed with towering trees and rocks and a couple of talus caves.
Stop 1: Bear Gulch Cave Trail and Bear Gulch Reservoir
I must confess, the Bear Gulch Cave inspired us to add Pinnacles National Park to our 4-day California road trip itinerary. But even equipped with enough information from the web, we were in for a big surprise once on the trail.
The 1.5-mile, road-trip Bear Gulch Cave Trail runs along a cliff. The old-growth trees spread their massive canopies, shading the hikers from the left. On the right, the signature pinnacles come into view.
The highlight of the hike is the Bear Gulch Cave. The dark cavern is home to Townsend's big-eared bats. The human visitors are also welcomed, at least during a specific time of the year when the bats are not bothered by the hikers.
A serious of stairs, boardwalks, and bridges help the California roadtrippers make it though this talus cave.
Bear Gulch Reservoir is located a short walk uphill from the Bear Gulch Cave. Completed in 1935, a dam that created the reservoir is one of the landmarks and resting points in the park.
Stop 2: Condor Gulch Overlook
If the main reason for a detour to Pinnacles National Park (it surely prolongs your road trip for a few hours) is to view the California condor, head uphill along a 2-mile, round-trip trail to the Condor Gulch Overlook. The area is arguably the best place to watch the largest birds in North America.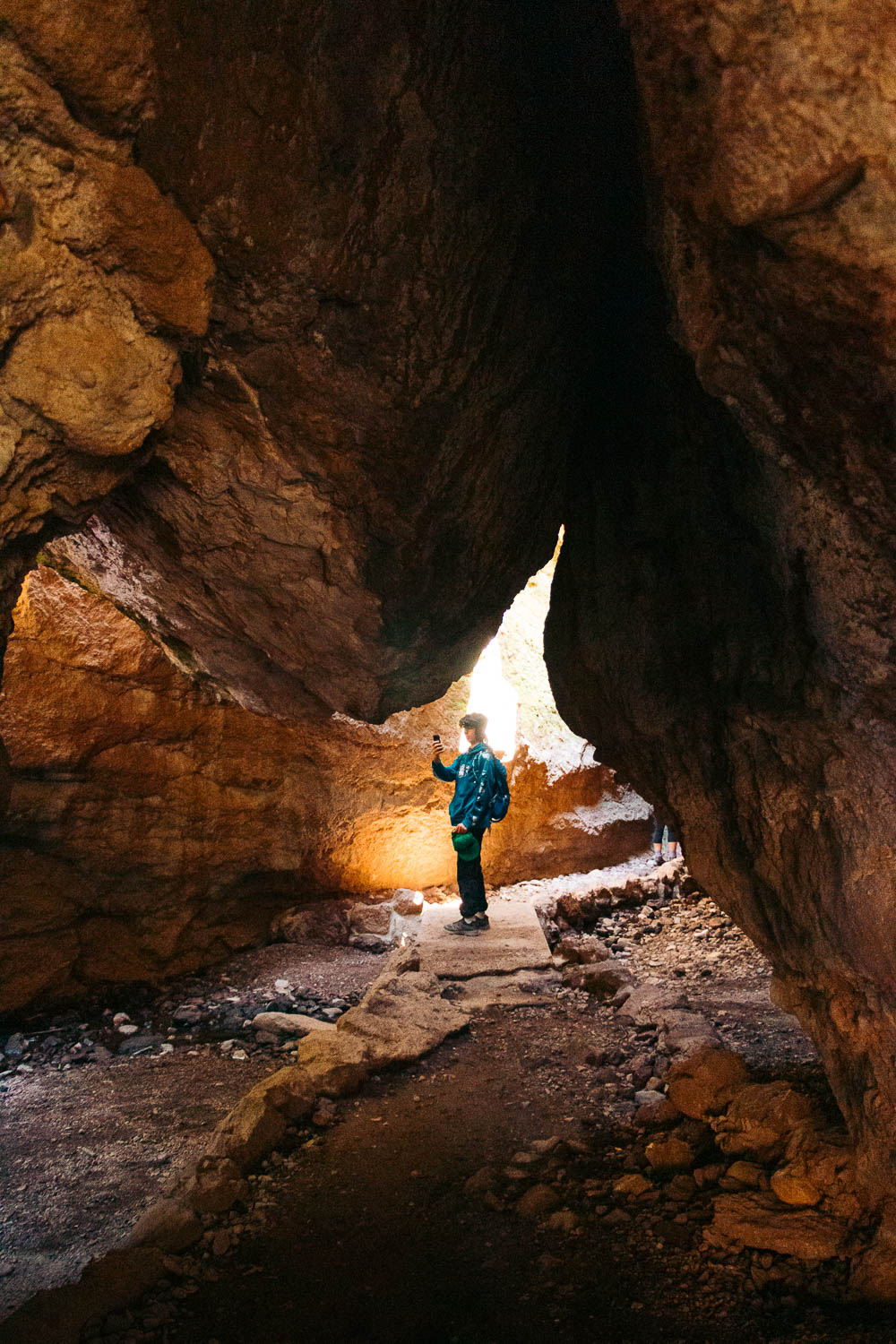 Where to Stay
As we expected a rather busy third day of our California road trip, we agreed on staying closer to our next destination. Thus, instead of calling it a day in the mountainous part of Central California, we road-tripped to Salinas. The city sits roughly 37 miles northwest of East Pinnacles.
Here we succumbed to affordable services of Super 8 by Wyndham Salinas. While our room was pretty much what you can expect from a budget hotel, checking in took time.
The hotel had implemented some peculiar rules that we were not aware about while booking our room on a third party website. It took a phone call to a manager to give us a green light to finally get into our home at the end of the second day of our road adventure.
So most likely we will skip this hotel when going on another road trip through this part of California. But overall, it was neither a bad, not particularly delightful experience.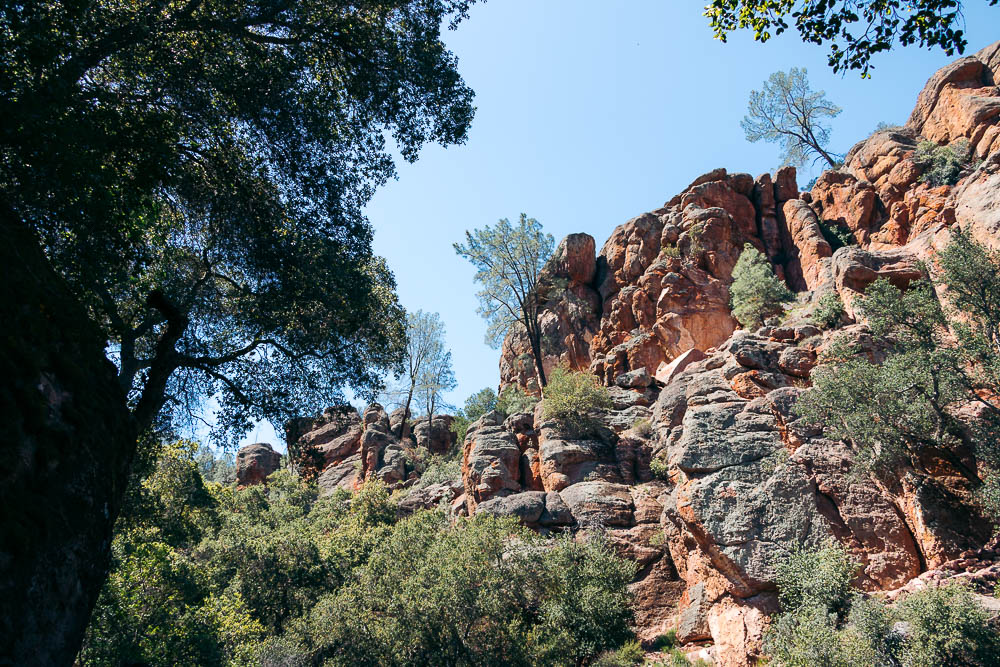 California Road Trip Day 3: Big Sur
Drive time from Salinas to Big Sur: 35 minutes
The 90-mile Big Sur area is considered one of the most scenic drives in the world. The region stretches from Carmel-by-the-Sea in Northern California to almost San Simeon in Central California. Along the way, you are offered some of the most gorgeous coastal views and panoramic state parks.
Stop 1: Point Lobos State Natural Reserve
Driving from north to south, we had no other choice but to start our third day of the California road trip in Point Lobos State Natural Reserve. Yet we didn't have any regrets about it.
The picturesque park enhances the California coastline with such remarkable places and hikes as the Cypress Grove Trail, the Sand Hill Trail and Sea Lion Point. The latter offers incredible opportunities to observe the basking in the sun sea lions. Our favorite hike, however, was the 0.8-mile Bird Island Trail with secluded China Cove below. 
Stop 2: Garrapata State Park
Garrapata State Park, located just 4.6 miles south of Point Lobos State Natural Reserve, gets often overlooked by the California roadtrippers. With no official signs pointing the hikers in the right directions, many traveler simply drive pass the area.
This, however, doesn't bother those few road adventurers that decide to explore this section of the California coast. The park is intersected with a few scenic hiking trails. The most popular of them are the Soberanes Point and Whale Peak Trail and the Garrapata Trail or Calla Lily Valley Trail.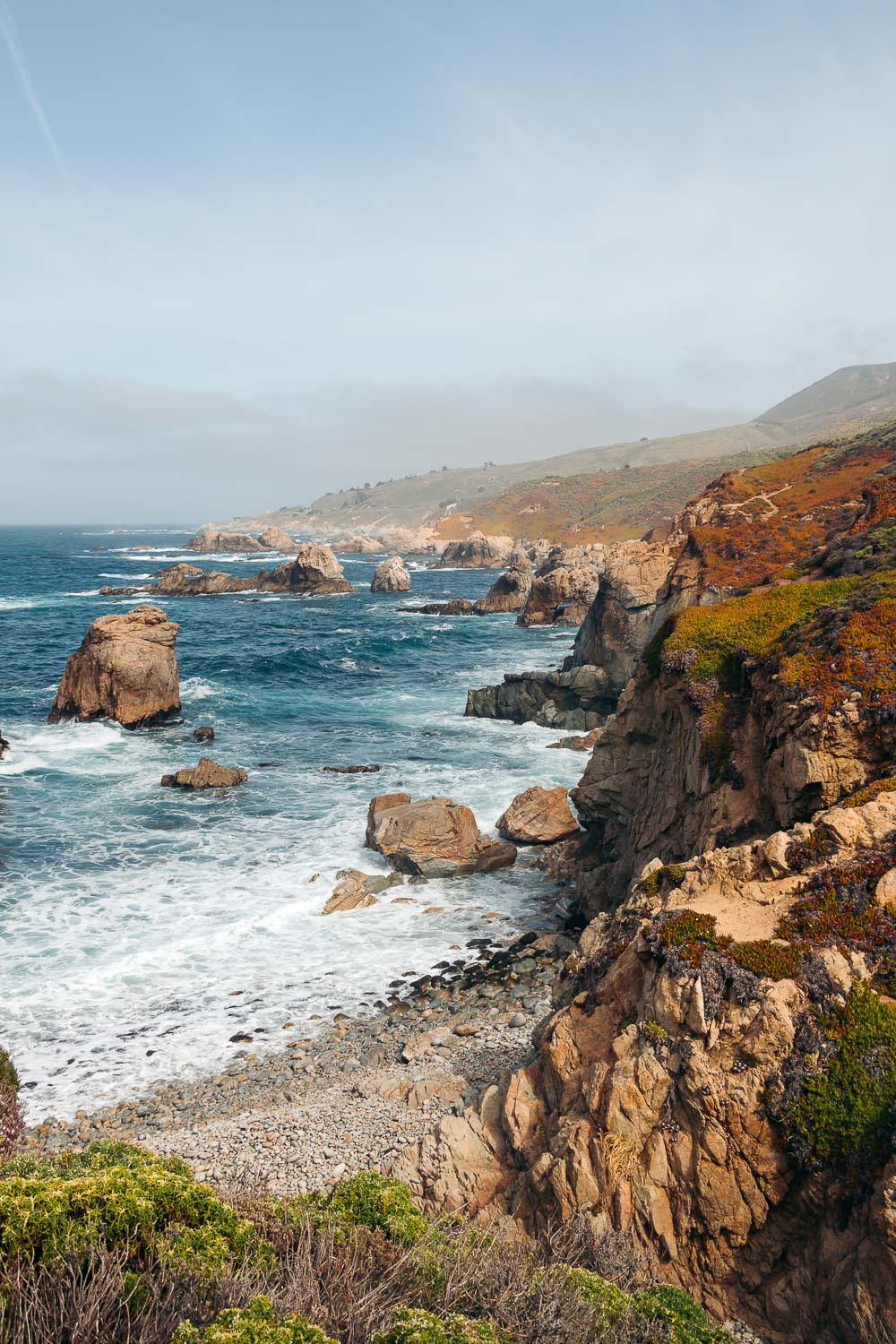 Stop 3: Bixby Creek Bridge
The Bixby Creek Bridge is a symbol of Big Sur. No road trip along the California coast can be complete without gazing at the 280-foot-high structure. A number of roadside overlooks cluster near the bridge, allowing for impeccable views and plenty of vantage points.
Stop 4: McWay Falls at Julia Pfeiffer Burns State Park
The 80-foot drop in Julia Pfeiffer Burns State Park is one of the most coveted destinations you come across during this California road trip. An ever increasing interest in McWay Falls doesn't make it too common or less spectacular.
The roaring waterfall that doesn't leave a pool at its foot, but streams directly into the Pacific Ocean is a remarkable sight. Standing under the pulsating jet, however, is impossible. The beach that the waterfall plunges on is a highly hazardous area.
The 0.5-mile McWay Falls Overlook Trail takes you only to a vantage point, the closest you can get to the scenic waterfall.
READ MORE: Driving through Big Sur: The Best Things to Do and Places to Visit
California Road Trip Day 3: Where to Stay
San Simeon, a southern gateway to Big Sur, is a perfect destination to finish the third day of this California road trip. The historic town boasts a number of lodgings for different budgets. Pacific Coast Roadhouse works wonderfully for California roadtrippers traveling on a budget.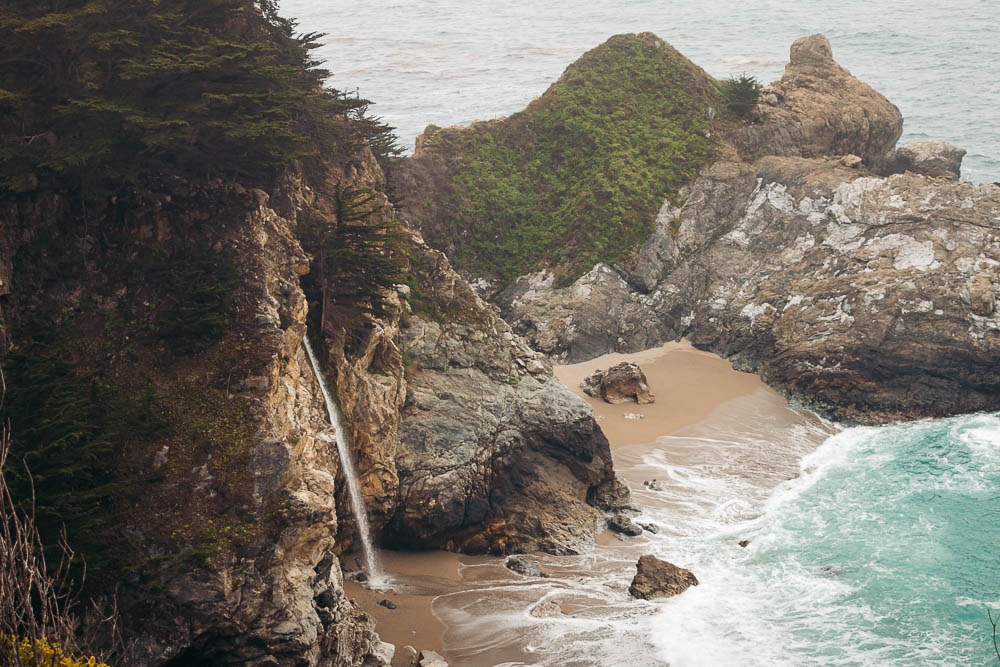 California Road Trip Day 4: San Simeon
Drive time from San Simeon to Los Angeles: 4 hours
If you are not in a rush to head back to Los Angeles yet, spend at least half of the day on the California coast, exploring natural and manmade wonders of San Simeon.
The quintessential village is world-famous for its historic Hearst Castle. Built in 1919, the mansion hosted some of the most opulent parties in California at that time.
Big Hollywood celebrities spent their weekends here, enjoying the extravaganza and world-biggest private zoo. Sadly only zebras roaming near the castle-museum remind of the former glory of the latter nowadays.
If you still have room on your California road trip itinerary for wildlife watching, head over to the Piedras Blancas Northern Elephant Seal Rookery. Located about 5 miles north of San Simeon, it's the only easily accessible elephant seal rookery in the world.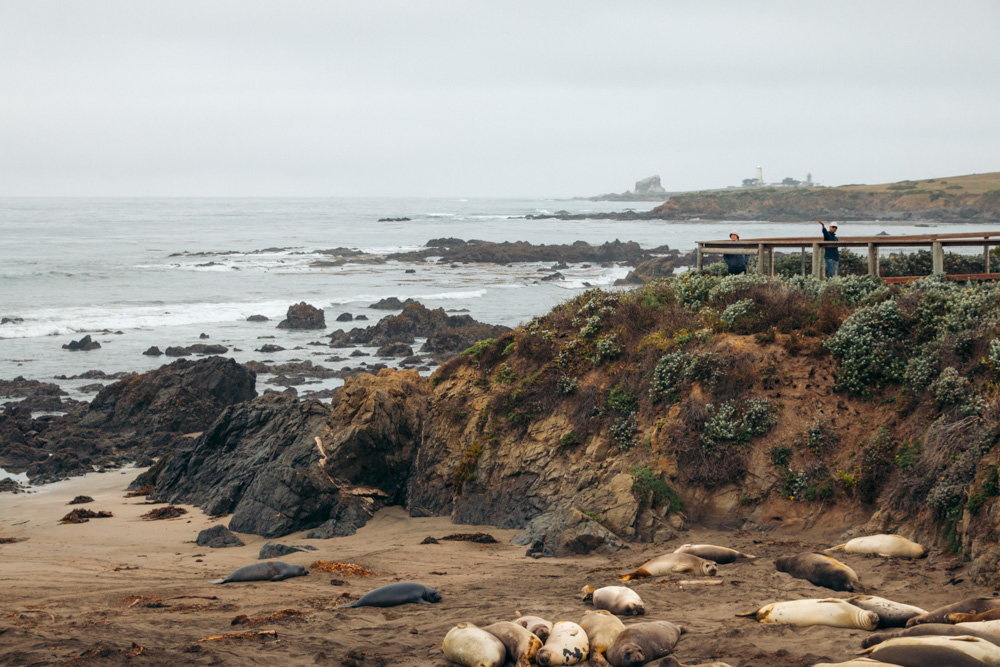 4-Day California Road Trip Itinerary: Map
When to Go on a 4-Day California Road Trip
The route for this road trip works for all seasons. Yet keep in mind that while the California coastline normally doesn't get snow, Yosemite and Pinnacles National Parks enjoy the snowy blanket in winter.
In some area, the snow can be quite deep. Consequently, some road leading to the parks and within the parks are closed for the season. So make sure to always check on the weather conditions before going on a road trip across Central and Northern California.
Read Next