Where can you eat in the Lahaina – Ka'anapali region when you travel to Maui, Hawaii, in a group that consists of a vegan, a pescatarian that doesn't eat dairy, and three meat-eaters?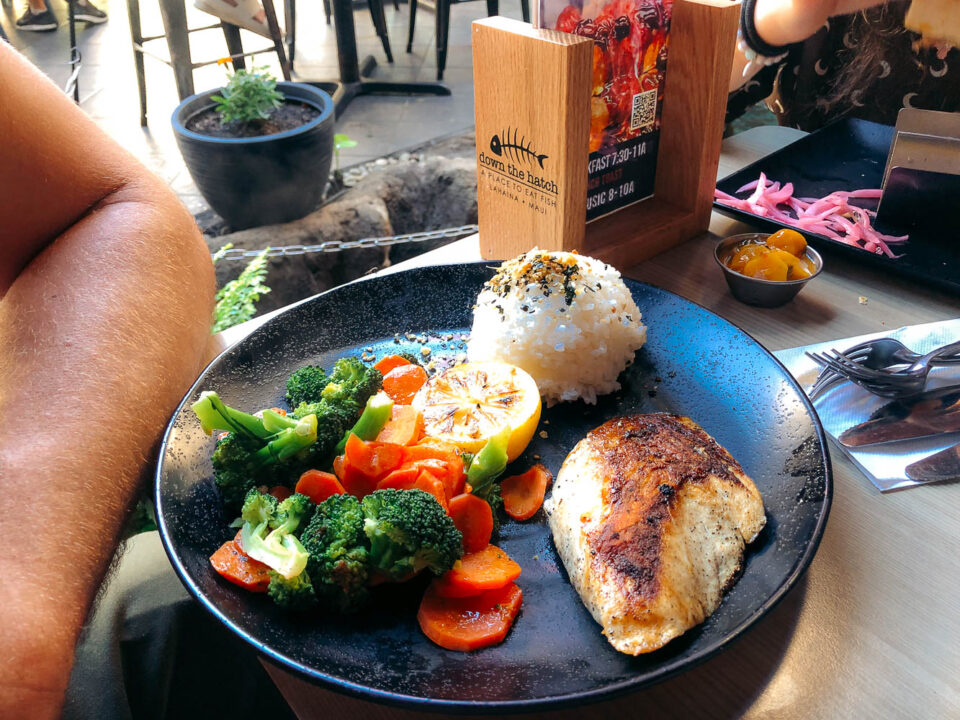 The Best Places to Eat in the Lahaina – Ka'anapali Area, Maui
Exotic fish dishes, steaks, a wide variety of traditional Hawaiian pork recipes… Lahaina, the busiest town on Maui, is every meat-eater and pescatarian's paradise. You can walk into every restaurant and have the best meal of your life.
Some of us took full advantage of the Lahaina and Ka'anapali – a resort town in west Maui – traditional cuisine scene and indulged in this meat extravaganza, devouring different dishes at some of the best places to eat in the area at every mealtime.
Yet despite its emphasis on the heavy food, Maui can still be a food paradise for its vegan and vegetarian visitors. Every place we dined in in both Lahaina and Ka'anapali (even those that didn't have anything vegan on their menus) was eager to accommodate its non-meat, non-dairy-eating patrons. 
And although fully stocked up on some nuts and fruits to snack on when no other option would be available, as a vegan I had never needed to settle for just salad and rice.
Interestingly enough, my sister-in-law, a pescatarian who doesn't eat dairy, had the hardest time finding places to her liking to eat in the Lahaina – Ka'anapali area. Ironically, every time she fancied some flavorful Hawaiian fish dishes, a restaurant or food truck we considered to get our food from offered only seafood loaded with butter.
Nevertheless, whether you are a vegan, a pescatarian, or a heavy meat-eater, you can find anything your heart and stomach desire while vacationing on Maui. Here are some of the best places we ate in Lahaina and Ka'anapali.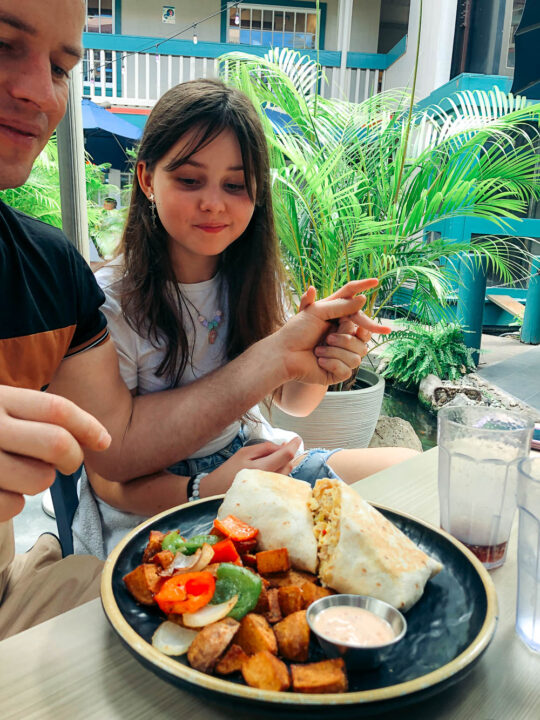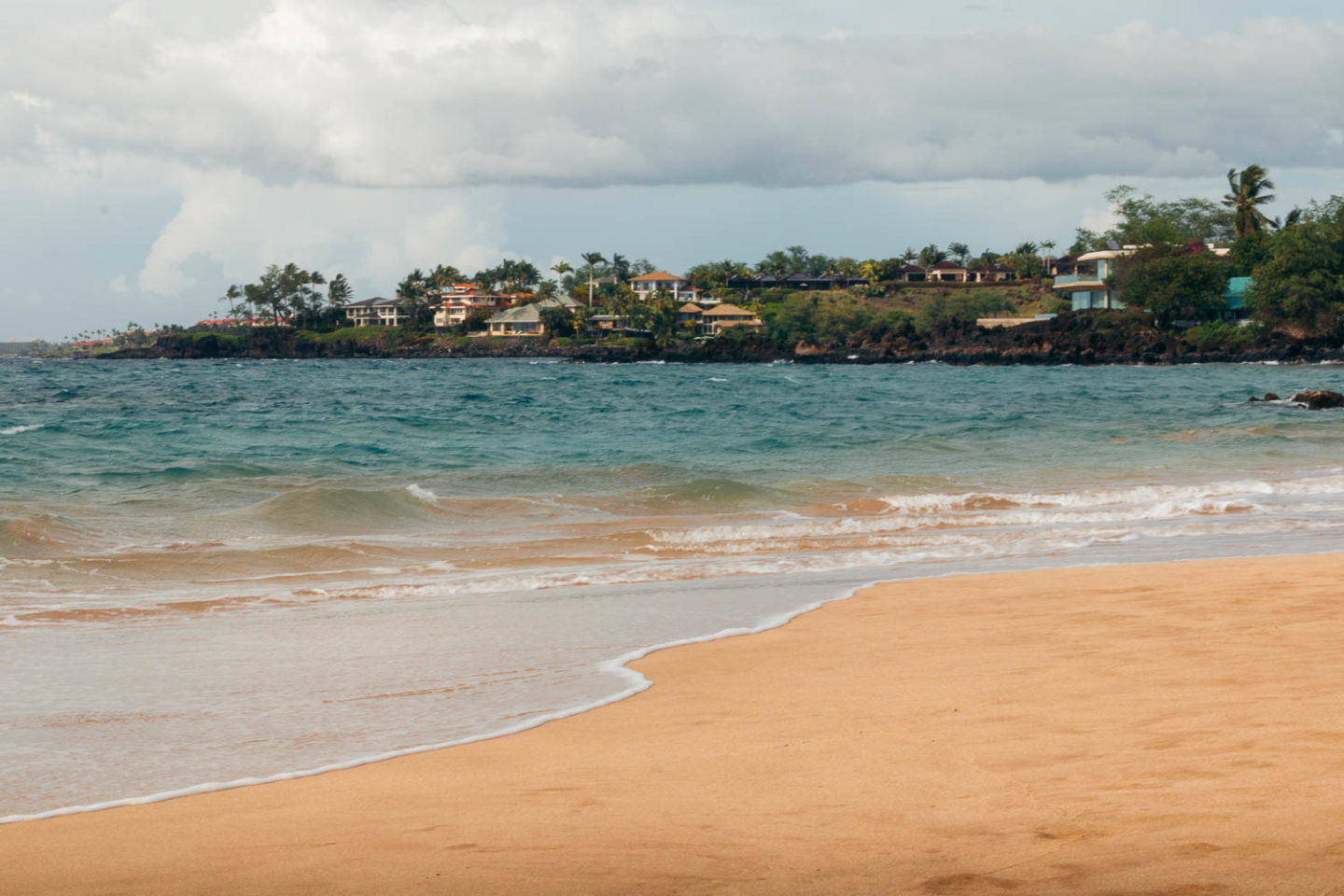 8 PLACES TO EAT IN THE LAHAINA – KA'ANAPALI AREA FOR VEGANS, PESCATARIANS, AND MEAT-EATERS
The Best Places to Eat in Lahaina and Ka'anapali: Restaurants and Food Trucks
1. Down the Hatch
Address: 658 Front St #102, Lahaina
A lovely nook on Front Street's "Restaurant Row" in the heart of Lahaina, this seafood restaurant sits within a 5-minute walk of Lahaina Harbor. Here in a cozy open-air courtyard patio, Down the Hatch shares the space with its sister restaurant Breakwall Shave Ice Co. (The latter was so good that we had to put it on our list of the best places to eat in Lahaina/Ka'anapali and will return to it later.)
A small garden pond with koi fish cuts through the patio. Tropical plants grow between the rows of dining tables. A large TV hangs on one of the walls, contributing to creating a bustling town ambience. With all these, the Down the Hatch's outdoor patio looks like a small tropical heaven that visitors of Lahaina are pleased to find why looking for the best places to eat in the town.
But the food is what makes you put this place on top of your list. With various fish dishes, some pork plates, and chicken sandwiches that meat-eaters and pescatarians can't stop raving about, and a few vegan options, the restaurant became our favorite at once. It's one of a few dining places in Lahaina that we gladly visited several times.
Our winner dishes were breakfast nachos and breakfast burrito. Loaded quesadilla and sweet potato tacosfrom lunch/dinner menu also joined the list of the favorites. I opted for a simple vegan avocado toast from the breakfast menu. And I must confess, it was the best avocado toast I've ever had. I'm certainly inspired to recreate it at home.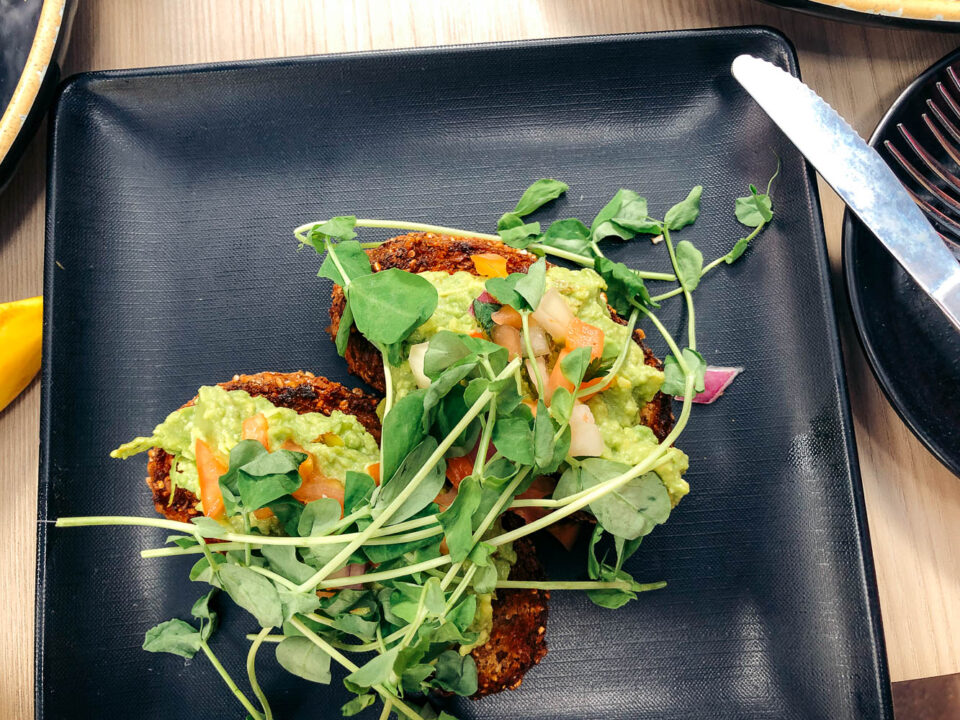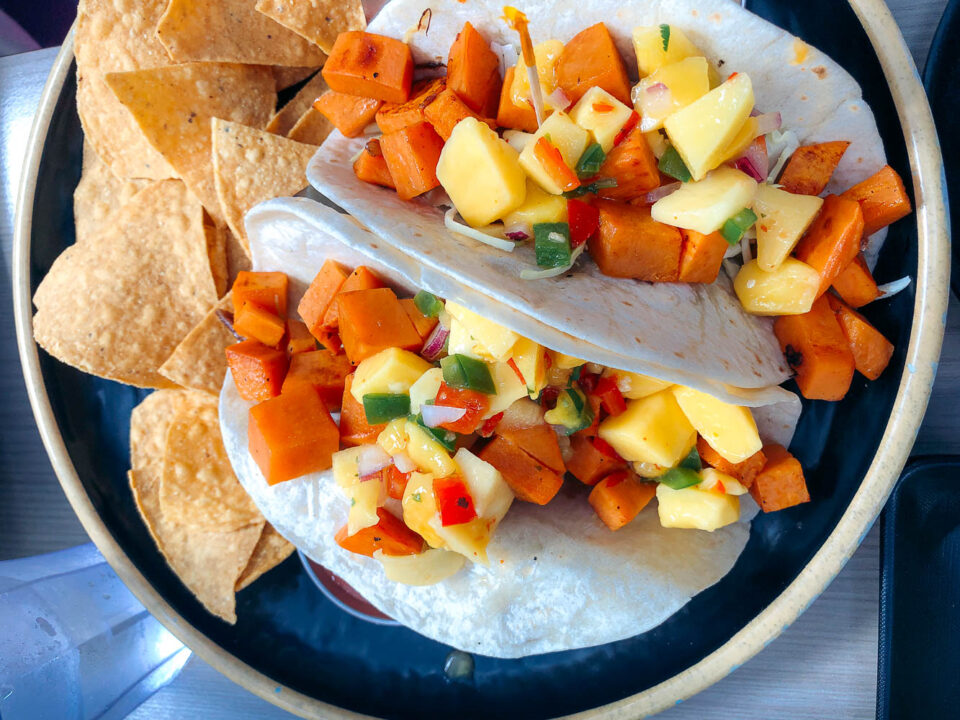 2. Da Best: Pho and Vietnamese Foods (Food Truck)
Address: Honokowai Shopping Center (Lahaina, Ka'anapali)
Food trucks are popular on Maui. The area between Lahaina and Ka'anapali alone has a designated lot filled with several food trucks and picnic tables. These restaurants on the wheels stay in the same place day after day and serve food to both regular and new visitors of west Maui.
The truth is food trucks were a priority on our dining list in Lahaina. Getting a meal from one of these eateries felt like an extension of Hawaiian culture. And we were all eager to immerse ourselves deeper into it.
The food trucks at Honokawai Shopping Center cater first of all to their non-vegan clientele. It's the best place in the Lahaina – Ka'anapali area if you crave barbecue ribs, roasted pork or chicken.
And don't let me start on the abundance of seafood dishes you can get here. But unfortunately, most of the food that comes from the sea is cooked with a generous amount of butter or cheese. So if you are a pescatarian that doesn't eat dairy, you may need to compromise with your choices.
As a vegan, I kept my expectations low. Food trucks that serve entirely vegan dishes are often hard to come across even in Los Angeles, famous for its overwhelming variety of cuisines. Mentally, I was working out an eating plan on how I could customize traditional Lahaina-Ka'anapali dishes to suit my preferences. Such a need never arose thanks to Da Best Food Truck.
Clearly gathering the largest crowds, this Lahaina's gem served both non-vegan and vegan dishes that tasted amazing. All five of us ended up getting food from the same truck and licked the plates clean.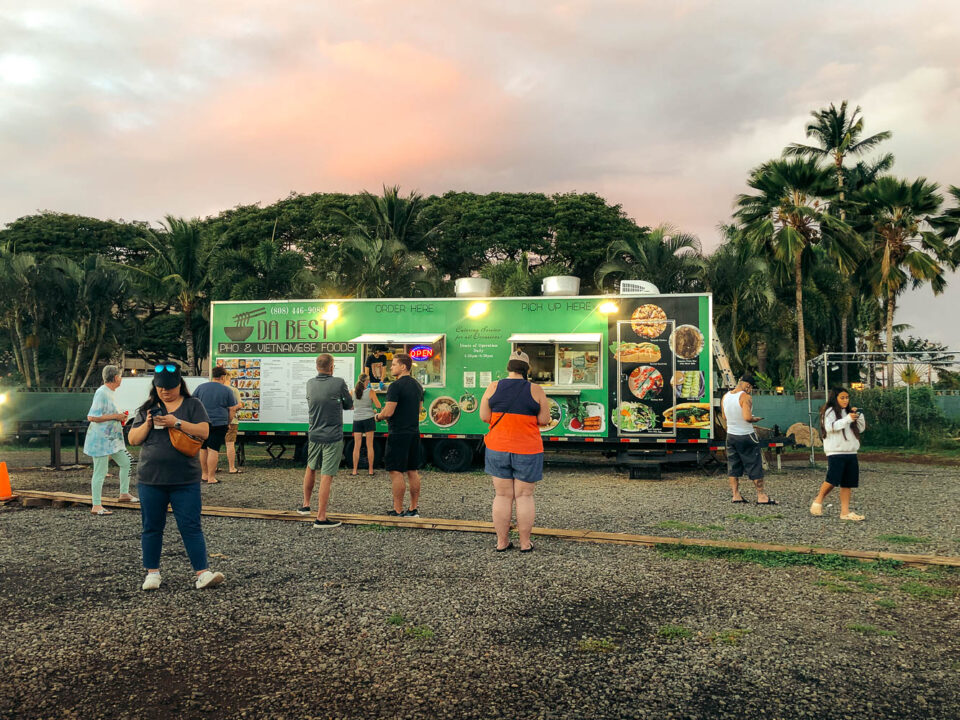 3. Breakwall Shave Ice Co
Address: 658 Front St #104, Lahaina
To satisfy your sugar cravings, don't go far away from Lahaina Harbor. Next door to Down the Hatch sits Breakwall Shave Ice, another must-eat-in place in the Lahaina – Ka'anapali area.
As the name suggests, the place's specialties include ice creams and shave ice in a variety of different flavors. For a healthy sugar substitute, Breakwall Shave Ice offers a Hawaiian version of acai bowl.
TIP: The dish is drizzled with honey. So make sure to ask to leave it out if you are looking for a vegan breakfast or mid-day treat in the Lahaina Historic District.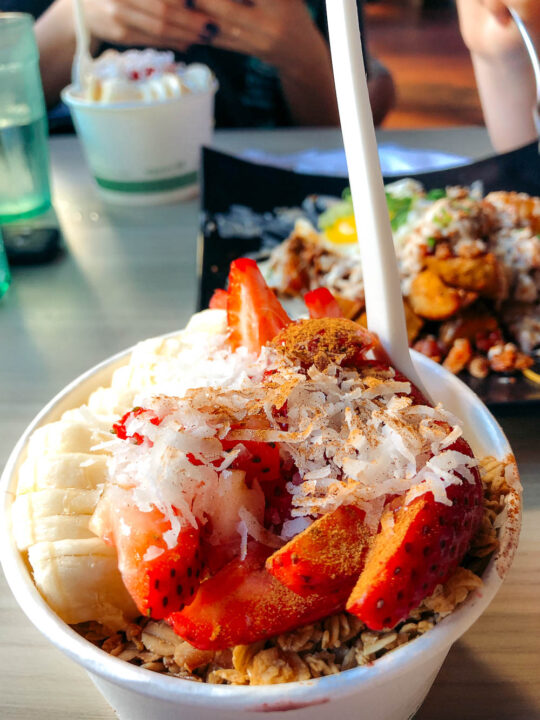 4. Castaway Cafe
Address: 45 Kai Ala Dr, Lahaina
Ka'anapali, nestled just 4 miles west of Lahaina, boasts its own exclusive culinary scene. For the majority of the guests of Maui Ka'anapali Villas, the first place to check out here is Castaway Cafe.
This waterfront eatery sits near Ka'anapali Beach and enjoys gorgeous views of Lanai and Molokai, two other islands in Maui County. Castaway Cafe is a great option late in the evening when most of the restaurants in the Lahaina-Ka'anapali area are closed.
You won't find any vegan dishes on the menu here. But the staff is eager to accommodate any hungry diners and leave out dairy and meat. Veggie hummus plate is what you may want to order (ask to leave out nacho cheese) as a light and healthy dinner option.
The sky's the limit for meat-eaters and pescatarians here.
The downside: The place is pricey. You can find similar dishes at many restaurants in the heart of Lahaina for half of the price.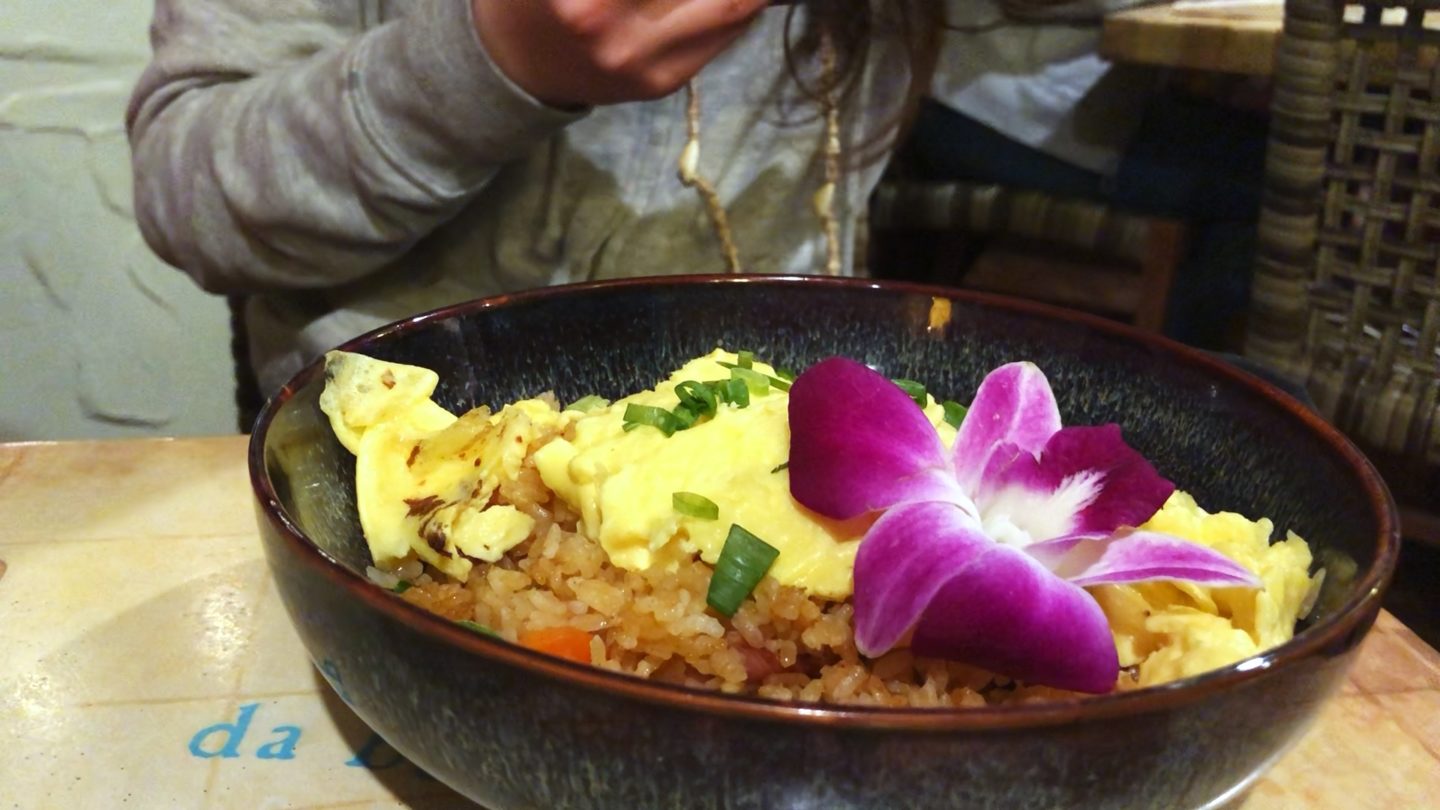 5. Maui Nui Luau
Address: 2605 Kaanapali Pkwy, Lahaina, HI 96761
A luau, a traditional Hawaiian feast with entertainment such as island music and hula dance, is an integral part of Hawaiian culture. Several places in Lahaina-Ka'anapali area organize these daily gastronomical and visual treats. The closest to Maui Ka'anapali Villas where we stayed is Maui Nui Luau.
The feast is held at the Sheraton Hotel. It includes an all-you-can-eat Hawaiian buffet and Hawaiian and Polynesian song and dance. The diners are also introduced to spectacular fire knife dance.
TIP: Booking in advance is highly recommended. These events are usually sold out months in advance.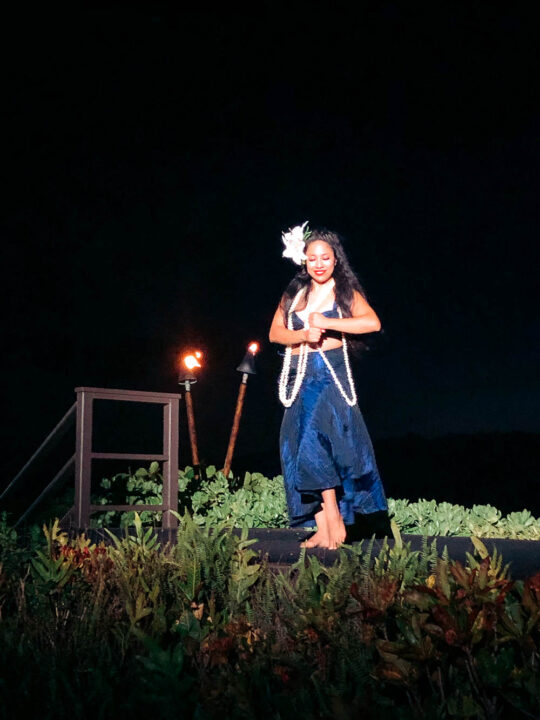 The Best Place to Eat in Lahaina and Ka'anapali: Stores and Farmer Markets
6. ABC Store #47
Adress: 3511 Lower Honoapiilani Rd, Lahaina
After you've refilled a gas tank, step inside the ABC Store. This small store sells island-themed apparel, gifts, home goods, and food. While I'd suggest that you skip prepackaged food (our prepackaged burrito was spoiled), the food ordered and prepared inside the store is as good as at any eatery somewhere else in Lahaina.
7. Foodland Farms
Address: 345 Keawe St, #304, Lahaina (Store #42)
Grocery stores are certainly not the first places you should consider while looking for the best food on Maui. But they are essential. These establishments are to count on to get water (gallons of bottles) and snacks to munch on in between your restaurant outings.
8. Oluwalu Farmers Market
Address: 822 Village Road, Lahaina, HI 96761
You can also stock up on fruits at any grocery store. But I'll suggest that you buy just a few bananas or apples here if you must. Instead go to a nearest farmers market and load up on a variety of locally-grown, tropical fruits that are juicier and taste significantly better than any imported produce.
You can find several farmers markets near Lahaina, including Oluwalu Farmers Market. Located roughly 7 miles east of the town, the market offers fruits, vegetables, local honey, chocolate, nuts, and many other things you can snack on on your return flight or bring home as a gift.
TIP: Fresh fruits and vegetables are not allowed on a plane from Hawaii to the mainland due to the risk of spreading invasive plant pests. So make sure the food you purchase in Lahaina as a snack for your flight home is cooked and/or packaged.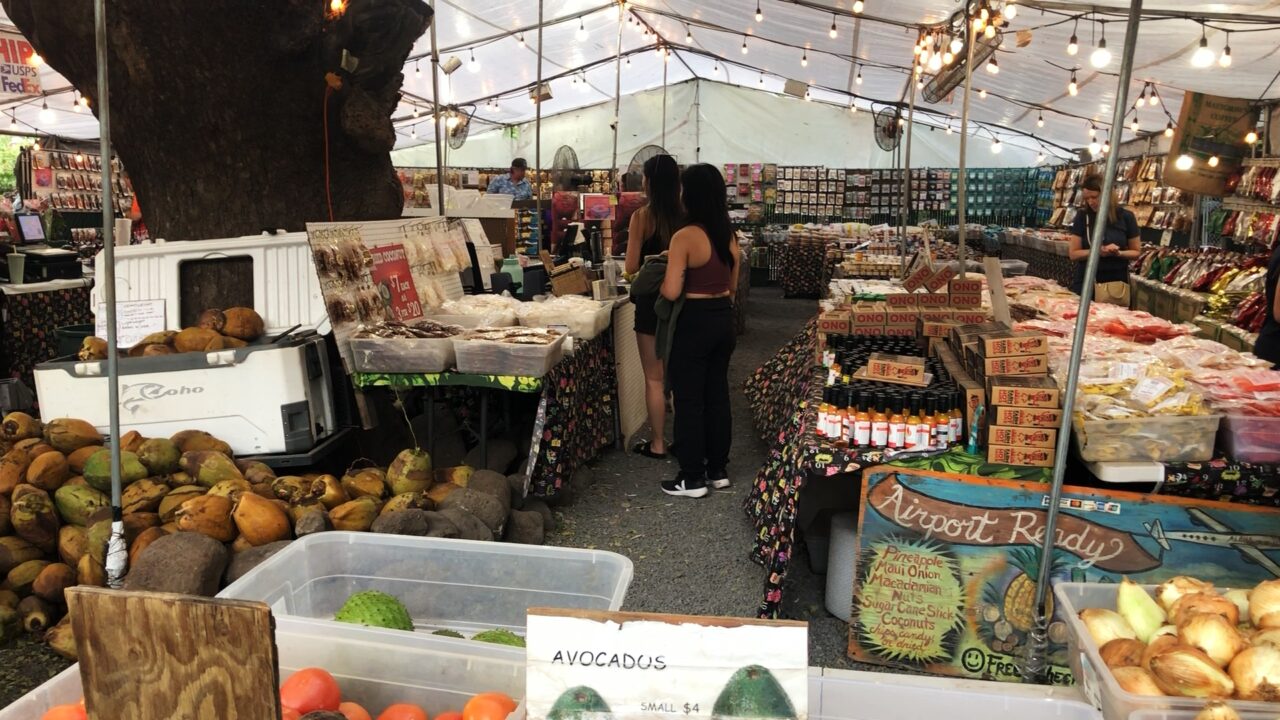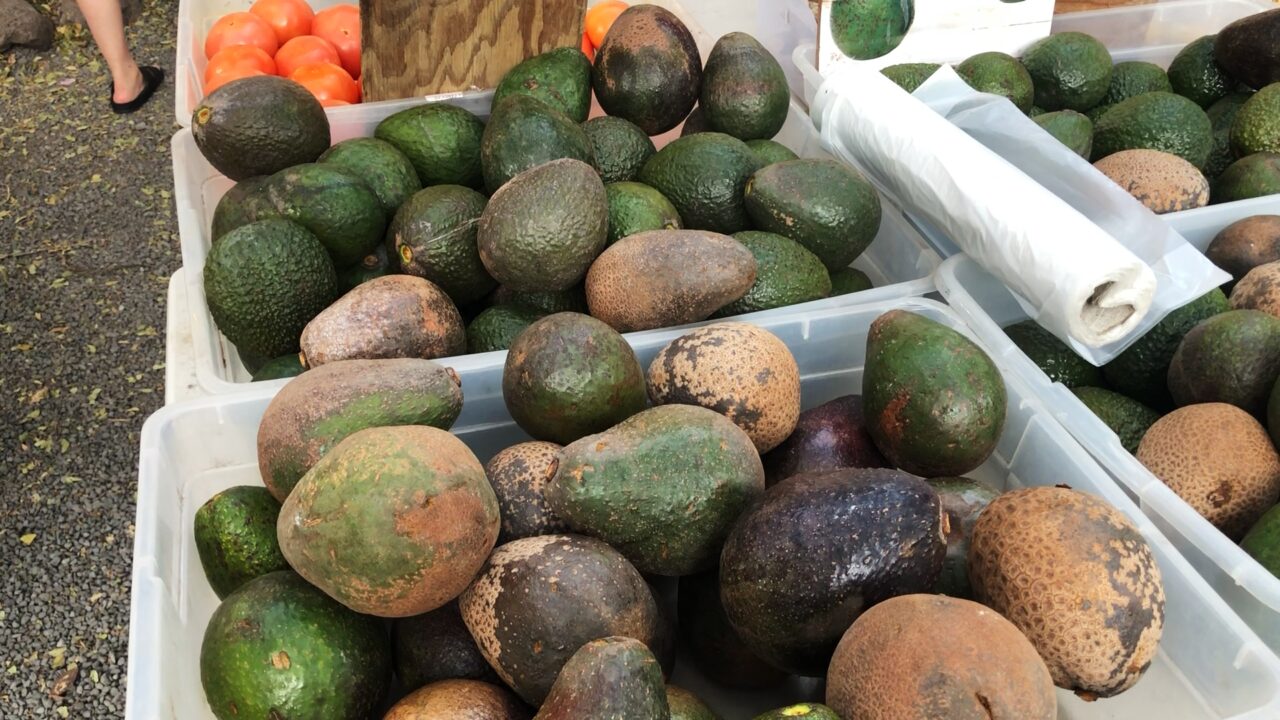 Picking Wild Fruits on Maui… It's Tempting
Picking fruits from trees on Maui would not be such a good idea, especially if that tree grows on a private property. Trespassing is a crime after all. Locals had their share of this "unwelcoming" conduct in the 1960s when hippies flocked to the islands and helped themselves anytime and anywhere they wanted.
It's ok to pick wild fruits along hiking trails. It will mostly be guavas.
Can You Pick Wild Coconuts on Maui?
Coconut palms we saw near Lahaina were growing mostly on private properties. Roadside areas along the Road to Hana, however, looked entirely different. Clusters of 10-20 coconuts adorned the crowns of the trees. Many of these fruits had fallen down and were decaying under the palms.
According to the locals, there is nothing wrong with picking these coconuts off the ground. But finding a good one may be an issue. If you long for refreshing coconut water, search for immature, green fruits. Smell them first. If they smell fermented, toss them away and move to the next coconut. Moreover, if you see any cracks on the fruit, discard it as well. Water has most likely drained out already.
Mature coconuts are brown, with less water inside. But again, do a smell and shake test. Fully ripened coconuts are filled with meat. You should not hear any sloshing of water. If the coconut smells funny, toss it away.