A queer blend of Bryce Canyon National Park and Valley of Fire State Park, Red Rock Canyon State Park is a beautiful day trip from Los Angeles.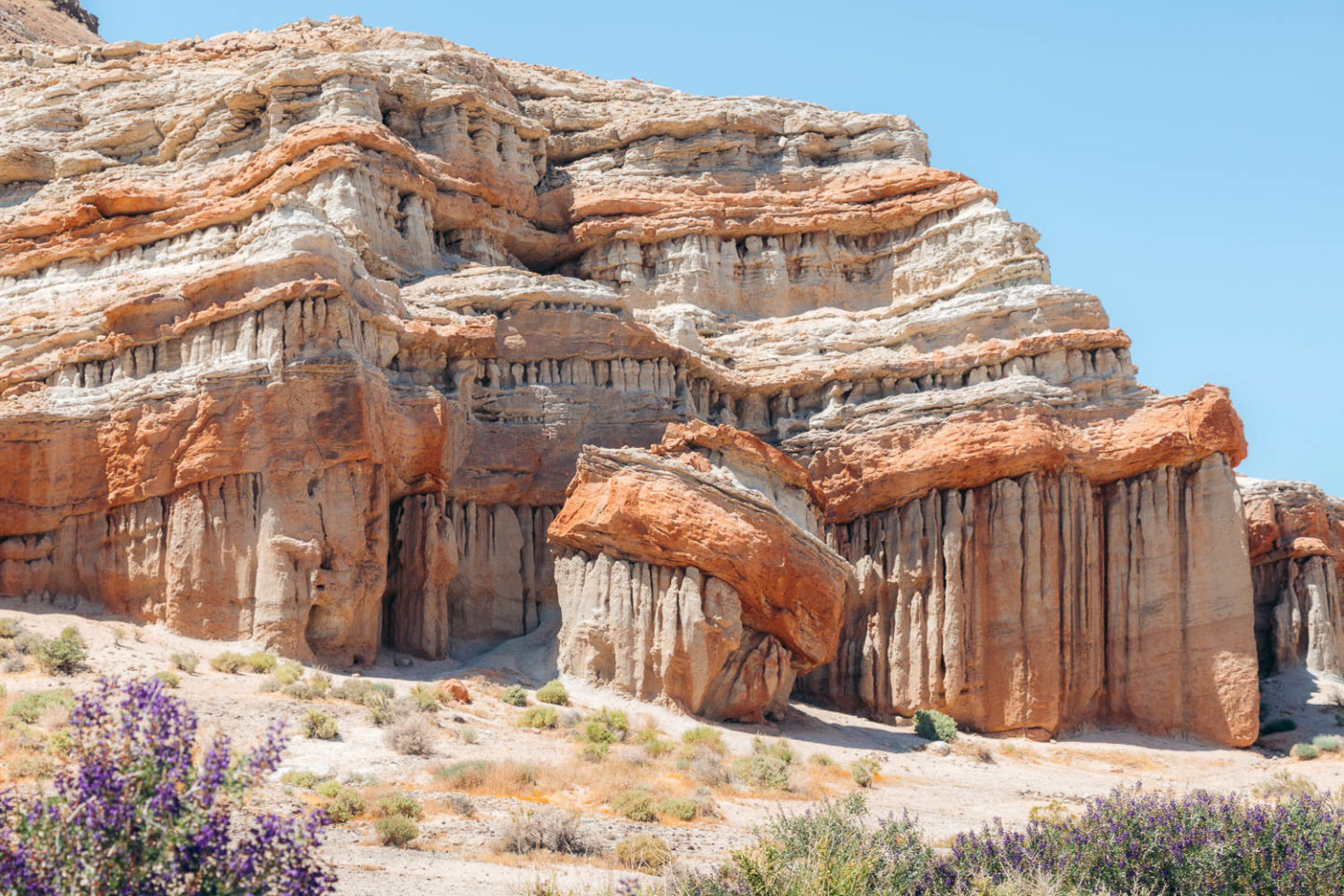 How to Spend One Day in Red Rock Canyon State Park, California
Tucked at the convergence of the Sierra Nevada and the El Paso Range, along Highway 14, Red Rock Canyon State Park is not a place you can easily miss. Astounding multi-ledger pillars with alcoves on every layer tower over desert land, just a few feet away from the busy road.
The area first grabbed my attention a few years ago when we were heading to the Mammoth Lakes region and later Lake Tahoe. The red-pinkish pillars popped up out of nowhere. Mesmerizing and looking rather odd in this deserted terrain, they pulled travelers at once.
Roshan who had been to Red Rock Canyon State Park before suggested that we make a quick stop. But since we already had a very packed road-trip itinerary, I declined. Yet I promised myself to spend a day in Red Rock Canyon State Park and get to know its scenic desert cliffs, vivid buttes, and sandstone and rock formations up-close and personal some other time.
Fast forward 4-5 years, and this promise finally materialized.
How Much Time Do You Need to Visit Red Rock Canyon State Park, California
An area that reminds of imposing hoodoos of Bryce Canyon National Park, Red Rock Canyon State Park shares one more similarity with its famous Utah's look-alike. The park is relatively small, only 27,000 acres. You can see and photograph the mesmerizing desert buttes from different angles in a couple of hours. It may take an additional hour or two to hike some of the easiest trails.
Visitors that randomly stumbled upon the vibrant formations while driving along Highway 14 can fit the entire Red Rock Canyon State Park experience in a few minutes. The vivid desert rocks of Hagen Canyon with an adjacent parking lot make for a quick sightseeing stop and a short hike up the cliffs.
We spent an entire day in Red Rock Canyon State Park. Going astray from the short Ricardo Nature Trail and ending up at the edge of the cliff, exploring real and not so real caves, and getting our car stuck in loose sand (pushing it out of there revived so many long-forgotten memories), it was an adventure we would probably never forget.
I don't think even campers who stay at Red Rock Canyon State Park get to experience as much as we did in just one day.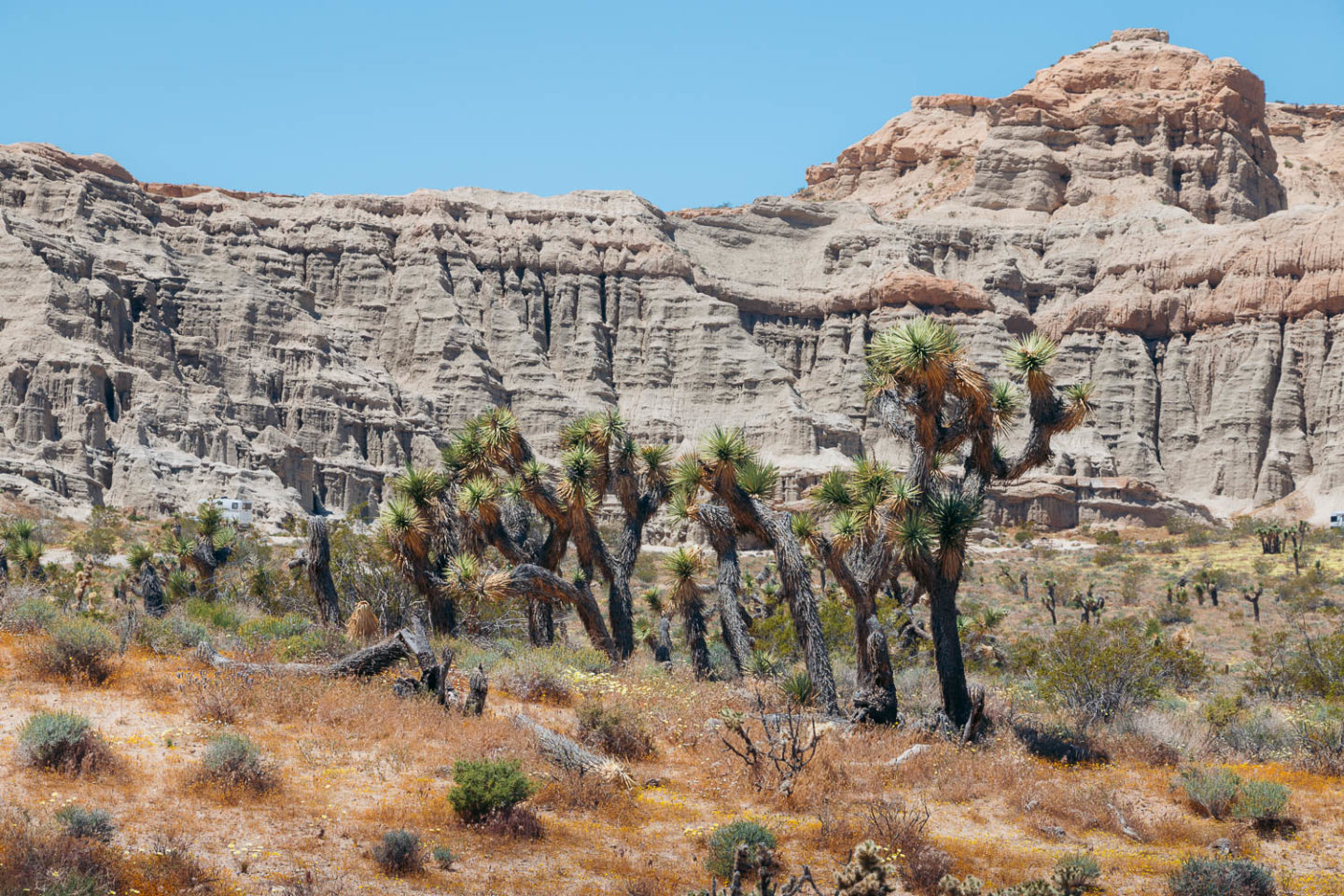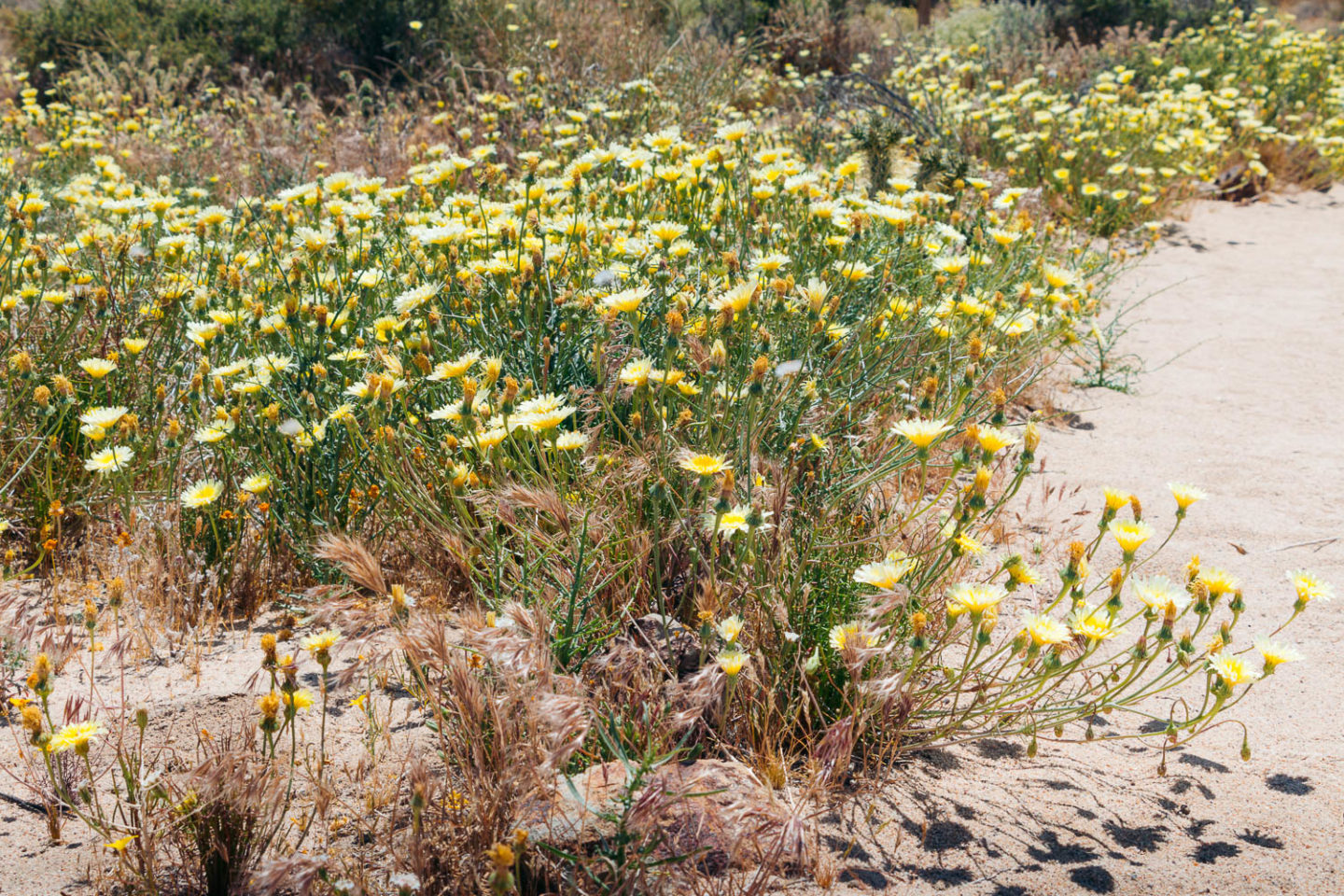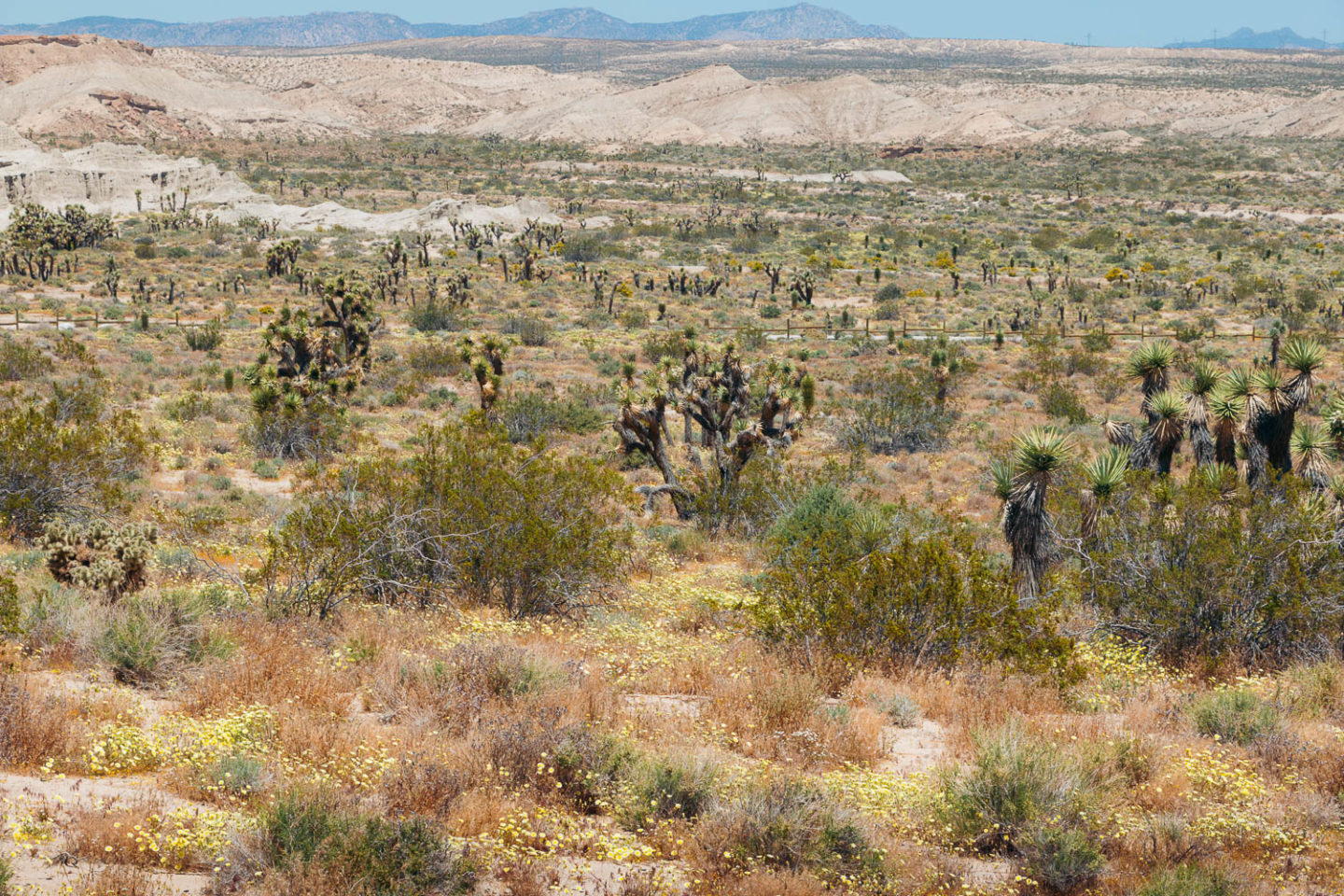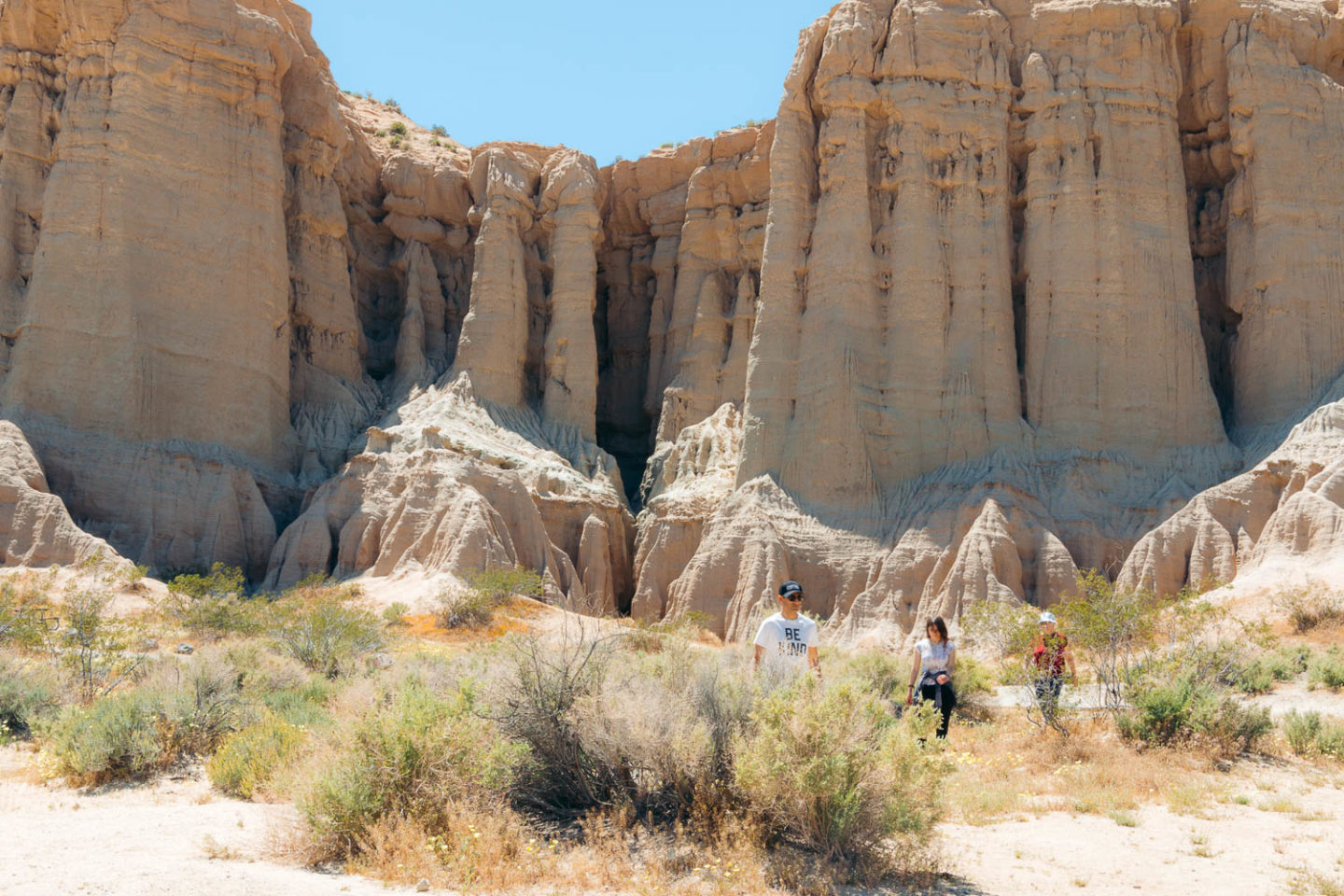 HOW TO SPEND ONE DAY IN RED ROCK CANYON STATE PARK: TOP THINGS TO DO AND PLACES TO SEE
1. Ricardo Nature Trail
We started our day adventures in Red Rock Canyon Park with hiking the desert trail, nestled in front of the Visitor Center. The Ricardo Nature Trail is short, only a 1-mile loop, and virtually flat. The path runs through the desert toward the towering buttes near Ricardo Campground.
In spring after a wet winter, the area is dotted with blooming wildflowers. And this scene alone is worth driving all the way to Red Rock Canyon State Park and spending a day admiring the desert you may have never seen before.
Mojave aster, yellow primrose, monkey flowers, blooming purple cacti… The desert was dressed in its best attire. We had feasted our eyes on orange "seas" California poppies created in the Antelope Valley two weeks before. And since the bloom season in Southern California is usually short-lived, I couldn't even cherish a slight hope of seeing the blooming desert one more time.
But Red Rock Canyon State Park was flowering. The vibrant blooms were everywhere. With the trail so festively adorned, it was no wonder that we stranded from the official path and climbed all the way to the rim of the cliff. From here the whole park was in full view.
After lingering a few minutes at the top, Dylan and I trod back onto the Ricardo Nature Trail. The boy was eager to discover "caves" at the bottom of the buttes. The rest of our group hiked farther up. The trail eventually came to an end, and they had to retrace their steps back to the official path.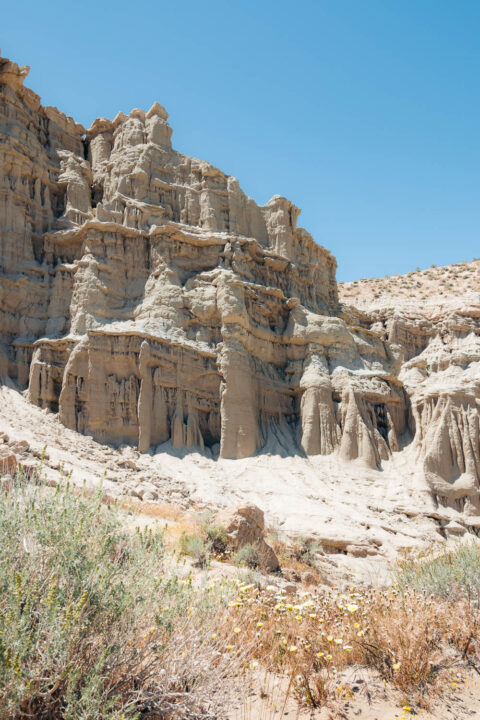 2. Desert View Nature Trail
Once back on the flat trail, Dylan and I headed in the direction of the desert columns. In this part of Red Rock Canyon State Park, the buttes are mostly white with some yellowish undertone. The signature red color is rare. In fact, we didn't see any red rock formations. But the pillars were still as impressive as elsewhere in the park.
We swirled from the main trail and followed a few side trails inside the butte maze. Lots of alcoves, but no caves were hidden here. Or maybe we just missed one…
Only once we got to the "Desert View Nature Trail" sign, we figured out it wasn't the Ricardo Nature Trail after all.
The Desert View Nature Trail starts near Ricardo Campground and dives deeper into the desert valley. You can easily combine the two trails and do one big loop hike.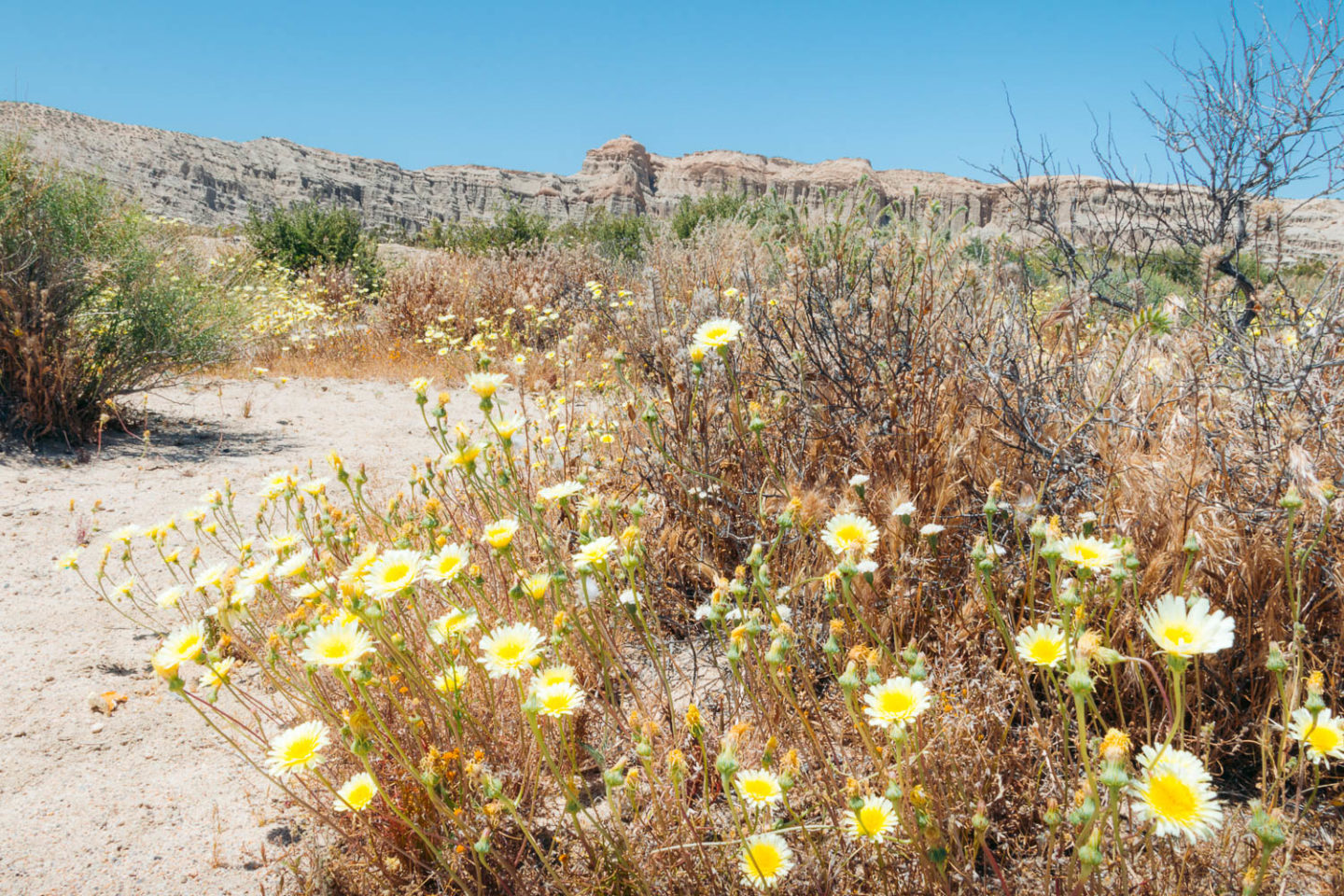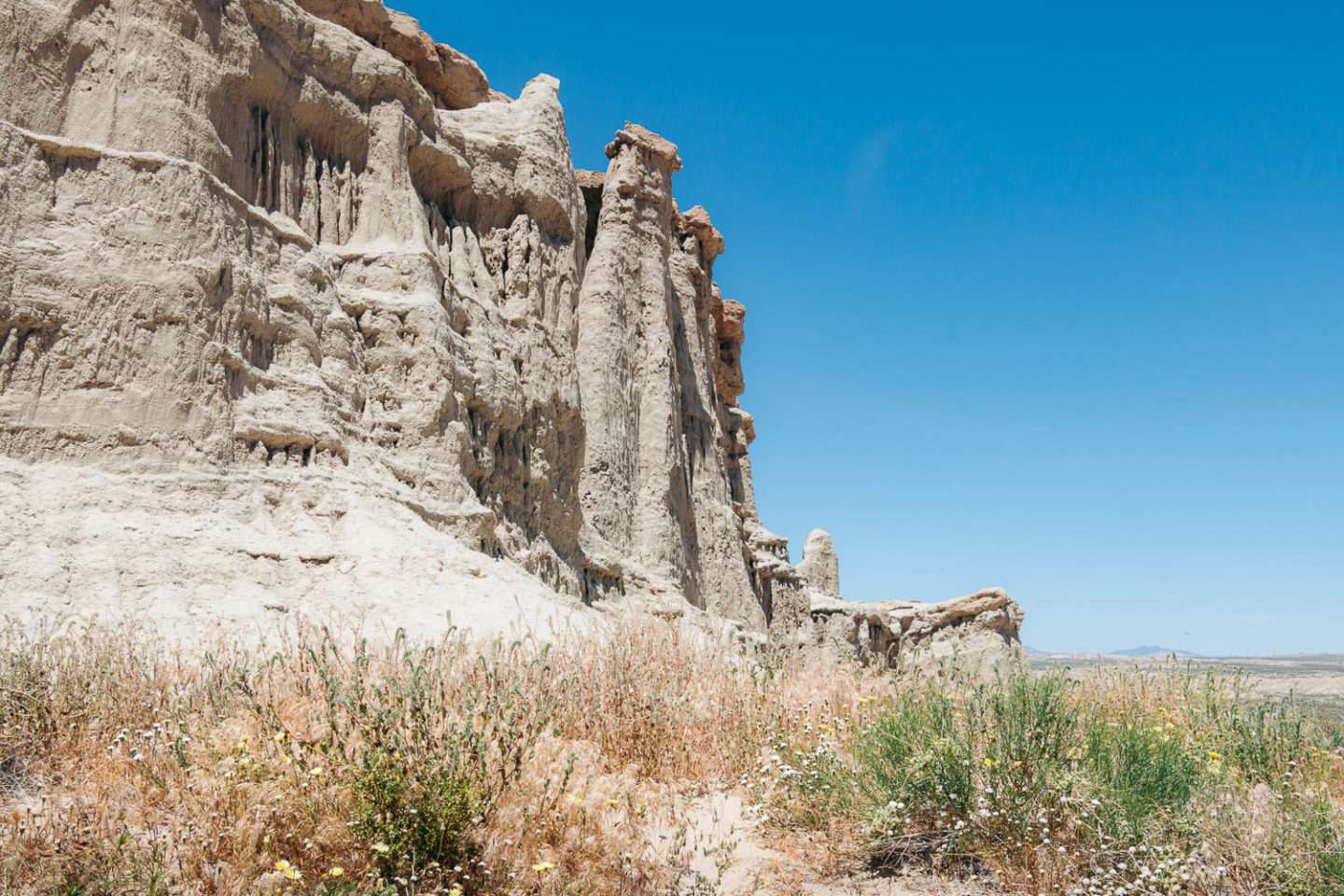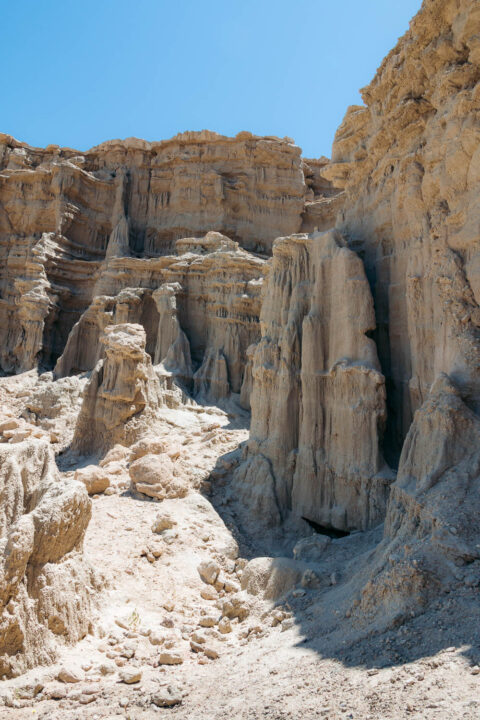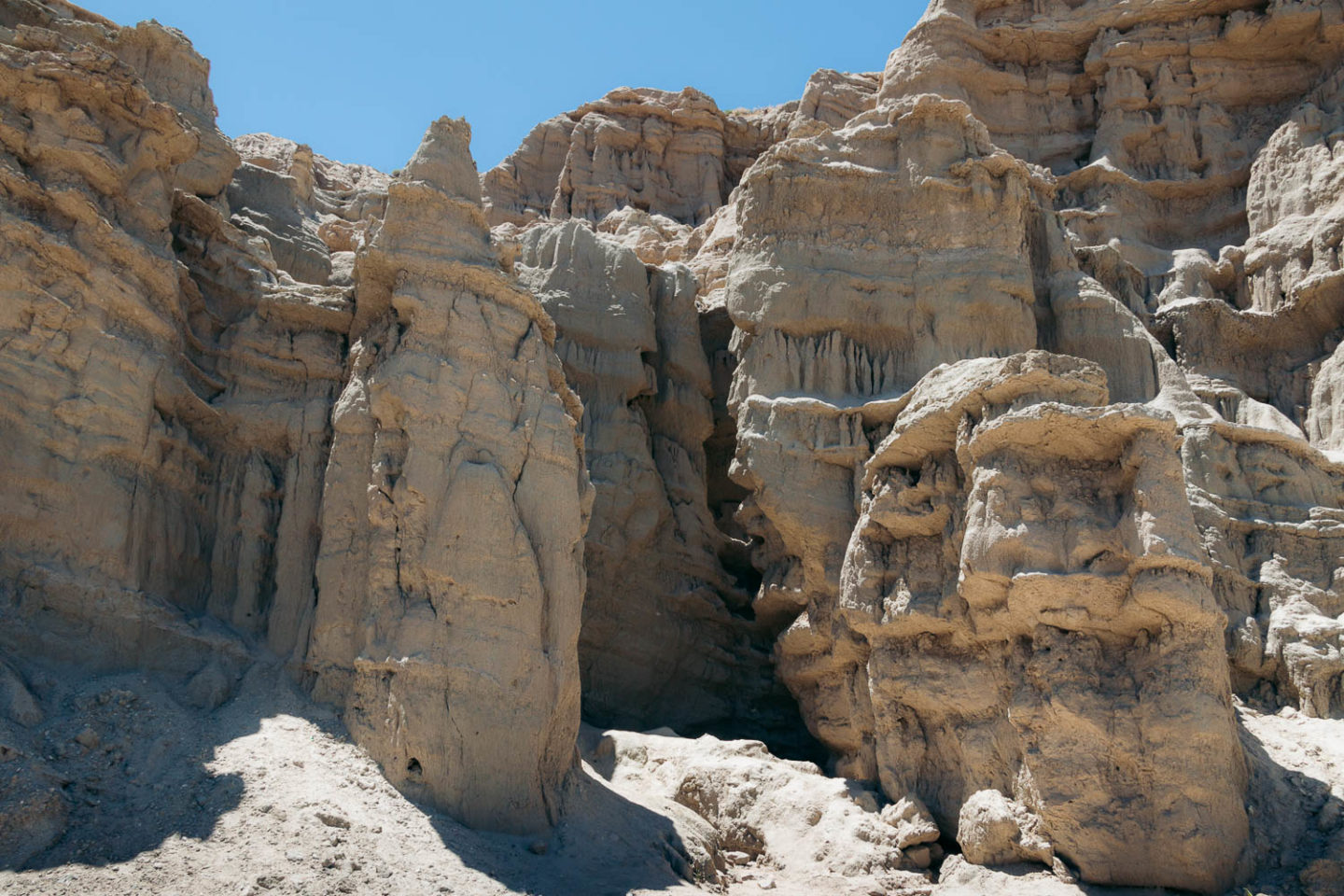 3. Hagen Canyon Trail
We finally found a real cave in Hagen Canyon. The area abounds with the signature red-pinkish sandstone cliffs and buttes. Many travelers along Highway 14 stop here for a quick photoshoot. Those who have at least 30 minutes, venture along the 1.2-mile Hagen Canyon Loop Trail to get a better glimpse at the astounding rock and sandstone formations from the bottom and the top.
4. Red Cliffs Trail
Similar experience awaits the visitors of Red Rock Canyon along the Red Cliffs Trail. The 1-mile loop-path meanders along the red cliffs the park is famous for. This area can easily become the highlight of your day adventures in Red Rock Canyon Park.
5. Nightmare Gulch Loop Trail
Long and more challenging, the 8.8-mile Nightmare Gulch Loop Trail welcomes Red Rock Canyon's hikers only during specific months. Normally opened from July through January, the area remains closed for the rest of the year. From February through June, the park's staff keeps the trail undisturbed to protect raptors breeding in the area.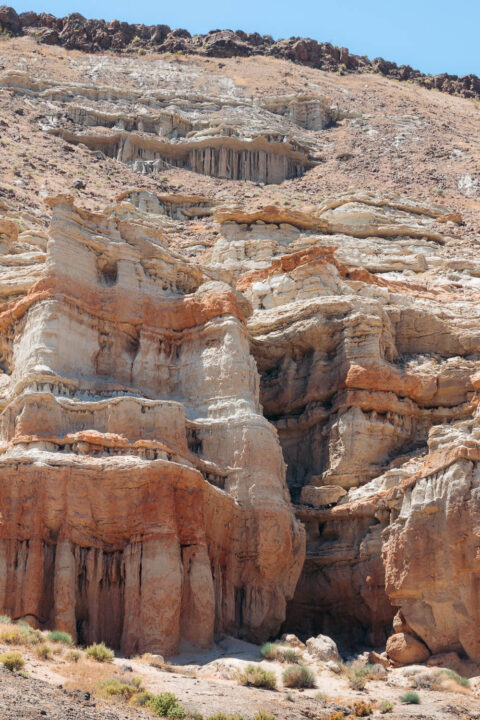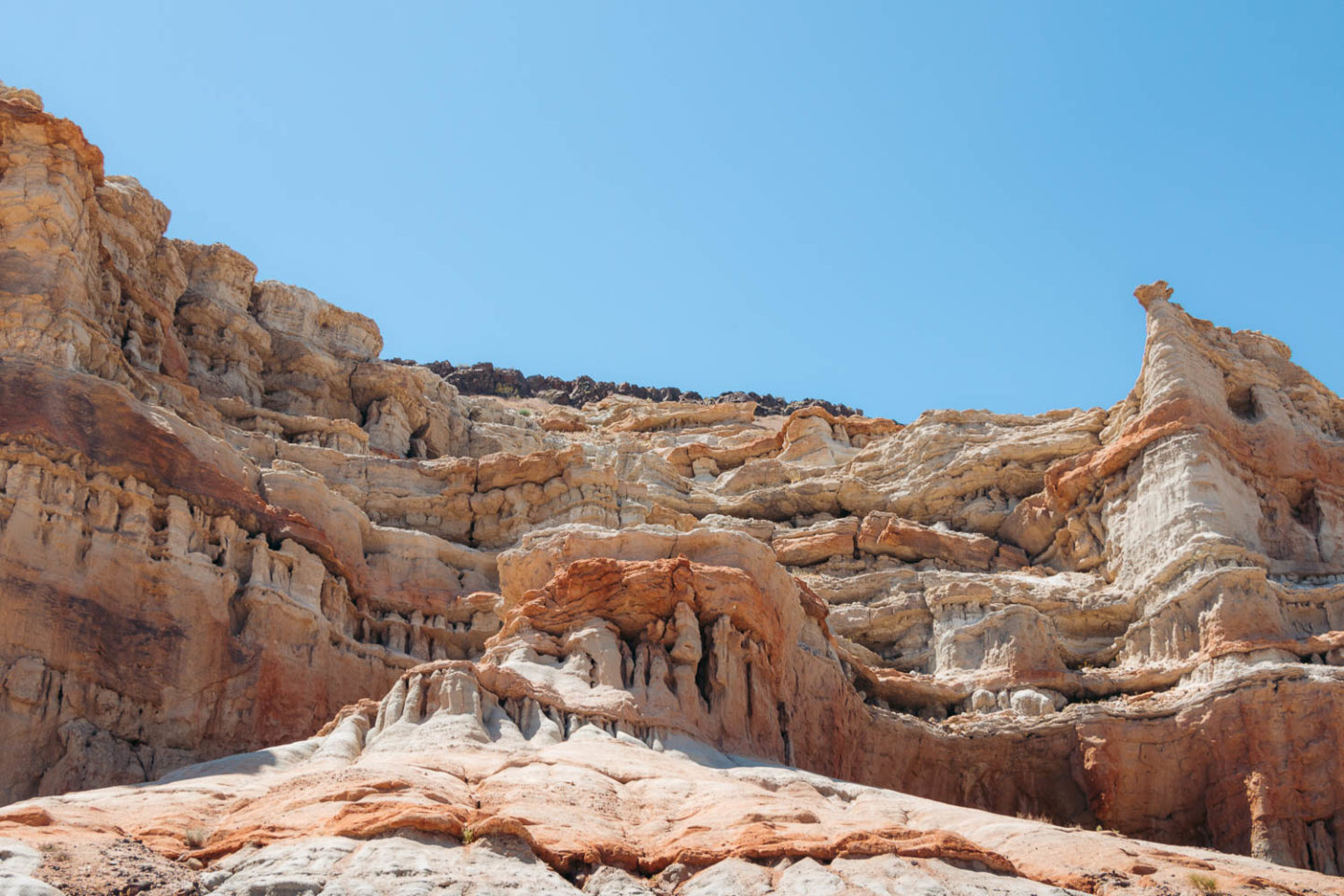 6. El Paso Mountains Wilderness
We attempted to see a few other sites in and near Red Rock Canyon that day. But all those endeavors got us in trouble, like getting our car stuck in the loose sand on our way to Jawbone Canyon.
Nevertheless, if you have a few more hours to spend in the park, check out the El Paso Mountains Wilderness. In the old days, Red Rock Canyon State Park was home to the Kawaiisu Indians. Their presence is still evident through petroglyphs in the El Paso Mountains. 
A dramatic gash located at the western edge of the mountain range was on the ancient trade route for thousands of years. It's been recognized and used for different purposes, mostly as a camp point, since the 1850s.
7. Cudahy's Old Dutch Cleanser Mine
If you spend the whole day in the area, you might want to wander a little bit north to Cudahy's Old Dutch Cleanser Mine. The historic mine was founded in 1923 by the Cudahy Company. Over the next 24 years, it produced 120,000 tons of pumice.
Map: Top Things to See and Do in Red Rock Canyon State Park
The Best Time to Spend a Day in Red Rock Canyon State Park, California
Southern California is known for its excruciating heat and dry deserts. Red Rock Canyon can be uncomfortably hot in summer. In winter, the opposites – cold and rain – may force you to cut your day trip short. But spring with its blooming deserts and fall with warm but still comfortable temperatures allow you to enjoy the wonders of Red Rock Canyon to the fullest.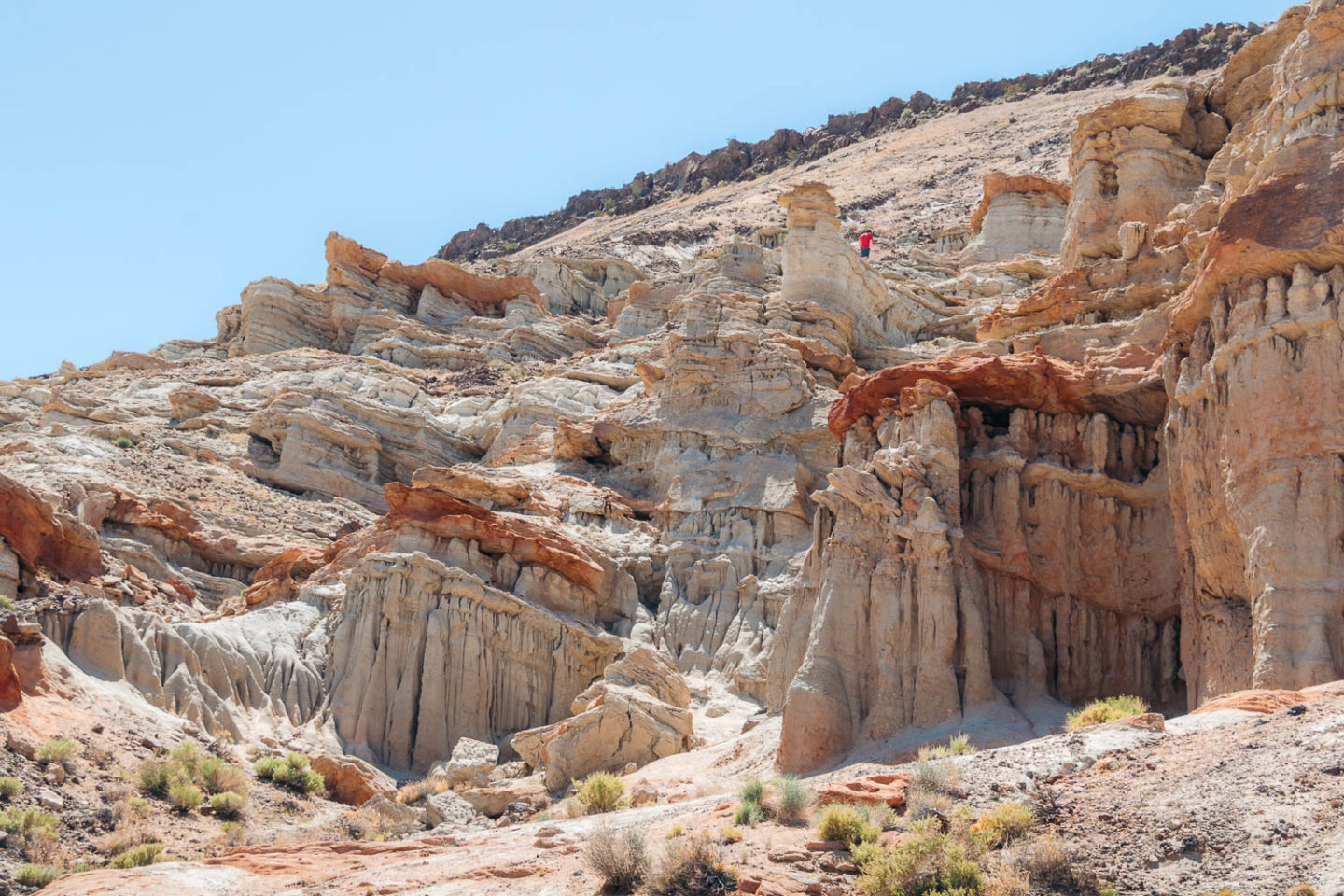 Things to Know before Visiting Red Rock Canyon State Park
Bring Water
As a rule of thumb, you should pack twice as much water as you normally drink while hiking in the desert. When you've used half of your water supply, turn back immediately.
Appropriate Clothes and Shoes
Comfortable hiking shoes with good traction are recommended. Since you'll be climbing some rocks, steer clear of any slippery shoes or sandals.
Along with a bottle of water, pack a light jacket. The temperatures in the desert can rise and drop often. So be prepared for these unexpected fluctuations.
Camping
Camp sites are available on the first-come-first-serve basis. The area can get packed quickly on the weekends, especially in spring and fall. So if you plan to spend a day and a night in Red Rock Canyon State Park, arrive early or better a day or two before the usual crowds flock to the area.
Pets
Dogs on leash are allowed in the day-use areas and campgrounds. Pets can't enter the park's trails.
Admission
$6 day-use parking applies.