This creamy roasted pumpkin and cauliflower soup, a classic of American cuisine, will keep your stomach full and soul warm all season long.
Last updated: November 21, 2023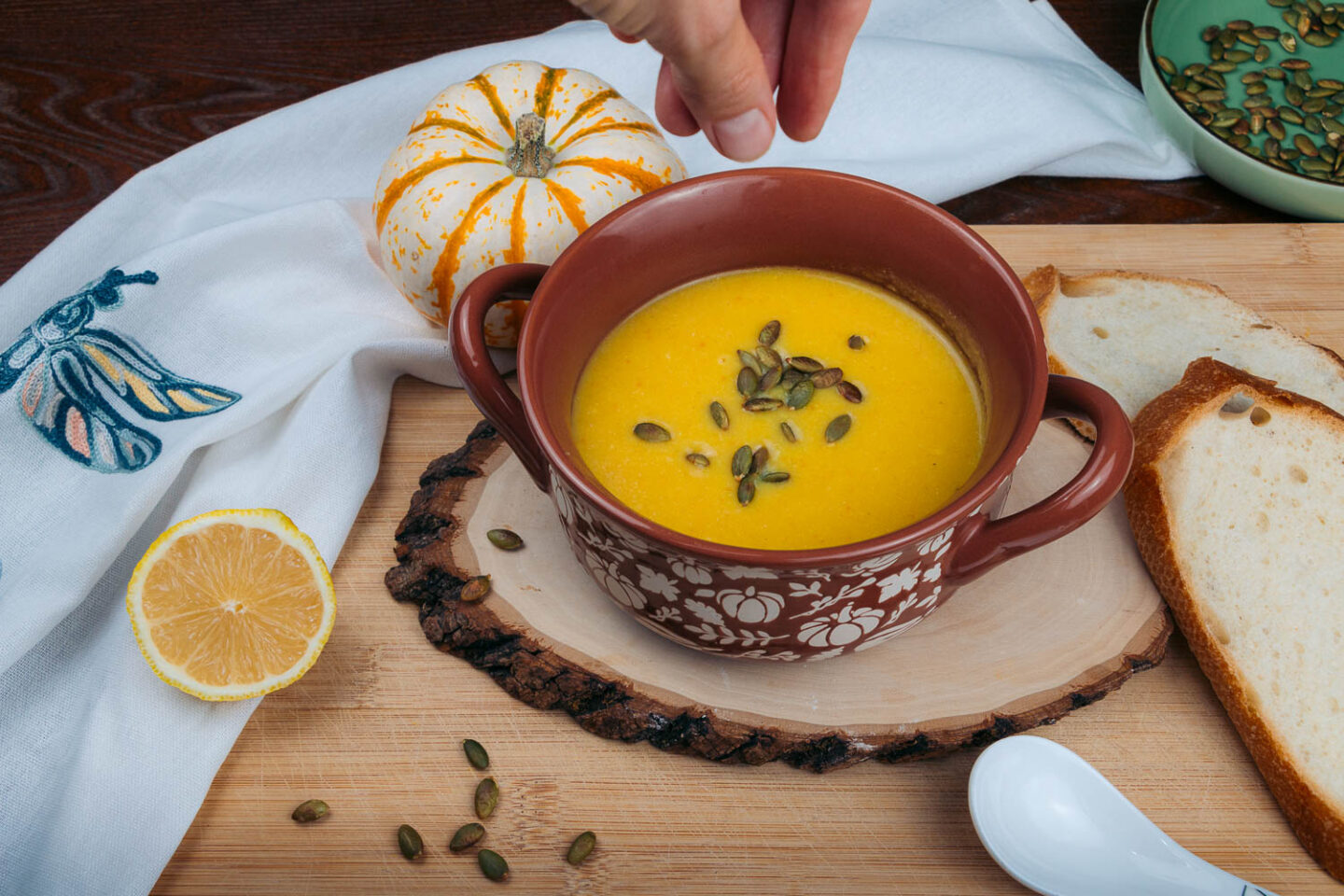 The Classic of the American Cuisine: Roasted Pumpkin and Cauliflower Soup
Love from the first spoon. This is how this creamy pumpkin and cauliflower soup feels like when the weather outside is slowly getting nasty. With the change of season and reappearance of pumpkin patches in every city and town, North America turns to its favorite fall recipes. Pumpkin soup with a variety of different flavors becomes a staple of the diet this time of the year.
It makes perfect sense. Pumpkin soup is easy to make, takes from 30 to 40 minutes of your time, and can be modified for every taste and palate.
Cauliflower and pumpkin are a match made in heaven, in my opinion. Cauliflower cuts through an earthy sweet or slightly bitter flavor – depending on the squash you use – and adds a bit of savory taste and creamy texture. Carrot, which is optional, intensifies the color, fills your fall dish with antioxidants, and adds a bit of sweetness.
Season your pumpkin and cauliflower soup to taste with salt and pepper. And voila, the perfect seasonal dish that warms your soul and stomach on a cold fall day is ready!
CREAMY ROASTED PUMPKIN AND CAULIFLOWER SOUP RECIPE
Serves: 6
Preparation time: 10 minutes
Cook time: 45 minutes
Ingredients
1 pumpkin (swap for any squash), skin removed and cut into small chunks (about 2 lbs)
1/2 head of cauliflower, cut into florets
1 large onion, chopped
1 carrot, chopped
3 cloves garlic
1/2 tbsp coconut oil
1/4 tsp ground turmeric
1/8 tsp ground black pepper
Salt to taste
3 cups vegetable stock (or water) (add more if needed)
1 3/4 cups (420ml) canned coconut milk (both full-fat and light will work)
1/2 lemon, juiced
Garnish (Optional)
Roasted pepitas (or pumpkin seeds)
Fresh parsley
Directions
Preheat the oven to 350 Fahrenheit. Line baking tray. Place the pumpkin, cauliflower, carrot, onion, and garlic onto a baking tray. Drizzle with some coconut oil and coat with the turmeric, black pepper, and salt.
Roast the vegetables in the oven for about 30-40 minutes or until soft. Flip them halfway so they are all cooked through.
Transfer the roasted pumpkin, cauliflower, carrot, garlic, and onion to a large pot. Pour in the vegetable stock (or water). Bring to boil, then reduce to simmer for 15 minutes.
Puree the soup with an immersion blender. Add more vegetable stock to achieve desired consistency. (You can also use a stand blender, but be careful as when the heat accumulates inside the blender, an "explosion" can happen.)
Next, add in the coconut milk and heat the pumpkin and cauliflower soup through.
Squeeze in some fresh lemon juice, plate, and garnish. Enjoy!
Want to experiment with more healthy, travel inspired dishes? Check out these recipes.