Bonjour Paris! Whether it's your first time in Paris or you visited it multiple times before, the city doesn't cease to charm and surprise you.
Last Undated: June 3, 2020
Introduction to Paris: First Time in Paris
Paris is a dream city that unites past and present. It's a place where rich history of wars and politics coexists with elegance of fashion world. Even if it's your first time in Paris, the city finds a way to your heart and brings out different kinds of emotions and feelings. Paris never gets too old or too familiar. On the contrary, the city attracts you even more after your first time in Paris.
My first time in Paris a couple of weeks ago wasn't an exception. The moment I put my feet on the Parisian ground, I fell in love with this bustling city. Despite rain and cold weather, Paris looked like a perfect postcard destination. Everything from beautiful architecture to chaotic lifestyle and French language amused and fascinated me. Even the first visit was enough to see why Paris is considered one of the most romantic cities in the world.
Already dreaming of going back, I've compiled the city guide for your first time in Paris. But honestly, it works just fine for anybody planning to revisit this city on the Seine River.
CITY GUIDE: FIRST TIME IN PARIS:
Notre-Dame de Paris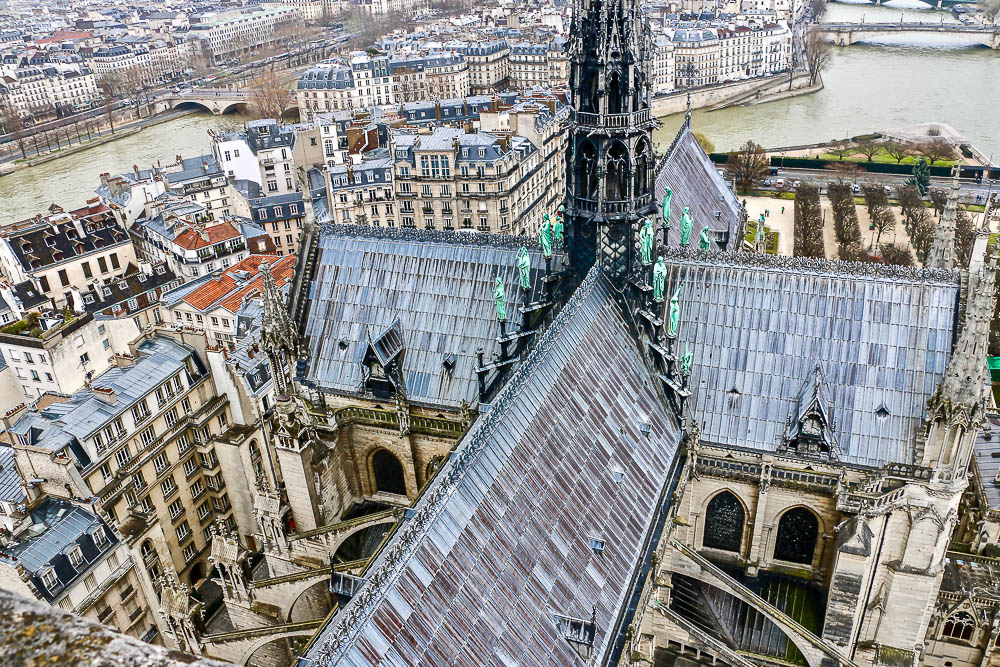 Vividly portrayed by Victor Hugo in his world-known classic The Hunchback of Notre-Dame, the iconic Notre-Dame de Paris is one of the symbols of the city. The medieval catholic Cathedral with two massive Gothic towers and three great rose windows personifies Parisian elegance, grace, and power.
Unlike in Hugo's novel, the fictional hunchback Quasimodo isn't the only person to enter the towers of the Cathedral of Notre-Dame. Notre Dame is open to the public. Moreover, for about 10 Euros you get access to its famous towers, a must-see attraction especially for the first-time visitors to Paris. The tower's 387 steep, winding steps take you to two observation points with breathtaking views over Paris. From here you're able to see such landmarks as the Eiffel Tower, the Seine River, the Basilica of Sacré-Cœur de Montmartre, and old rooftops of the city.
Admiring Paris from the top of one of the most popular cathedrals in the world is certainly on of the best things to do during your first time in Paris. Furthermore, climbing up the stairs help you burn all those calories you intake with buttery croissants in Paris.
After devastating fire in 2019, the Cathedral is still at risk of collapsing. Therefore, make sure to get updated information here before planing your visit to Notre-Dame.
The Eiffel Tower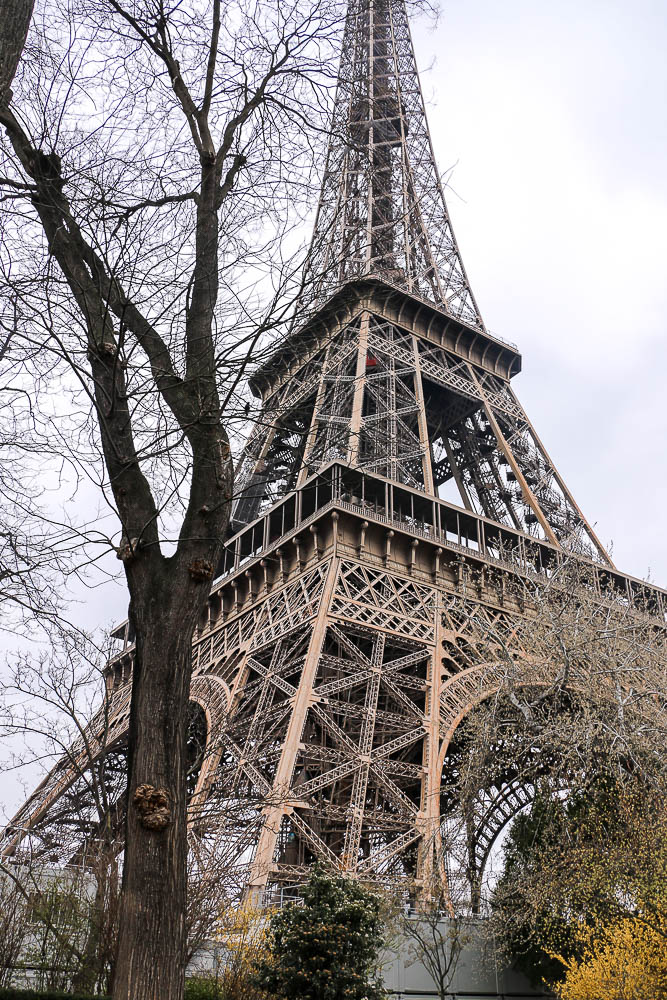 The Eiffel Tower is a symbol of Paris and one of the first places you want to visit when in the city. Interestingly, the Iron Lady of Paris once held the title of the world's tallest structure. Some people insist that the Eiffel Tower doesn't deserve its worldwide admiration and love any longer. According to them, it looks rather hideous against the background of Parisian refined architecture. However, despite all these comments, the Eiffel Tower never fails to attract millions of people from all corners of the world.
One of the popular activities for first-time and regular visitors to Paris is to observe the city from the top of the Eiffel Tower. Additionally, you can get the closest look of the Tower from the nearby Champ de Mars. Moreover, the 984-feet-high Eiffel Tower (1063 feet including the broadcast antennas at the top) can be seen from many other parts of the city.
The Louvre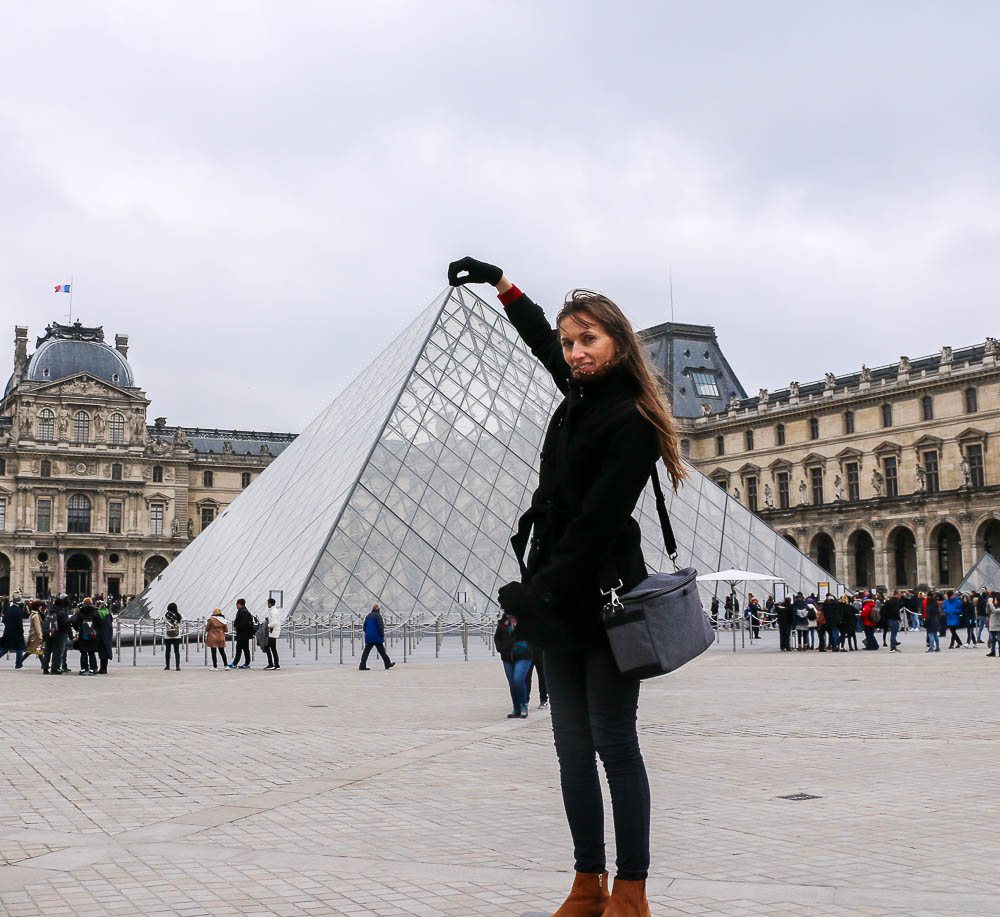 As a first-time visitor to Paris, you need to devote at least one day to the Louvre. The famous museum boasts over 380,000 masterpieces including Mona Lisa, Venus de Milo, Great Sphinx of Tanis, and Michelangelo's Dying Slave. Exterior and courtyards of the Louvre are as remarkable as its indoor exhibitions. The Louvre Pyramid surrounded by three smaller pyramids alone can steal the scene and attract all first-time picture-thirsty visitors of Paris.
The Arc de Triomphe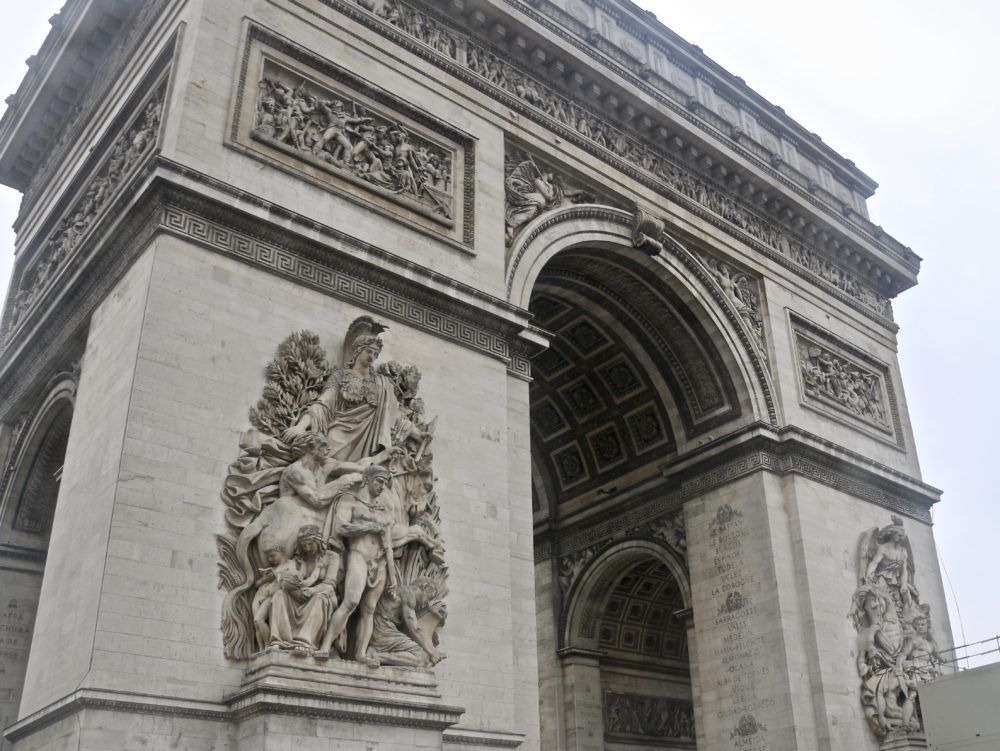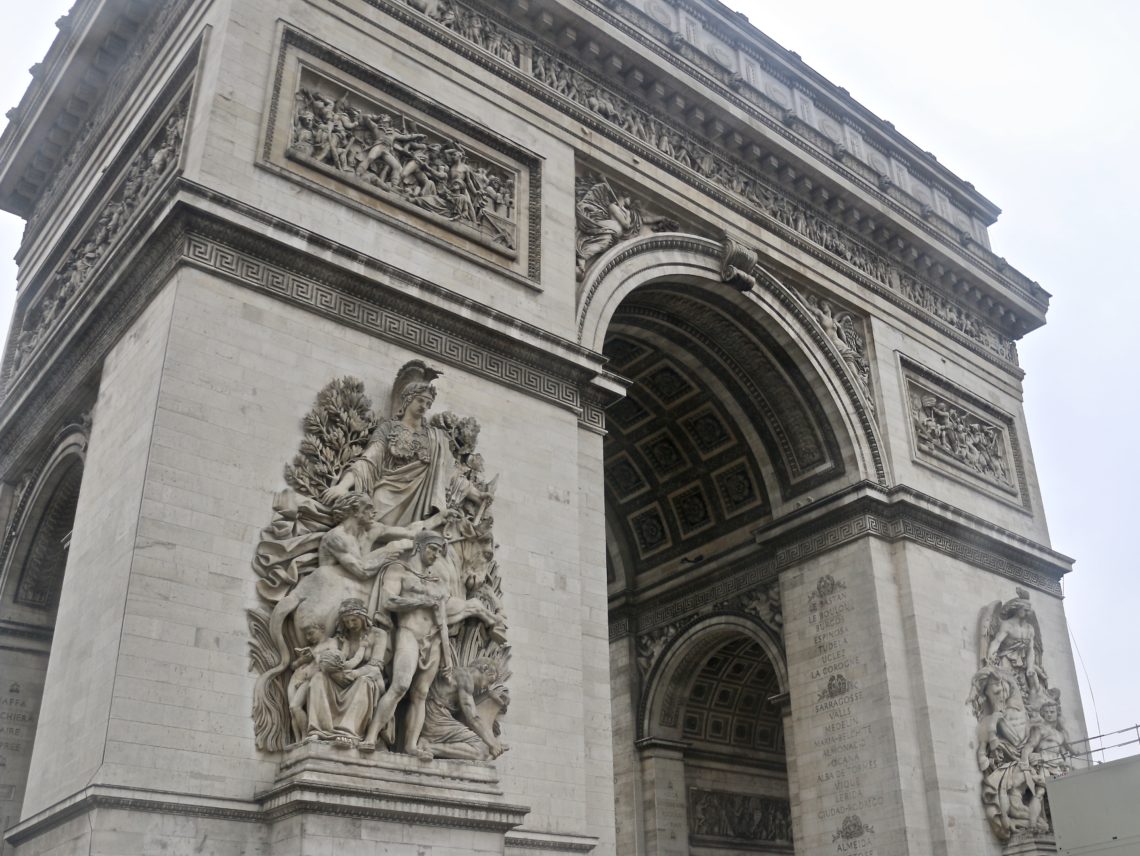 At the western end of the Avenue des Champs-Élysées, another famous symbol of Paris finds its permanent residency. The Arc de Triomphe was built at the beginning of the 19th century. It represents nation's gratitude towards soldiers who fought for France in the Napoleonic Wars. With the dates of the wars and names of the generals engraved on the walls, the famous monument welcomes all first-time visitors to Paris for a valuable history lesson. Make sure to buy your ticket in advance to avoid big lines not unusual for the Arc de Triomphe.
The Palace of Versailles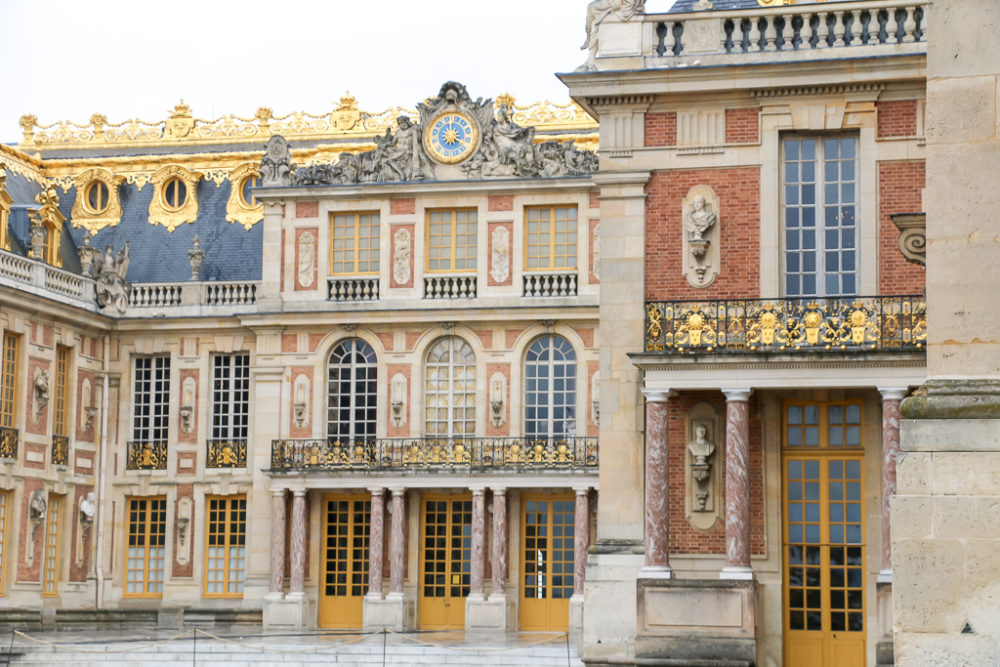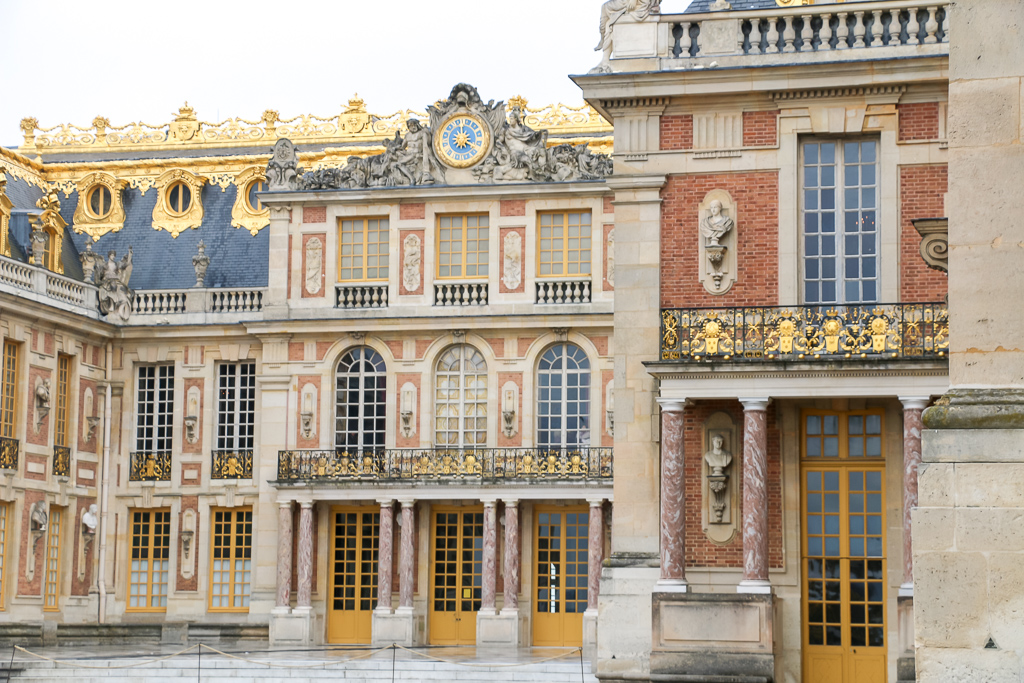 The Palace of Versailles is located in Versailles, not on the territory of the French capital. But how can you visit Paris without making a stop at the former French royal residence? We couldn't resist this temptation either.
It takes approximately one hour to get from Paris to Versailles. Surely, a place of such historical importance can't not impress. The enormous, awe-inspiring palace surrounded by the magnificent Gardens of Versailles, instantly fascinates with its pomp and grandeur. Splendid decorations, massive chandeliers, and old pieces of furniture make you feel like you went back in time to the period when Louis XIV occupied the place, making it the center of government and most extravagant balls in the country.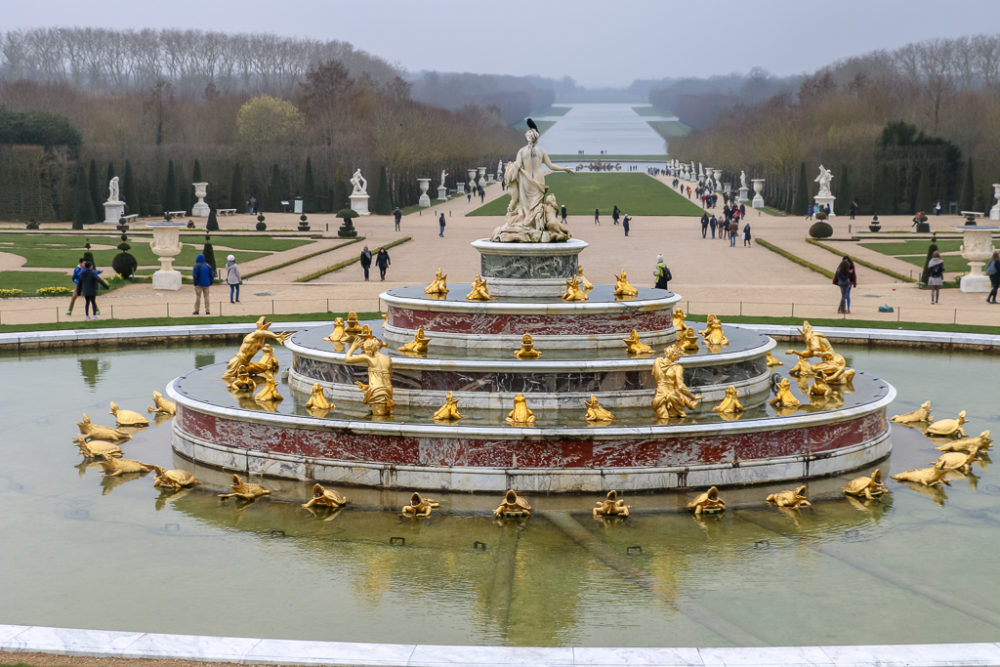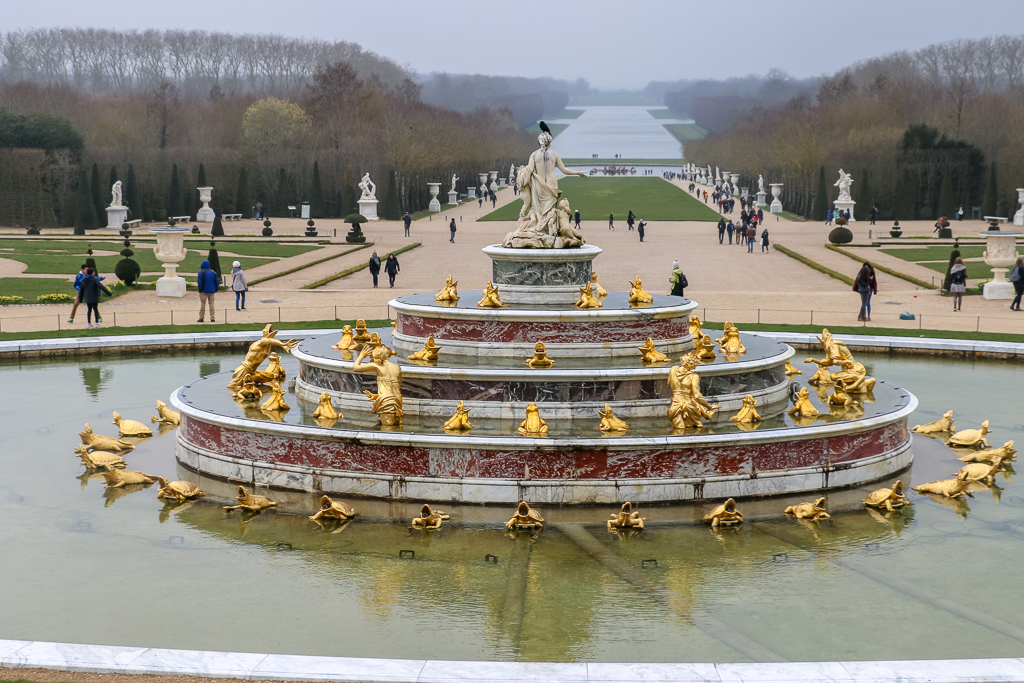 Additionally, your first time in Paris and Versailles should include a visit to the Gardens of Versailles. Symmetrically arranged lawns with fountains and sculptures create a particular order and structure, one of the significant characteristics of a formal French-style garden.
First-timer's Guide to Accommodation in Paris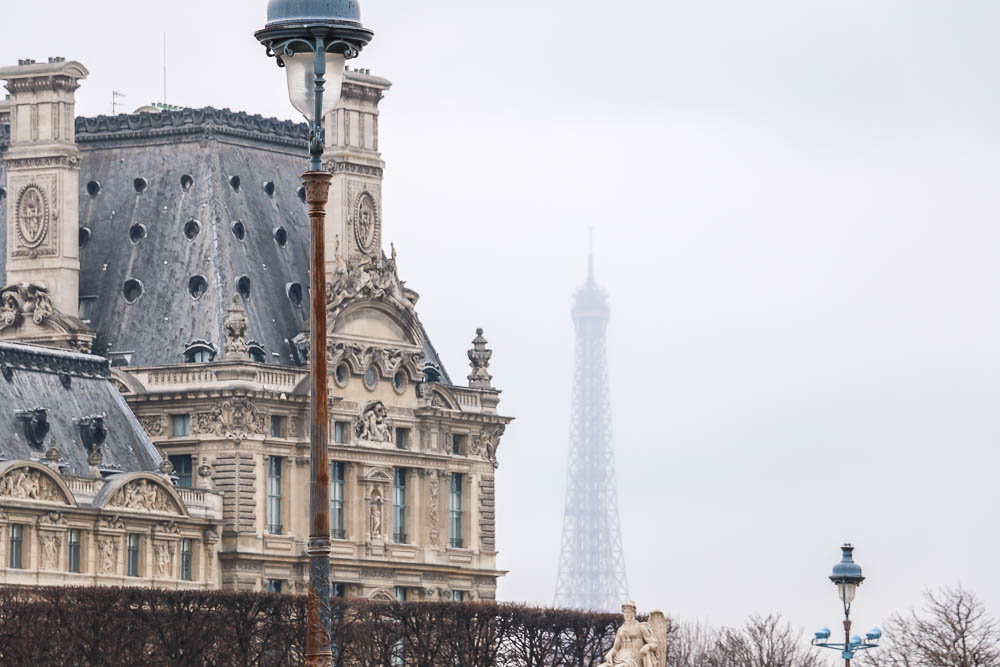 First-time visitors don't have any problems finding perfect places to call homes away from home in Paris. Ranging from motels to one- and two-star hotels, Airbnb, and luxurious hotels, Paris is able to satisfy and accommodate all types of travelers regardless of their budgets. If for your first time in Paris you choose to stay at a hotel, there are a few things to take note of.
Rooms in the hotels in Paris are usually small. Even knowing it up front, you still might get surprised how tiny they actually are. One of our rooms was so small that we couldn't get rid of a feeling that we'd booked a ship cabin rather than a hotel room.
If you rely on hotel bath amenities during your first time in Paris, you might be disappointed to find out that most hotels in Paris provide their guest only with mini soap bars and shower gels. Shampoos and lotions don't fall in the category of hotel bath amenities.
Breakfast is rarely included in hotel rate. Typically, it costs additional 10-15 Euro per person to load on some morning goodies from breakfast buffet before heading out to the city.
Places to Eat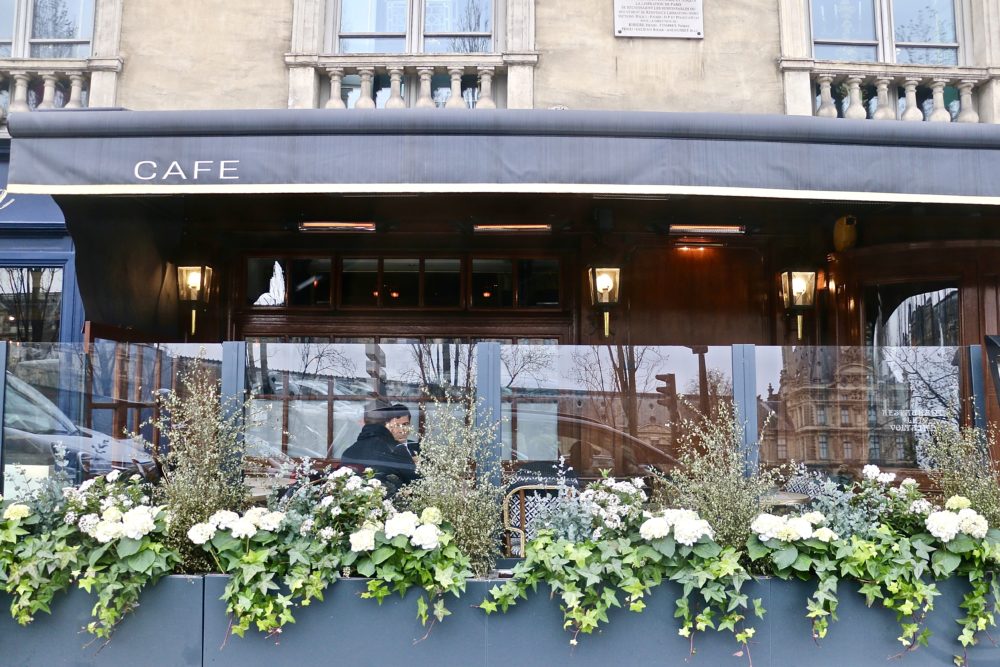 Paris is always a good idea and so is Parisian food. Just thinking about French cuisine makes my mouth water. Traditional restaurants, cafes, bistros, and brasseries offer you plenty of unforgettable gastronomic experiences and opportunities to immerse in French culture. However, it's always recommended to make your restaurant reservation in advance.
As a first-time visitor to Paris, my favorite way to get familiar with the new cuisine, though, was to wander around and discover new dining places along the way. Le Marais is one of the best foodie districts to start off. If you still want to grab a few things to snack on, stop at Monoprix where you can find everything from food to clothes and health and beauty products.
Read Next