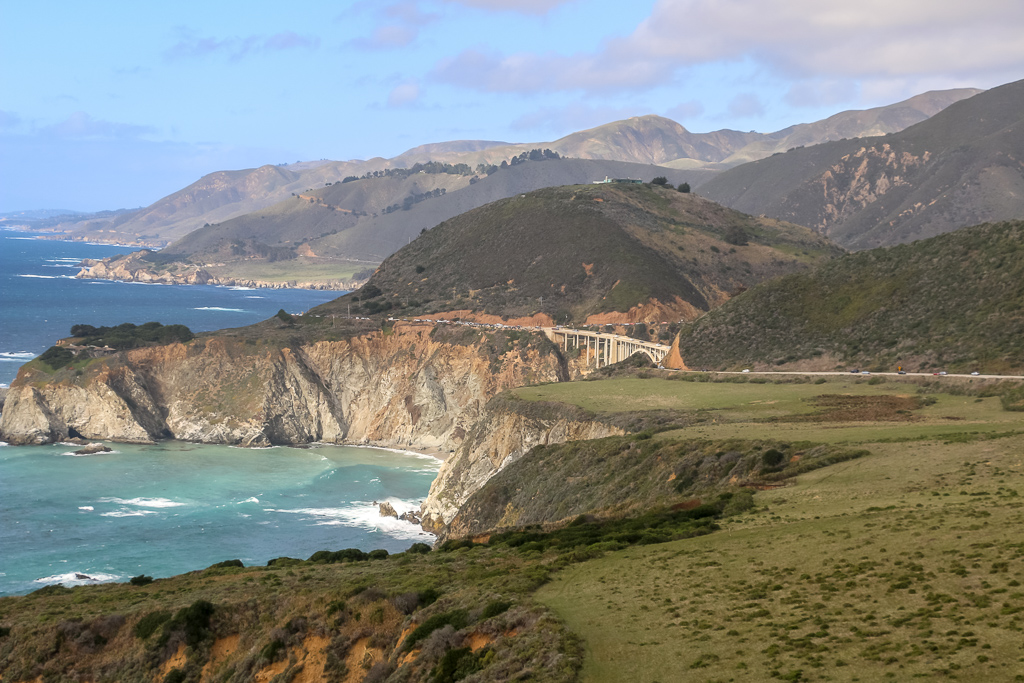 When it comes to photo diary, Big Sur wins over all other similar routes. Cruising along California central coast, you simply cannot end up without an impressive Big Sur photo diary (even if you are not particularly fond of the photography or any kind of visual art).
Pristine, diverse, and unbelievably picturesque, Big Sur is arguably state's most famous road trip destination. This nearly 90-miles-long rugged stretch of California coastline between Carmel-by-the-Sea and San Simeon allures with its superior natural beauty, tranquility, and sense of complete surrender in the face of dreamy landscapes. All you need are green cliffs and hills, vast ocean, raging waves, and white-sand beaches. No more and no less…
The classic drive along the coast never gets old. It amazes and overpowers you anew every time you drive here, even if it is your thousandth time. It fills you with gratitude and unimaginable happiness. You feel it every time you pull over to admire the magical views, breathe in fresh air, and take picture to expand your Big Sur photo diary. And with some of the most famous places in California and mile after mile of drop-dead gorgeous scenery, the number of such spontaneous stops can be endless. So, use your own judgment when choosing between popular, yet packed with tourists lookout points and secluded pull-offs. These little hidden gems always give you a chance to hike down a bit and feel like you have the whole Big Sur for yourself.
Tips for a More Creative Big Sur Photo Dairy
However, some tourist-popular places simply scream for your attentions and presence. The all-too-familiar and most photographed Bixby Bridge, purple-sand Pfeiffer Beach, and McWay Fall are absolute must. But do not follow the crowd in attempt to see these famed sights. Instead, stop somewhere in the near distance, for example, on the opposite side of a bridge or road. It is still close enough to enjoy the view, but pretty far away from the maddening group of tourists.
On top of avoiding all the hassle and bustle and frustration with people constantly getting in front of you and blocking the view, you will get the best vistas from the very uncommon positions. Furthermore, your Big Sur photo diary will greatly benefit from such untraditional approach of choosing your camera angle. Unique pictures, not uniformed images flooded the Internet, will crown your travel portfolio. And as a bonus, you can forget about excessive cropping and excellent Photoshop skills.
I hope you will travel along and enjoy this Big Sur photo diary.
Here is my complete Big Sur Photo Diary