There's no Thanksgiving dinner without stuffed roast turkey and traditional Thanksgiving pies.
Last Updated: June 23, 2020
Traditional Thanksgiving Pies You Must Try
For many Americans, Thanksgiving is both a blessing and a curse. You don't really need to explain why this famous holiday is so widely celebrated in the U.S. The curse, however, is closely related to the main reason that prompted Indians to celebrate the end of harvest season. Abundance of food is at core of such so-to-say curse.
Thanksgiving tables are usually loaded with all kinds of favorite holiday dishes. And yet, there is always room for traditional Thanksgiving pies you can't say no to. Just looking at these festive, sweet desserts makes your mouth water even if you treated yourself to more than enough delicacies before. A big dessert lover myself, I have compiled a list of the best Thanksgiving pies you must try.
TRADITIONAL THANKSGIVING PIES YOU CAN'T SAY NO TO:
1. Pumpkin Pie
No Thanksgiving celebration is complete without pumpkin pie that, by now, has become a symbol of the holiday. Methods of baking this favorite traditional dessert vary from house to house, from state to state. However, the majority of the classic recipes include crispy crust and pumpkin-based custard filling. To add distinguishing taste, one of the most favorite Thanksgiving pies is flavored with warming spices such as cinnamon, ginger, nutmeg, and cloves. Some variations of these dessert ask for cardamom and vanilla.
Usually, pumpkin pie has a single pie shell. Gourmet bakers, however, add an additional crust with crosswise stripes and images of little tree leaves on the side. These small details transform any traditional Thanksgiving pies, making it impossible to resist the temptation and say no to them.
Pumpkin pies have been symbols of Thanksgiving for centuries. The earliest recipes though had nothing to do with the firm, creamy texture of the dessert. On the contrary, it looked like a soup served in a pumpkin. Only in the early 19th century, modern sweet pies appeared on the Thanksgiving dinner tables.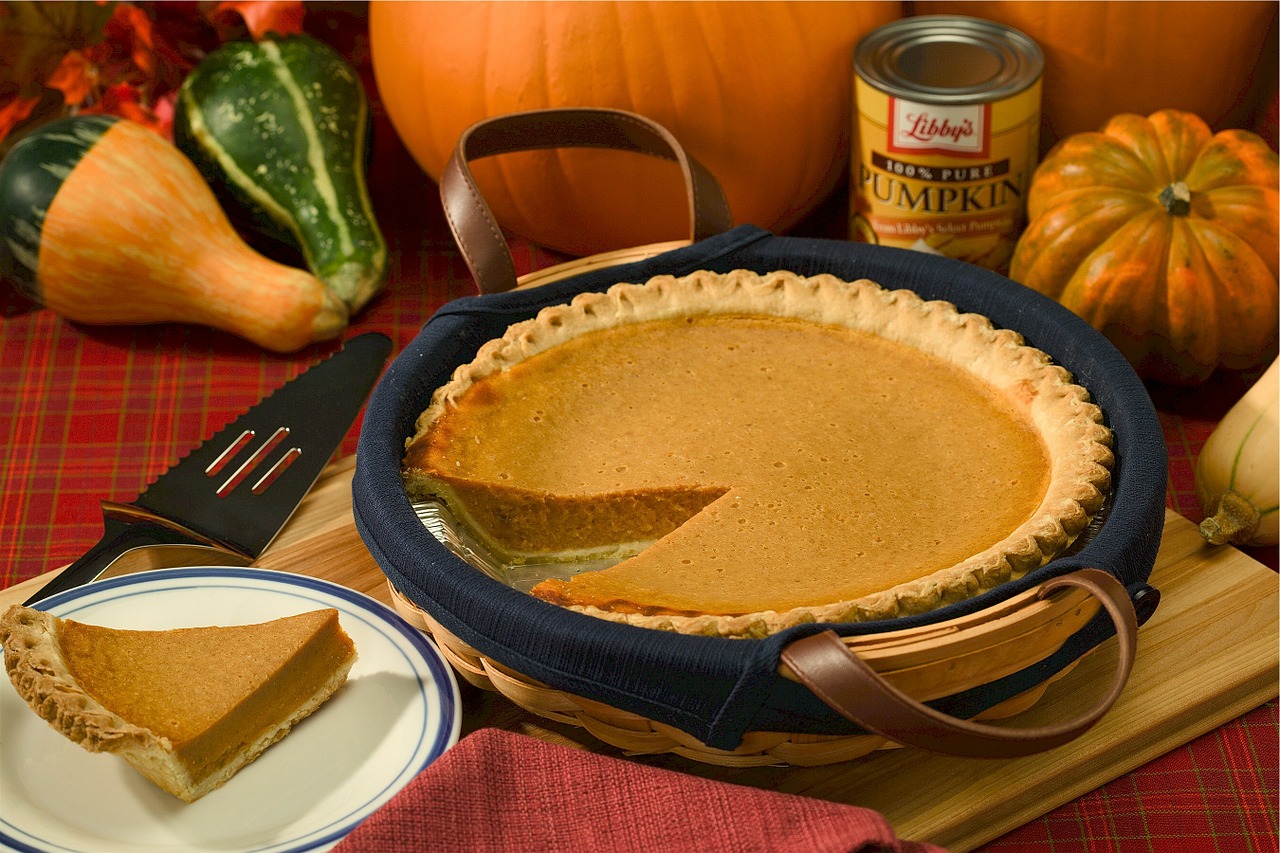 2. Pecan Pie
The South of the country prefers Thanksgiving pecan pies to classic pumpkin pies. According to one of many theories about the origin of this sweet dish, sugar pies were first introduced in Medieval Europe. From there they came to North America and with slight modifications quickly became the nation's favorite Thanksgiving pies.
A filling of mixed together eggs, butter, sugar, and pecan nuts is what makes pecan pie the second-popular holiday pastry in the U.S. To accommodate wide range of preferences, brown sugar, maple syrup, molasses, and honey often replace white sugar. A bit of vanilla adds a sweet aroma with a woody flavor. Some of pecan pies include secret ingredients such as chocolate and bourbon whiskey. Top this flavorful creation with whipped cream or vanilla ice cream and you got yourself one of the most irresistible tradition Thanksgiving pies.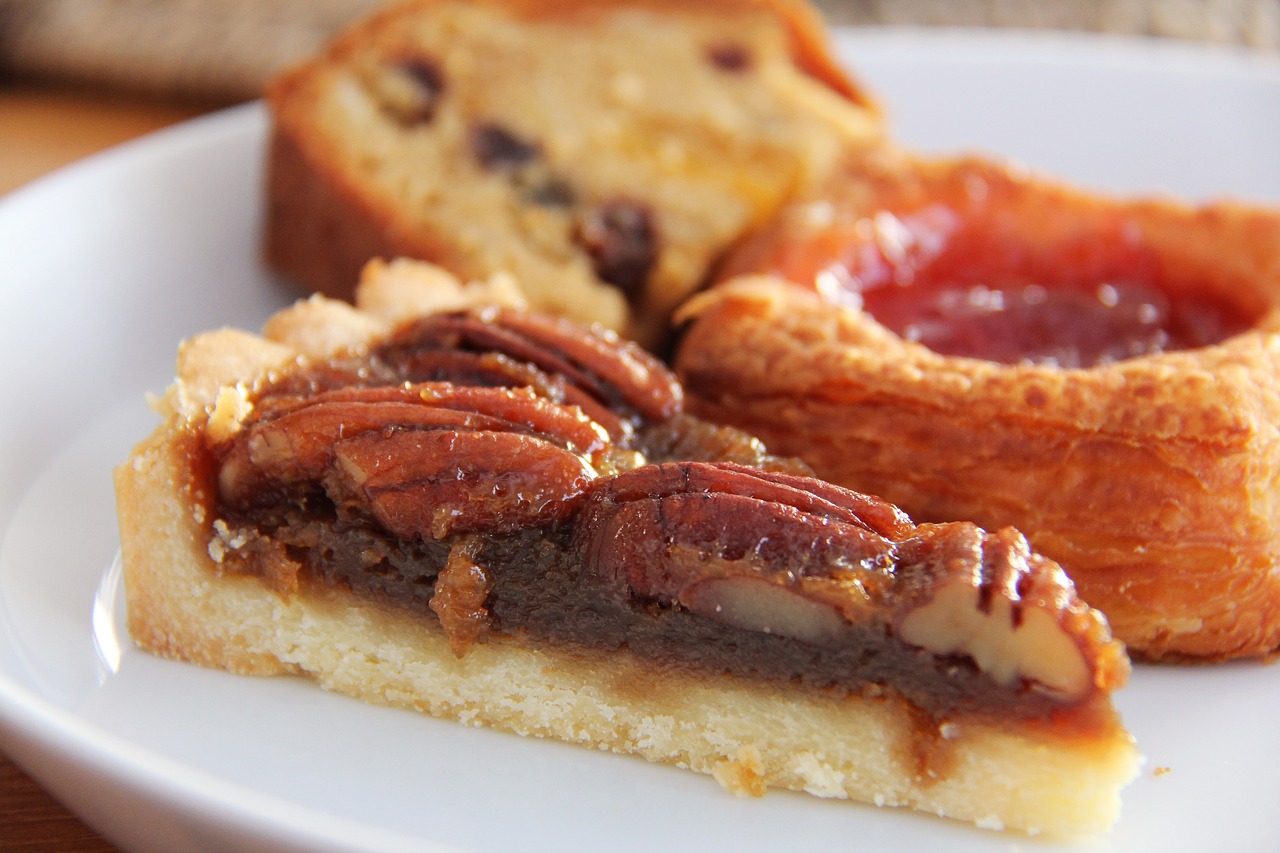 3. Sweet Potato Pie
Sweet potato pie is another classic Thanksgiving treat from the American South. Some people suggest that originally African-American slaves introduced sweet potato pie to the American culture and cuisine. Unlike pecan and pumpkin pies, this traditional Thanksgiving dessert is made in an open pie shell with no top crust. The sweet filling consists of mashed sweet potatoes, milk, sugar, eggs, and spices such as vanilla and nutmeg.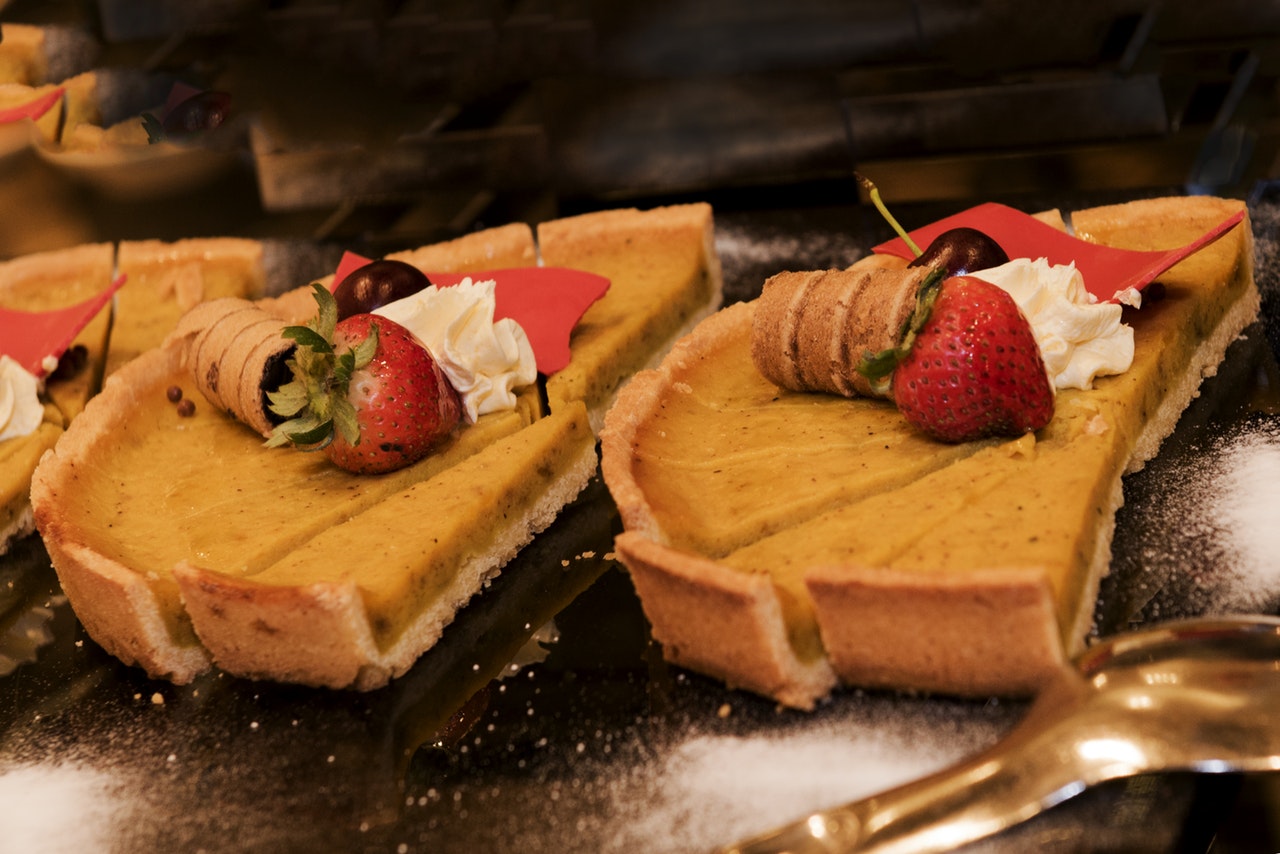 4. Apple Pie
An unofficial symbol of the country and one of the most popular traditional Thanksgiving pies, apple pie was imported to the United States from Great Britain, Sweden, and the Netherlands. Quickly after introduction, the pastry stole hearts of the whole nation. Every woman was on a mission to improve classic apple pie by adding some secret ingredients and creating different variations of the apple pie recipe.
Although the technics and methods of making this Thanksgiving dessert vary, the main idea stays the same: apple pie has two crusts with the top layer decorated with lattice woven of crosswise stripes. The main ingredient of the filling are apple with a pinch of cinnamon and salt and a little bit of butter and sugar to make this traditional Thanksgiving pie especially irresistible.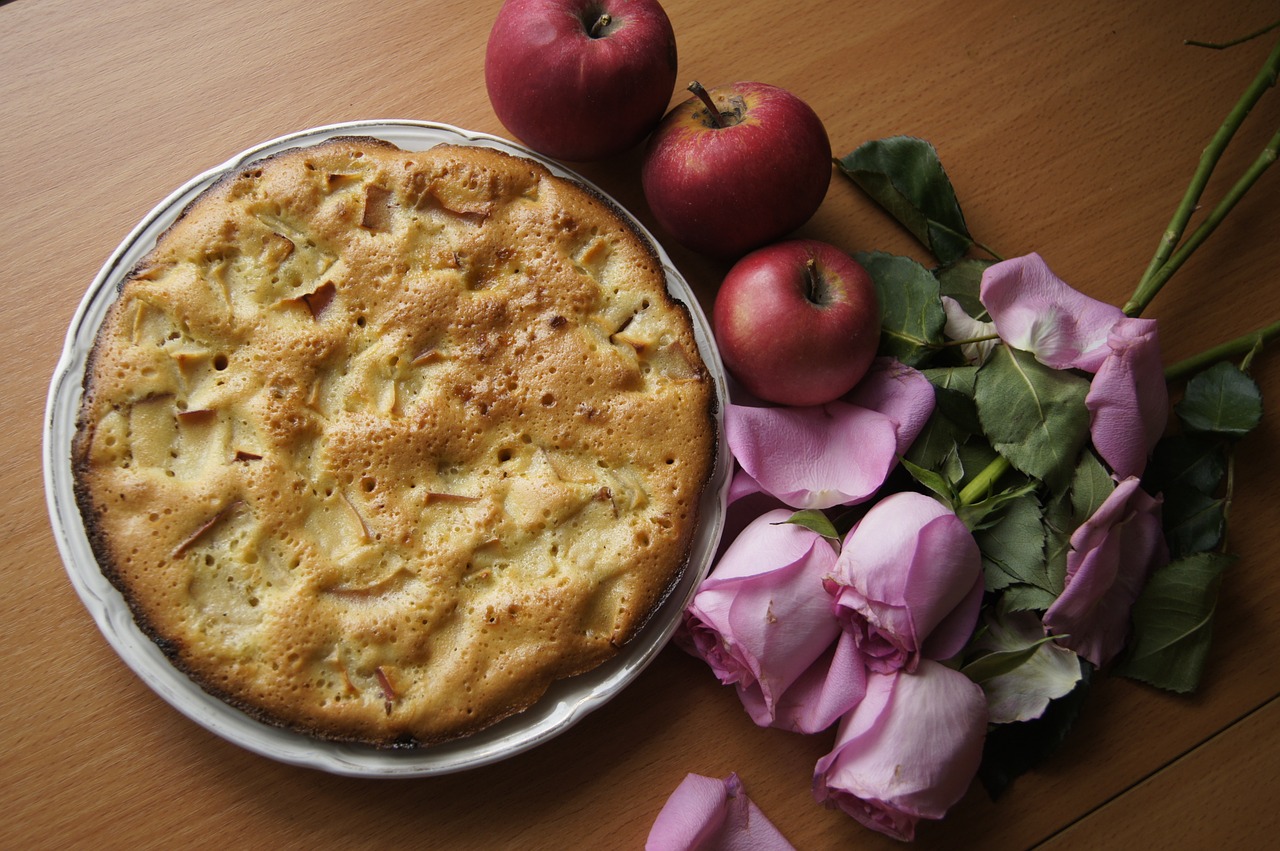 5. Blueberry Pie
Less popular than four Thanksgiving pies described above, blueberry pie also sets the bar high. Indigenous to North America, blueberries and, consequently, blueberry pies were first eaten in their place of origin and later introduced to the rest of the world.
Traditional Thanksgiving blueberry pie has two crusts, ranging from round layer to crumble crust and lattice woven of crosswise stripes. The filling is made from blueberries, as the name of the pie suggests. Besides the frozen or fresh berries, the tasty stuffing includes cinnamon, nutmeg, vanilla, butter, and some sugar.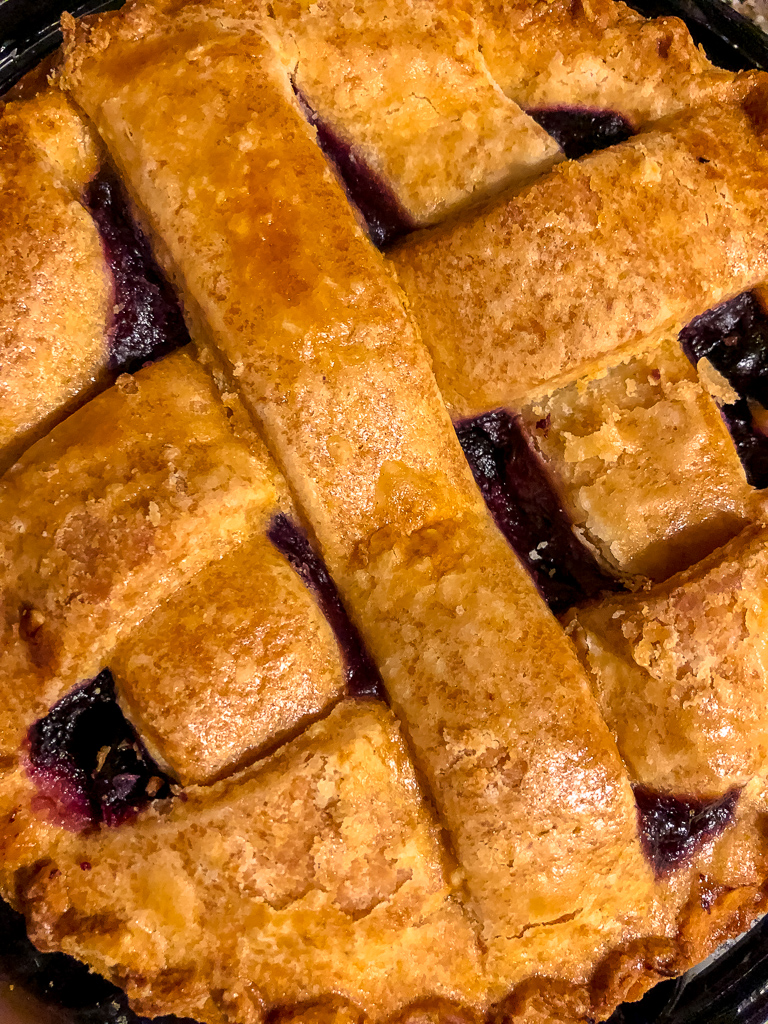 6. Cherry Pie
Last but not least, cherry pie claims its spot among traditional Thanksgiving pies you must try. Red and black natural "candies" have been some of the American favorite berries, what it seems like, forever. And so is cherry pie. The delicious two-crust dessert with a sweet cherry filling is usually served with whipped cream or ice cream right after heavy Thanksgiving dinner.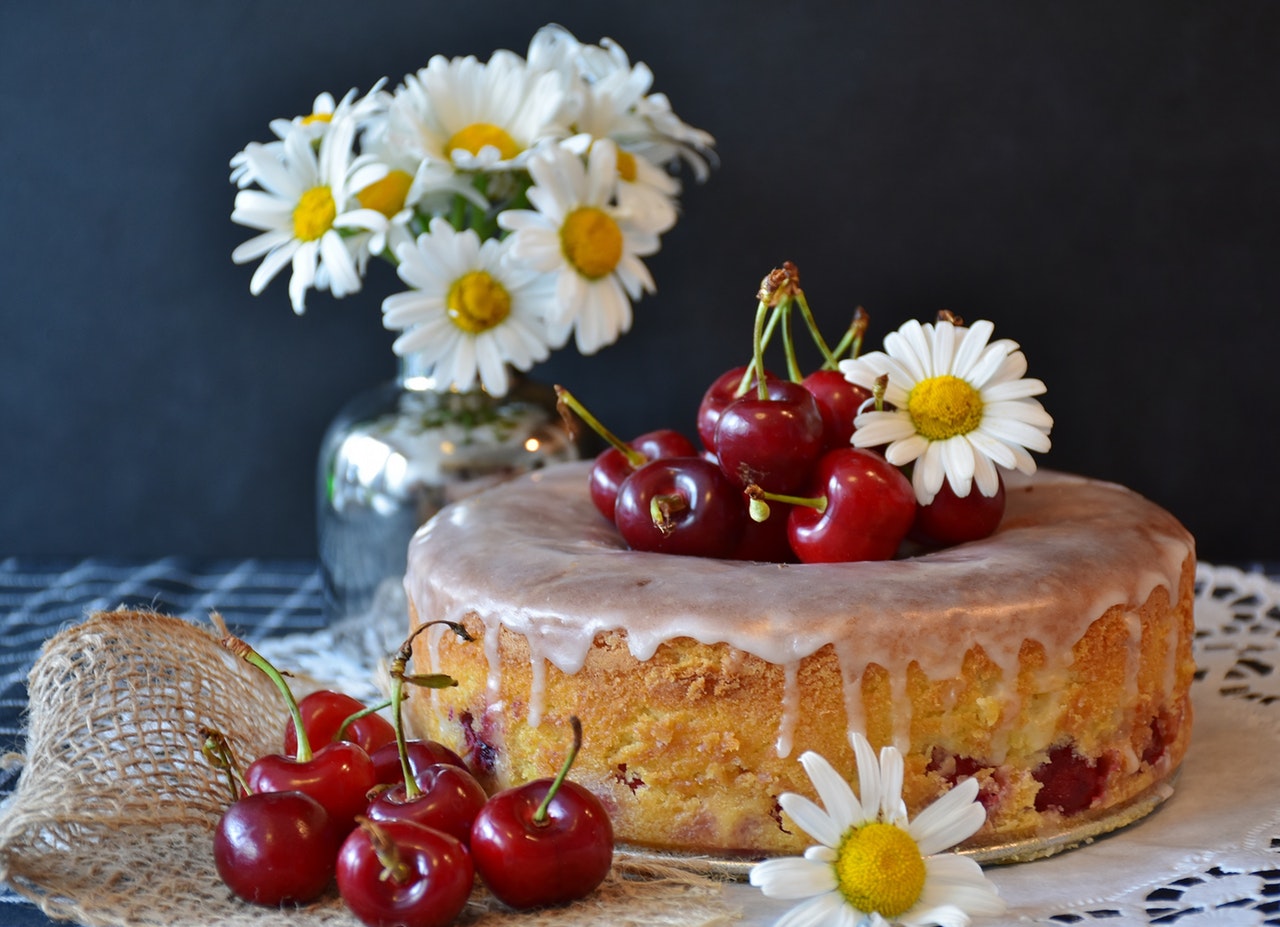 Read Next