Antelope Canyon is one of the most visited landmarks in Arizona. Moreover, this slot canyon barely gives in to the Grand Canyon in the number of pictures taken here. When you are is search of sandstone sculptures or famous light beams, Antelope Canyon is worth a visit. But not all experiences are the same. In order to avoid unpleasant situations, do your research. These practical tips for visiting Antelope Canyon aim to provide all information you need before exploring this wonder of Arizona.
HERE ARE OUR PRACTICAL TIPS FOR VISITING ANTELOPE CANYON IN ARIZONA:
1. Decide which canyon to visit
Antelope Canyon consists of two separate slot canyons: Upper Antelope Canyon and Lower Antelope Canyon. Both or them are spectacular in their own ways. Upper Antelope Canyon is easily accessible and hosts more visitors. Lower Antelope Canyon is more difficult to hike and requires climbing along pre-installed ladders is some areas.
2. Practical tips for visiting Antelope Canyon with kids
Among all practical tips for visiting Antelope Canyon, we find this one the most important. We traveled with a baby and thus our Antelope Canyon adventure was in question until the very end. All our prior researches indicated that babies and toddlers were not allowed at Antelope Canyon. We decided to test our luck and headed straight to reservation desk. A Navajo woman informed us that there was no age restriction for visiting Upper Antelope Canyon. People of six years of age and older could visit both Upper and Lower Antelope Canyon.
3. Guided Antelope Canyon tours are mandatory
Visiting Antelope Canyon is possible only as part of guided tours. Booking in advance is recommended, but not required. You can always get a ticket at the counter upon your arrival. Here you can check out a few tour companies near Page, Arizona. We went with Adventurous Antelope Canyon Photo Tours and couldn't recommend it enough. But let me pause here and share one of our favorite practical trips for visiting Antelope Canyon. Although better for your Antelope Canyon photography, prime-time tours are usually more expensive.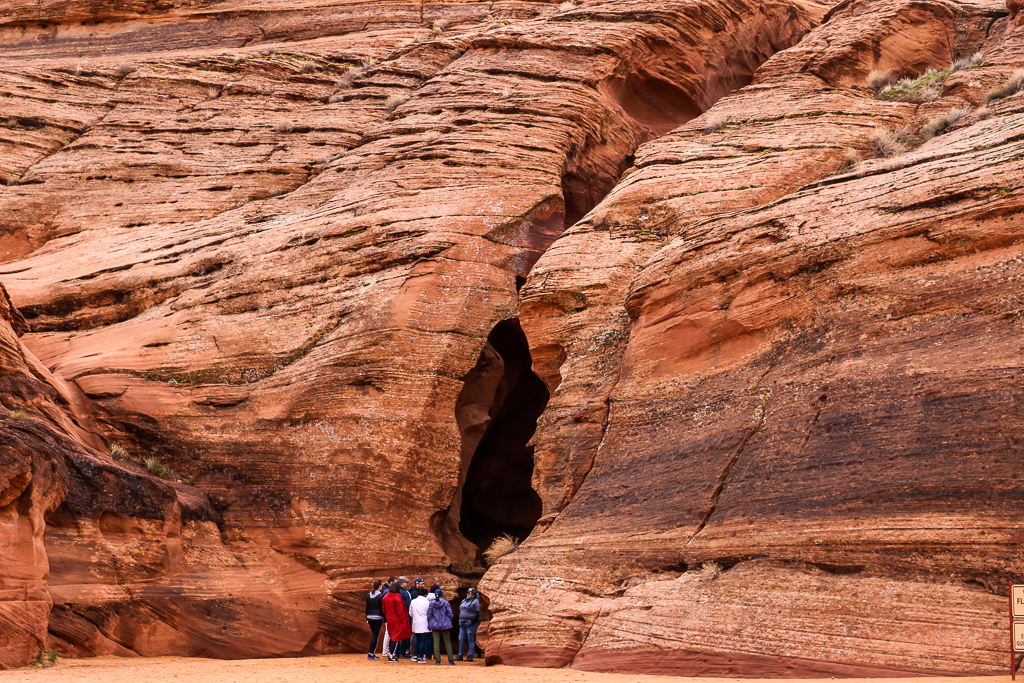 4. Choose prime time for better pictures
Prime time is usually from 10:00 a.m. until 2:00 p.m. During this time more sun rays enter the slot canyons. It creates good conditions for perfect Antelope Canyon pictures.
5. Practical tips for visiting Upper Antelope Canyon to see light beams
Although you can see the light beams when visiting Lower Antelope Canyon, Upper Antelope Canyon is a place that gets the most of them. The best time to see the light beams is from late March until early October. Summer months usually get more sun light. Try to schedule your tour between 11:00 a.m. and 1:30 p.m. for a change to see the beams. There is no light beams on a cloudy day.
6. You can skip photography tours
Even if you are a professional photographer, your visit to Antelope Canyon can benefit from any guided tours, not necessarily the photography tours. There is always enough time to set up your camera and take pictures. On top of that, most of the tour guides suggest camera settings prior entering the canyon. Moreover, they constantly show the best spots for amazing Antelope Canyon pictures. In case you need somebody to take your photo, the tour guides always offer their help. You will be surprised by their skills and professionalism. So, make sure to use such vital knowledge and practical tips without spending more for expensive photography tours.