The Café Museum is arguably one of the most prominent and popular dining places in Innere Stadt of Vienna. But we didn't know anything about it before our accidental discovery of this cafe on one pretty cold Sunday afternoon. As we had explored Vienna the whole morning, by afternoon our stomachs demanded some good food. On top of that, having authentic dining experience at a traditional Austrian restaurant seemed more than appropriate. Thus, without searching for any other places to eat nearby, we stopped at the Café Museum. And it was quite an interesting lunch. Out dining experience at the Café Museum turned out to be good, intriguing, and disappointing.
The Café Museum – One of the Most Popular Dining Places in Vienna
Let me tell you up front. We rarely eat at expensive restaurants. There are a few reasons for it. First, you can get taste of traditional cuisine at small cafes or even street vendors. And these dining experiences are so, so good that you want to go back and eat their food again and again. On top of that, it saves you money for other activities. Second, most of the time we visit local grocery stores and prepare at least a few of our meals.
Anyways, let's go back to our dining experience at the Café Museum. And there is one more disclose, this post is not sponsored. We visited the Café Museum out of curiosity and share our own dining experience at this place.
From the first glance, the café looked stunning with welcoming ambience, cozy booths, and elegant personnel. No wonder, this place attracted many locals and visitors alike. Talking about the tourists, approximately 90 percent of the visitors during our special dining experience at the Café Museum spoke English. And based on their accents, you didn't have any problems to guess their countries of origin.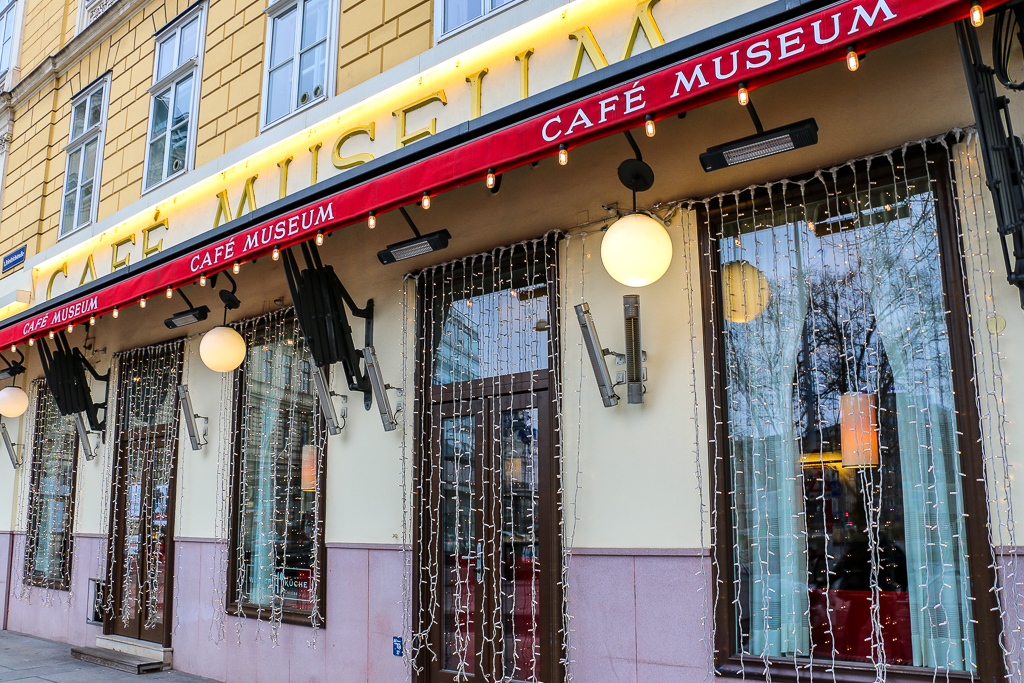 Dining Experience at the Café Museum
Since there were four of us (three adults and one baby), a waiter offered us to sit in the middle row that had more room. Shortly after that he brought us menu in English, which was very considerate of him. Moreover, it added some points to a "good" part of our dining experience at the Café Museum. But even before the young waiter did it, I had glanced at the German version of the menu sitting on the table. It didn't have any vegan-friendly options.
So, when the waiter reappeared, I asked if they could serve non-dairy, meat-free food. The poor boy clearly didn't understand me, so I stopped annoying him with my German. Instead I asked in English if they could customize the food. The answer came back right away: "I don't have it." (I hope his English got a bit better by this time.)
And this was one of the most disappointing parts of the Café Museum dining experience. My husband was ready to leave. But since I cared more about letting everybody eat as soon as possible, so we could continue our adventure in Vienna, we stayed.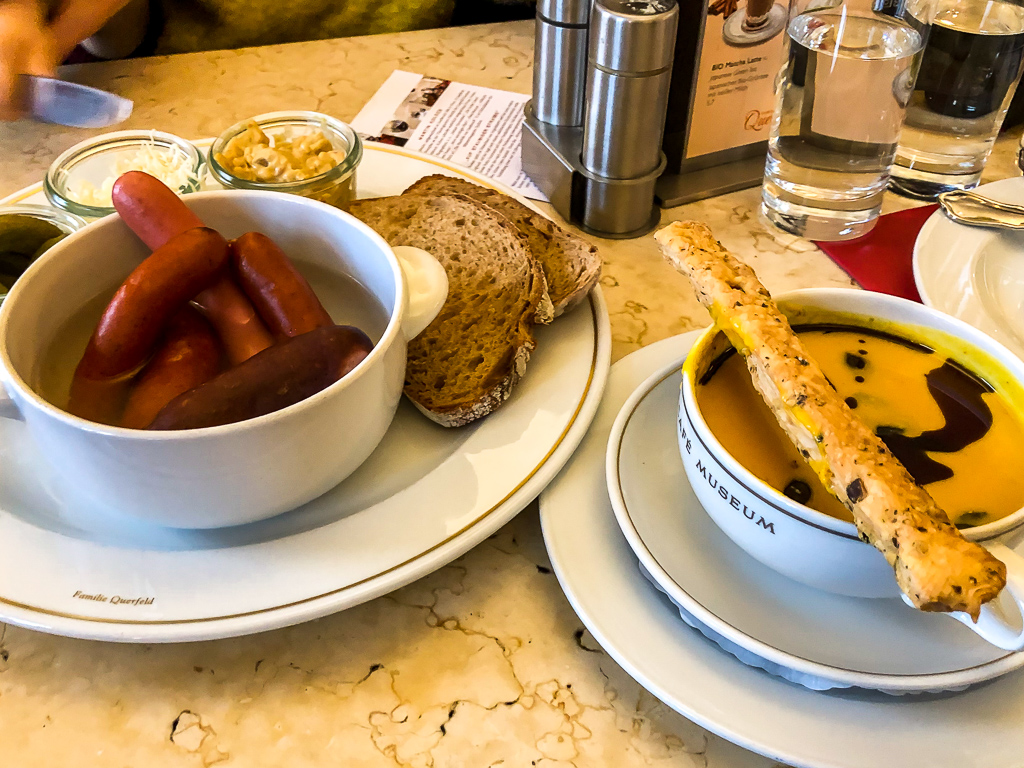 Food at the Café Museum
While I was munching on a couple of tiny bread rolls I had in my purse, my husband and his farther placed their orders. It took a bit long for their food to arrive. But once the food arrived, it looked super good. According to my husband, it tasted delicious, and that was the best part of our dining experience at the Café Museum. Food portions, however, were small. In my opinion, it was a normal portion based on European standards. But if you like to eat a lot, you better order more than one serving.
Furthermore, the food was very expensive. That was another disappointment. I'll make a small deviation from our dining experience at the Café Museum to give you some information to compare with. In the evening we got food from a street vendor that tasted super good and didn't cost us even half of what we had paid at the Café Museum.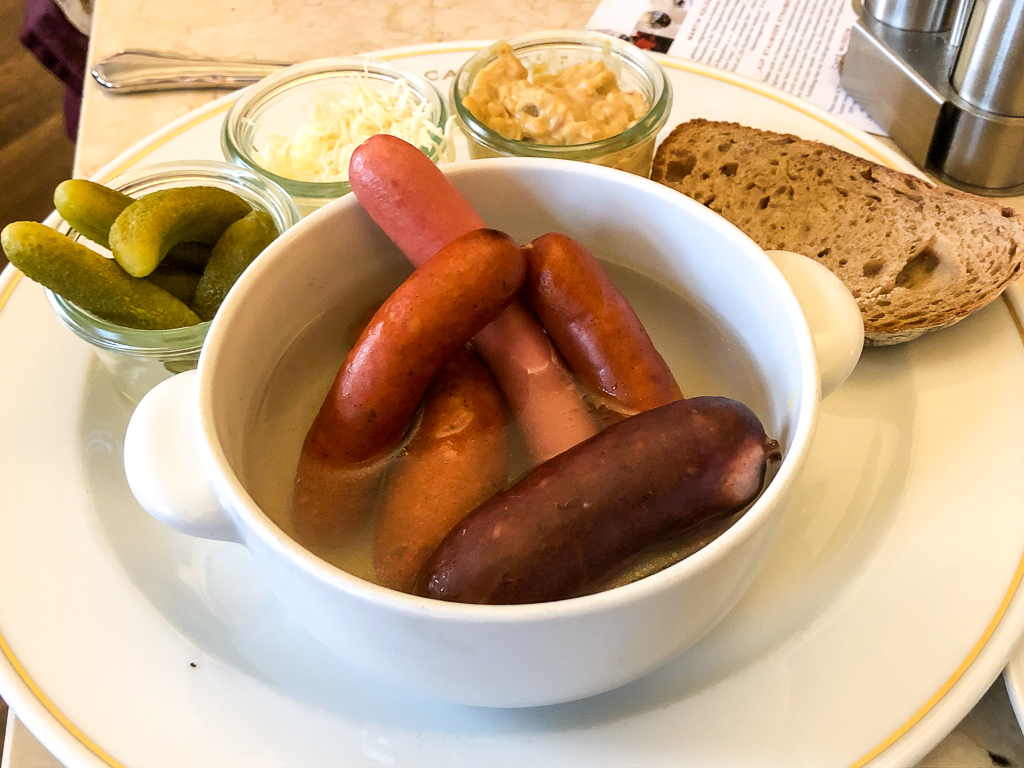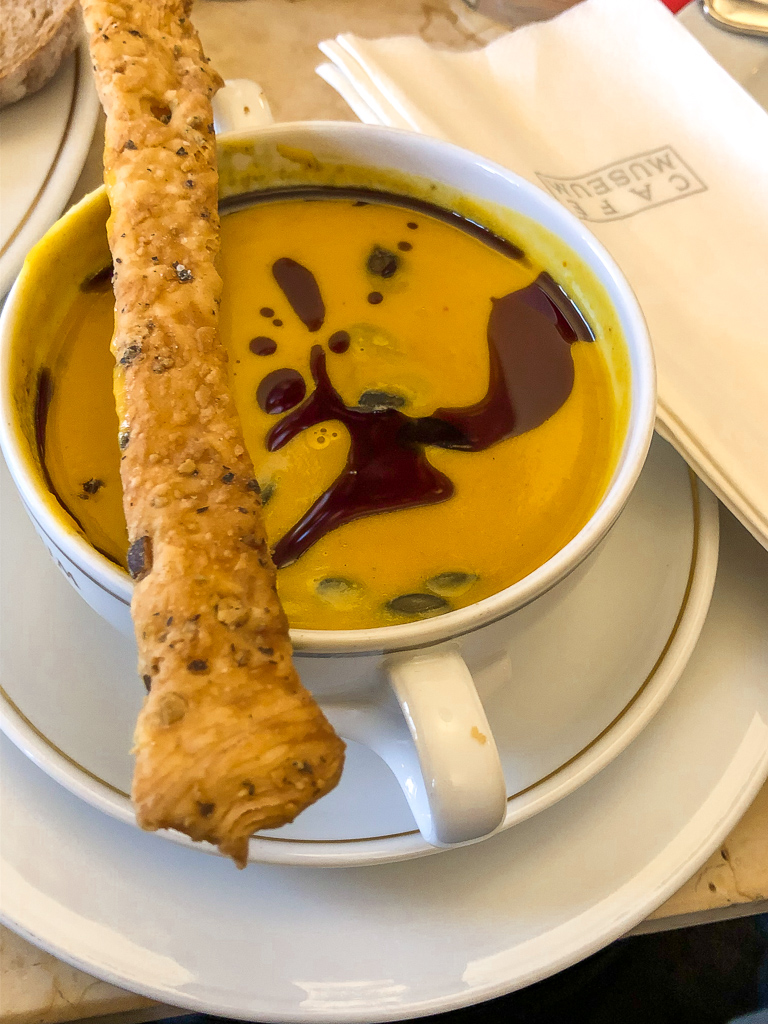 Intriguing Dining Experience at the Café Museum
Nevertheless, dining at the Café Museum in some ways was a good experience. While my travel companions were finishing their food, I went to a restroom and got lost between two doors. (There was no way to get lost, but somehow I managed to do it.) One door that looked more appealing to me and that I actually opened, led to a empty dining room. And this room was my absolute dream. Next to every wall stood a few huge floor-to-ceiling bookshelves filled with all kinds of books. I couldn't believe it. Was it a secret library of the Café Museum?
I looked around very quickly and hurried to leave the room. For some reasons, I felt like a trespasser and didn't want anybody to catch me there. Only later it came to my attentions that the Café Museum has been offering regular readings since October 2011. And I assume these author-fans meetings take place in that room with the floor-to-ceiling bookshelves.
Final Note
After having such an interesting dining experience at the Café Museum, I can say that this place is not for everybody. I still think that it's a very nice and pleasant café. Moreover, I'd probably love it if they had vegan options. Thus, if you don't eat dairy and meat products like me, you might want to skip dining at the Café Museum altogether. For all other Vienna visitors, you're ought to have your own dining experience at the Café Museum at least once.
Address: Operngasse 7 1010 Vienna, Austria