"Hollywood's not America." Uncomplicated lyrics of the famous song not always find its supporters. It's especially true with people who see the capital of Hollywood as their ultimate travel destination. However, after living in Southern California for over a decade, I'm convinced Hollywood is not even Los Angeles. Furthermore, to see the real city, you can skip all too touristic places such as Beverly Hills, Santa Monica and Malibu. Instead, save a day or two and explore these ten hidden gems in the San Fernando Valley portion of Los Angeles. But keep in mind that after this experience you might feel like a local in one of the largest cities in the US.
HERE ARE TOP TEN HIDDEN GEMS IN THE SAN FERNANDO VALLEY OF LOS ANGELES:
Hidden Gems in the San Fernando Valley of Los Angeles: Best Places to Eat
Aroma Coffee & Tea Co
Breakfast bowls, Irish oatmeal, all kinds of salads, wraps, burgers and paninis along with unbelievable amount of delicious cakes… Welcome to Aroma Coffee & Tea Co! This place is an absolute winner among all hidden gems in the San Fernando Valley of Los Angeles. But food is not the only component of such success. Uniqueness of the place plays not the last role in it. Aroma Coffee & Tea Co looks like another residential house with an exception of a big line winding out of the door. Only when you get inside, you get a feel of comfortable home environment mixed with restaurant culture. Certainly, combining the yummy food with a pleasant ambiance, Aroma Coffee & Tea Co steals hearts of dozens of its guests every day.
4360 Tujunga Ave., Studio City, 91604
Porto's Bakery and Café
Cuban cuisine is based largely on naturally grown local ingredients. Porto's Bakery and Café, Cuban to the core, stays as close as possible to this principle. Although some of their ingredients come from all over the world, they never compromise with the quality. Thus, when you order their signature potato balls, Cuban sandwich or tortilla soup, you can rest assured that you get the best for your money. Porto's cakes and pasties are a whole different story. From morning till evening, a permanent queue lines up to satisfy their sugar cravings. Quite often these visitors don't leave the café until they buy enough sweets to treat their families and friends.
3614 W. Magnolia Blvd., Burbank, CA 91505
Hidden Gems in the San Fernando Valley of Los Angeles: Recreation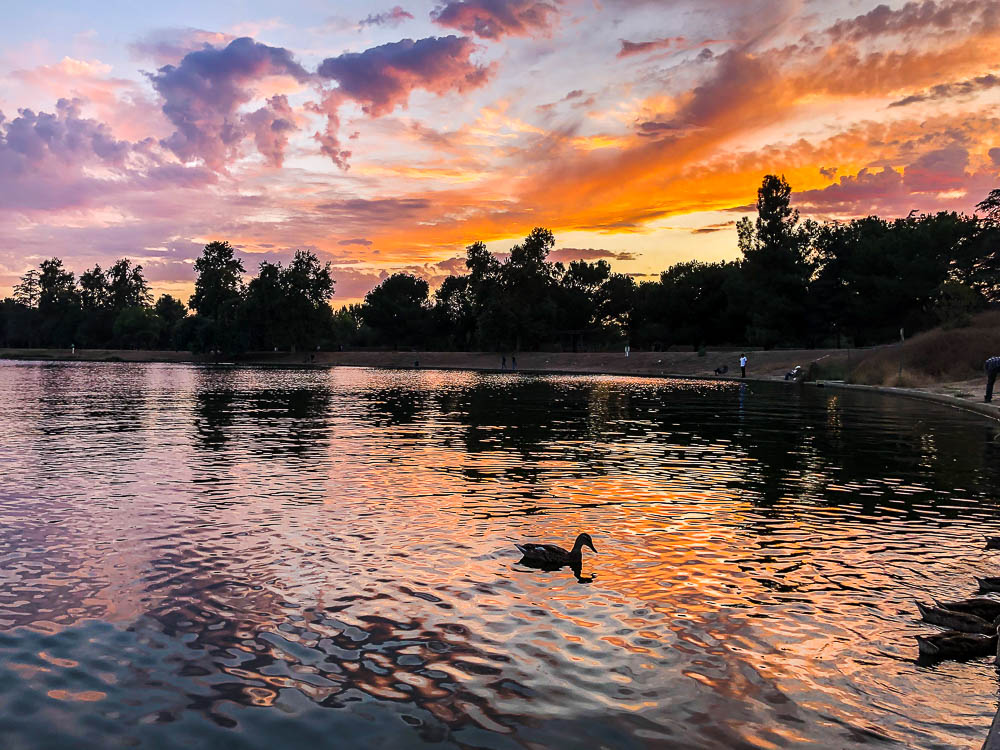 Lake Balboa/Anthony C. Beilenson Park
Are you craving a good walk, but not willing to drive to mountains for a hiking session? Do you feel guilty for not letting your pet run freely without a leash at least once a week? Are you looking for a nice place to spend time with your family and have barbecue together? Lake Balboa/Anthony C. Beilenson Park is an answer to all of these questions.
Located in the South San Fernando Valley region of Los Angeles, this hidden gem is perfect for families and single visitors alike. The main feature of Balboa Park is a huge lake with paved pathways around it used for walking and jogging. The abundance of picnic tables ensures perfect family gatherings that often last all day long. For more active visitors, the park offers bikes, surreys and choppers to rent. Moreover, for about $10 an hour you can rent a large swan boat and swim closer to many different bird species on the lake.
6300 Balboa Blvd., Van Nuys, CA 91406
The Japanese Garden
Located just a few minutes away from Lake Balboa Park, the Japanese Garden is another hidden gem in the San Fernando Valley of Los Angeles you don't want to miss. A 6.5-acre garden takes you into a world of calmness, meditation and authentic beauty. Built according to the finest Japanese traditions, the place includes small gardens, waterfalls, fording bridges and traditional teahouse.
6100 Woodley Ave., Van Nuys, CA 91406
Read more: Los Angeles Neighborhood: Three of the Best Parks in the San Fernando Valley within Walking Distance of Each Other
The Great Wall of Los Angeles
Who said that historical artifacts need to have walls and ceilings to present themselves to public? The Great Wall of Los Angeles proves that this old-fashioned way of remembering history is appropriate somewhere else but LA. One of the most untraditional hidden gems in the San Fernando Valley, a 13-feet high mural is a part of the drainage system of Los Angeles. In an unprecedented way, it brings your attentions to the history of Native Americans, minorities and civil rights movement.
12900 Oxnard St., North Hollywood, CA 91606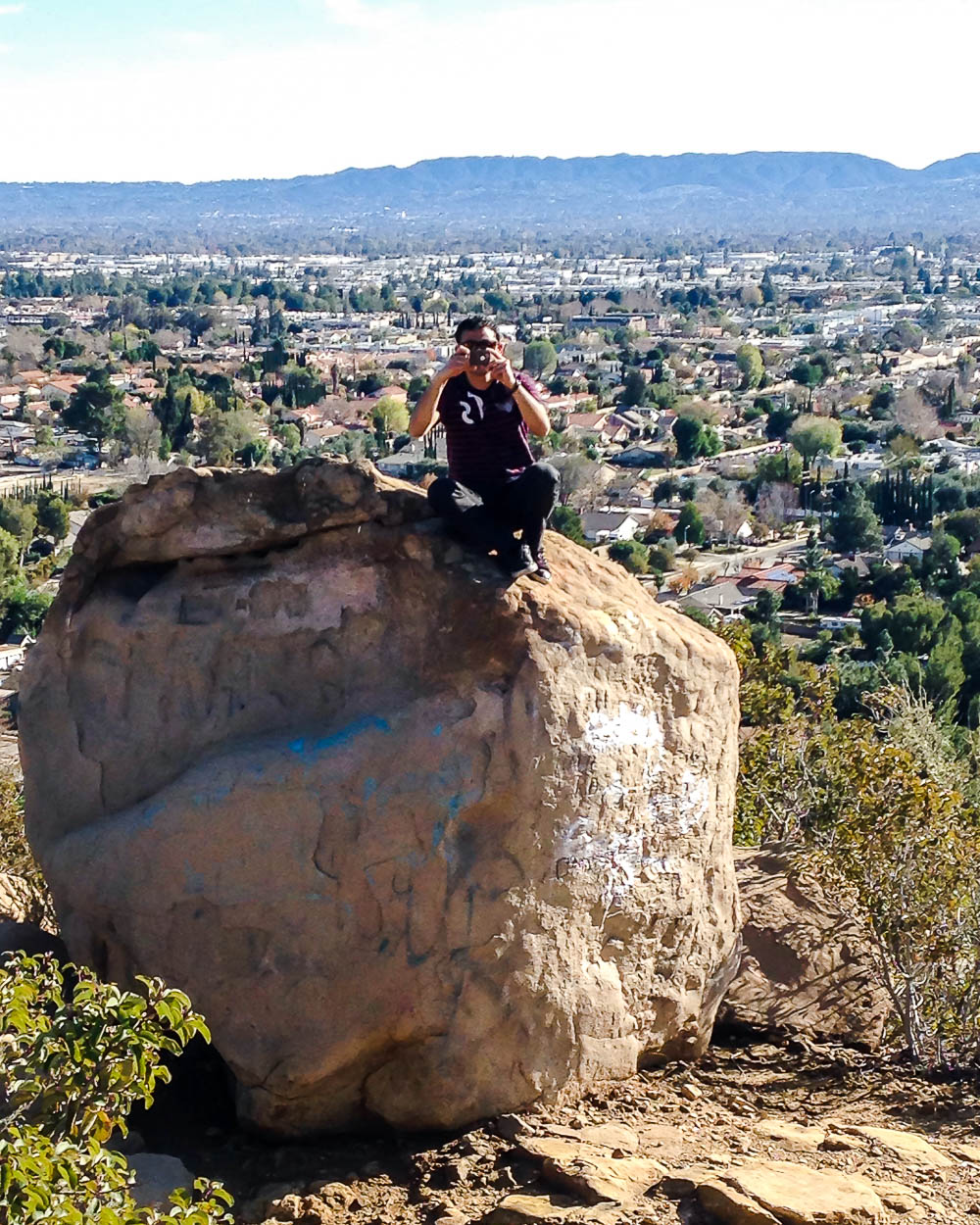 Stoney Point Park
Stoney Point Park has little to do with a typical park where you take your kids to play in the shadow of trees. Instead, this unusual rock formation attracts specific kind of visitors. Hikers, equestrians and rock climbers find large boulders and almost complete absence of visible trails of Stoney Point Park hard to resist. They often use them to master their bouldering skills.
On Topanga Canyon Blvd. between Chatsworth St. and 118 Freeway, Chatsworth, CA 91311
Candy Cane Lane
Starting on December 2, eight-block residential area in Woodland Hills in the San Fernando Valley turns into a magical Christmas fairytale. Dressed to impress, the houses in this neighborhood compete with each other to win the title of the most lavish Christmas light display.
5966 Lubao Ave., Woodland Hills, CA 91367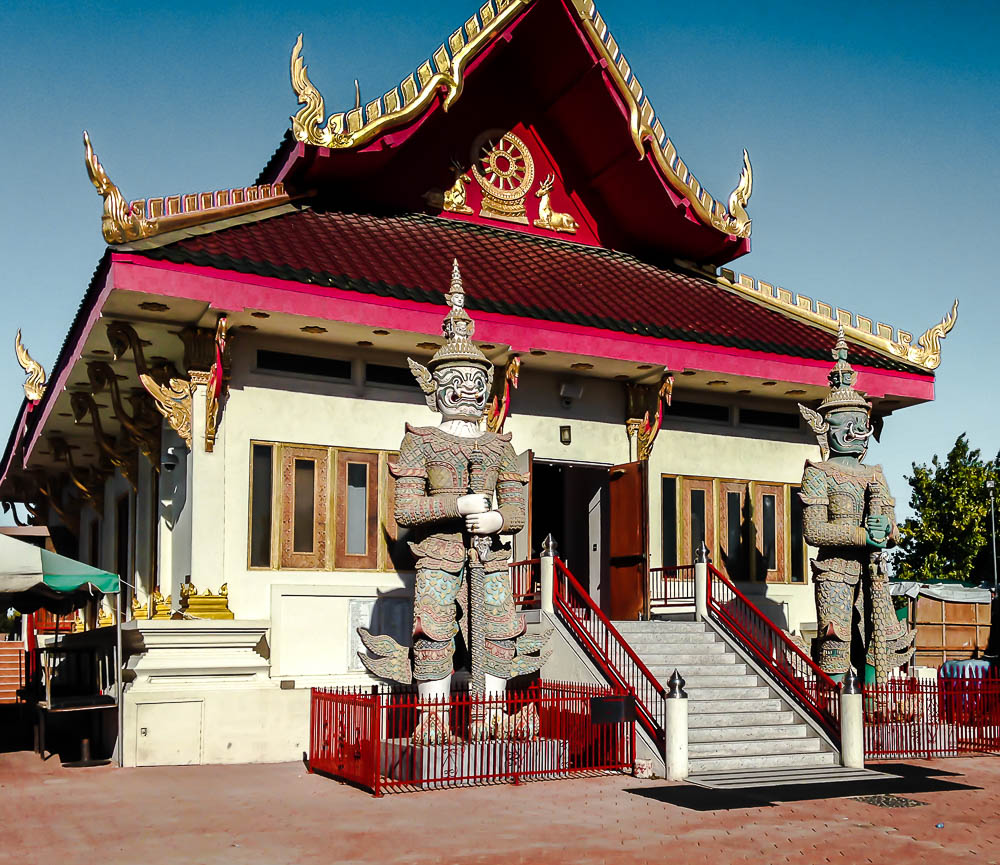 Wat Thai of Los Angeles
Wat Thai of Los Angeles brings some Asian vibes to the list of the hidden gems in the San Fernando Valley. The beautiful Buddhist temple is located on the corner of Coldwater Canyon Avenue and Roscoe Boulevard. It replicated a traditional Buddhist sanctuary in Thailand. Apart from religious services, Wat Thai of Los Angeles serves as a cultural center for the Southern California Thai community. Moreover, every weekend parking lot of the temple turns into "busy streets of Bangkok" with the best Thai food in town.
8225 Coldwater Canyon Ave., North Hollywood, CA 91605
Read more: The 5 Most Beautiful Asian Temples in Los Angeles Region You Must See
Hidden Gems in the San Fernando Valley of Los Angeles: Shopping
Eclectica Vintage Store
Hidden gems are associated with something old-fashioned and unique just like Eclectica Vintage Store in the San Fernando Valley portion of Los Angeles. The store surprises you with interesting finds such as junkie jewelry, vintage clothing and antique home décor pieces. Before heading to Eclectica Vintage, fill your pockets with cash though. The store doesn't accept any other types of payments.
5663 Lankershim Blvd., North Hollywood, CA 91601
The Iliad Bookshop
Every book enthusiast appreciates opportunity to add new books to his or her collection. But if instead of a brand new read these book lovers put their hands on autographed first editions, they feel like they just won a jackpot. The San Fernando Valley doesn't disappoint this type of visitors and rewards them with hidden gems on bookshelves of the Iliad Bookshop. The 20-year-old bookstore specializes in used books. Its inventory includes both bargain and exclusive pieces with the price tags of a few hounded to a few thousand dollars. The Iliad Bookshop not only sells, but also buys different kinds of used books. Therefore, you can use this opportunity to cash in on some of your old books and use the money to explore other hidden gems in the San Fernando Valley portion of Los Angeles.
5400 Cahuenga Blvd., North Hollywood, CA 91601