Let me present to you a foodie's guide to traditional local dishes you ought to try in Rome, Italy.
Last updated: September 19, 2023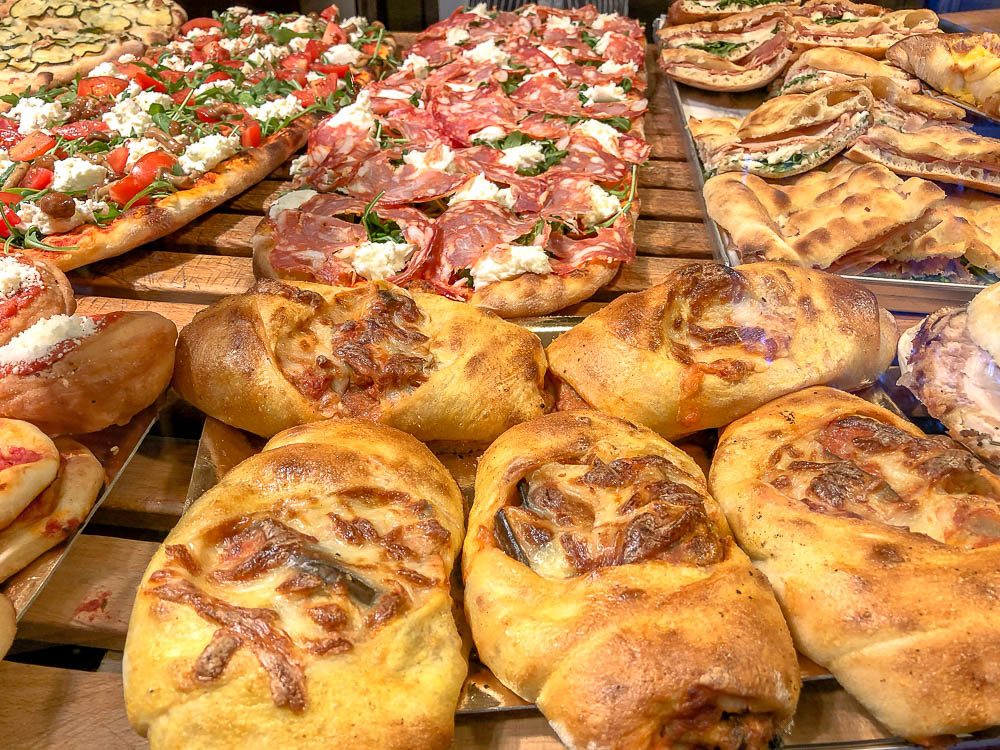 When in Rome, do like locals do and indulge in tons of carbs. No, not necessarily pastries or croissants. Leave those for Paris. Instead fill your plate with pasta or get a slice or better two of pizza. And don't forget to finish your meal with a little treat, high in carbs of course. You are in Rome, the capital of carbs, after all.
What's more? You can eat like a local in Rome and still stay on budget. This complete guide to traditional Italian delicacies is going to show you how.
TRADITIONAL ITALIAN AND LOCAL DISHES TO EAT IN ROME: SAVORY DISHES ON A BUDGET
Pasta is huge in Rome. There is literally not a day to go by without eating spaghetti or noodles in the capital of Italy. Delicious creamy pasta when you travel on a budget? It's easy! For all my fellow budget travelers, get your forks ready and try these local foods when you find yourself in Rome.
1. Spaghetti Carbonara
Every Italian chef is an absolute expert at preparing any traditional dishes. Moreover, she is convinced that her recipe is the only right way to make the food taste divine. Spaghetti carbonara didn't escape this fate. There are many variations of carbonara, one of the most popular local dishes in Rome that even budget travelers find hard to resist.
One thing about this dish, however, unites all great cooks of Italy. Roman spaghetti carbonara should never have cream added to it. Two main ingredients that differ this dish from other types of spaghetti or rigatoni are eggs and guanciale (cured pork jowls or cheeks).
The recipe is simple. You cook the port in fat and put it in the fresh spaghetti. The next step is to add raw eggs (some recipes ask for only egg yolk), cheese, and more fat if needed. And your first budget meal in Rome is ready.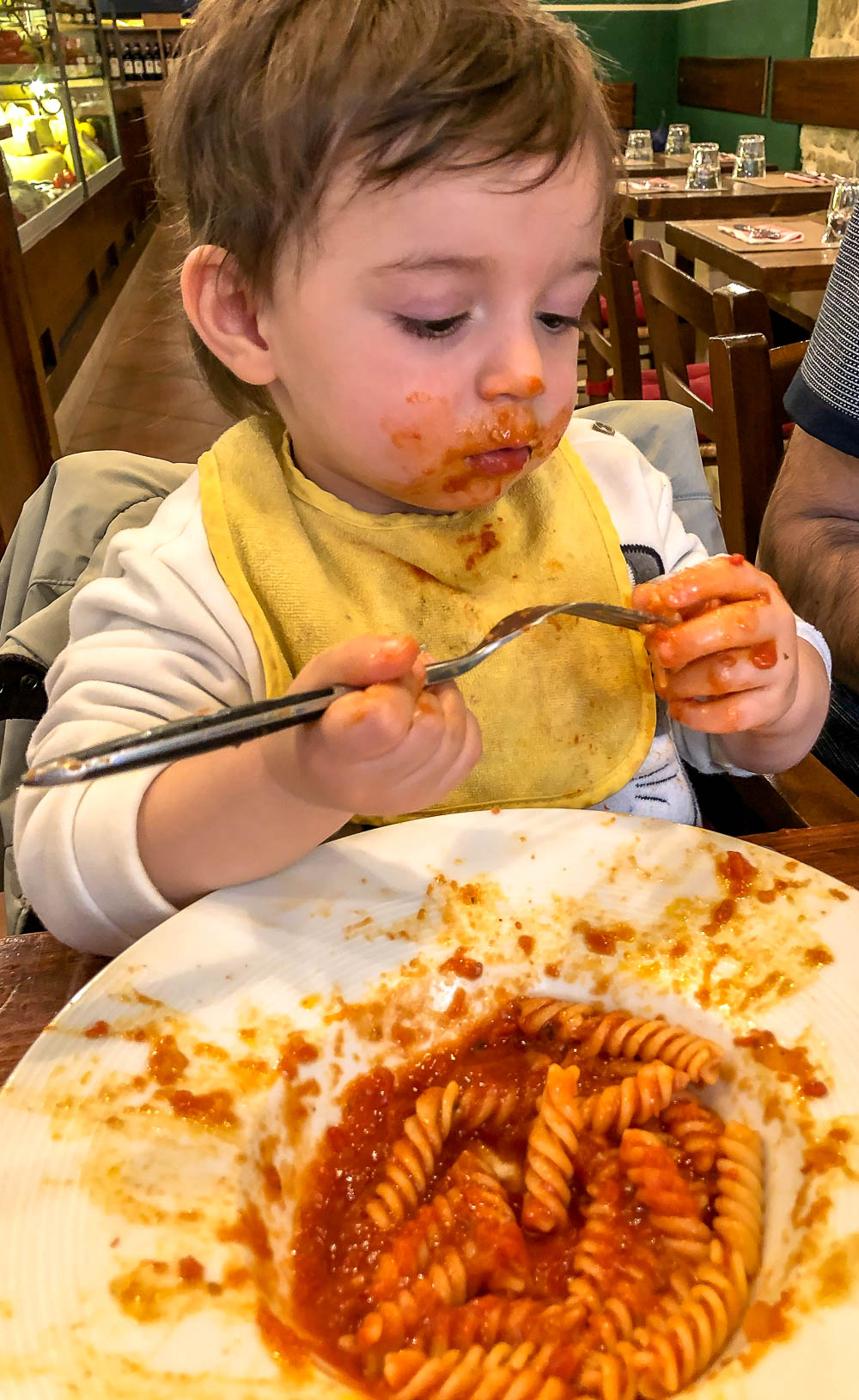 2. Bucatini Amatriciana
Bucatini amatriciana is a perfect local dish for those budget travelers who look for the creamiest pasta in town. The dish is similar to spaghetti carbonara with the exception that it uses bucatini noodles and amatriciana salsa.
The signature sauce includes guanciale, Pecorino cheese, tomato, white whine, black pepper, chili and sometimes onion. It goes very well with spaghetti with bigger holes to get soaked in all this creaminess.
3. Cacio e Pepe
In several Italian dialects, "cacio e pepe" means "cheese and pepper". This recipe stays true to its literal translation like no other traditional dishes you may eat in Rome. It's so simple that even kids can cook it. All you need is black pepper, Pecorino Romano cheese, pasta, and a bit of starchy cooking water. Easy, delicious, and budget friendly!
4. Suppli
Exploring Rome certainly takes lots of energy. Often in a rush to see many landmarks of the city visitors simply don't have time for a proper meal. In that case suppli come to your rescue. Suppli are deep-fried risotto balls with bits of meat and tomato sauce (classic recipe) and gooey mozzarella cheese in the center. One of the most popular traditional Italian foods, this snack gives your the necessary boost to continue your sightseeing activities in Rome for hours on end.
5. Trapizzino
Trapizzino is one of the newest culinary inventions in Rome. This street food combines elements of pizza and sandwich. The principle is simple. A pizza pocket gets stuffed with Roman classics such as eggplant Parmesan, meatballs, chicken cacciatore and tongue with sauce.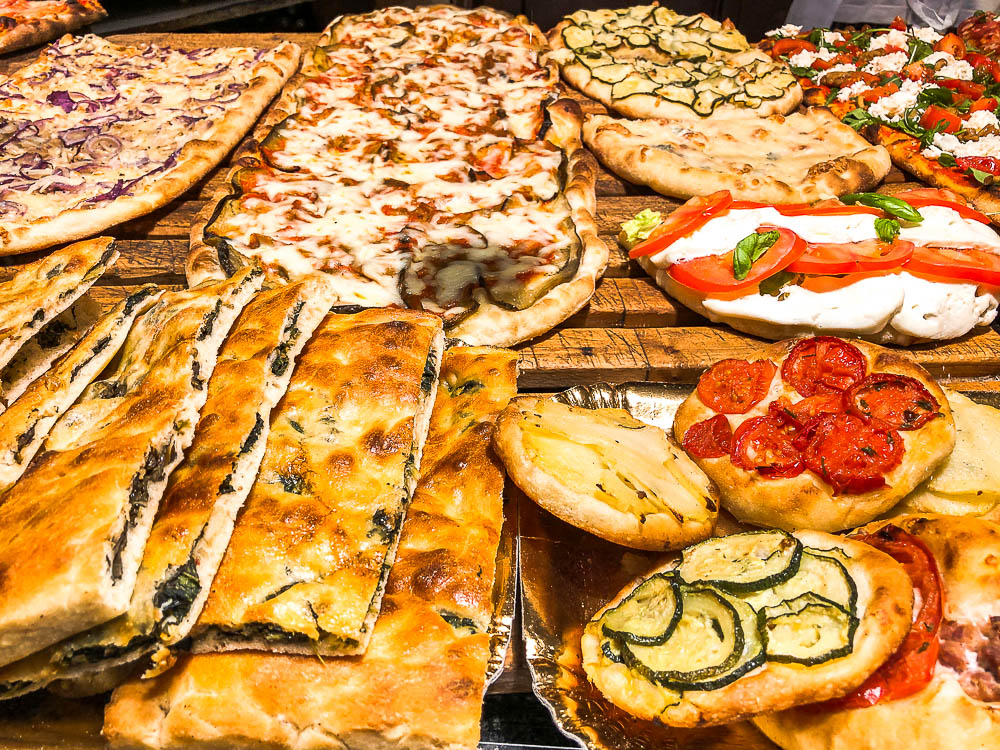 6. Pizza al Taglio
Pizza is a signature dish in every part of Italy. In Rome, though, this food takes a completely unconventional look. In many cases, pizza in Rome doesn't have a classic round shape. Rather, dough is baked in square pans with variety of toppings such as marinara (tomato sauce), cheeses, vegetables, and meats. Furthermore, in Rome pizza is called pizza al taglio, which means "pizza by the slice". Usually you choose a selection of slices of different kinds of pizzas and pay per kilo for all.
7. Baccala
Baccala is one of those traditional Italian dishes that gos well with both budget travelers and gourmets dining in expensive restaurants of Rome. As street snack, baccala or salted cod is fried in butter and served hot.
8. Porchetta
Non-vegetarian budget travelers are especially happy about porchetta, one of the heaviest local foods to eat in Rome on a gloomy day. The main ingredient includes slow-roasted pork seasoned with salt, pepper, and herbs. The meat is usually served as a sandwich filling.
9. Artichokes
Every place has at least one food that signifies its culture and traditions. In Rome such a dish is artichoke. A simple vegetable steals hearts and stomachs of locals and visitors alike. In fact, in late November and springtime, when artichoke is in season, Romans seem not to have enough of it.
There are different ways of cooking and eating this favorite food. The most popular of them are Jewish (artichokes are deep-fried) and Roman styles (Carciofi alla Romana or artichokes stewed with garlic, mint and parsley).
Restaurants usually serve it as a side dish. Many budget travelers, however, like the convenience of eating Roman local foods in the form of a sandwich with creamy and delicious filling. Quite often you can find pizza with different artichoke toppings.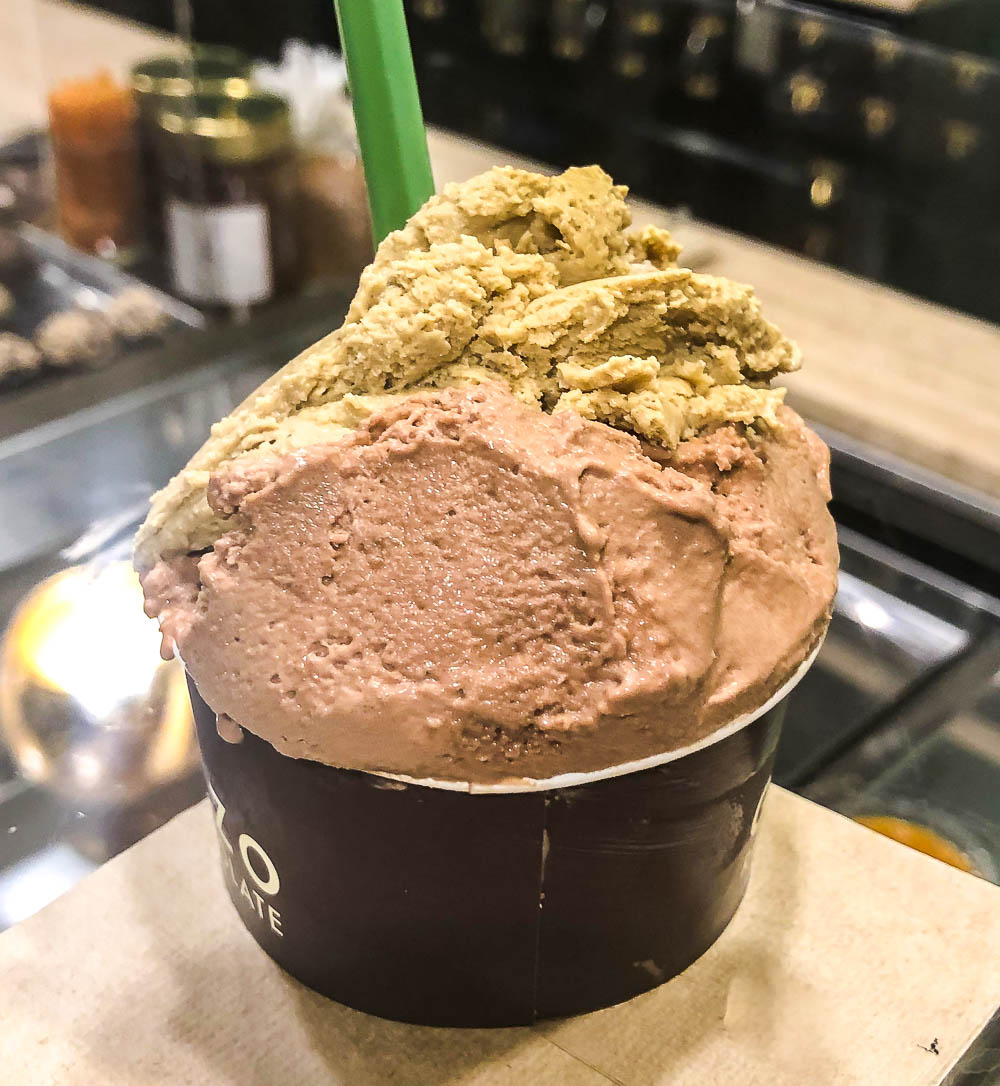 A BUDGET TRAVELER'S GUIDE TO TRADITIONAL ITALIAN DISHES TO TRY IN ROME: SWEETS
10. Cannoli
Cannoli came to Rome from Sicily. This fact, however, never got in their way of the dish to become one of the most favorite local treats. Cannoli consist of tube-shaped shells filled with a sweet, creamy ricotta mixture.
11. Gelato
Your visit to Rome can't be complete without feasting on traditional gelato. This Roman popular frozen desert literally overwhelms you with a variety of flavors. From chocolate to fruity and nutty flavors… You can't resist the temptation to try them all.
TIP: Make sure to read labels as many places sell gelato with lots of artificial colors and other not so healthy ingredients. For vegan and health-conscious budget travelers, Grezzo Raw Chocolate offers some of the best local gelato and other sweets in the heart of Rome.
12. Maritozzi
Traditional Roman breakfast can put a frown on the face of a nutritionist. Cappuccino and a pastry is not what they'd recommend to eat in the morning. Locals in Rome, however, don't give up on their favorite foods. Thus, alongside croissants you can find maritozzi, sweet bread rolls filled with whipped cream, on breakfast tables all over Rome.
Read More