Eating affordable vegan food in Amsterdam is not impossible. On the contrary, with abundance of cheap vegan restaurants, you're encouraged to go vegan in Amsterdam at least for one day. Not only your body, but also your tight budget will thank you later.
Where to Find Affordable Vegan Food in Amsterdam
I traveled to Amsterdam on a budget. And even though big cities nowadays offer plenty of vegan restaurants and cafés, I had some doubts about it in Amsterdam. First, often eating vegan can take a heavy tall on your budget. Despite lower prices on produce used to make a vegan meal, the concept of serving vegan food still seems exotic. Therefore, prices can skyrocket, making it difficult to find affordable vegan food in any city including Amsterdam. Second, as I didn't come across a lot of information about vegan food in Amsterdam prior my trip, I feared that this visit could be very challenging. What else would you expect from home country of Gouda cheese?
However, all my doubts vanished almost instantly. Amsterdam's vegan abundance surpassed all my expectations. Be it a sit-down dinner or a quick bite on the go, Amsterdam knows exactly how to keep its vegan budget travelers happy. Without further ado, here are my favorite places that offer affordable vegan food in Amsterdam.
WHERE TO SEARCH FOR AFFORDABLE VEGAN FOOD IN AMSTERDAM:
Maoz Vegan or Maoz Vegan Fast Food, Amsterdam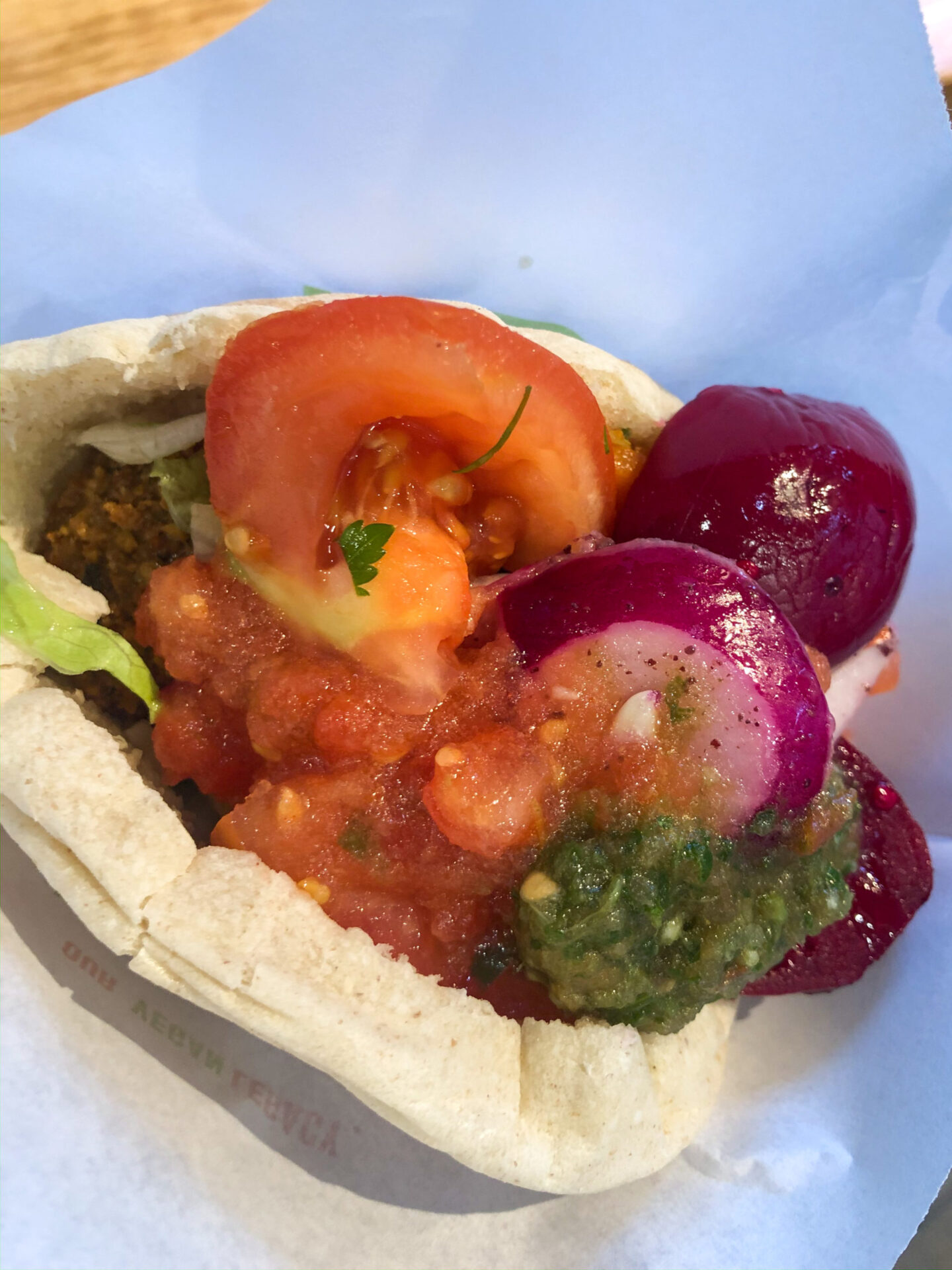 Maoz Vegan became my introduction to affordable vegan food in Amsterdam. What surprised me the most is not the word "vegan" in the name of the outlet. The first Maoz restaurant I walked into near Amsterdam Centraal was called Maoz Vegan Fast Food. Not a fast food eater, I was too hungry and too curious to pass by.
Maoz Vegan's menu is simple. It includes mostly vegan pita pockets with falafels, eggplants, or mushrooms, and other vegetables. You can also get vegan fries and orange juice to go with your meal. The whole concept is very similar to In-N-Out Burger fast food restaurants in California. It's fast, affordable, and delicious. On top of that, all you can eat at Maoz is vegan.
Soup en Zo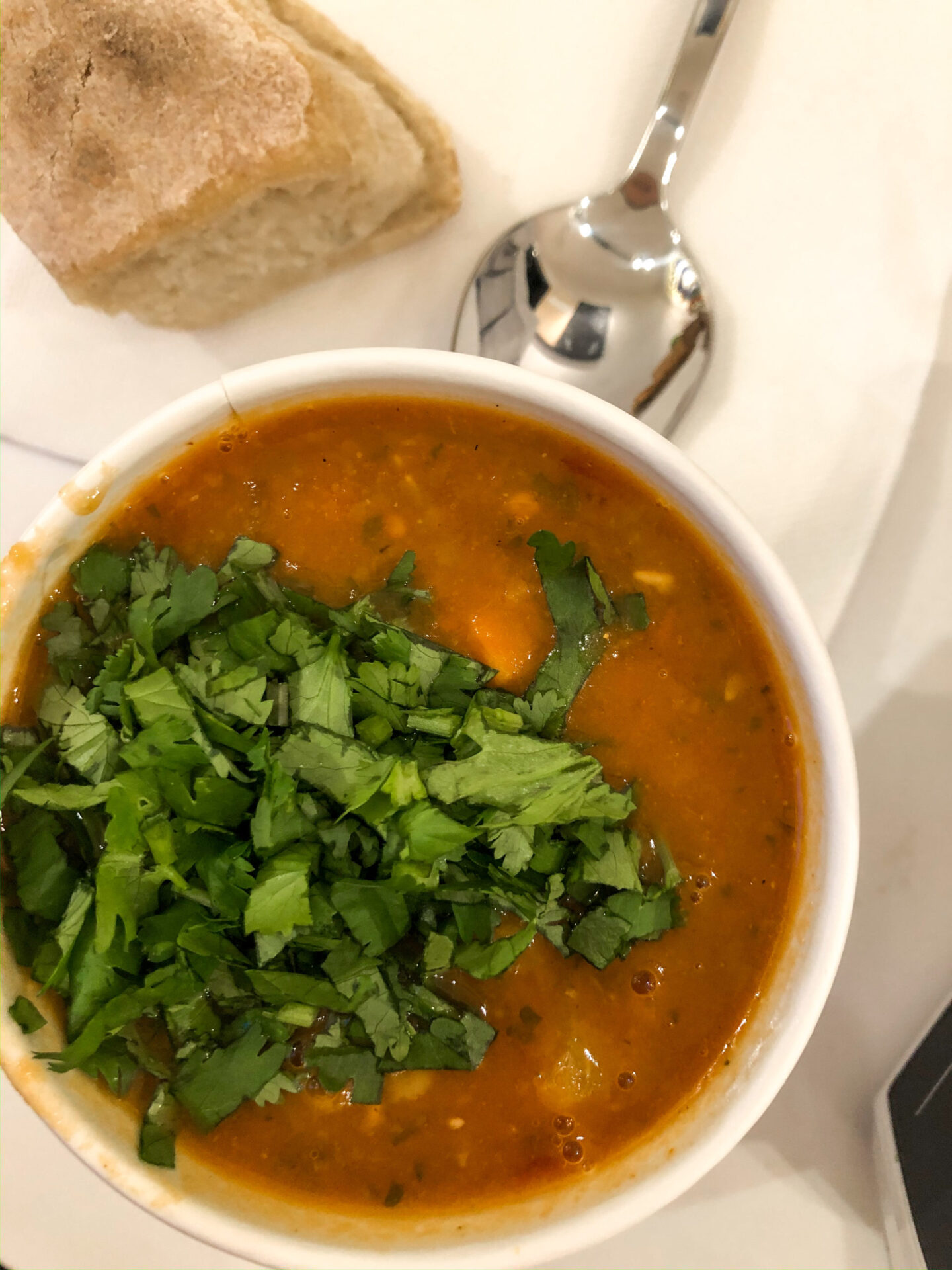 With three locations in Amsterdam city center, Soup en Zo focuses mostly on affordable vegetarian and vegan options such as soups and fresh salads. The price depends on the size of your meal. Thus, you can pay anywhere from five to eight euros for a cup of soup of your choice. If you ask me, their Harira, North-African split pea soup with mint, is one of the best vegan choices on a cold afternoon.
Stach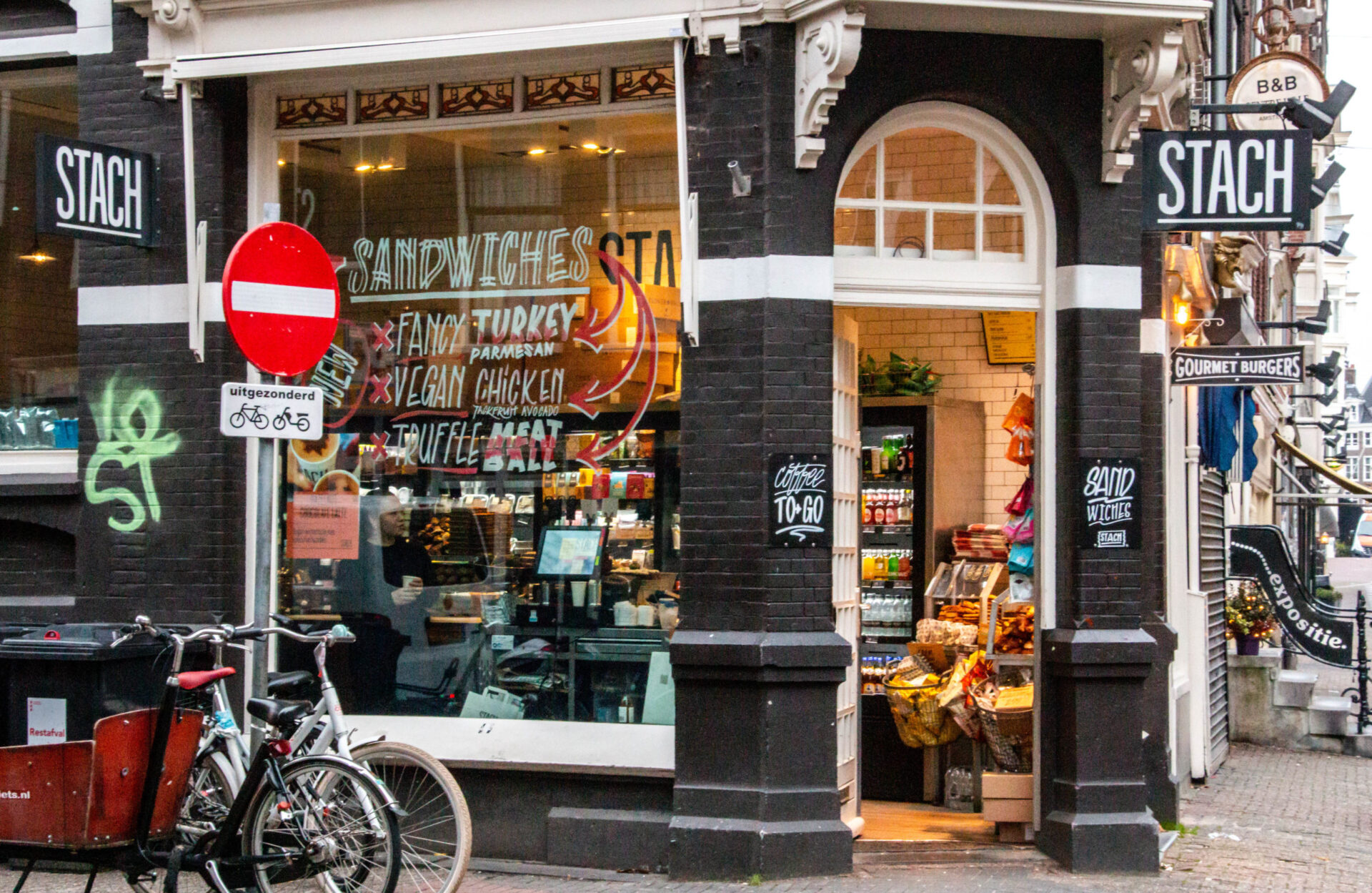 Amsterdam locals and visitors who've been to the city before might disagree with me on it. But I had my fair share of affordable vegan Buddha bowls and sushi from Stach when visiting Amsterdam. However, not all Stach Food sores are the same. Some of them look more like deli and bakery cafés with just a few vegan options. Others have whole range of premade vegan bowls, soups, salads, juices, cakes, and pastries. The food is always fresh and delivered daily.
Albert Heijn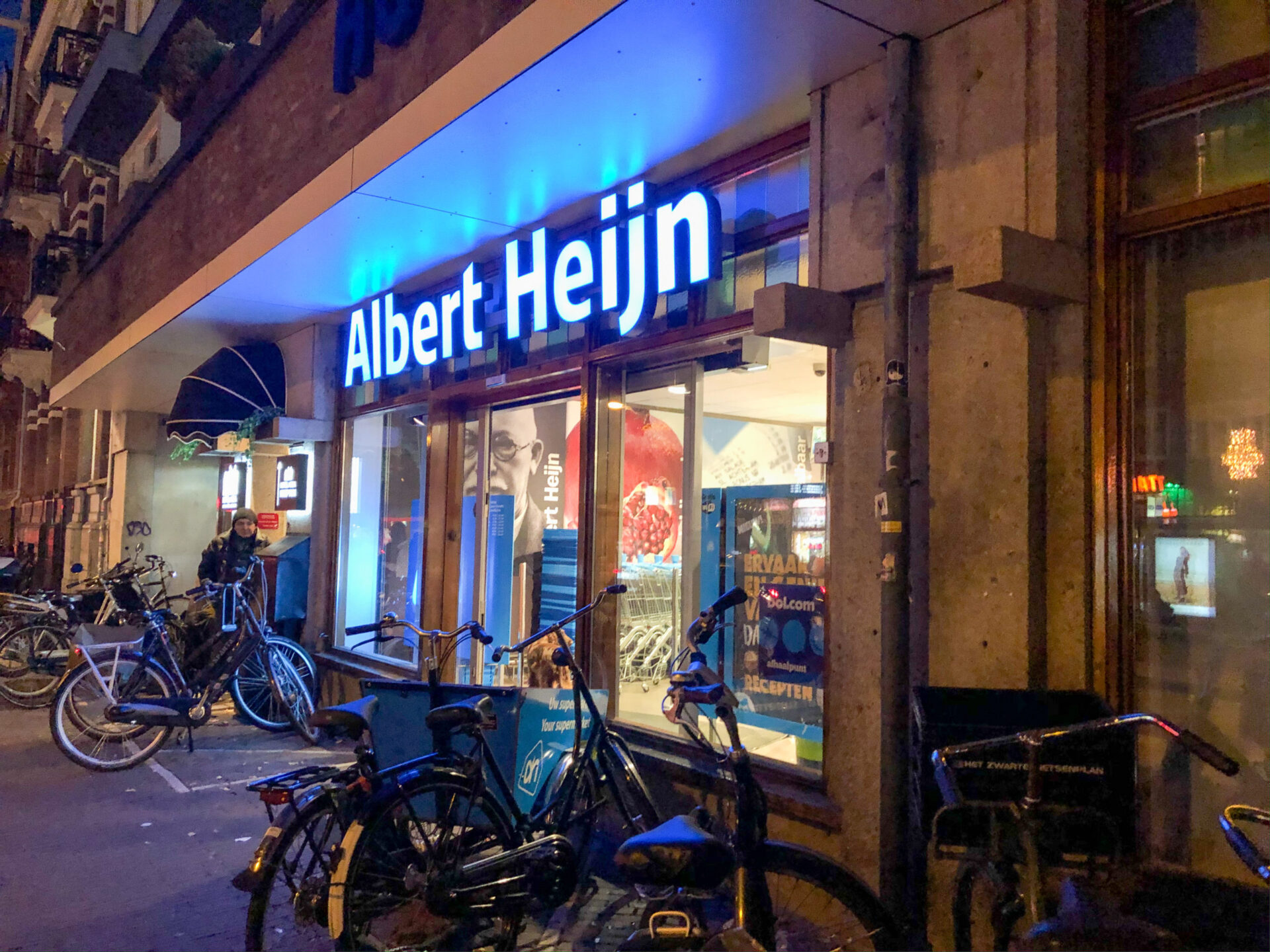 If you have kitchen and like making your own meal, Albert Heijn is at your service. The largest and popular supermarket chain in Amsterdam, it sells fresh fruits, vegetables, bread, and anything you need to prepare your own affordable vegan meal. Even those who don't have access to the kitchen can get ready to eat vegan wraps and salads here. The store also carries different kinds of smoothies, juices, canned teas, and coffees. I frequented Albert Heijn to get my daily orange juice that I was squeezing myself. And it cost less than three euros for a 500 ml bottle. Can you beat this price?
The Happy Pig Pancake Shop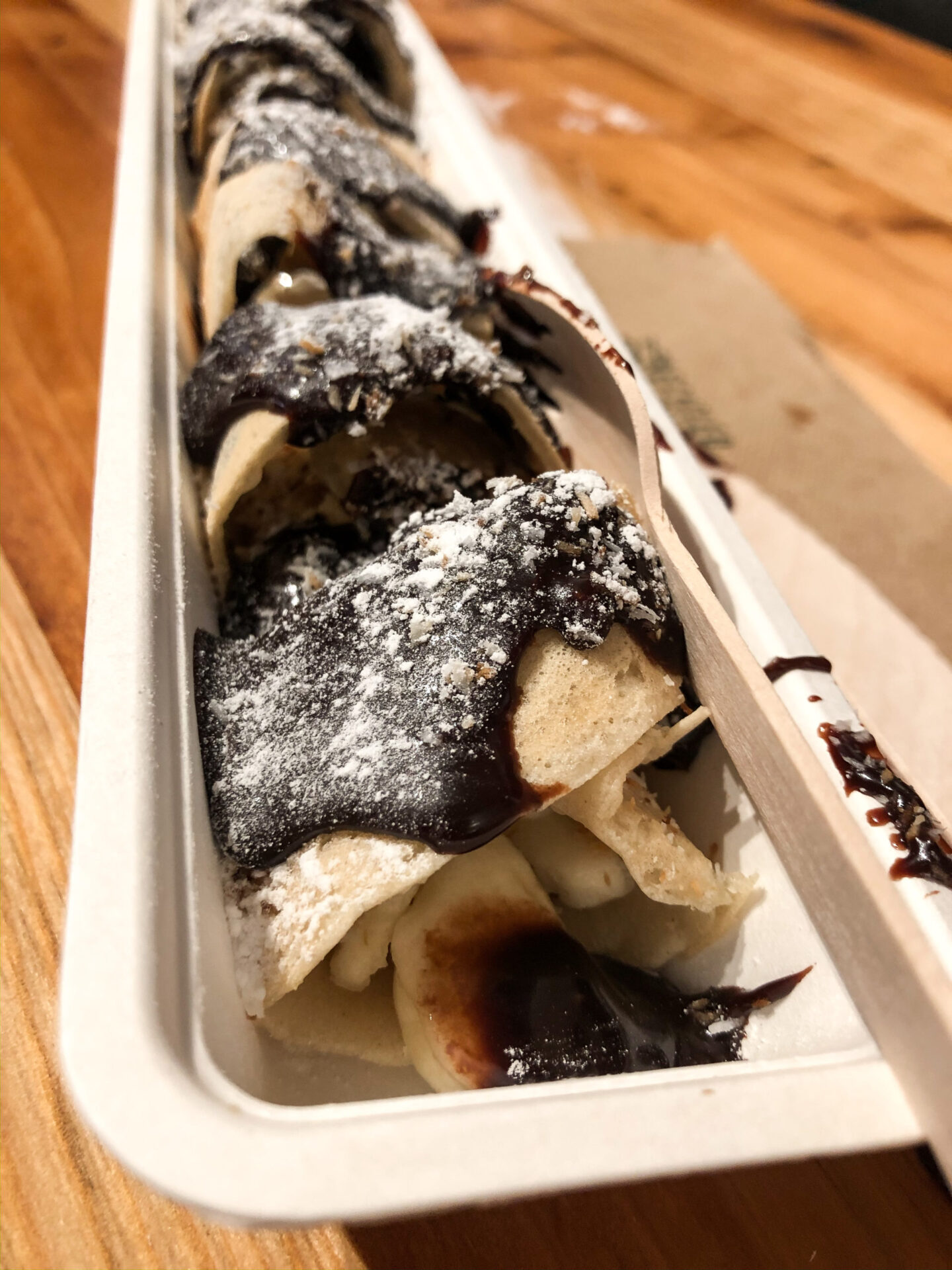 Having a serious sweet tooth, I couldn't afford not to treat myself to some vegan goodies. The Happy Pig Pancake Shop came in handy. Never mind the fact that I had to circle around a bit to find it. Not particularly affordable, this place serves some of the best vegan pancakes and crepes in Amsterdam. You can build your own pancake or go with everybody's sweetheart, pancakes with banana, chocolate-hazelnut sauce, and toasted almond slices.
ICE Bakery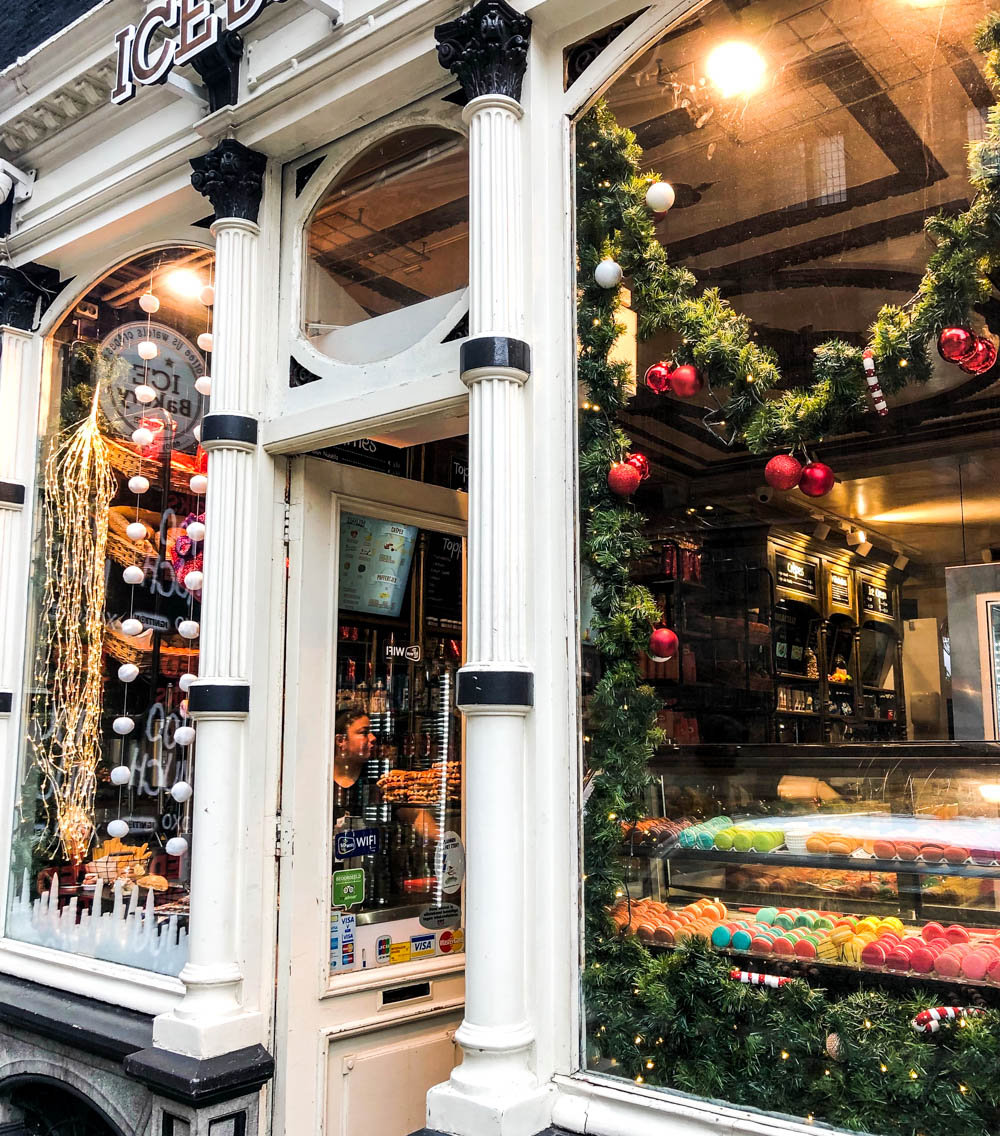 If pancakes are not your cup of tea, head over to ICE Bakery for that delicious, quite affordable vegan desert in Amsterdam. Vegan choices here are limited to just a few kinds of muffins and other pastries. Nevertheless, it doesn't stop you from satisfying your sugar cravings with some cherry muffins and gooey brownies.
Learn more about traveling as a vegan in the Netherlands:
Read Also: