A visit to Zaanse Schans opens doors to rich Dutch culture. From Dutch countryside to working windmills, and clog-making workshop, the place strives to preserve old traditions and customs. One visit to Zaanse Schans is enough to completely change your impression of the country.
How to Visit Zaanse Schans
Zaanse Schans is a small town about twenty-minutes drive from Amsterdam. Tiny, tidy, and beautiful like most places in the Netherlands, it might seem not worth visiting at first. It could be true if not for its cultural heritage that tells you more about the culture of the Netherlands that any museum in Amsterdam. A visit to Zaanse Schans brings you closer to original traditions and customs of this incredible country.
Truth to be told, I didn't plan paying a visit to Zaanse Schans in the first place. It sounds strange to me now, but I didn't even know about this little town before traveling to the Netherlands. Only after a few days in Amsterdam, I wondered if there was something else that I could do before going back to Dublin. Google kept showing Zaanse Schans as a must-visit place near Amsterdam. If I needed any other persuasions, images of traditional windmills in Zaanse Schans promised to show different side of the Netherlands. I was definitely going to visit Zaanse Schans.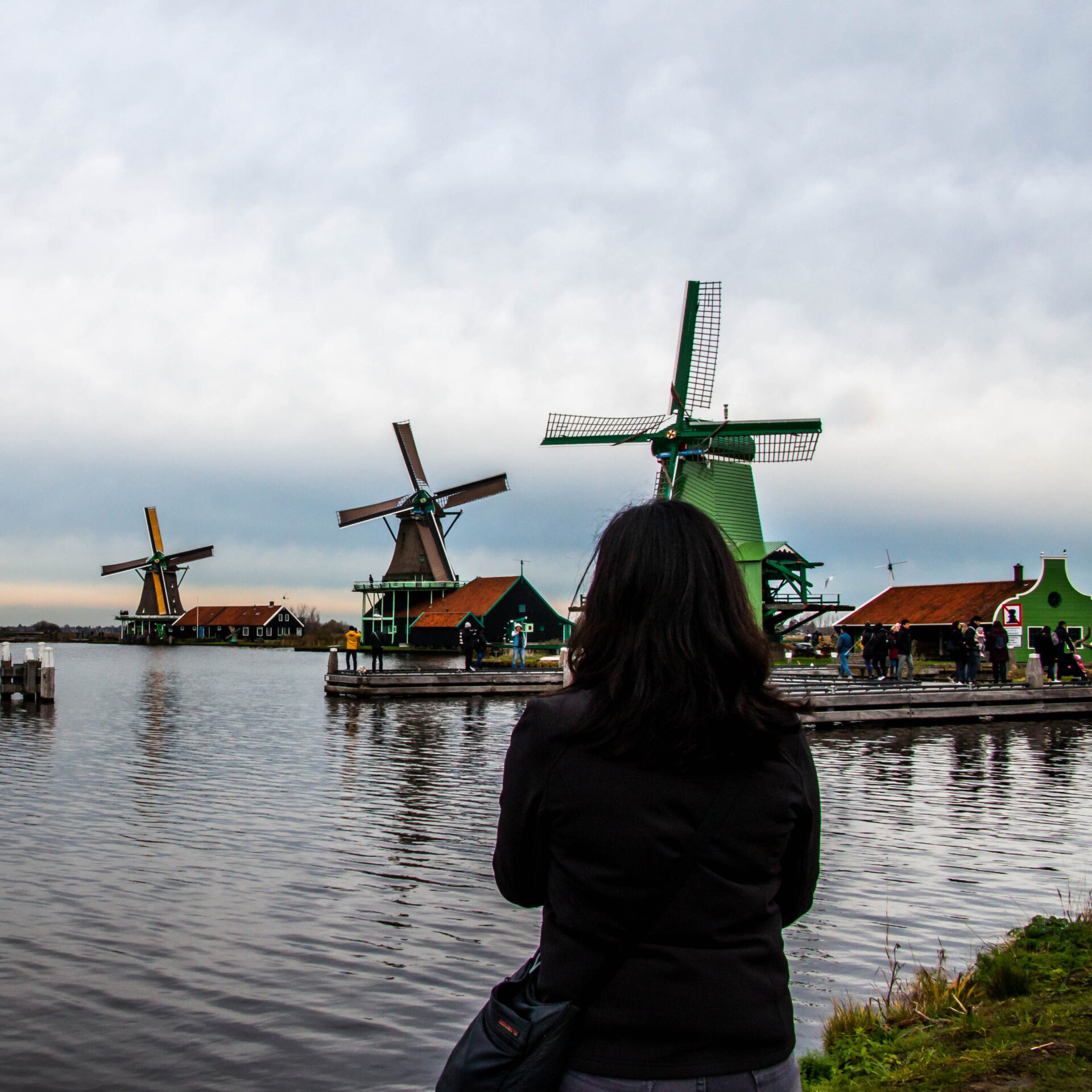 How to Get to Zaanse Schans
Close proximity of Zaanse Schans to Amsterdam makes it a perfect full or half-day trip from the city. On top of that, the question of how to get to the town disappears before you even start thinking about it. You have a few options how to visit Zaanse Schans.
Bus. Buses are one of the easiest ways to reach Zaanse Schans from Amsterdam Centraal (central train station). It takes approximately forty minutes to get to the town. You need to get a new ticket even if you have Amsterdam transport pass already.
Train. You can also take a train to Zaandijk Zaanse Schans station. The journey from Amsterdam Centraal to this train station takes approximately seventeen minutes. However, from there you'll need to walk another ten minutes to Zaanse Schans.
Guided Tours. More expensive than other two options, guided tours include round-trip shared transfer and local guides.
Car. You can also rent a car and visit Zaanse Schans at your convenient time.
Bicycle. On a good day, it's possible to bike to Zaanse Schans. Take ferry from Amsterdam Centraal to Amsterdam-Noord and start your journey. Make sure to have a detail map with you.
Things to Do during your Visit to Zaanse Schans
Learn about green houses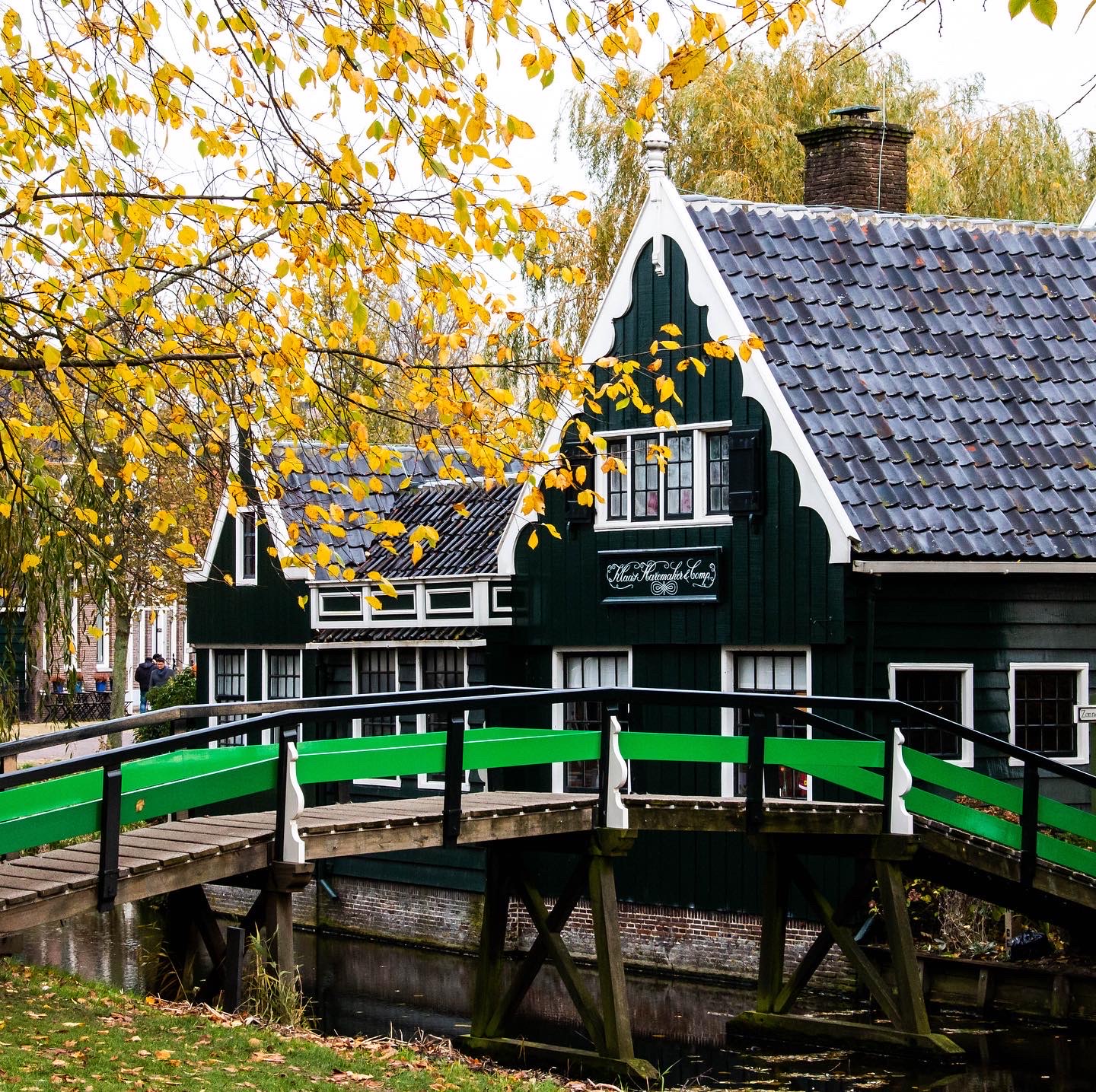 Despite its authentic look, Zaanse Schans is not an original Dutch village. The place was built in the sixties – early seventies of the 20th century as an open museum of Dutch history. During this time old buildings from all over the Zaanstreek were moved here. The houses were transferred using lowboy trailers. Some structures were disassembled into parts with specific numbers and assembled to their original states in Zaanse Schans.
Thus, even though the location is not original, everything including the famous green houses in Zaanse Schans is authentic. Moreover, the outdoor museum doesn't limit itself to just preserving and presenting the culture of the Netherlands. Majority of the green houses in Zaanse Schans fulfill their primary function and serve as homes for real people.
Visit working windmills in Zaanse Schans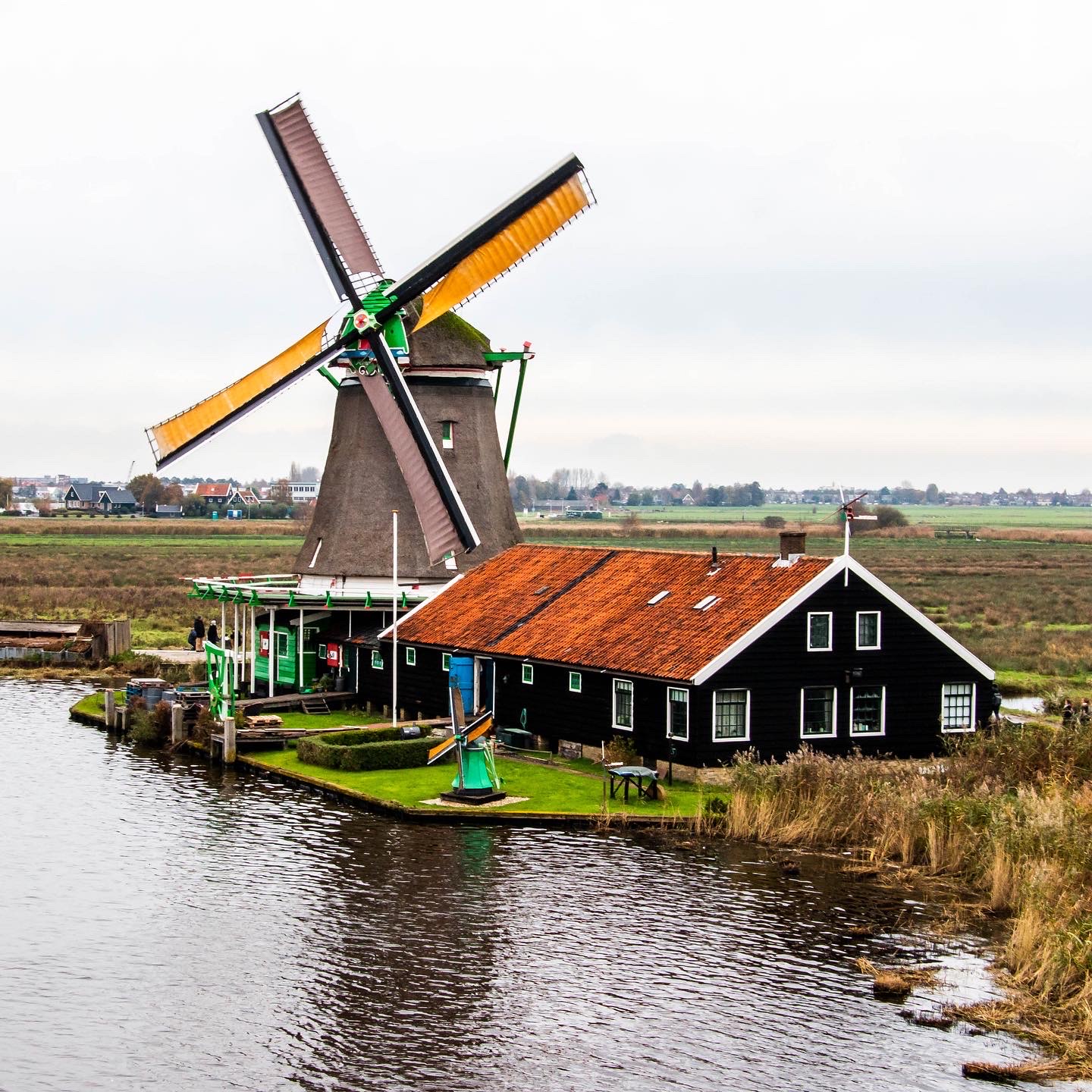 The Dutch are proud of their history. They preserve their cultural heritage and pass it down from generation to generation. Therefore, despite obvious unprofitability, 90% of the windmills in the Netherlands are still in working conditions. One visit to Zaanse Schans provides undeniable evidence of this. From De Kat, the last paint windmill in the world, to De Zoeker, and De Bonte Hen, the windmills keep slowly turning their sails. But don't stop just there. Climb up to the deck of the windmill via its steep, narrow stairs and enjoy panoramic views of Zaanse Schans.
Cheese tasting at Catharina Hoeve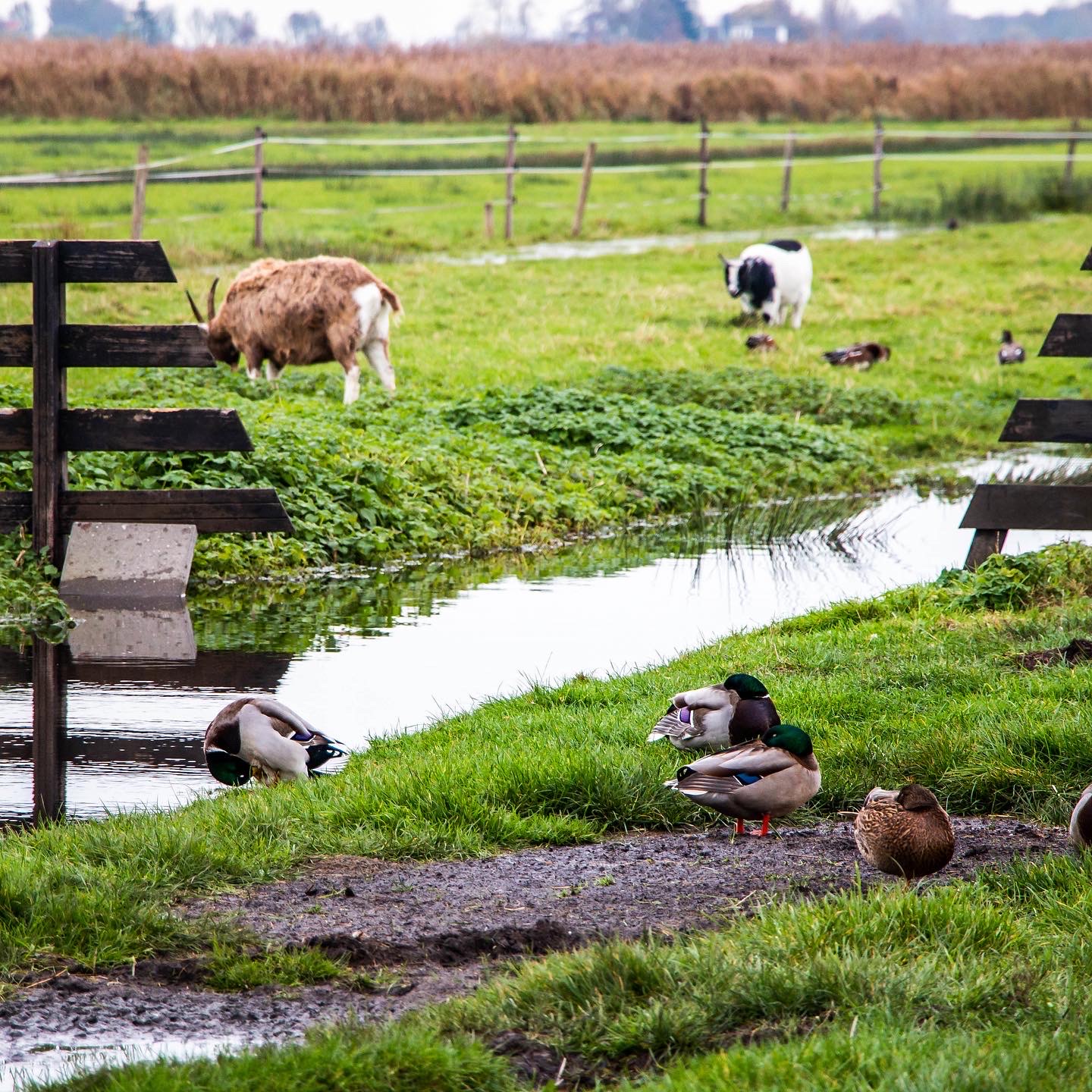 One thing is certain. A visit to Zaanse Schans won't leave you hungry (not a case for vegans though). After exploring and admiring the famous windmills, head over to the Catharina Hoeve, an authentic 17th century cheese farm. Here you're welcome to join a short presentation about the history of the farm. Moreover, you'll get an idea how the world famous Gouda cheese is produced in accordance with an old Dutch recipe. And the grand finale of this part of your visit to Zaanse Schans is free cheese tasting in farm's shop. After sampling approximately forty different kinds of cheese, you might even consider becoming a cheese degustator.
Get a pair of clogs at Kooijman Wooden Shoe Workshop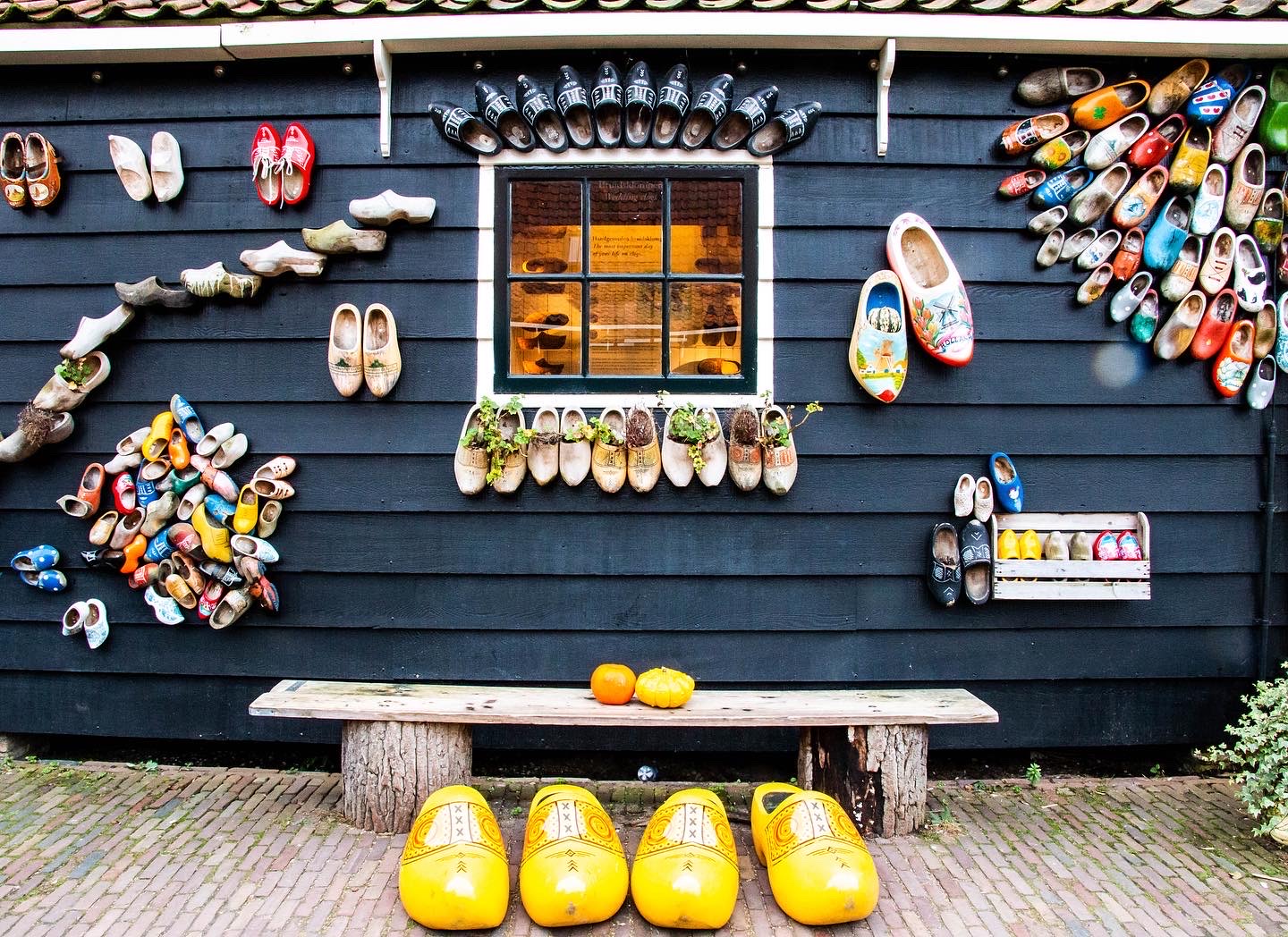 Another essential part of Dutch culture is clogs. Even today a real Dutchman has at least one pair of wooden shoes. As a reminder of your visit to Zaanse Schans you can get your own pair of the traditional clogs at Kooijman Wooden Shoe Workshop. In case the clogs of your real size don't fit in your luggage, settle for mini clogs or all sorts of souvenir clogs. On top of that, stay in the workshop long enough to see the whole process of making a pair of the clogs. This mini show can become the highlight of your visit to Zaanse Schanse after climbing up the windmill, of course.