San Diego doesn't reveal its hidden gems easily. It takes time and determination to go off the beaten path to find these city jewels. But once you succeed, you can't get enough of these 13 beautiful hidden gems of San Diego.
Last updated: January 23, 2023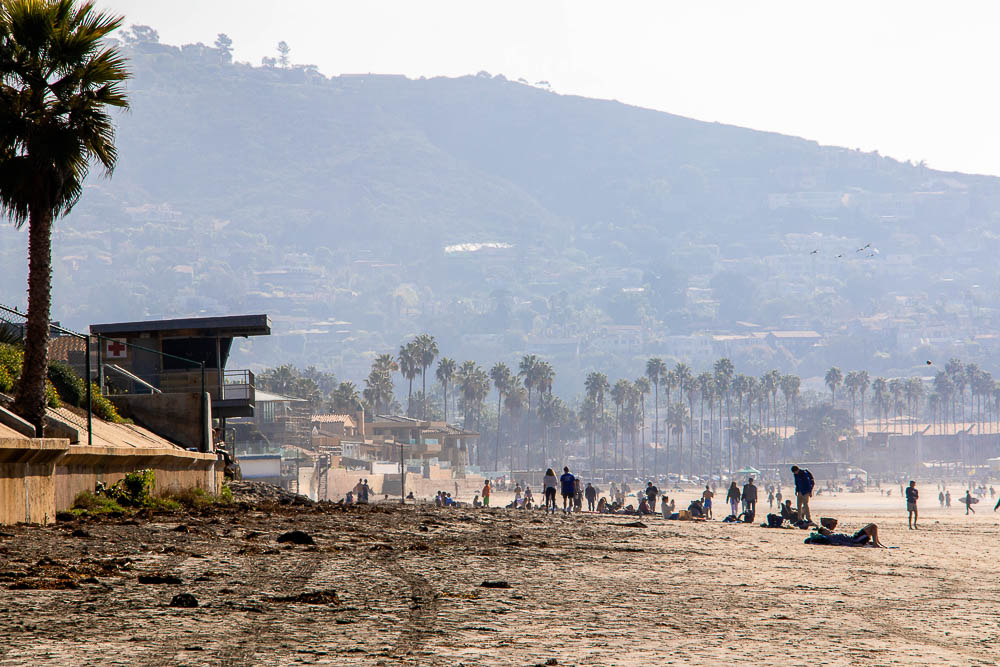 Off the Beaten Path: Top 13 Hidden Gems in and Near San Diego, California
We've been to San Diego many times and visited some of its most popular attractions. Despite swirling crowds, all of these places surprise with something new every time you go there. The tourist destinations are indeed alluring. But what can you expect from not so popular, hidden gems of San Diego? It doesn't take long to find out. Without further ado, let's get off the beaten path and explore the top thirteen hidden gems in San Diego.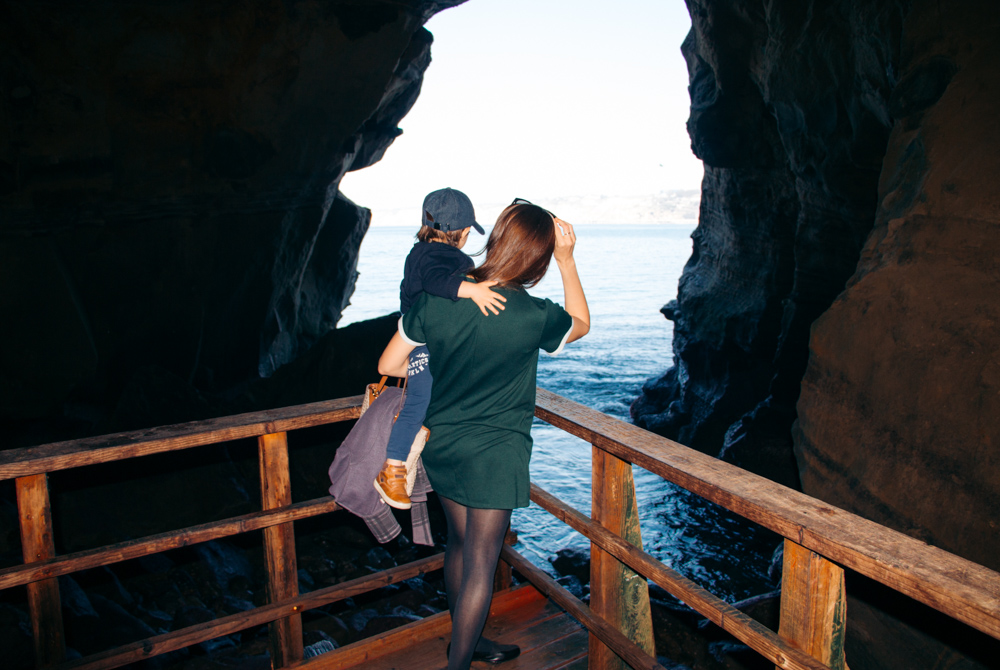 THE 13 BEST HIDDEN GEMS IN SAN DIEGO
1. Sunny Jim's Sea Cave
Address: La Jolla, CA 92037
Normally you wouldn't know about the existence of the Sunny Jim's Sea Cave unless a local tells you about it. Even some residents of the city are not aware of this secret spot, let alone how to get here. Unlike the other hidden gems in San Diego, the Sunny Jim's Sea Cave can be reached only through a man-made tunnel.
The entrance to the tunnel with its 145 steps is located inside The Cave Store on La Jolla's oceanfront Coast Blvd. One of the most alluring hidden gems in San Diego is open daily on a reservation basis. On Tuesdays and Thursdays, you can show up and explore the tunnel and the cave on your own. No reservation is required on these days.
Update: As of 2022, you can visit the Sunny Jim's Sea Cave 7 days a week, from 9:00 am until 4:30 pm.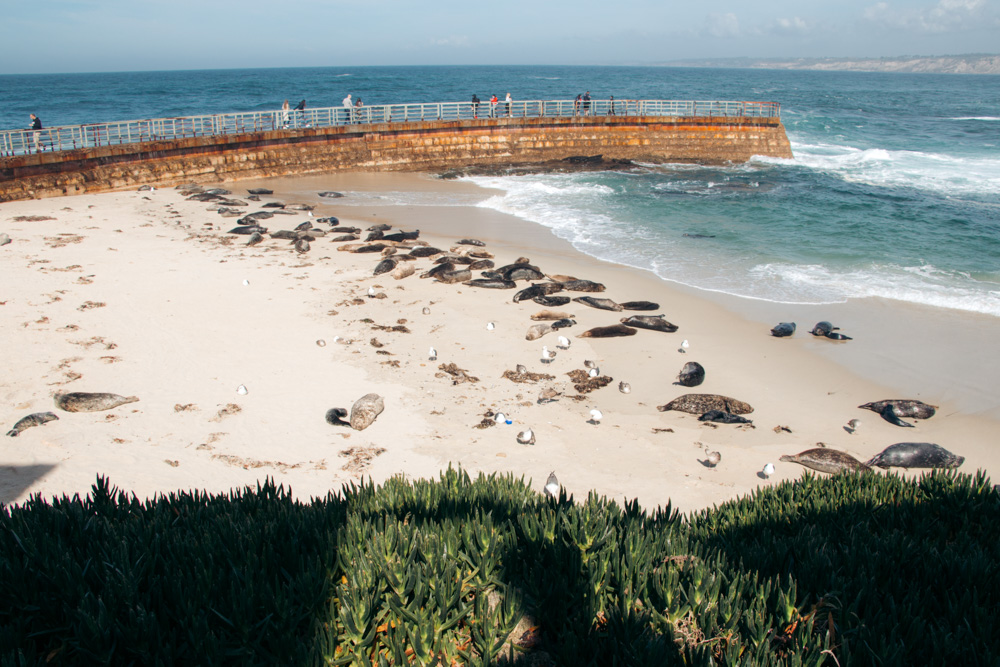 2. Children's Pool
Address: 834 Coast Blvd S, La Jolla, CA 92037
The crown jewel of San Diego, La Jolla is packed with secret places. A ten-minutes walk from the Sunny Jim's Sea Cave takes you to the next gem in the city. Known as Children's Pool, this small beach has become a favorite spot of local seals and occasional sea lions. Protected by a concrete seawall, Children's Pool provides enough warmth and safety for the mammals to bask in the sun all year round.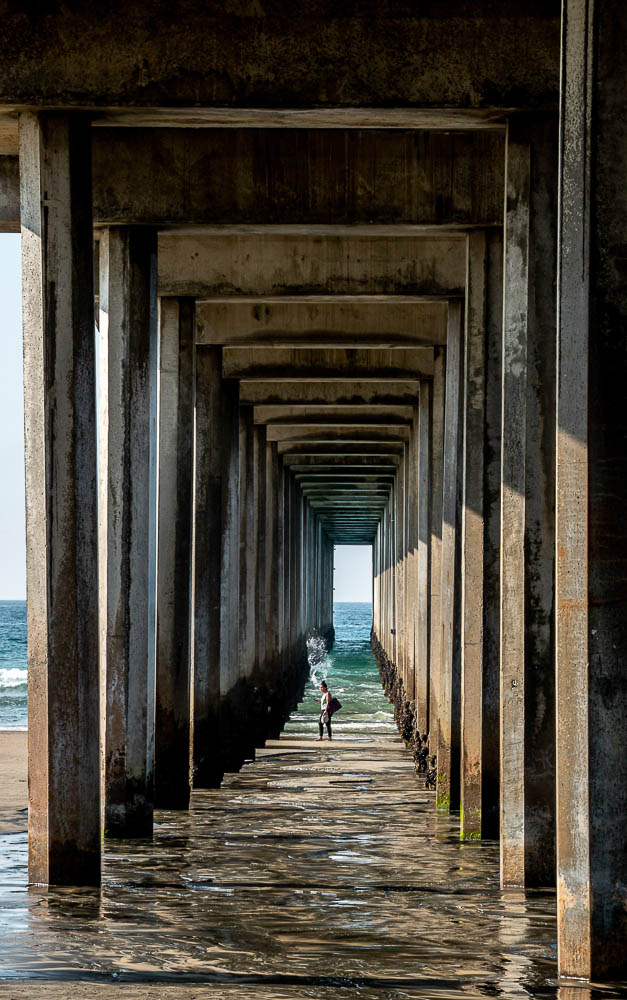 3. Ellen Browning Scripps Memorial Pier
Address: 8650 Kennel Way, La Jolla, CA 92037
It might sound strange to add the Scripps Pier, one of the world's largest working piers, to the list of the hidden gems in San Diego. The structure is a part of the Scripps Institute of Oceanography and is usually closed to the public. Yet the beach under the massive pier is what makes it irresistible.
TIP: Head to this San Diego's gem early in the morning or at sunset for perfect pictures approved even by Instagram.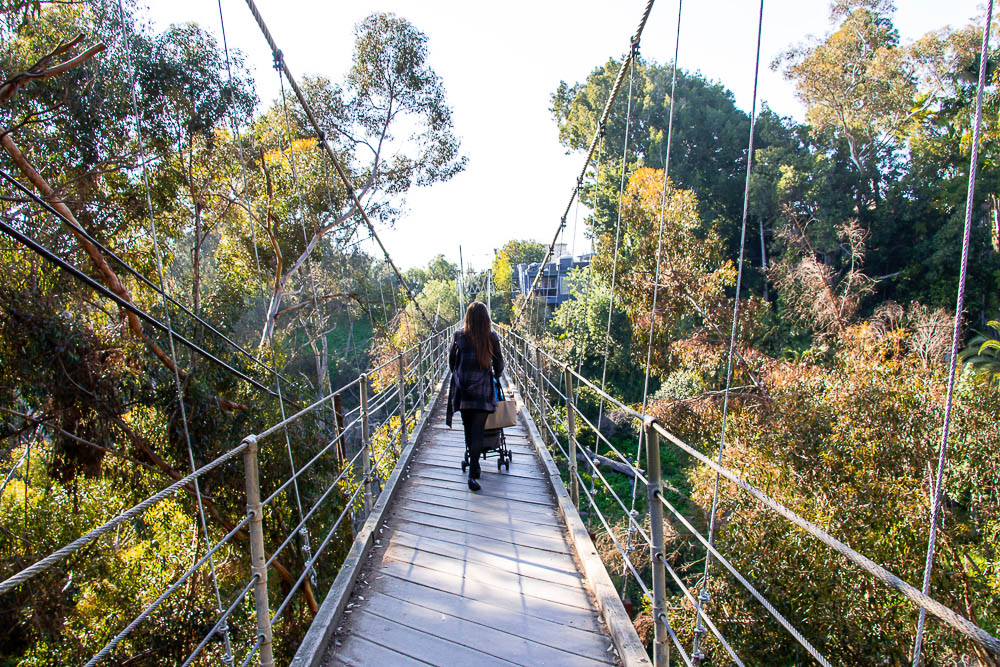 4. Hidden Gems in San Diego: Spruce Street Suspension Bridge
Address: W Spruce St, San Diego, CA 92103
San Diego is famous for beautiful beaches and perfect weather all year long. The last thing you'd expect from the city is to offer you an opportunity to battle your fear of heights. And yet this it exactly what San Diego intends to do by inviting you to take a walk on its suspension bridge.
The pedestrian Spruce Street Suspension Bridge was built in 1912. Its main purpose was to connect neighborhoods located on the opposite sides of Kate Sessions Canyon. Today, it's a fun activity for those who are on good terms with the height.
5. The SS Monte Carlo Shipwreck
Mystery and a slew of tales envelope the most secluded hidden gems in San Diego that still guard their secrets. Once a striking casino ship frequented by Hollywood celebrities, the SS Monte Carlo rests near Coronado Shores Beach today. The steel lady, however, is not very friendly, keeping to herself and exposing her face only at low tide.
They say, when the SS Monte Carlo drifted onto the beach in 1937, it had over $100,000 worth of silver dollar coins on board. Nobody claimed neither ownership of the vessel nor the money it stored. The treasure might still be hidden deep in the ocean near San Diego, giving the rise to endless speculations and occasional adventures. 
Location: One of the most intriguing hidden gems in San Diego, the wreck lies in shallow water southwest of the famed Hotel Del Coronado (1500 Orange Ave, Coronado, CA 92118).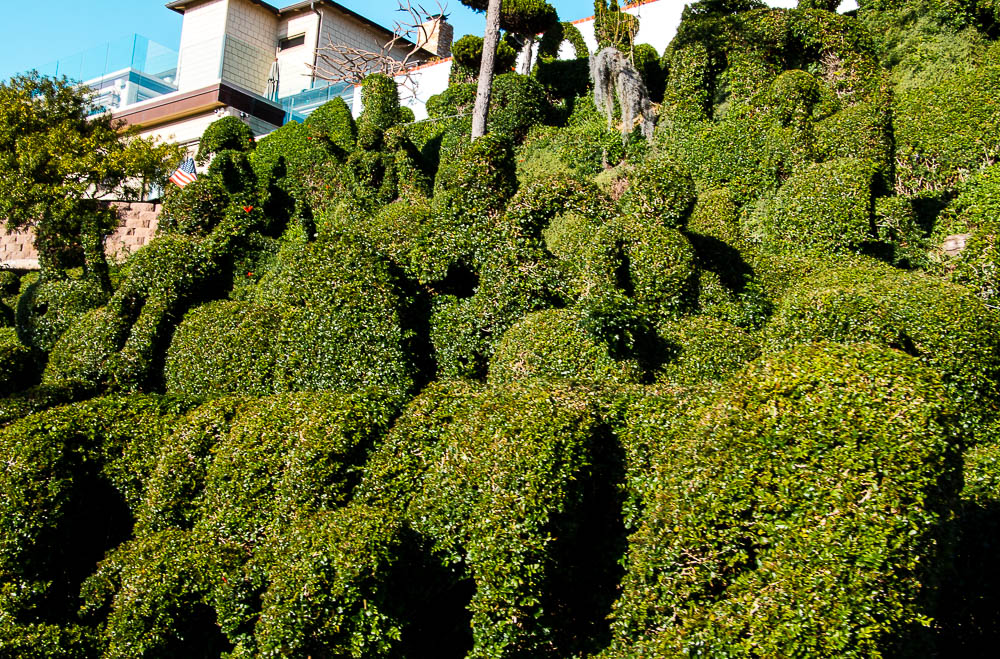 6. Harper's Topiary Garden
Address: 3549 Union St, San Diego, CA 92103
If you need an inspiration for your lawn, look for further than Harper's Topiary Garden. Located in Mission Hills in the suburbs of San Diego, this private hidden gem shows that even boring ornamental shrubs can be interesting. It's especially true when they grow in different shapes, such as pyramids, animals, a surfer, and even a dinosaur.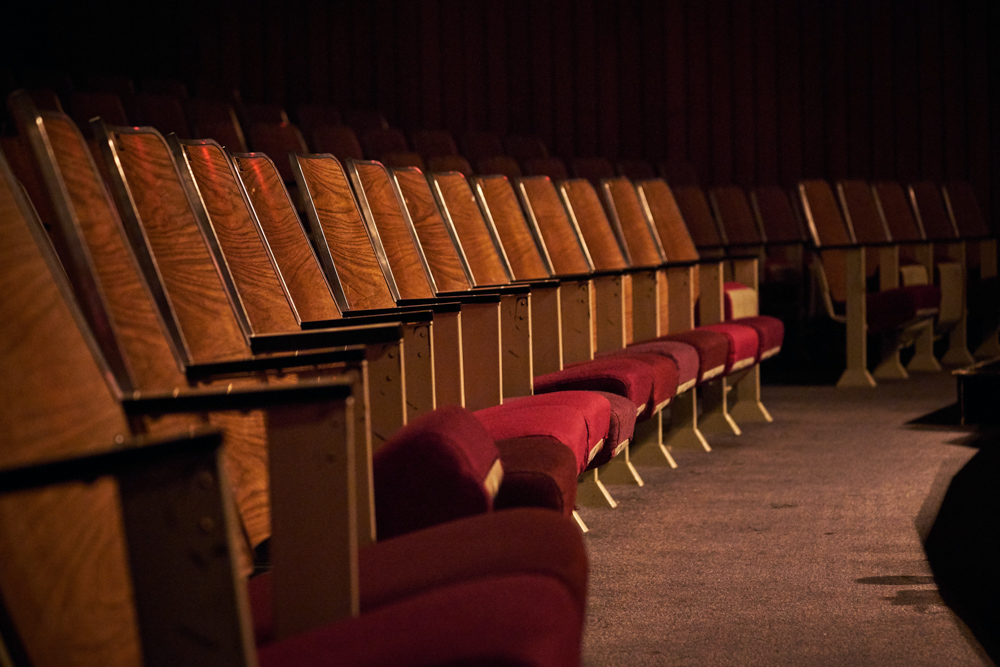 7. La Jolla Playhouse
Address: 2910 La Jolla Village Dr, La Jolla, CA 92037
The incredible hidden gems in San Diego never fail to inspire various outdoor pursuits as well as artistic endeavors. From endless beach adventures to secluded murals, the city keeps adding one secret spot after another.
La Jolla, an upscale seaside village, is by far the best place to look for the hidden gems in San Diego. Brimmed with the secret beaches, caves, museums, and theaters, this neighborhood satisfies nature lovers and art buffs alike.
One of the most exclusive hidden gems in this area of San Diego, La Jolla Playhouse not only adds theatrical plays to the scene, but also challenges its visitors to think broad. Located on the campus of the University of California, San Diego, the non-profit theater includes in its repertoire Award-winning plays and musicals as well as lesser-known interactive programs outside the theater.
The Playhouse was founded in 1947 by Gregory Peck, Dorothy McGuire, and Mel Fetter and was regarded as one of the newest hidden gems in San Diego even back then.
Initially, it served as an annual summer retreat for influential Hollywood actors. Turbulent days, however, caught up with the theater shortly, threatening to close the place for good. Finally in 1983, these hidden gem got a chance for a new life on the campus of UC San Diego.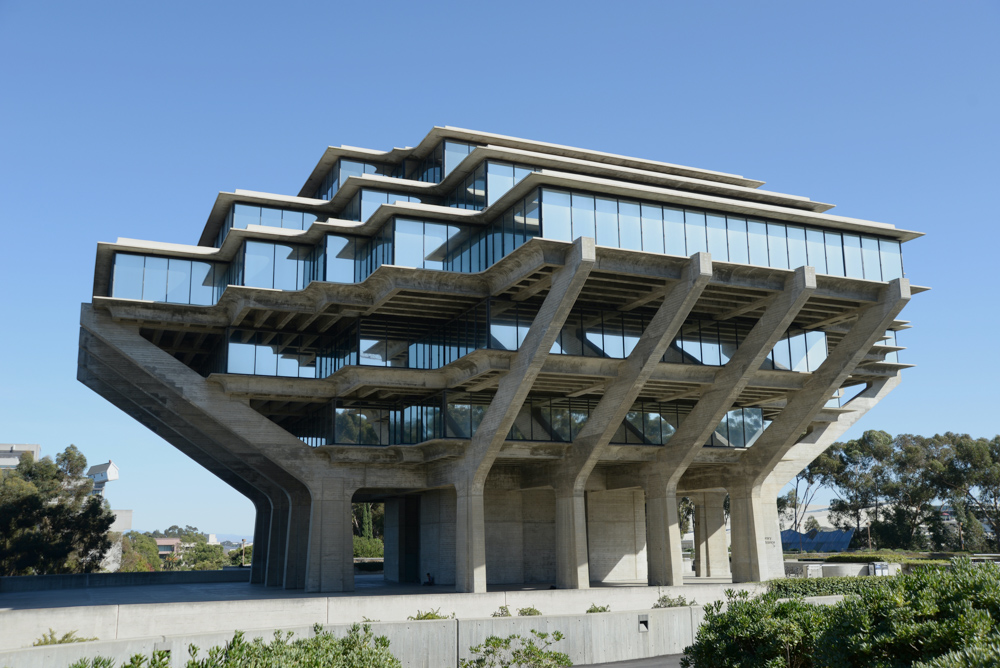 8. Hidden Gems in San Diego: Geisel Library
Address: 9500 Gilman Dr, La Jolla, CA 92093
Interestingly, a good number of the hidden gems of San Diego nestle on the territory of the university. Adorning the campus of UCSD with its eccentric structure, the Geisel Library was constructed in 1968.
Its main designer, William Pereira, envisioned and eventually created a geometrical  giant, which first two floors serve as the ground for the upper six levels. Almost 30 years later, the Library was renamed in honor of Audrey and Theodor Seuss (children's author Dr. Seuss) Geisel. 
Today, this hidden spot is open for visits and study. While the students and researchers use mainly floors 4 though 8 that treasure most of the Library's collection, day-users conduct self-guided tours through the first and second floors of this not so secret gem of San Diego.
The guests are welcome to explore one of the city's most educational hidden places most of the year. The Library is reserved only for study and research the first week of the Fall quarter and the last two weeks of each following quarter.
9. Birch Aquarium at Scripps Institution of Oceanography
Address: 2300 Expedition Way, La Jolla, CA 92037
If San Diego's underwater world unnerves you, La Jolla comes to rescue, inviting to further explore its hidden gems, including Birch Aquarium at Scripps Institution of Oceanography. Dated back to 1905, the Aquarium is home to more than 60 habitats of fishes and other marine animals. You can find sharks, seahorses, and a myriad of invertebrates in both indoor and outdoor exhibits of Birch Aquarium.
As one of the most prominent oceanographic museums and research centers, this secluded place also shares its discoveries on climate and Earth. Virtual education programs further instill awe and admiration for the astounding marine environment and its inhabitants. Never as crowded as some other places in La Jolla, this hidden gem in San Diego yet greets almost 500,000 visitors a year. 
10. Queen Califia's Magical Circle
Address: 3333 Bear Valley Pkwy, Escondido, California 92025
While some hidden gems in San Diego ignite your curiosity, the others astound you with their vibrant colors and elephantine structures. Tucked away in Kit Carson Park less than a 30-minute drive from San Diego, Queen Califia's Magical Circle is California's response to Barcelona's Parc Güell.
The enchanting secret sculpture garden was created by Franco-American artist Niki de Saint Phalle and up to this day is the only American place of this kind.
While Queen Califia's Magical Circle still belongs to the top hidden gems near San Diego, its nine massive structures and a circular "snake wall" can't stay concealed. Towering over the visitors, they pay tribute to mythic creatures living in old California's tales.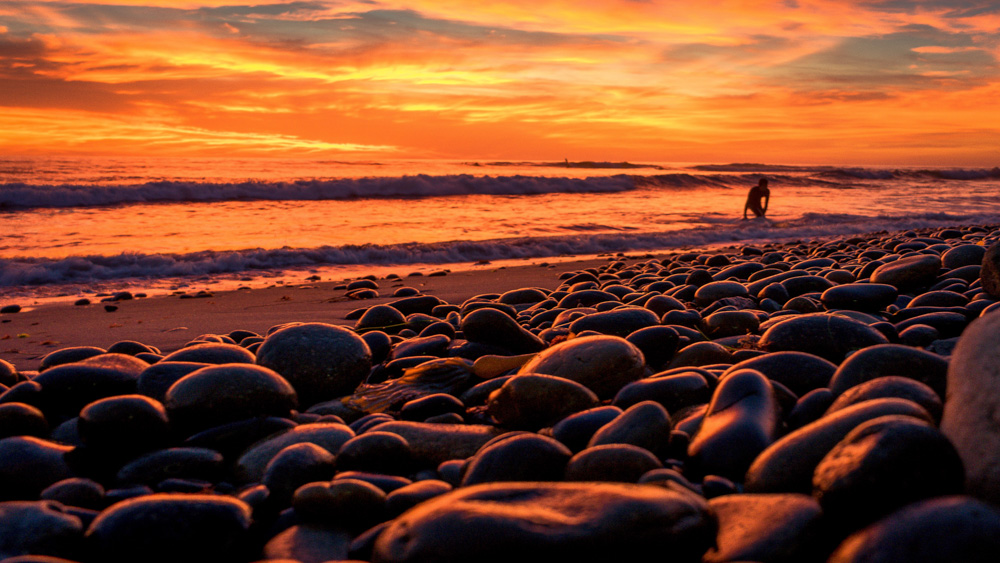 11. Hidden Gems near San Diego: Swami's Beach
Address: 1298 S. Coast Highway 101, Encinitas, California 92024
The hidden gems in San Diego certainly have to make room for some secret beaches nearby. Nestled on the shore in Encinitas, Swami's Beach tops the list of the best-kept secrets in the area.
The popular surfing spot was named after Swami Paramahansa Yogananda. While the yogi might have enjoyed the ocean breeze and solitude here a long time ago, Self-Realization Fellowship Temple that he founded in 1937 still overlooks the beach. 
The secluded spot sits at the foot of the cliff that houses Swami Seaside Park, another hidden gem in the San Diego area. A wooden staircase descends to the narrow stretch of land, uniting these two secret places and allowing only selected visitors step on the golden sand below.
12. Salt Mountains
Address: 1470 Bay Blvd, Chula Vista, California 91911
The largest and most visible hidden gems near San Diego can be found in Chula Vista. Home to salt ponds of South Bay Salt Works, one of the oldest commercial businesses in the area, the place secretly accumulates piles of salt. The mountains, how they call them now, reach heights up to 40 feet, completely derailing the meaning of the term "secreted".
Yet despite their size, the salt peaks still remain one of the best-kept secrets of the San Diego area. A visit to the Salt Mountains takes a few minutes, so be ready to check out some other hidden gems in and near San Diego afterwards.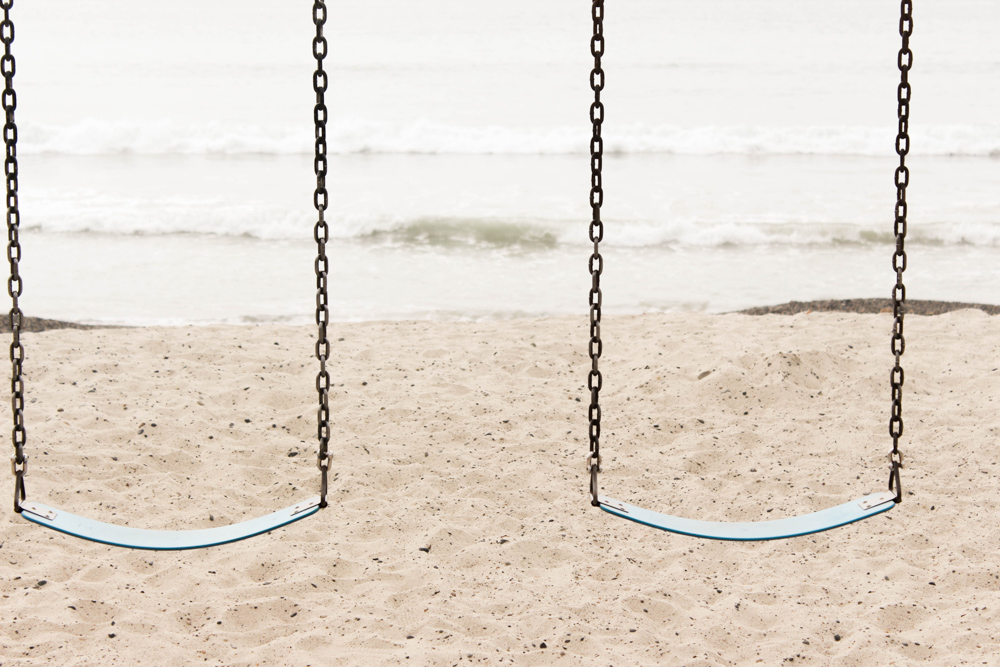 13. Hidden Swings
The quintessential neighborhood of La Jolla entices not only with its impeccable beaches and abundant marine life, but also some of the sought-after hidden gems in San Diego – mysterious hidden swings.
While the swings periodically disappear and resurface unexpectedly in different areas of the city, La Jolla Shores is the likeliest place to find them. No one knows exactly who is behind this secret swaying pleasure. Yet the joy of tracking down one of these hidden gems in San Diego is insurmountable.
TIP: La Jolla Shores is the best place to look for the hidden swings. 
---
TIP: For more information about the city, including some other hidden gems in San Diego, please check out the following guides:
TIP: You may also find interesting the following guides to hidden gems in Laguna Beach and Los Angeles.
If you found this post useful, don't forget to pin it for later and share it with your friends.