Those who can't claim of reliving their special moments and unforgettable experiences in Marrakech miss a lot. An old and unconventional city, it suits only a specific group of travelers. But one thing Marrakech promises to all its visitors is endless amount of memorable experiences.
10 Unforgettable Experiences in Marrakech
Marrakech is often depicted as a king of social media. It promises you the most unforgettable experiences in your life. It's a place that overwhelms with its vibrant colors, smells, and authentic, almost artistic hassle and bustle. The exotic Red City guarantees the life of a royalty in one of its lavish riads. At the same time, it makes sure you always stay grounded by throwing at you all the madness of the Medina. You can never be completely ready and prepared for a visit to Marrakech. But a few things you can always count on when in Marrakech are sensory overload and mind-blowing, unforgettable experiences.
Our experiences in Marrakech were significantly different from those commonly presented on social media. First, for our first time in the Red City all we wanted was to explore the city outside its famous riads. I personally was intrigued and found myself itching to get to the Medina as soon as possible. And so, we traded the popular Marrakech riad experiences for a hotel where locals would stay. Second, we went to Marrakech as observers and travelers, and eventually storytellers. Buying souvenirs and world-famous Moroccan rugs was never our driving force to visit the city. But we did get to appreciate and marvel at these handmade "masterpieces".
In truth, Marrakech gets you in one way or another. And you, including yours truly, can't stop taking about it. However, I made a conscious decision to leave excessive details behind and share our 10 unforgettable experiences in Marrakech. 
HERE ARE OUR 10 UNFORGETTABLE EXPERIENCES IN MARRAKECH
1. Get lost in the maze of souks in the Medina of Marrakech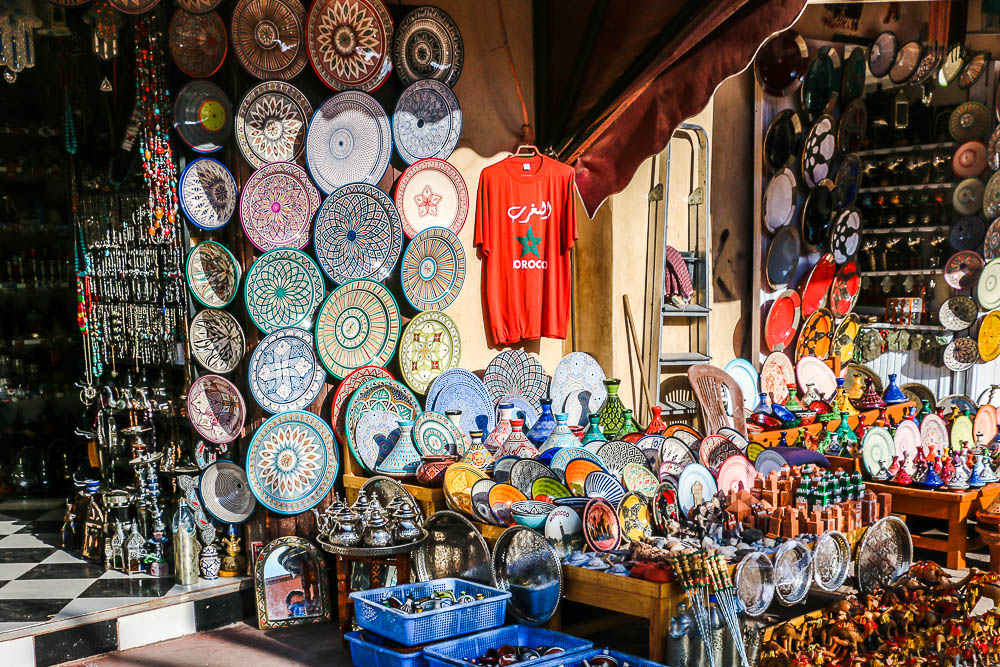 The first place to start your journey is the Medina, exploring its bountiful souks. Busy, loud, and a bit unnerving, the souks of Marrakech offer one of the most remarkable experiences to cherish for years to come. This is a place to go on a full shopping spree. From traditional jewelries, to haram pants, leather goods, and souvenirs, the souks have something for everybody. Moreover, the market place gathers a big collections of the most beautiful, authentic Moroccan rugs. And don't let me start talking about traditional spices and argan oil, an integral part of every Marrakech experience.
2. Experience the madness of Jemaa el Fna in Marrakech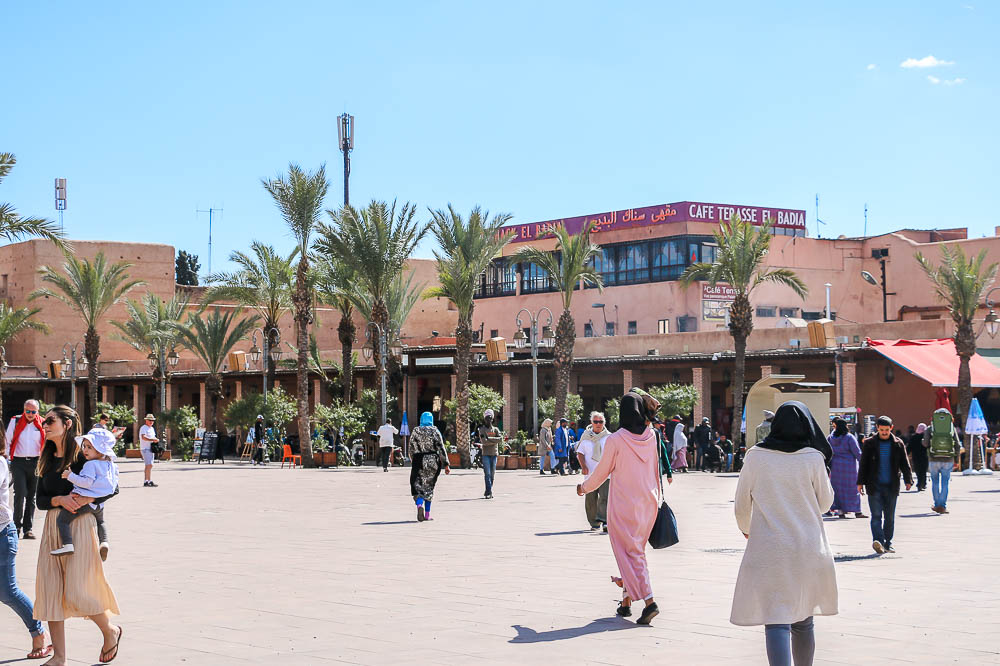 If you think that the souks are busy, then you need to see and experience the craziness of Jemaa el Fna in Marrakech. The main square is the center of all activities in the Medina. By day Jemaa el Fna turns into a market place for spice traders and orange juice stalls. Snake charmers and performing monkeys also take part in creating unforgettable experiences in the old town of Marrakech.
At night, Jemaa el Ena welcomes different kinds of merchants. Night food stalls replace the typical spice stalls. Snakes and monkeys disappear. Groups of locals performers and storytellers take their places, intensifying the already surreal experience of exploring Marrakech at night.
3. Bahia Palace, one of the most unforgettable aesthetic experiences in Marrakech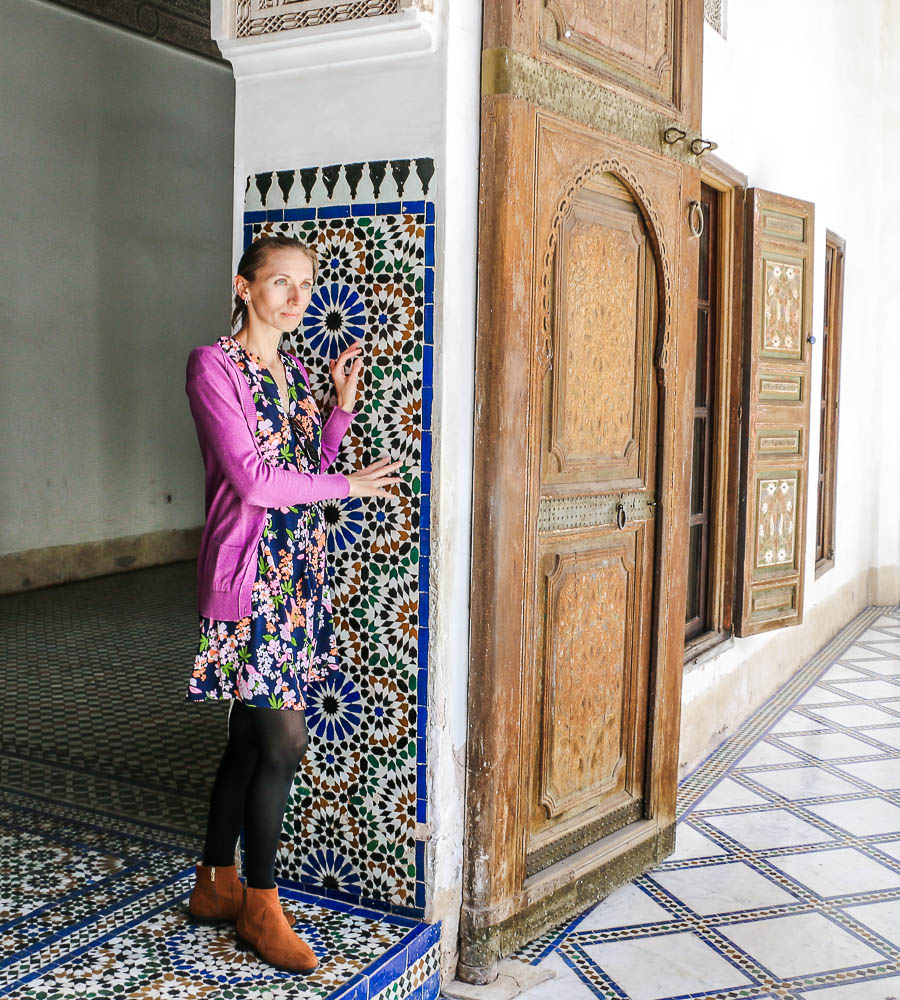 While the souks ensure the superb everyday experiences in Marrakech, the Bahia Palace unveils different side of the city. The 19th-century palace is a perfect example of the lavish lifestyle of the Moroccan elite. Previously home to various Moroccan royals, now the Bahia Palace opens some of its doors to the public. But even these restricted areas with intricate latticework promise some of the most beautiful experiences and photo opportunities in Marrakech.
4. Sip the Moroccan mint tea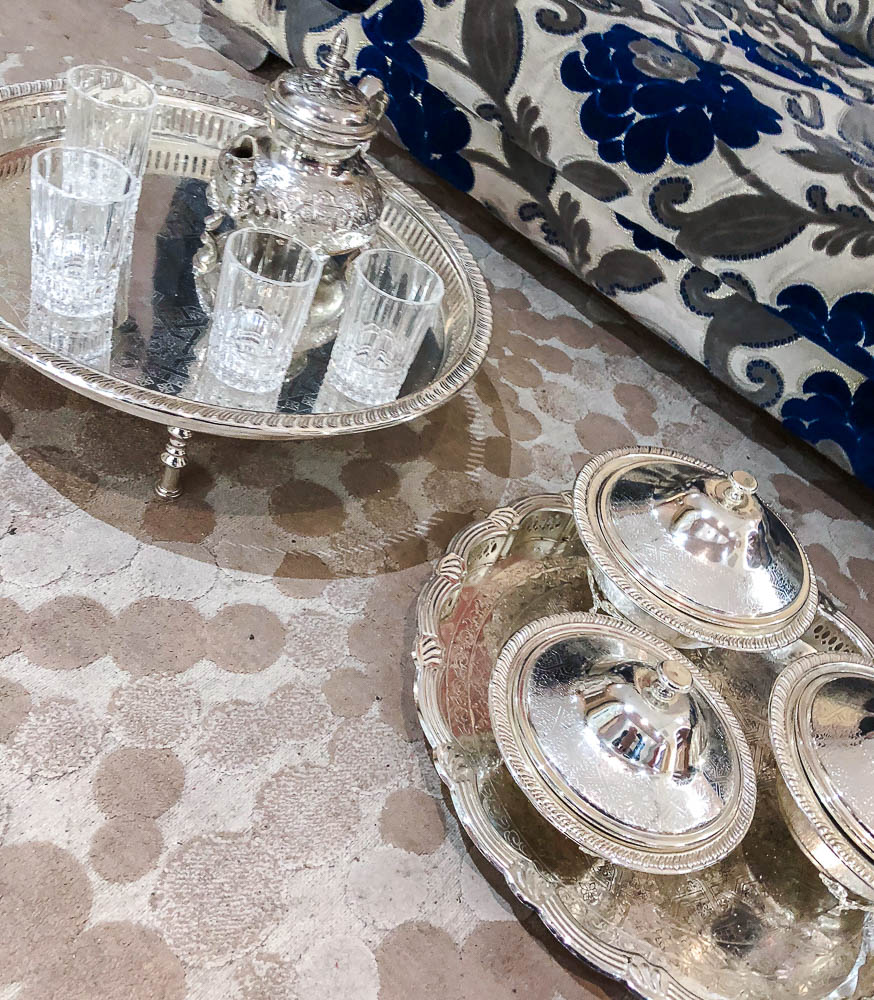 Let's be honest, people drink sweet elixir or the Moroccan mint tea all over the country. But since we are talking about our unforgettable Marrakech experiences, this sweet mint tea deserves a special spot here. The moment you arrive in Marrakech, the traditional drink is bestowed at you at every opportunity. Don't be surprised when merchants at the souks serve you a cup of tea before offering a deal.
5. Unforgettable experiences at traditional hammam in Marrakech
Moroccan hammam is a bathhouse with multiple dry and steamed rooms. The Moroccans regard their visit to a hammam as a social experience.  It's a special place where the body and soul get cleaned according to the ancient rituals performed by skillful staff or friends.
6. Master haggling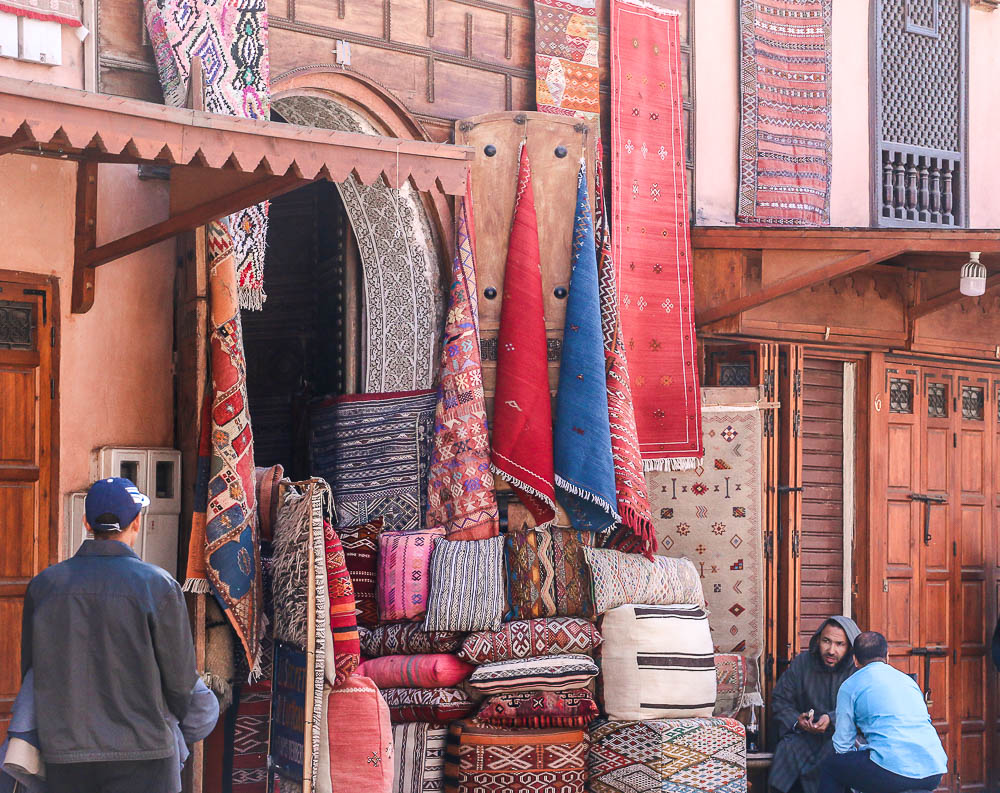 Don't embark on an exciting journey of experiencing the Marrakech Medina without first learning how to haggle. Bargaining has long become an undivided part of Moroccan culture. And souks shopkeepers in Marrakech have long performed the art of haggling. At times they seem to be annoyed and even intimidating. But it the end, it's all a part of their successful business and some of your most memorable experiences in Marrakech.
7. Learn about Koutoubia Mosque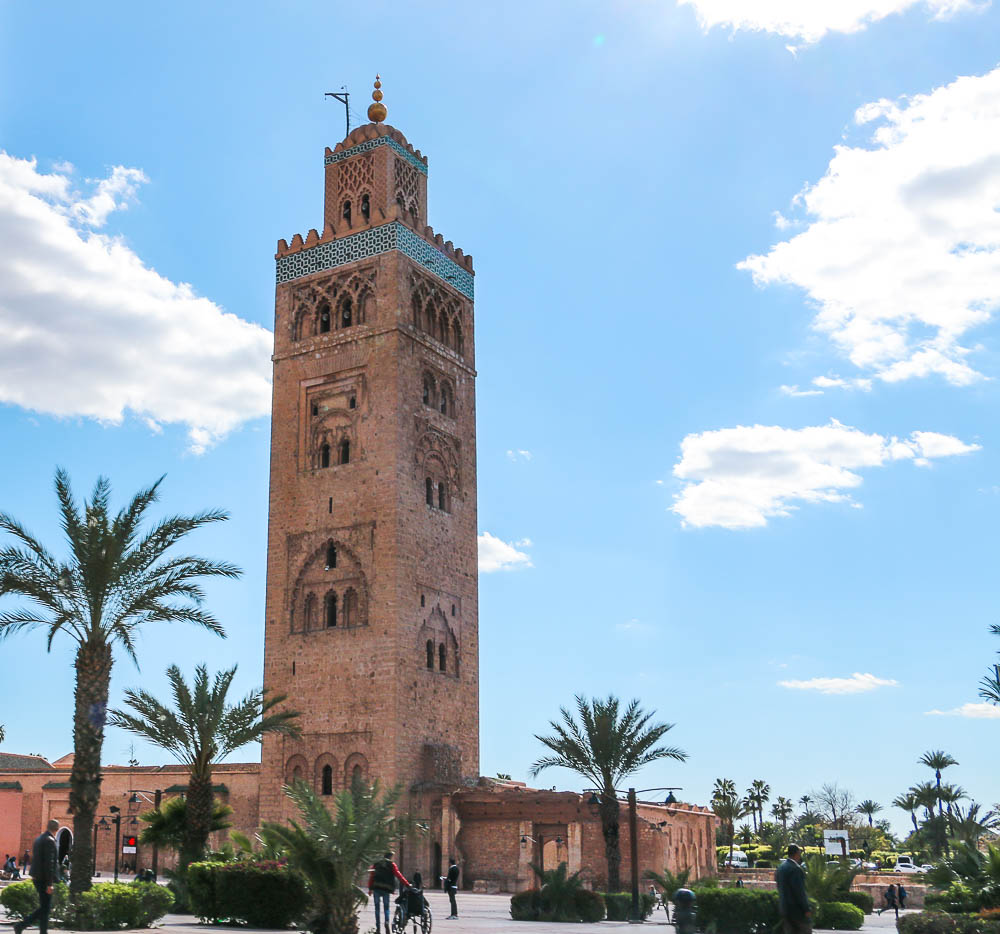 One of the most recognizable landmarks of Marrakech, the Koutoubia Mosque is located within walking distance of Jemaa el Fna. The mosque impresses with its beautiful architecture featuring arches, curved windows, and intricate tile work. Like most structures in the city, the Koutoubia Mosque was erected in the 12th century. While you can surely admire the splendid architecture of the mosque from outside, the entry is permitted only to Muslims.
8. Keep the ball of those aesthetic experiences rolling at Majorelle Garden, Marrakech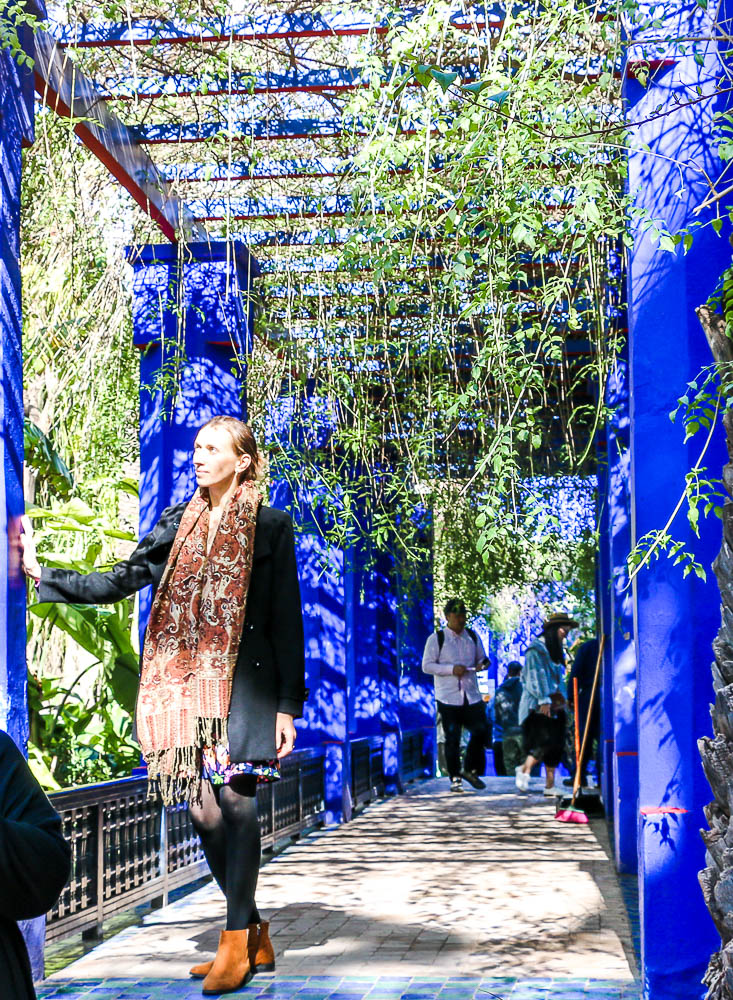 The Majorelle Garden is another extraordinary place that ensures pop of color and style that you never experience anywhere else in Marrakech. Forget about the typical desert setting and salmon pink color of the city. Instead, exotic plants such as bamboo and water lilies and the cobalt blue color dominate the Majorelle Garden.
9. Sample the Marrakesh cuisine
Be certain to eat tagine, a mix of stewed meat, vegetables, fruits, and spices, at least once when in Marrakech. I'm, on the other hand, was surprised to find out that the Moroccans eat lots of semolina. In fact, it's one of the most preferred breakfast options in the country. 
10. Experience the streets of Guéliz of Marrakech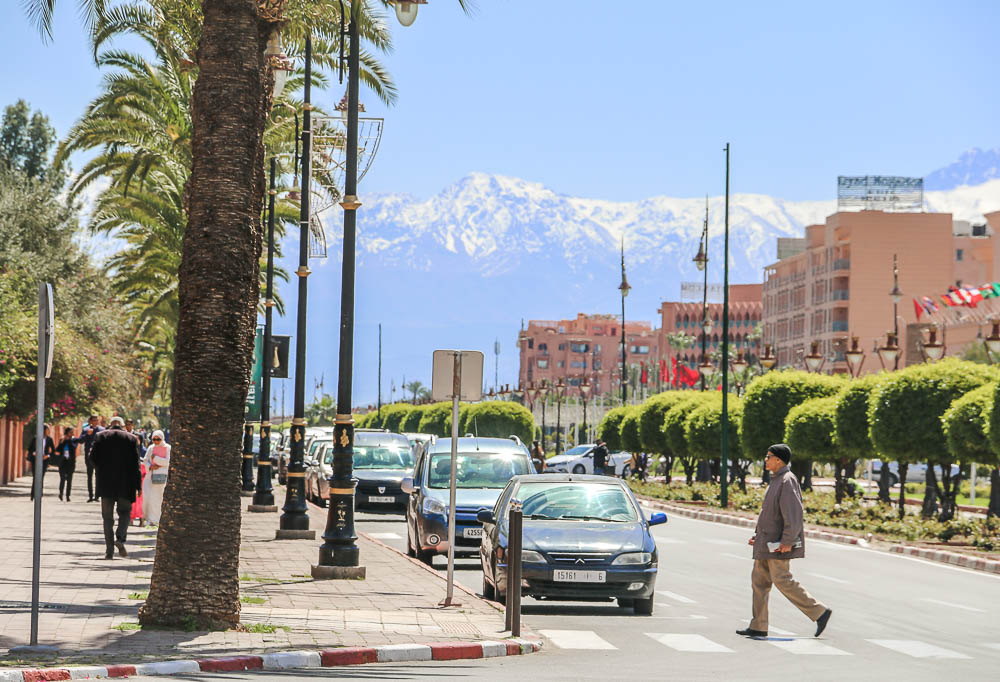 The Guéliz region is known as the Ville Nouvelle or new town of Marrakech. And as you can expect, it significantly differs from the Medina. The endless labyrinths of the narrow alleys are gone. The roads get wider and broader. And with such favorable conditions, modern cars don't wait to be ask to occupy the roads of the Guéliz district. And with them come troubles. To be exact, not with the cars, but with their impatient drivers who become nightmares for pedestrians. Thus, if you ever need one tip on how to experience the Ville Nouvelle of Marrakech, be extra careful when crossing the streets. A crosswalk with a green light gives you an automatic right to cross the street somewhere else but in Marrakech and not according to its intolerant drivers.
Read more