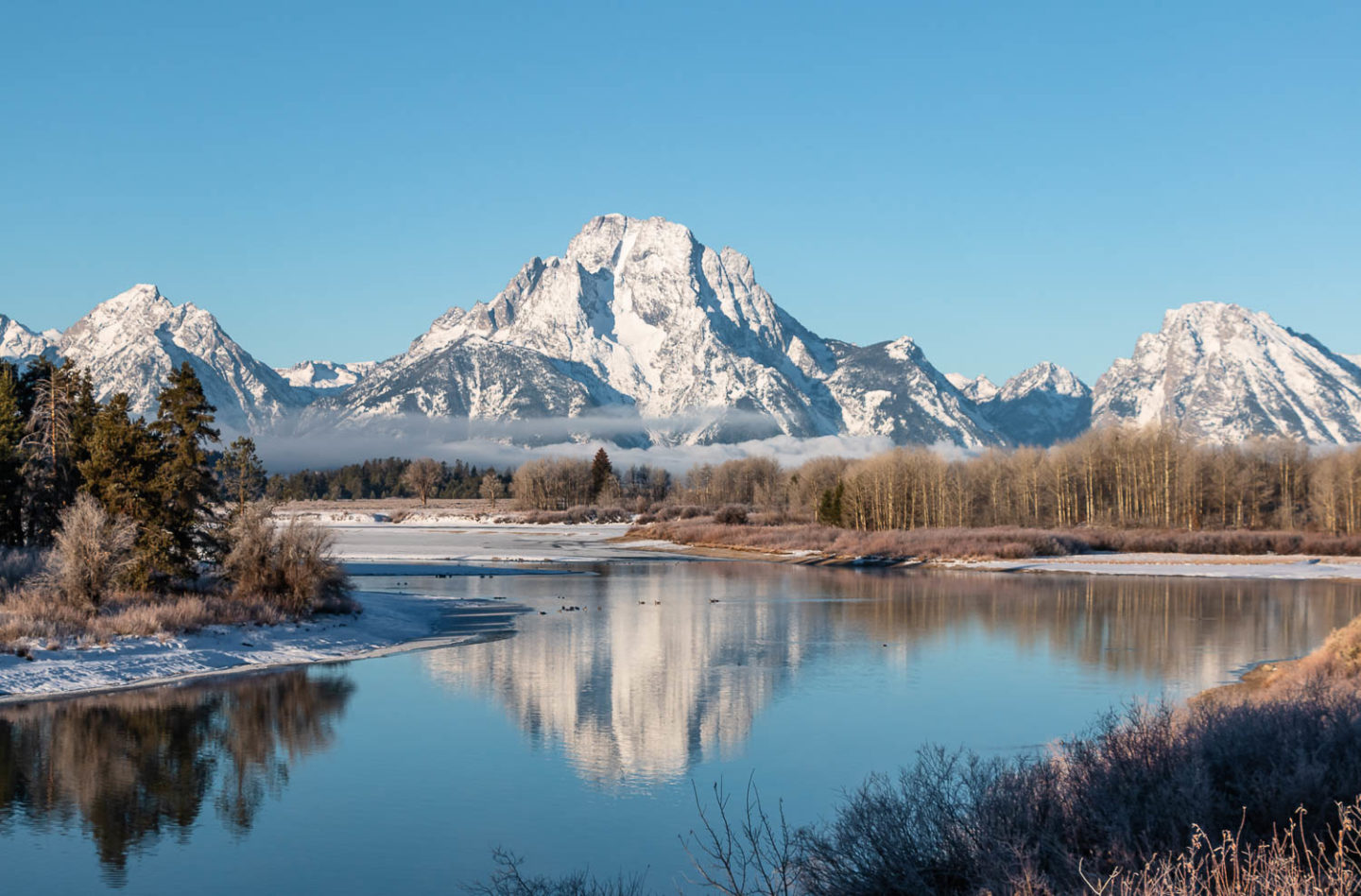 Spending one day in Grand Teton National Park is like eating a birthday cake. It is appealing, flavorsome, satisfying, and always temps you to reach for the second piece. The same is with the park. After you dedicate one day to Grand Teton National Park, you already ache for the second, third, and fourth visit.
Is One Day Enough for Grand Teton National Park?
I will be the first person to tell you that one day in Grand Teton National Park is never enough. At nearly 310,000 acres, the place is incredibly large, staggeringly diverse, and formidably beautiful to roam in such a short amount of time. But if you have only one day to spend in northwestern Wyoming, let Grand Teton National Park be your ultimate destination here.
A Guide to Spending One Day in Grand Teton NP
Popular for its iconic mountain range rising abruptly from the Jackson Hole Valley, Grand Teton National Park is a sheer delight to explore in one day. The park is set in northwestern Wyoming just minutes away from the quintessential western town of Jackson. Two main physical elements define the territory of the area. Named after one of its primary features, the park encompasses almost the entire 40-mile long Teton Range. The northern part of Grand Teton National Park consists of the picturesque Jackson Hole Valley.
The beauty and natural resources of the Grand Teton region has drawn people for nearly 11,000 years. The first permanent settlers, however, arrived in Jackson Hole only in the late 19th century. Unfortunately, sandy and rocky soil along with cold winters and dry summers proved to be difficult for agriculture.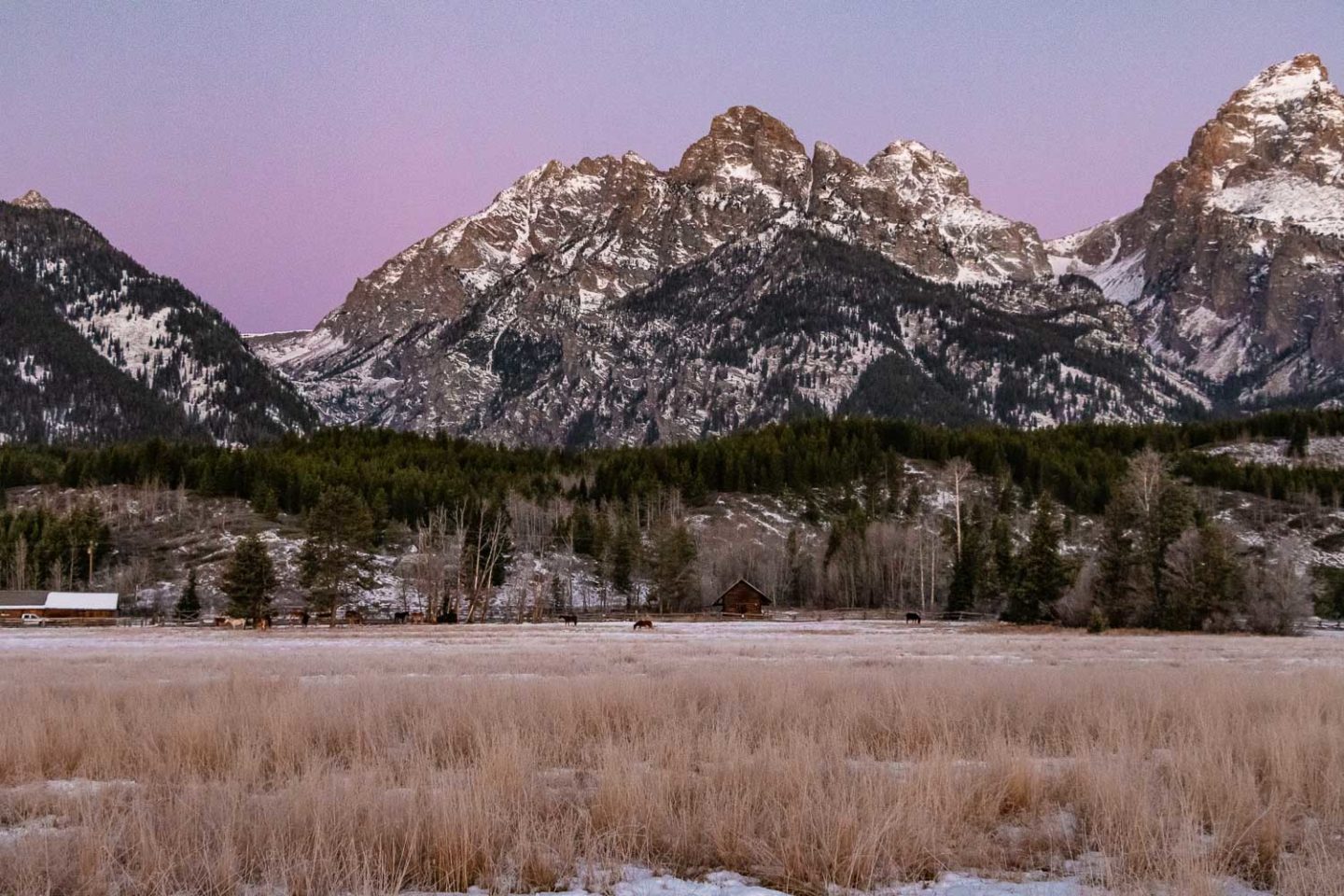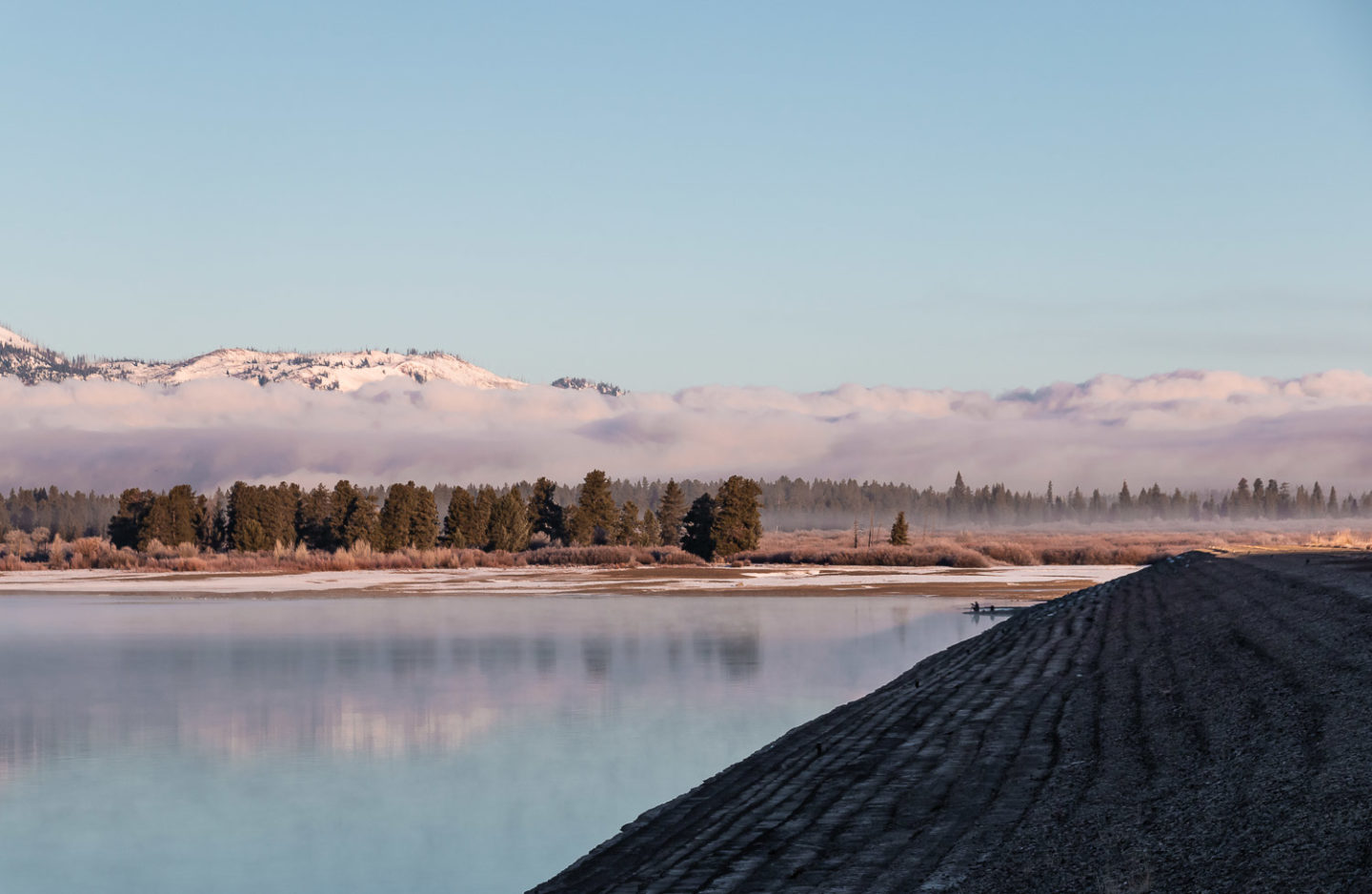 Influx of wealthy Easterners searching for "cowboy" experiences though brought new possibilities for the Jackson Hole's dwellers. Providing the early tourists with lodging, food, and horses turned out to be a profitable business. However, as the development and tourism increased, the locals joined forces in preserving the area as a "museum on the hoof".
The original park was created in 1929. For the next few decades it kept expanding its territory. Finally, in 1950, Congress combined the original park with the new lands to establish present-day Grand Teton National Park. It took another 22 years for the U.S. Congress to devote another parcel of land to John D. Rockefeller, Jr. Memorial Parkway. The Parkway connects Grand Teton with Yellowstone National Park, enabling the visitors to see some parts of these parks in one day.
The Best Time to Spend One Day in Grand Teton National Park
Since you have only one day to spend in Grand Teton National Park, you should align your interests with seasonal activities. The best time to take the most out of this area is from mid-May to late September. This time marks the peak season when due to favorable weather and longer days, you can pack many activities and sightseeings in Grand Teton National Park in just one day. July and August bring frequent afternoon thunderstorms that might interfere with your travel plans.
September is by far the best month to experience fall foliage. Yellow bright blankets atop tall trees against the snow-capped mountains is a sight that will ceaselessly follow you during your one-day adventure in Grand Teton National Park.
The weather is less favorable in wintertime, from October to early-May. The temperature drops significantly, forcing the visitors to postpone their trips until the warmer season. Heavy snow falls trigger closures of many of the park's roads and facilities. Campgrounds also cease their operations for the season. Nevertheless, the colder months are the best time to spend one day in Grand Teton National Park for cross-county skiers and snowshoers, thirsty for solitude and crispy air in the epic winter wonderland.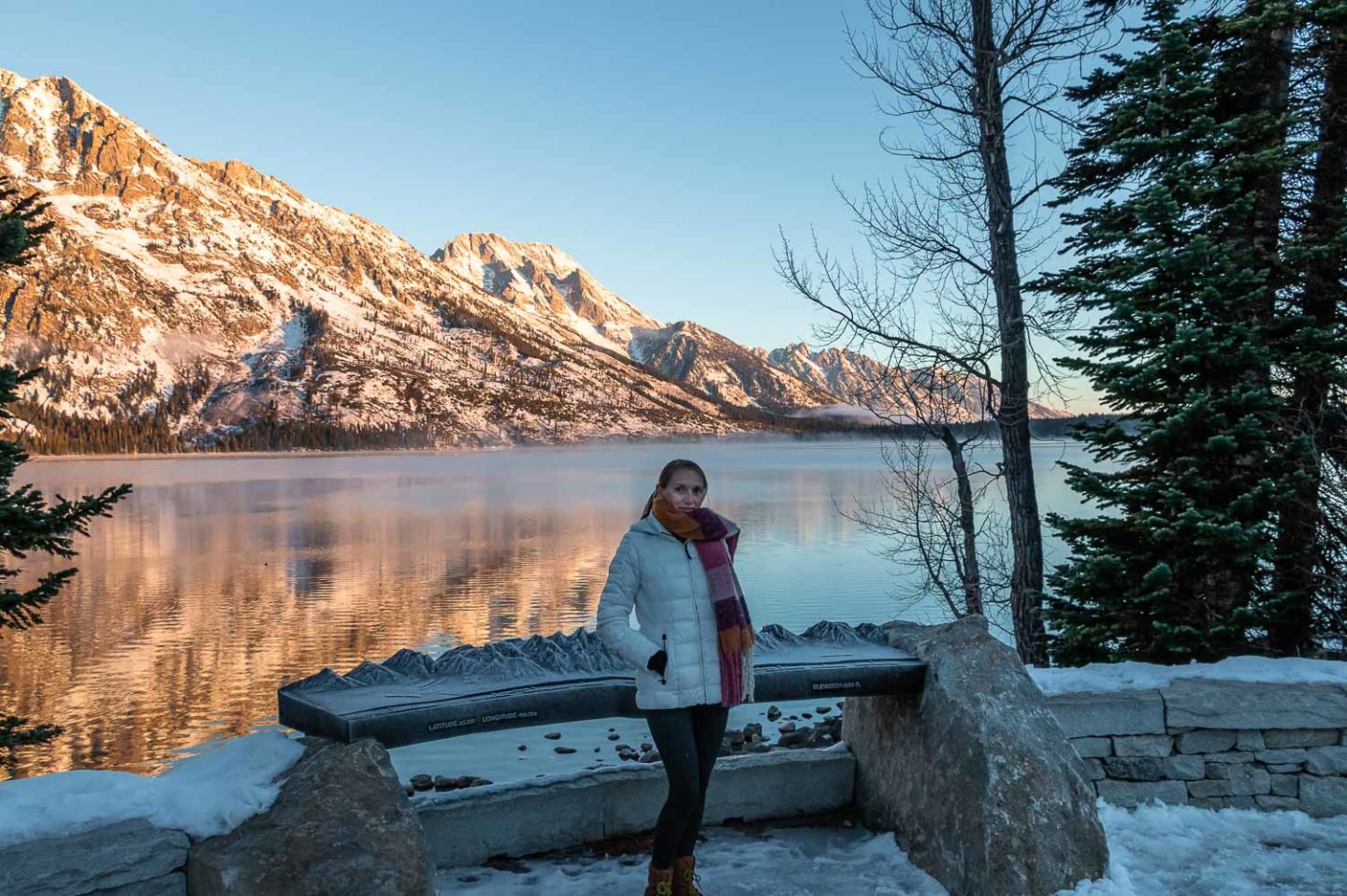 Where to Stay in Grand Teton National Park
Accommodation options very from season to season. While spring and summer allow you to spend a day and night in the heart of Grand Teton National Park, your choices narrow down tremendously in the colder season.
One-Day Stay in Grand Teton NP in Peak Season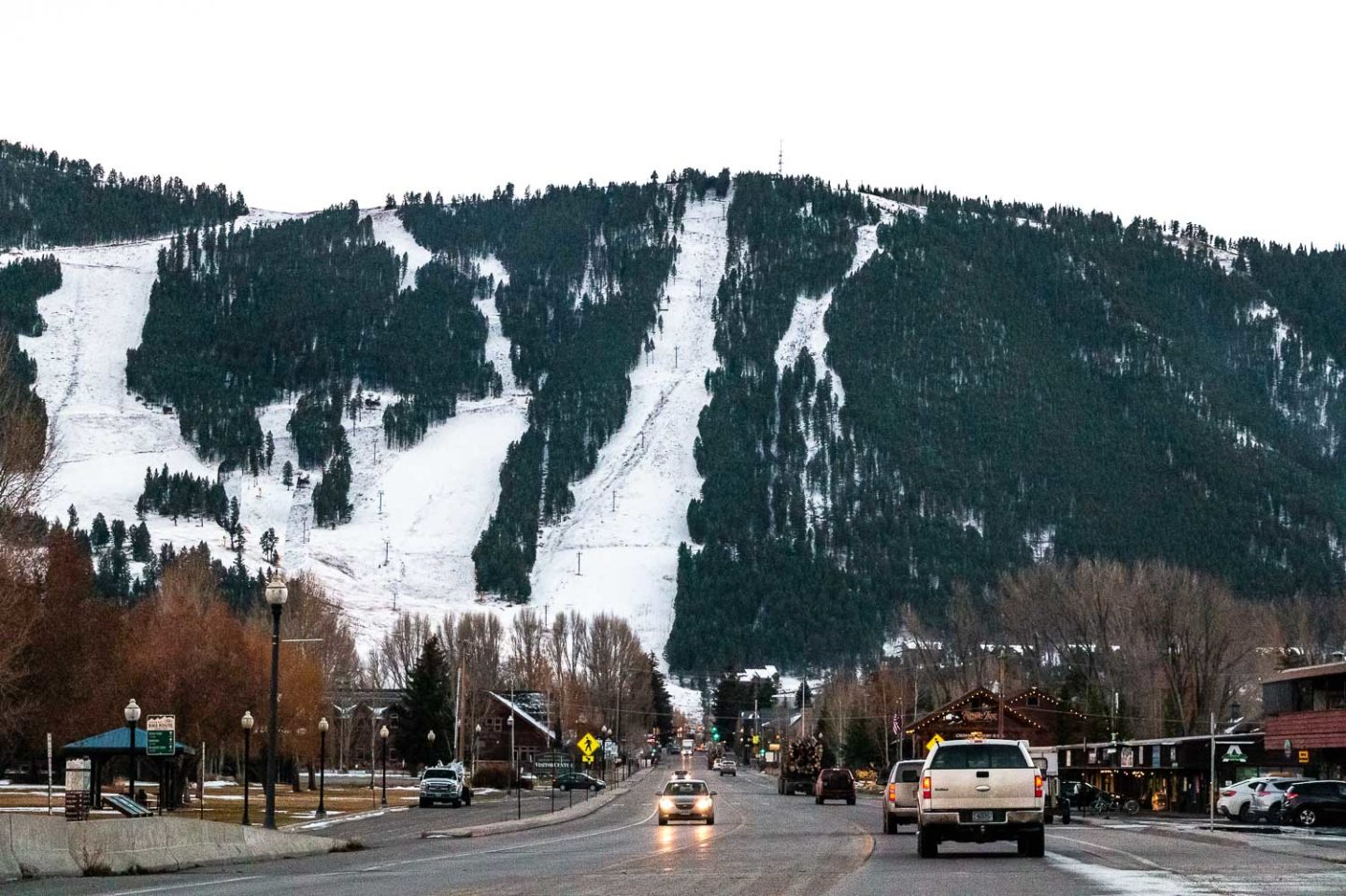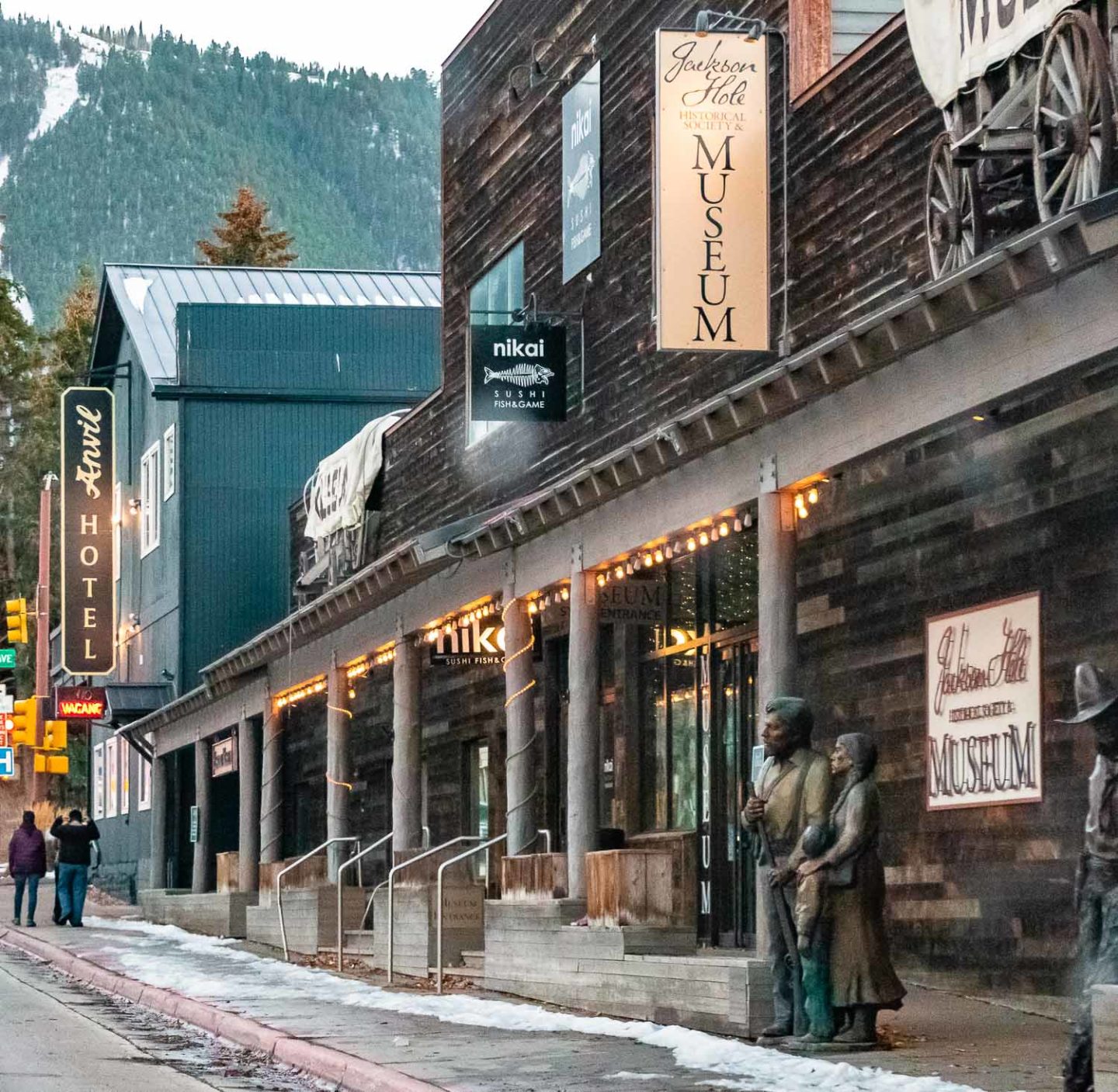 Staying One Day Outside Grand Teton NP
Teton Village
Located just minutes away from Grand Teton National Park, Teton Village is an ideal place for those who prefer to spend most of their time in the mountains.
Jackson
Jackson wins over with the greater accommodation options for your one-day stay near Grand Teton National Park. Furthermore, there is a myriad of restaurants and cafes to check out before or after a day in the wilderness. All of these less than half an hour away from the park – it is more than you can wish for.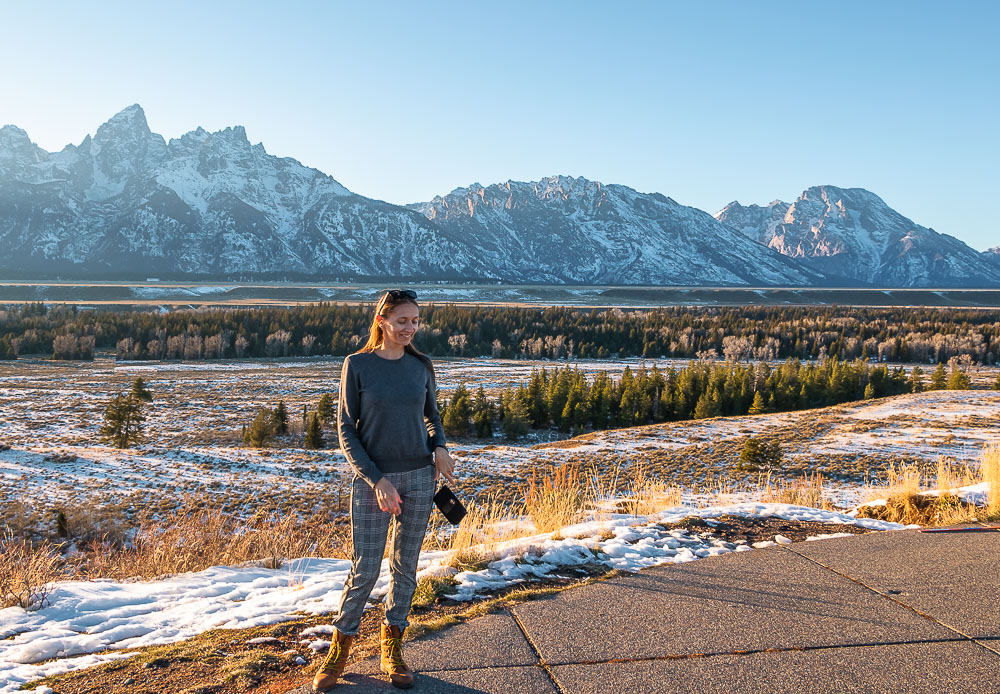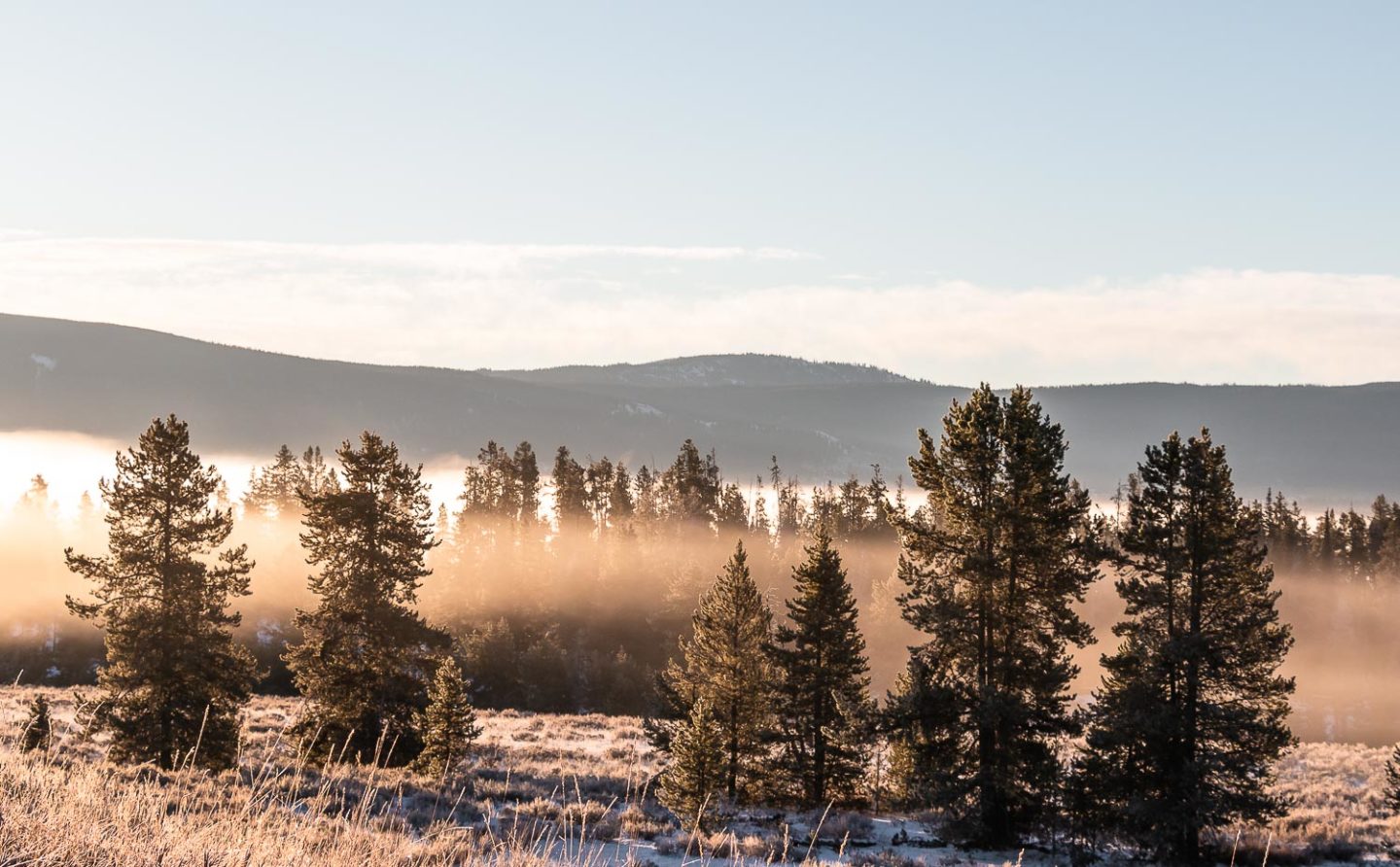 How To Get to Grand Teton National Park
Nestled in northwestern Wyoming, Grand Teton National Park is a short drive away from Jackson, which makes it an unforgettable one-day getaway. Getting to this remote area, however, requires some serious driving. The nearest major city and airport (Salt Lake City) are set about five hours away. Depending where you start your journey, there is a number of ways to get to Grand Teton NP for one day.
Arrive by Car
You can never go wrong with adhering to self-guided tours while driving to and around the area. Considering the amount of time you have, arriving by car gives you the much-needed flexibility and lets you see some of the major highlights of Grand Teton National Park in one day.
The park has three entrance stations located at Granite Canyon, Moose, and Moran Junction. Granite Canyon and Moose are the most popular entrances and are the quickest ways to get to the park from Teton Village and Jackson. Before you drive to the immense spaces governed by the Grand Tetons, be sure to check condition of your car to avoid any road trip mistakes. Grand Teton National Park is an isolated area. Help might not come as quickly as you want it.
Arrive by Plane
While some major cities with international airports such as Salt Lake City and Boise are five-six hours away, you can fly into the nearest towns. The closest regional airports to the Grand Tetons are Jackson Hole Airport and Idaho Falls Regional Airport.
Arrive on a Tour
Although you might lose some flexibility, guided day tours in Grand Teton National Park allow you to see the area hustle-tree. No need to rent a vehicle or spend hours planing your route. On top of that, the tours often come with detailed narrations. So if it is your cup of tea, here are some of the options to choose from.
The Best Things to Do in Grand Teton National Park in One Day: Complete Itinerary
Grand Teton National Park is a gentle giant nestled at the foot of the enormous mountains. Its power is undeniable, its beauty is irresistible. From lush meadows to sage-covered floodplains and alpine lakes, the park captivates with its untamed grace and oozing tranquility. Home to powerful bisons and fearsome grizzly and black bears, the park always teases but never revels all of its secrets. With so much to explore and take it, here is what you should do in Grand Teton National Park in one day.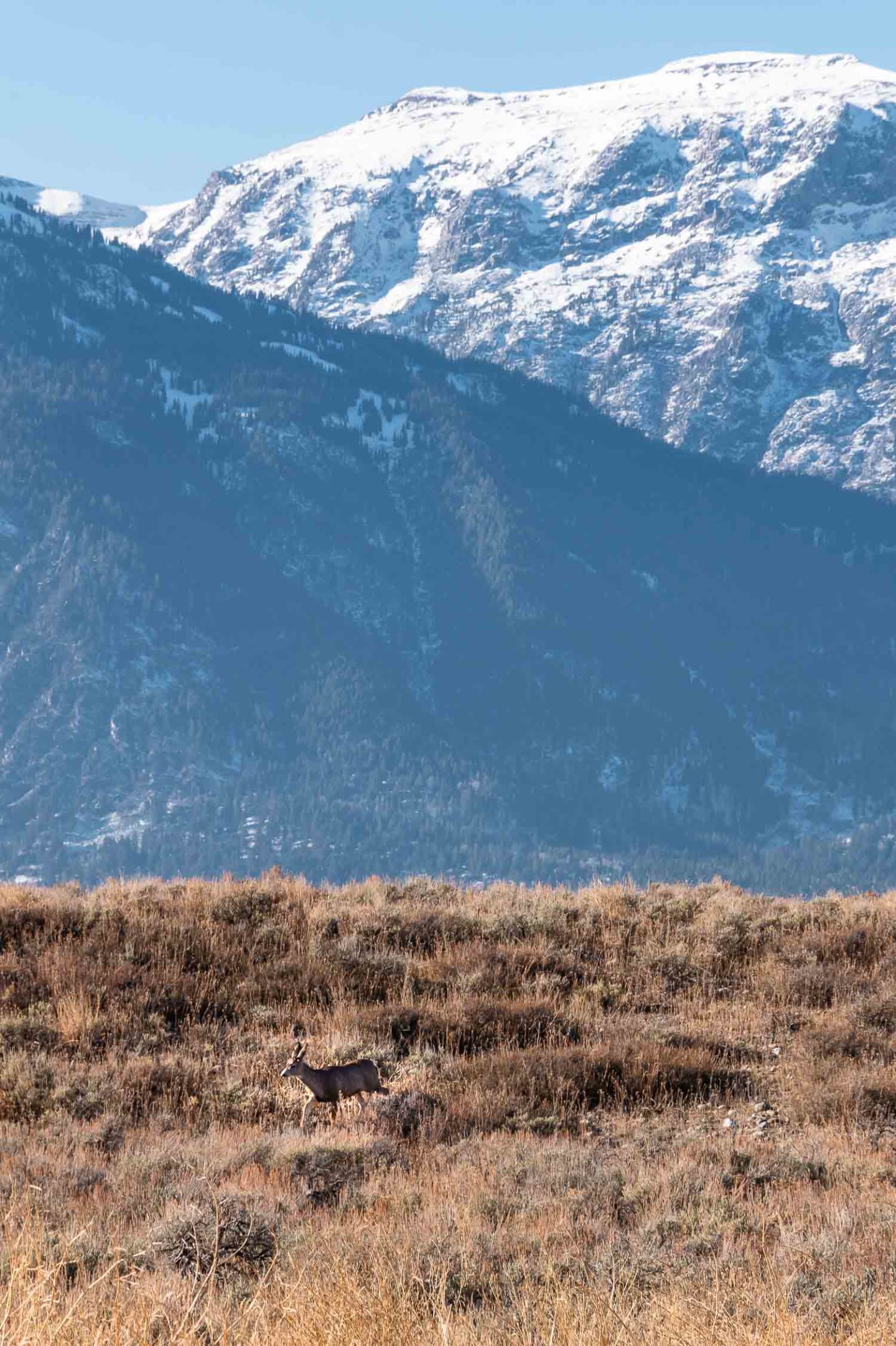 Antelope Flats Road
The Antelope Flats Road is an iconic route that introduces you to park's famous sagebrush flats and rolling plains. With the direct access from US-191, the narrow road is a primary destination for one-day adventures in Grand Teton National Park from Jackson.
Appearing plain at first, the area slowly unveils its treasures. It doesn't take long until a herd of grazing deer appears on the horizon. Pronghorn, bison, and elk frequently cross the Antelope Flats Road, which lies in the path of their primary migration route. But the abundance of wildlife is only one of the reasons to drive along the epic path. Bringing the visitors closer to human history of the park, the Antelope Flats Road leads to the famed Mormon Row Historic District.
Mormon Row Historic District
A once vibrant community, the Mormon Row Historic District is a lonely reminiscence of bygone days. Set along a dirt road called Mormon Row, the place features abandoned homesteads of settlers who lived here near the turn of the 19th century. Walking down Mormon Row, you can't not recognize the Moulton Barns, two of the most photographed places in the area. The historic barns along with the "pink house" once belonged to the Moulton family, well known for their dairy business.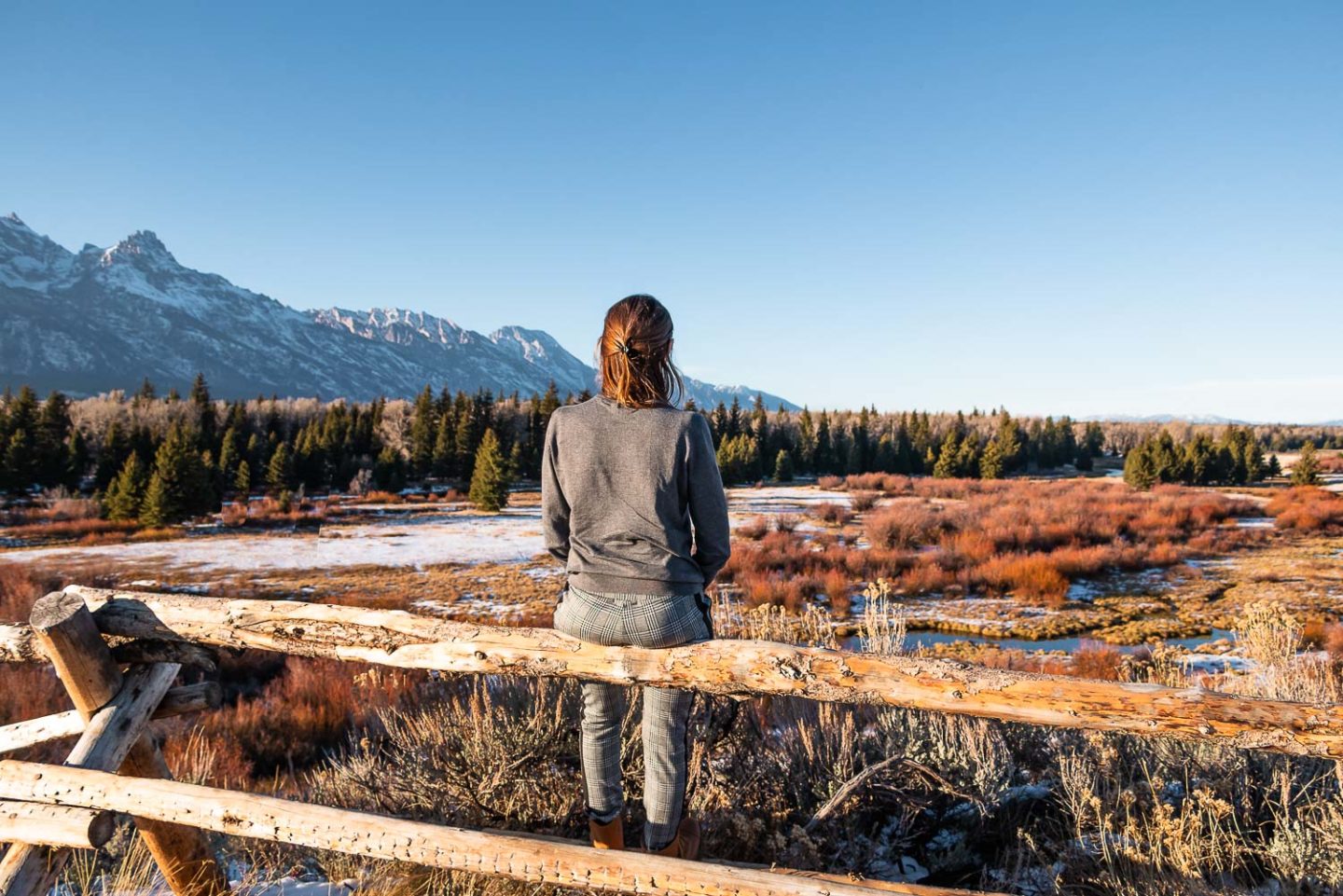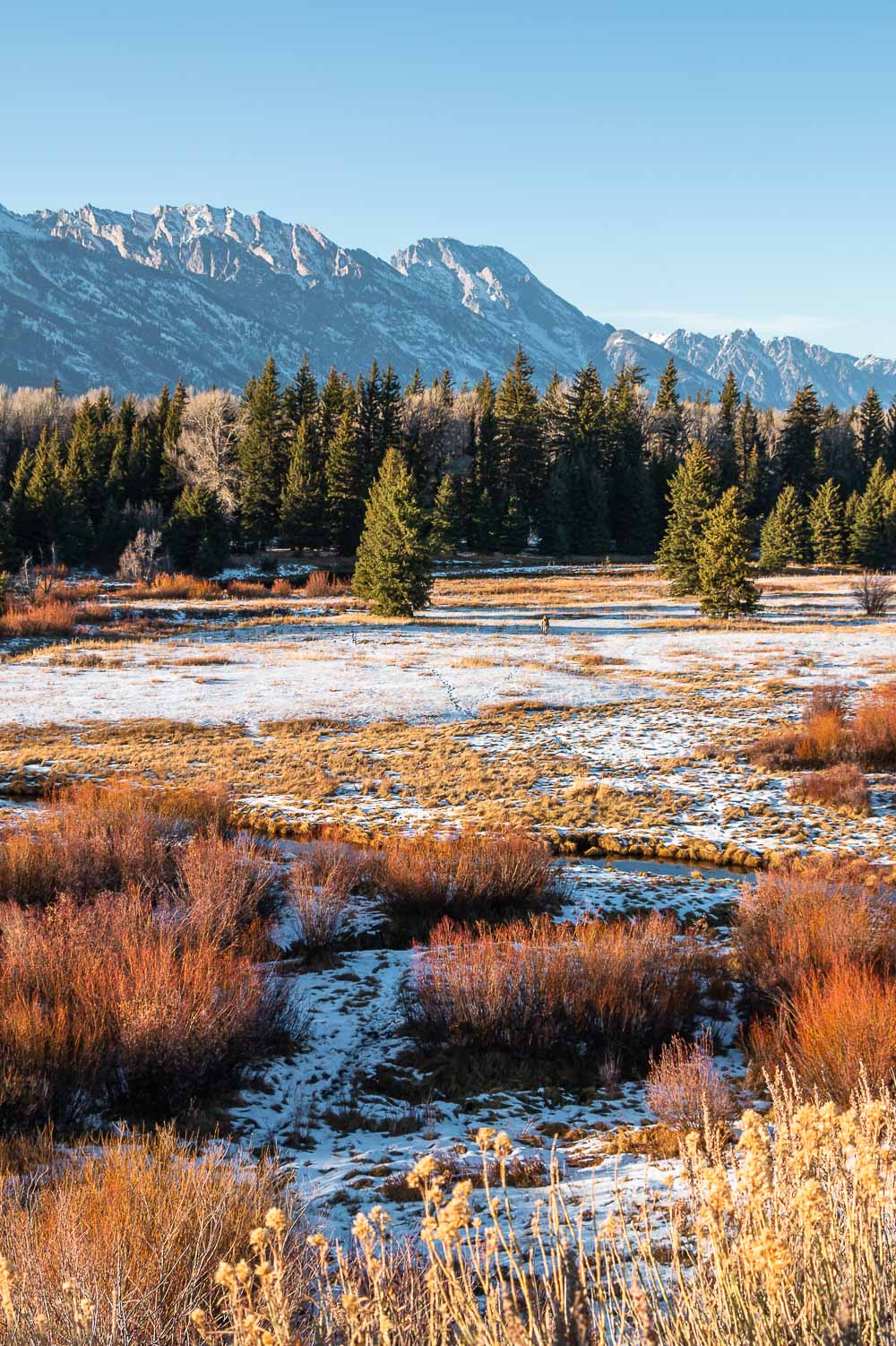 Blacktail Ponds and Blacktail Ponds Overlook
If you come to Grand Teton National Park to spend one day viewing its abundant wildlife, you might be disappointed. Unlike the historic structures, the animals roam freely from one place to another oblivious of your arrival. The Blacktail Ponds Overlook, however, increases your chances of spotting park's natives in their natural habitat.
The area is set a short drive from the Mormon Row Historic District. Indistinctive at first sight, the place encompasses five biological communities. The first, alpine, is home to pikas and marmots. Forest houses elk, deer, and bears. Meadows provide a refuge and food for elk and bison. Beaver and moose frequent wetlands while sage grouse and antelope gravitate towards sagebrush.
Menor's Ferry Historic District
Grand Teton National Park is dotted with occasional historic districts. Located near Moose, the 0.5-mile long Menor's Ferry Trail gives you a sneak peek into life of pioneers in Jackson Hole. The most popular structures here are Bill Menor's cabin and a replica of the ferry that was crossing the Snake River at the turn of the century.
Schwabacher Landing
During our one day in Grand Teton National Park, road to Schwabacher Landing was closed. Nevertheless, it is one of the beautiful destinations to add to your itinerary. The prime photo spot nestles on the Snake River where the flat terrain allows an easy access to the river.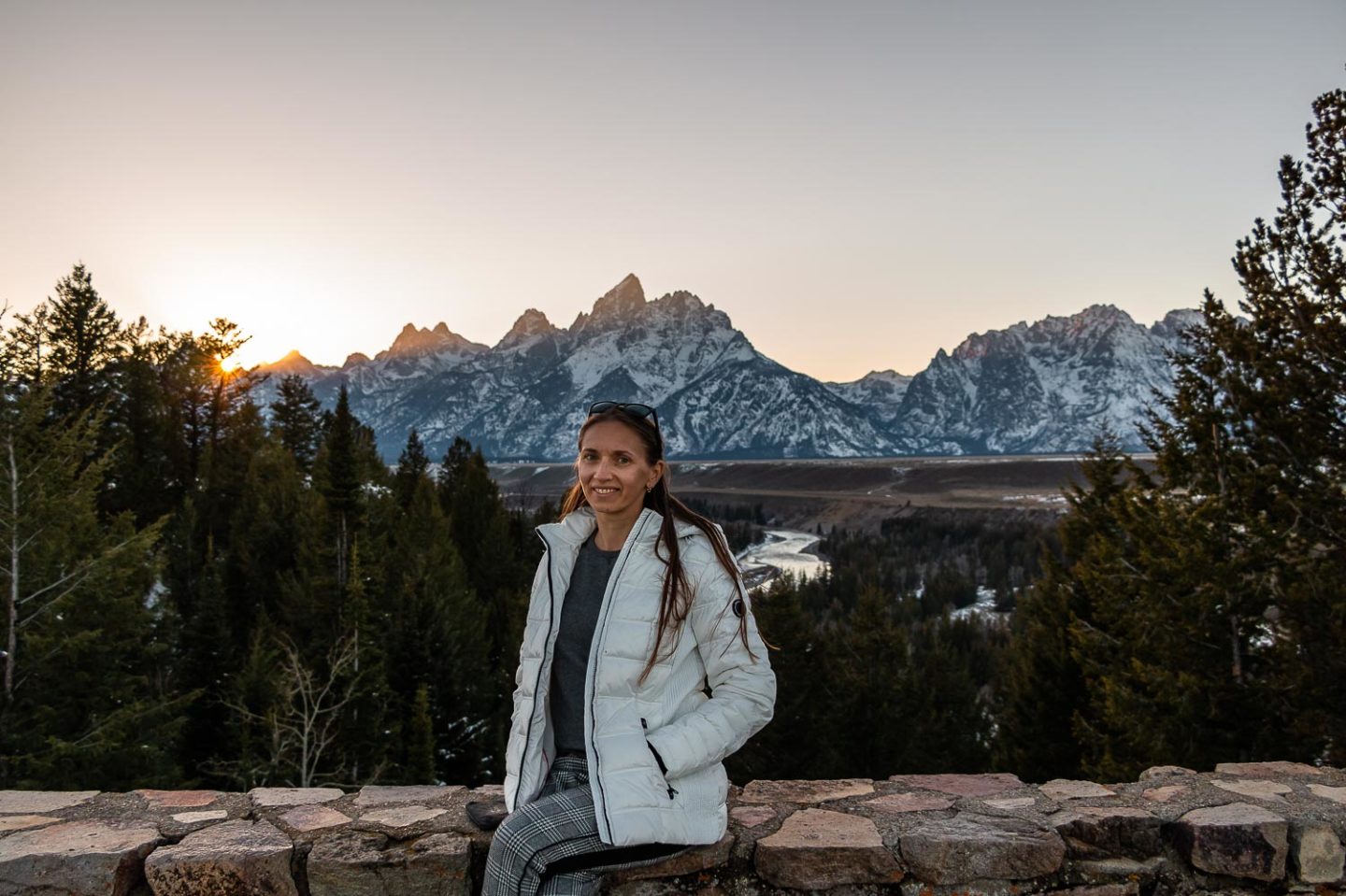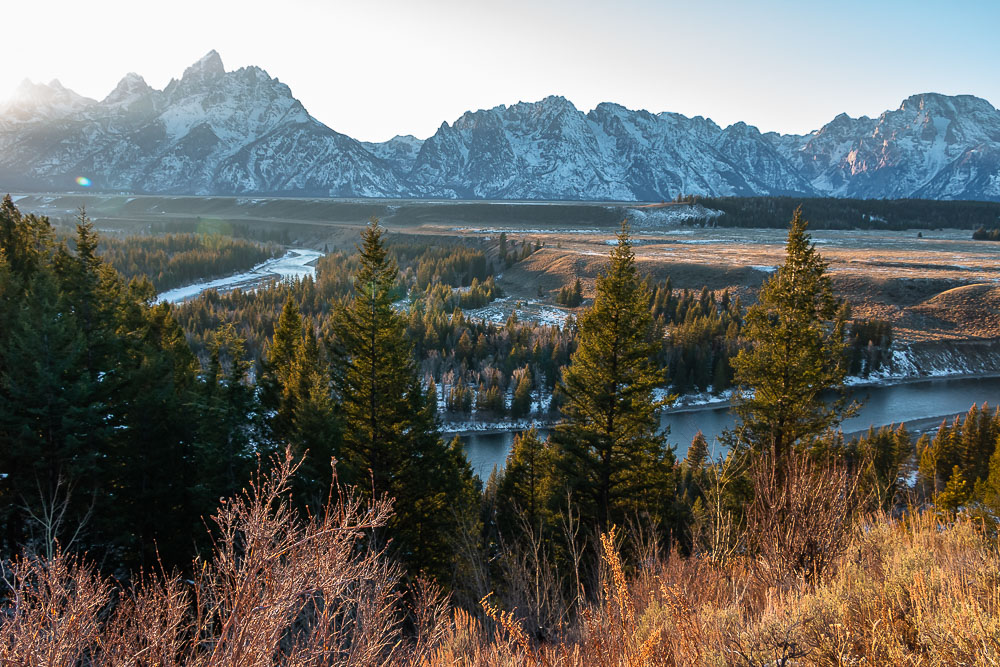 Snake River Overlook
The famous spot overlooking meandering curves of the Snake River with the Tetons in the background is a must-see place when spending one day in Grand Teton National Park. The Snake River Overlook got its popularity because of Ansel Adams who took his iconic picture at this spot in 1942. Things has changed, the trees has grown since that time, and the view is not exactly the same. This, however, doesn't stop endless amount of photographers from trying to replicate the iconic shot.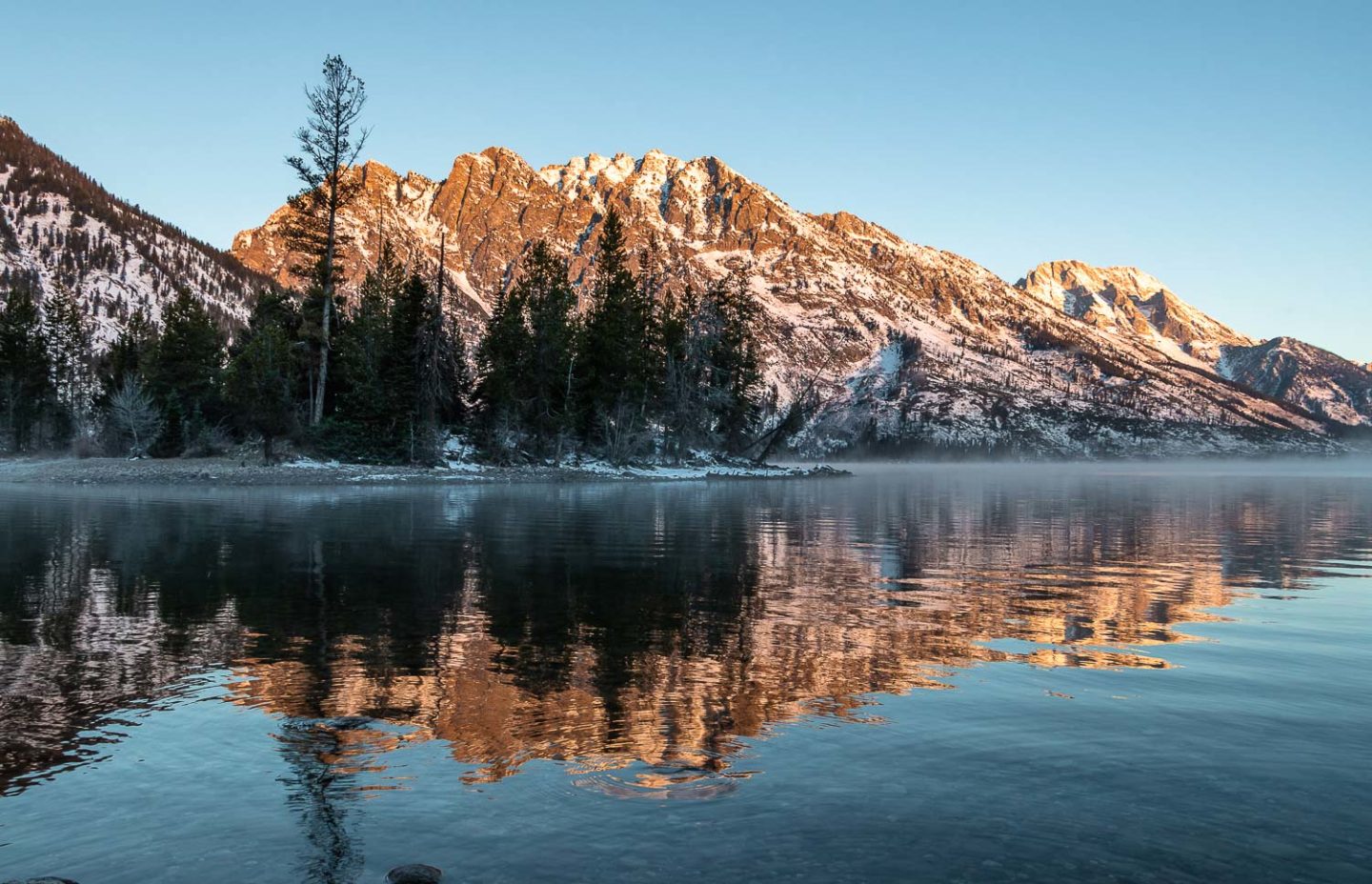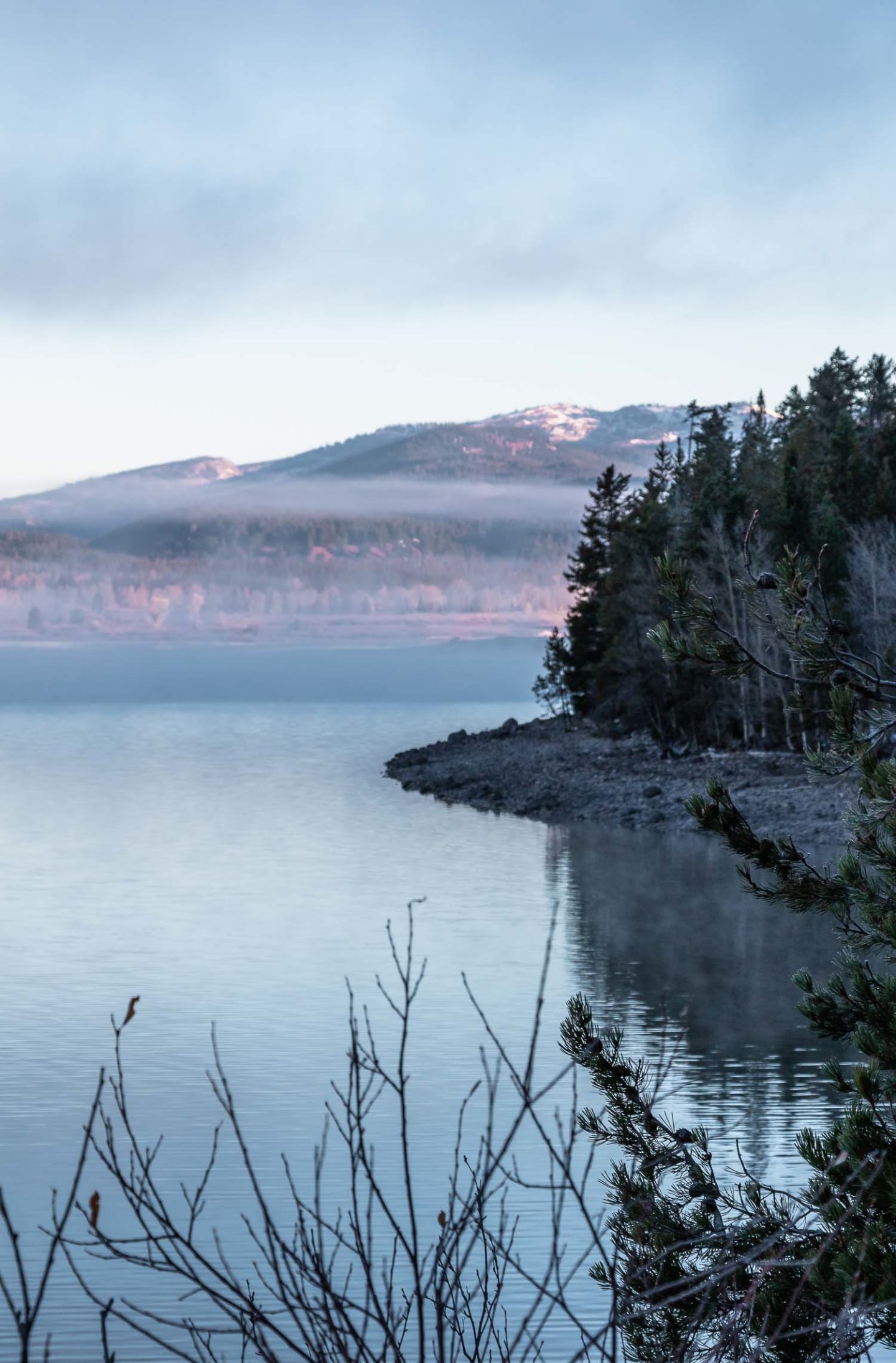 Jenny Lake
If there was one place you wouldn't want to miss in one day in Grand Teton National Park, Jenny Lake certainly takes this spot. Formed approximately 12,000 year ago, the pristine lake sits at the base of Cascade Canyon. The majestic mountains, sheltering the place from gusty winds, soak their rocky feet on the eastern side of the lake. Home to charming Jenny Lake Lodge, the area is one of a few places in Jackson Hole that allows motorboats.
While one day in Grand Teton National Park might not provide enough time for boating on the lake, the astounding surrounding never fails to lure with short hikes. For those who can afford both, take shuttle boat across Jenny Lake and hit a 1.1-mile round trip trail to Hidden Falls. And yet, the easiest activity here is enjoying the breathtaking views of the lake as you tour the Jenny Lake Scenic Drive.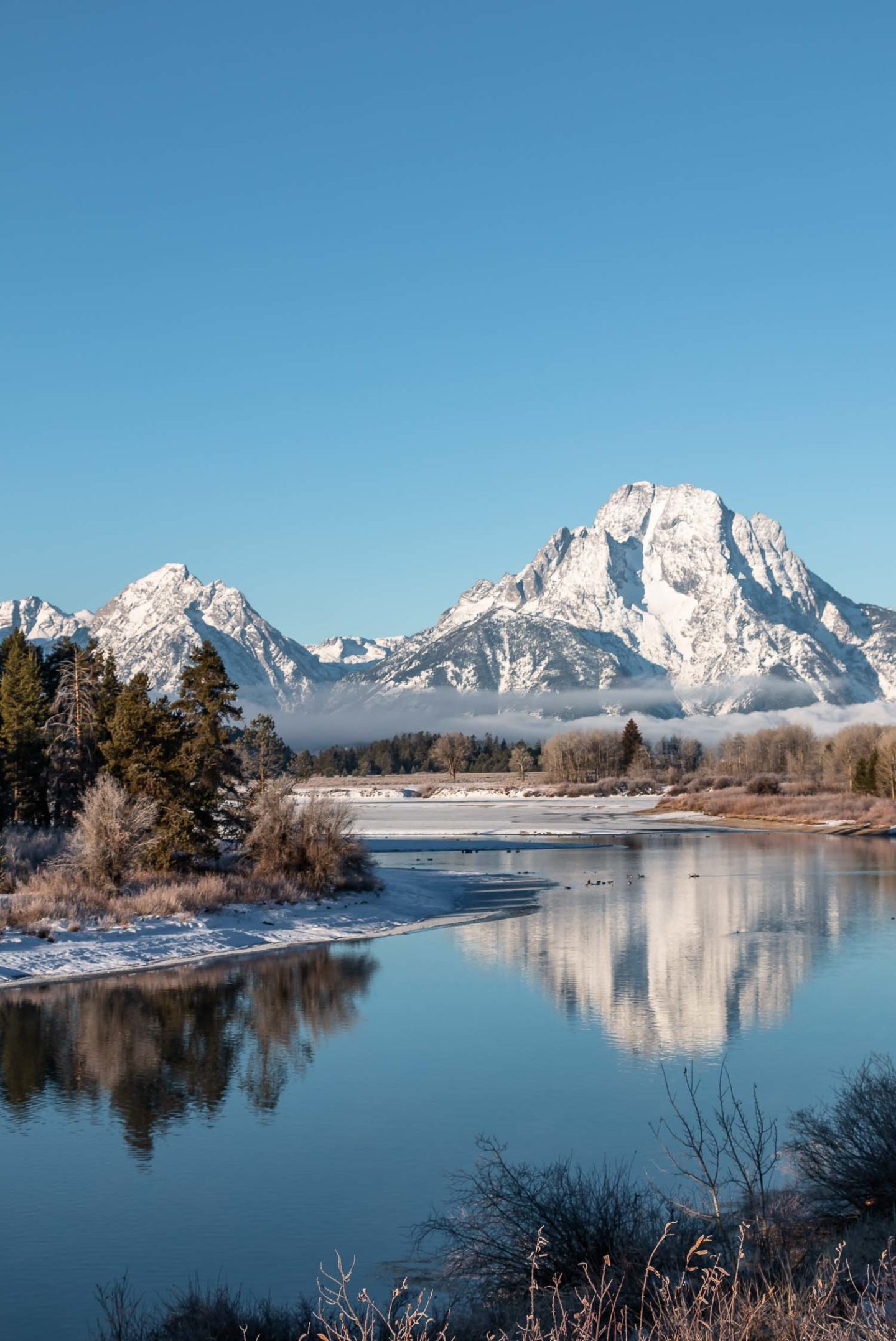 Oxbow Bend
Finish your day in Grand Teton National Park with panoramic vistas of the descending sun that illuminates waters of the Snake River at Oxbow Bend. The place where the iconic river widens to enclose a full reflection of the rocky giant nearby is arguably the most photographed place in the park. It is located a little bit over a mile east of the Jackson Lake Junction on Highway 89.
One Day in Grand Teton NP: Photography Tips
Always have your camera set up and ready to use. Wildlife in Grand Teton National Park can appear from nowhere and disappear as quickly as it comes into view. Although mental images and joy of seeing the animals in their natural habitat is one of the greatest rewards, sharing these precious moments with those who can't make it to the park enhances the experiences tenfold.
Visit the Snake River Overlook hours before sunset in order to avoid crowds or reserve your spot for sunset photo session. The area allures local photographers who position their tripods at the prime spots and patiently wait for the sunset for hours ahead of time.
Bring a zoom lens for photographing wildlife at a safe distance. While you can capture bison and elk at 25 yards away, increase this distance to 100 yards when photographing or observing bears and wolves. A 100-400mm will work perfectly for capturing wildlife during your one-day excursion in Grand Teton National Park.
READ MORE: 5 Iconic Photo Spots in Grand Teton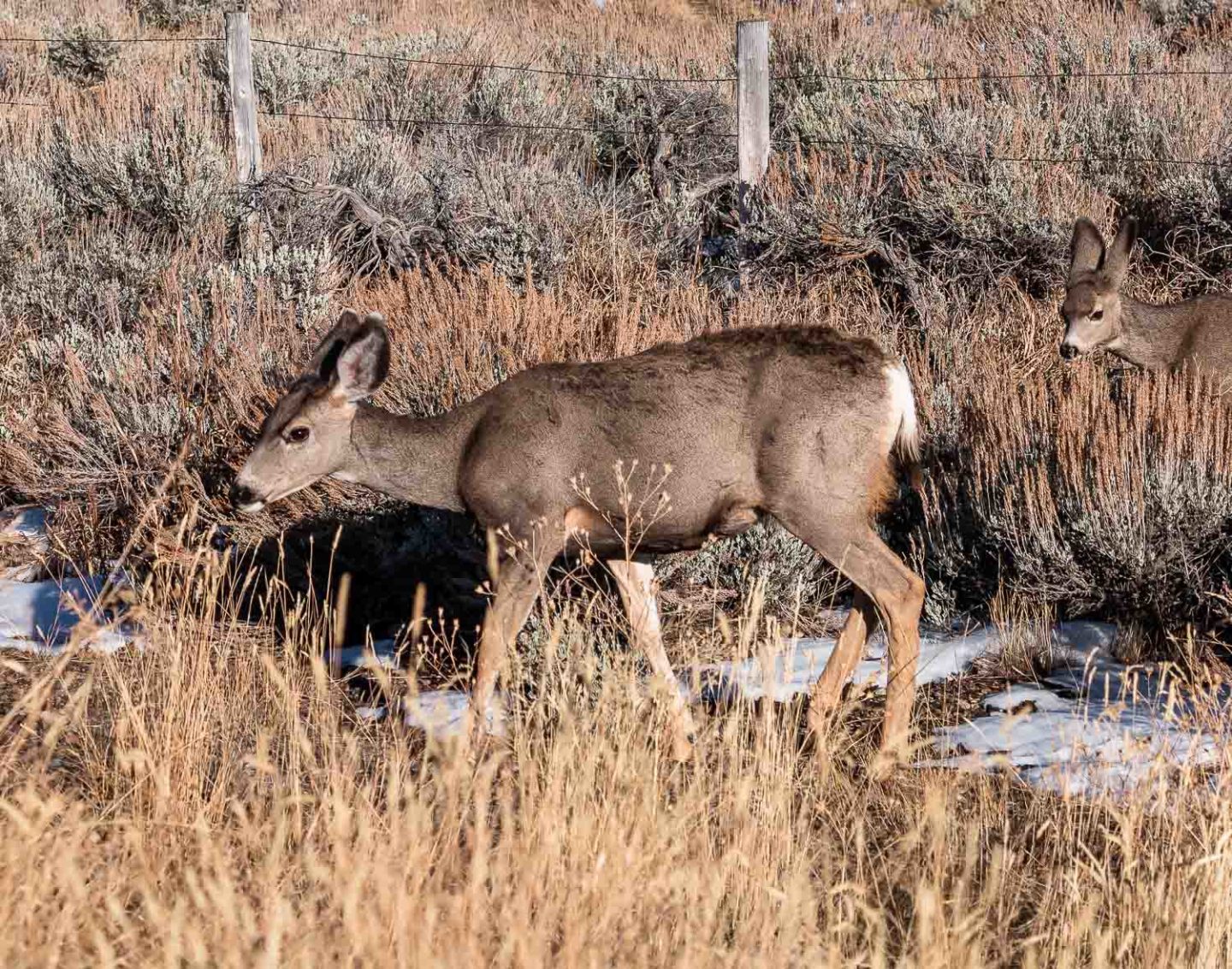 Helpful Tips for One Day in Grand Teton National Park
Get America the Beautiful Pass
To enter Grand Teton National Park, you must purchase Grand Teton Pass. The ticket costs $35 per vehicle, $30 per motorcycle and is valid for seven days. An annual Grand Teton Pass ($70) allows you to visit the park for twelve months. If you plan to travel to any other national parks within the same year, you are better off buying the America the Beautiful Pass. The latter covers all national parks in the U.S. for a one-time price of $80.
Winter Driving
You can spend one day in Grand Teton National Park all year round. Winter driving, however, may present some challenges such as ice or hard-packed snow covered roads and winter storms. Be sure to get winter or all-season tires and carry tire chains when visiting the park at this time of the year.
Seasonal Road Closures
Seasonal road closures can also be the culprit of your less then successful one-day trip to Grand Teton National Park. Check out park's website to avoid any unexpected obstacles during your winter visit.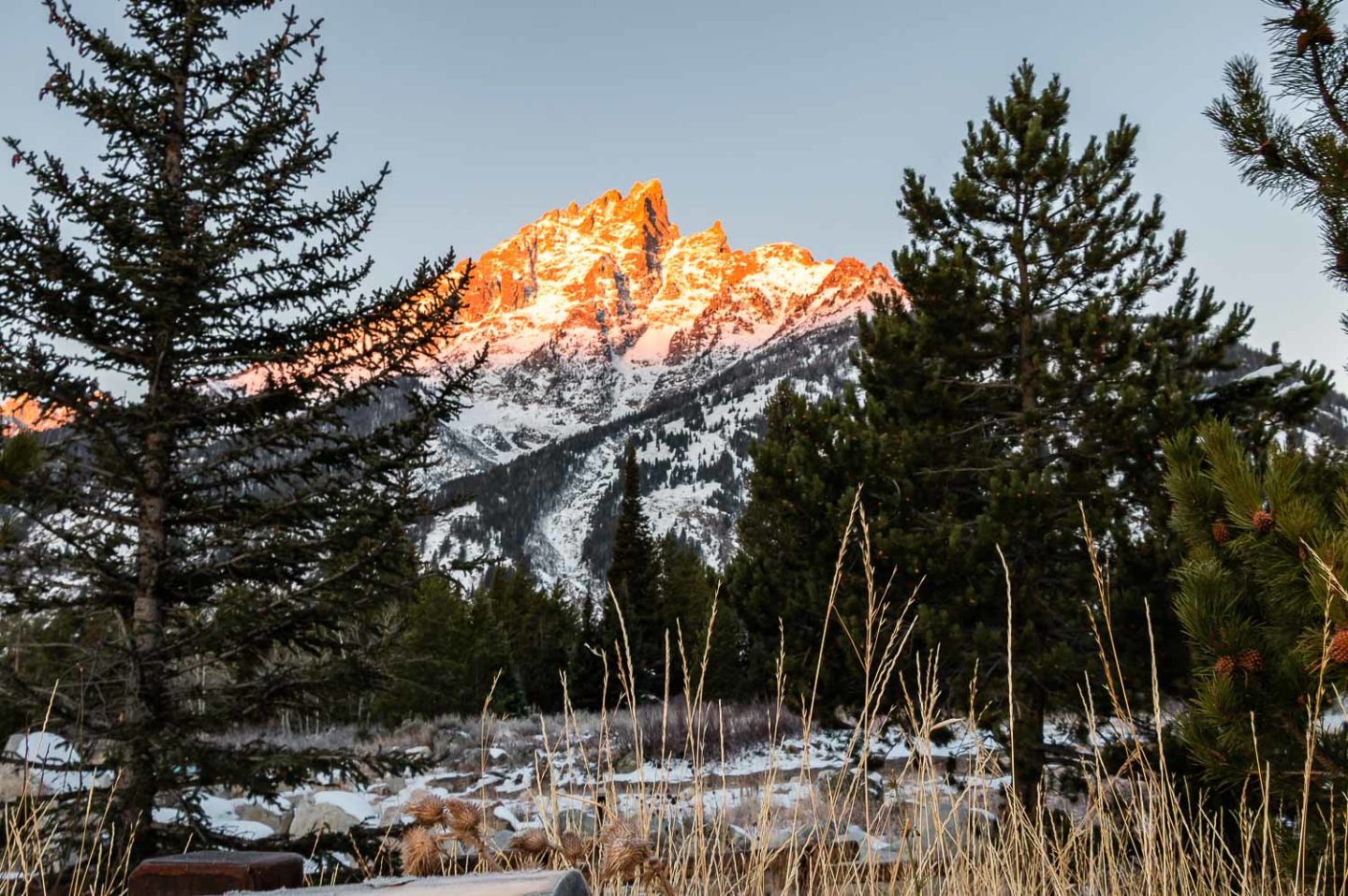 What to Pack for One Day in Grand Teton National Park
Your packing list for one day in Grand Teton National Park can be short or long depending on the time of your visit. Here are just some of the recommended items to add to your bag before setting out on a big adventure.
Binoculars. Binoculars are certainly not an essential item when traveling to Grand Teton NP for one day. However, they come in handy when you want to see distant places in details or observe wildlife from a safe distance.
Reusable Water Bottle. Travel responsibly and bring your reusable water bottle on a day trip to Grand Teton National Park. It is a small effort to stay healthy and hydrated and take care of the environment.
Sun Protection. Keep your skin protected all year round. Even in winter, the sunrays reflected from the snow can cause serious harm to your skin. So it is a good habit to pack a cap, sunglasses, and sunscreen at all times.
Camera and Tripod. You can't skip your camera or phone when packing for a day visit to Grand Teton National Park. Your memories can stay fresh only for some time, the pictures you will capture in the park will remind you of your adventure longer. Additionally, if sunset or sunrise shooting is a part of your plans, make sure to bring a tripod to keep those images in focus.
Places to Visit in One Day Near Grand Teton National Park
Grand Teton National Park is adjacent to Yellowstone National Park, making it a convenient destination for a one-day visit. Apart from it, there are a handful of other incredible places you should explore during your trip.
Yellowstone National Park
Jackson Hole
The National Elk Refuge
Bridger-Teton National Forest
Jackson
---
TIP: For more information about the Moulton Barns, please check out our guide to the historic buildings in the American West.
TIP: Interested in a road trip though Grand Teton and Yellowstone National Parks, find out more in our Boise to Yellowstone road trip.
If you found this post useful, don't forget to pin it for later and share it with your friends.