It's gooey. It's squishy. Love at first bite. It's America's favorite campfire snack. Now even healthier. Make these vegan s'mores while camping or sitting by a fire in your own backyard.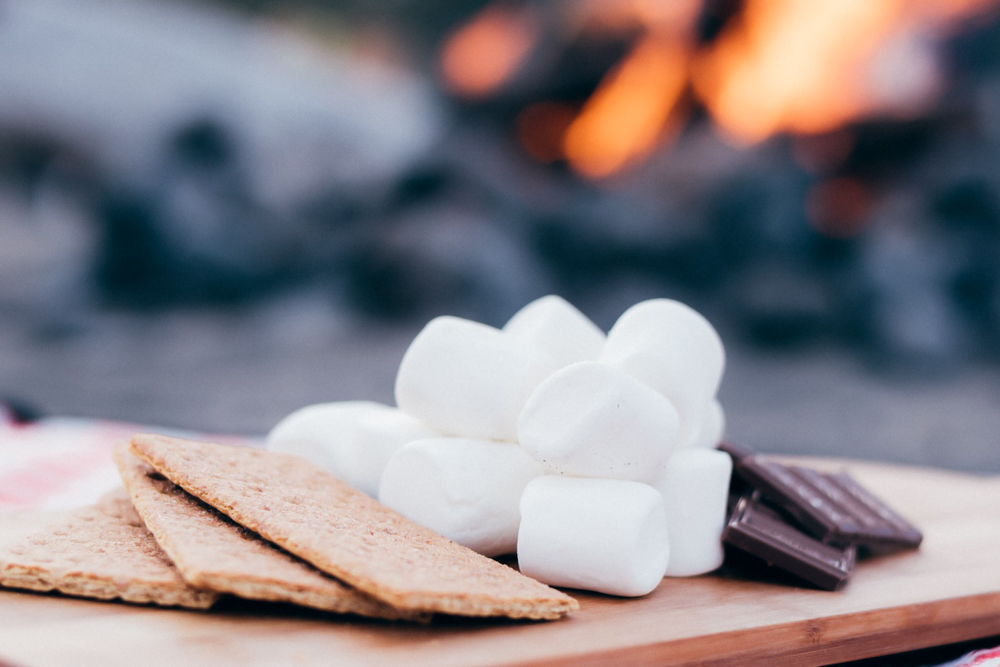 Vegan S'mores – America's Popular Snack
We all know that pleasure of sitting by a fire, listening to the sound of burning wood, and enjoying the company of our friends and loved ones. In America, this delightful evening gets even more special with gooey s'mores. Popular with kids and their parents, this traditional campfire snack spices every outdoor adventure, including a family picnic in your own backyard.
Classic s'mores are basically small sandwiches made of roasted marshmallows and a piece of chocolate pressed between two graham crackers. Originally, the snack included dairy, mainly in milk chocolate. We have added a healthy twist to it and present to you our vegan s'mores. What can be better than a favorite snack that is sweet and yet healthier than its original version?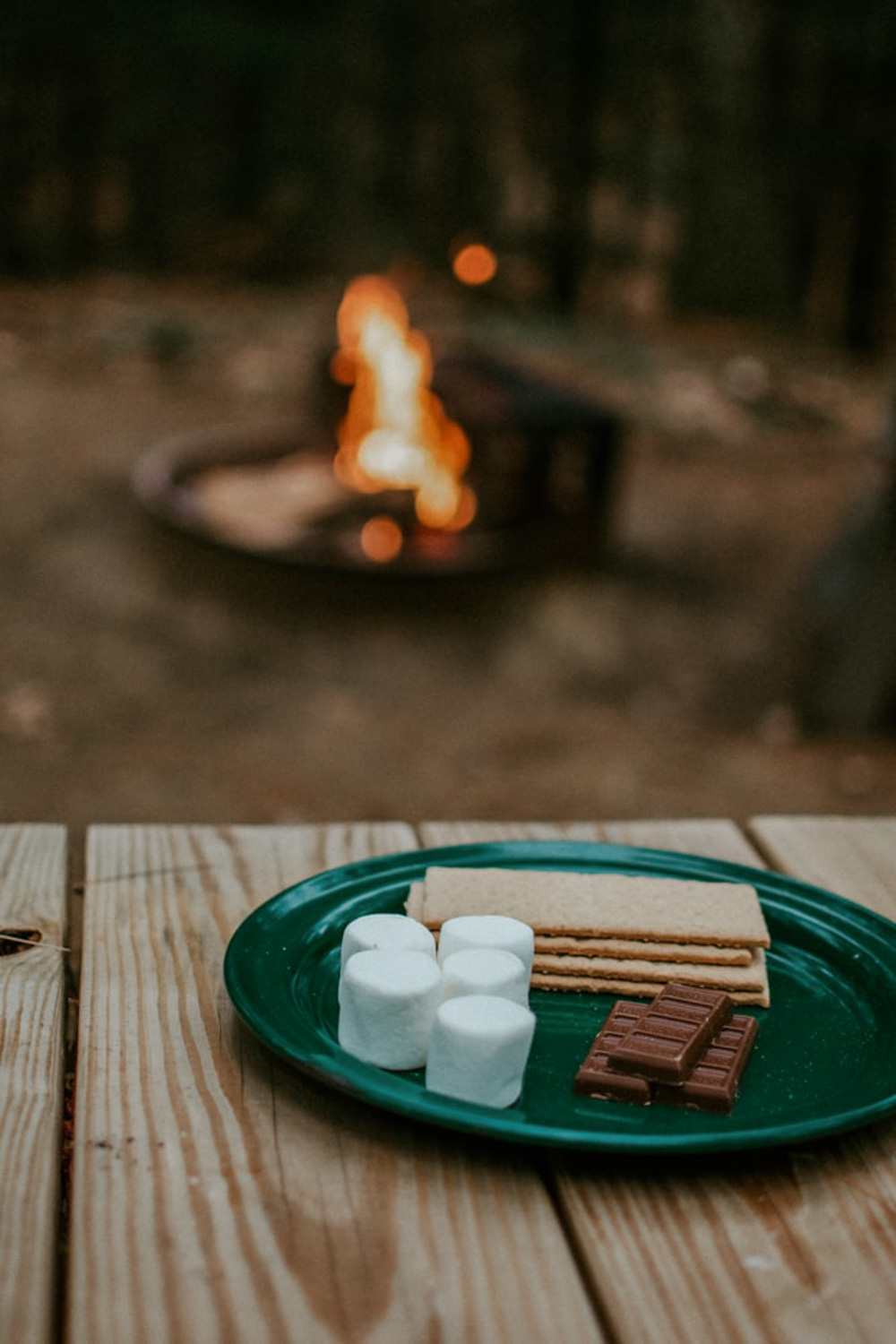 My Newest Obsession with Vegan S'mores
It was the first night of our week-long road trip through the American Southwest. My husband always wanted to stay in an Airstream trailer. You can find plenty of these near Joshua Tree National Park. Yet we were out of luck. During that weekend, so-called glamping spots in the national park were both scarce and expensive. Then finally, we found a RV on Airbnb at almost half price.
Our host came to welcome us upon our arrival and show everything that was available for our use on her property. The hospitable woman didn't skip a fireplace, which was the main reason why we had booked the place. She showed us how to use it and added that it would be the right place to indulge in some s'mores.
S'mores? Not being sure if I heard her right and certainly not wondering if they were vegan, I asked what these s'mores were. Before our host even finished describing this popular American campfire snack, I knew exactly what she meant. I had my share of classic and vegan s'mores before.
To our surprise, the lovely business woman proved to be a thoughtful host. She not only loved s'mores herself, but also had prepared all ingredients that she carefully sorted in separate ziploc bags for her guests to make their own s'mores by the fire. Sadly, these were not vegan s'mores. Yet this surprising incident inspired me to make a plant-based version of the popular American campfire snack upon our arrival back home.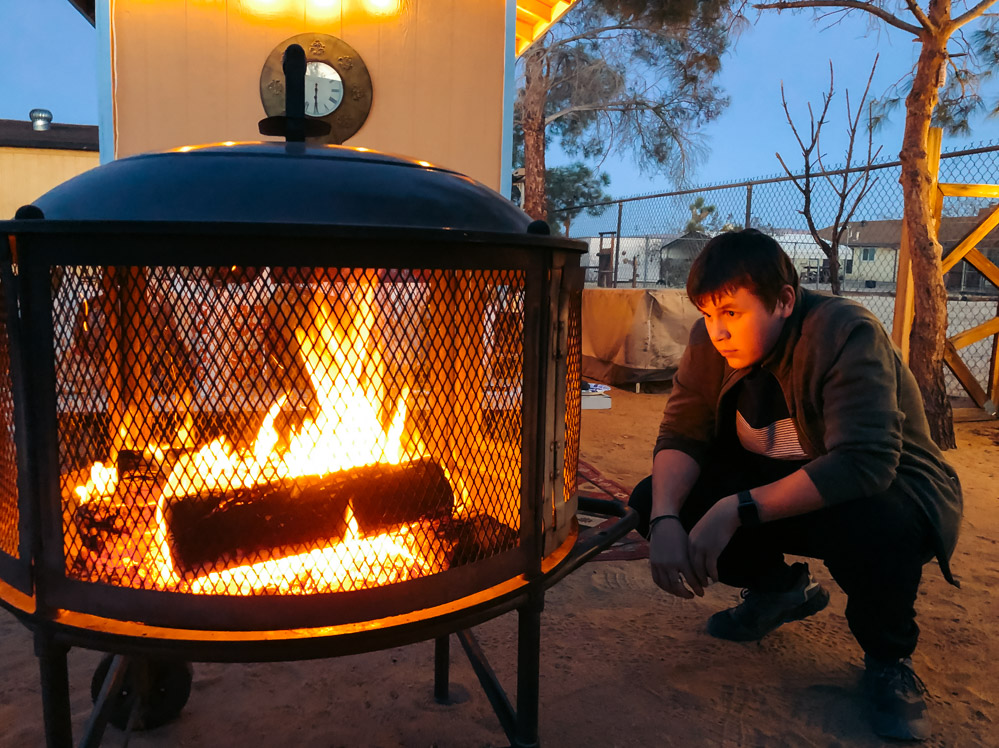 Vegan S'mores: How It All Started
My introduction to s'mores happened over a decade ago. At that time, I worked at a summer camp near a small town in New Jersey. Located in an isolated area, the place offered great opportunities for its guests to connect with nature and meet new friends that often were of different backgrounds.
Camp's staff that consisted mostly of young adults regularly spent evenings by a fire. One day, my friend swung by our kitchen to get some food for an upcoming campfire adventure. That evening, she proudly presented a few Hershey Bars, a giant bag of marshmallows, and several packs of graham crackers to everyone's delight.
A few minutes later, all people sitting by the fire were helping themselves to some classic s'mores (I don't believe vegan s'mores were on menu that evening.) With help of my American friends, I created my first campfire masterpiece and was hooked instantly. After the first one, I needed some more s'mores. My friends joked that if I continued at the same speed, I could be double my size in no time.
Years later, I learned that you can make a healthier version of the popular American campfire snack. Since then, vegan s'mores have become my occasional treat.
History of S'mores
Interestingly enough, classic s'mores were born by – you guess -a campfire. No one knows exactly who invented this favorite snack. Credit for classic s'mores, however, is given to Loretta Scott Crew. The first recipe for "Some Mores" appeared in a 1927 publication called Tramping and Trailing with the Girl Scouts.
As the story goes, Loretta made s'mores for Girl Scouts by the campfire. The addictive treats became an instant phenomenon and soon were known as the most popular campfire snack in America. Children and adults all over the country longed for some more of these gooey sandwiches. Eventually, this sweet addiction led to a catchy name "some mores".
The name was shortened later. The first mentioning of "s'mores" was found in the 1938 guide "Recreational Programs for Summer Camps", by Henry Wilson Gibson. Perfectly aligning with the playful snack, the new name sticked to the gooey campfire sandwich.
Over the years, the classic recipe have been modified as well. Different kinds of chocolate and crackers have been used to substitute the original ingredients. With time, people with dietary restrictions started adding a healthy twist to the popular national treat. Thus, vegan s'mores were born.
How to Make Vegan S'mores
Although s'mores (vegan or classic) intend to add some sweetness to your campfire party, the popular snack is not an alien to the regular kitchen environment. You can roast the marshmallows on the stovetop or microwave them. Then assemble your vegan s'mores as you would do it by the fire.
Campers usually roast the marshmallows over the fire until they are gooey or golden brown. The next step is to place a small piece of chocolate on top of a graham cracker and cover it with the warm marshmallow. Chocolate lovers place another piece of chocolate on the roasted marshmallow to add richness to their vegan s'mores. This step is, however, optional. Finally, another graham cracker covers the succulent campfire snack, making it look like a sandwich.
The heat from the marshmallow between the halves of the chocolate bar melts the chocolate a little bit, enhancing the taste and leaving you wanting "some more". Voila! Your vegan s'mores are ready to enjoy.
What do You Need to Make Vegan S'mores?
Classic s'mores, including its vegan options, ask for three simple ingredients: marshmallow, chocolate bar, and graham crackers.
Graham Crackers
Some of the most popular American biscuits, graham crackers where invented by the Reverend Sylvester Graham in 1829. The original recipe didn't include any sweeteners. Over the years, honey and its substitutes have been added to the crackers. Not only this contributed to the sweeter taste, but also made it impossible to use some brands of the graham crackers for vegan s'mores.
Nevertheless, you can still find plenty of different kinds of the plant-based crackers for your campfire treats. Some s'mores' enthusiasts use wheat crackers or even oatmeal and coconut cookies.
Marshmallows
Surprisingly, regular marshmallows have some animal byproducts derived from bones, skin, ligaments, and tendons. Gelatin used in their production is the first ingredients to blame for the non-vegan nature of the marshmallows. As it was the story with the graham crackers, the original marshmallows were healthier than the commercial options that flood American grocery stores nowadays.
Interestingly, the marshmallows have been around since ancient Egypt. The soft, while treats came to Europe in the late 1800's. Their production, however, was time-consuming and somewhat difficult. Thus, French confectioners simplified the recipe, adding gelatin and making it easier to mass-produce.
For a long time, the non-vegan marshmallows dominated the markets all over the world. The situation has changed, though. Today, many stores offer plant-based options such as Dandies vegan marshmallows to the delight of all vegan s'mores' enthusiasts.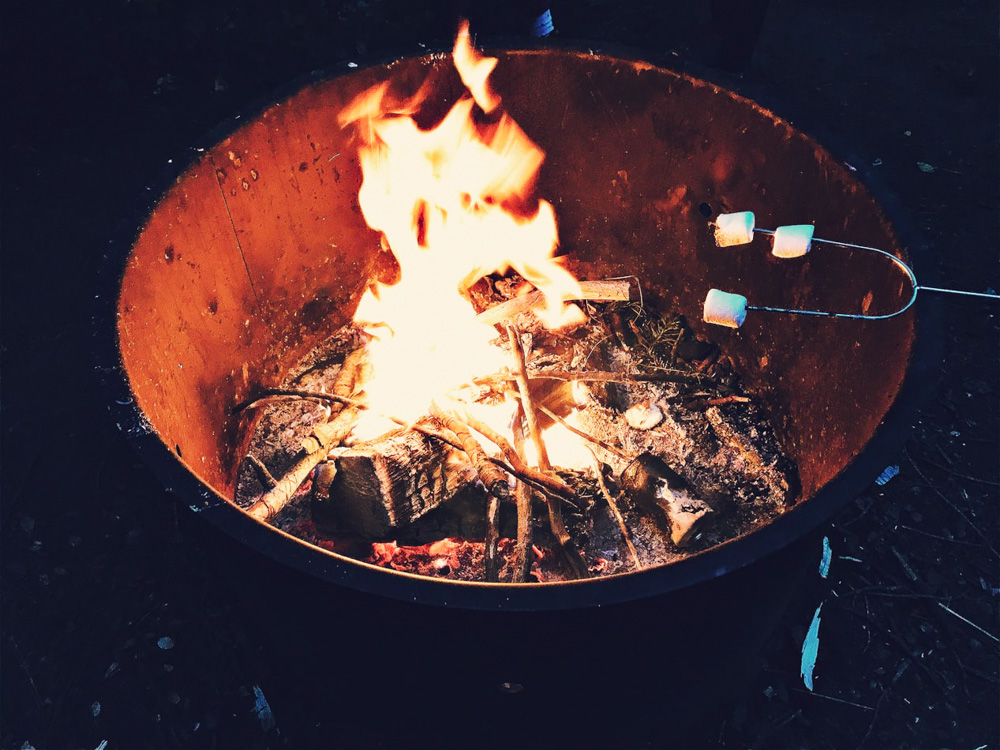 Chocolate
The original s'mores recipe asks for Hershey Bars. Yet you can use any kinds of chocolate, including white and milk. Dark chocolate is ideal for vegan s'mores.
Substitutes
The latest versions of vegan s'mores differ drastically from their original relatives. Some people use all sorts of alternative fillings that range from jams to peanut butter, almond butter, chocolate spread, and caramel. Furthermore, instead of the graham crackers, they use Oreo and any other plant-based cookies. Today there is really no limit when it comes to the flavors of your vegan s'mores.
Ways to Make Vegan S'mores at Home
No campfire? No Problem. You can easily make vegan s'mores in the comfort of your own kitchen. Your choices of how to warm up the marshmallows at home are rather broad and not limited as it might seem at first. You can heat up the main ingredient of vegan s'mores in an oven, over the stove, or in a microwave.
Once you toast the marshmallows, squish them between the vegan graham crackers and chocolate and enjoy. For a cozy, campfire-like mood, dim the lights in a room or light a candle. Vegan s'mores prepared this way will taste almost identical to their campfire relatives.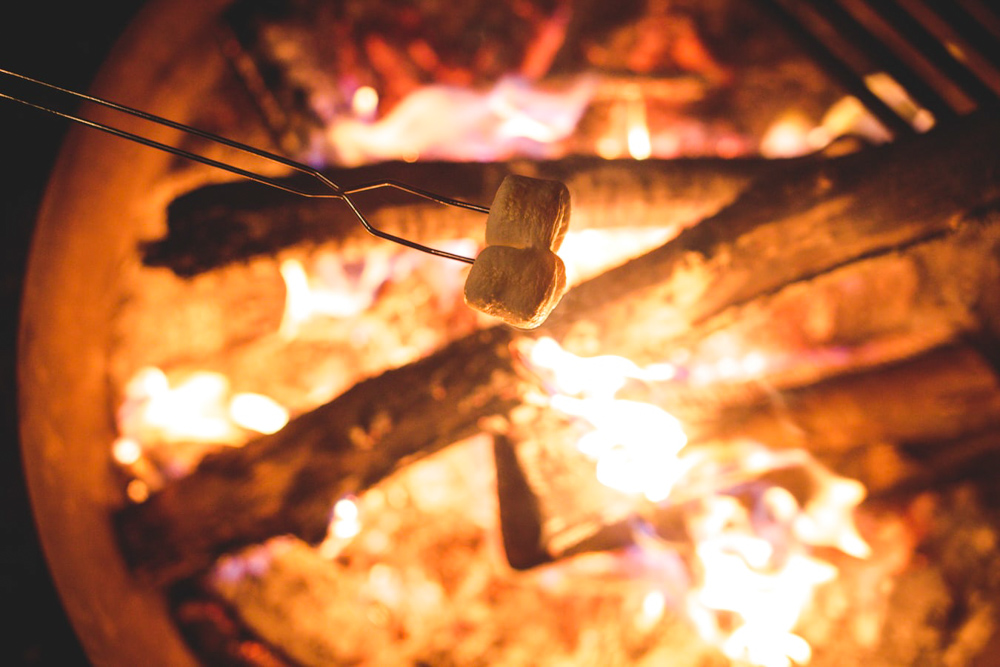 Recipe for Vegan S'mores
Vegan s'mores need only three ingredients. Consisting of the gooey marshmallow squished between melted dark chocolate and the crunchy graham crackers, this special dessert can be made in a few minutes.
Yield: 2 vegan s'mores
Time: 3 minutes
Ingredients
2 Vegan Marshmallows
2 pieces of vegan dark chocolate
Vegan graham crackers (or any vegan cookies)
Directions (for Vegan S'mores by a Campfire)
Place the marshmallows on a long metal skewer and roast over the campfire until golden brown on all sides.
Place a square of dark chocolate on one graham cracker and top it with one roasted marshmallow. Cover everything with the second graham cracker.
Repeat the same steps for the second vegan s'more.
Directions (for Microwaved Vegan S'mores)
On one graham cracker, put one square of dark chocolate and a vegan marshmallow.
Microwave for 10-15 seconds or until the marshmallow puffs up.
Cover with the second graham cracker and enjoy.
Classic s'mores, including vegan s'mores, is hardly a healthy snack. Yet you should honor your cravings and treat yourself to these vegan s'mores from time to time.
Want to experiment with more travel inspired dishes? Check out these recipes.
---
If you enjoyed this post, don't forget to pin it for later and share it with your friends.