For some, a visit to Seven Magic Mountains is a spontaneous stop on the way to Las Vegas. Others want to know everything about this colorful spot in the middle of the desert and research all available materials in advance. Yet both groups agree that you must visit Seven Magic Mountains before it's gone.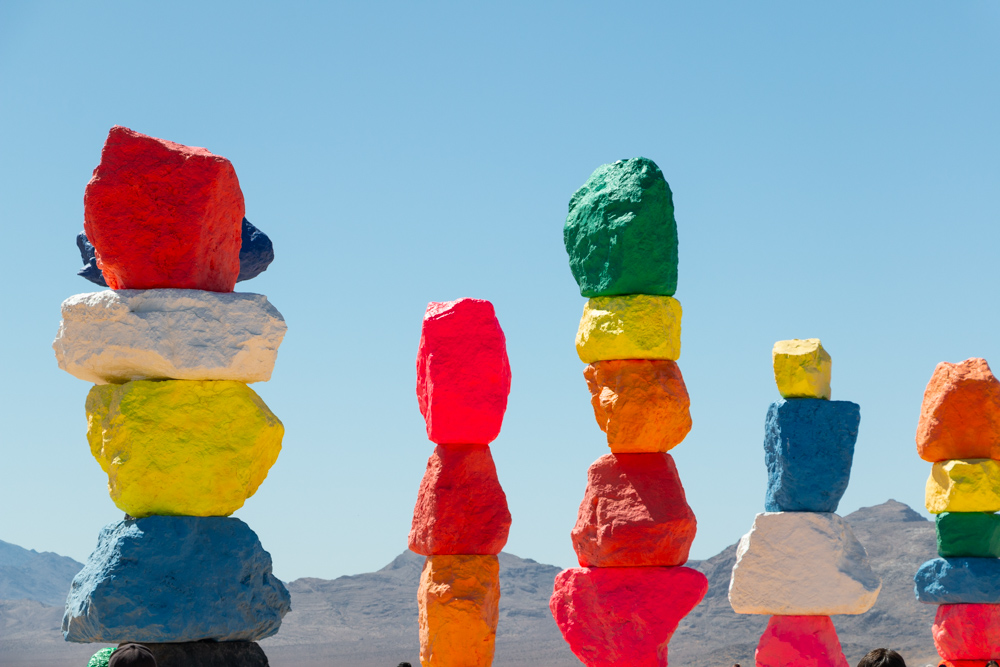 Las Vegas's hot spot. Rainbow magic. A poetic burst of forms and colors… Seven Magic Mountains is a primary destination to visit in Nevada for all art enthusiasts. Nestled near Las Vegas, the colorful installation has stirred up interest since 2016. People of all walks of life visit Seven Magic Mountains to invigorate their senses, get inspired, and derive their creativity from the unity of art and desert.
Surprisingly, many congregate at the art installation without realizing how grand it is. Colorful boulders that the artwork consist of look rather small from Interstate 15, where the majority of the first-time visitors spot the site at first. Once you get closer, the large-scale public art installation towers over you, making you feel small. How is it possible that you have avoided a trip to Seven Magic Mountains until now?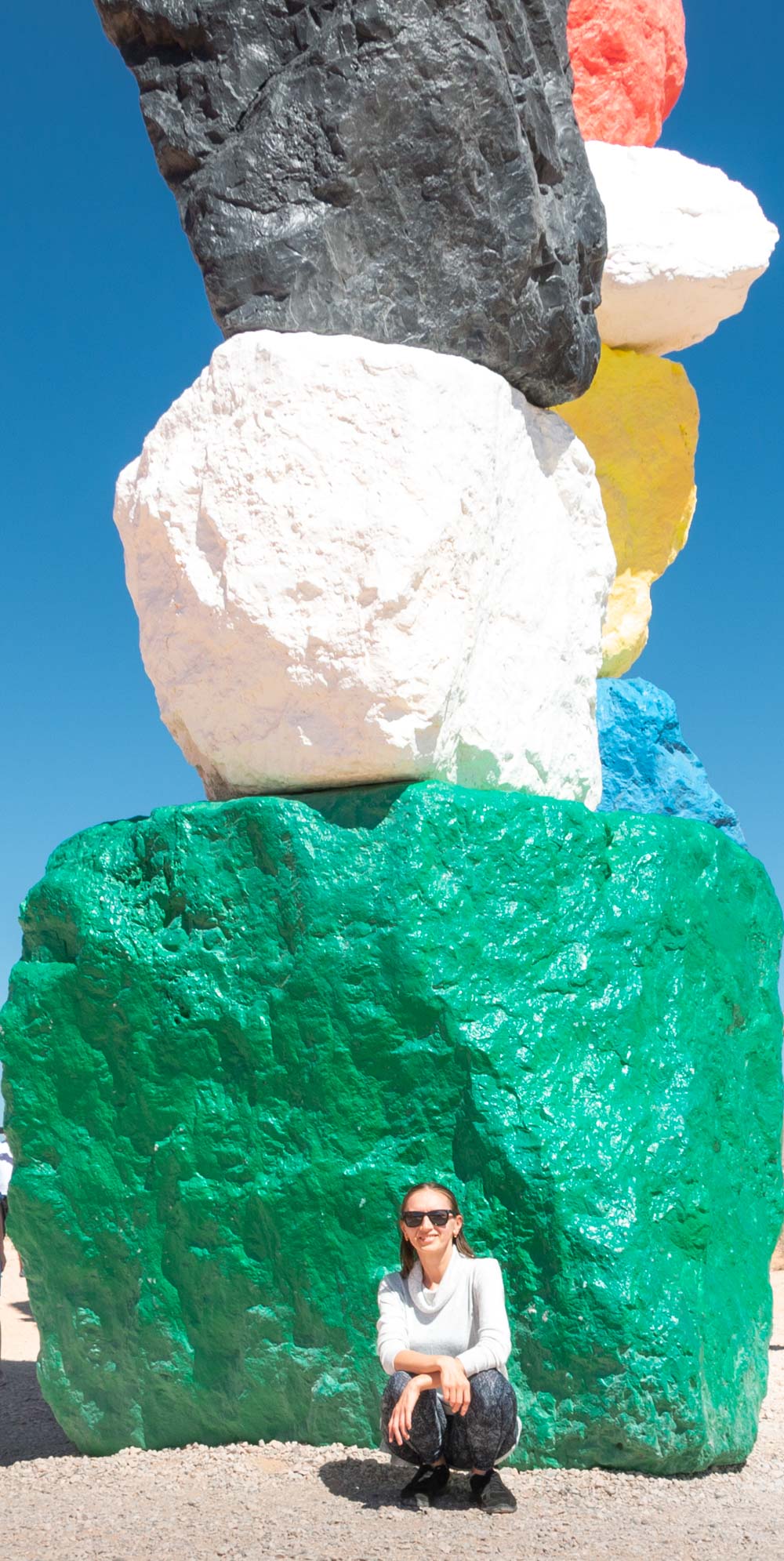 Visit Seven Magic Mountains: Meet the Artwork
The grand installation near Las Vegas first took the world by surprise in 2016. As the name suggests, the artwork consists of seven mountains, or rather towers, of piled on each other boulders, extending their peaks to the sky in the middle of nowhere. Some call them totems, others stick to the original name "mountains". Regardless of how they name them, most visit Seven Magic Mountains and feel inspired to create something new.
So what is Seven Magic Mountains? The artwork comprises seven poles of painted, stacked, locally-sourced boulders that reach 30 to 35 feet in height. While some totems contain three large boulders, others consists of up to six smaller limestone rocks.
Each stone is painted in a different fluorescent color. Such a vibrant coloration serves as a primary reason to visit Seven Magic Mountains. As you learn more about the story and motives for the creation of this artwork, the colors stop bewildering you. Instead, they become a natural, continuous part of the strange installation.
Indeed, despite its rather artificial appearance, Seven Magic Mountains drew its inspiration from naturally occurring hoodoos and balancing rock formations. Artist, Ugo Rondinone, added a burst of color to natural materials to express an indisputable connection between humans and nature. People befriended the desert a long time ago, and now their presence is symbolized in this bizarre artwork.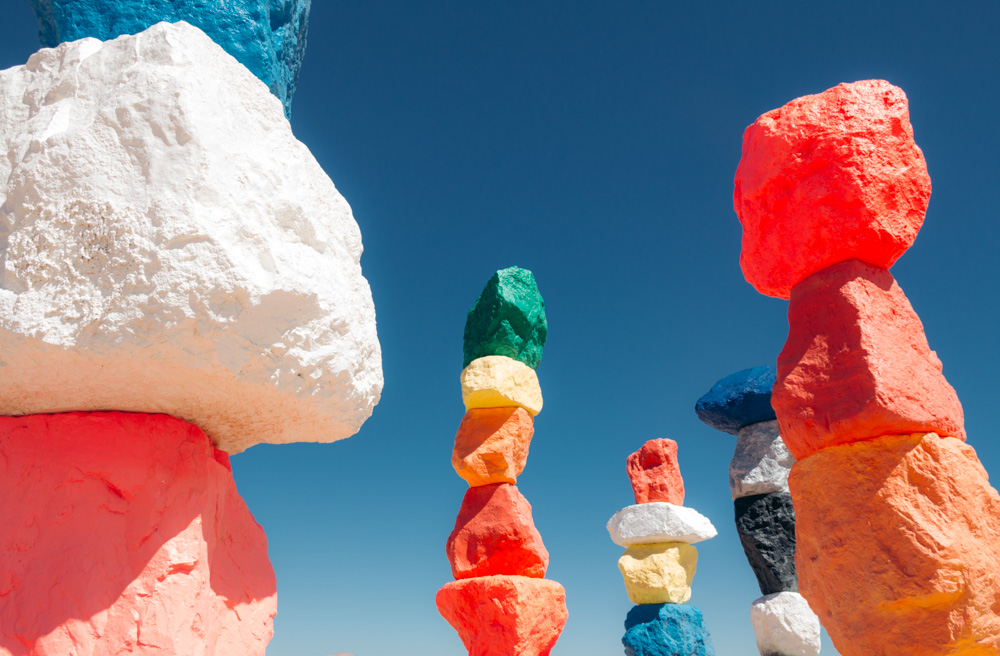 The Story of Seven Magic Mountains
Seven Magic Mountains is a creation of the internationally renowned artist Ugo Rondinone. Born in Brunnen, Switzerland, the artist is known for its ability to channel into the complicated relationship between people and nature. From eccentric designs to unusual locations, nothing in his creative process, including installation of the famous Nevada's artwork, is spontaneous.
Just a few years ago, there was no Seven Magic Mountains or any other prominent sites to see in this part of the state. The place was barren but never forsaken.
Finally, on May 11, 2016, a grandiose installation adorned the desert near Las Vegas. Thousands of visitors flocked to the newly-opened artwork. Every new media release, every visit to Seven Magic Mountains stirred up interest among art enthusiasts. Soon, people all over the world talked about this bizarre installation. Even more art lovers longed to see the splendidness of Seven Magic Mountains in person.
While the colorful totems seemed to appear overnight, the whole creative process took more than four years. From obtaining permit and working on specific engineering modalities that would keep the structures stable, the artist who by that time had relocated to New York and producers, the Nevada Museum or Art and Art Production Fund, had a long way to go.
Permit and Extension
According to the original plan, Seven Magic Mountains would be on display for two years. With no admission fees, anybody could visit Seven Magic Mountains and interpret the artist's idea in her or his own way. According to Rondinone, though, the installation would evoke the unity between humans and nature, artificial and natural, past and present.
Yet neither the artist nor the producers expected such an overwhelming success. The longer Seven Magic Mountains existed, the more locals and travelers wished to visit it. Inspired by this interest, Ugo strived to keep the installation on view at its current location.
Finally, at the end of 2018, the Bureau of Land Management issued a three-year permit extension. According to it, the art enthusiasts can visit Seven Magic Mountains through the end of 2021. Who knows, the impeccable artwork may get a new extension by that time and reside longer at its current location.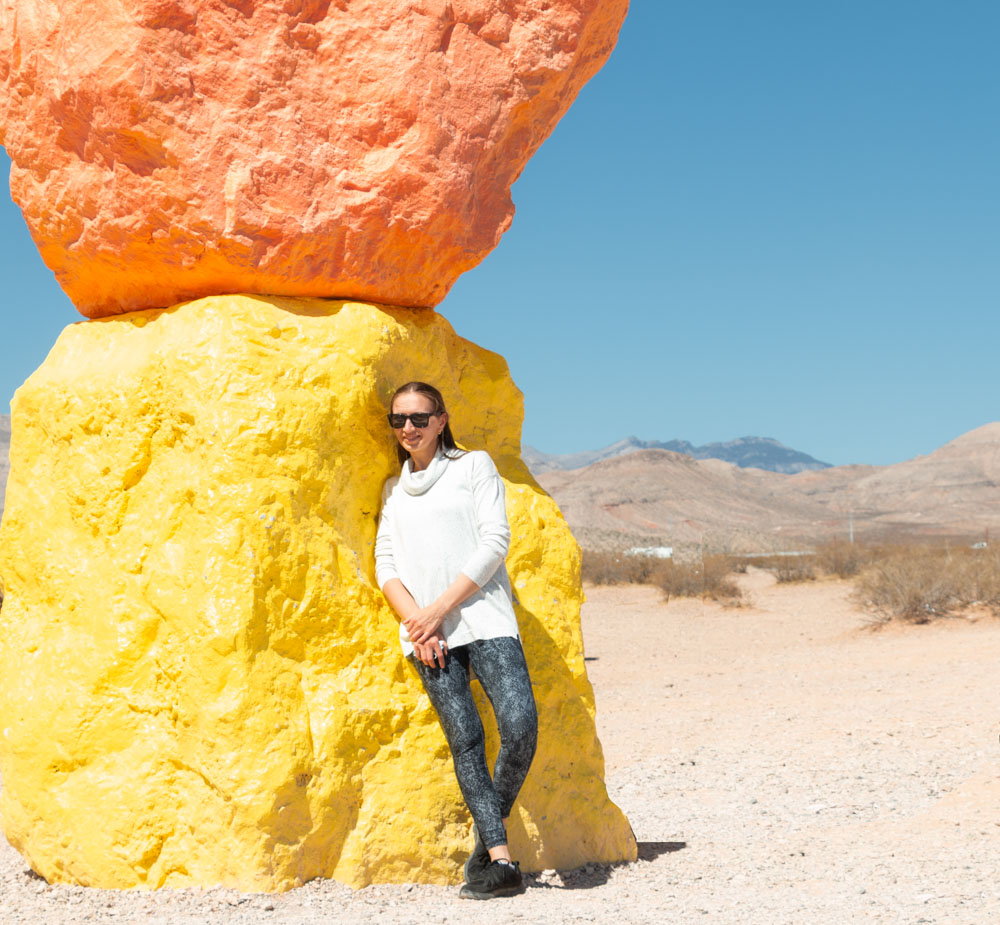 Reasons to Visit Seven Magic Mountains
Many travelers persuade their friends and families to visit Seven Magic Mountains. The place is …well, magical. Yet only a handful of them strengthen their point by offering reasons why you should visit Seven Magic Mountains. So why, indeed, do you want to lay your eyes on this odd artwork?
1. Extension of Human Intervention in the Desert
While the location of the installation may look random for the unfamiliar visitors, the area has a long history of human intervention. Seven Magic Mountains is nestled near Jean Dry Lake, a place that housed a couple of other famous artworks.
So the first human intervention happened in 1962. Fed up with the absurdity of consumer culture, Swiss painter and kinetic sculptor Jean Tinguely chose this place for his sculpture/event that blew itself up. Unlike its contemporary relative, Seven Magic Mountains, the first installation, Study for an End of the World No. 2, festooned the area for a very short time. Yet it succeeded at showing devastating effect of the atomic testing that took place on Yucca and Frenchman Lake.
Six years later, in 1968, Michael Heizer in collaboration with artist Nancy Hold and her husband Robert Smithson created their own artwork, Rift 1. This time, more people could enjoy the ephemeral zigzag trench about a foot deep near Jean Dry Lake. Yet the number of the art lovers wasn't even close to the number of people that visit Seven Magic Mountains today.
2. Symbol of Nevada's Art
If you believe that Las Vegas is the only place worth visiting in Nevada, think again. The Gambling Capital of the World indeed amuses with its dazzling shows and the prettiest hotel lobbies. On the other hand, the city astounds with its rising interest in the arts. Numerous art museums and galleries pop up in different parts of Las Vegas.
Thus, it doesn't come as a surprise anymore, that many travelers flock to the City of Lights not to gamble, but to plunge into its artistic heritage. For these globetrotters, a visit to Seven Magic Mountains is a sought-after pursuit that further unveils the state's rediscovered love of aesthetic pleasure.
3. Unmatched Day Trip from Las Vegas
Regardless if you love or loathe the arts, a visit to Seven Magic Mountains gives you a chance to see something new. Even avid gamblers need a break and change of scenery after a while.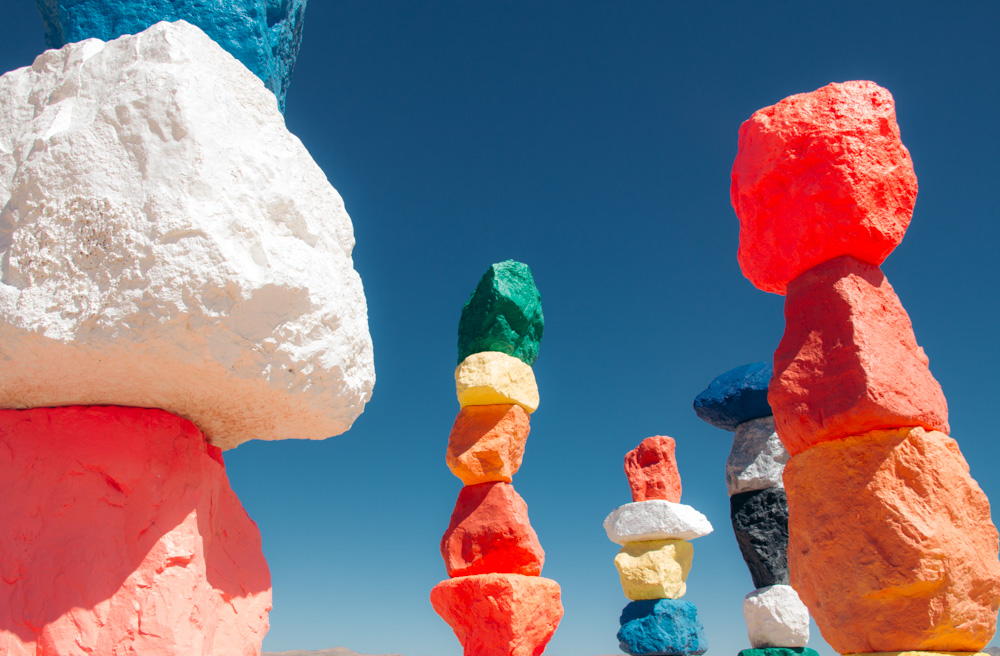 How to Visit Seven Magic Mountains: Location
The easiest way to visit Seven Magic Mountains if by flying into Las Vegan and taking a short road trip to the installation. The artwork sits near Jean Dry Lake and Interstate 15, about 26 miles south of Las Vegas.
How to Get to Seven Magic Mountains
Although some visitors of Seven Magic Mountains may question the choice of location, no one can deny its easy accessibility. The grand installation is nestled in the Nevada desert relatively far from the civilization, yet so close to the bustling highway, a primary route for people traveling between Los Angeles and Las Vegas.
To visit Seven Magic Mountains from Las Vegas, follow I-15 S for about 18 miles until it meets Sloan Road. Take exit 25, turn left, and continue on along Las Vegas Boulevard for nearly 8 miles until you reach the installation.
To visit Seven Magic Mountains from Los Angeles, drive north on I-15 to Jean, Nevada. Take exit 12 and continue on on NV-161 toward Las Vegas Boulevard. Take a left turn and follow Las Vegas Boulevard for about 5 miles.
Upon your arrival at Seven Magic Mountains, park in a free parking lot nearby and walk to the artwork. No cars are allowed near the colorful totems.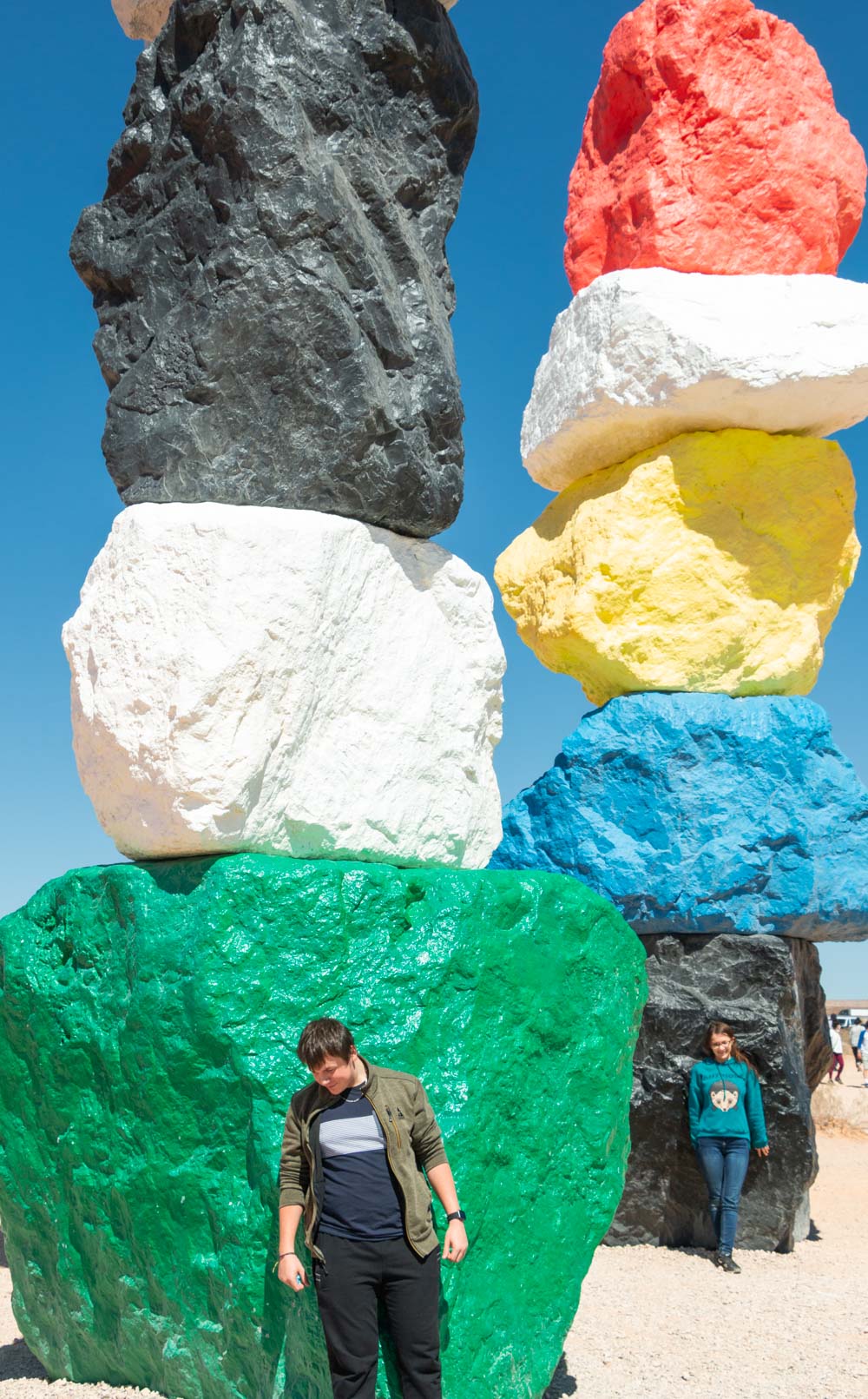 When to Visit Seven Magic Mountains
Normally, you can visit Seven Magic Mountains all year round, from sunrise to sunset. Nevada's weather doesn't impose any serious inconveniences for its guests. Summers in the desert, however, are hot. You may want to visit Seven Magic Mountains in the early morning or late afternoon during this time.
Furthermore, try to avoid monsoon season, which usually falls between mid-June and September. Thunder, lightning, and heavy afternoon rains are normal at this time.
In addition to it, visit Seven Magic Mountains on a weekday if it's possible. The place is usually busy on weekends and holidays.
How Much Time do You Need for a Visit to Seven Magic Mountains?
A visit to Seven Magic Mountains can last from 15 minutes to half a day, depending on crowds, weather conditions, and purpose of your trip. If you arrive on a busy day and want to photograph the artwork from all possible angles, plan to spend at least a couple of hours at the installation.
Moreover, be ready to put your patience to test. Most of this time, you'll spend waiting for the other visitors to walk away so you can have as a few people in your pictures as possible.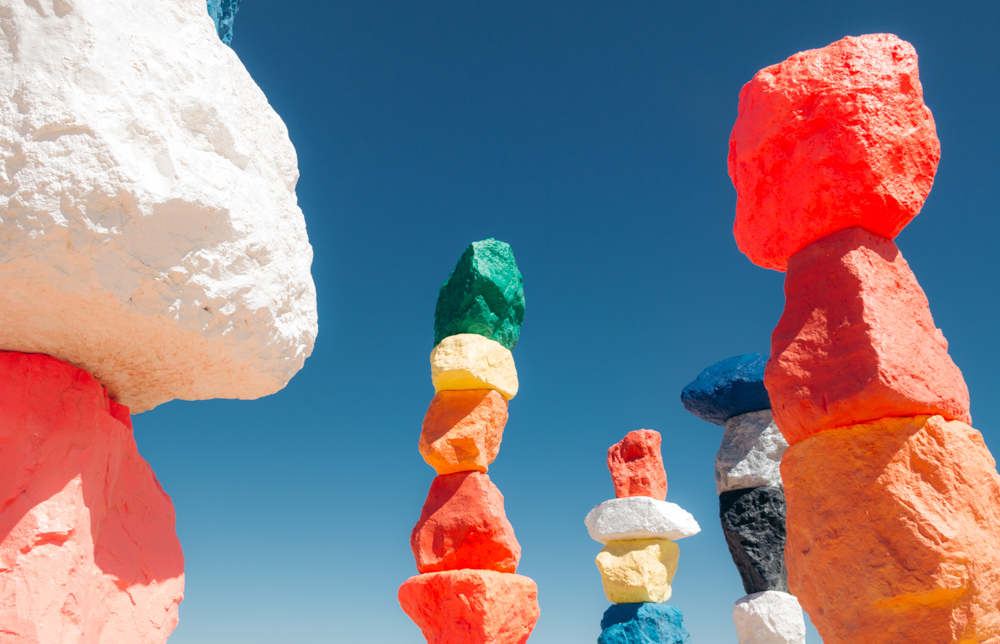 How Much does a Trip to Seven Magic Mountains Cost?
On the bright side, a visit to Seven Magic Mountains won't cost you a penny. There is no admission fee. Restrooms and other facilities are also absent. During our weekend visit to Seven Magic Mountains, however, a temporary restroom and a snack stand sat near an unpaved walking path to the installation.
Visit Seven Magic Mountains on a Tour
To be honest, if you drive, don't even bother to book a tour. The place is located less than 30 minutes away from Las Vegas. Furthermore, giving its small size and interpretive signage, you can visit Seven Magic Mountains and conduct a self-guided tour without any help. Those who prefer others to take care of all of the so-called logistics can book one of the following tours from Las Vegas.
Is Seven Magic Mountains Worth a Visit?
A visit to Seven Magic Mountains is an absolute must for any art enthusiast. Furthermore, it's a welcoming change in plans for almost every visitor of Las Vegas. On the other hand, flying across the world or driving hours upon hours just to see the installation may not be worth your time and money. Although it's a subjective opinion.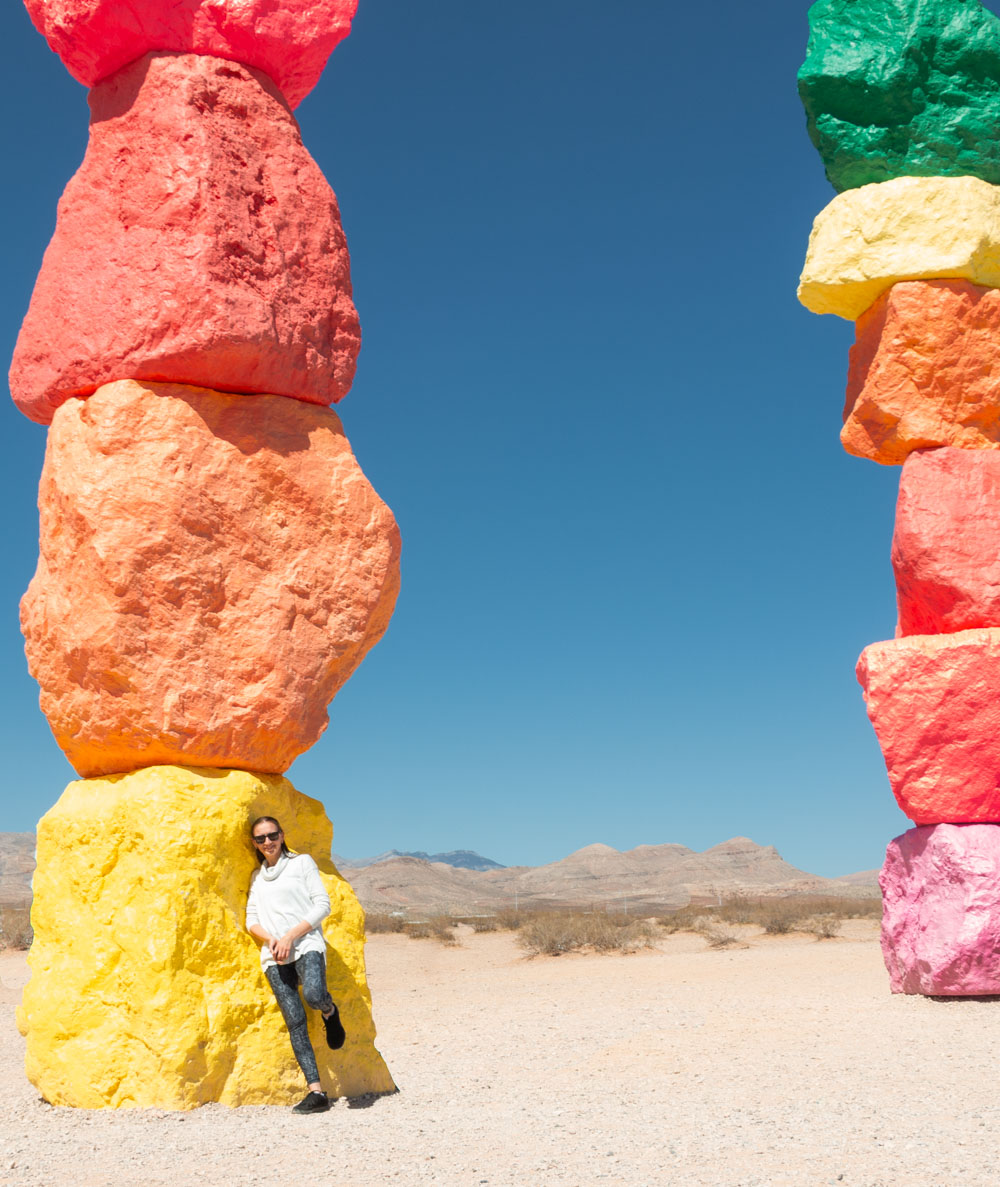 Helpful Tips for Visiting Seven Magic Mountains
Bring plenty of water and snack. You are going to the desert. So be sure to stay hydrated even if you visit Seven Magic Mountains for a short time. The daytime temperatures in summer here can reach 104 degrees Fahrenheit. Fresh fruits or snacks also come in handy, especially if you plan to spend several hours photographing the artwork.
Wear sunscreen. Again, protect yourself and your skin. Slather a generous amount of sunscreen on your skin and bring a cap or wide-brimmed hat for extra protection.
Don't disturb desert flora and fauna. Remember, you are a visitor here. Be respectful of the desert flora and fauna. No catching or holding insects, including endangered desert tortoise, is allowed when visiting Seven Magic Mountains.
Beware of snake. Venomous snakes can be found near Seven Magic Mountains. So keep a watchful eye on the area during your visit.
Don't climb or vandalize the artwork. Sitting on top of one of the colorful boulders looks good on pictures. Or wait… Does it? Every responsible visitor of Seven Magic Mountains surely understands how much work and effort have been put into the installation. Thus, you would get hardly any respect for such a foolish behavior. Moreover, those who visit Seven Magic Mountains and disregard the site's regulations are subject to criminal penalties, fines, and payments of restitution.
Photography. Visit Seven Magic Mountains and photograph away its eccentric shapes and hues. Don't sell the images, though. While there is no restrictions for photography for private use, commercial photo shoots are strictly prohibited.
Visit Seven Magic Mountains with pets. Pet are welcome. Be sure to keep them on leash, though.
---
If you enjoyed this post, don't forget to pin it for later and share it with your friends.