Bratislava has two sides, two faces. One belongs to its Old Town, while the second is presented by Nové Mesto or New Town of Bratislava, a place that still preserves its rich post-communist heritage.
Last updated: September 2, 2023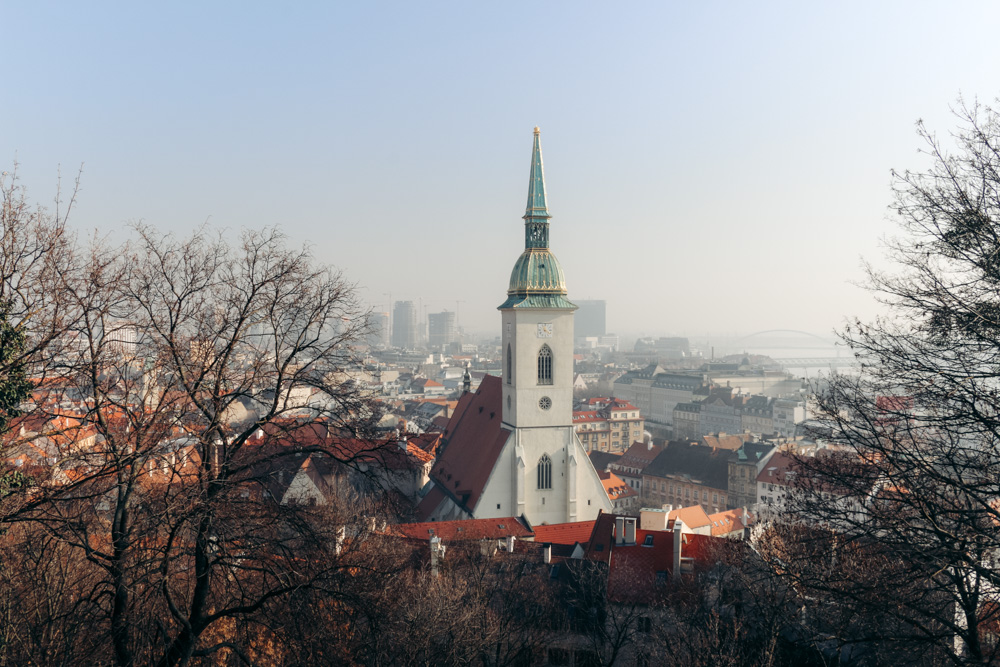 Two Sides of Bratislava: Explore Both Old Town and New Town
Suddenly, there was unanimous commotion. It looked like every person in our train wagon was getting off on the next stop. It had been only one hour since we had left Vienna for a day visit to Bratislava. Our train had just a quick stop in the capital of Slovakia on its way to southeastern Europe.
Looking now at the people hurriedly packing their belongings, I was almost sure that we were about to reach our destination. Although conductor announced the name of the next stop, he did it in a language neither of us understood. I needed confirmation. "Is this Bratislava?" A young man across our seat nodded his head. And soon we joined the tail of the line.
Bratislava, especially its New Town, looked nothing like Vienna. Right from the train station platform, it embraced us with its more rustic, rural feel. Neat, user-friendly platforms of Austrian bahnhof were gone. Instead, low-key stairs without wheelchair ramps, led us down to a hall with an access to the main building and eventually the city.
It wasn't even 8:00 a.m. when we reached the capital of Slovakia. Our train back to Vienna was in the evening, giving us more than ten hours to explore both sides – the Old and New Towns – of Bratislava. Although the city was smaller compared to some other European capitals, I was worrying if this time was enough. Not willing to lose a single minute, I hurried everybody from the train station. And this was when I froze in disbelief…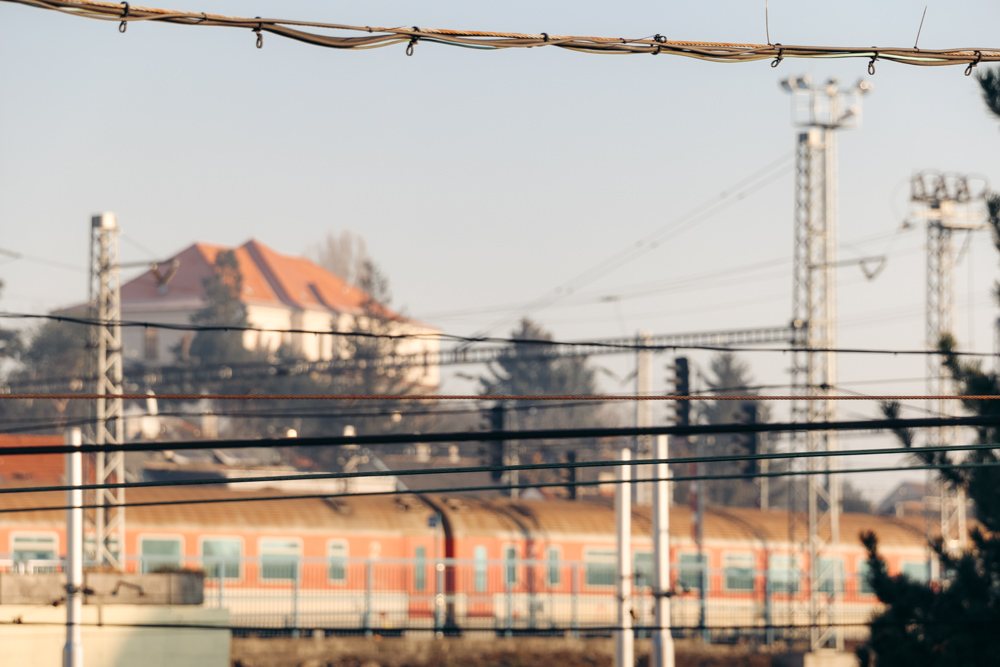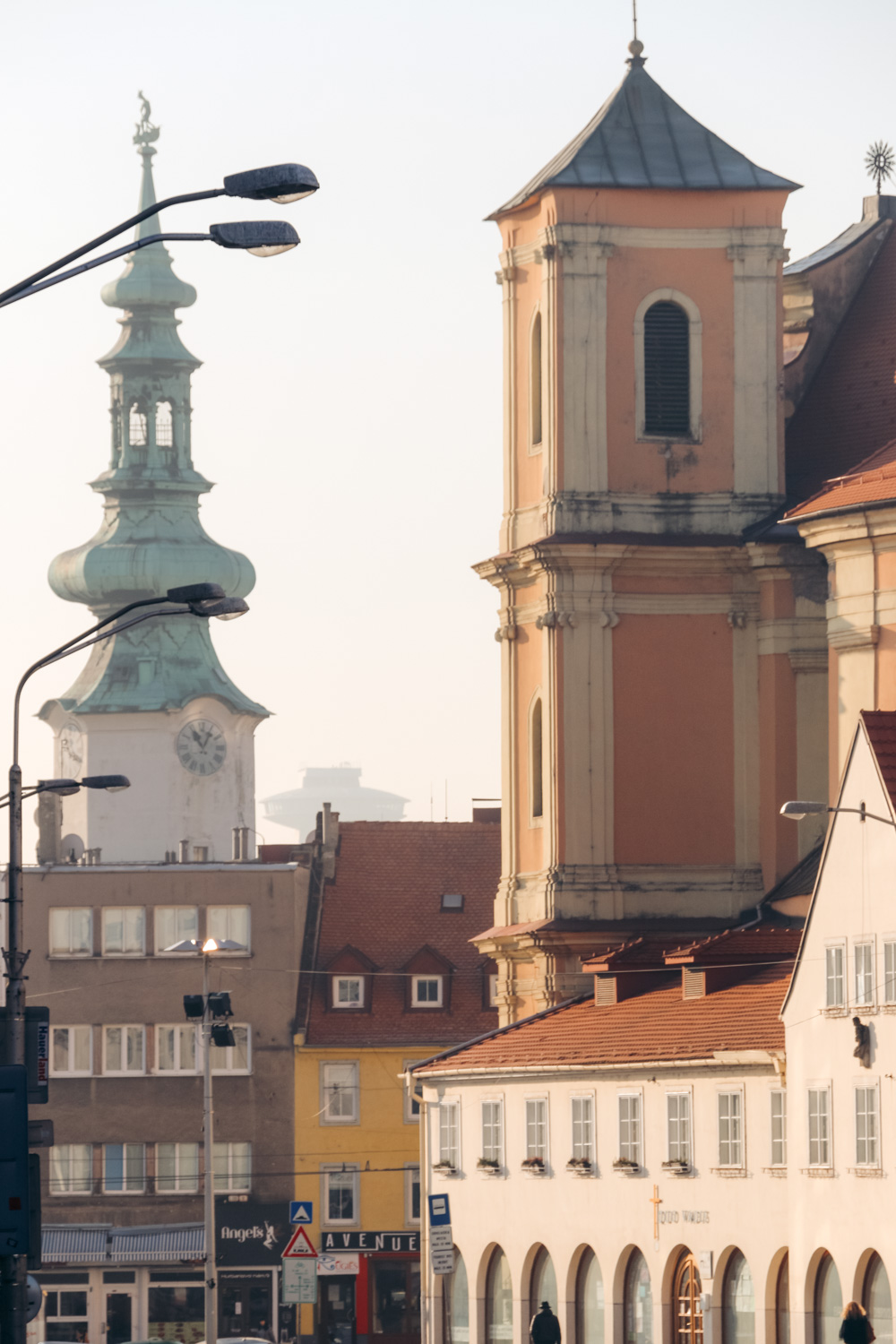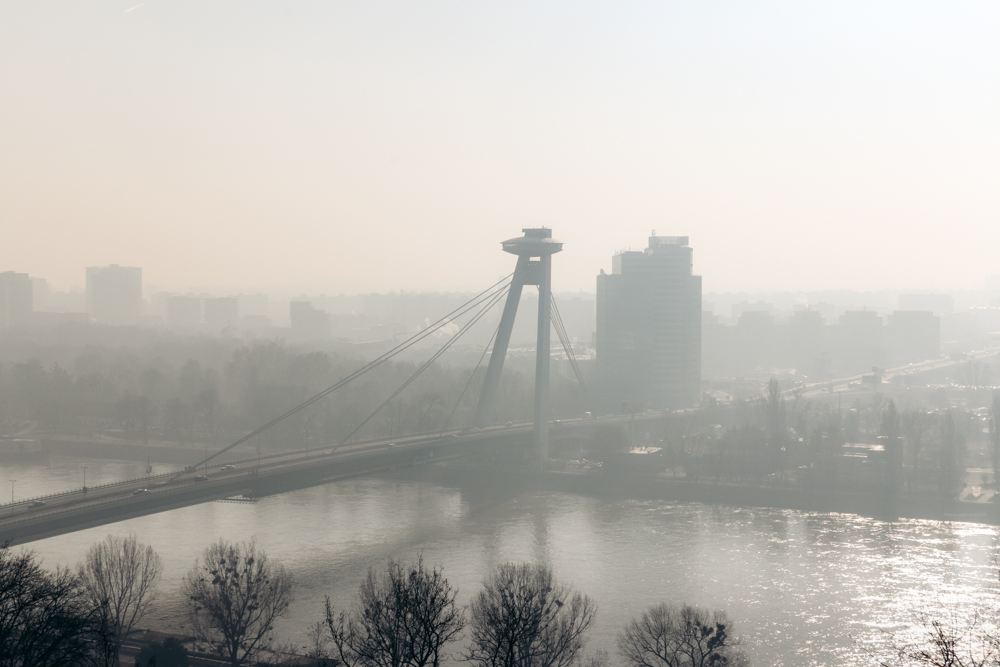 Two Sides of Bratislava: New Town
New Town Bratislava had not only little resemblance to aristocratic Vienna, it looked like nothing I'd ever imagined. Bordering Austria in the west and Hungary in the south, it's the only capital in the world that has immediate borders with two different countries. Thus, certain standards and opulence was expected.
To give it credit, Bratislava is not part of Western Europe where every city looks like a fairy-tale town. And yet even Central Europe boasts some remarkable destinations, such as Prague, that astound with their impeccable medieval architecture blended with modern style.
Bratislava was certainly not one of them, at least not its New Town. Growing up in Eastern Europe during and after the Soviet period, I was pretty familiar with soviet architecture. Tall buildings that looked way too similar. Shabby bus and train stations with local merchants ("babushkas") nearby selling sunflower seeds or homemade baked goods…
These images are not frequent in Eastern Europe any longer. The region has transformed, following the lead of its western siblings. Everything looks more polished with paved paths and designated spaces for those "vendors" to sale their products. I must admit, I almost forgot how my tiny home place in my landlocked home country in Eastern Europe looked like just 20 years ago.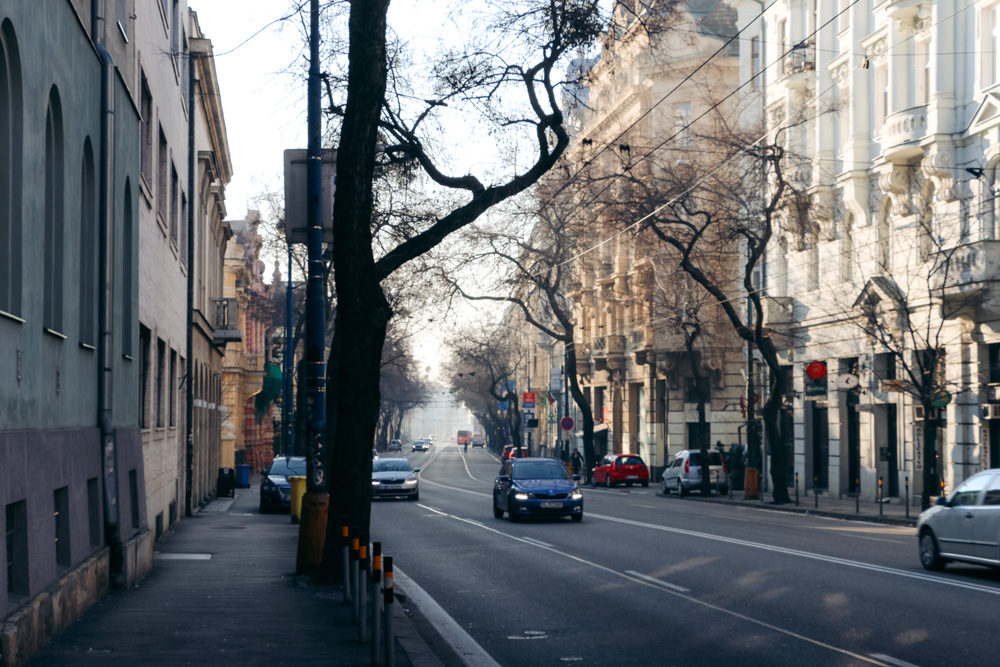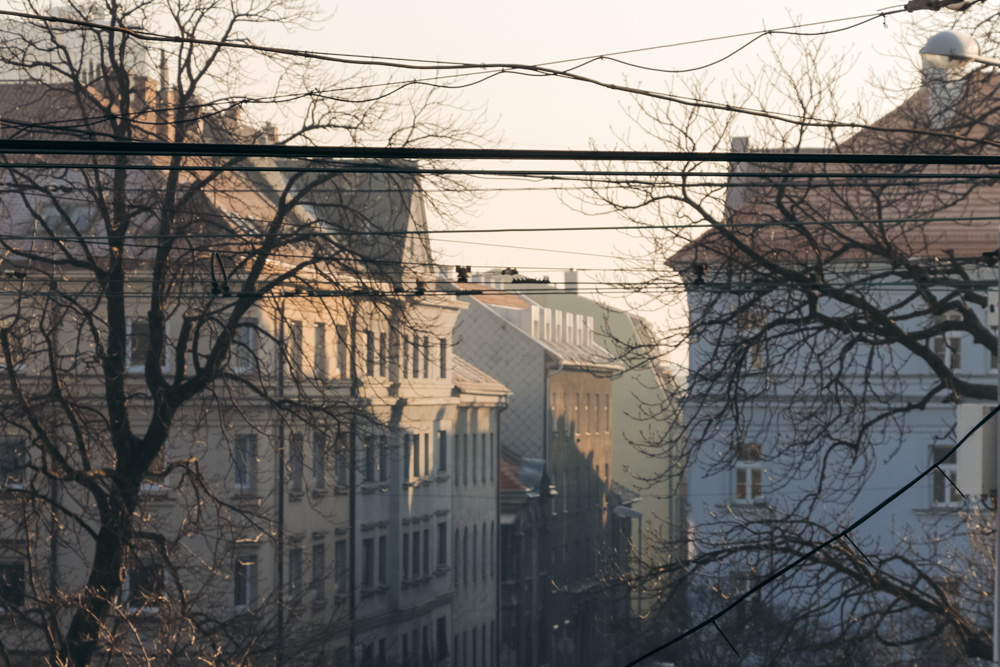 Soviet Past of New Town Bratislava
But the capital of Slovakia brought all those images back to life. The New Town of Bratislava not only looked like a typical Soviet city, but also seemed to be stuck in the past. The same prefabricated architecture. A nondescript main train station with repressing deem lights.
But the greatest cultural shock expected me outside the train station. A painfully familiar view opened up to my eyes. A row of local "vendors", all of them seemed to be in their 40s or 50s, lined up near the entrance. Call it a throwback at its finest. New Town Bratislava wasn't just a huge contrast to stylish Western Europe. It was a huge jump back in time.
I was shocked, surprised, and taken aback so much that I couldn't even find the right words, moreover language to speak. My own words eventually jarred me out of this daze. We needed to buy bread for Dylan. Roshan joked that if all these looked so familiar to me, I should've gone and talked to the sellers.
Slovak, English, or Russian
Totally confused, I approached one stand. A middle-age lady operating it had that typical Slavic look that many foreigners take for a Russian look. I still remembered that I was in Bratislava, Central Europe, yet couldn't help but started speaking Russian. To my surprise, the lady replied in her broken, but easy to understand Russian.
So, New Town Bratislava indeed had many more connections with the former Soviet Union than I'd thought at first. I certainly didn't expected to find this side of Bratislava.
The rest of the New Town didn't surprise me any longer. Narrow streets inside small neighborhoods that looked pretty similar. Overcrowded buses and trolleybuses. Even people seemed to rush in the same familiar manner. This side of Bratislava, indeed, was a special gem that was still holding on to its Soviet roots.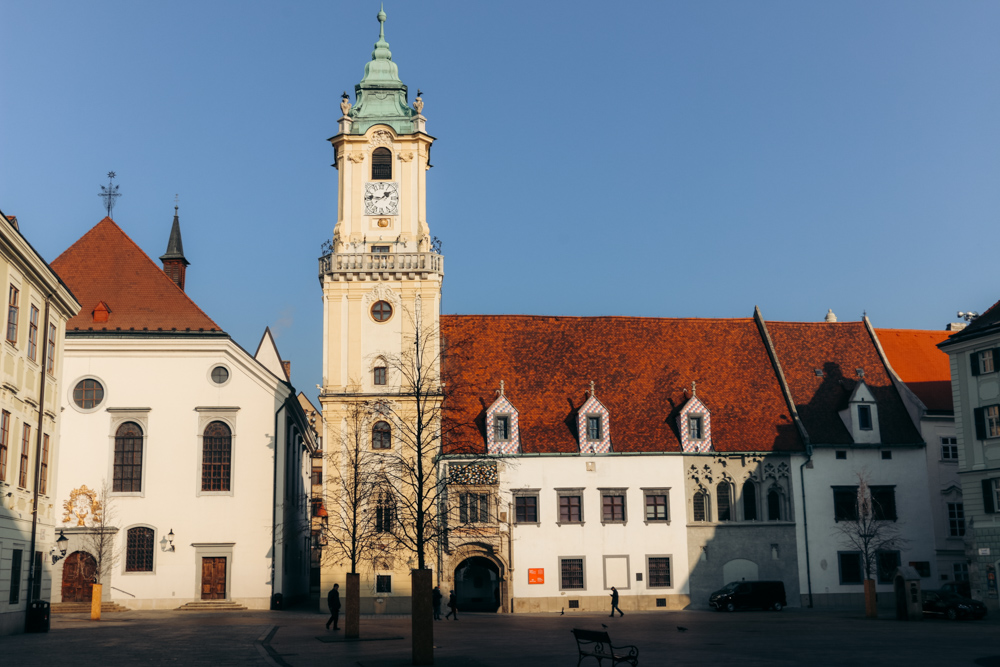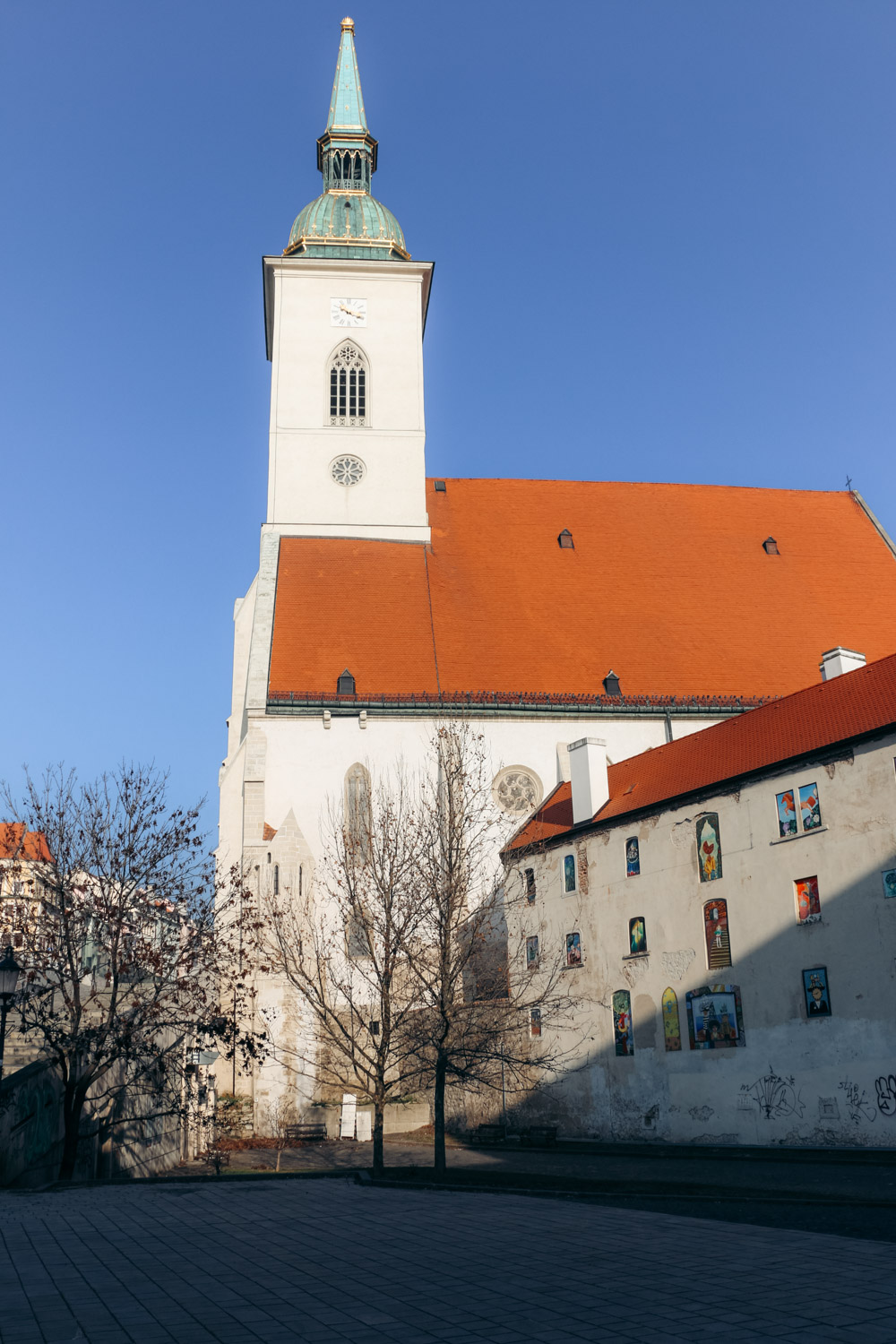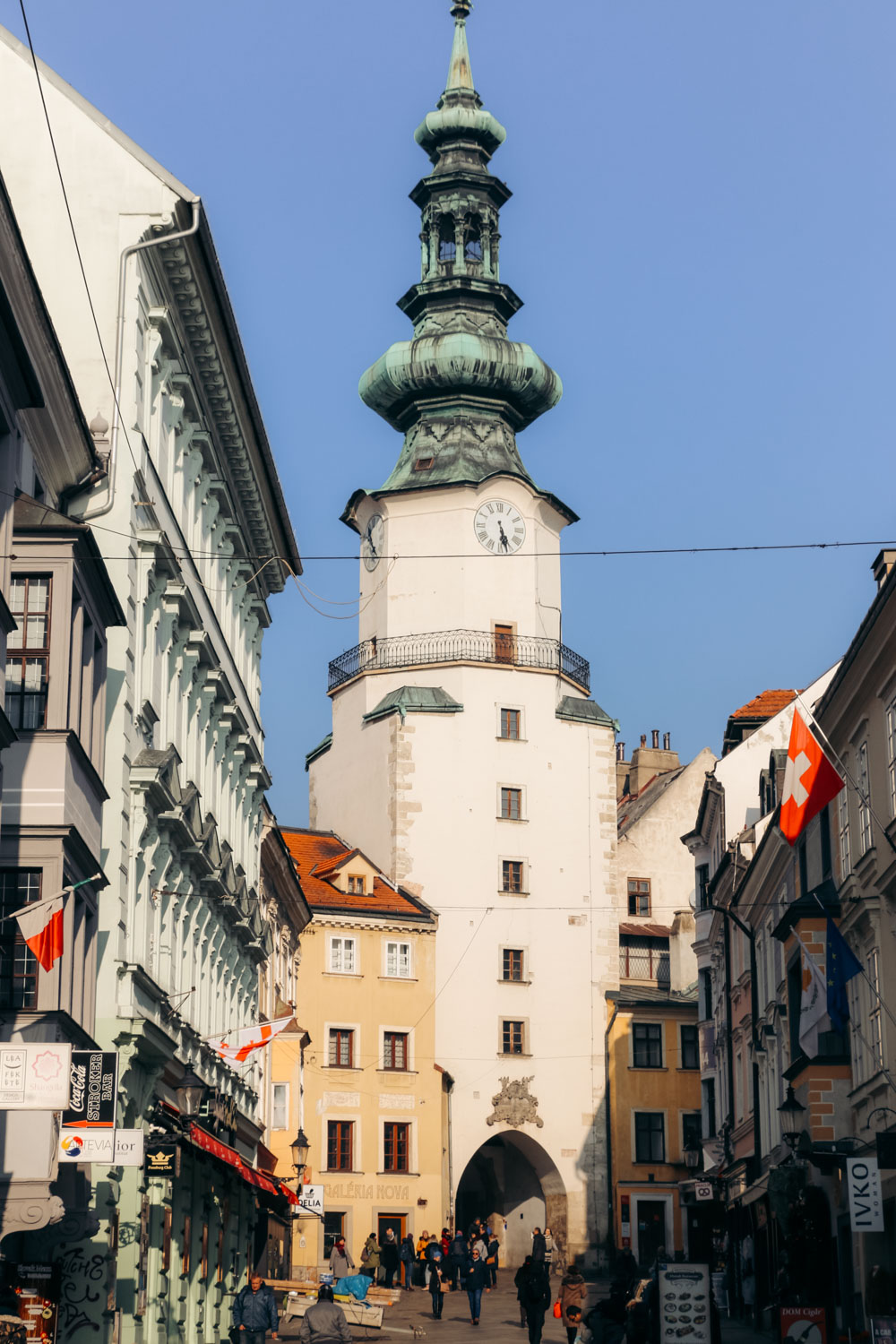 Two Sides of Bratislava: Old Town
The Old Town showed a completely different side of Bratislava. Medieval buildings with peeling paint that emphasized the old age of the city clustered next to each other. An abundance of touristy gift shops and eccentric restaurants. Bratislava's main landmarks, such as the Michael's Gate, the St. Martin Cathedral, and the Old Town Hall… Walk up a hill towering above the Old Town, and you're looking at Bratislava Castle, a main landmark of the city.
This Bratislava certainly had an opulent feel. It was a side of the city that hardly if ever reminded of its Soviet past. Everything here spoked of the elaborated taste and style that have existed in Western Europe for many centuries.
Language… I didn't even think twice. Since Slovak was outside my linguistic skills, speaking English felt just right here. I could hear a lot of German and some Russian as well, but never felt compelled to speak these languages in the Old Town of Bratislava. In other words, the difference between the Old Town and the New Town of Bratislava was drastic.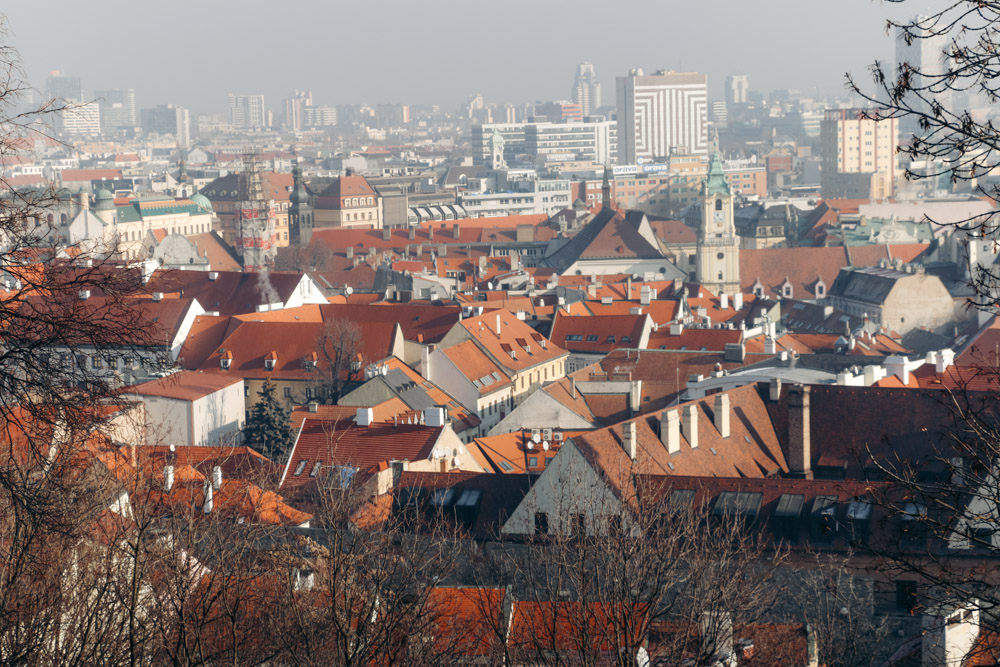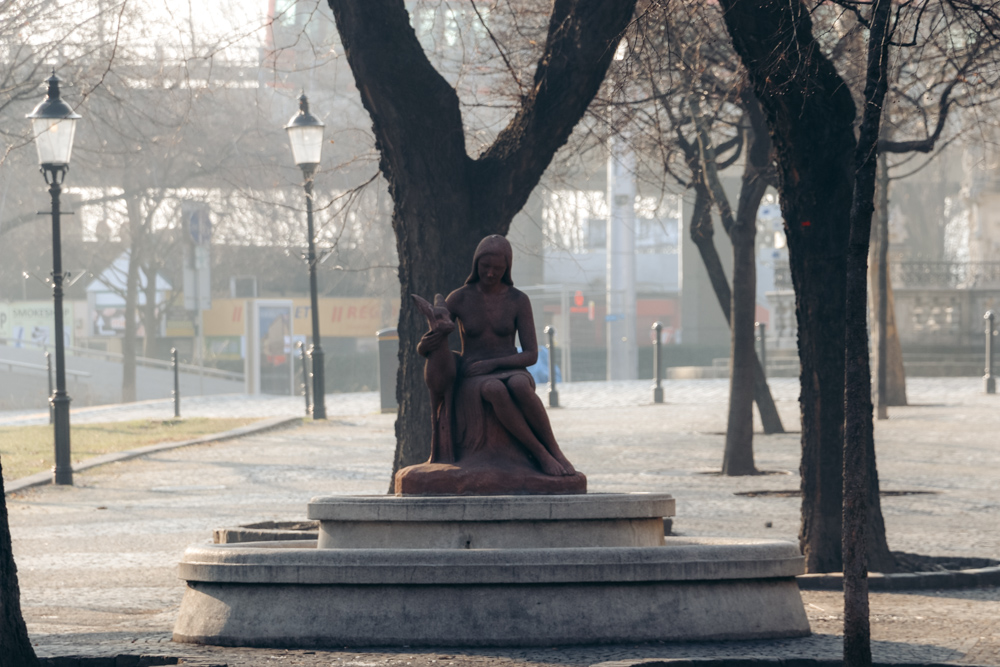 It All Goes back to the Past
To understand what lies behind such a dramatic difference between the two sides of one city – the New Town and the Old Towns of Bratislava, – you need to look back in the past. Prešporok, as Bratislava was known back then, was a cultural and political center for centuries. From 1536 until 1783, the city fulfilled the duty of the capital of the Kingdom of Hungary. Many future rulers were crowned in Bratislava during this period.
The city had to comply with its high status by adorning itself with impeccable castles, stunning monasteries, and charming cathedrals, some of which you can still find in the Old Town.
The city drastically expanded its "European" side during the 18th century. It flourished under the reign of Queen Maria Theresa and became the largest and most important city in the country (Hungary at that time). Many prominent artists and musicians, including Wolfgang Amadeus Mozart, visited and occasionally gave performances in Bratislava.
Yet this fame wasn't everlasting. Bratislava started losing its prominence under the reign of Maria Theresa's son Joseph II. The end of the royal, "European" side of Bratislava occurred after World War I. On October 28, 1918, a new county, Czechoslovakia, was formed. Bratislava was annexed to the new state.
On March 27, 1919, the former royal city lost not only its freedom, but also its name. The name Bratislava replaced the previous Slovak name Prešporok.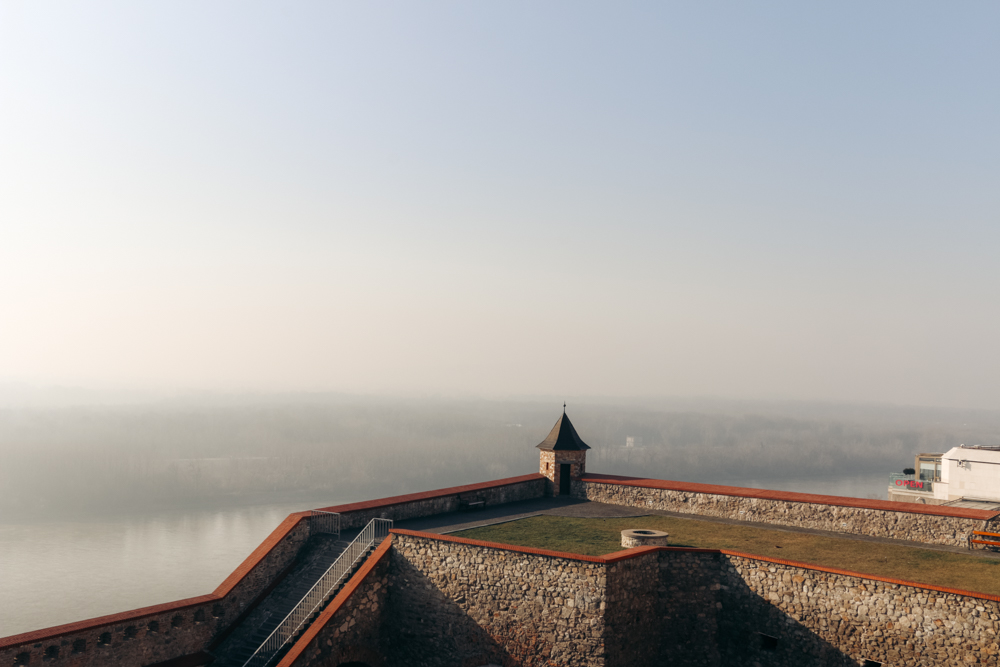 New Page in Bratislava's History
The new page in history of Bratislava and previously unknown side of the city began during World War II. German armies and their allies marched through Europe, burning villages and destroying the cities. Bratislava wasn't spared in this devastating madness.
The German troops occupied the once cultural center of Central Europe in 1944. During this time, the city fell into even greater despair. Many buildings in both the New and Old Towns turned into ruins and ashes.
Bratislava's population that up to that point had consisted mostly of Slovak, Germans, Hungarians, and Jews, thinned. The Germans had to be relocated to their once homeland. Nearly 15,000 Jews found themselves in concentration camps.
About a year later, on April 4, 1945, troops of the Soviet 2nd Ukrainian Front rescued the city. Bratislava, and mainly its New Town, was approaching the Soviet era that reshaped the city and added a completely new side to its former glory. This fate followed both Slovakia and the Czech Republic. After the Communist Party came to power in Czechoslovakia in February 1948, the region, including Bratislava, became part of the Eastern Bloc.
New Architecture: During this time, the former capital of the Kingdom of Hungary, started bouncing back. But instead of the imposing architectural masterpieces, the high-rise prefabricated panel buildings adorned Bratislava's New Town. The area looked just like any other city with the deeply engraved Soviet architectural traditions. This trend still prevails in the New Town of Bratislava.
On the other hand, the Soviet era bestowed on the city such distinctive structures as Most Slovenského národného povstania or the UFO Bridge and the Slovak Radio building. Both are imposing and unique in their own way, attesting to the new architectural style that started in the New Town and has spread all over the city.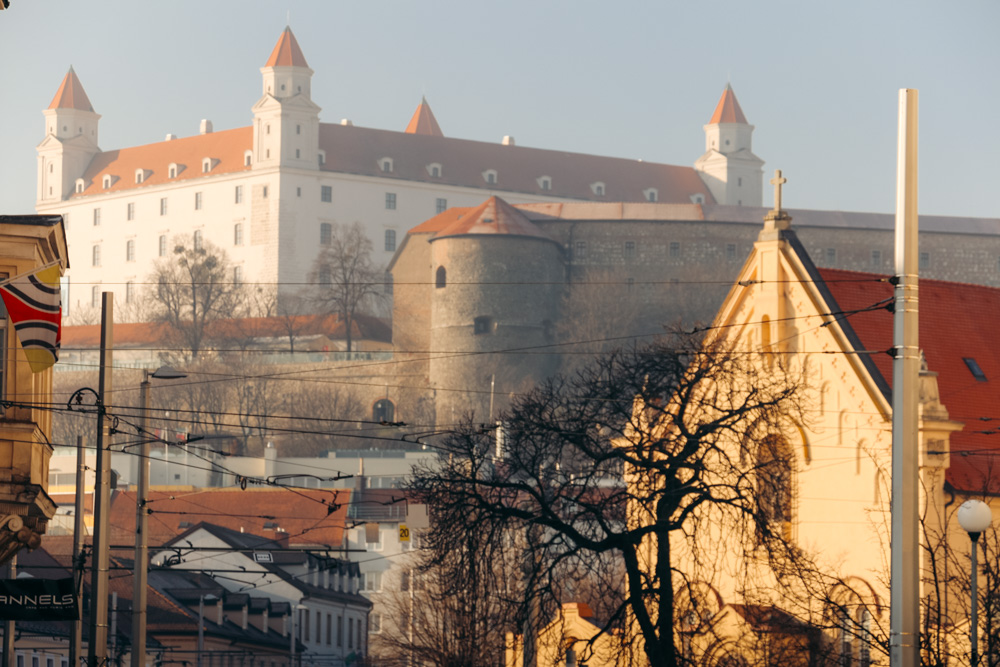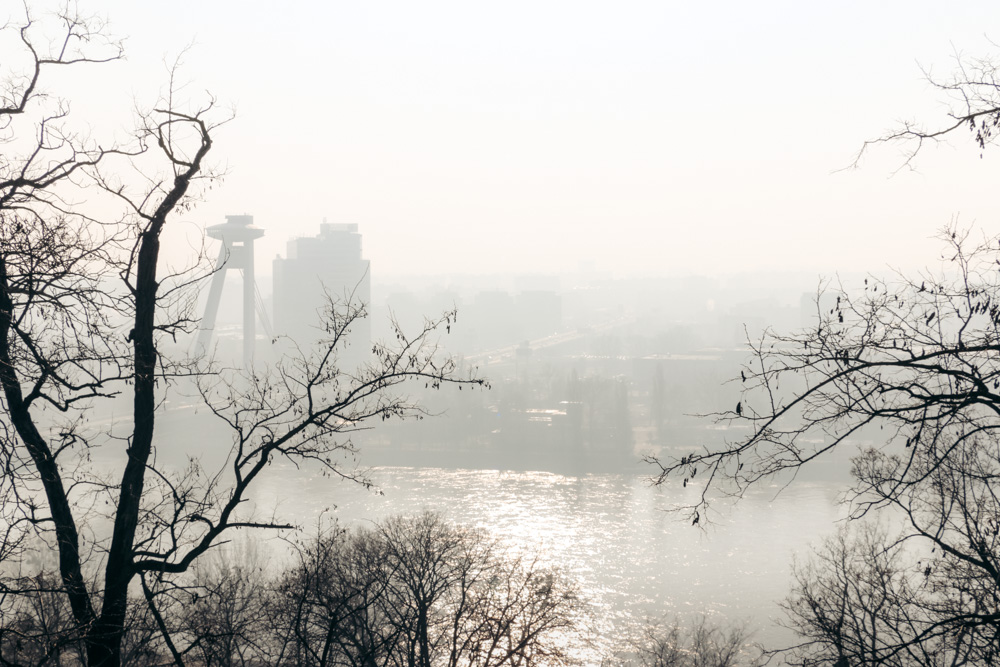 Modern, Two-Sided Bratislava
Although Bratislava regained its rights as a capital-city on January 1, 1993, when Czechoslovakia split into Slovakia and the Czech Republic, it still shows influences from the two vastly different periods. The Old Town symbolizes the opulent past of Bratislava, while the New Town, affected by the Soviet regime, overshadows this extravagance with the ordinary high-rise buildings and overcrowded neighborhoods.
On the bright side, you can see the architectural and to some extent cultural traditions from different parts of the world – the lavish Old Town, reminding of the Western customs, and the practical New Town, greatly influenced by the Soviet period, – in one small, compared to the European standards, Bratislava.
Read Next