A classic of American cuisine, homemade (almost) vegan pumpkin bread is the best way to savor tangy fall flavors.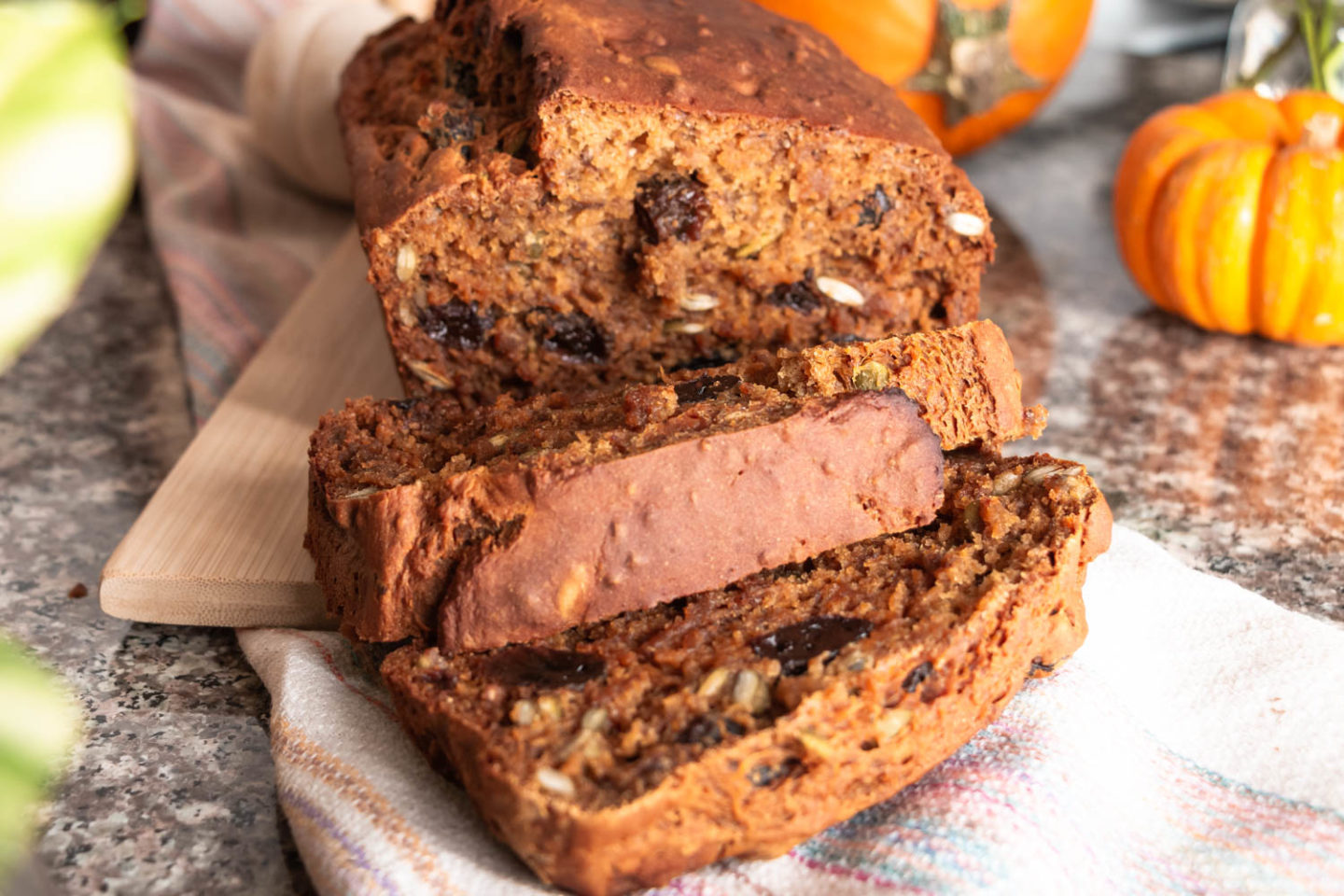 How to Make (Almost) Vegan Pumpkin Bread and Pumpkin Puree at Home: Recipe and Tips
With the beginning of the fall season, we crave heartier dishes with an autumnal twist. We look for fall recipes that are both delicious and good for our bodies and souls. This (almost) vegan pumpkin bread with homemade pumpkin puree and seeds as a base is ideal for a cozy afternoon tea party on a windy or sunny fall day.
The recipe is mostly plant-based. Only one ingredient – honey – makes this pumpkin bread almost, but not entirely vegan. For a fully vegan pumpkin bread recipe, use date paste, date syrup, maple syrup, or molasses. If none of these are available, stir in some brown or coconut sugar.
Since I aimed at creating the healthiest pumpkin bread recipe, I steered clear of any sugar. Therefore with all natural ingredients and not a bit of the over-processed sweetener and oil, you can eat this homemade pumpkin creation for breakfast or even as a late-night snack.
Ready to bake this (almost) vegan, healthy, yummy, and, what's most important, easy to make pumpkin bread? Then let's jump to the recipe.
Note: Pumpkin pie spice that we are going to use in our (almost) vegan pumpkin bread recipe already contains cinnamon. But I can never have enough of this warming spice. Skip it if you are not a fan of the cinnamon.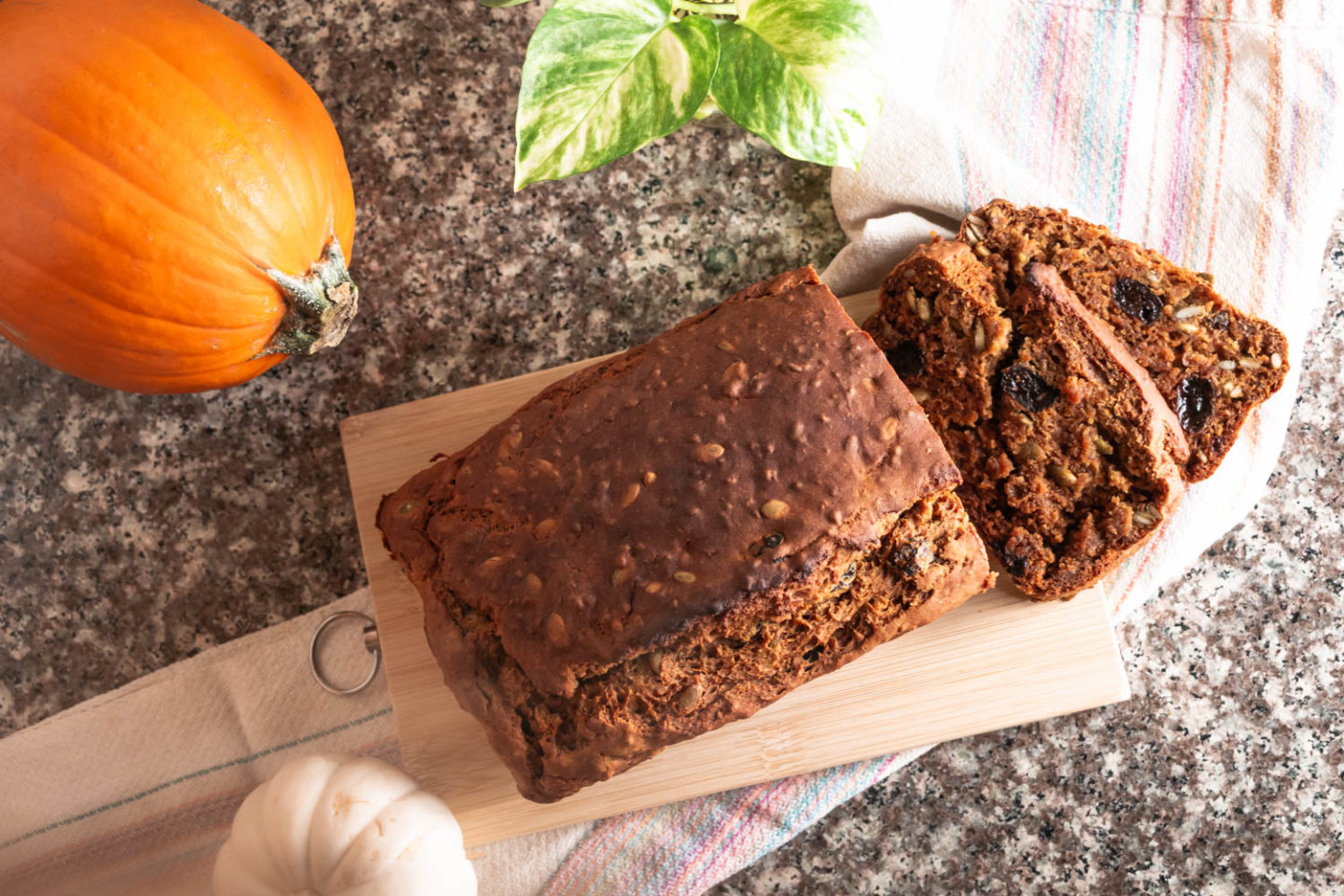 (Almost) Vegan Pumpkin Bread from Scratch Recipe
Ingredients:
1 cup pumpkin puree
1/2 cup honey
1 tsp pumpkin pie spice
1 tbsp cinnamon (optional)
2 chia eggs (2 tbsp chia seeds soaked in 4 tbsp water for 10-15 minutes)
1 tsp baking powder
1 tsp baking soda
2 tbsp apple cider vinegar
1/2 cup plant-based milk
3/4 cup raisins
1/2 cup pumpkin seeds (or any seeds of your choice)
2 cups flour
Method:
In a cup, soak 2 tbsp chia seeds in 4 tbsp water. Let the seeds absorb the water and increase in size for about 10-15 minutes.
Preheat the oven to 350 degrees Fahrenheit.
Meanwhile in a large bowl, mix the pumpkin puree, honey, pumpkin pie spice, cinnamon, baking soda, raisins, pumpkin seeds, and milk.
Add the chia eggs to the batter. Mix well and stir in the flour.
Once all the ingredients are well combined, quench the baking soda with the apple cider vinegar. Pour it into the bowl with the batter and mix.
Grease a pan with coconut oil. Pour the batter into the bread pan and bake for 50-60 minutes.
Once your (almost) vegan pumpkin bread is golden brown and a fork or toothpick comes out clean, place it on a cooking rack. Let it cook down for 30-40 minutes before cutting and serving.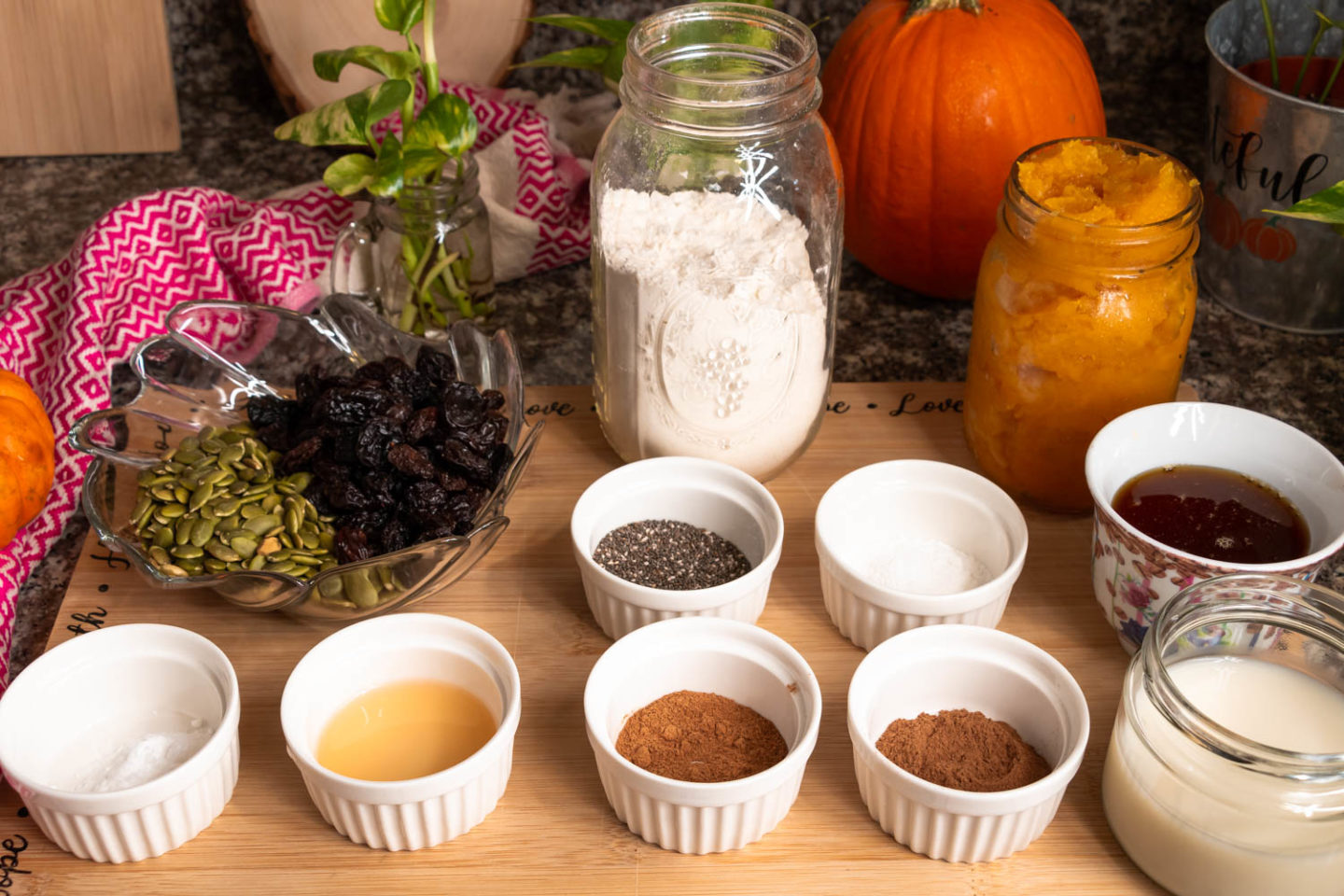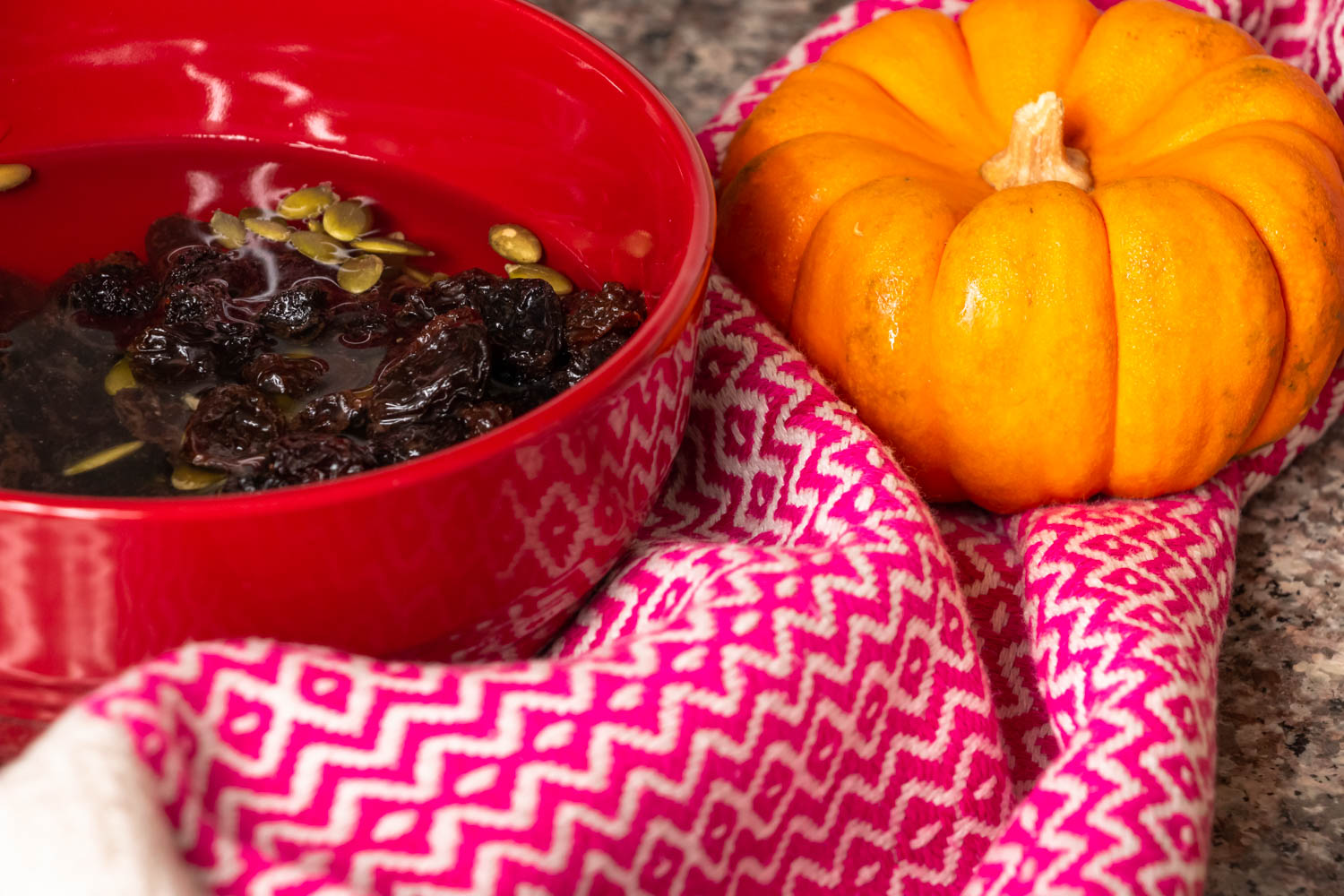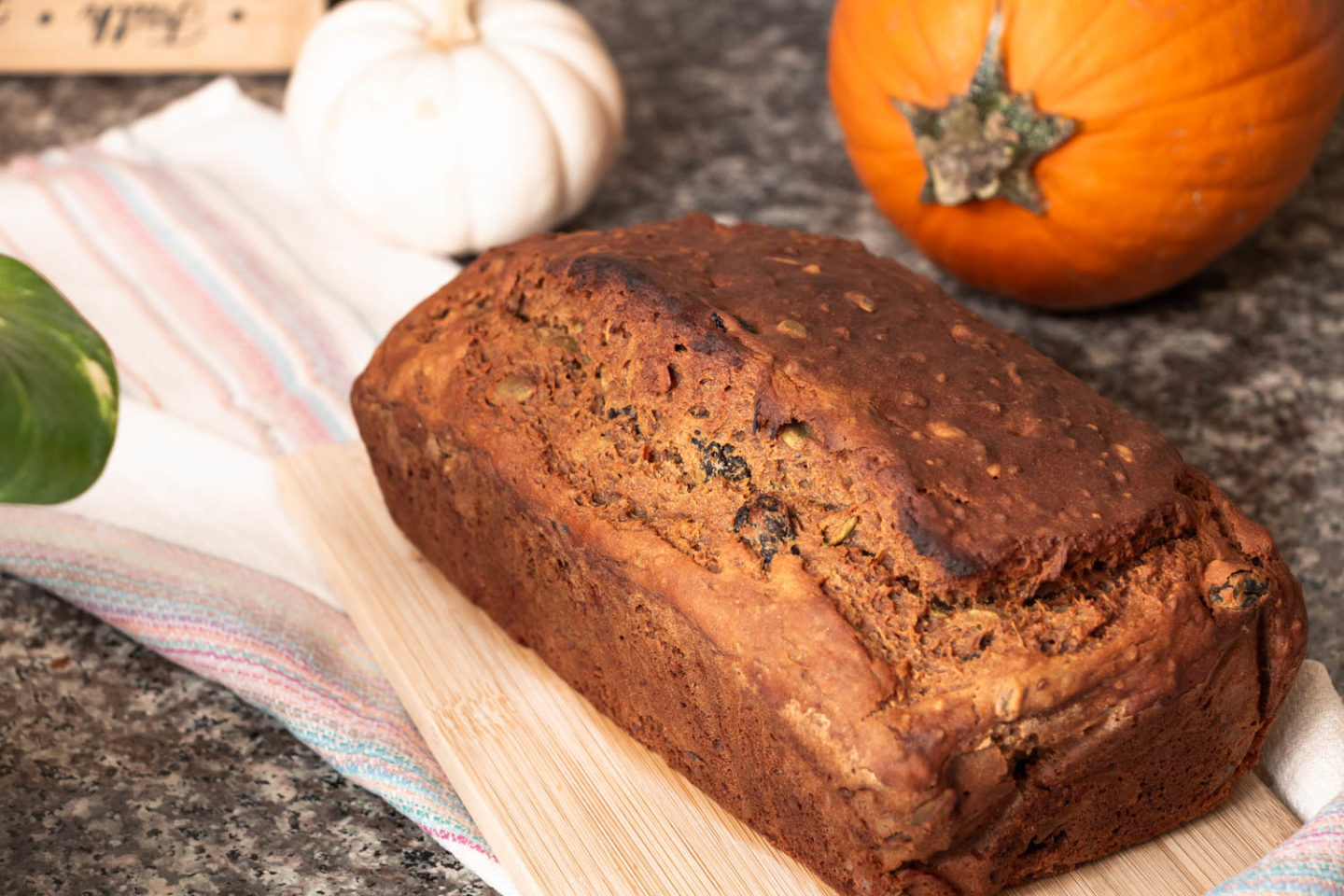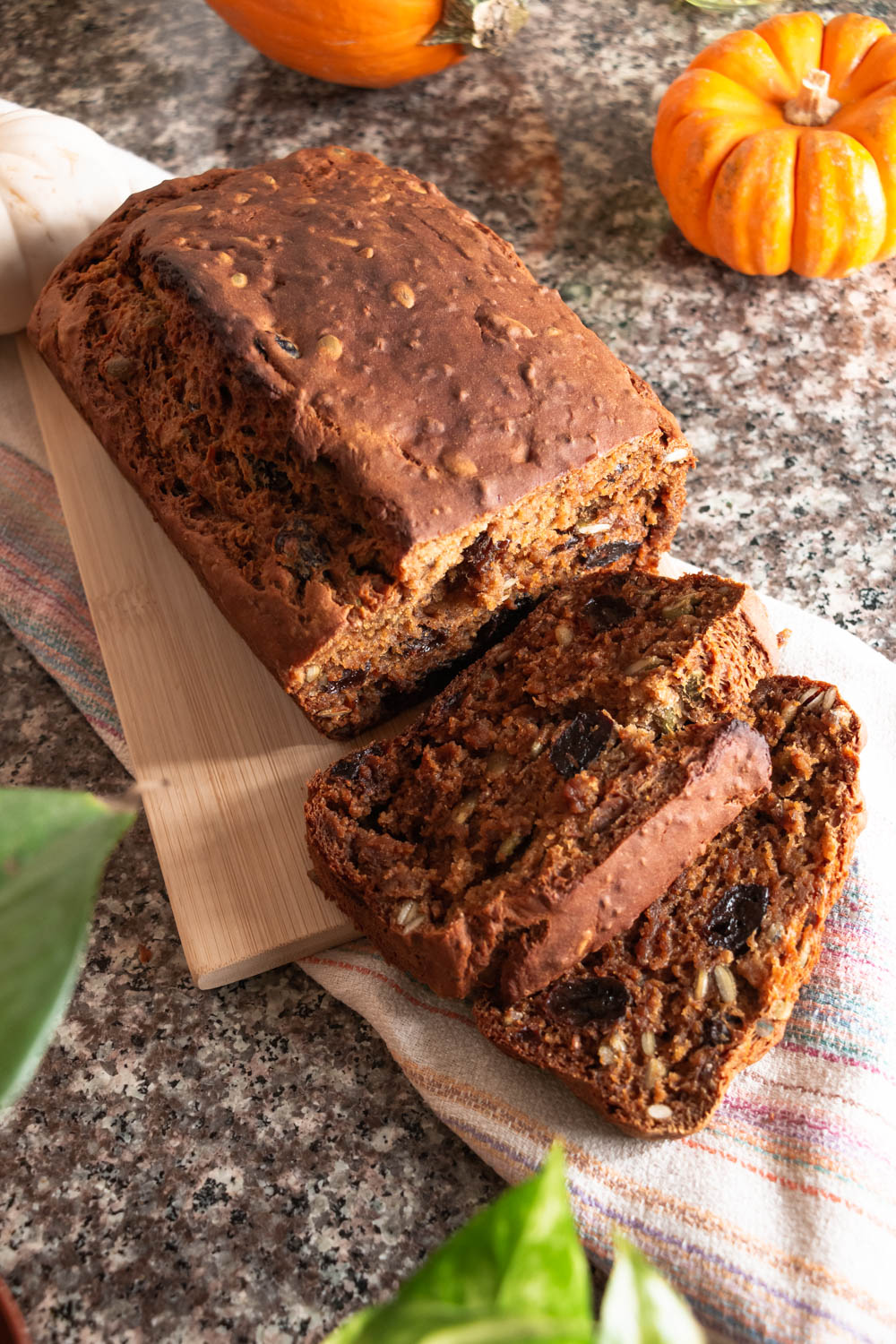 How to Make Pumpkin Puree at Home
The homemade pumpkin puree complements your baked fall creation. And rest assured without additives that canned pumpkin puree is loaded with for preservation purposes, your (almost) vegan pumpkin bread will be the healthiest and yummiest you can only get. To make the pumpkin puree at home, all you need are two ingredients.
Ingredients:
Method:
Wash and cut your pumpkin in half.
Remove the flesh and seeds. Make sure to separate the pumpkin kernels from the soft part so you can eat the seeds or use them in your pumpkin bread recipe.
Sprinkle a little bit of salt over the pumpkin.
Turn the pumpkin halves upside down and bake on a baking sheet lined with parchment paper for approximately 40 minutes. It may take longer depending on the size of your pumpkin.
Once it's done, let the pumpkin cool down. Remove the skin. Place the baked pumpkin in an airtight container. It can stay in the refrigerator for up to a week.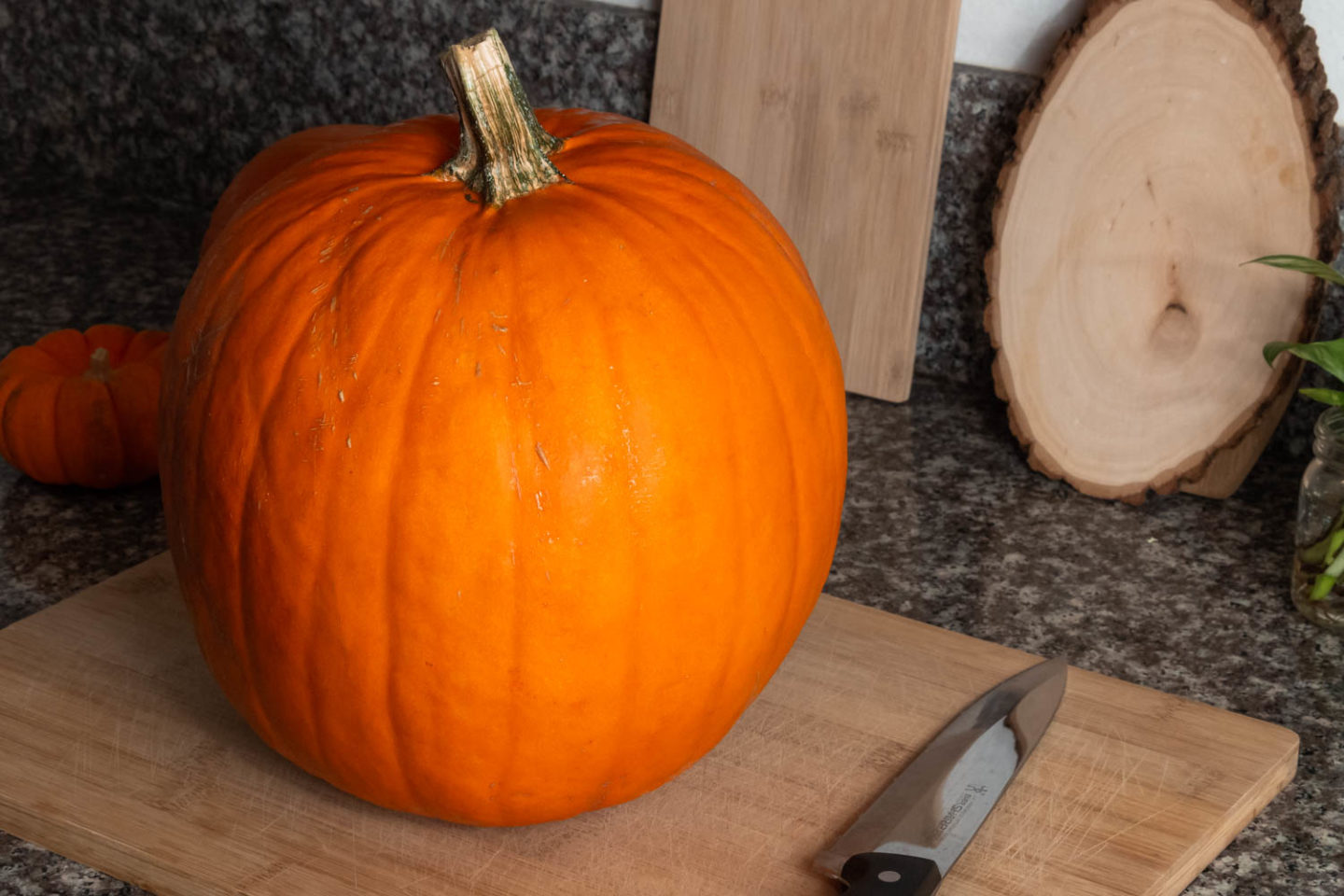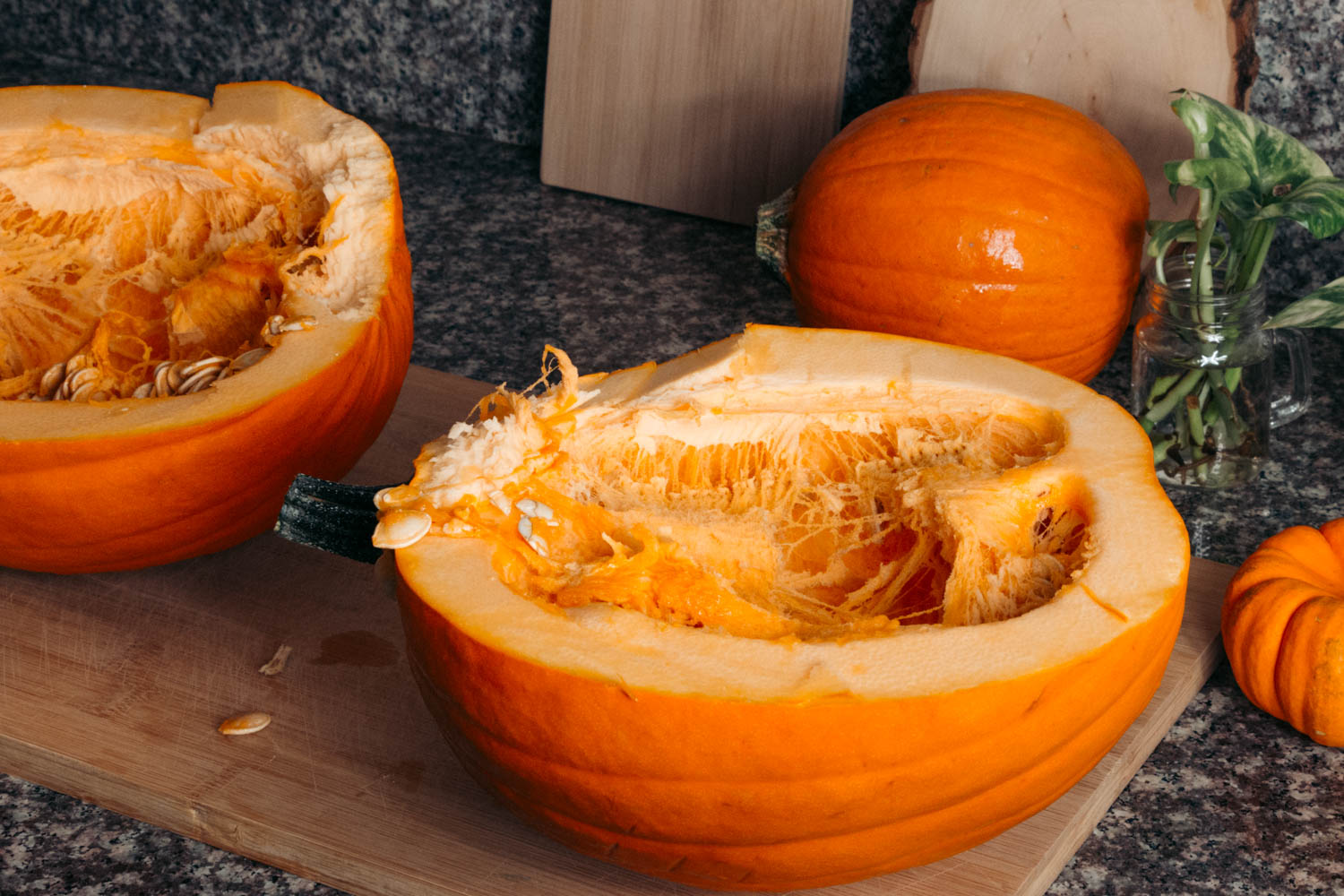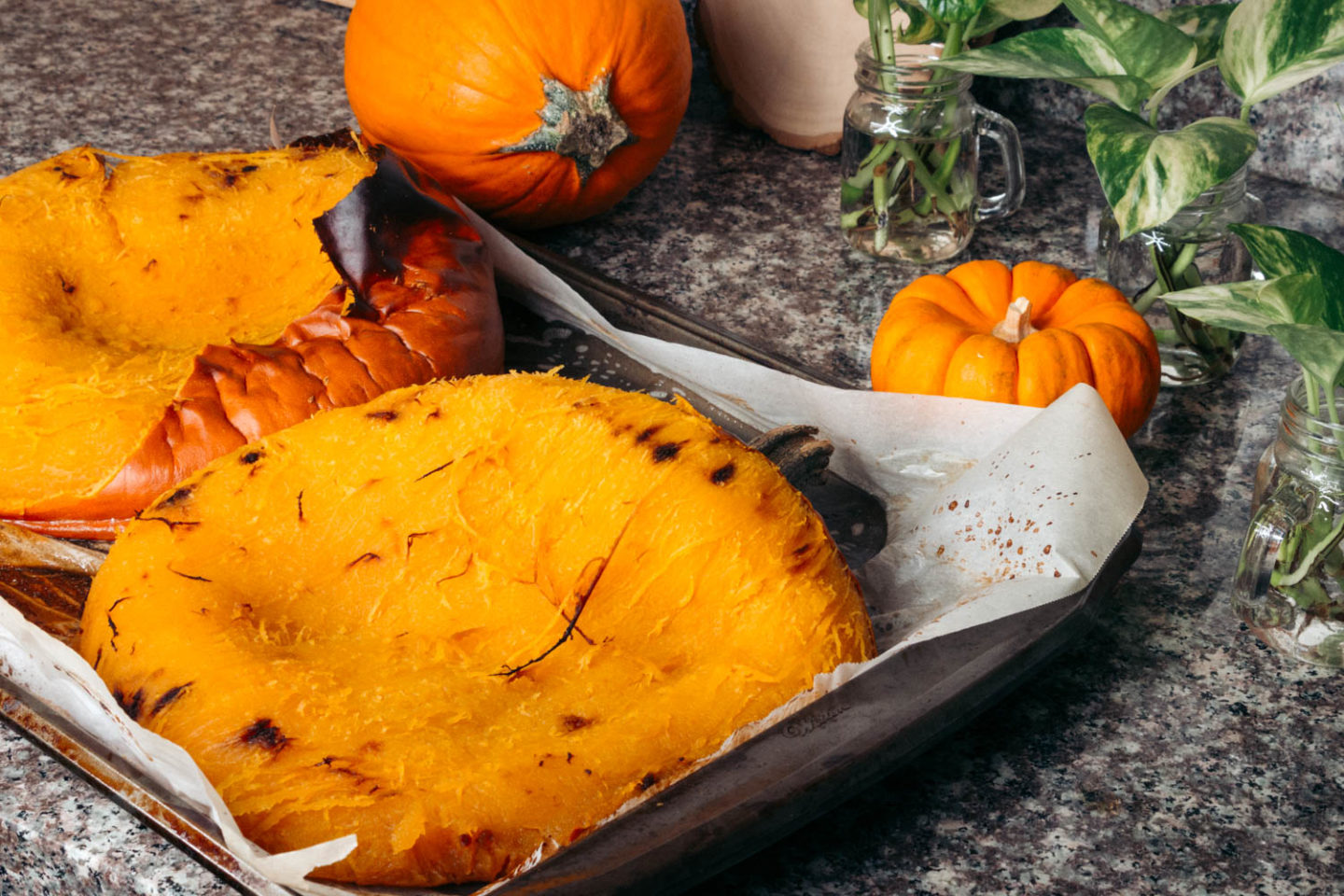 How to Roast Pumpkin Seeds for Your (Almost) Vegan Pumpkin Bread
You can use every part of the pumpkin while baking this (almost) vegan pumpkin bread at home. As an alternative, you can buy the pumpkin seeds or any other seeds at your local grocery store or online.
For those who want to try their hands at roasting the pumpkin seeds in their own kitchen, follow the following steps.
Method:
Wash the seeds you just separated from the pumpkin flesh.
Place them on the baking sheet lined with the parchment paper and bake for 10-15 minutes at 350 degrees Fahrenheit. Stir the seeds a few times so they bake equally on both sides.
Shell the seeds and use them in your (almost) vegan pumpkin bread recipe.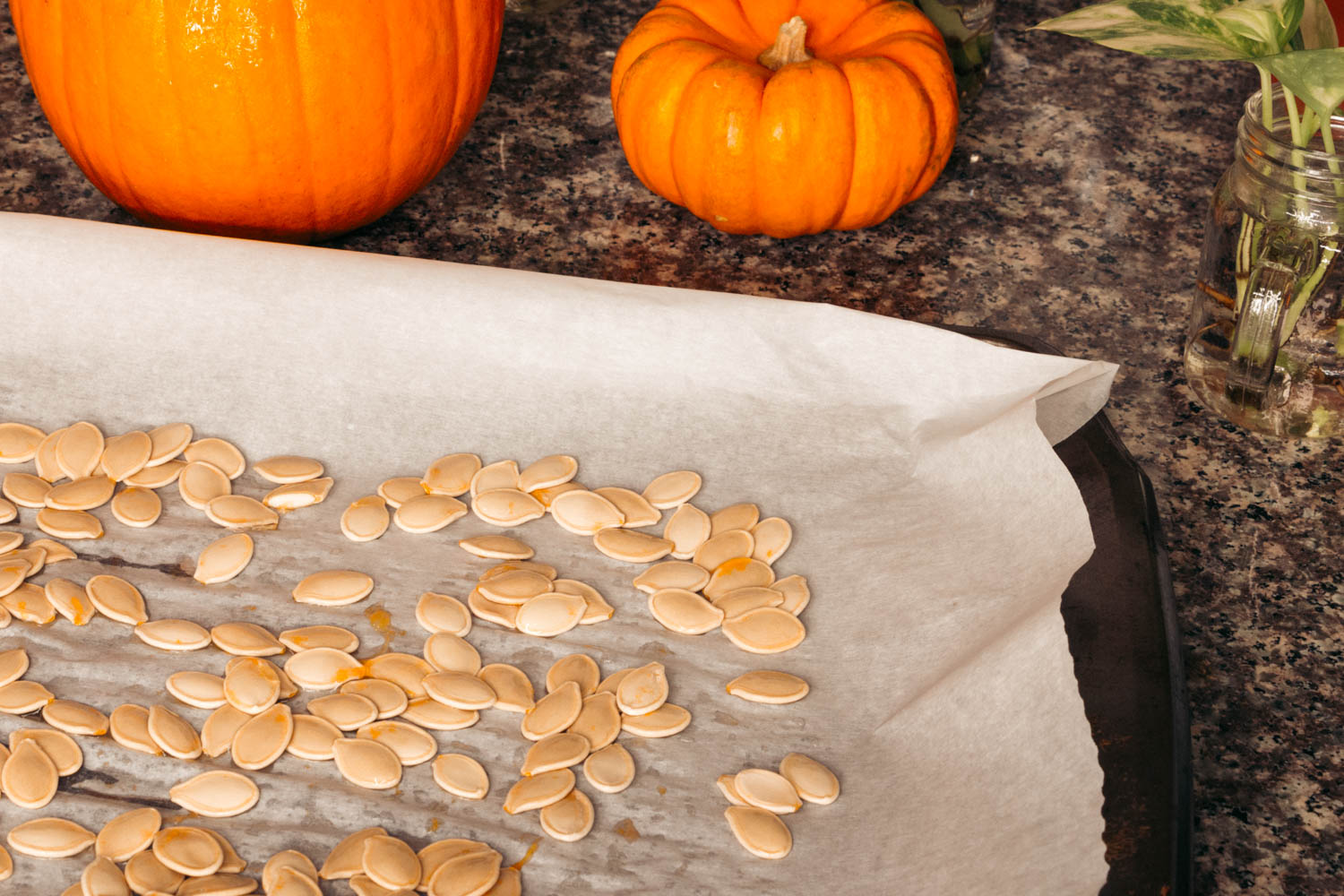 Want to experiment with more travel inspired dishes? Check out these recipes.