A barbecue at Sycamore Cove Beach, just a short drive away from all the hustle and bustle surrounding Santa Monica's beaches, was a dream come true.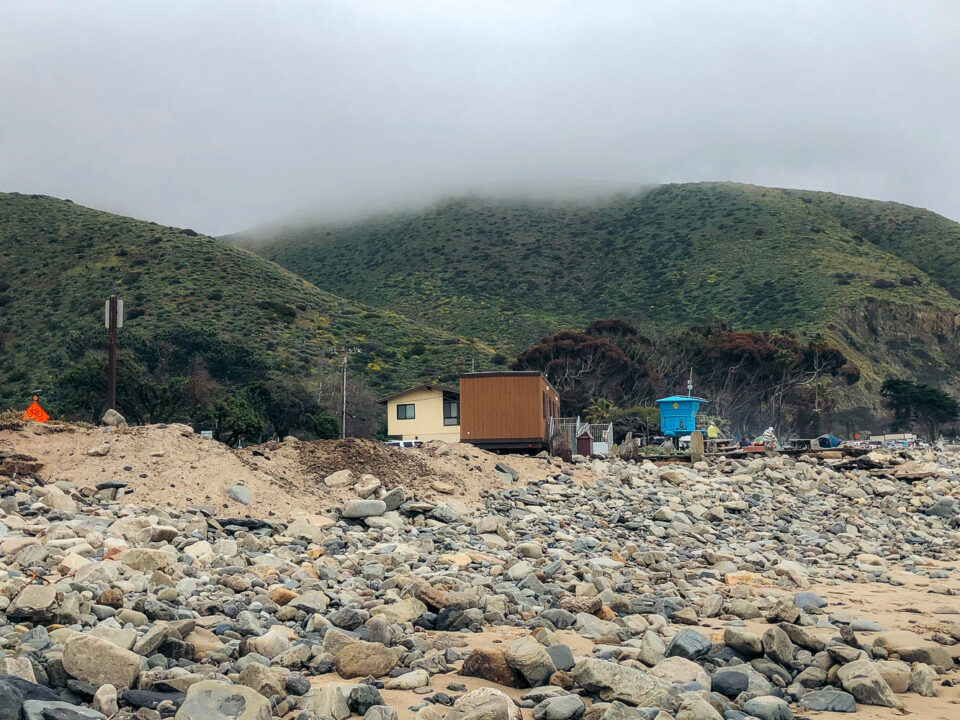 Weekend Getaway at Sycamore Cove Beach
Having a barbecue on a beach has been my brother's dream for a long time. Most beaches in Santa Monica and Malibu, however, are not suitable for bonfires. You can find some special locations where you can cook your steak or veggies over a fire with a view of the rolling waves farther down the Pacific Coast Highway (Hwy 1). But for a one-day excursion, these oceanfront sites may be just a bit too far away.
So we let go of this idea until one day somebody through somebody learned about Sycamore Cove Beach.
Visit Sycamore Cove Beach
Sycamore Cove Beach is a sandy stretch of land in Point Mugu State Park. The beach itself is rather small, just a few hundred yards long. But circumscribed by a rocky outcropping in the south and a creek that rushes through Sycamore Canyon to the ocean on the northwestern side, the secluded cove looks dramatic. On a gloomy day when the fog lingers at the top of the craggy formation, Sycamore Cove Beach reminds of Hawaiian shores.
One of the biggest draws to the area is the adjacent Sycamore Canyon Campground, set across the Pacific Coast Highway. Behind it, an extensive network of hiking trails lets the visitors explore the Southern California coast beyond its sandy beaches.
Some of the most popular trails in the area include the Grotto Trail and the Mugu Peak Trail. If you take the long-distance Backbone Trail (67 miles), next thing you know you are treading toward the Boney Mountain State Wilderness Area.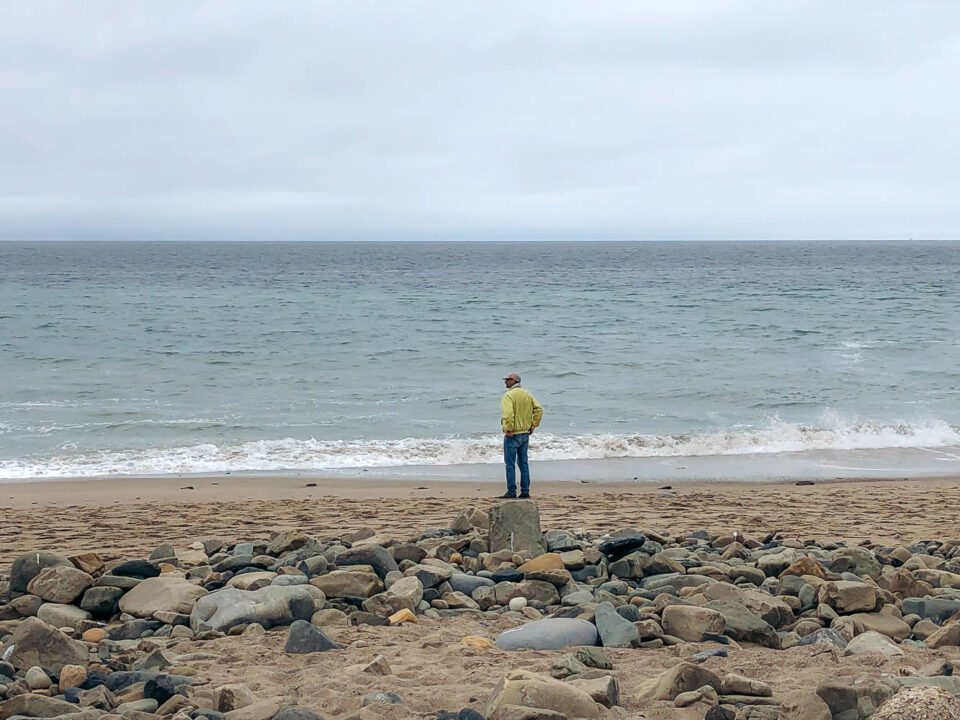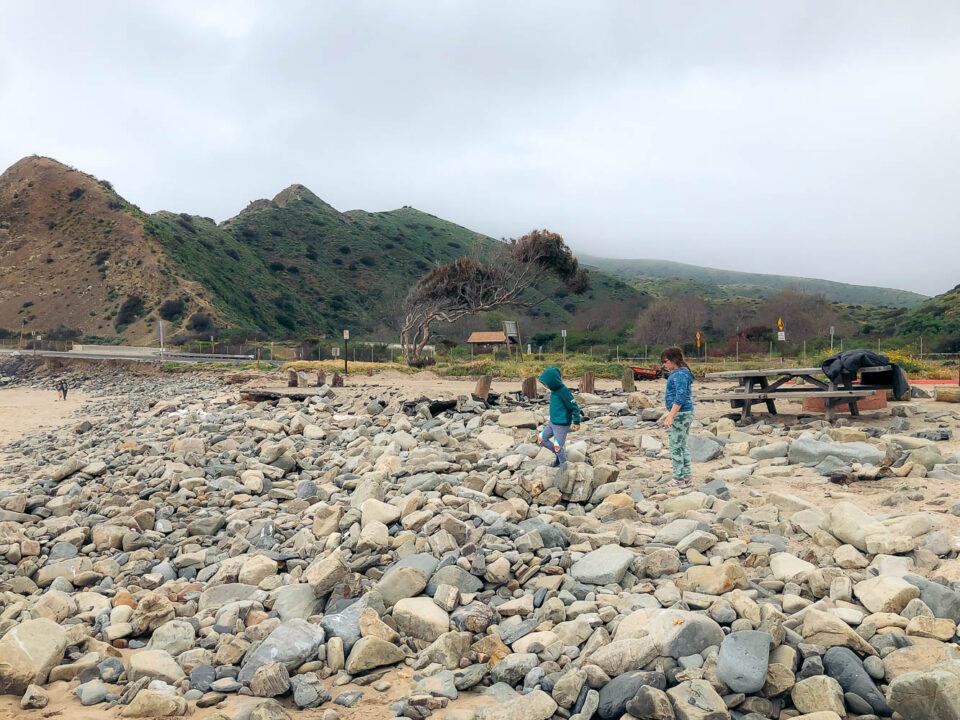 Barbecue at Sycamore Cove
But hiking didn't lure us to the Sycamore Cove Beach area. Fire pits did. Despite gusty wind and significantly colder weather compared with the San Fernando Valley, the beach surpassed all our expectations. The cold spring took care of crowds or to be exact the lack of them. Consequently, picnic tables with adjacent designated fire rings were easy to find.
On the northwestern end of Sycamore Cove Beach, near a tunnel that runs under the Pacific Coast Highway, a flock of seagulls perched on algae-covered rocks. I could watch these birds for hours. But the tunnel with the creek that flooded most of the rocks on the ground grabbed my attention.
The underpass connected Sycamore Cove Beach with Sycamore Canyon. The water in the stream and in a decent-size pond on the other side of the tunnel was fresh, not salty like the ocean water. It might have dropped to Sycamore Creek from seasonal Sycamore Canyon Falls before being carried into the ocean.
The area is pretty dry in summer when Southern California exhausts all its winter rainfall resources. The waterbody almost disappears. You can easily walk through Sycamore Canyon all the way to Newbury Park, located roughly 13 miles away.
Map
Things to Know
Address
Sycamore Canyon Rd and E Pacific Coast Hwy Malibu, CA 90265
Facilities
To make a weekend escape from bustling Los Angeles convenient, Sycamore Cove Beach offers picnic tables and restrooms. Lifeguards are also present.
Parking
The Sycamore Cove parking lot is open daily, from 8:00 am to sunset. Parking costs $3 an hour or $12 per day. You can also try to find free parking outside of the beach area. But read road signs carefully. In many places, on-street parking is not allowed.
Campground
If you've come to the Sycamore Cove Beach area for a camping experience, reserve your spot in advance. The sites are assigned upon arrival.
Dogs on Leash
If hiking is not on your agenda, then you can share this cozy corner of the shore with your pets. Dogs on leash are allowed in the day-use areas, campgrounds, and beaches within Point Mugu State Park. No four-legged explorers can enter backcountry trails and dirt roads.