Visiting Banff National Park, Canada, in November and early winter has its own beauty and struggles. Freezing, sub-zero temperatures is one of these bizarre odds.
Last updated: December 2, 2023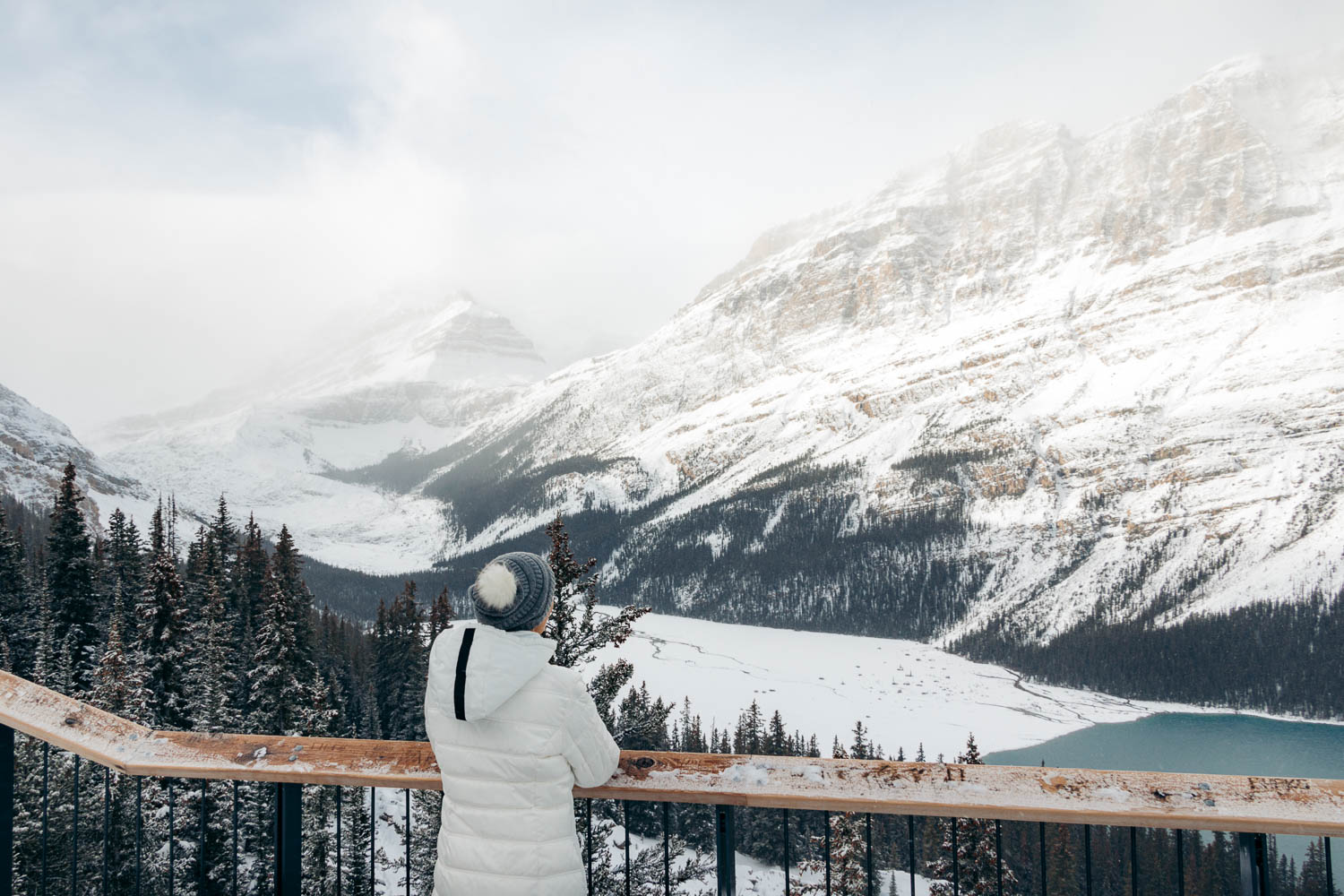 Visiting Banff National Park in November?
Mountains with snow-capped peaks looked so close. It felt like you could run across the road and touch them. Their jagged summits, void of any trees, projected strength and calmness.
This morning, the typical grey weather, which, as we had figured out by now, was normal in Banff National Park in November, brought a surprise. Perpetual fog and dense clouds that even the sun could not pierce through receded. Just long enough for us to admire the imposing peaks before the thick veil of haze descended upon them once again.
We stood by our rental car, mesmerized by these rough summits and ready to embark on another November adventure in the heart of Banff National Park.
Visiting Banff in November? Well, it wasn't our ultimate dream. In fact, we booked airline tickets, cancel them, and then rebooked a new flight, slightly changing our departure date. The weather forecast promised snow and foggy skies in the Banff mountains in early November.
A November trip to Banff to see world-famous lakes that could be locked away in ice by the time we've landed… Driving roads, blanketed by a fresh layer of snow and possibly even slippery… Spending the majority of time outside in the weather that felt like winter…
Despite all the things November had unexpectedly delivered and places it had obscured, we decided to embark on this winter-like Banff journey.
Is Banff National Park Worth Visiting in November and Early Winter?
Banff in November was cold, freezing cold. Winds, so bold and so strong, stopped not one, but hordes of hikers from treading downhill to see a waterfall or reach a secluded lake. While in early November the area near the town of Banff hardly put on any white blankets yet, it definitely felt like winter.
Many lakes in Banff National Park froze over by the first days of November. Others, fighting their last battles with the rapidly approaching winter weather, still let the surrounding mountains reflect off their surfaces. The world-famous blue colors? Well, in early November, you could hardly recognize the alluring vibrancy that Banff's lakes normally boast during the warmer seasons.
Yet, even now, while speedily transiting into a real winter wonderland, the Canadian Rockies looked spectacular. Was Banff worth visiting in November and early winter? Absolutely yes!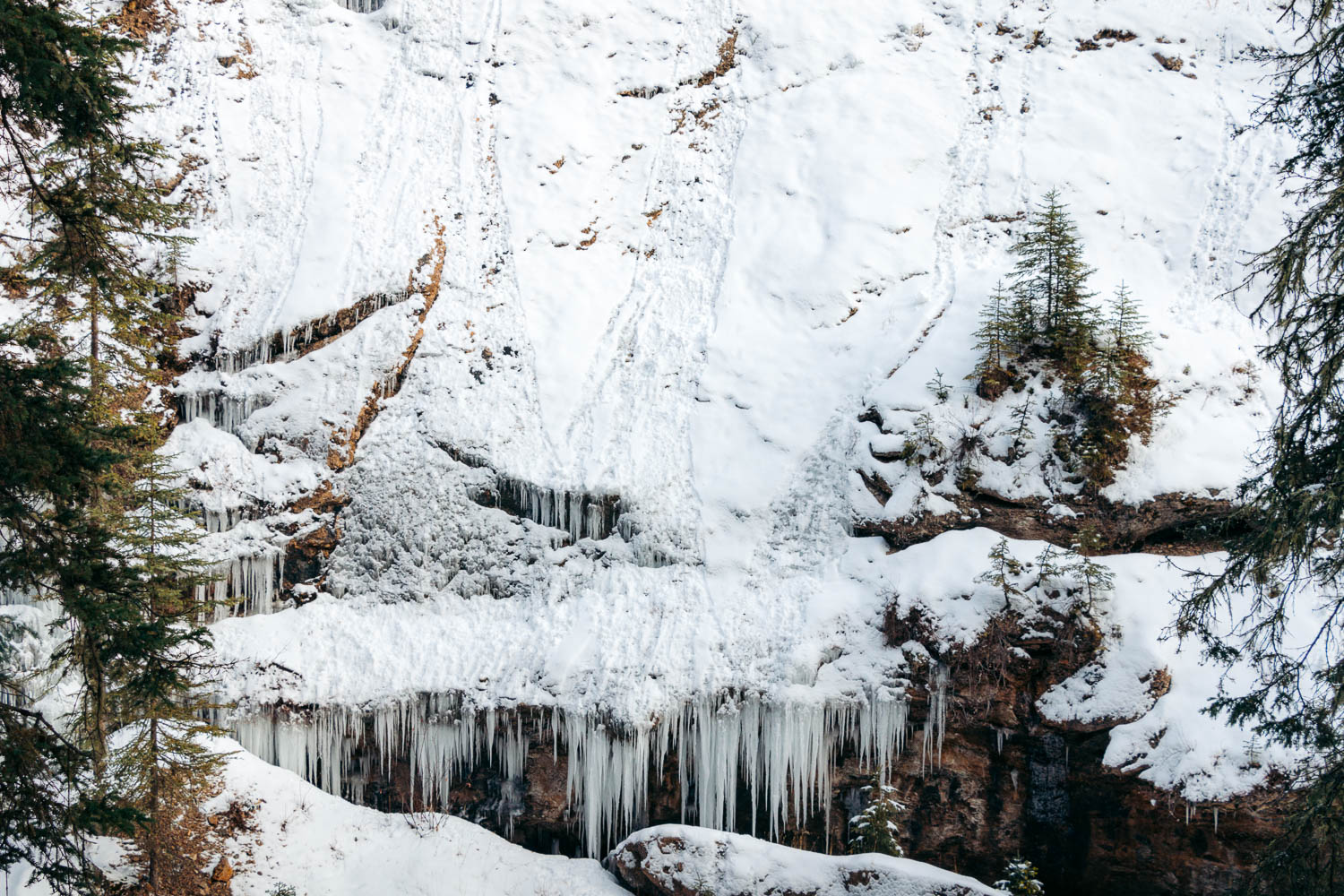 Reasons to Visit Banff National Park in November (Early Winter)
What can you do in Banff in early November when some lakes are not solid enough yet to walk on and the snow hesitates to cover the entire area, leaving those ugly black patches of land exposed? Surprisingly, a lot.
During this short transition from the fall to winter, you can enjoy Banff on foot, ice skate, still drive to many of its alluring lakes and waterfalls, and in some secluded areas even snowshoe and ski.
Is November (Early Winter) in Banff National Park a Good Time for Skiing?
Ski resorts in Banff National Park start opening as early as late October and run to the end of May. In November, with the official season just started, the prices are still at their lowest. The temperatures plummet. It's really cold outside, but still much warmer compared to the winter months.
Are there Crowds in Banff National Park in November (Early Winter)?
Banff National Park is a popular summer destination. An owner of an Indian restaurant we stopped at in Canmore, lamented the lack of customers during the winter season. In November, he would be lucky if a few visitors walked into his place, located about 7 kilometers (5 minutes) southwest of Banff National Park.
The late fall and early winter are indeed a bad time for local businesses. For those who despise crowds, it's probably the best time to visit the area. Quite often you can have the entire place, even such a remarkable jewel like Peyto Lake, all to yourself.
With fewer people visiting Banff during the fall and winter seasons, hotels and resorts, including Airbnbs, lower their prices. You have plenty of options to choose from without shelling out.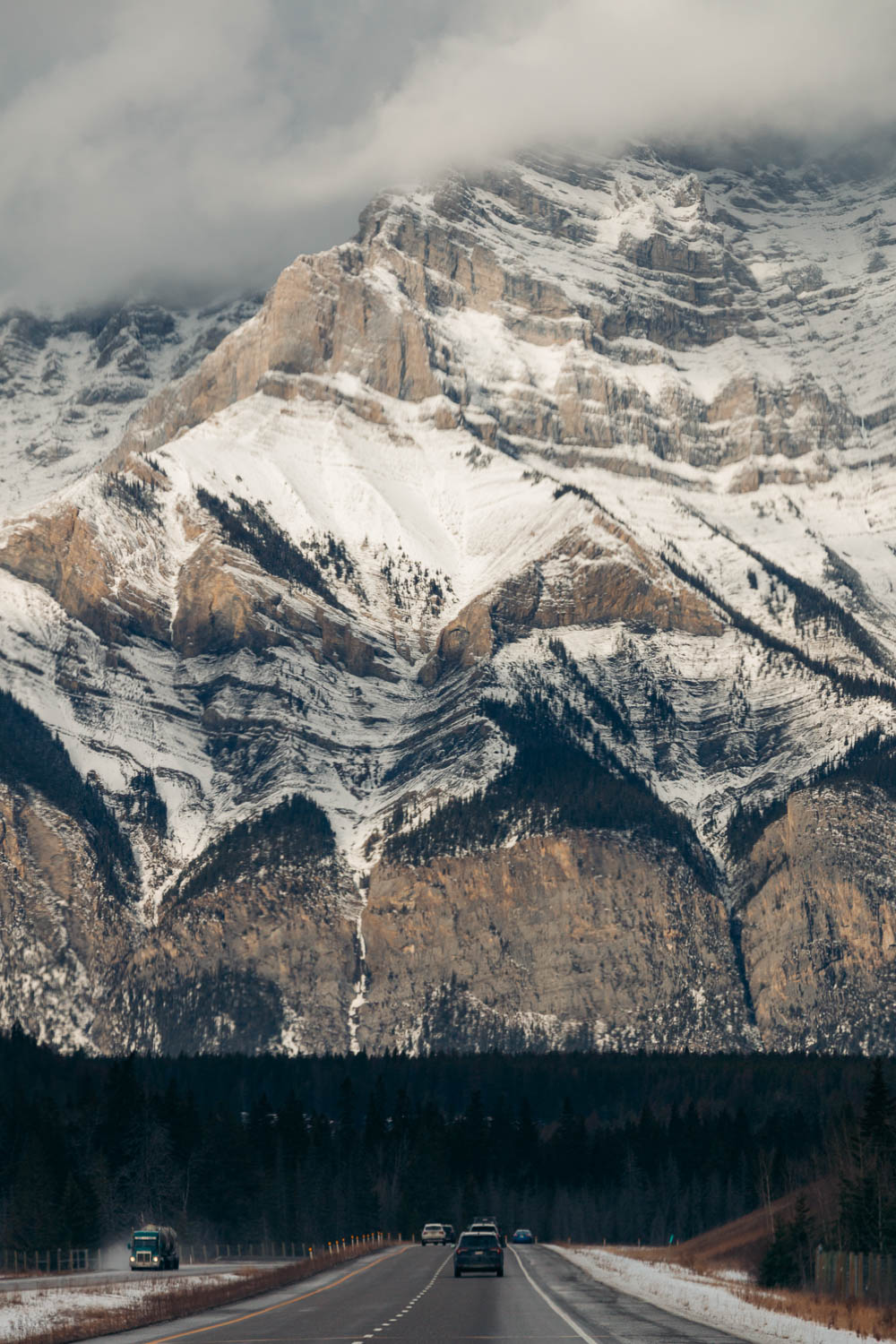 How Bad is the Parking Situation in Banff in November (Early Winter)?
Well, you probably read that the parking situation in the national park is challenging during the peak season. It loosens up a few months later. In November, every parking lot in Banff and several national parks nearby we stopped at, even the smallest ones, could accommodate a dozen, if not more, other vehicles.
Finally late risers can sleep in. Late sunrises, around 8:00 a.m., are also on their side. But don't stay at your cozy Airbnb or hotel room too long. Fall days are short. Places to explore in Banff in November are numerous.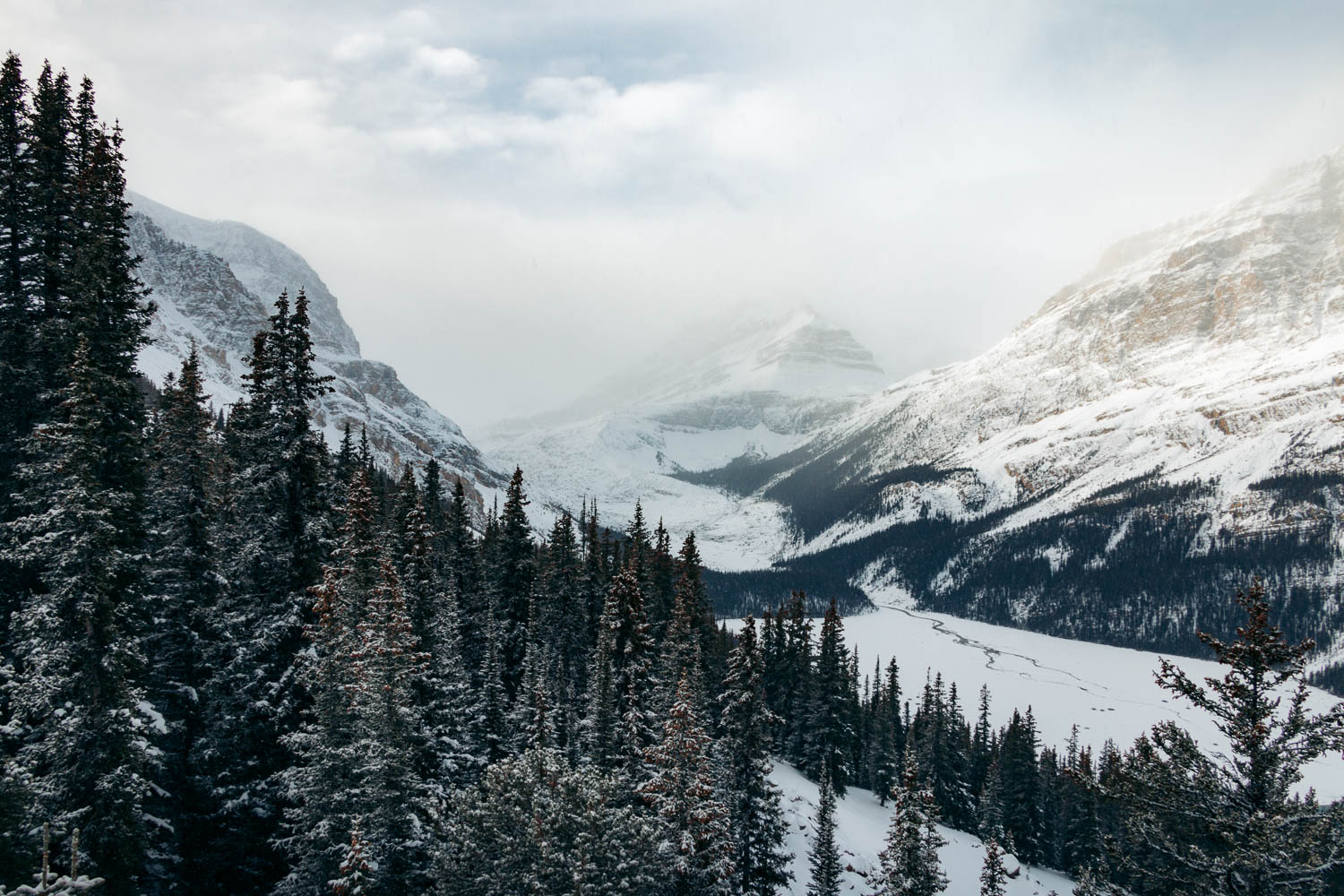 Things to Do in Banff National Park in November (Early Winter)
1. Hike to Bow Falls
Located on the outskirts of the town of Banff, Bow Falls is one of the easiest places to visit in November. The 1.2-kilometer trail starts in Central Park, Banff, and runs along the Bow River to a viewing platform.
The hike is short, but can be challenging thanks to the gusty fall winds. With the snow just lightly dusting the ground, the area outside the town of Banff felt like winter on the third day of November. It surely gets even colder by the end of the month and in the winter.
So bundle up! Banff in November requires a lot of layers.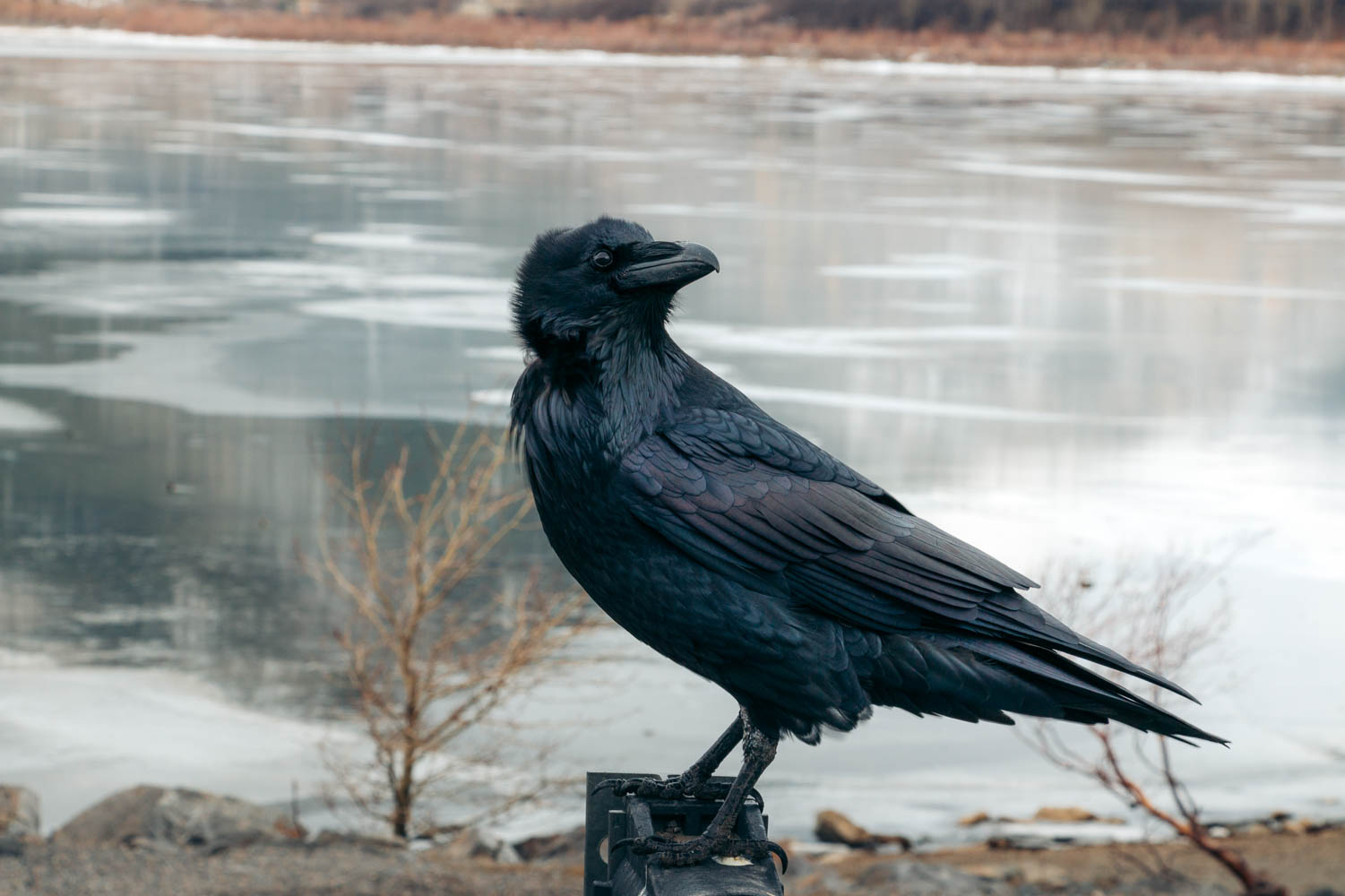 2. Admire the Views of the "Castle in the Rockies"
Before you hit the Bow Falls Trail, walk across the road from a designated parking lot to a raised wooden observation deck to admire the views of Banff's "castle". With a large flag, fluttered by the strong wind, Fairmont Banff Springs looks like a Canadian sibling of Neuschwanstein Castle in Germany.
The luxury hotel in the heart of Banff National Park has been welcoming guests since 1888. Some of the biggest celebrities stayed here. And some of the popular films, such as River of No Return, The Edge, and Goose on the Loose were shot inside the "castle".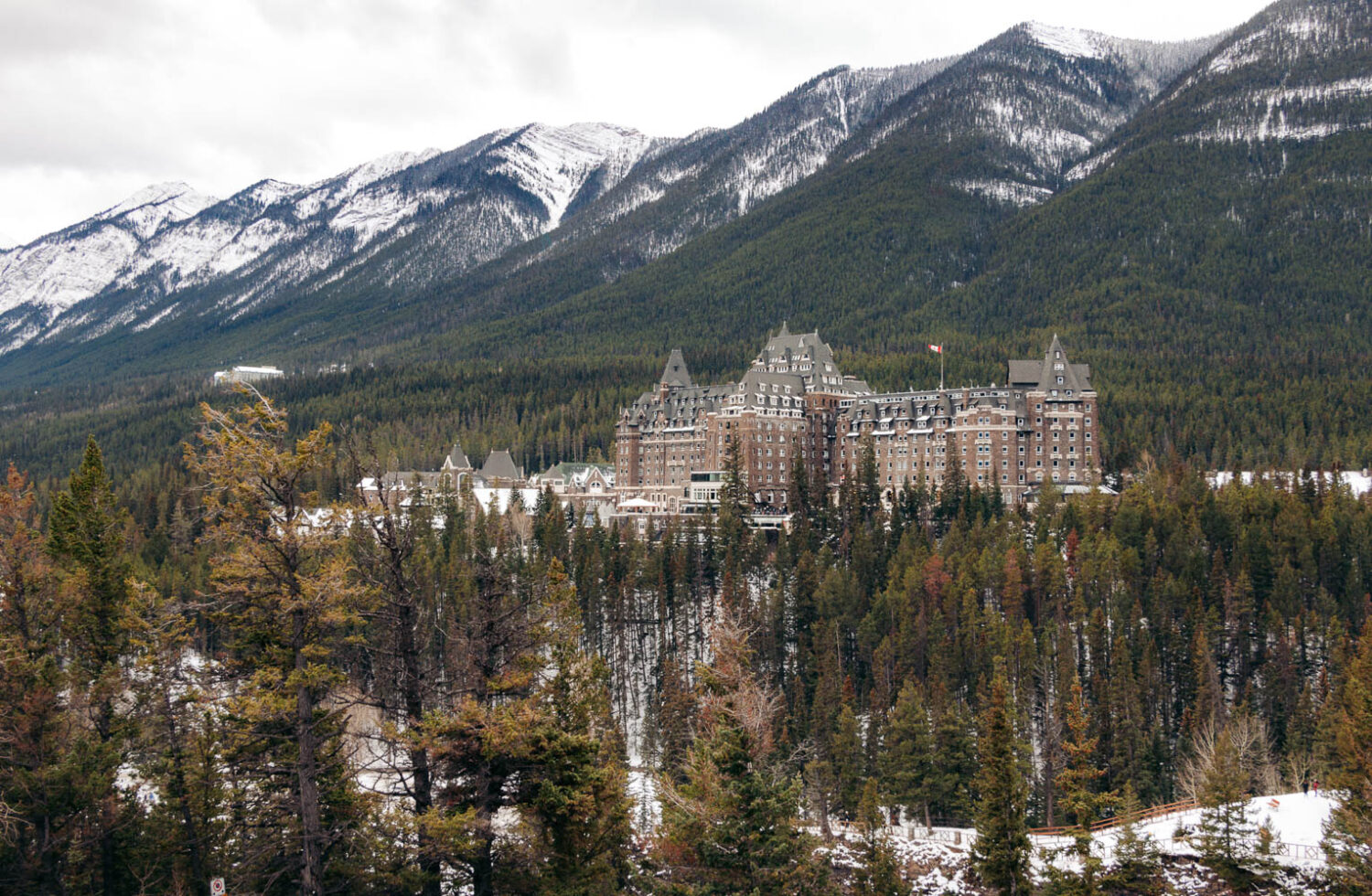 3. Skate on Vermilion Lakes
Vermilion Lakes, located west of the town of Banff, obey the rules of the harsh Canadian winter as early as late October – early November. We hoped to see the famous mountains reflecting off the lake. Instead, a solid icy lid capped the lakes.
You can still attempt to walk around the three lakes formed in the Bow River valley along two easy trails. Better yet put on some ice skates and "dance" on the natural ice skating rink surrounded by the stunning Canadian Rocky Mountains.
Arrive early, and you may have all three lakes to yourself. Don't mind some red foxes making new "trails" on the fresh layer of snow while crossing to the opposite shore.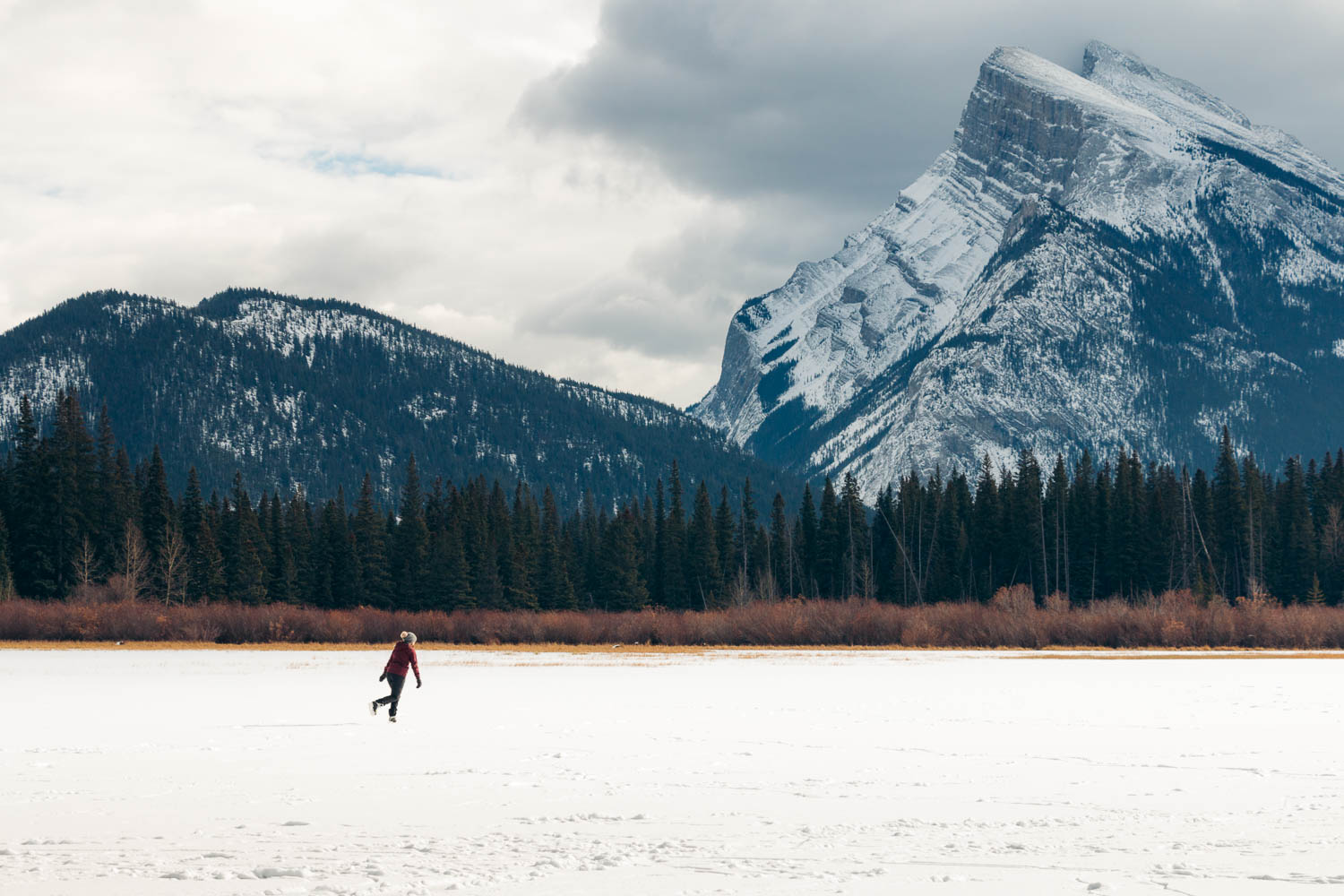 4. Souvenir Shopping and Dining in Banff
The town of Banff is an ideal place for souvenir shopping and dining all year round. In November, however, it looks especially appealing. After braving the freezing fall weather all day long, cozy shops and restaurants of Banff allot a snuggly shelter for both body and soul.
Downtown Banff looks like an anthill compared to the deserted Canadian Rocky Mountains in November. Locals visit their favorite eateries. Visitors look for cozy escapes from the freezing elements.
And once you make your way to Banff, don't rush to leave it. Take a walk on the streets named after different mountain animals. In November, you can often share the area with a gang of elk that flocks to Banff to feed on lawns, not yet completely covered in snow.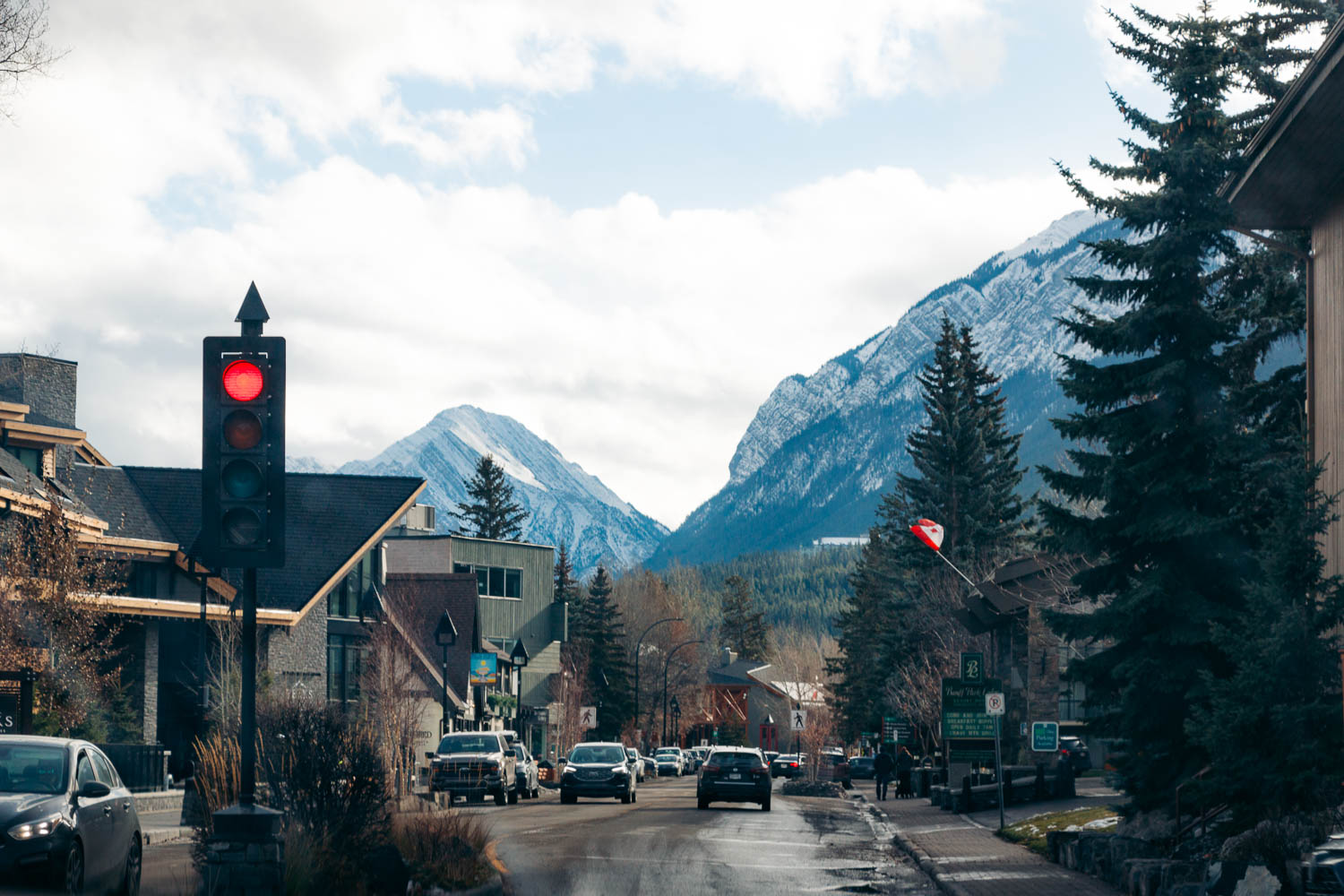 5. Step Inside the Cave and Basin National Historic Site
Another "indoor" attraction to visit in the national park in November is nestled near downtown Banff via Banff and Cave Avenues. The oldest natural history museum in western Canada, the Cave and Basin National Historic Site has played an important role in the Indigenous Peoples' life for more than 10,000 years. 
In the late 19th century, the area sparked a few events that led to the creation of the first Canadian national park.
While the Cave and Basin National Historic Site may be the smallest landmark you will see in Banff in November or throughout the winter, it certainly one of the most informative and educational.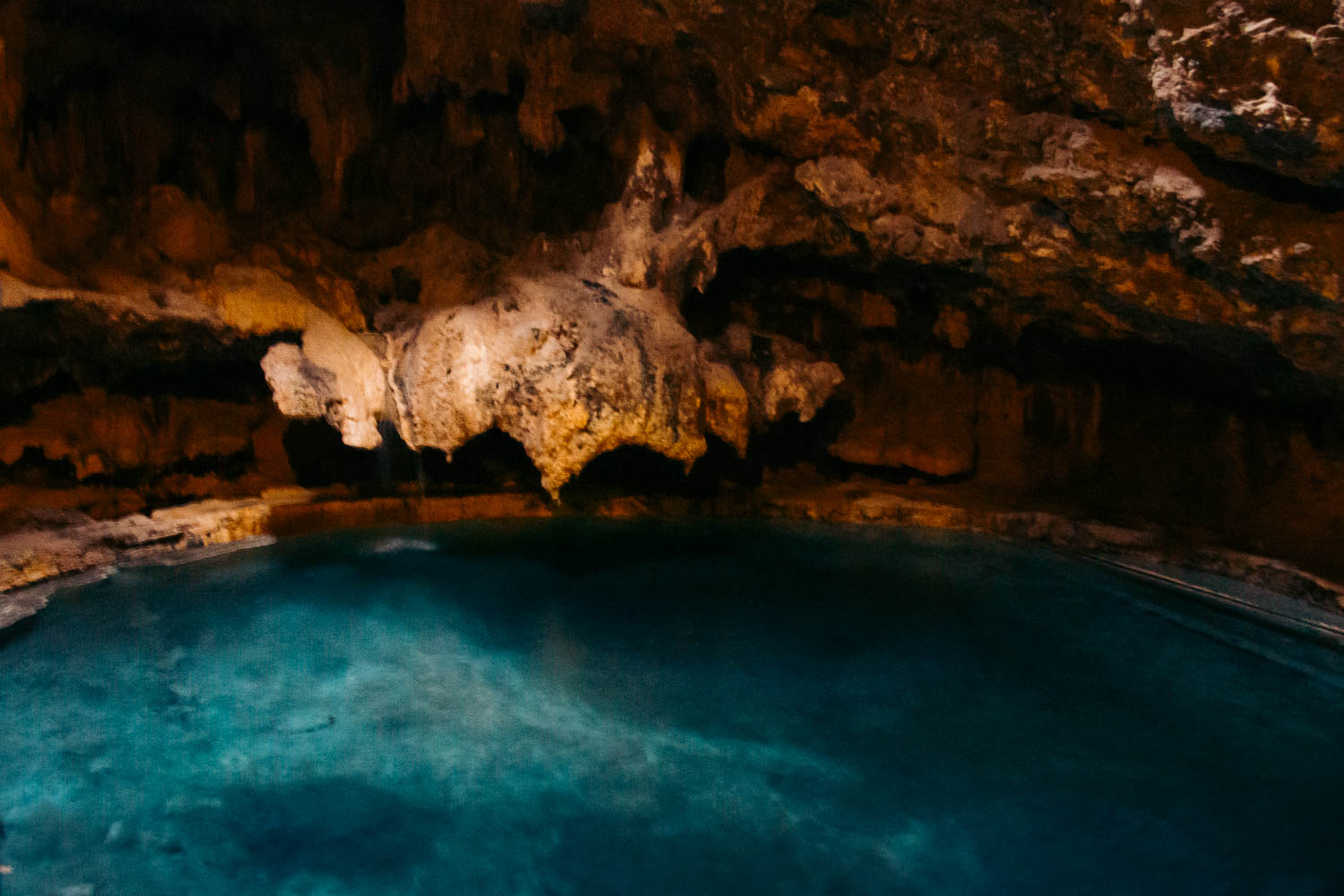 6. Hike Johnston Canyon
There is something about a raised narrow platform that runs along Johnston Creek, guarded by massive cliffs on both sides… There is something inside that deep abyss with bluffs that generously shed their seasonal tears… Something that can be described with one word – mysterious – that propels you to venture to the Banff mountains on a freezing November morning.
Johnston Canyon is a favorite place in the park to hike in winter and summer, in rain and snow. The roughly 3-kilometer trail with sturdy metal railings runs along Johnston Creek, a tributary of the Bow River.
You can hike the entire distance or as long as you want. The area offers scenic views all the way through. Starting in early November, keep your eyes peeled for abundant icicles clinging to the lower sections of the Banff's favorite canyon walls.
Two attractions along the Johnston Canyon Trail, however, are worth hiking to: Upper Falls and Lower Falls. Both of them start turning into icy wonders as early as late October – the beginning of November.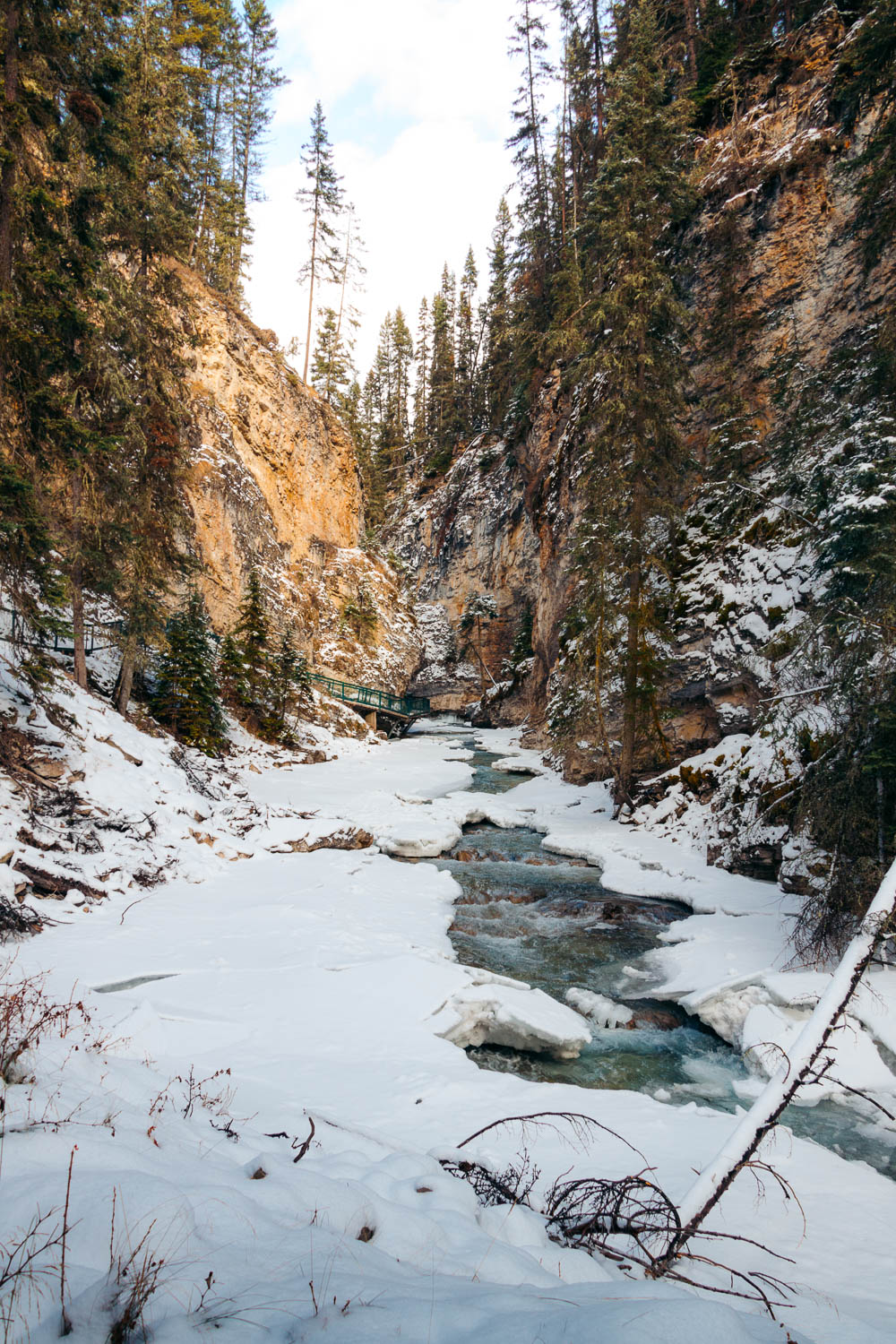 7. Fall in Love with Dreamy Scenery at Lake Louise
Lake Louise and Moraine Lakes are the most coveted lakes in Banff National Park. Seduced by their vibrant emerald colors and enclosing mountains, millions of visitors congregate along their shores in late spring, summer, and early fall.
Yet unlike its nearest neighbor, Lake Louise, Moraine Lake closes in mid-October, entrusting the first with an important task of entertaining nature lovers in the late fall and winter.
But an unexpected surprise awaits all first-time visitors of Banff in November, when the acclaimed vibrancy of the lake gets overshadowed by prevailing grey and white hues. Thick foggy veil obscures the jagged tops of the mountains. Mist and snow envelope the lake, turning it into a dreamy destination.
In this surreal condition, Lake Louise may be just one of the biggest reasons to visit Banff National Park between the festive fall season and a hardcore freezing winter wonderland.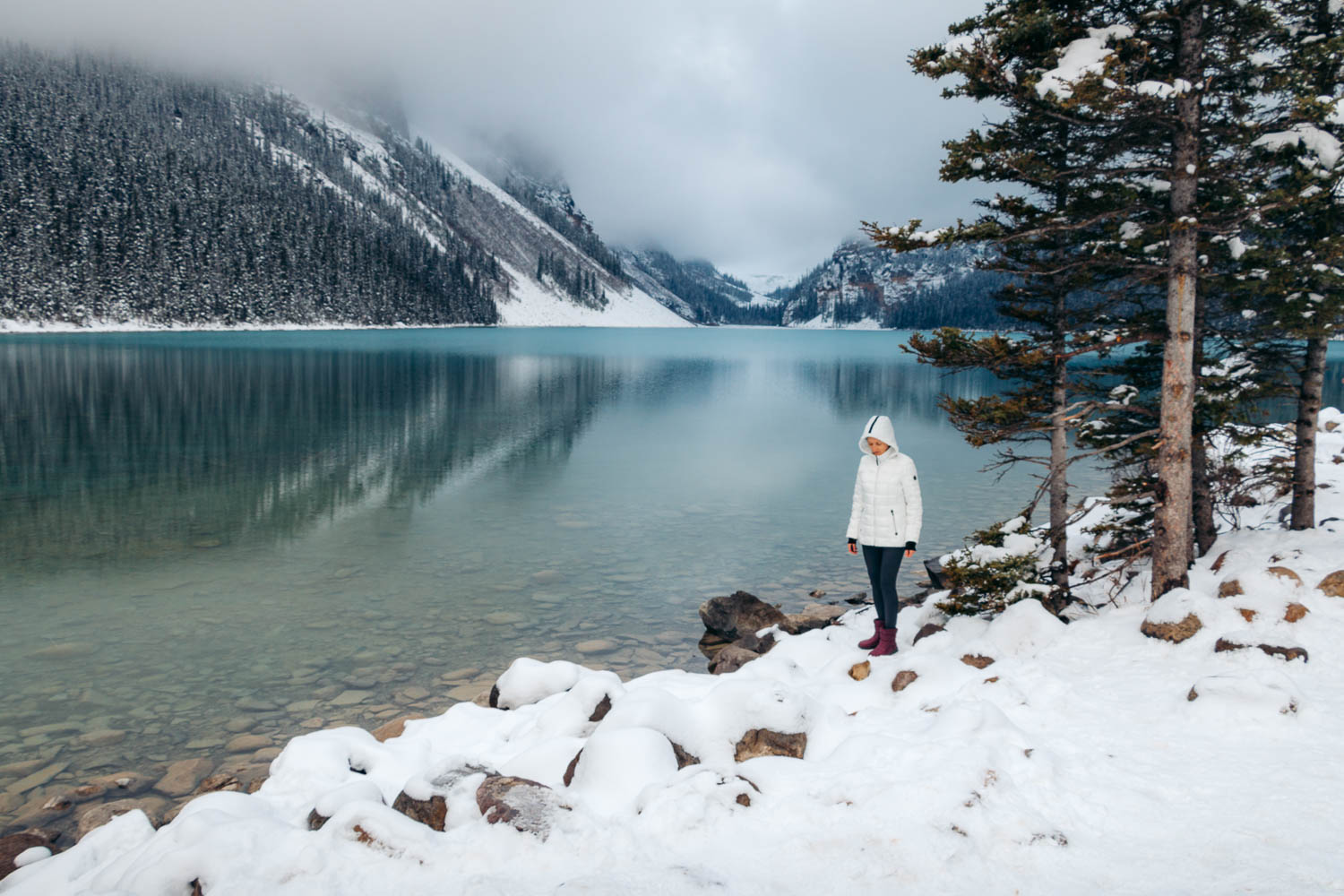 8. Venture to Yoho National Park
Snowier than Banff, Yoho National Park offers an array of winter activities even in early November. Grab snowshoes and skis and trek to the stunning lakes and half-frozen waterfalls.
Speaking about the lakes, Yoho has some of the most beautiful lakes near Banff that are still easy to reach even in November. Regarded by some locals as the most beautiful lakes in the world, Lake O'Hara is home to several alpine lakes and hanging valleys.
To avoid perpetual crowds in the area, Parks Canada prohibits any private vehicles from driving up to the lake. You can hike or use a park shuttle to get to the lake. Shuttle rides are seasonal and usually cease to operate by early or mid-November. After that, your only options are hiking, snowshoeing, or skiing.
The hike, however, is long, 11 kilometers one way. It's challenging but doable even during the harshest fall-winter months.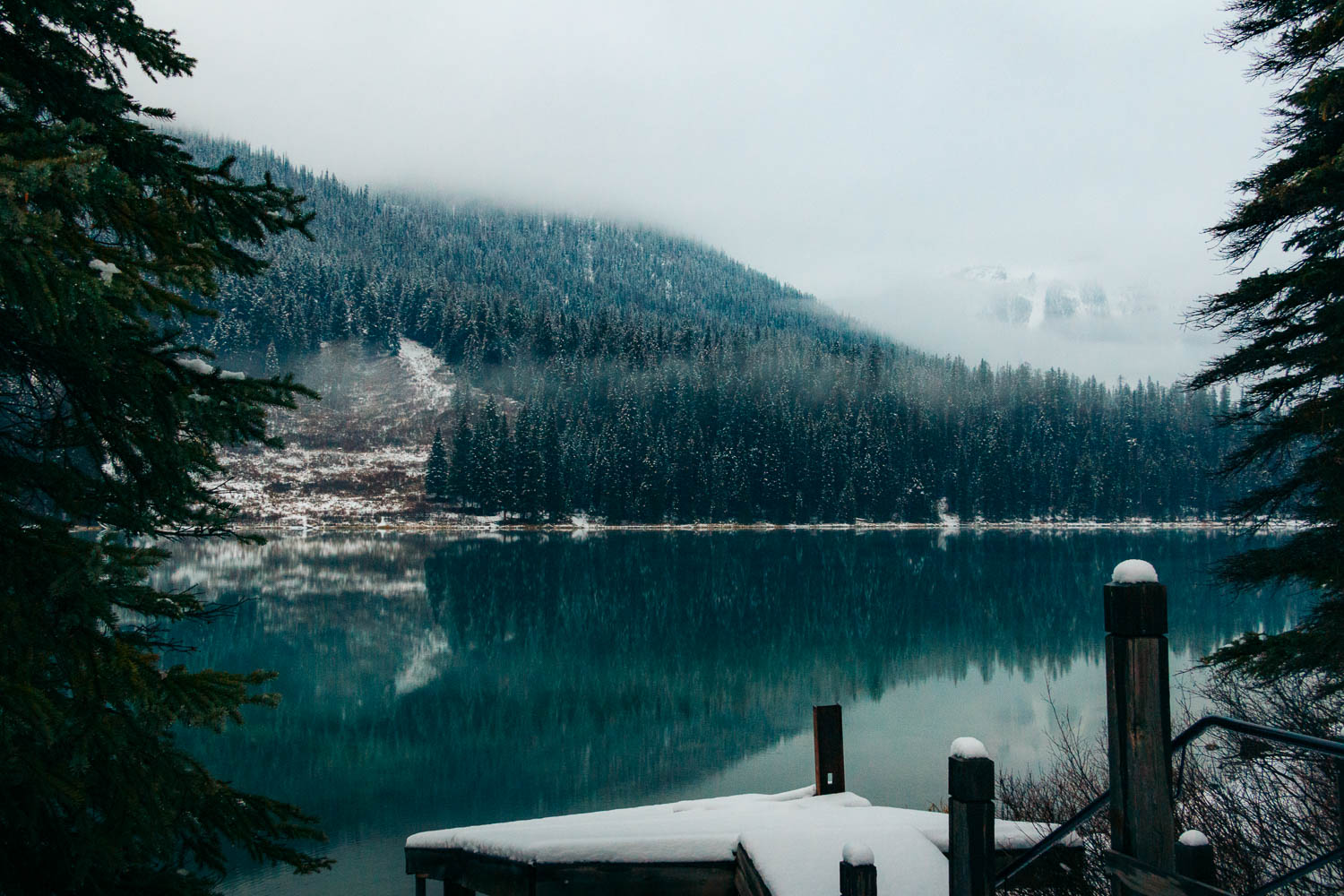 9. Enjoy a Real Winter Wonderland at Bow Lake
On a Saturday morning in early November, Bow Lake, located along the Icefields Parkway in Banff National Park, looked like a real winter wonderland. Heavy snow blanketed the ground and evergreen trees along the shore. Even denser clouds got stuck in the mountain peaks that not so long ago had looked into the clear water of the lake like in a mirror.
While Bow Lake usually entertains fewer crowds compared to Moraine Lake and Lake Louise during the high season, in November this precious jewel of Banff sees only a handful of winter-loving adventurers a day.
By this time, Bow Lake, nestled at an elevation of 1920 meters, is more likely to be locked away in ice. It spends most of the year in this condition.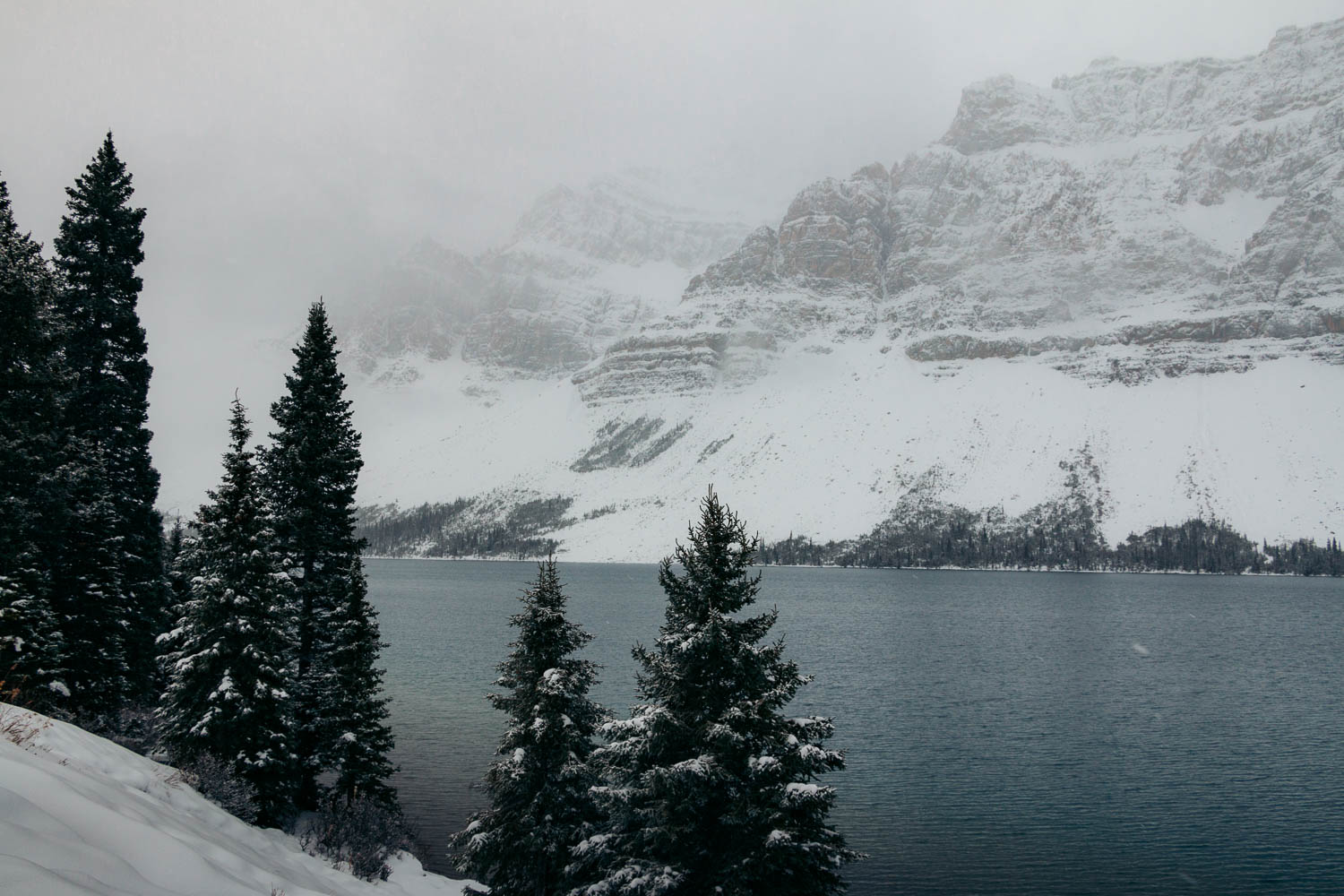 10. Build a Snowman
You may need to wait at least until the middle of November to build a snowman in the town of Banff. But drive a little bit farther north or west, and a real winter with piles of snow materializes.
Bundle up, pull out your winter gloves or mittens, and build a snowman or play snowballs. Winter family fun activities in Banff Park normally start as early as late October – the beginning of November.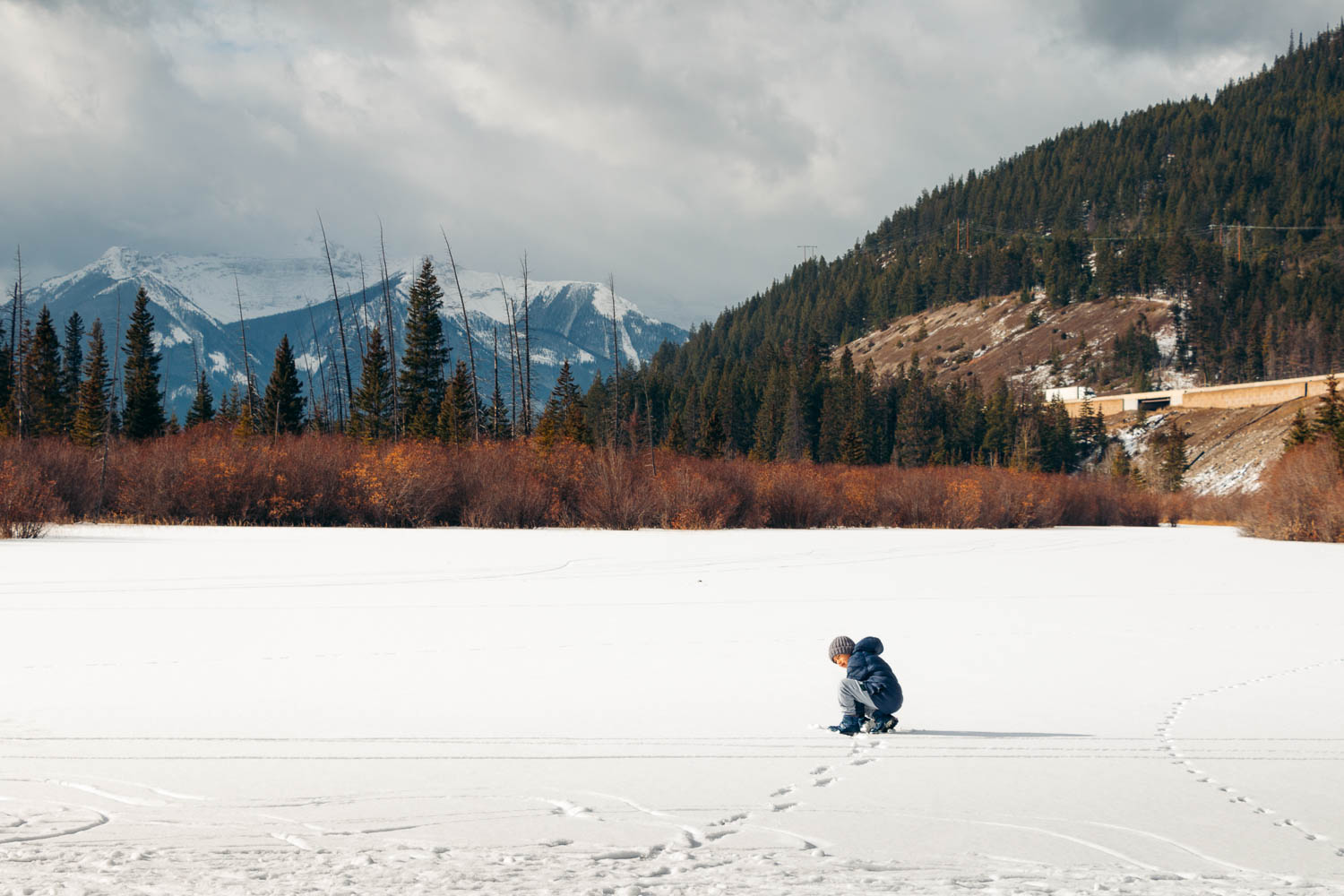 11. Hike to Peyto Lake
While you drive north along the Icefields Parkway, pay attention to a side road on your left. Nestled about 4 minutes away from Bow Lake, this is your gateway to Peyto Lake, a glacier-fed lake in the Canadian Rockies.
A rather big parking lot at the end of the road fills up quickly during the warmer seasons. But it's November, and Banff is relatively empty. Pull over anywhere you like. No dividing lines can indicate a specific spot, as the snow has covered the ground by this time, and go for a walk.
It takes approximately 10-15 minutes to hike along a paved path (in November – a well-trodden trail in the snow) to reach one of the most beautiful lakes, hidden up in the mountains of Banff Park.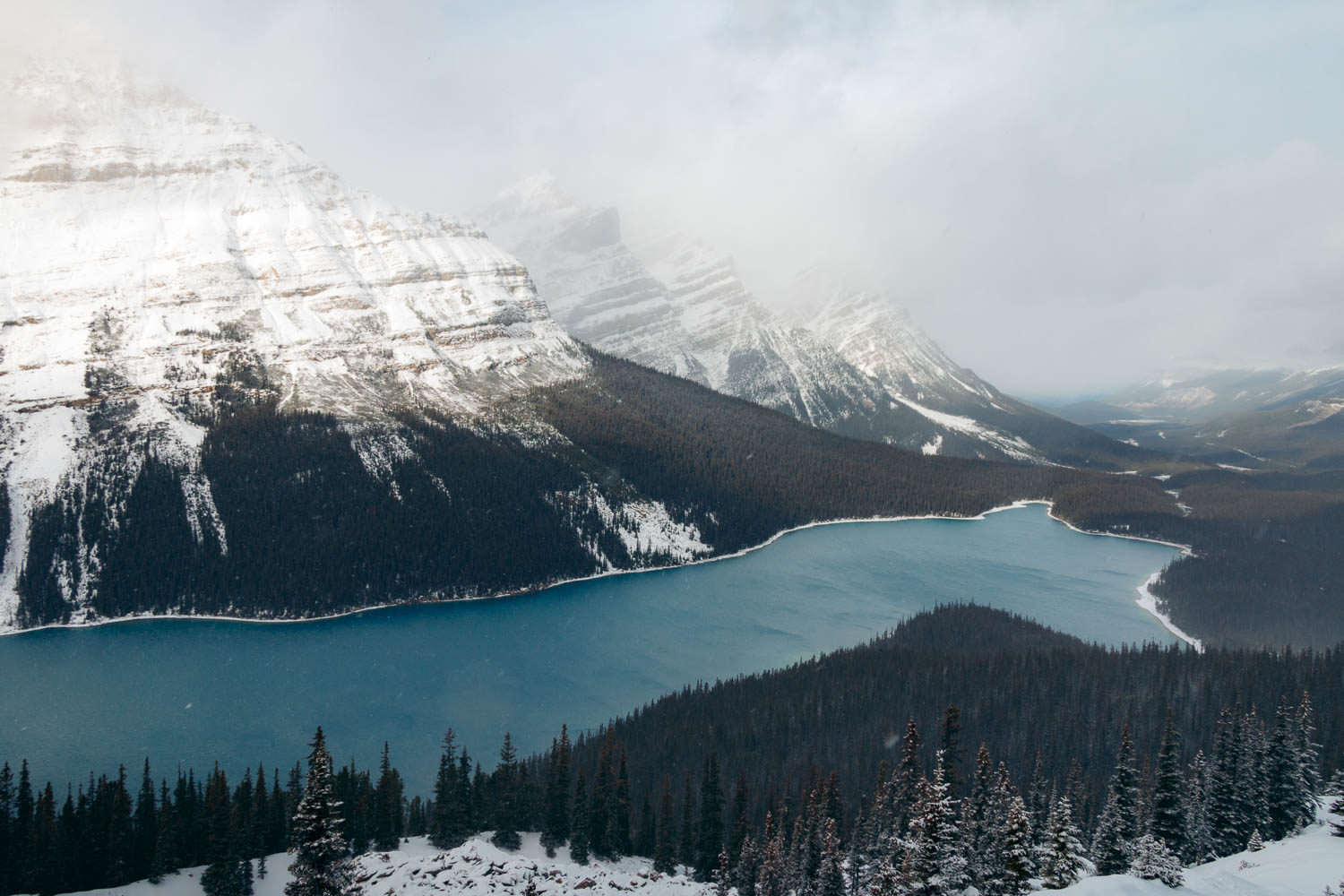 12. See a Frozen Waterfall
A frozen waterfall in Banff National Park in November? Well, I didn't know that I needed to have it on my bucket list until I saw it.
Like many lakes, not all waterfalls in Banff and the surrounding national parks freeze over before November comes. Some, with the help of the subzero temperatures, however, give themselves complete makeovers. Where once gurgling falls rushed down sheer cliff faces, now heavy icicles congregate, building a crystal structure, a special extension of the grand mountains they originate from.
One of the easier places to see frozen waterfalls in Banff National Park in November is Johnston Canyon. In late November and winter, you may also want to venture to Yoho National Park where Wapta Falls stands as an icy giant, 18 meters high and 107 meters wide.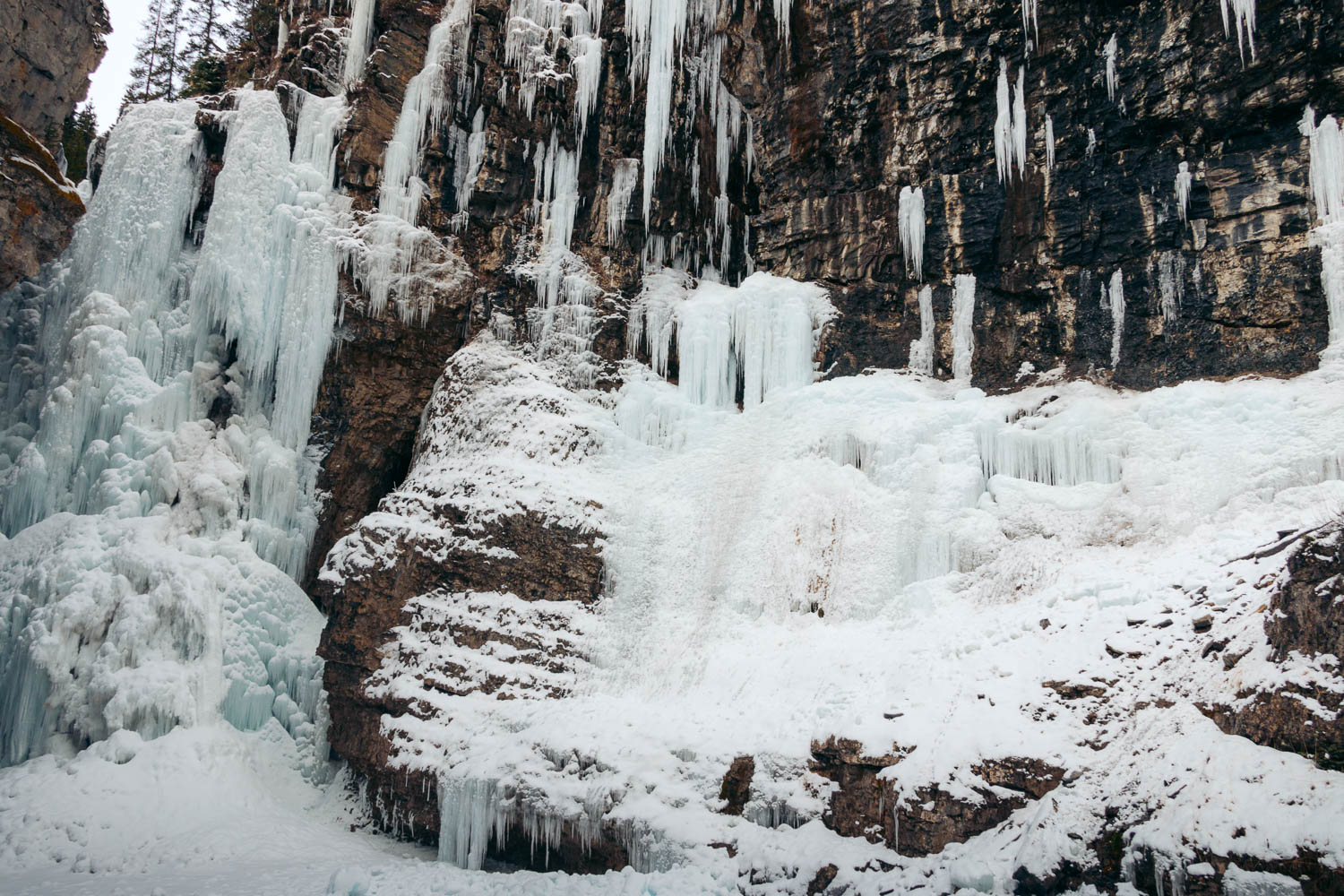 13. Drive to Jasper National Park
Alternatively, you can try to see if Sunwapta Falls and Athabasca Falls in Jasper National Park have followed the lead of their Banff's counterparts and let the freezing November temperatures suppress their powerful flows.
With many lakes and rivers frozen over by the end of fall-the beginning of winter, you can also spend a day hiking inside Maligne Canyon, the deepest canyon in the park, located 1 hour 30 minutes north of Banff National Park.
Map: Places to Visit in Banff National Park in November (Early Winter)
Things to Know before Visiting Banff National Park in November (Early Winter)
No Fall Foliage
Fall colors are long gone in Banff by November. You will have far more luck catching the fall brilliance in the Colorado Rockies. The Canadian Rocky Mountains are in full winter swing by this time.
Dress for Winter
Banff in November is cold, winter cold. In the areas where snow fails to appear "on time", the gusty winds feel even colder. So bundle up! Winter shoes, thick scarfs, water and wind resistant jackets, gloves and mittens. You won't regret packing them all before driving to Banff National Park in November.
Snow Tires
By mid-November, many roads, including the Icefields Parkway that connects Banff with Jasper, are covered in snow and may be slippery. Snow tires may be required inside the national parks.
Bring Snowshoes
For all hikers, ditch your hiking shoes. While you can still use them in early November, by the end of the fall, snowshoes or skis come in handy more often when in Banff National Park.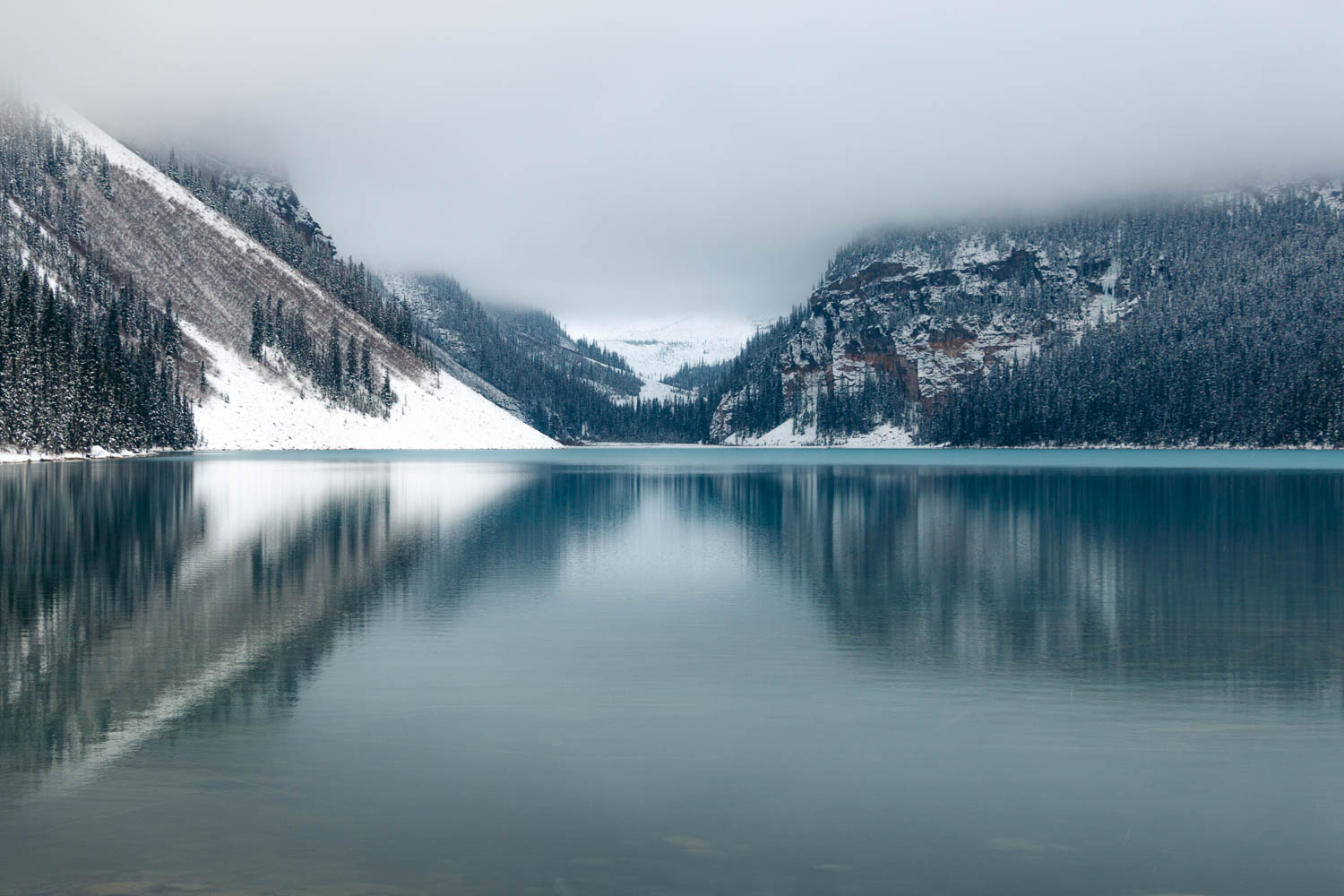 Moraine Lake Closes in Mid-October
If you want to see the famed Moraine Lake, arguably one of the most resplendent lakes in Banff National Park, plan your trip before November. The lake is open for Parks Canada shuttles, Roam Public transit, and commercial buses only from June 1 until mid-October. No personal vehicles are allowed to enter Moraine Lake Road all year round.
Admission
Banff National Park is open year round. Day admission expires at 4:00 p.m. the following day. If you plan to visit Banff multiple times in one year, you may want to consider buying Parks Canada Discovery Pass. The latter is valid for one year and covers admission to all national parks of Canada.
Daily
Adult: $10.50
Senior: $9
Youth (17 and under): Free
Family/Group (up to 7 people arriving in a single vehicle): $21
Parks Canada Discovery Pass
Adult: $72.25
Senior: $61.75
Family/Group: $145.25