Although the smallest national park in Alaska, Kenai Fjords National Park attracts way too much attention. So much that one of only four presidents to visit all 50 states, former president Barack Obama explored Kenai Fjords National Park on a cruise during his presidency in 2015. If even the head of the state visited the area during his three-day trip to Alaska, it makes us wonder what makes it so special.
Last updated: October 4, 2021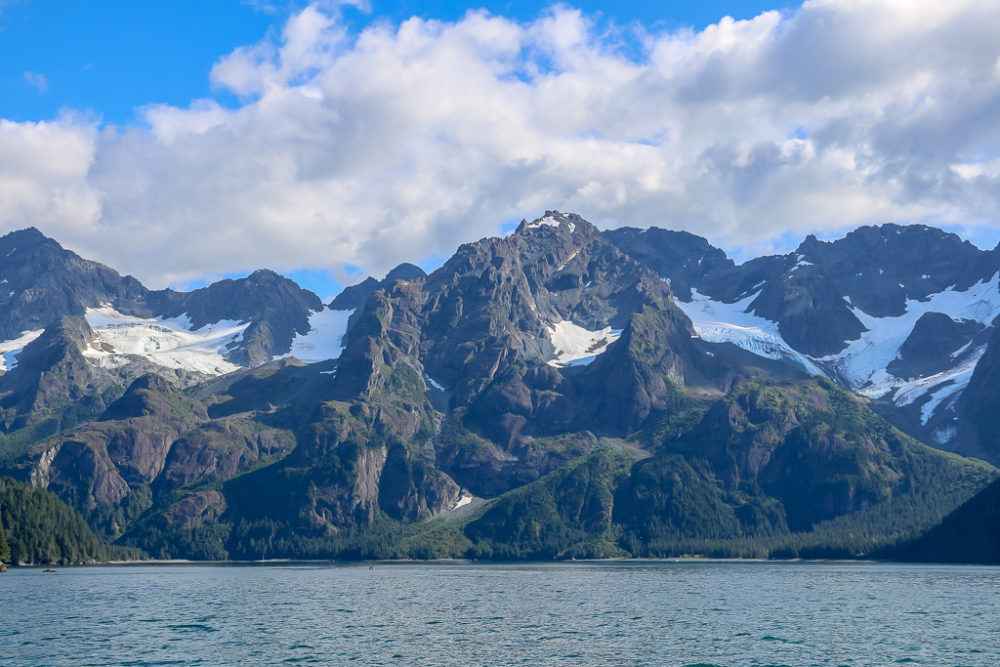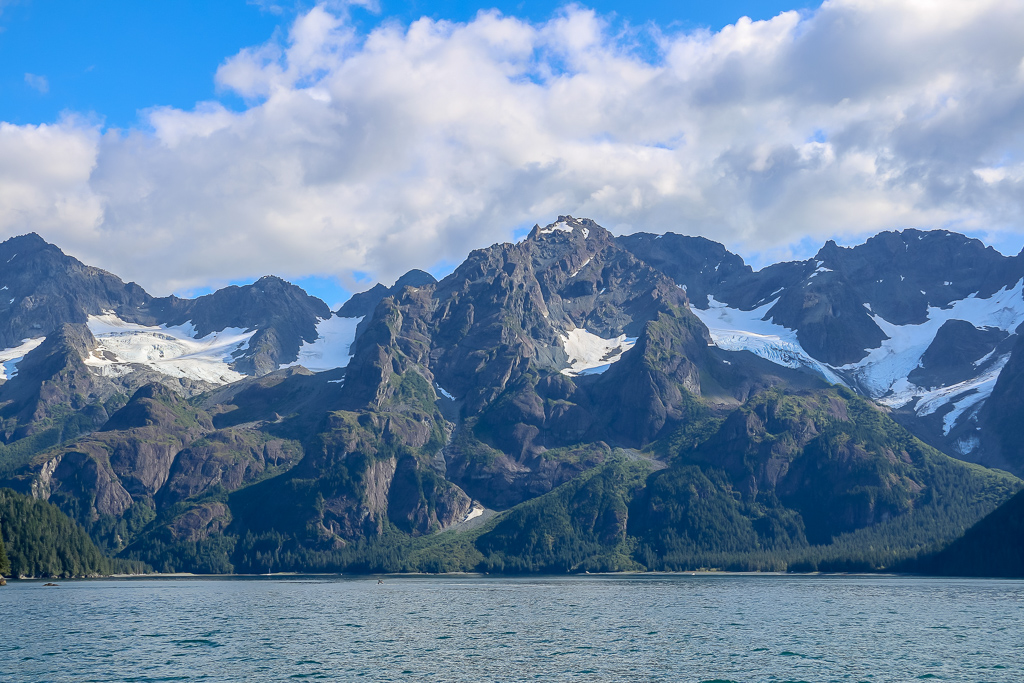 Explore Kenai Fjords from a Boat: National Park and Resurrection Bay Cruise
Located at the edge of the Kenai Peninsula, near the picturesque town of Seward, Kenai Fjords National Park spans 669,984 acres. Home to the Harding Icefield, one of the country's largest ice fields, the park features numerous fjords that, apparently, are responsible for the name of the region.
Nearly 40 glaciers participate in creation of these fjords, narrow and deep inlets formed by submergence of glaciated valleys.
Yet despite its small size, the Kenai Fjords area is not a place that you can visit by biking or driving through it. Without road access, except for Exit Glacier, Kenai Fjords National Park is best to explore from the deck of a boat or cruise ship.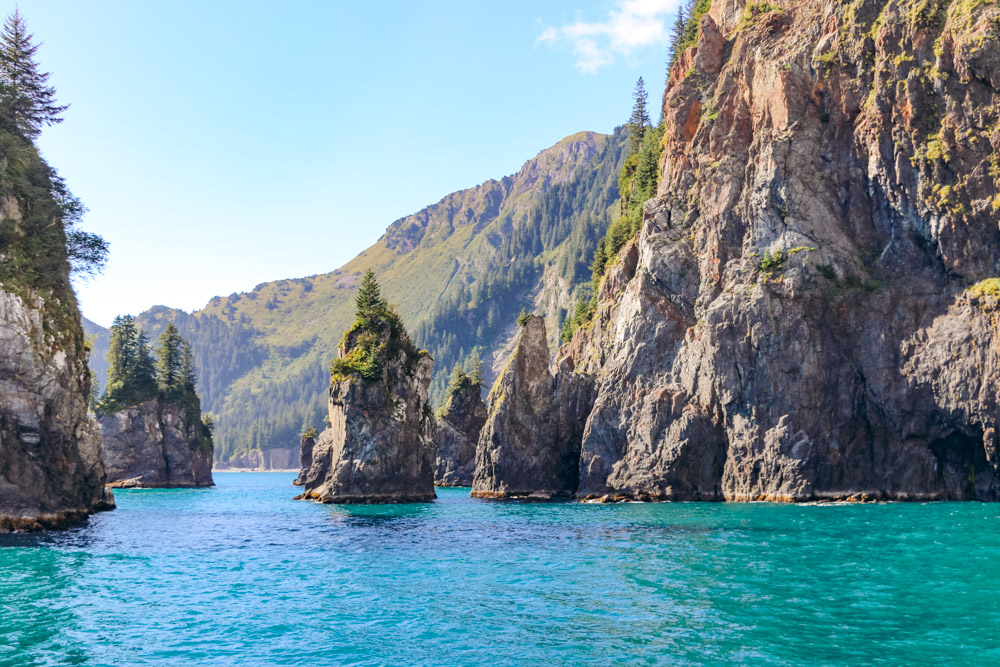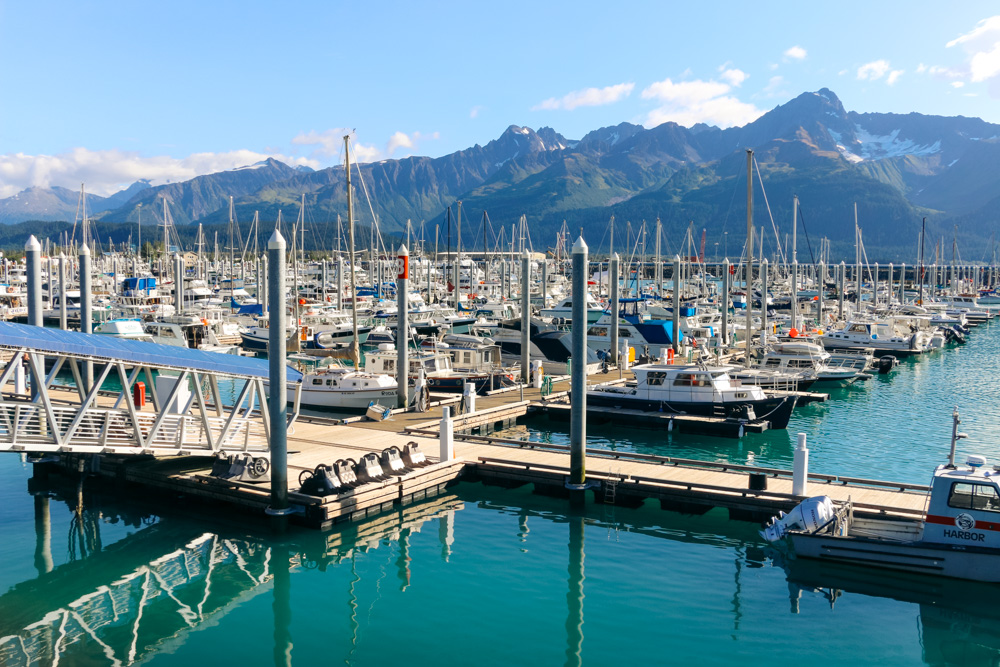 How to Visit and Cruise Kenai Fjords National Park
Getting on a tour boat is a piece of cake. Big companies, such as Major Marine Tours, Kenai Fjords Tours, and Alaska Fjords Charters offer half and full-day tours. Most of the cruises are available from mid-May until mid-September. The boats usually depart from Seward or Whittier, small towns in southern Alaska, nestled approximately one hour from each other.
For our Kenai Fjords National Park excursion, we booked a half-day tour with Major Marine Tours. When even President Obama had used the services of this company, we felt pretty confident to rely on this cruise for our visit to Kenai Fjords National Park.
On our second day in Alaska, we drove from Anchorage toward Seward early in the morning to explore the shore of the peninsula before embarking on the Kenai Fjords boat tour. For a tiny town, the place was swarming. Approximately half an hour before the ship departure, we went to Seward Boat Harbor to look for our ship.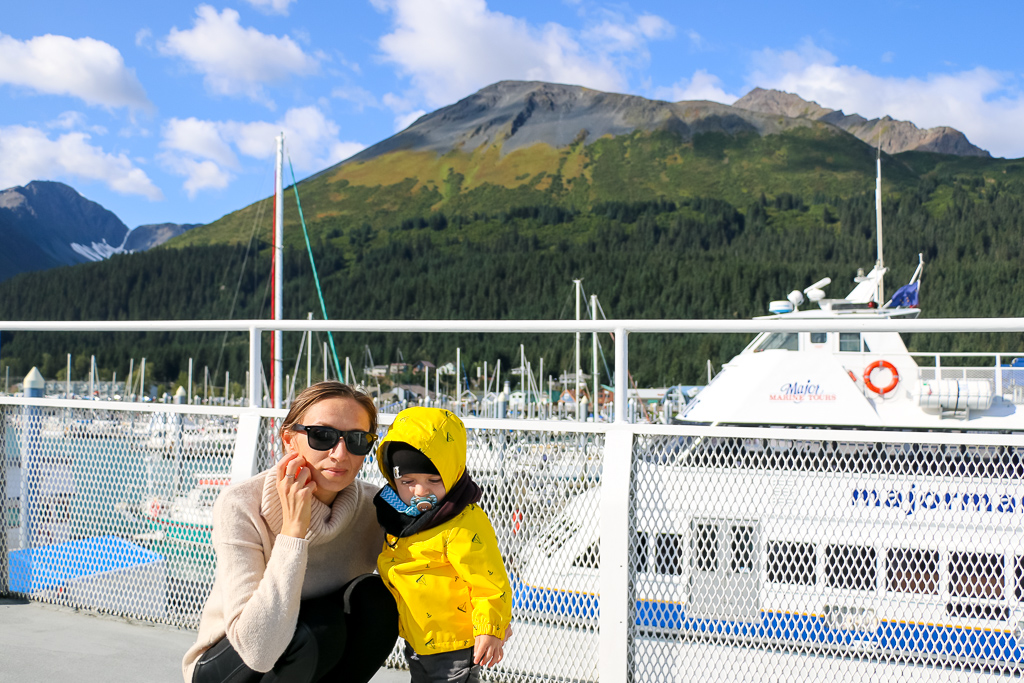 Star of the Northwest was an easy target, pretty difficult not to spot right away. Standing at the far end of the pier, the biggest vessel wide opened its door, welcoming enthusiastic Kenai Fjords National Park's explorers.
The spacious boat with a friendly crew and lunch buffet consisting of Alaska salmon, prime rib, rice pilaf, fresh sourdough bread, green salad, and dessert promised an exciting adventure around Resurrection Bay and the Kenai Fords National Park area right from the start.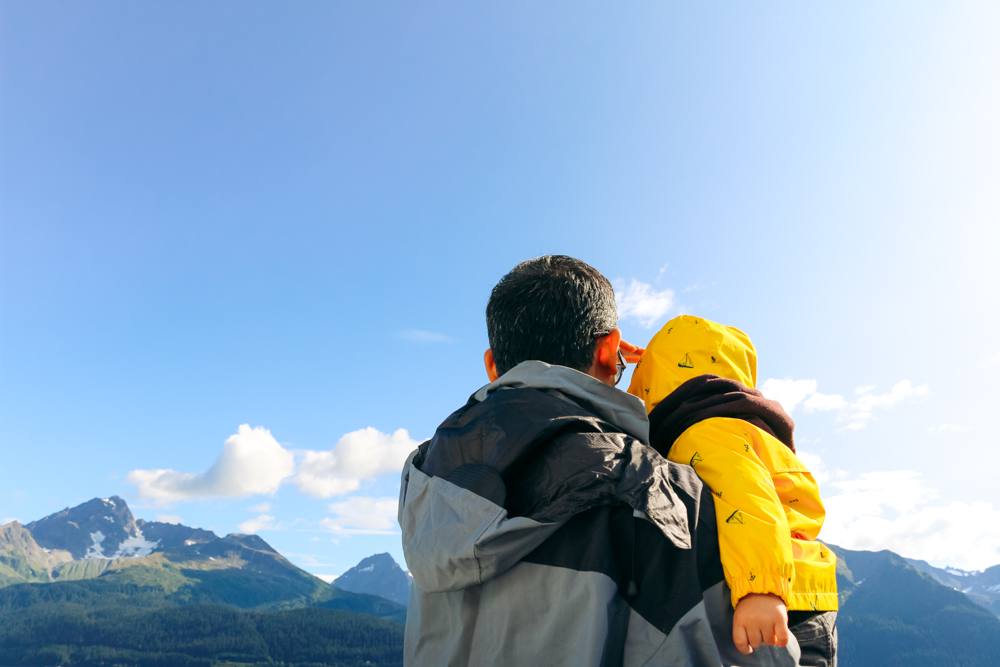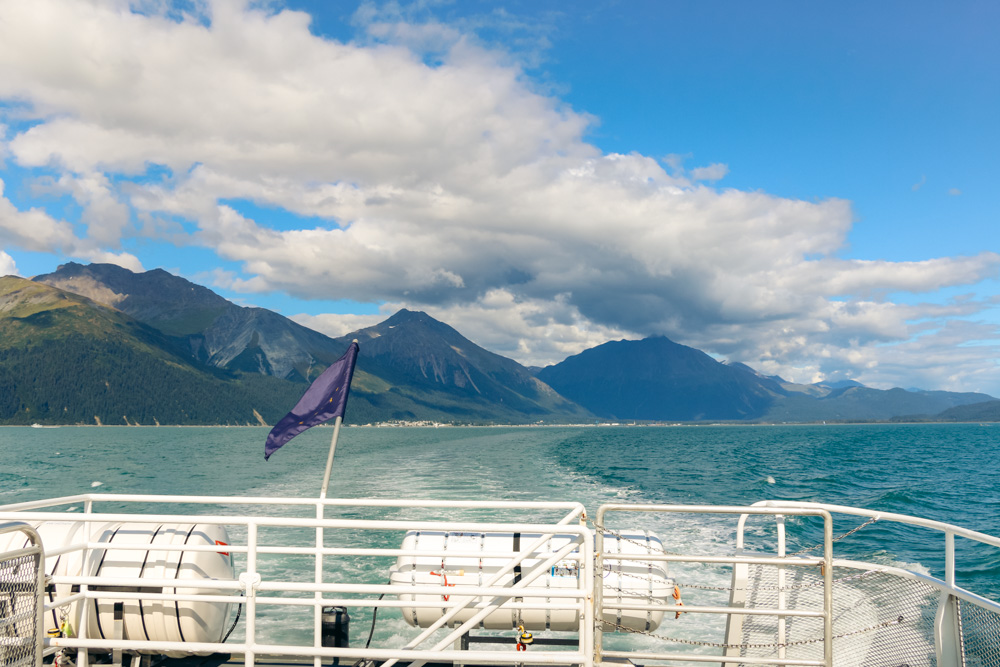 At Sea
Sharp at noon, the captain of our Major Marine Tours' vessel declared last call, and the cruise ship took off. Words cannot describe what a delightful adventure was awaiting us ahead! The breathtaking glaciers, deep fjords, gigantic mountains, and sporadic houses at the far shore, followed by detailed narration of our ranger, Aubrey…
Kenai Fjords National Park was a treat for the eyes, slowly unveiling its beauty as the ship processed farther into the bay.
It didn't take long before almost all passengers left their assigned tables inside the warm cabin and rushed to the deck. Closely surrounding the ranger as if not to miss her stories, the voyagers put their cameras and smart phones to work.
I wasn't sure if any of those professional and amateur pictures could ever be published anywhere but social media and personal blogs. The natural beauty of Kenai Fjords National Park and its surroundings, however, was undeniable.
But let's leave all these dreamy photos of Alaska aside and focus further on exploring famed Kenai Fjords National Park and Resurrection Bay from the deck of the cruise ship. History lesson that follows also was revealed on the boat.
Exploring History of Kenai Fjords National Park
The Second Largest Earthquake in World History
Although officially becoming a national park only in 1980, the area of what is now known as Kenai Fjords National Park was not exempt of devastating effects of the 1964 Alaska earthquake, also known as the Great Alaskan Earthquake.
Causing great destructions and damages, the earthquake took lives of nearly 139 people. Some people speculate that the earth tremor would have killed more people if it didn't occur on Good Friday. During that time the majority of the locals had left the affected areas for the upcoming holiday.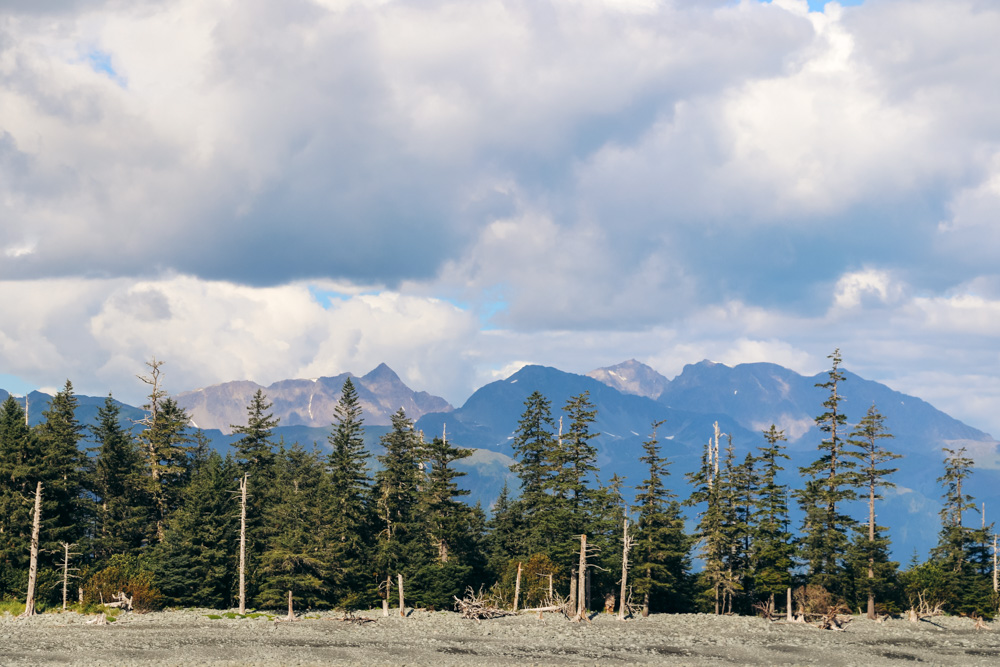 The magnitude 9.2 megathrust earthquake lasted 4 minutes 38 seconds, becoming the most devastating earthquake in North America and the second largest earthquake in the world. Earth fissures, soil liquefaction, landslides, and collapses of the damaged buildings followed the quake, causing more damages and casualties.
Kenai Fjords National Park had its own share of devastation. Affected by the Great Alaskan Earthquake, underwater landslides created tsunamis that hit the coastal areas, reshaping the surface and bringing the irreparable damage. Even today some areas of Kenai Fjords National Park still carry the prominent marks of the earthquake.
Strategic Point during World War II
And here comes another little-known fact. Resurrection Bay and its surrounding areas, including Kenai Fjords National Park, was a strategic point during World War II. To keep the bay unoccupied was an utmost important task of the U.S. armed forces. After Pearl Harbor attack, fearing future potential assaults from Japan, the U.S. Congress sent the military forces to Alaska.
Having most of the bases located in the coastal areas of the state, Resurrection Bay, due to its ice-free waters all year long, assumed a pivotal role in transporting the military reinforcement and supplying U.S. bases with ammunition and food in case the Japanese would have attacked.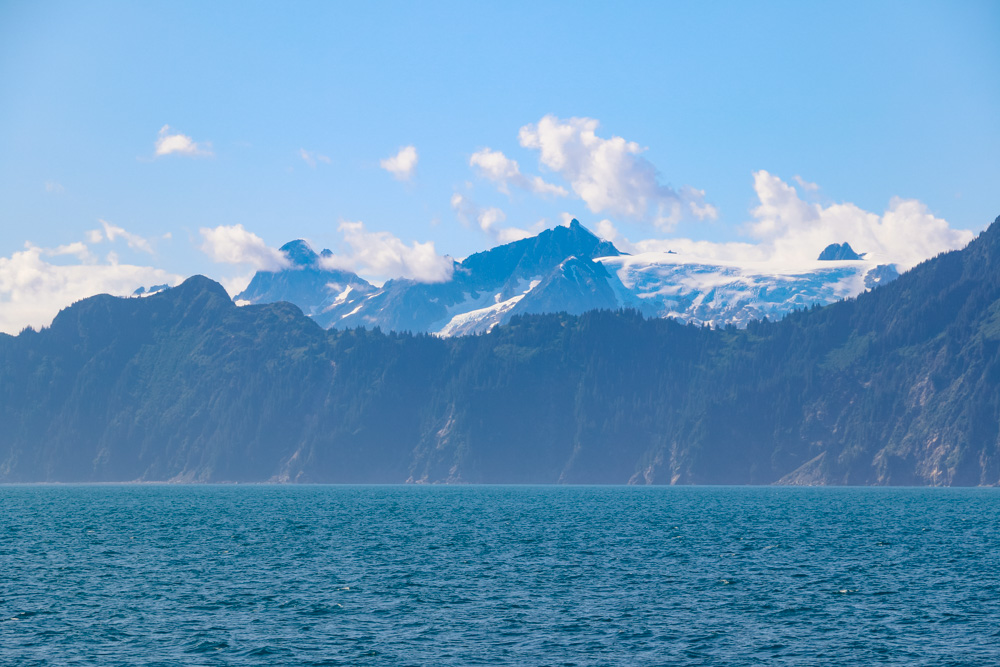 Exploring Famous Glaciers of Kenai Fjords National Park
Nowadays, Resurrection Bay and Kenai Fjords National Park are mostly known for their glaciers. As we mentioned before, near 40 glaciers exist within the area. It's approximately one quarter of all Alaska's glaciers. The abundance of snow, gravitational flow of ice, and suitable natural conditions of the park create an excellent place for continuous formation and growth of these natural phenomena.
Even if you've never seen a glacier before, a large, persistent body of crystalline ice, snow, and rocks will not make you guess twice. Cruising across Kenai Fjords National Park, you have pretty good chances of feasting your eyes on Godwin, Aialik, and Holgate Glacier.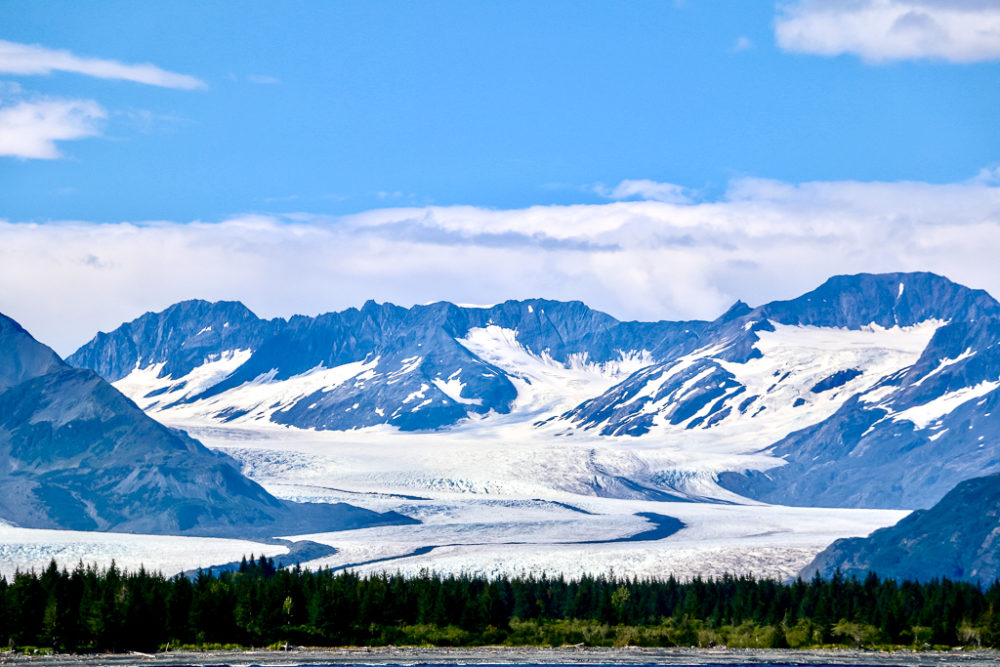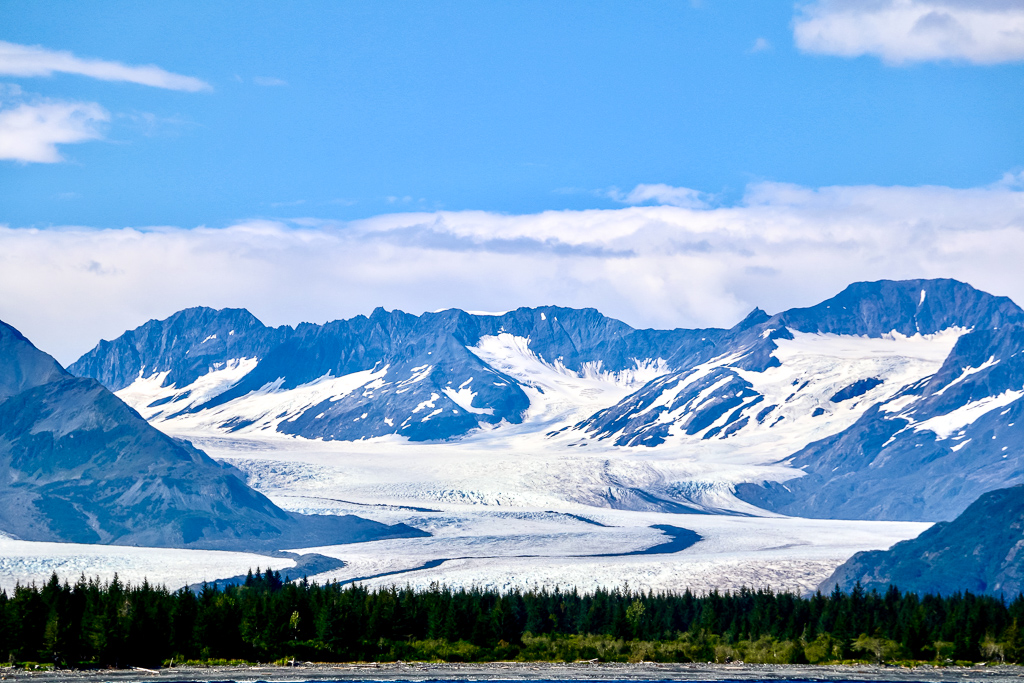 Our lead ranger, however, admitted that Bear Glacier was her favorite. I couldn't agree more. The longest glacier in the park with an adjacent lagoon was everything you could ask for. The winding shape of towering Bear Glacier with one of its legs entering the lagoon looked magical and dreamy.
Bear Glacier is a place you ought to explore whether from the boat or on foot. In the latter case, get ready for an epic paddling experience through the ice-cold water of the lagoon and camping on the outer beach near the glacier.
Wildlife
Despite its harsh terrain and unpredictable weather, Kenai Fjords National Park is home to diverse array of plants and animals. Bears, beavers, mountain goats, coyotes, moose, and gray wolfs thrive on the land of this part of Alaska. Sea otters, sea lions, whales, porpoises, and harbor seals dwell in the cold waters near the shore. Up to 191 species of birds fly over and nest on the territory of the Kenai Fjords National Park.
Yet watching the wildlife is an unpredictable experience. You never know if or when the animals and birds appear. During our half-day boat tour in Kenai Fjords we were fortunate to observe multiple horned puffins.
Cozily lined up on small ledges of the huge mountains, these tiny birds reminded of colorful toys or tiny penguins. Yet despite looking a lot like the flightless seabirds, the puffins have very little in common with their southern doubles. Nevertheless, watching these large-headed creatures with brightly colored beaks was a sheer pleasure.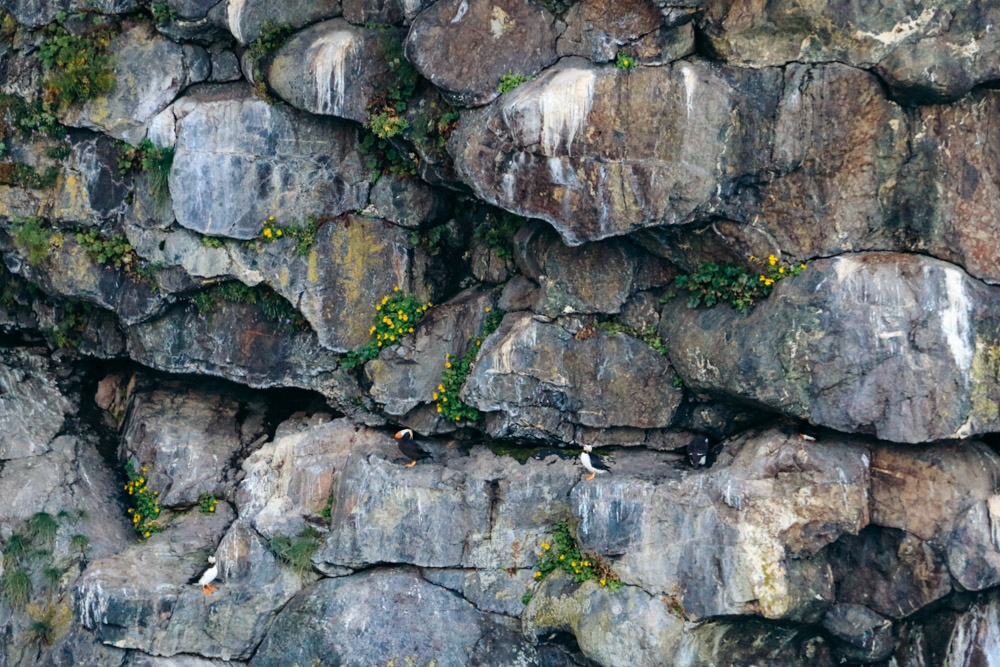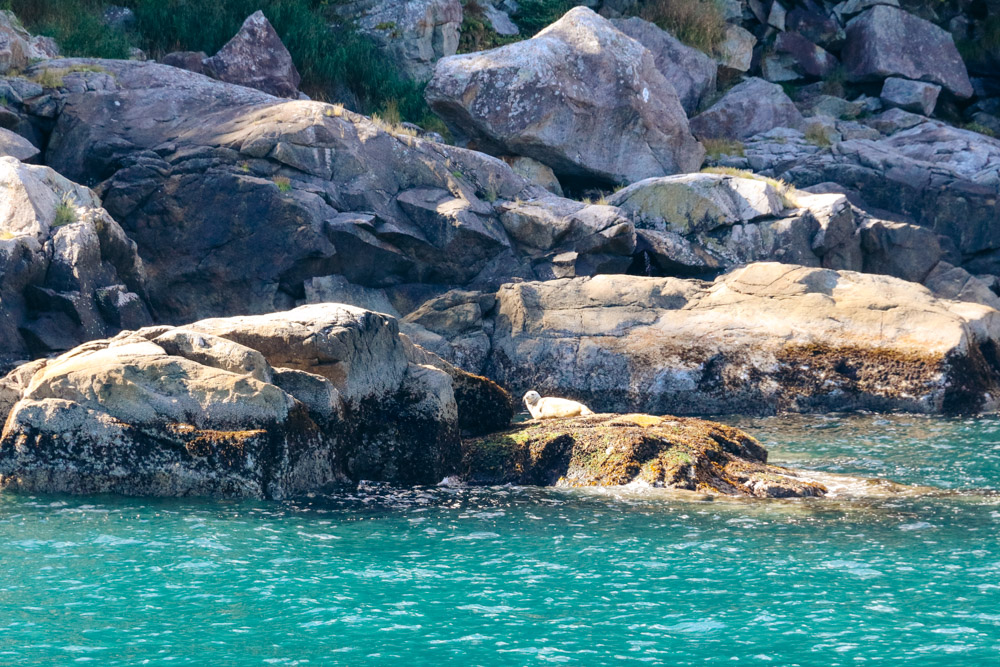 Other birds, such as kittiwakes and bald eagles, also kept us company. At some point, we even saw sea otters and harbor seals. Absorbed in their daily activities, they didn't pay too much attention to the cruising vessel in the near distance. Toward the end of our journey, peregrine falcons with their signature pointed wings and long tails rewarded us with their graceful glides.
Orcas
But the climax of the Kenai Fjords boat tour was encountering three orcas. Leisurely swimming in the bay, they seemed to have really good time, maybe even playing and competing with each other.
Better known as killer whales, the orcas are quite unique and stunning mammals. Despite their unofficial name, they are not whales, but the largest representatives of the dolphin family. And like other dolphins, the wild orcas reportedly don't pose any harm to the humans.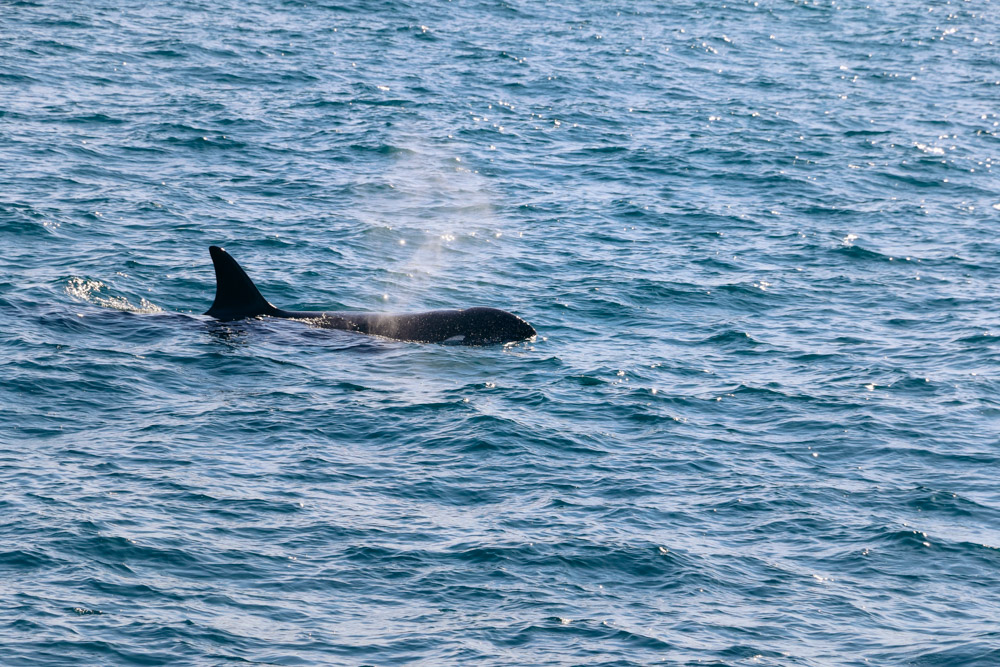 One thing that caught my attention in Aubrey's narration about these marine animals was that the orcas are matriarchal creations. The females always lead their loyal tribes-pods and take care of the baby orcas that usually stay with their mothers regardless of their sex and age.
Watching the killer whales from the deck of the boat, our extremely informative ranger and other members of this Kenai Fjords National Park cruise's crew agreed that the biggest mammal of the three resident orcas was none other than a female. So girls do run the world, after all!
Final Thoughts
Without doubt, Kenai Fjords is a must see destination whether you explore it on foot at the Exit Glacier area or from the tour boat. The stunning scenery, enormous glaciers, incredible history, and rich wildlife of southern Alaska simply cannot be ignored. There is something for everyone. We visited Kenai Fjords with the Major Marine Tours, but you can have equally pleasant experiences with any other tour companies.
Read Next