Nothing excites more than a spontaneous day trip addition to your travel exploits. Taking that extra train or boat ride and diving into a completely different atmosphere transforms your voyage like nothing else. Even one day, especially if it's a day trip to Florence, Italy, makes the whole journey unbelievably complete.
Introducing Florence, Italy
Florence is the capital city of Tuscany region in central Italy. Settled on the Arno River, it's one of the most picturesque places in the country. Its charming natural surroundings pared with exquisite architecture makes any day trip to Florence remarkable and unforgettable. Consequently, millions of tourists visit this Tuscan city each year and enjoy its numerous cathedrals, churches, and museums. The birthplace of Italian Renaissance, Florence astounds with its architectural and artistic masterpieces. By virtue of it, the Tuscan capital has been ranked by Forbes as one of the most beautiful cities in the world. Furthermore, the Historical Centre of Florence was inscribed on UNESCO World Heritage List in 1982.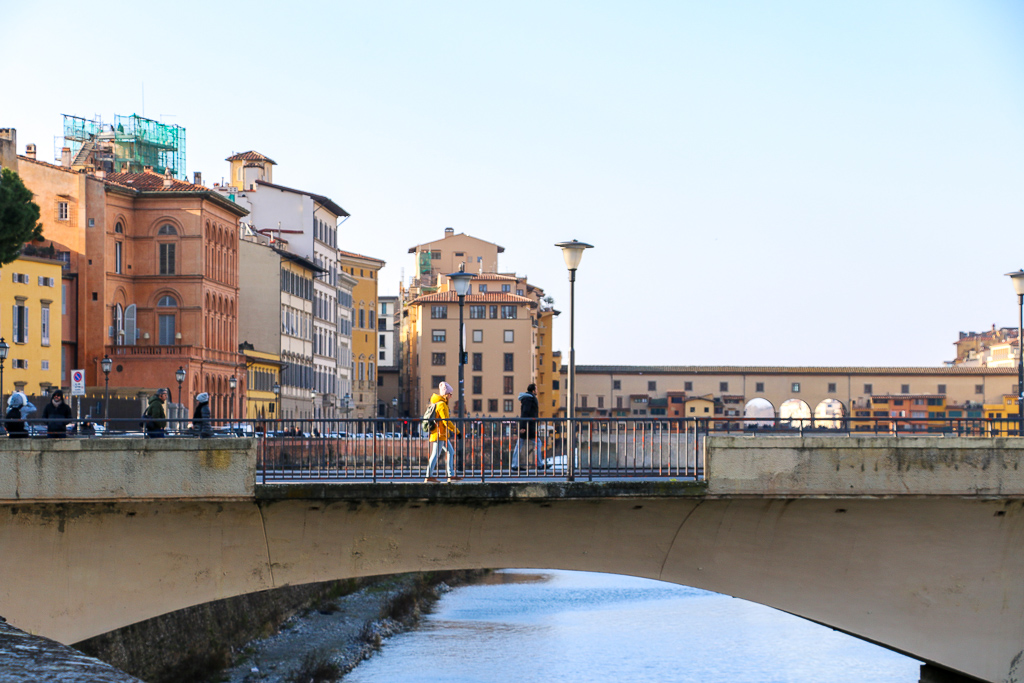 A Day Trip to Florence from Rome
We started our day trip to Florence at 6:15 am at Rome Termini Train Station. A brisk train ride and 1.5 hours later, Florence greeted us with its hustle and bustle and crowds of tourists. We found a great deal for a round trip to Florence from Rome on www.GoEurope.com. This site and app was an accidental discovery while planning our European travels. Personally, we find it very useful and practical. It's by far one of the best ways to get round Europe by bus, train, or airplane. We used it to book our day trips to Bratislava and Florence. But let's go back to where we left off.
Upon arrival, a short walk from Florence train station accompanied with the magnificent architecture led us to the center of the city. Even early in the morning, Florence was filled with people rushing to do their business or taking leisurely strolls. You could instantly distinguish tourists from locals. The visitors slowed their pace and stopped frequently to take pictures. The locals felt more at piece while moving faster or trying to sell you souvenirs and other Florence-related goods.
Places to See on Your Day Trip to Florence
Even if you don't tolerate the crowds, you might want to endure them at least for one-day trip to Florence and explore its remarkable landmarks. There are just some of the places you absolutely must see when in Florence.
Cathedral of Santa Maria del Fiore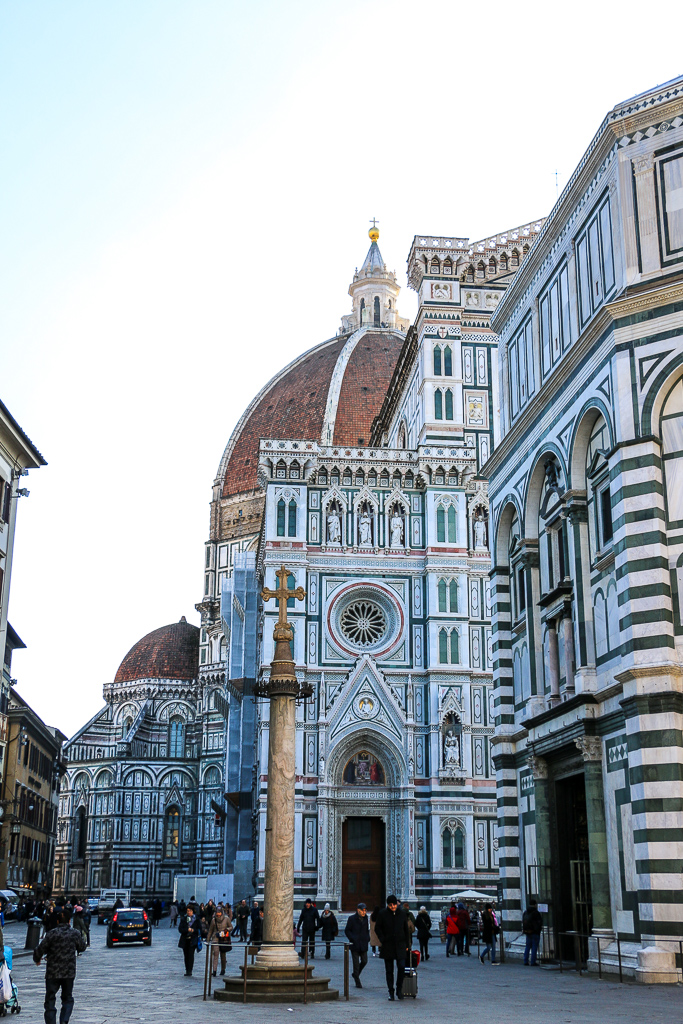 Cathedral of Santa Maria Del Fiore or Florence Cathedral is one of the first buildigs you notice in the city. The gigantic structure is located in the Piazza del Duomo and is a part of the UNESCO World Heritage Site. The basilica, known for its various shades of green and pink, is one of Italy's largest churches. Moreover, it's the largest brick dome in the world.
Uffizi Gallery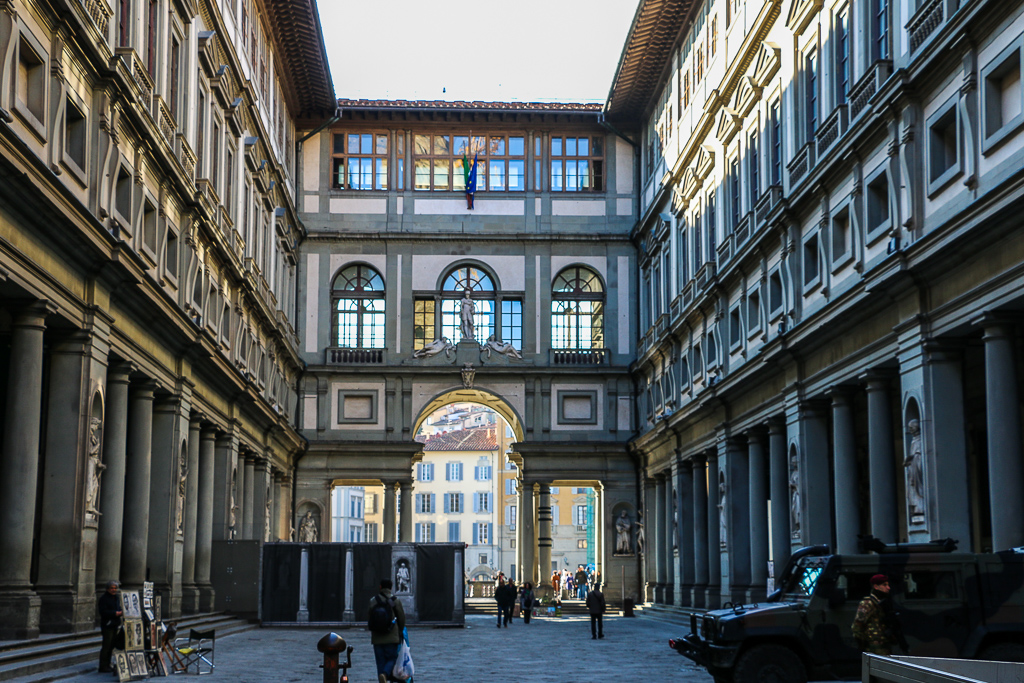 Uffizi Gallery is a 16th-century art museum presenting a great collection of Primitive and Renaissance artworks. It's based adjacent to the Piazza della Signoria, one of the main squares of Florence.
Palazzo Vecchio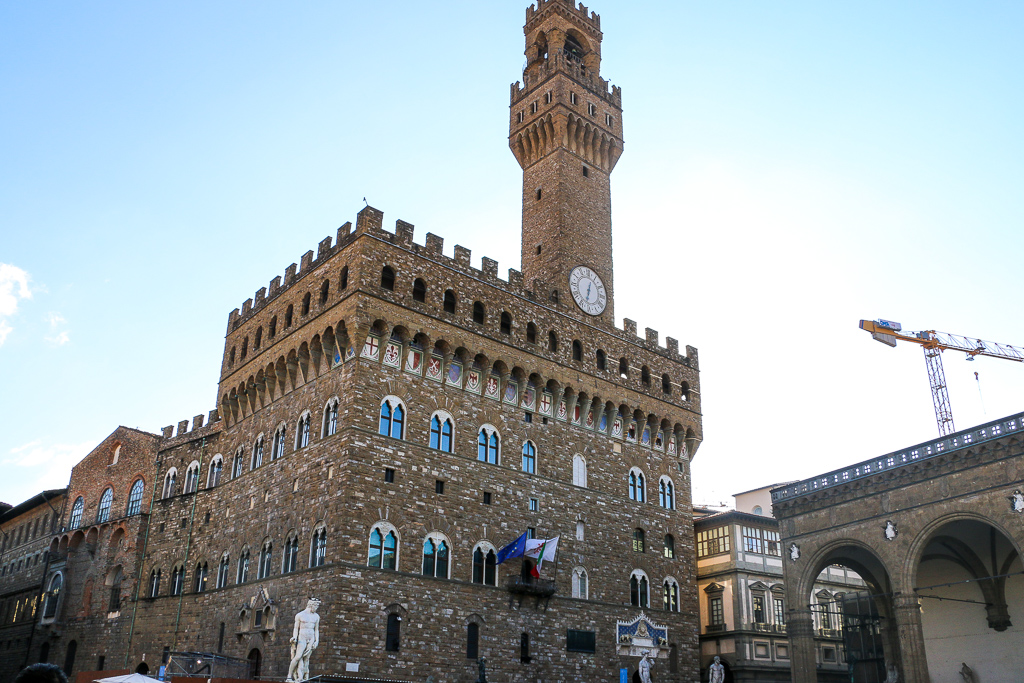 Don't wander far from Uffizi Gallery. A minute walk will take you to Palazzo Vecchio. This historical town hall overlooks the Piazza della Signoria with its replica of Michelangelo's David statue. The main symbol of civil power of Florence, the Palazzo Vicchio is famous for its elaborate chambers and ornate courtyards.
Statue of David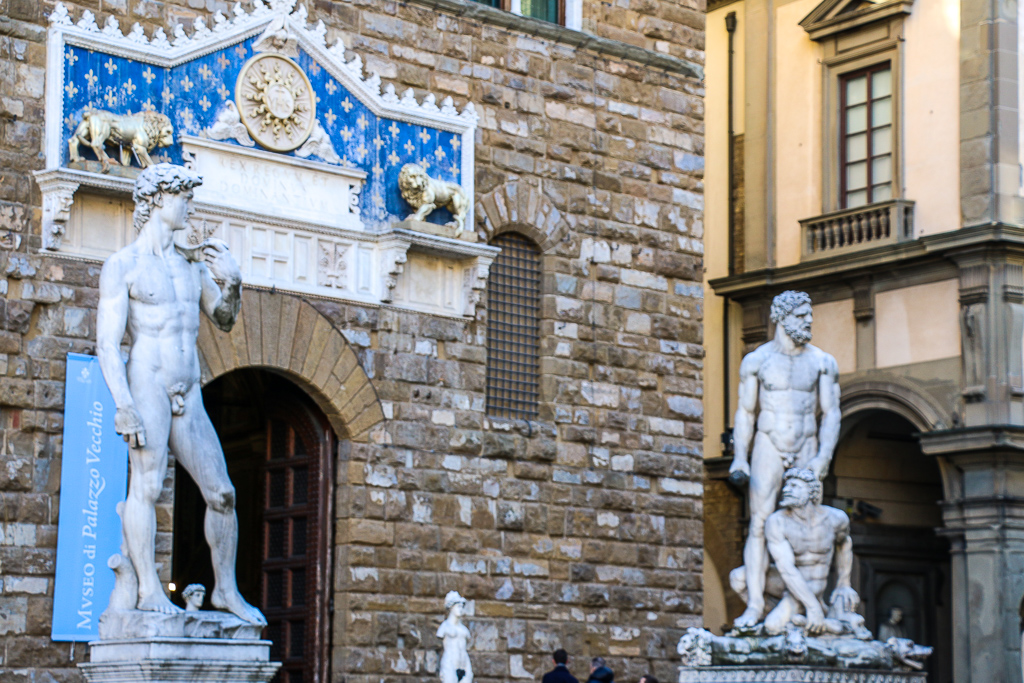 17-feet marble statue of Biblical character David is one of the most famous attractions in Florence. Michelangelo's masterpiece was set in the Piazza della Signoria before being relocated to the Accademia Gallery. A copy of the statue was put in place of the original.
Basilica of Santa Croce
The Basilica of Santa Croce entices with its splendor exterior and size. One of the major landmarks in Florence, the church is notable for its sixteen chapels and frescoes by Giotto. The site is also the burial place of Michelangelo, Galileo, Rossini, Machiavelli, Foscolo, and Gentile.
Pitti Palace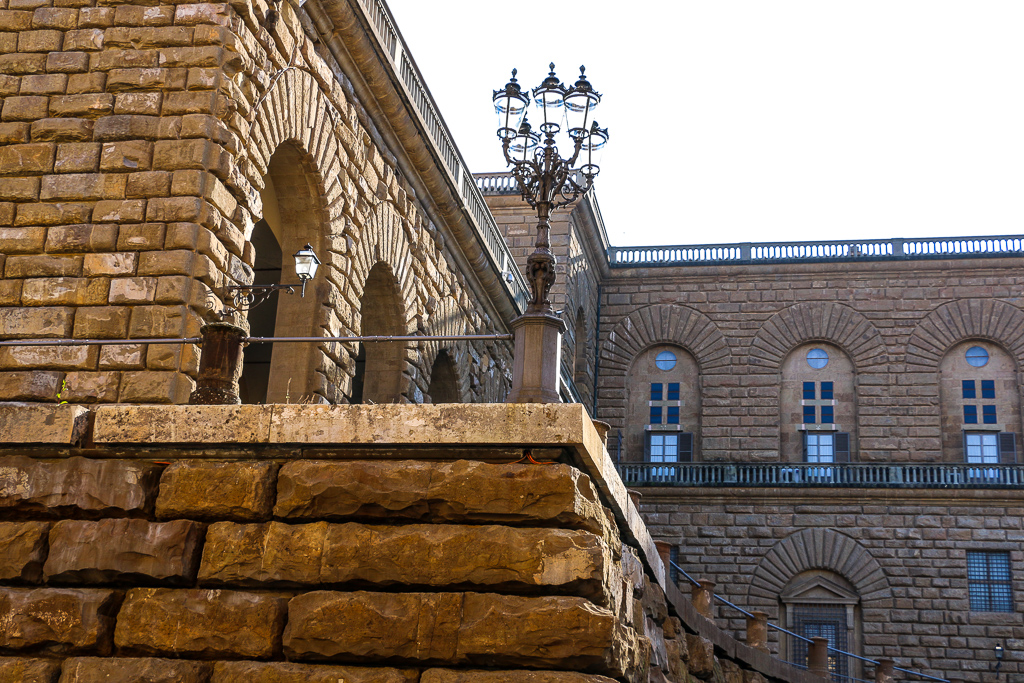 The Pitti Palace is 15th-century palace in Florence that houses several museums and feature Italian and European masterpieces.
Giotto's Bell Tower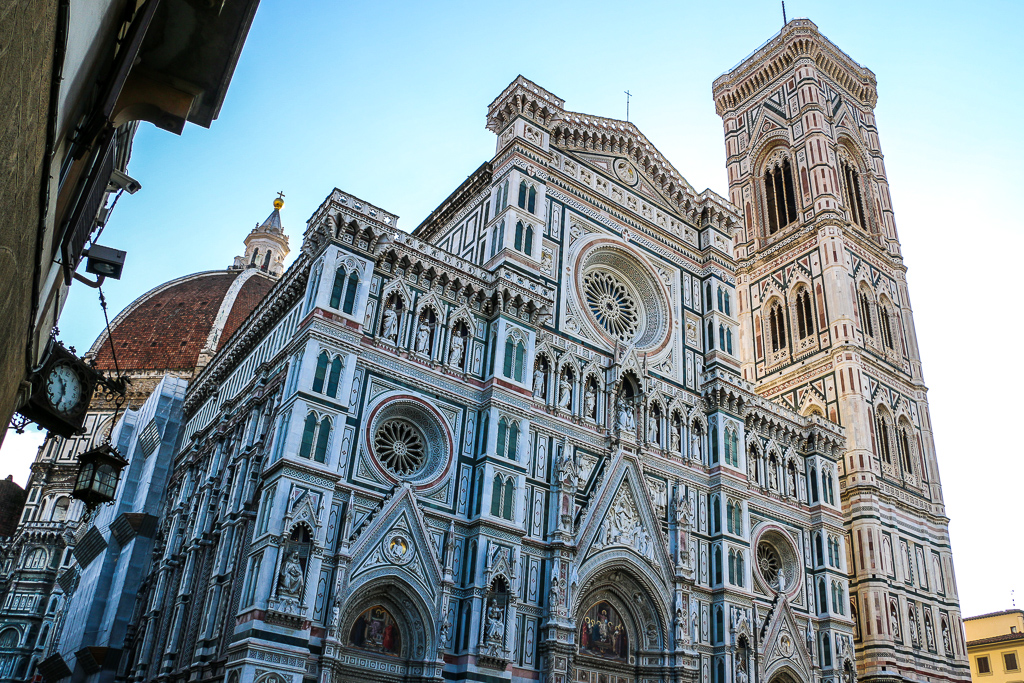 Although a part of the Florence Cathedral, Giotto's Bell Tower stands out as its own entity with incredible city views.
Basilica of Santa Maria Novella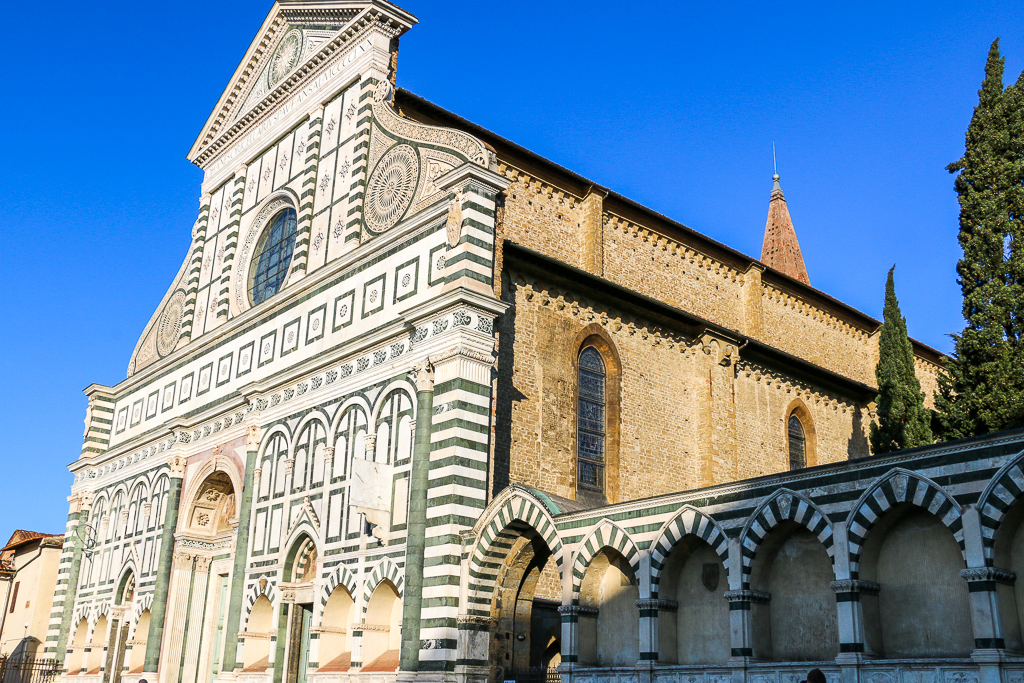 The Basilica of Santa Maria Novella is the first landmark you see upon your arrival. Located across from the main train station, it's one of the most remarkable churches in Florence. The Basilica of Santa Maria Novella is famous for its classic form and works of arts by Giotto, Botticelli, Massaccio, and Filippino Lippi.
Ponte Vecchio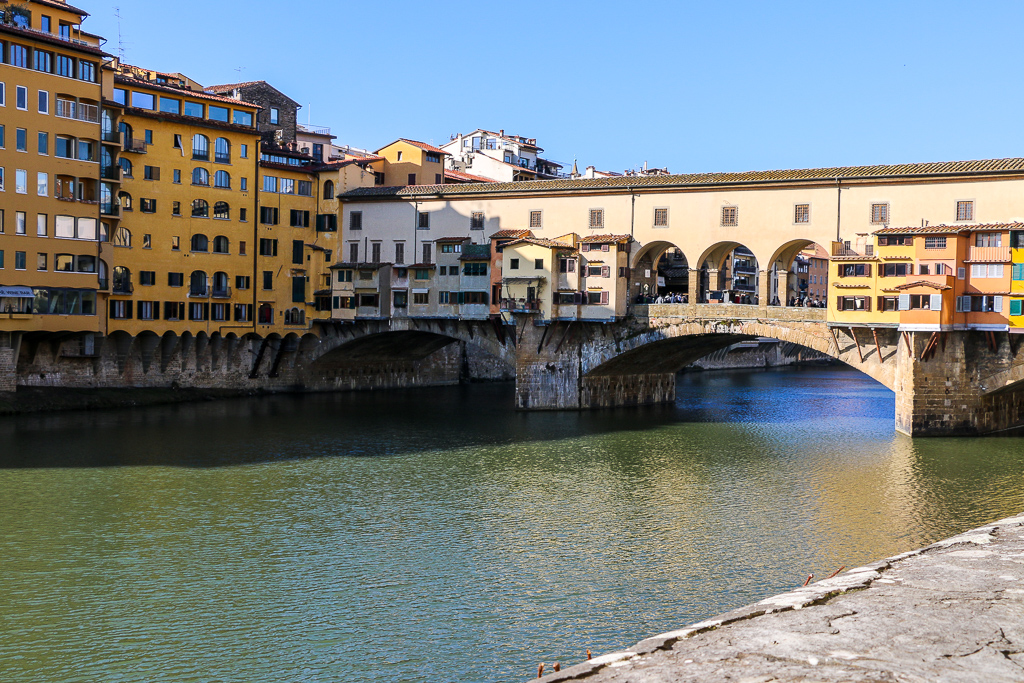 After all this sightseeing during your day trip to Florence, walk over the Ponte Vecchio, a medieval stone arch bridge over the Arno River. With the line of shops offering jewelries, pieces of art, and souvenirs, the place is good as for window shopping as well glorious views of the city and its surroundings.
Piazzale Michelangelo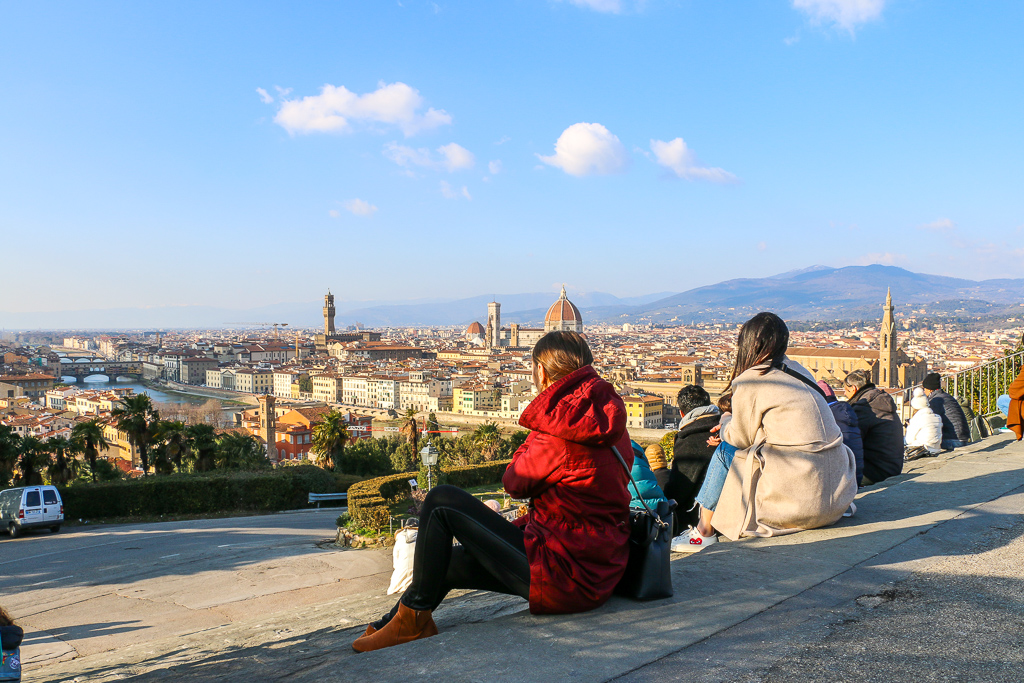 Once the maddening crowds of central Florence becomes unbearable, cross over the Ponte Vecchio and venture to the Piazzale Michelangelo. Start your mini-adventure with a nice stroll by the river and eventually enter narrow streets on your right. Neither of these routes disappoints. The views by the river further compliment the city. The streets on this side of Florence appear to be narrow and less elaborate. Additionally, the never-ending stream of people seems to come to the end at this part of the city. But it doesn't mean that your day trip to Florence becomes less enjoyable once you cross the bridge. On the contrary, the city saves the best attractions for later.
With the sight of slightly different Florence, in about 15 minutes you reach the bottom of a stairway. The stairs don't seem to run as far as you can see. Even if slight doubt creeps into your head, nearby sign "Historical Center of Florence, UNESCO Site" proves that you are heading to Piazzale Michelangelo, pinnacle of your one-day trip to Florence. Take the stairs regardless how intimidating they might look. A huge piazza with the stunning vistas of the city at the end of your climb is worth all effort.
Belvedere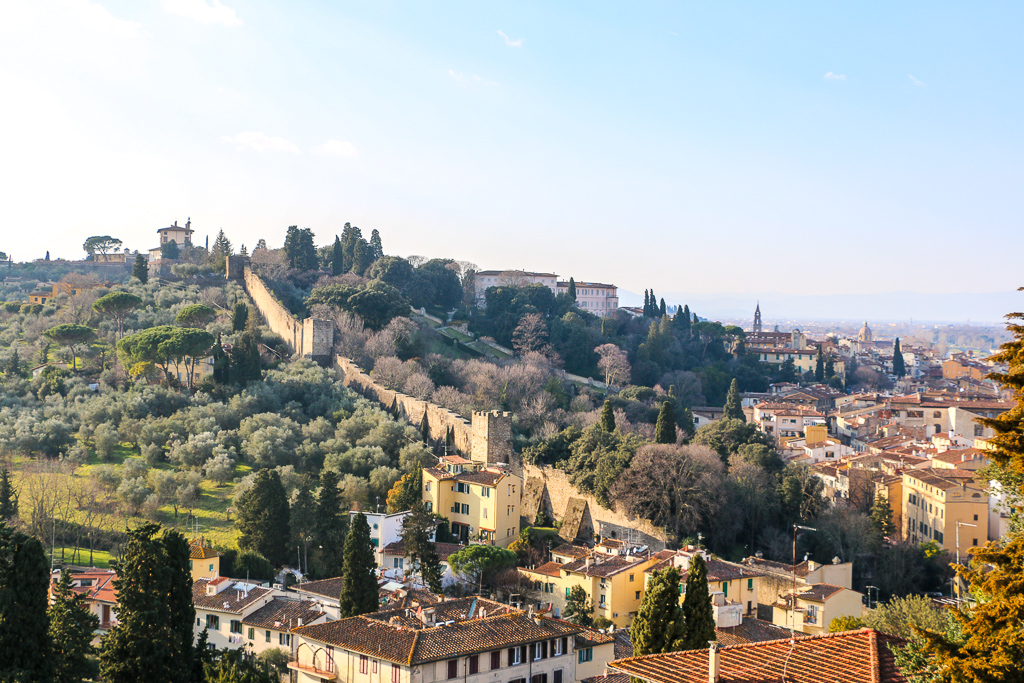 From Piazzale Michelangelo, you can also enjoy the view of Belvedere – a hilltop fortress with incredible vistas of the Florence. From the top, the walls surrounding the fort resemble the Great Wall of China.
Giardino Bardini
Before leaving for the center of Florence, walk back to the medieval wall, turn to the right, and walk up a steep road to Giardino Bardini. A charming garden with Baroque flights of steps and views over the city opened its doors to the public relatively recently. Therefore, the new attraction usually gathers fewer crowds and is a perfect place to finish your day trip to Florence.
Where to Eat in Florence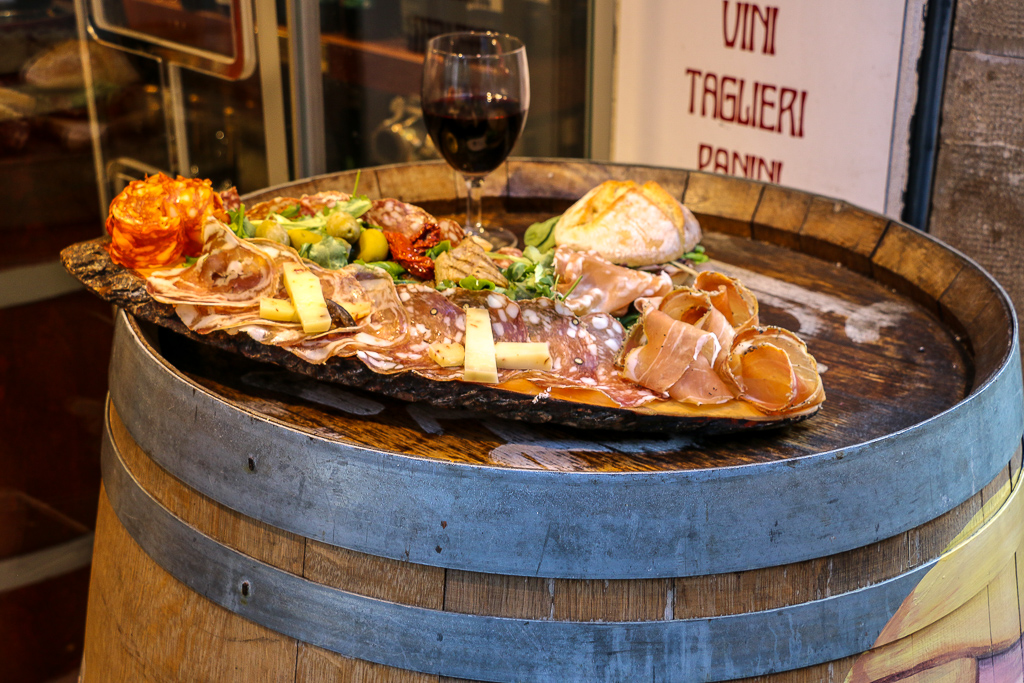 Apart from the ample attractions, the center of Florence offers the best food and drinks in the city. If you're on a budget, nothing can beat great taste, experience, and, of course, prices of street food. From vegetable panini to all sorts of meat sandwiches, your choices are quiet broad.
For pasta and hot soup, we'd recommend stopping at Agricola Toscana. Although, it'll take a toll on your budget during one-day trip to Florence, you ought to try their tomato and bread soup. This warm dish is good at any season and is popular among vegetarians and vegans.
Where to Shop in Florence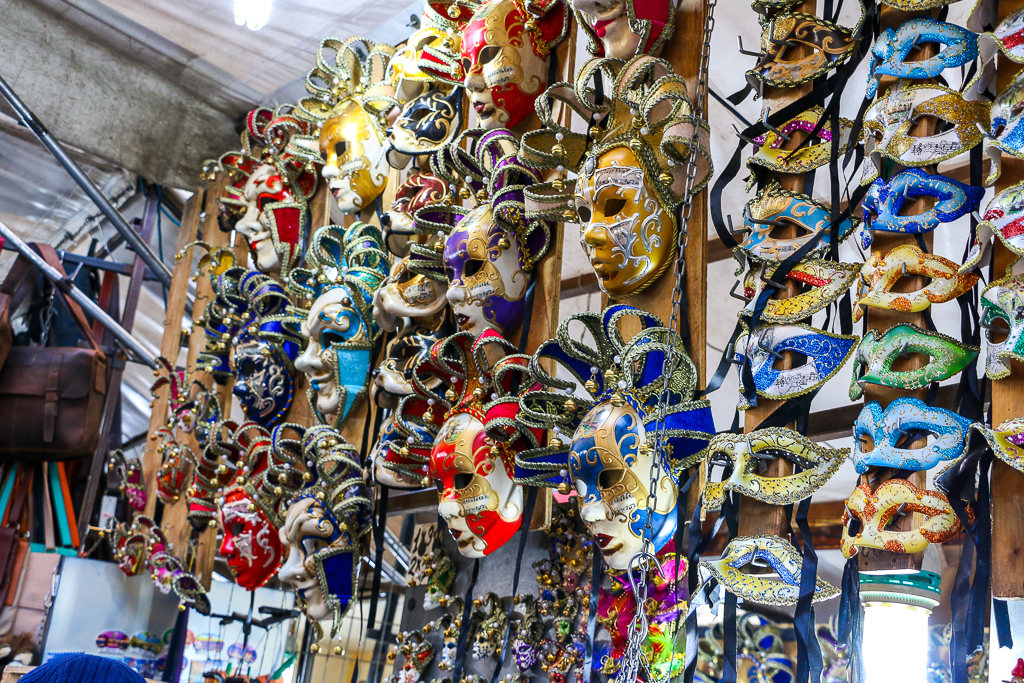 For shopping experience during your day trip to Florence, you don't need to walk far from the center of the city. Perfect for sightseeing and exploration in the morning, it turns into a shopping arena in the afternoon. At this time numerous vendors occupy the streets and sell everything from food to souvenirs, hand-made goods, and clothes. With such abundance, it's almost impossible to leave empty-handed.