Reputation of the city of Zurich, Switzerland far exceeds its size. A global center for finance and banking, it's been alluring travelers in expensive suites for years. However, despite its strong position in business world, Zurich is not a city that caters for only one type of visitors. As the biggest city in Switzerland, it welcomes all kinds of travelers including those that try to visit Zurich on a shoestring. And even though, the city asks for a thicker wallet even for budget travelers, it's all worth it and pays off tremendously. Once seeing and experiencing Zurich, you want to come back again and again. With that being said, here is a quick guide to Zurich.
HERE IS A QUICK GUIDE TO VISITING ZURICH ON A SHOESTRING:
Arriving in Zurich
Zurich Airport (ZRH) is by far the most convenient way to arrive in the city from overseas. However, if you travel in Europe on a budget, jumping on a bus heading to Zurich will save you enough money to explore the city on more than a shoestring. On top of that, crossing borders with way is far faster than going through regular security at the airport.
Majority of busses and trains arrive at Zurich Hauptbahnhof (Zurich main station or often shortened to Zurich HB). Located in the center of the city, Zurich HP offers a perfect start of your journey in Zurich considering that you rested enough while traversing to the city. And surely, it's the first place to include in any quick guide to Zurich.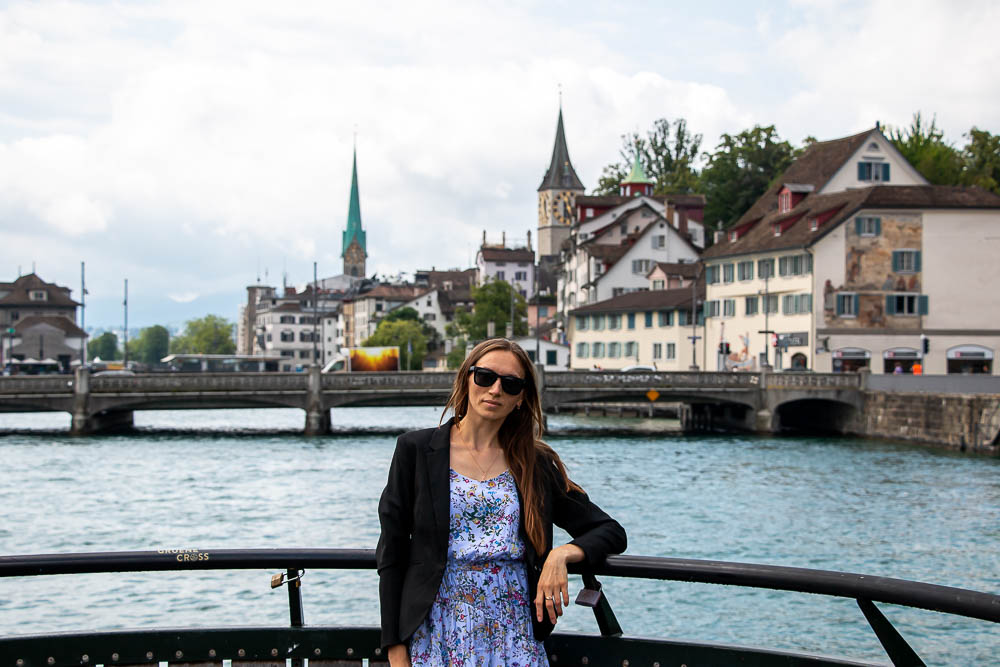 Getting around
Zurich is a very walkable city. Those travelers that can tolerate long walks are better off by exploring the city on foot. Besides saving some money, this way of traveling ensures getting around some of the spots known only to locals.
For those who succumb to Zurich public transportation, ticket prices vary based on different zones and time periods. If you plan to use trams or busses to get around the city a lot, a Zurich Card and all-inclusive Swiss Travel Pass can become your best savings ever.
A Quick Guide to Zurich: Places to See
The beauty of Zurich unveils itself literally on every corner. You can simply take a walk and indulge in splendid architecture of the city. If there are any places in the world where you want to throw away your travel itinerary and simply go with a flow, Zurich is the best place to do so. However, for those who need a little help, here a quick guide to Zurich including all places to explore on a budget.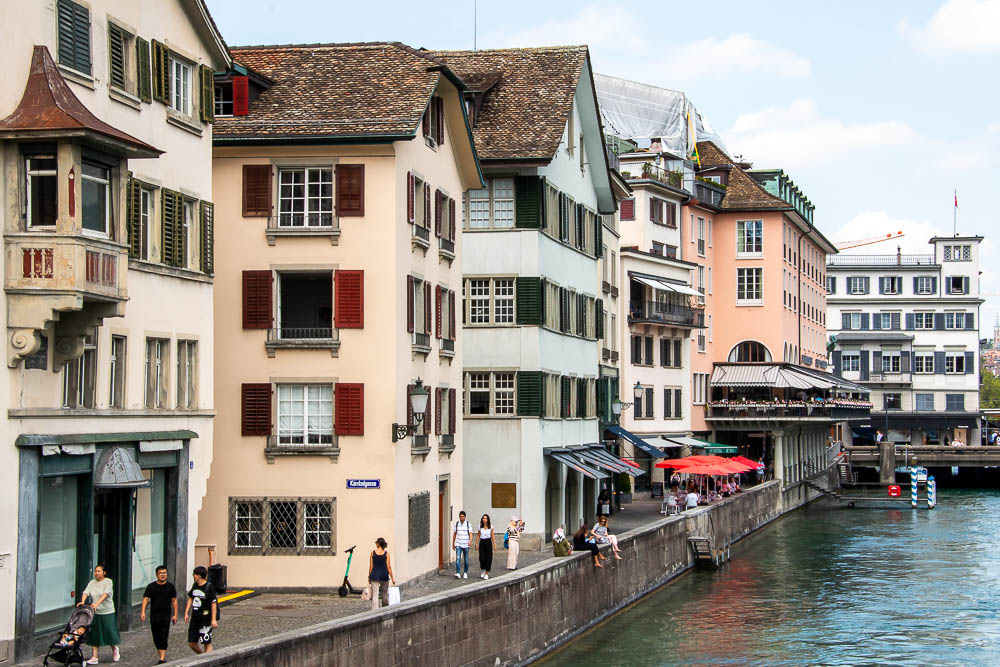 Wander through the Old Town (the Altstadt)
One thing you notice right away is how relatively old Zurich is compared to other Central European cities. However, this is by no means a disadvantage. On the contrary, the old style of Zurich further attracts and memorizes you. The best place to completely surrender to the pre-medieval charm of Zurich is the Old Town. Stretching on both sides of the Limmat River, the place boasts narrow, old-fashioned streets with ample authentic eateries, trendy shops and striking city views.
Take a Leisurely Walk at Limmatquai
This quick guide to Zurich wouldn't be accurate without adding leisurely walks at Limmatquai to it. Running along the eastern (right-hand) bank of the Limmat River, Limmatquai is best to explore at sunset. With the glorious light softly embracing the city, there is no better time to take the last glance at the Old Town before retiring for the night.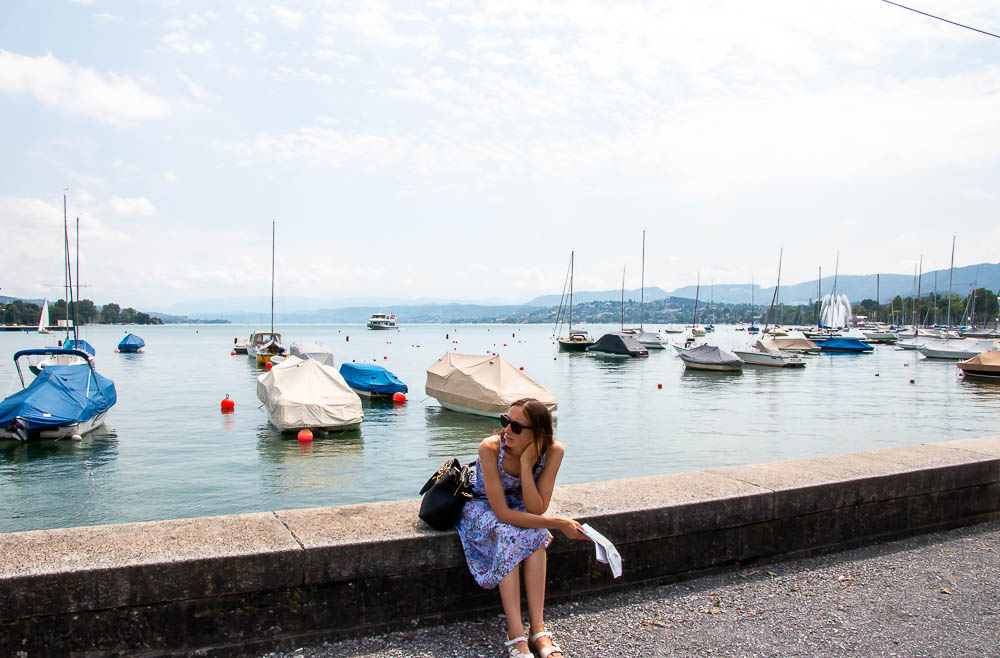 Ride a Boat at Burkliplatz
Continue your walk along Limmatquai before you hit Burkliplatz, a boat dock on the north end of Lake Zurich. Here, you can stretch your budget further by walking around and taking in the views of the beautiful surroundings. If you finally decide to give yourself permission to splurge a bit, take a 90-minute boat tour around the lake. In addition to enjoying Swiss landscapes from the deck of the boat, you are free to get off at Kilchberg and visit Lindt Chocolate shop of the Lindt Chocolate Fartory nearby.
See Different Side of Zurich on Langstrasse (Longstreet)
While the above-mentioned destinations on this quick guide to Zurich are appropriate for single travelers and families alike, Langstrasse risks to get your grandma's disapproval. Once known as a red-light district, Langstrasse is famous for its nightlife, strip clubs, bars and dance clubs. During the daytime, the street entices with vintage shops, burger joins and food from different corners of the world.
Take a Trip to Uetliberg
Last but not least, take the Zurich S-Bahn to Uetliberg, a mountain in the Swiss plateau with the panoramic views of Zurich and Lake Zurich. Moreover, the place offers numerous hiking trails to experience the rolling hills of Switzerland firsthand.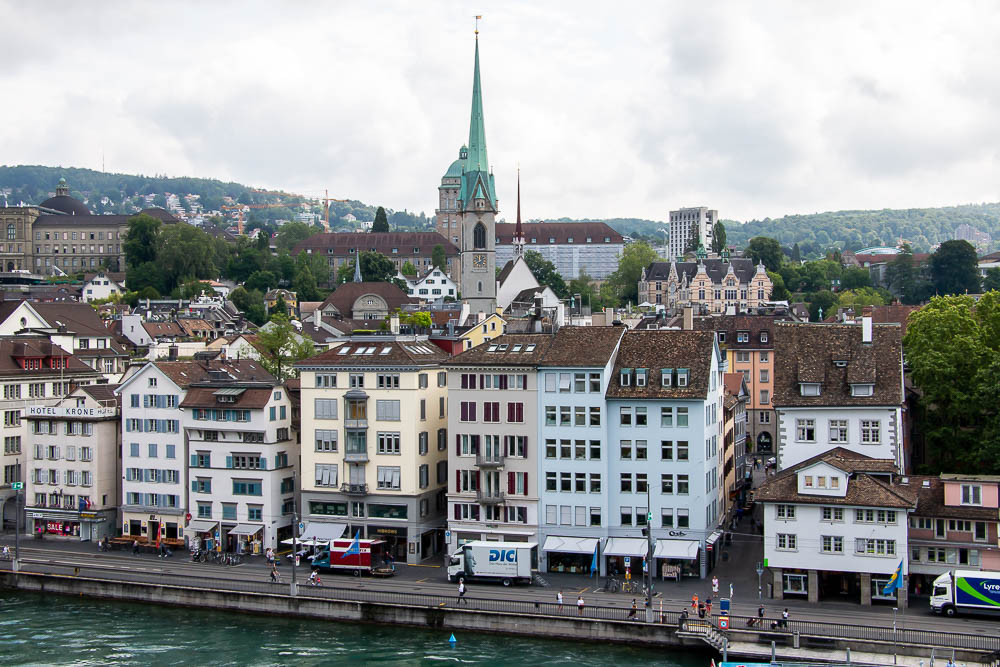 A Quick Guide to Zurich on a Budget: Accommodation
When you travel to Zurich on a shoestring, hostels and budget hotels offer the best rooms for your money. You can find the best deals on Langstrasse such as Swiss Star Longstreet (we stayed here one night). Other options include Hotel Gregory, Hotel Olympia and Hotel Ibis Budget Zurich City West.