Mt. Hollywood Trail is one of the easiest ways to see the Hollywood Sign up-close. The trail climbs up Mt. Hollywood and surprises you with panoramic views of Los Angeles and the Hollywood Sign.
The Hollywood Sign from Mt. Hollywood Trail
Seeing the Hollywood Sign up-close is a must-do thing in Los Angeles. The famous sign perched on Mt. Lee can be seen from different parts of the city. But only getting closer to its iconic white letters brings the feel of accomplishment and appreciation. Only when you hike closer to the symbol of Hollywood, it feels more real and attainable.
Yes, you do need to hike up the mountain to see the Hollywood Sign up-close. And yes, some of the most beautiful pictures of the famous landmark are possible only after sweating your way to the summit.
HOW TO HIKE MT. HOLLYWOOD TRAIL TO SEE THE HOLLYWOOD SIGN
Over decade ago as a new resident of Los Angeles, I made a few attempts to hike to the Hollywood Sign. The trails I picked were rather challenging. To make things worse, I tended to take wrong turns and was ended up in some other places, nowhere near the Hollywood Sign. Needless to say, those attempts could be considered failures.
However, Mt. Hollywood Trail (I learned about it a few years later) was promising a relatively easy hike to see the Hollywood Sign. In fact, it's sort of a piece of cake that you can eat even with your kids. And this is exactly what we did a few weeks ago. We hiked Mt. Hollywood Trail with a toddler to get closer to the famous Hollywood Sign.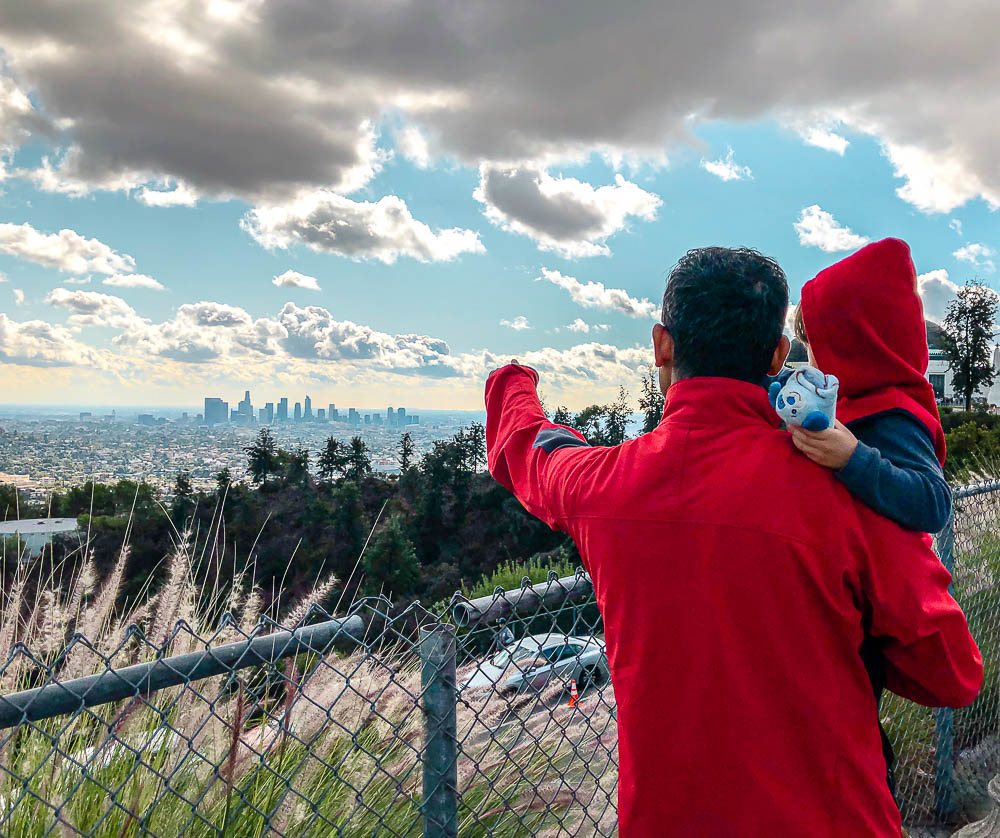 What is Mt. Hollywood Trail
Mt. Hollywood Trail, also known as Charlie Turner Trail, is a 5.3 mile loop trail. As this path offers an easy, carefree hike to see the Hollywood Sign (no need to worry about taking wrong turns), it gets pretty busy. Weekends are the worse time to be here if you long for solitude when hiking. 
Mt. Hollywood Trail begins at the Griffith Observatory and runs up to Dante's View at the summit of the mountain of the same name. Let me clarify one thing before I move forward. Mt. Hollywood Trail provides you with a good view of the Hollywood Sign. But it's not a trail that takes you all the way to the symbol of Hollywood.
At 1625 ft, Mt. Hollywood is the second tallest peak in Griffith Park. Despite this height, Mt. Hollywood Trail is not the most challenging. On top of that, it rewards the hikers with panoramic views of the Griffith Observatory, Downtown LA, and the Hollywood Sign. Moreover, Glendale and the San Gabriel Mountains can also be seen from Mt. Hollywood Trail.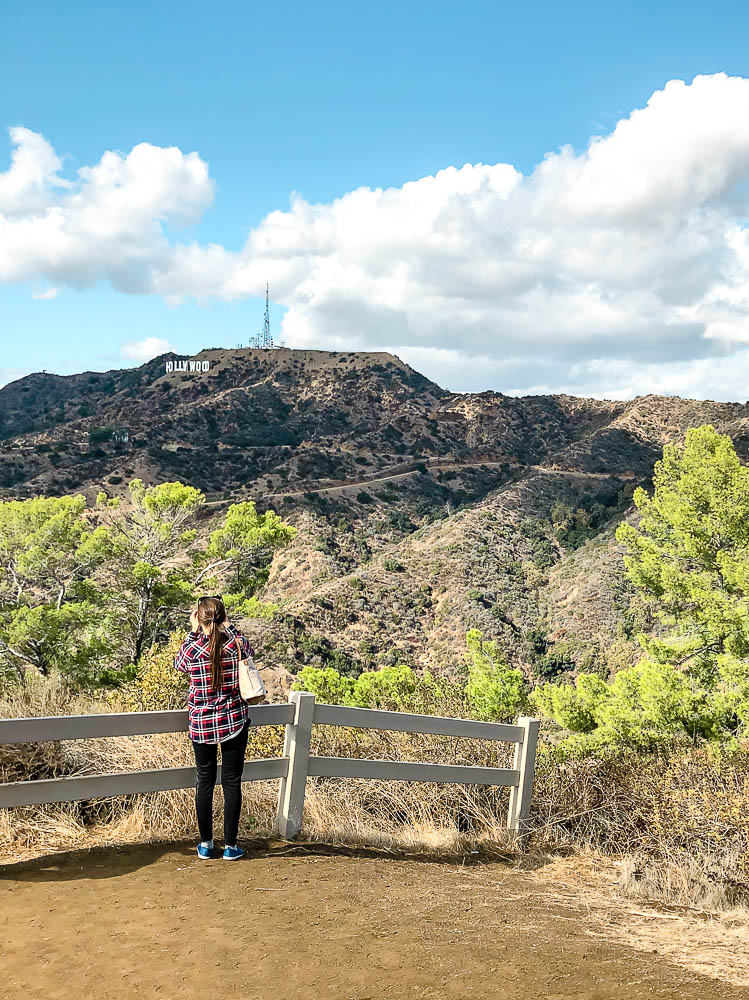 History of the Hollywood Sign
It's not hard to speculate the main reason that drives  majority of the hikers to challenge themselves on Mt. Hollywood Trail. Getting a closer look of the famed Hollywood Sign has motivated thousands of people to start their hikes in Griffith Park.
However, the signature sign didn't always praise movie industry as it does now. In 1923 the Hollywoodland Real Estate Development erected 45-foot white letters on Mt. Lee as part of one of their temporary campaign. Back then HOLLYWOODLAND instead of the familiar sign HOLLYWOOD looked down on Los Angeles.
With the increase of popularity of American cinema during the Golden Age of Hollywood, the sign received an international recognition. Eventually, it became the symbol of Hollywood and was left standing on Mt. Lee. The name, however, lost its last part LAND.
Today like almost a century ago, you can admire the great attraction from many places in Los Angeles. Mt. Hollywood Trail, however, not only provides for a better view, but also for a feel of almost being able to touch the sign.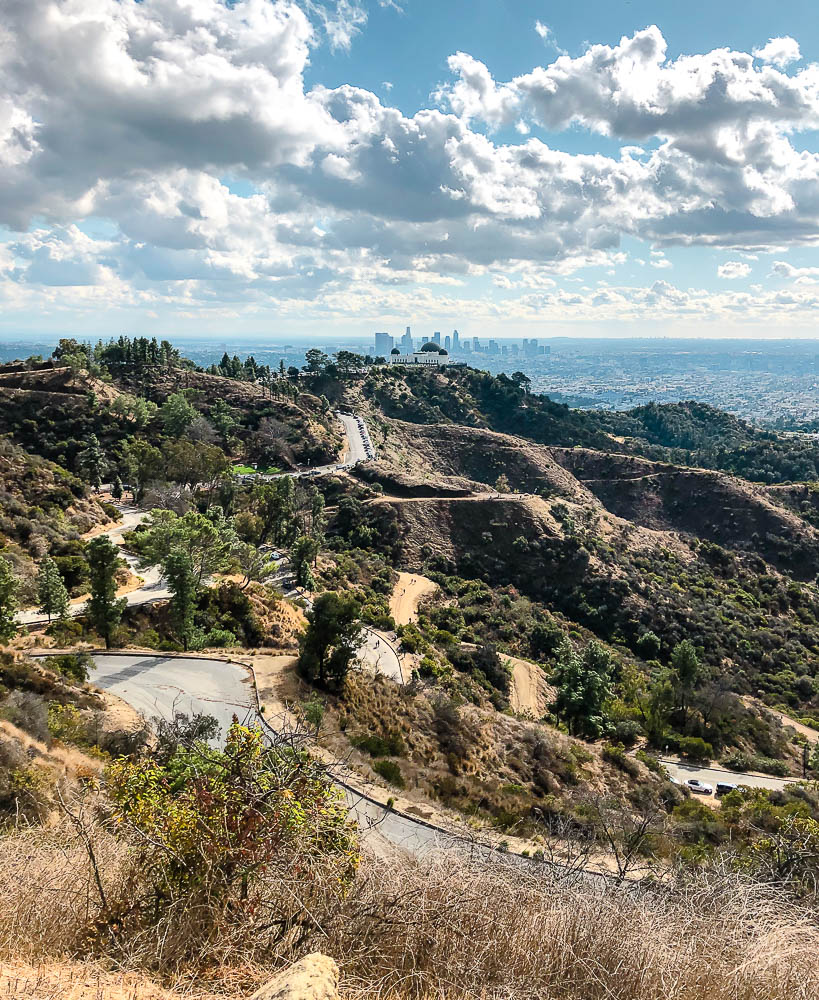 Parking
Sadly, Mt. Hollywood Trail doesn't have its own parking lot. The hikers are welcomed to park in the Griffith Observatory parking lot. However keep in mind that it's a paid parking lot. Nevertheless, you can still hike Mt. Hollywood Trail without paying parking fees. There are two options to do so.
First, the Griffith Observatory parking lot, located near Mt.Hollywood Trail, is free until noon. Thus, you can give your best to the trail, summit Mt. Hollywood, enjoy the Hollywood Sign, and be back at the lot before noon. Doesn't it add an additional stimulus to waking up early?
Second, you can park your car a bit further down, before reaching small bridge on your way to the Griffith Observatory. Parking there is free, first come, first served. On the other hand, it extends your hiking distance to the summit. Technically, your hike starts way before you reach the trailhead.
Read more