If there is just one perfect state for a 4-day road trip, Oregon is ahead of the game. With diverse terrain that includes mountains, lakes, and endless waterfalls, it promises adventure of a lifetime. With that, Oregon road trip is the ultimate bucket list goal.
4-Day Oregon Road Trip from Medford to Portland and back
Slightly larger than the United Kingdom, Oregon suits perfectly for a short road trip. You can literally cross the whole state from south to north within a matter of a few days. If that was the only case, then a 2-day road trip would be more than enough to see Oregon. But don't let the size of the state mislead you. Despite being the second smallest state on the West Coast of the US, Oregon offers more natural wonders than one can ask for. And therefore, after your first big road trip through the state of Oregon, you might want to come back again and again.
Oregon road trip was never our ultimate plan. Initially, we planned to visit Portland and its surroundings. For two straight years this plan was falling apart us every time we were ready to go. Finally, out of the blue, the idea of doing Oregon road trip was born just a few weeks prior our trip. And it felt just right. On top of that, the obstacles that kept us away from Oregon before vanished without a trace. To be honest, we had to adjust our Oregon road trip itinerary due to weather conditions. But this one is pretty close to the one we had planned initially.
HERE IS THE ULTIMATE 4-DAY OREGON ROAD TRIP FROM MEDFORD TO PORTLAND:
Day 1 of Oregon Road Trip: Medford to Eugene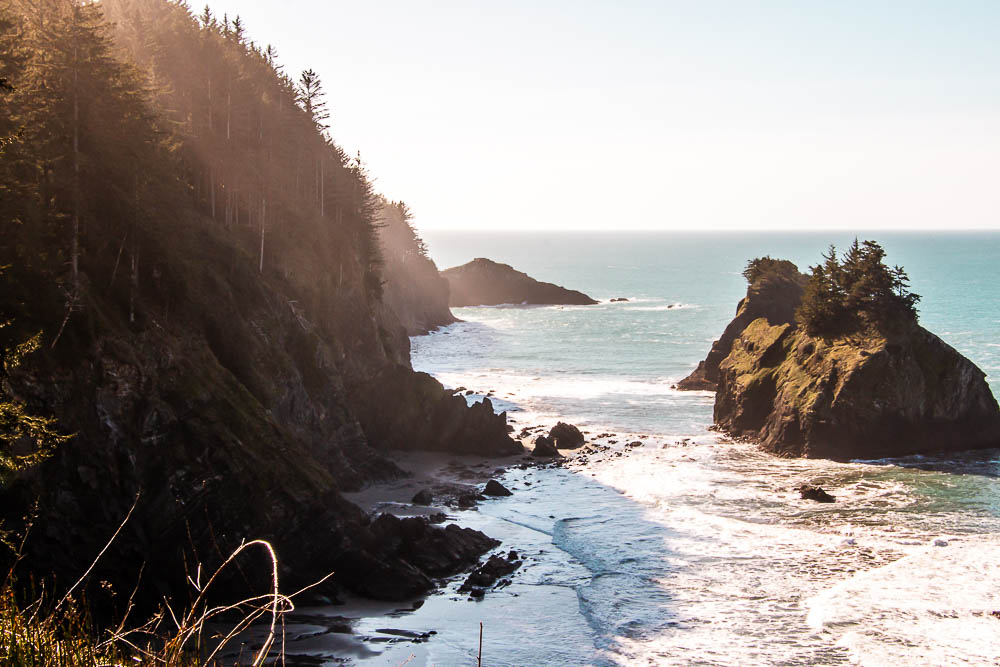 If traveling on a budget is one of your goals, I'd recommend to start your Oregon road trip in Medford. Airline fares to Medford are almost half of what you'd pay to fly directly to Portland.
First Stop: Samuel H. Boardman State Scenic Corridor
Head west from Medford along I-199 South and I-101 North towards Brookings. From there follow I-101 North for about 6 minute to Samuel H. Boardman State Scenic Corridor. The whole trip takes approximately 2.5 hours.
Samuel H. Boardman State Scenic Corridor is a must-see destination when driving along the Oregon Coast. This thinly forested, rugged coastline extends for 12 miles and offers some of the most gorgeous views. Thanks to its raw beauty, Samuel H. Boardman State Scenic Corridor can easily become the highlight of your Oregon road trip.
Here are some of the best Samuel H. Boardman State Scenic Corridor stops:
House Rock

Whaleshead Overlook

Thomas Creek Bridge

Natural Bridges (one of the places I fell in love with on our Oregon road trip)

Thunder Rock Cove

Secret Beach

Arch Rock
Second Stop: Bandon
Continue for about 1.5 hours on I-101 North along the coast to Bandon. Named after a small town in Ireland, the city is famous for its beaches and rock formations including Face Rock State Scenic Viewpoint.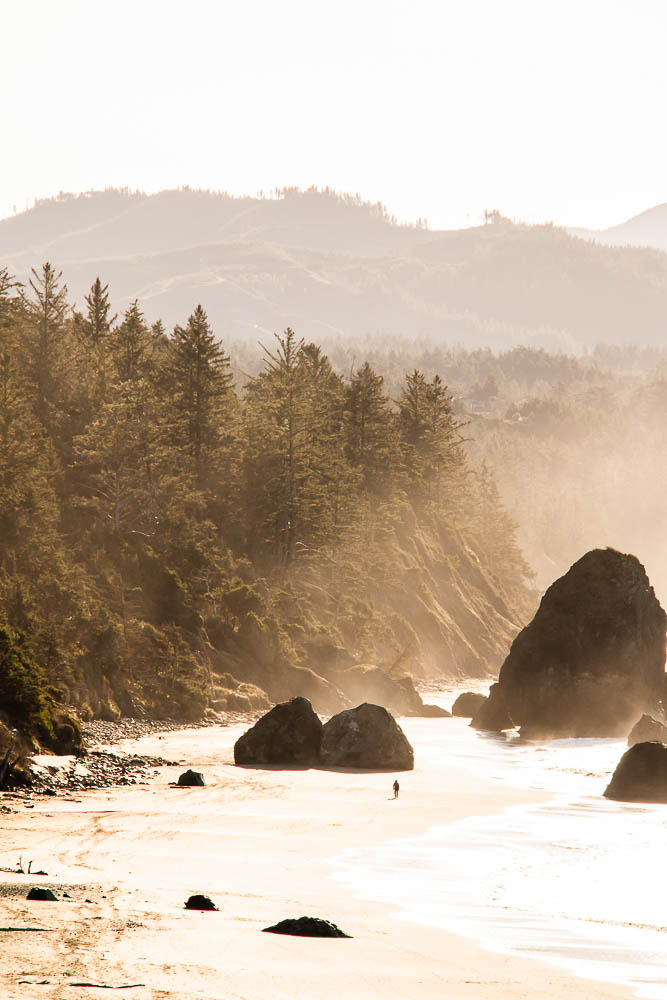 Third Stop: Coos Bay
You can add Coos Bay as an additional stop to your Oregon road trip adventure. Located about 20 miles away from Bandon, it continues to impress with panoramic views of the Oregon Coast.
Fourth Stop: Eugene
From Coos Bay head back onto I-101 North for about 27 miles, then turn right onto OR-38 East and continue on for another 50 miles. Near Cottage Grove merge onto I-5 North. Stay on it for 30 miles till you get to Eugene. If you plan your Oregon road trip during summer and spring when the days are longer, you can add a visit to Terwilliger Hot Springs to your itinerary.
We spent a night at Econo Lodge, Eugene. About 7-minutes walk from the hotel took us to an Indian restaurant called Evergreen Indian Cuisine. The place was pretty packed, but it offered dinner buffet even late in the evening.
Our second favorite restaurant in Eugene is Mucho Gusto Mexican Kitchen. With focus on locally grown produce, the restaurant serves hearty and affordable burritos, burrito bowls, tostadas, and taco plates.
Day 2 of Oregon Road Trip: Eugene to the Dalles via Portland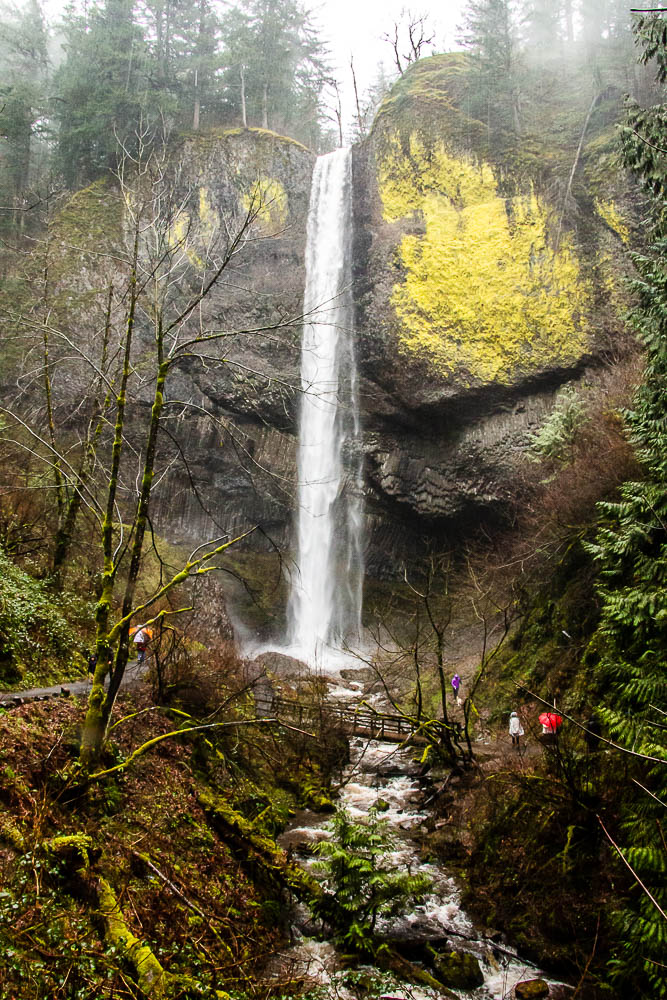 The second day of the Oregon road trip includes a decent amount of stops and might seem to be the busiest. However, most of these destinations are located a short drive from each other, leaving you with enough time to explore them in depth.
First Stop: Portland
Head north on I-5 for approximately 2 hours.Your next road trip destination is Portland, the largest city in Oregon. Spend a few hours exploring the city before heading east toward the Columbia River Gorge.
What to do in Portland, Oregon
Visit zoo, forestry museum, rose garden, and Japanese garden in Washington Park

Hike in Forest Park

Grab a bite at Pine Street Market

Shop at Union Way

Get new books at Powell's City of Books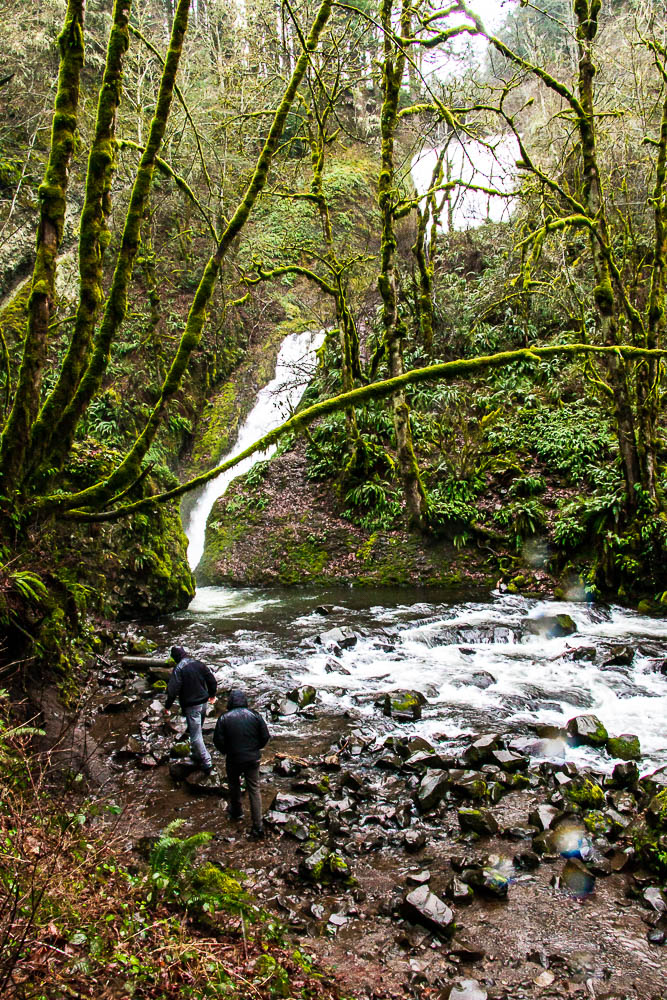 Second Stop: Bridal Veil Falls
Continue your road trip to the east along I-84. Drive for approximately 25 minutes and take exit 28. From there turn right on the Historic Columbia River Highway and travel for about 2 minutes to Bridal Veil parking lot. To see the waterfall you need to hike. There are two hiking rails. The upper, shorter trail gives you a good overlook of the surrounding area. And the lower, short and easy 2/3-mile round trail takes you directly to Bridal Veil Falls.
Third Stop: Latourell Falls
Jump back into the car and drive for another 6 minutes to Latourell Falls. You can see the waterfall right from the parking lot. There are also two short trails. The first one leads to small observation platform. The second trail goes down to the plunge pool, so close to the stream that you can even touch the water as it cascades down.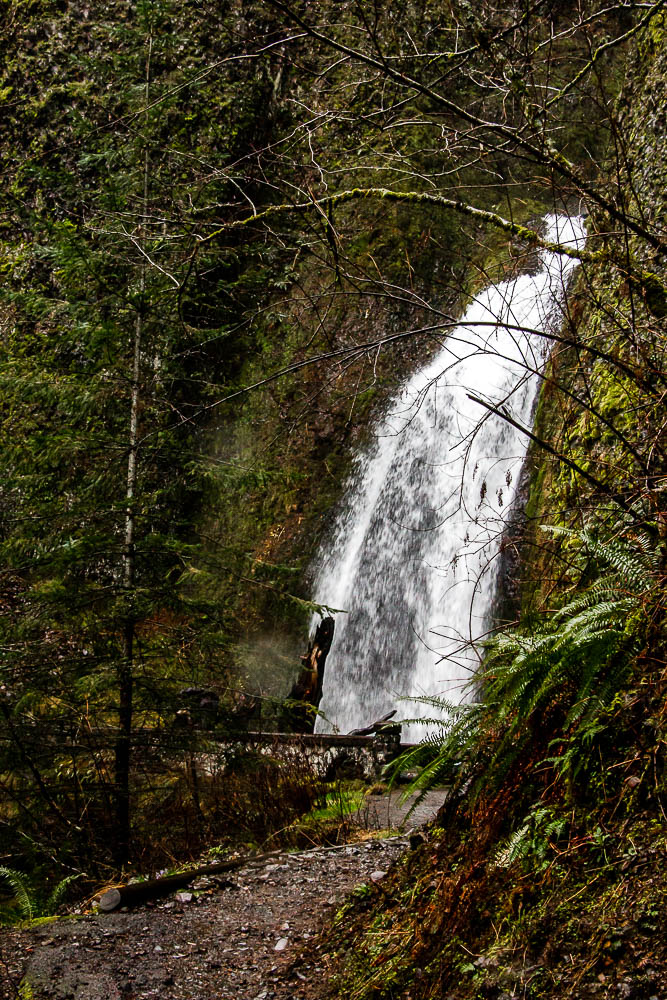 Fourth Stop: Wahkeena Falls
After admiring the beautiful Latourell Falls, drive 12 minutes back down the Historic Columbia River Highway. It's time for your third waterfall included in this 4-day Oregon road trip. Like Latourell Falls, Wahkeena Falls can be seen from the parking lot. The waterfall starts as a fan that rushes down a cliff and eventually turns into a creek. This small stream continues to carry water farther away from the base of the waterfall.
When visiting Wahkeena Falls in Oregon, make sure to give a stretch to your legs and add a short 0.2-mile hike to your road trip itinerary. The trail takes you to cute stone arch bridge with the best view of Wahkeena Falls.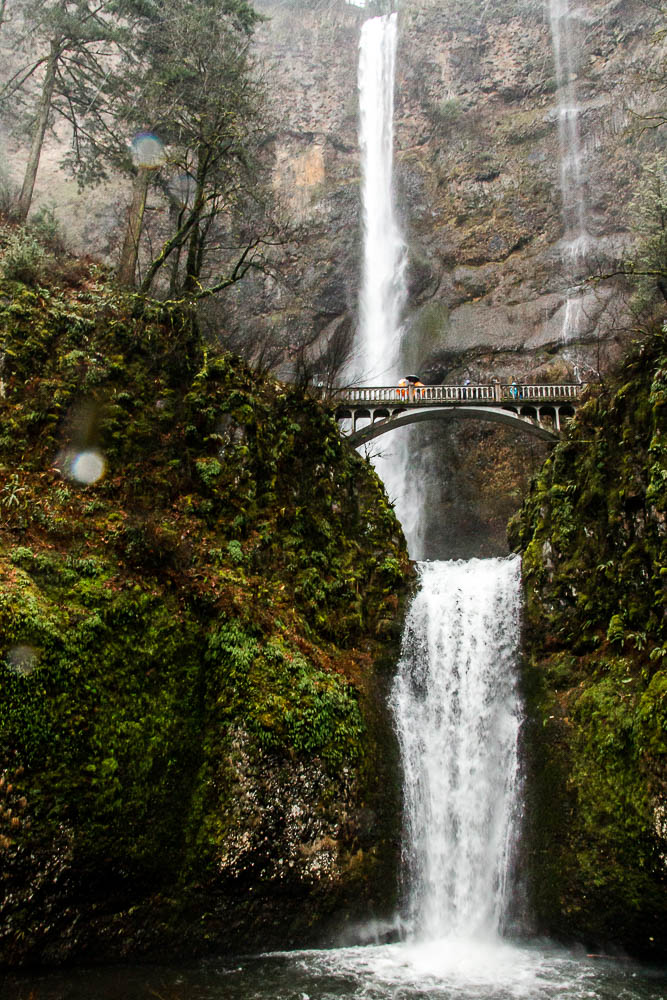 Fifth Stop: Multnomah Falls
Next your Oregon road trip takes you to Mutnomah Falls, located just 2 minutes away from Wahkeena Falls. With its powerful streams and the historic Benson Bridge, it's one of the biggest and busiest waterfall in Oregon. Therefore, finding a parking spot here can be an issue even on a rainy day.
Sixth Stop: Horsetail Falls
Continue your road trip to the east via the Historic Columbia River Highway in Oregon for another 5 minutes until your reach Horsetail Fall. This waterfall is located by the road and is entirely visible from the parking lot.
As you get back onto I-84 and drive east to the Dallas, check out the Bridge of the Gods, Cascade Locks, and Hood River. You can spend a night in or near Hood River. Accommodations is the Dallas, however, are cheaper than in Hood River. We stayed at Oregon Motor Motel in the Dallas. When it comes to dinner options, we'd recommend stopping at Kobe Hibachi Sushi.
Day 3 of Oregon Road Trip: The Dalles to Bend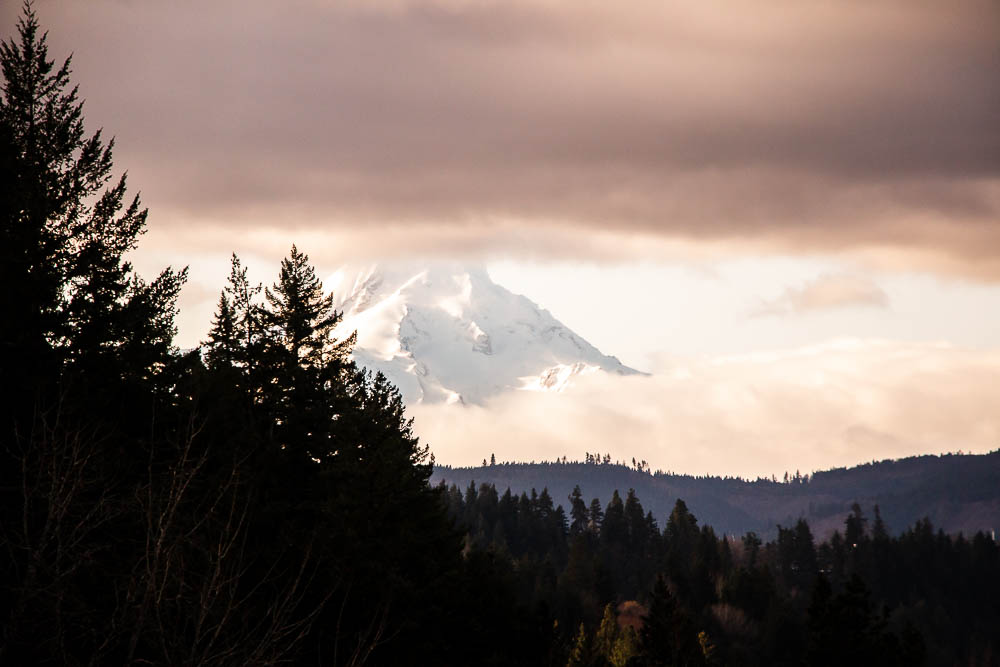 First Stop: Trillium Lake
From the Dalles head back to Hood River, located about 20 miles away. Then drive southwest on OR-35 for approximately 50 minutes before turning left onto Trillium Lake Road. In about 5 minutes you'll get to your first destination of the day 3 of Oregon road trip. Make sure to check weather conditions and get snow chains if you travel to Trillium Lake in winter. On top of the deep snow, the road to the lake can be close during this time of the year.
While driving to Trillium Lake, keep checking the view on your right. Snow-capped summit of Mount Hood towering over endless vineyards will tease and entice you along the way.
Second Stop: Smith Rock State Park
A few hours is enough time to explore Trillium Lake. The next destination on our Oregon road trip is Smith Rock State Park, located about 1 hour 40 minutes away. The park is notable for its deep river canyon, sheer cliffs of tuff and basalt, and scenic views. There is plenty of hiking trail to see different sides of the place. One of the easies and shortest paths is the Rim Rock Trail followed by the 2.5-mile River Trail.
The town of Bend is located about 35 minutes south. And if you want to continue stretching your budget for longer, Dunes Motel offers some of the most affordable rooms in the town.
Day 4 of Oregon Road Trip: Bend to Medford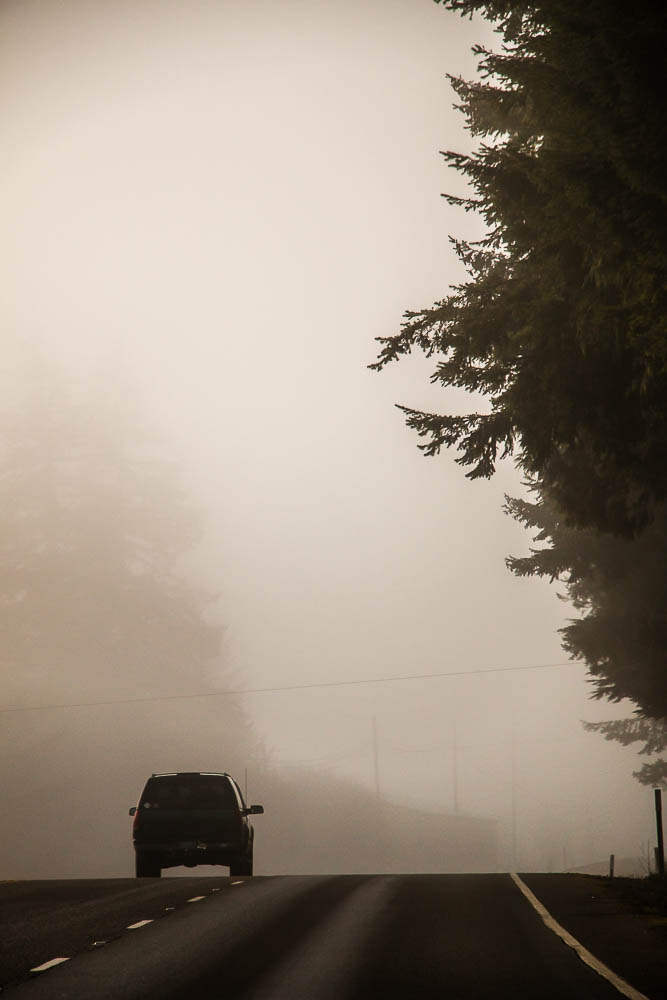 First Stop: Pilot Butte
Before you leave Bend and continue your road trip exploring Oregon, head over to Pilot Butte. This scenic lookout is set on the eastern part of the town and offers splendid views of Bend and the Cascade Range. The road to the Pilot Butte is usually open from mid-April until late fall. But a 1-mile hiking trail allows you to reach the place all your round.
Second Stop: Crater Lake National Park
Once you say goodbye to Bend, drive southwest for about 1 hour 40 minutes to Create Lake National Park. The park is known for its namesake Crate Lake with deep blue, clear water. The creation of the famous lake is attributed to the now-collapsed volcano, Mount Mazama. Some sections of Crater Lake National Park are accessible all year long. Others might be closed during colder seasons. So, make sure to check park's website regarding possible road closures. When in the park, check out the Rim Drive, a lake surrounding road with panoramic views, and the Sun Notch Trail. The latter astounds with stunning views over Crater Lake and a tiny island called Phantom Ship.
After stretching your legs in Greater Lake National Park, hit the road once again and drive back to Medford. The last leg of this Oregon road trip takes no more than 1 hour 30 minutes. Upon arrival to the city, make sure to stop at El Arriero Mexican Restaurant for the best Mexican food in town. You did it. This is the last stop of your 4-day Oregon road trip.